Travelling is something that can be so fun and so enjoyable. There are many different things to see and experience and travel can be really rewarding, especially if you are crossing certain things off your 'list' of things that you want to do. But let's be honest with ourselves, from time to time, travel can be quite stressful. There can be language barriers that can cause an issue, as well as forgetting things that can lead to a problem, which can happen to newbies as well as seasoned travellers. So being prepared and planning ahead of time really is key. Then you can rest assured that things are in place; it is much easier to be stressed when things are last minute. So with all of that in mind, here are some tips and tricks to help you to make travel as relaxed as possible. 
Use mobile boarding passes
This can be a tip to help you if you are someone who worries about dropping things or leaving things behind. Simply because, how often do you forget your phone? This is going to be much more unlikely than misplacing a piece of paper boarding pass. Pretty much all airlines now have apps and allow you to check in online, and then allow you to download your boarding pass, or even email it to yourself. Then it can be right there on your phone, which you are always going to have with you; you won't need wifi to get it either, especially if you save it as an image on your phone. Then you can just scan it and be on with it. When you have less things to hold and handle, then the less stressed you will feel. The only caveat with this is that you need to have some battery on your phone, of course. So pack your charger, or just switch your phone off until you need to use it.
Write a packing list
Some people are natural list makers which is great. But if you're not, then making a list can be really helpful when you think about what you need to pack and what you need to do with it. Think about each day that you will be away, and what will be needed each day. Right down to how many pairs of socks you need will mean that you have enough and don't have to stress about running out of the things that you need. It can be a great way to see what else is needed, what you might have space for, and when you know what you have, it means that things are less likely to get lost or left behind from your travels.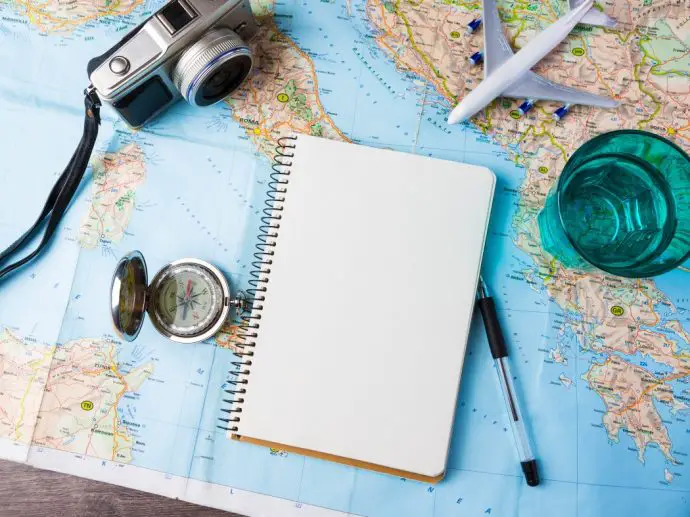 Leave early
Giving yourself plenty of time to get anywhere can really make a difference, especially to your stress levels. Of course, you will need to be at the airport two hours before usually, but if you are someone that gets extra stressed out, then just give yourself some more time. If you have to travel far to get to the airport, then you need to think of worst case scenario to give yourself enough time (otherwise that could be a really stressful journey if suddenly there is traffic). To minimise hassle, think about booking a transfer so you don't have to worry about driving or parking. If you want to arrive in comfort and style, you might want to consider a service like Limo Find to start your holiday off in total luxury. There are plenty of things that you can do at the airport, so don't worry about being bored at the airport if you get there early. There will be plenty to keep you entertained, and hopefully, things that will relax you. 
Keep personal belongings with you
There have been many reports of things being stolen when they're at the airport, on the plane, and of course, at their destination. If you are looking obviously like a tourist, which is what you can naturally do without really thinking about it, there can be people that take advantage. So keep all of your things with you all of the time. Then, check things are all there before you leave the plane, as well as before leaving the hotel, for example. Having travel insurance is something that can help, but there are many policies that don't let you claim if your luggage was left unattended, so just keep things with you and be vigilant.
Check mobile data
Being able to use your phone when you're away can be really helpful. You can use the 4G to browse the internet and look things up when you're away, as well as make phone calls if you need to. It can be such a stress-reliever to know that all is well and you can call someone in an emergency or look something up online if you are lost, for example. But if you have a phone provider that doesn't let you use roaming without charging a lot of money, then it can cost a lot of money and then can cause more stress. So it is a good idea to look up what your phone provider offers when you are away, so you  will be prepared and ready to go. There are things like the SMARTY pay as you go sim deals that you could look into for when you travel, especially if your normal contract doesn't allow you to use your phone when abroad. So again, preparation really is key. Plan ahead and find out what the deal is with your phone before you go on your travels.
Make sure your passport is up to date
Checking the date on your passport is really important before you travel. But checking that it is still in date is one thing; do you check how long is left on your passport? There are a lot of countries, including places like USA and UAE that need you to have at least six months left on your passport, from the start date of your trip. Plus, of course, you passport can expire when you plan to be away, and you'll be unable to travel if you had accidentally planned it that way. It is surprising just how regularly people aren't aware of these kinds of things, and then they have to rush and get an emergency passport so that they don't miss too much of their trip. So make sure that you pay attention! You can get emergency appointments but they cost a lot of money, so the more you can plan ahead, the better.
Put essentials in your hand luggage
Hopefully, you will never have to deal with the drama and stress of losing luggage. But if on the occasion that it did happen, it can really ruin your plans and mean that you can't just get on with your vacation. So it is a really good idea to pack some essentials in your hand luggage, just in case your luggage does get lost, even if only temporarily. So think about some small toiletries that you could use, essentials like glasses or contact lenses, as well as clean underwear. In a lot of cases, you'll be able to buy things like swimwear once you're at your destination (and more than likely the airline will cover the costs if your luggage is lost), so it is just the small and simple things that will be helpful to have once you arrive. 
So what are the best things that you can do to help to make your travel less stressful? These are just a few of the things that you can do, but planning ahead and preparation really is key to making your travels less stressful, as you'll be ready for anything.