Steeped in history, with fascinating cultures and an atmosphere that will awaken your senses, India offers a completely unique holiday, different from anywhere else you may have travelled to in the world. A land of contrasts, vibrant colours and incredible sights, it is perhaps one of the ultimate destinations for a truly unforgettable adventure.
Whilst our travels around Asia have taken us to countries like Sri Lanka, Thailand and Cambodia, we have yet to visit India. However, we cannot deny that touring through this diverse and welcoming country would be an amazing experience and we can't wait to see it for ourselves. And here's why:
Historical Architecture
A country filled with historical sights from palaces and temples to forts and ruins, India has a long history and currently boasts 37 UNESCO sites on the World Heritage List. The monuments here display India's rich heritage, from religious influences to colonialism and as such, the architecture is very diverse.
When it comes to exploring India's history, many head to the country's most popular tourist destination in the country: the Taj Mahal. This magnificent white marble mausoleum was built in the 17th Century on the banks of the River Yamuna by Mughal Shah Jahan in memory of his favourite wife, Mumtaz Mahal. Yet whilst you should certainly include this incredible sight on your itinerary, don't forget that there's plenty more to see.
The Red Fort in Delhi is a popular choice, and with its striking red stone walls and palatial design it was once the official residence of Mughal emperors. If you're travelling up to Rajasthan, don't miss the spectacular Amer Fort (Amber Fort) – an intricately designed 16th Century palace that combines both Hindu and Muslim influences. Overlooking Maota Lake, it's a great place for photos!
For something a little different, visit the Ajanta and Ellora Caves in Maharashtra, which are filled with paintings and rock-cut sculptures that date from the first century, and tell stories about the lives of the Buddha.
Incredible Landscapes
Whilst India is synonymous with bustling city streets and chaotic crowds, it is also a country with incredible natural landscapes. This includes vast national parks and reserves, waterfalls and lakes, beaches and deserts, as well as mountains and jungles and even tea plantations. This provides travellers the opportunity to discover some of India's diverse wildlife, such as elephants, tigers and rare one-horned rhinos, as well as getting to know the country through its diverse topography.
Visit valleys and meadows filled with endemic wild alpine species in the Nanda Devi and Valley of Flowers National Park in Uttarakhand, and gaze in awe at the snow-capped pinnacle of the second highest peak in India.
Or tap into the growing Sikkim tourism scene for dramatic Himalayan landscapes where you should include Khangchendzonga National Park into your itinerary for forests, glaciers and the third tallest mountain in the world. Here you can climb steep mountainside paths to see ancient Buddhist monasteries, and hike to the turquoise waters of Tsongmo Lake (also knowns as Changu Lake) – a holy lake surrounded by myths and legends, and a popular stopping point on all visits to Sikkim.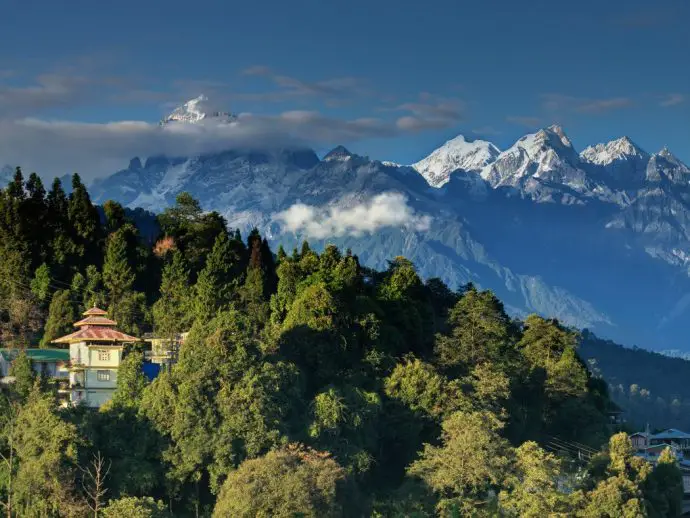 For a change of scenery, travel across to the vast Thar Desert, which stretches so far that it spills over the border into Pakistan. Here you can explore the Mehrangarh Fort in Jodhpur, go on a camel trek and camp out in the dunes, and marvel at the famous Golden Temple in Amritsar.
Spirituality and Religion
As the founding place of many faiths, including Buddhism and Hinduism, religion and spirituality are a part of everyday life here. Many people travel to India solely for the purpose of spirituality, for yoga and meditation retreats, for example, whilst other curious travellers simply want to experience a different culture and way of life.
As a deeply religious country, there are a large number of temples and monuments that you can visit all across India. This includes the golden and intricate Padmanabhaswamy Temple, or the waterside and serene Ananthapura Lake Temple. Top of the spiritual experience list is of course Varanasi, fondly knows as the centre of Hinduism as it is believed to have been created by Lord Shiva himself. The bathing ghats on the banks of the River Ganges are one of the big draws, and taking a boat trip along the water is a great way to experience this legendary city.
As a country that offers travellers the opportunity to uncover history, explore spirituality and see amazing scenery, there is little wonder India is popular with so many. Plus, with regions home to different cuisines and cultures, there is always something new to discover.