We love travelling around Europe, taking in the incredible history, hiking through the famous mountain ranges, and of course eating all the food. Yet there's no denying Europe's popularity has made it a rather 'busy' place, full of tourists searching for that perfect Instagram selfie, and families looking for some sun during the school holidays. Which is why we tend to avoid the obvious destinations, travel outside of peak season, and head to countries that are a little off the radar when it comes to European holidays, and they're every bit as amazing, just without the crowds.
Here are some of our favourites:
Slovenia
Before we travelled to Slovenia a couple of years ago, we couldn't even locate it on a map of Europe. It's one of those places you've heard of, but know nothing about, which is a decidedly good thing when it comes to wanting to explore off the beaten track. Slovenia is a bit like a pocket-sized Europe, with a capital city busting with culture and heritage, stunning national parks with crystal clear lakes and precipitous green mountains to rival anything you might see somewhere like Switzerland, and even beaches down on the coast at Piran. Its relatively small size makes Slovenia really easy to travel around, and one of the most popular holiday itineraries is to combine a walking holiday in the Julian Alps, with some relaxation time around Lake Bled, as well as a couple of days strolling around elegant Ljubljana. The Alps were definitely our favourite part of the country, especially travelling over the Vrsic Pass with its hairpins and spectacular views, and we loved the little villages tucked away in the sleepy valleys, as well as the waterfalls and rivers that punctuate this lush green landscape. There are several hiking trails in this neck of the woods that make walking here both easy, and pleasurable.
Turkey
Is Turkey in Europe? Or is it in Asia? Nowhere else in the world will you find such a melting pot of cultures and heritage, and as well as being famous as the country where East meets West, Turkey is a treasure trove of landscapes and experiences waiting to be discovered for those who want to do something a little different on their European holiday. After a few days exploring Istanbul, we suggest you head out to Cappadocia and spend some time hiking the valleys that wind their way through this other-worldly landscape full of bizarre and wonderful rock formations. Our favourite had to be 'Love Valley', we'd never seen anything like it before. Cappadocia really is a place to linger, so make the most of your time there and go hot air ballooning, explore hidden rock churches in remote mountain regions and of course sleep in a cave hotel. Once you've had your fill of the strange yet beautiful, head down to the south coast to try a walking holiday in Turkey. Spend a few days hiking a section of the stunning Lycian way, a long-distance path with ancient ruins, jaw-dropping Mediterranean views and lots of friendly places to stay.
Denmark
One of my first ever independent holidays was to Denmark. I wandered around the Tivoli Gardens in Copenhagen eating the best ice-cream I'd ever tasted, as well as stopping by the famous Little Mermaid statue by the waterside, and of course tucking into a Danish pastry or two (nothing like the ones we try and recreate here in the UK!). But perhaps my fondest memories were of the couple of weeks I spent getting back to nature in the vast Rold Skov, the second largest forest in the Denmark. Filled with hidden lakes, lofty pines and unexpected meadows, it was somewhere to switch off from the world, slowdown from the hectic pace of everyday life, and enjoy just 'being'. Mornings were all about swimming in the lake, watching the fish dart about in the shadows of the shallows, before taking to the hiking trails to discover a new part of the forest each day. As dusk fell, we'd light a campfire, cook freshly caught fish, and toast marshmallows before snuggling down in our sleeping bags for yet another good night's sleep.
Iceland
It might seem that everyone is heading out to Iceland at the moment, mainly thanks to the explosion of 'influencers' posting Instagram pictures, and perhaps also Justin Bieber's latest music video. But have you thought about visiting Iceland in winter? It's a whole different ball game, and the country takes on a rather different, icy kind of beauty, which you'll have pretty much to yourself. You'll need a 4×4 to negotiate the roads, which do succumb to the weather once you head out of Reykjavik or off the main island ring road, but your efforts will be rewarded. Vast snowy landscapes dotted with crystal clear streams, jagged mountain peaks, and a sense of wilderness rarely found anywhere else in Europe. For a really rugged adventure, renting a campervan in Iceland is the best way to experience the country at her wildest. Imagine waking up to the sound of waves breaking on black sand beaches or cooking breakfast beside a thundering waterfall. If you want to fully immerse yourself in nature, Iceland is the place to do it!
My very first trip to Iceland was during the dead of winter, and travelling around the south of the island, stopping at frozen waterfalls and having the famous Geyser all to myself, I've never felt such peace. Sure, it was rather chilly, and daylight hours were few, but this just made what I saw all the more exciting, and the genuine hospitality of the Icelanders who wondered who on earth was visiting at this time of year made it all worthwhile.
Finland
Once again it was the dead of winter, only this time I was on a slow train chugging its way across the border between Finland and Russia. I'd spent a few days lapping up the culture in Helsinki, and wished I had time to visit some more of this beautiful country. Mile upon mile of snow-laden pine forests passed us by as the train picked up speed, and as I pulled my multiple coats tighter around me for warmth, I promised myself that one day I'd come back in the summer. Finland is a great place for nature lovers who enjoy hiking and cycling through the remote yet accessible countryside, staying at rural guest houses or even camping at night. Try canoeing down sparkling rivers, keep your eye out for bears, and relax in hidden forest saunas before jumping in the lake for a refreshing dip. Or if you fancy visiting in winter, head north to the pristine and magical landscapes of Finnish Lapland, for skiing, snow mobiles and a chance to see the Northern Lights.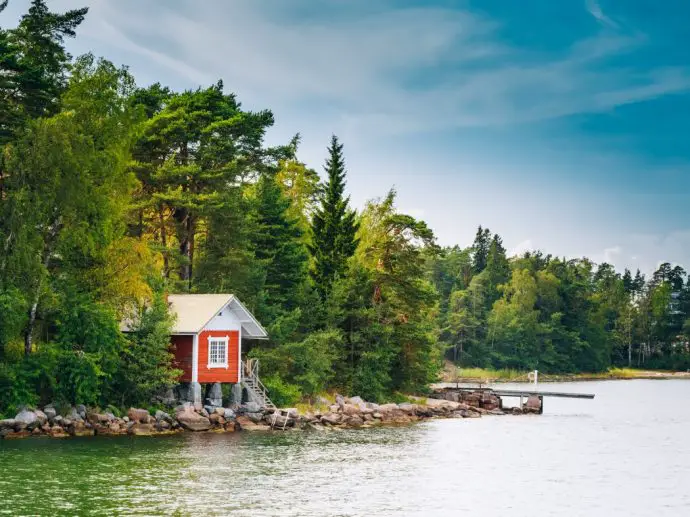 Have you visited any of these places? What was your verdict?