Which is better, Edinburgh or Glasgow?
Living just over the border in England, I've visited Edinburgh and Glasgow multiple times. I love them both, but for different reasons. Yet before I tell you what I really think about these two Scottish cities, and come to a decision about the Edinburgh or Glasgow debate, I will just say this…
A visit to Edinburgh comes with great expectations. It's a grand city with a fascinating and well-documented past, so anyone coming here for the first time has certain aspirations for their experience. It's easy for reality to fall short of anticipation, although Edinburgh truly is magnificent. Often, it's the crowds and the prices that can put a dampener on a visit to the Scottish capital, rather than the attractions themselves.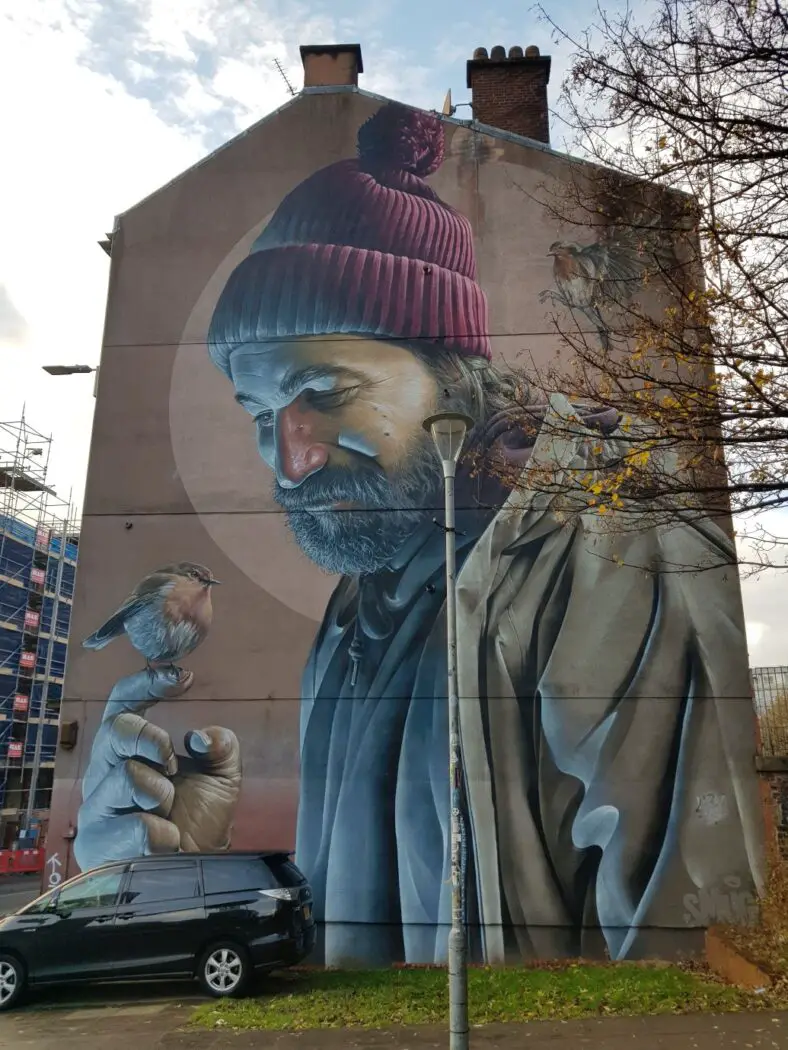 On the other hand, a trip to Glasgow doesn't come with such lofty expectations. Glasgow doesn't have the same hype to live up to as Edinburgh does, and often people arrive in Scotland's second city not really knowing what's in store. This is exactly what happened when I headed to Glasgow for the first time, and because I wasn't anticipating greatness, I ended up having a far better time than I could ever have imagined.
The weight of expectation can really make or break a trip and has a lot to answer for when comparing destinations. Just bear this in mind when making your own decision and coming up with your own conclusions. 
And so, to the question you all want answers to… should I visit Edinburgh or Glasgow? I'll look at different aspects of a trip to the two largest cities in Scotland, giving a verdict on which is best in each section. Then…drumroll please…I'll let you know my final verdict at the end. And yes, there will be a definitive answer, there's none of that diplomatic fence-sitting here! Hopefully after reading this post, you'll no longer need to ask is Edinburgh or Glasgow better?
A quick overview of Edinburgh
Historic Edinburgh is the main city you think of when considering a trip to Scotland. Famed for its traditional heritage, photogenic architecture and fashionable food scene, Edinburgh crowns the top of most itineraries for first-time visitors to the country. There's a strong royal connection that stretches back through the centuries, and as many bagpipe-playing buskers as you can handle.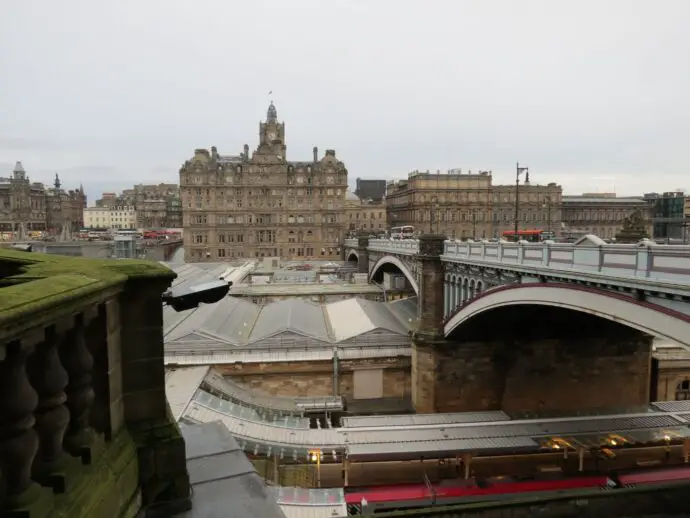 The attractions are world-class, with castles, palaces and museums in abundance. It's a bit of a cultural and literary hub too thanks to its theatres and festivals – the Edinburgh Fringe Festival attracts tourists from near and far. The Harry Potter connection is also strong, which will be of particular interest to fans of the famous boy wizard. Edinburgh is a great place to shop for souvenirs, and try your very first haggis. Strolling the medieval streets is one of life's greatest pleasures, and the urban scenery is hard to beat.
So, which city is the most beautiful in Scotland? Many people will say it's Edinburgh, and it's certainly one of my favourite UK places to visit. Yet we should also consider its sister city of Glasgow before making a final judgement. The Edinburgh v Glasgow debate rages on.
A quick overview of Glasgow
Glasgow reminded me a lot of London, with its cosmopolitan vibe and architecturally splendid streets. Whilst perhaps not quite as photogenic as Edinburgh, Glasgow has an urban appeal all of its own. There's a dynamic arts vibe, with plenty of museums and galleries to keep you occupied during a weekend break. It feels more modern, with an attractive industrial character that harks back to the shipbuilding trade for which the city was once known.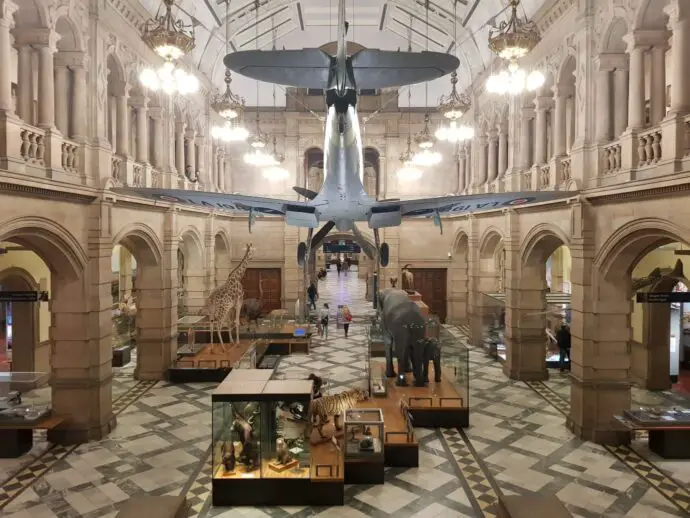 Named the European Capital of Culture in 1990, Glasgow takes some beating when it comes to entertainment. The nightlife is buzzing and there's always a concert or show on for an evening out. In fact, the live music scene here is second to none in the UK. Glasgow was once home to renowned designer Charles Rennie Mackintosh, so you'll come across a lot of his work as you explore the city.
Glasgow is a trendy place to hang out, with excellent high street shopping and innovative restaurants to tempt all types of travellers. There are fewer tourists in Glasgow too, which helps makes the experience feel entirely authentic.
1. Attractions and things to do: Tourism in Glasgow vs Edinburgh
Anyone hailing from Edinburgh or Glasgow will tell you that both cities have a lot to offer when it comes to activities and experiences. There's everything from historic walking tours to whisky tasting on the cards. The variety of attractions and things to do is a key part of the Glasgow vs Edinburgh debate. Here's what you can expect in each city:
Main Edinburgh sights
If you're into history and photography, then you'll love Edinburgh. The city was just made for exploring. There's the Royal Mile to stroll up, secret closes (alleyways) to examine and even a whole underground city to venture into. You could spend a week here and still not have scratched the surface when it comes to local attractions in Edinburgh.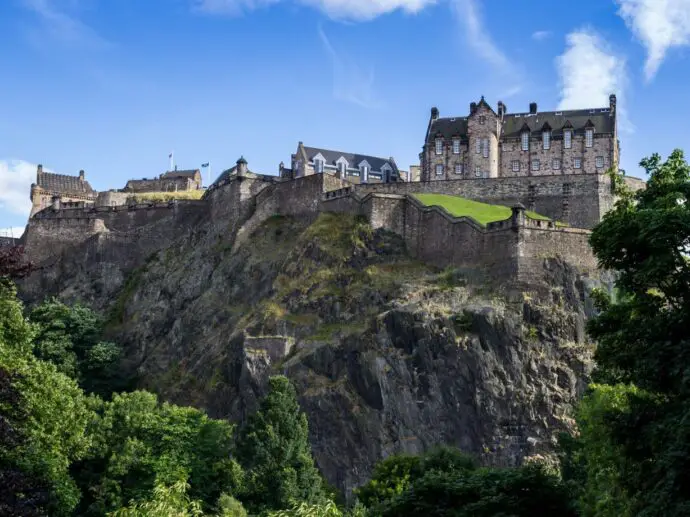 Here are some of the best things to do in Edinburgh if it's your first time in the city:
Main Glasgow sights
The local attractions in Glasgow are less touristic than in Edinburgh, but that's perhaps a good thing. Here, everything feels authentic, and aimed at the culturally curious visitor, rather than the overseas traveller looking to tick tartan and tatties off their list. I guess it really depends on what floats your boat, but I personally loved being a domestic tourist in Glasgow. The diversity of things to do in Glasgow was superb, with plenty to fill a long weekend.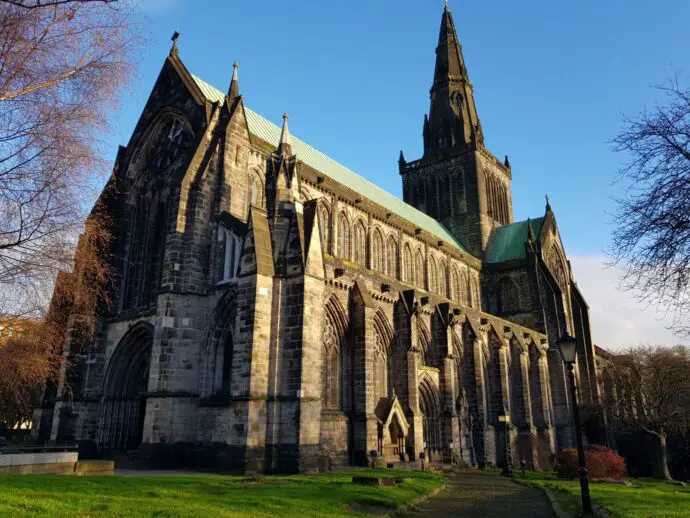 Here are the top attractions in Glasgow that should be at the top of your list:
*** VERDICT on best attractions: EDINBURGH WINS ***
To be honest, both cities are superstars when it comes to their attractions, and you'll be happy with either. I actually preferred sightseeing in Glasgow to Edinburgh, because I didn't feel like an outsider, or an observer looking in. The place wasn't rammed with tourists like Edinburgh is, and the only way to tell a local from a visitor was the accents! I like blending into places, and for this, Glasgow was perfect.
However, Edinburgh has far more iconic attractions and viewpoints to enjoy, so you can't really beat that. If you want to know why is Edinburgh better than Glasgow, this is one of the reasons.
If you're looking for more of a touristic, first-time visit to Scotland kinda experience, then choose Edinburgh. However, if you want a cultural weekend with some unusual sights thrown in for good measure, then opt for Glasgow.
2. Hotels and accommodation
There's no question that Glasgow and Edinburgh are home to the finest hotels in Scotland. If you're looking for luxury, this is the place to come, but there's plenty on offer for those on a budget too. The underlying theme to remember when considering accommodation is that Edinburgh caters to tourists while Glasgow has a less aggressive approach, particularly when it comes to pricing.
Having somewhere fabulous, unique, or wallet friendly to sleep is key to your enjoyment of a city break, so aside from attractions, I think it's the most important aspect to consider. So, Glasgow or Edinburgh – which is better to visit? Read on to find out our verdict.
Where to stay in Edinburgh
People often ask why is Edinburgh better than Glasgow, and one of our main answers is that the hotels are simply fabulous. If you fancy sleeping in history surrounded by opulence, this is the place to do it. It's easy to find a hotel in the historic centre, close to all the main attractions. Yet that's reflected in the budget. You can find cheaper options further away from the action that's still within walking distance. Leigh is another option, although you'll need transport to get to the castle area.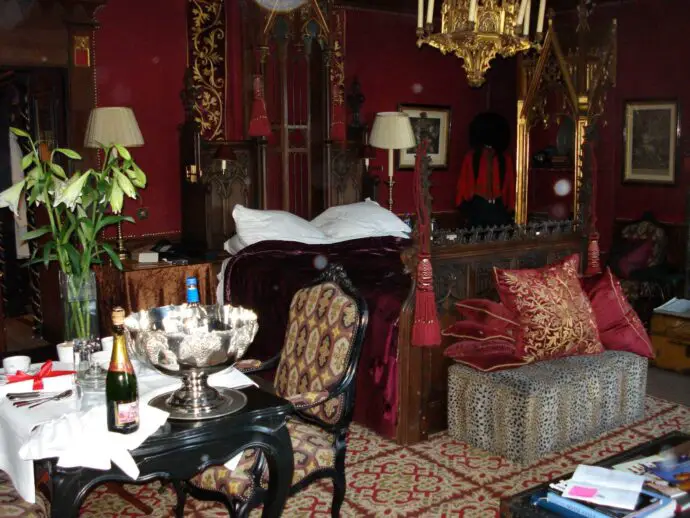 Luxury hotels in Edinburgh
The Witchery by the Castle– we absolutely love this place for a splurge or special occasion. It takes the meaning of decadence to a new level with rolltop baths and sumptuous suites. Today, it's frequented by A-listers rather than witches. Check availability here.
The Bonham – this stylish Georgian hotel is beautifully located in Edinburgh's West End, in a leafy spot away from the bustle. Everything about the place oozes elegance, and they do afternoon tea too. Check availability here.
Mid-range hotels in Edinburgh
The Scotsman Hotel – another one of our favourites, we love the wood paneled walls that retain an air of history in the former headquarters of The Scotsman newspaper. The location is superb, right in the thick of the action just a minute from the Royal Mile. Check availability here.
Malmaison Hotel – this reliable chain has a lovely offering in Edinburgh. It's located in Leith which is just outside the city centre but this is a positive – it's a lot quieter and there's plenty to do here. Check availability here.
Budget hotels in Edinburgh
Hotel Ceilidh-Donia – this highly rated family-run hotel offers great bus access into Edinburgh centre, as well as free parking if you have a car. It's on a quiet street and is tastefully decorated. Check availability here.
Edinburgh Backpackers – you'll be in the heart of the historic town if you stay here – it's just 200 metres from Edinburgh Waverley Station. The shared rooms make this one of the cheapest central stays. Check availability here.
Want to see more accommodation options? Click here to search for Edinburgh hotels.
Where to stay in Glasgow
The range of accommodation options in Glasgow is staggering, and as it's quite a bit city, it's important to base yourself in the right area according to your interests. First-time visitors will do well to book a hotel in the City Centre. Here, you'll be close to the main attractions, as well as shops, restaurants and the train station. For something a bit different, try the West End which has a bit of a trendy vibe and a thriving foodie scene. Or head to Merchant City to be close to museums and architecture.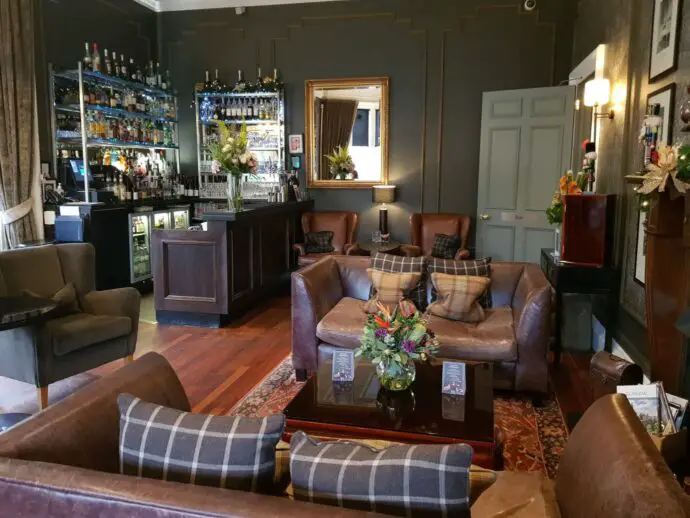 Luxury hotels in Glasgow
Hotel du Vin – we love the sophisticated décor in this sumptuous West End hotel. It's situated on a stylish Victorian terrace and has an inviting restaurant and bar for the evenings. Their afternoon tea is delicious too! Check availability here.
Kimpton Blythswood Square Hotel – this centrally-located 5-star IHG hotel just oozes elegance and was formerly home to the Royal Scottish automobile Club. Expect regal afternoon teas in the salon, an onsite spa and beautiful heritage architecture. Check availability here.
Mid-range hotels in Glasgow
Apex Hotel – this is one of our favourite hotel chains in the UK, and the Glasgow Apex hotel is superbly placed for a first-time sightseeing trip. It's right in the heart of the city centre and comes with fashionable, well-appointed rooms. Check availability here.
Double Tree by Hilton – a reliable offering by Hilton, this comfortable central hotel has everything you need for a weekend break. There's payable parking on site if you have a car and a leisure club with an unusually large pool for those morning swims. Check availability here.
Budget hotels in Glasgow
Motel One – this affordable yet stylish hotel enjoys an excellent city centre location near the train station. Modern interiors and a continental breakfast make for a very comfortable stay in the heart of the action. Check availability here.
CitizenM – this designer hotel has a hip vibe, a cocktail bar and a 24-hour canteen. Rooms are simple yet chic and it's right beside the Royal Concert Hall in the centre for easy access to the top attractions. Check availability here.
Want to see more accommodation options? Click here to search for Glasgow hotels.
*** VERDICT on best hotels: EDINBURGH WINS (just) ***
This category is actually really hard to call. You'll find what you're looking for in either Edinburgh or Glasgow – there's a lot of variety in both cities. I think it comes down to your budget and what price you're willing to pay for luxury. In Edinburgh, the hotels are simply fabulous, and there are far more high-end offerings than in Glasgow, so you've got more choice. Yet for me, the over-elevated prices in Edinburgh, especially during summer, put me off. If it's value you're looking for, head to Glasgow, or if you're after a one-time splurge, Edinburgh won't disappoint.
3. Eating out and restaurants
You'll enjoy incredible culinary experiences in either Edinburgh or Glasgow, so really this category could go either way. I've had some of the best meals out ever in both cities. I've also had some of the worst, so it does pay to do a bit of homework before making a booking! Traditional Scottish cuisine and international dishes can be found in both cities, so wherever you go, you'll be spoilt for choice. Still wondering is Glasgow or Edinburgh better? This next section will give you food for thought.
Restaurants in Edinburgh
If you're looking for luxury dining with a Scottish twist in a historic setting, then Edinburgh wins hands down. This city has glamour down to a fine art, making it a fabulous place for a celebration weekend. We've spent many a wedding anniversary and birthday here, knowing that we won't be disappointed with our experience. There's plenty to offer those on a tighter budget too, as well as lots of touristy venues to satisfy overseas visitors looking to tick some quintessential Edinburgh spots off their list.
These are our top picks for Edinburgh restaurants:
Restaurants in Glasgow
The biggest surprise that Glasgow had in store for me was the quality – and quantity – of restaurants. The gritty Scottish capital really could give London a run for its money when it comes to restaurant variety. There's everything from elegant dining and international cuisine to tiny late-night noodle bars where you perch in the window and watch the world go buy. Honestly, the foodie scene caters to everyone, and I came away from my first trip promising to return soon, just to take in more of the restaurants.
Here are a few of my favourite places to eat in Glasgow:
*** VERDICT on eating out: GLASGOW WINS ***
I fully expected Edinburgh to come out on top in this category. After all, it's been catering for international visitors for decades, and is home to some truly world-class restaurants. Yet after spending a weekend in Glasgow, with its variety of offerings, my mind was changed in an instant. Both are strong contenders in this category, but alas there can only be one winner.
4. Christmas markets and fairs
Wondering whether the Edinburgh or Glasgow Christmas markets are better? I've visited both, and for once, feel there's a clear winner in this category. It's perhaps not a fair comparison as Scotland's capital city is clearly more geared up to attracting the festive winter crowds. However, for the sake of completeness, let's have a look at just why Edinburgh is better than Glasgow when it comes to Christmas fairs.
Christmas markets in Edinburgh
I love the Edinburgh Christmas markets. They just bring a magical vibe to an already enchanting city. These are the quintessential European Christmas markets, with stalls from across the continent offering up all manner of delectable festive treats. There's everything from German gingerbread to Dutch candle ware, and everything in between.
The main traditional market area is at East Prince's Street Gardens, right in the thick of the action. Here, you'll find lots of festively themed gifts and lots of food stalls too. You can stroll through the fair sipping mulled wine, doing your Christmas shopping and enjoying the illuminations. It's a great vibe, and never fails to get me in the mood.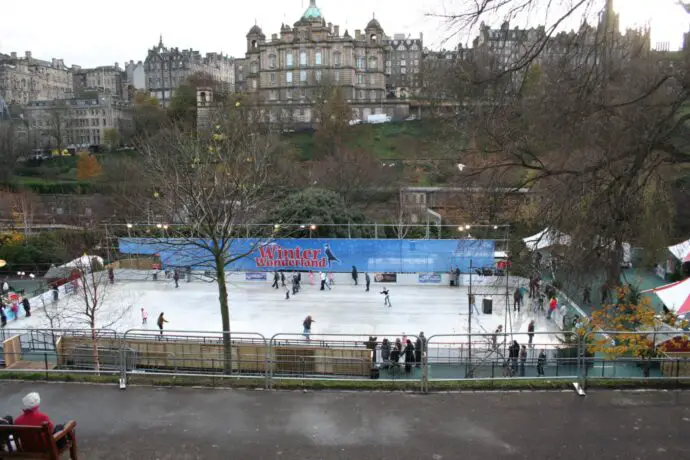 Meanwhile, over on George Street you'll find the Scottish Christmas market, which is full of gifts and food originating closer to home. Expect plenty of handcrafted gifts and tasty treats beloved by Scots. It's about much more than haggis and butter tablet!
There's also a big wheel which gives great views out over the city centre, and plenty of fun and activities for children young and old. Ice skating is on the cards too, as well as a ride on a Christmassy carousel. I've always felt the festive atmosphere here easily rivals that at the London markets, which is saying something!
Christmas markets in Glasgow
I timed my first visit to Glasgow to coincide with the Christmas markets, thinking that a bit of festive cheer would brighten up those chilly December days. Yet I have to be honest, I was rather disappointed. The lights were pretty enough, and the buskers were out in their droves keeping shoppers' spirits high. Yet the markets and fairs themselves weren't a patch on the ones in Edinburgh.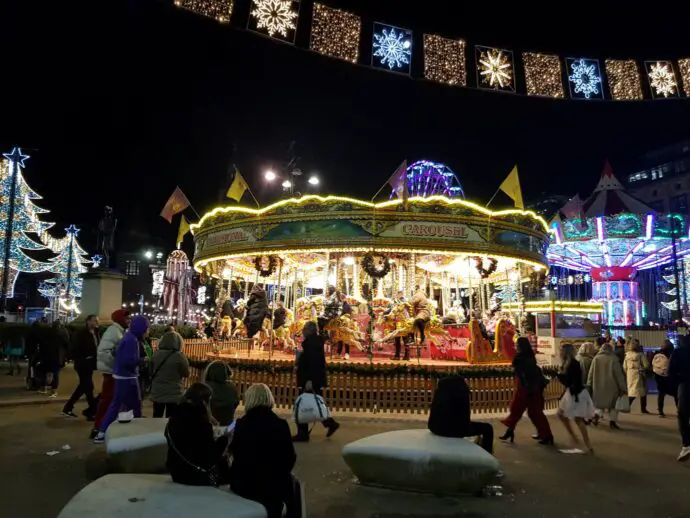 Perhaps it was my fault. I'd not done any research beyond where to find Glasgow's Christmas markets and went expecting all the usual wooden chalets with crafts from the continent. You know, the sort of things that would make great Christmas presents. In the event, there just seemed to be a few fairground rides (some that looked rather hair-raising) and the chalets were mostly selling drinks rather than gifts. It was super packed too, and we couldn't move for the crowds. It was impossible to get close to any of the action so in the end we gave up and retreated to a noodle bar that was well off the main drag. If you're into boozing and rides, then you might love it. But it wasn't my cup of tea, and I wouldn't bother returning.
The main Glasgow Christmas markets are in George Square and St Enoch square. There's also usually an ice rink and big wheel up at the Kelvingrove Museum – the event is called Elfingrove and there's foot and drink available too.
*** VERDICT on Christmas Markets: EDINBURGH WINS ***
This category really has no contest. Edinburgh is undoubtedly the place to go for the traditional Christmas Markets, while Glasgow seems to focus more on drinking and fairground rides.
5. Location and getting there
Both Edinburgh and Glasgow are easy cities to access, either by public transport or on a road trip. They're equally well served by motorways and airports and have excellent local transport networks too.
If location is a key factor in your decision making, perhaps the best way to decide between Edinburgh or Glasgow is to consider which side of the country you want to be on. Over in the east, Edinburgh is well placed for exploring places like Perth, Dundee and St. Andrews. You'll also be able to head further north to visit the Cairngorms and Inverness, while just south of the border is Northumberland with its wild beaches and castles. Meanwhile, Glasgow sits in the west, and acts at the gateway to the Scottish Highlands. Loch Lomond and the Trossachs National Park is a stone's throw away, and famous west coast islands like Skye are also within easy reach.
Many people ask is it better to fly into Glasgow or Edinburgh when visiting Scotland, with a view to exploring the Highlands and further north into the country. The truth is, either will work fine. After all, there's less than 50 miles between the two cities, and both have great transport links. It's probably best to fly into Glasgow if you're heading to the western coast and the islands.
Here's the low-down on Edinburgh vs Glasgow travel.
Getting to Edinburgh, and getting around
Arriving by Air
Edinburgh has an international airport, serving places in the UK as well as across the world. It's well connected to London airports if you're travelling from somewhere a little more obscure.
You can easily travel into Edinburgh city centre using trams, taxis or buses. The trams run every 7 minutes!
Arriving by Train
It takes about 4.5 hours to travel between London and Edinburgh if you book a direct train. You'll be using the East Coast Mainline, with most trains stopping at York, Durham and Newcastle along the way.
Waverley Station is in the middle of the old town, so you'll be in the thick of things the moment you step off the train. Many of the top hotels are just a short walk away. We always prefer to use the train when visiting Edinburgh as it's just so convenient.
Arriving by Car
It's easy to travel to Edinburgh by car if you're visiting as part of a longer road trip and want the independence that comes with having your own vehicle.
Hiring your own car in Edinburgh is a great option if you want to explore the surrounding area and see more of Scotland as well as the city. It's a great choice if like your independence and don't want to rely on public transport. You can hire a car in Edinburgh when you arrive in the city, and there are plenty of options for picking the vehicle up at either the airport or the city centre.
Just bear in mind that due to the hilly nature of the city, there aren't many car parks. This means that you might have to walk a fair distance to reach your hotel, often up some steep inclines. Parking is very expensive too, with it costing over £70 for 48 hours to park at Castle Terrace in the centre of town! Cheaper parking is available if you're prepared to walk a bit further. Edinburgh really is best visited using public transport if you can!
Getting around Edinburgh
Edinburgh is a very walkable city, and you can explore all the main sites on foot. Just make sure you wear comfortable shoes as there are lots of hills and cobbles to contend with. There are buses if you want to save your legs, but you probably won't get to your destination much quicker.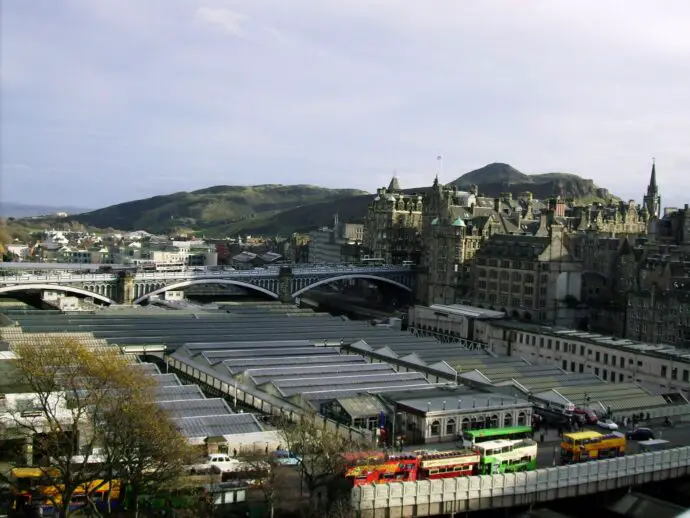 Getting to Glasgow, and getting around
Arriving by Air
Glasgow airport receives daily flights from numerous destinations across the world. Like Edinburgh, its direct links to London mean that you can arrive by plane even if you're not coming from a mainstream location.
Once you've arrived, you can just hop on a bus into town. Taxis are also available for a more direct route to your hotel.
As an aside, Glasgow is our favourite UK airport! It's smaller than many of the more southern ones, and we've never had any problems with long queues when flying out of here. Everything is super close too – it took us less than half an hour to get from the long stay car park to sipping cocktails in the lounge on our last trip! So, if you're debating between arriving into either Edinburgh or Glasgow airport, we highly recommend the latter.
Arriving by Train
If you're travelling around the UK, Glasgow is easily accessed via the West Coast Mainline. There's a direct route from London – the high-speed train takes just over 4 hours to reach Glasgow.
The Art Deco train station is right in heart of the historic centre, making it easy to walk to your hotel if you're not staying too far out of town.
Arriving by Car
There are car parks in Glasgow, as well as some paid on-street parking if you've arrived in your own vehicle. Prices don't seem quite as extortionate as in Edinburgh, and there are fewer hills to negotiate when walking to your hotel. Still, arriving by train is by far the easiest way to travel to Glasgow.
Getting around Glasgow
You can explore Glasgow by foot or underground, depending on how energetic you're feeling. Like Edinburgh, Glasgow is also an easy city to walk around, but it really depends on where you're staying. We recommend booking a hotel in the centre, which means you'll be able to easily walk out east to the cathedral area, and west to the Kelvingrove Museum area. If you're staying at a hotel in the West End, you'll need to take a taxi to places like the cathedral, unless you like walking a long way!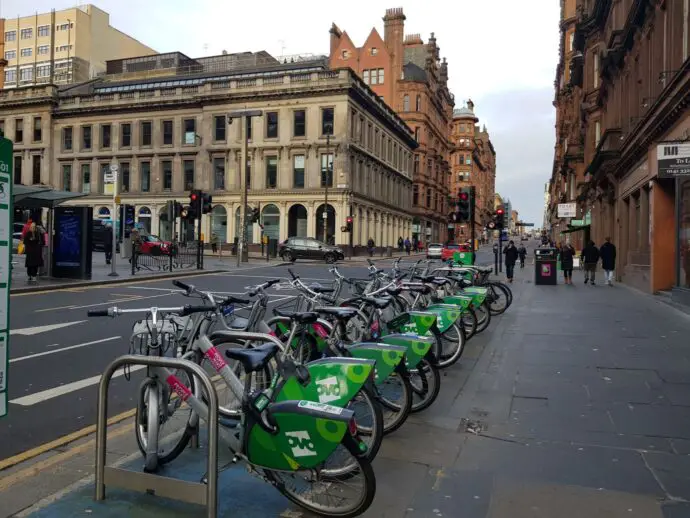 Bikes are available to hire with Ovo – you'll see these at key points around the city, like near the train station.
There's a decent bus network, as well as the Glasgow Subway, but we found the stations on the latter weren't conveniently located for any of the attractions we wanted to visit in relation to our central hotel.
*** VERDICT on transport and getting around: IT'S A TIE ***
Both cities are really easy to reach, either by road on the motorways or by using public transport. Therefore, this category is a tie since neither is better than the other.
6. Is Edinburgh or Glasgow cheaper?
Cost is a huge factor to consider wherever you're going in the world, and even more so when cities are involved – they're usually notoriously more expensive than more rural destinations. We often end up spending small fortunes whenever we visit Glasgow and Edinburgh, simply because there's so much to do and being county folk, we like to indulge whenever we head up to the bright lights. However, if we have a budget to stick to, there's one city that is far easier on the wallet than the other.
So, is Edinburgh or Glasgow more expensive?
Cost of visiting Edinburgh
As the capital of Scotland, Edinburgh is a very touristy city with a very attractive range of things to see and do. The city cashes in on its popularity and the huge volume of overseas visitors by hiking up the prices of pretty much everything, from restaurants to souvenir shops.
You'll pay a premium for hotels in the historic centre, but you really can't beat the location, or the heritage that comes with the hefty price tag. There are of course cheaper places to stay outside the most popular areas, and if you do a bit of research, you'll also find affordable eateries that cater more for locals than tourists.
If you're visiting during the Fringe Festival or the Edinburgh Tattoo, prepare to remortgage your house! Prices rocket during these periods, and honestly, I'd only recommend visiting then if you're going specifically for the festivals.
Cost of visiting Glasgow
Why is Glasgow better than Edinburgh? Cost is a huge reason, especially if you're keeping an eye on your budget. As Glasgow is a lesser-known destination in Scotland, and has always played second fiddle to Edinburgh, the prices are less inflated than in the capital.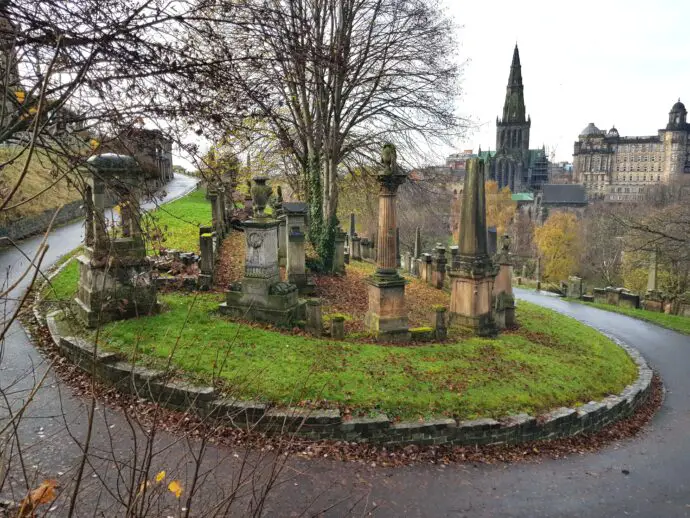 Glasgow is more of a city for locals than tourists, so costs are considerably lower than in Edinburgh. Of course, you'll still pay top dollar at the more sophisticated restaurants and luxury hotels, but there's a lot more choice when it comes to more affordable offerings.
*** VERDICT on cost: GLASGOW WINS ***
Which is cheaper, Edinburgh or Glasgow? Hands-down, it's Glasgow!
7. Day trips into Scotland and northern England
If you're looking for a base from which to enjoy a few day trips further into Scotland, then either Edinburgh or Glasgow will do the trick. It just depends which areas you want to visit! The two cities aren't that far apart either so you can even enjoy a day trip to Glasgow from Edinburgh, and vice versa. Here a rundown of the top day trips from both locations to help you make up your mind.
Day trips from Edinburgh
Edinburgh is ideally located for day tours into Scotland, especially along the eastern coast. Visitors often like to head south the beautiful Northumberland beaches and castles, or take a day trip to the Scottish Borders to places like Melrose and Galashiels. Futher north, you've got places like Perth, St. Andrews and Dundee on the cards, all of which are worth a stay in their own right.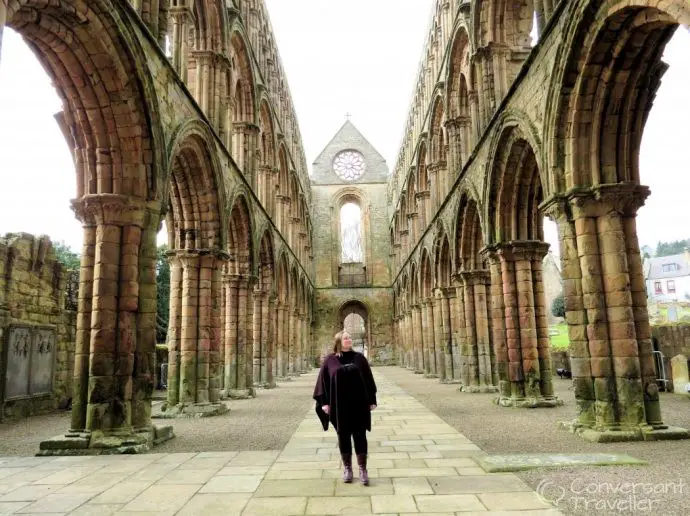 Don't miss heading along the M9 to Falkirk, where you can see the famous Kelpies horse sculptures and visit the Falkirk Wheel. The Cairngorms National Park can be visited from either Glasgow or Edinburgh, but it's more easily access from the latter. You can even drive up to Aberdeen for the day, stopping at Dunottar Castle along the way.
Day trips from Glasgow
Wondering where to go near Glasgow? One of the most popular jaunts is to nearby Loch Lomnd and the Trossachs National Park – it's just 45 minutes by car. Here, you can enjoy a boat trip, do some hiking, explore the pretty village of Luss or just take in the beautiful scenery. It's also easy to reach places like Stirling, the Scottish Borders, or even the Isle of Arran. Another reason why  Glasgow is better than Edinburgh when it comes to day trips is its proximity to the islands of the west coast. You can visit Arran by train and then ferry, making it a convenient getaway without the hassle of having to drive.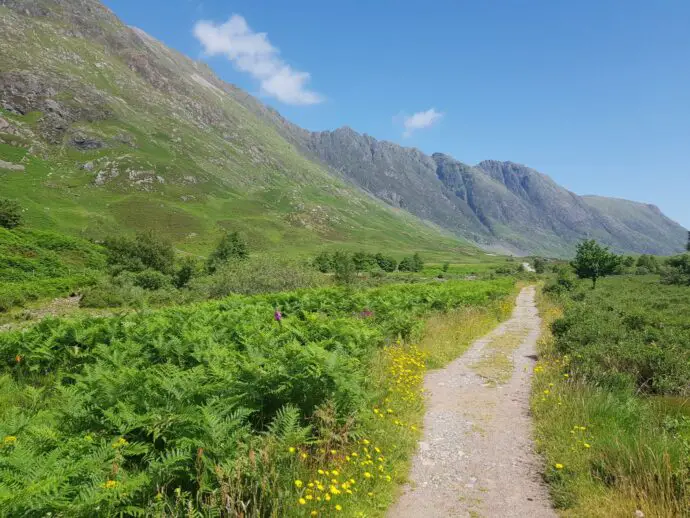 Further north, you can also reach Glencoe on a day trip from Glasgow. This is the place to go if you want a proper dose of the Scottish Highlands, with dramatic mountains and secret valleys all around. Why not take in the beautiful coastal town of Oban and the ruins of Kilchurn Castle at Loch Awe at the same time? It's a long day out but well worth the early start!
*** VERDICT on day trips: GLASGOW WINS ***
Both cities offer some great day trips, and of course this one's really down to personal preference. Yet you just can't beat the Scottish Highlands and Islands, which are most easily accessible from Glasgow.
8. Festivals and events
When it comes to festivals, you can visit either Edinburgh or Glasgow and be completely blown away by the cultural events on offer. While the festivals in Edinburgh might be famous and attract people from across the world, Glasgow has a solid year-round programme of arts, theatre and music shows.
Festivals in Edinburgh
The Edinburgh Fringe Festival is known as the biggest arts festival in the world. It's held in August each year and runs for 3 weeks so there's plenty to see and do. There's everything from comedy and cabaret to dance and opera to enjoy, as well as several exhibitions and music gigs to take in.
Even if you don't actually attend a performance, you'll be able to soak up the vibe just walking down Princes Street or the Royal Mile. Here, you'll see buskers and circus acts entertaining the crowds, and you never know what you might come across as you wander along. Running alongside the Fringe are the Edinburgh International Festival, Edinburgh International Book Festival and the Edinburgh Film Festival.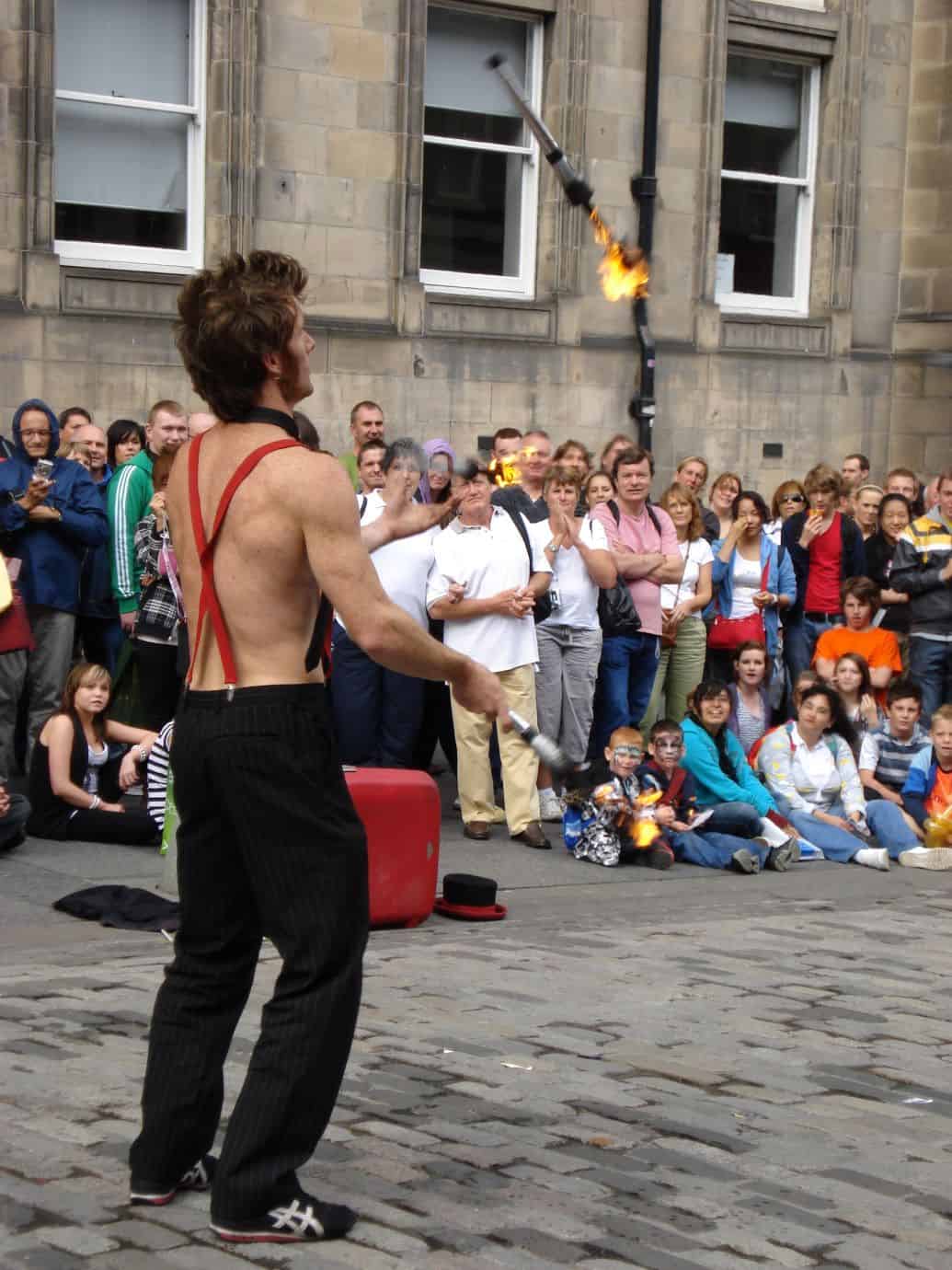 Then there's the Royal Military Edinburgh Tattoo, which is unlike any other festival in the world. This is also held in August so there's a lot going on this month! The event is held up by the castle, and is a spectacular celebration of Scottish, and international culture. Marching processions, music and dance displays form the main elements, with plenty of drumming and bagpipes to get you in the mood. The castle is illuminated and presents a fitting backdrop.
Festivals in Glasgow
Glasgow may not have the world-famous festivals of Edinburgh, but there's a lot going on throughout the year to attract travellers of all types. In June, the Glasgow Science Festival has some mind-boggling exhibits and over 100 science-themed events. Also in June is the Glasgow Jazz Festival which runs for 5 days with some of the best musicians that have ever graced the stage. Expect lots of blues, soul and funk as well as traditional jazz.
Other more unusual cultural events in Glasgow include a Real Ale Festival, an International Piping Festival and even a Sneaker Festival. There are also festivals celebrating whisky, gin and food, along with heaps of music and arts performances. There really is something here for everyone.
*** VERDICT on festivals: IT'S A TIE ***
This is another tough category, because while the Edinburgh festivals are the most well known, Glasgow has a staggering programme of events that run year-round. This one really depends on your personal preferences. I actually would rather go to Glasgow, since the festival variety is greater and there seems to be something every month. Plus I hate crowds so didn't really enjoy the Fringe that much. However, you can't ignore the Edinburgh Tattoo for pomp and ceremony, so this one has to be a tie!
9. Is Edinburgh or Glasgow better for shopping?
If you're heading to one of Scotland's cities for a weekend of retail therapy, then Edinburgh and Glasgow are the best places to start. Both offer a range of different shops, all within easy reach of the main drags.
Shopping in Edinburgh
Most tourist visit Edinburgh for the attractions and the architecture, but there are several shopping areas if you really need to get your retail fix. The main areas are along Princes Street and George Street, which are conveniently located in the heart of the historic city centre.
For independent stores and fashion boutiques selling vintage clothing and designer goods, head to Grassmarket or Victoria Street. Meanwhile, if you're after souvenirs, just walk along the Royal Mile and you'll be inundated with tartan-themed trinkets.
Shopping in Glasgow
Some people visit Glasgow for shopping, and only shopping. It's that good! Here, you'll find everything from high street favourites to high-end brands. The Glasgow shopping scene reminded me of London, with it's streets of retail outlets and designer stores.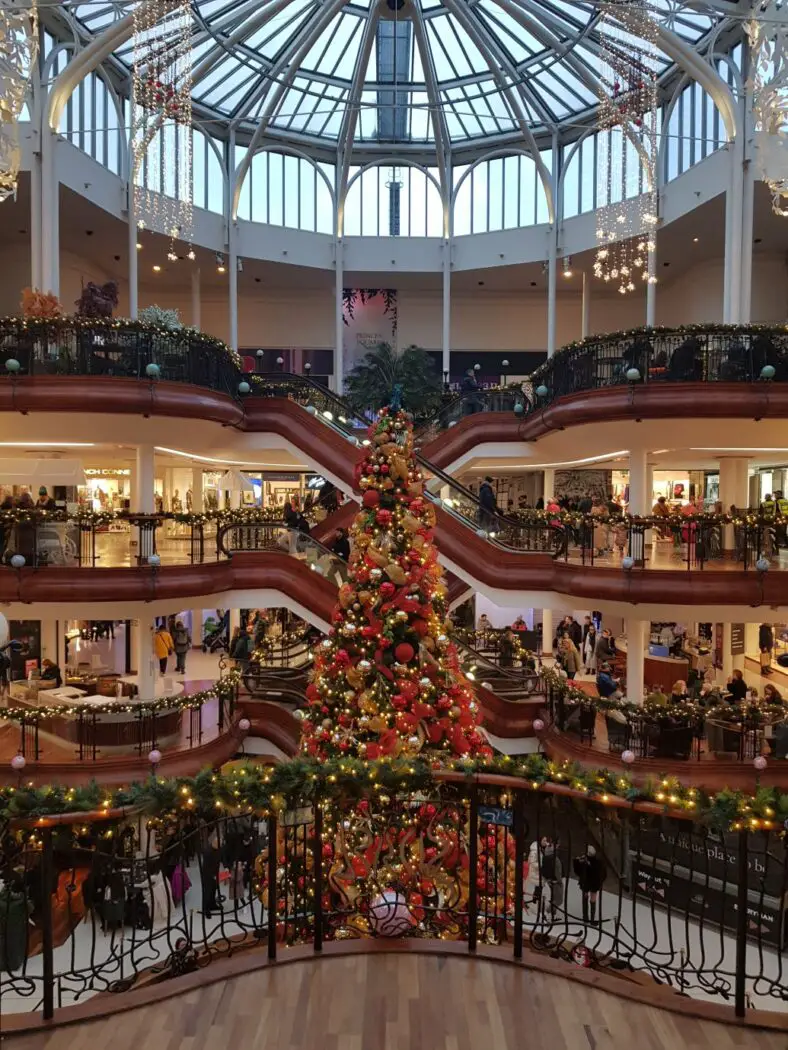 If you're looking for exclusive labels, then head to Princes Square and the Buchanan Galleries – they look particularly pretty when decorated for Christmas! For high street brands, head to the St. Enoch Centre or go for a wander down the "Style Mile". This famous shopping area focuses on Argyll Street, Buchanan Street, Sauchielhall Street and Princes Square, and has an astonishing range of shops to browse. It's mainly a pedestrian zone which makes for a pleasant experience.
*** VERDICT on festivals: GLASGOW WINS ***
This one's an easy category to judge. Edinburgh is great if you want tacky tartan souvenirs at high prices, but for high street shopping, there's no beating Glasgow.
Tips for visiting Edinburgh
Book hotels well in advance: Edinburgh is super popular so it's always best to make hotel reservations in good time. If you're visiting in summer, especially during August when the festivals are in full swing, you may even want to book a year in advance if there's somewhere in particular you want to stay.
Come by train if you can: Parking is very expensive in the city, and you'll often have a long walk to the car park, so arriving by public transport is far more preferable if you can.
Pack for the cold: Edinburgh can get very chilly, and not just in winter. So even if you're coming in summer, make sure you pack some warm clothes and a waterproof jacket.
Plan your itinerary: You might want to pre-book entrances for some of the top attractions, especially if you want to get your hands on skip-the line tickets at the castle. Queues in the summer can be long, and you don't want to spend your visit standing in a line. There are several free attractions that don't need tickets, including the Scottish National Gallery and St. Giless Cathedral.
Tips for visiting Glasgow
Reserve restaurants well in advance: One thing I wasn't expecting was how difficult it is to get a last-minute reservation at restaurants in Glasgow. Naively, on my first trip to Glasgow I thought that since I was visiting in the middle of winter, there would be plenty of choice. I very nearly went hungry as a result of my naivety.  So, top tip – always book ahead if you can!
Be prepared to wait for ages at crossroads: Many of the road intersections are wide in the city centre, with multiple lanes and traffic lights to contend with. This means you'll spend ages hanging around for the green light to show you across the road. It might not seem that big of a deal, but when you have to navigate several of them on a single journey, it sure does take a chunk of time out of your day.
Glasgow accents: It can take a moment to get use to the strong Glaswegian accents, especially if you're from abroad and English isn't your mother tongue. The Glasgow accent is thicker than in other places in Scotland and can take a moment to tune into. However, everyone is really friendly, so communication is rarely an issue.
Stay in the centre of town: The attractions in Glasgow are spread out over a considerable distance, so it's best to stay centrally so you can easily venture out in all directions.
The final verdict: Edinburgh or Glasgow?
So, Edinburgh or Glasgow – which is better?
It's a close-run thing, and of course deciding between Glasgow or Edinburgh is a very personal choice. Yet you didn't come here for wishy washy fence sitting, so I'm going to stick my neck out here and choose Glasgow. A bit controversial I know! Having visited both cities, Edinburgh gave more of an instant wow factor, but Glasgow is the place that I'd want to return to.
I will say that if it's your first trip to Scotland, and you're looking for that quintessential fix of history and enviable holiday photos, then Edinburgh should be your first choice. Yet if you're not fussed about ticking off the same sights that everyone and his dog have splashed all over Instagram, then head to Glasgow and feel like a bit more of a pioneer.
In a nutshell, Edinburgh is beautiful, historical and touristy, and never fails to impress first-time visitors if they can handle the crowds. On the other hand, Glasgow is gritty and authentic, with a great restaurant scene and a certain urban charm.
Honestly, you can't go wrong with either!