Some would call it inspired spontaneity, others would call it a moment of madness, but whatever the label, it's going to be a whole lot of fun. You see we've just booked flights to the Caribbean! We're in the middle of moving house (just when did we accumulate so much stuff?) and the weather here in the UK is soggy rather than sunny (sigh), so what better way to cheer ourselves up than by planning another trip away. It will be our first time in the Caribbean, and we'll be heading to the Lesser Antilles to check out the best Aruba adventure activities for couples on this tropical island. Can't wait!
So just where is Aruba?
Aruba is a small island just a few miles off the coast of Venezuela. Yes, I had to look it up on a map too! Famous for its stunning Caribbean beaches and sunny weather, Aruba is also known for its rugged landscapes, colonial architecture and exotic cuisine. Whilst the island is Dutch, and wandering around the capital Oranjestad you could be forgiven for thinking you were indeed in the Netherlands, there is a distinct Latin vibe which gives Aruba its exotic flavour.
One of the main attractions for us however is the lack of rain! As Aruba is located below the hurricane belt, it barely sees a drop all year round, so whilst the winds are battering the Bahamas, we'll be sunning ourselves on the beach. Although the average temperature is a sweltering 32 °C, the sea breeze provides a welcome cooling effect which is perfect for visitors from the UK who perhaps aren't used to the big yellow thing in the sky.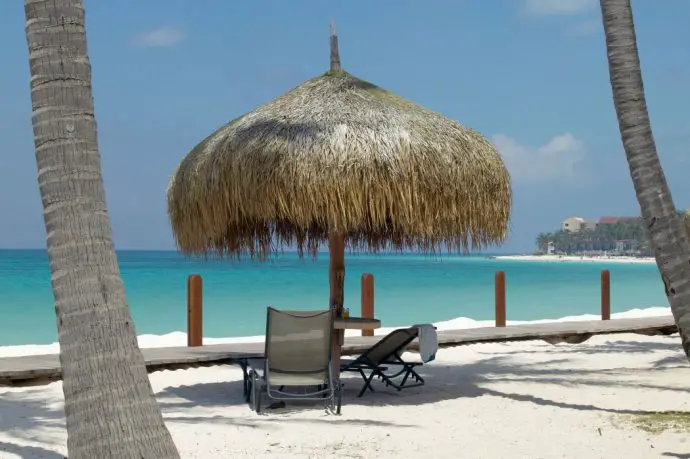 Aruba adventure activities
Actually, we're not really beach people. Although with 9 miles of award-winning pristine golden beaches and emerald seas, I'm sure we'll make an exception. We reckon that bumping across lunar landscapes in a 4×4 and snorkelling over shipwrecks is far more exciting than topping up the tan. Which is lucky because these are indeed some of the Aruba adventure activities you can enjoy on the island! There are plenty of things to do on Aruba for those who are looking for something energetic or cultural, so don't think for one moment that the only activity on offer is sunbathing.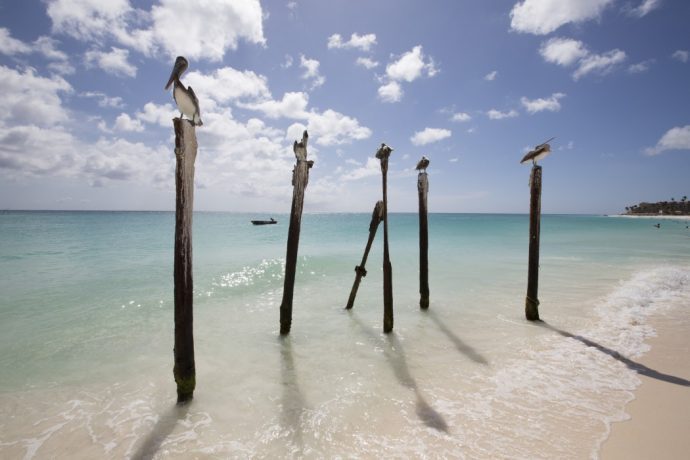 Hiking in the Arikok National Park
One of the best ways to discover Aruba is to go hiking through the ruggedly beautiful landscape of the Arikok National Park. It's best to begin hiking during the early morning, to avoid the intense heat of the afternoon, so pack a picnic breakfast and head out to catch the sunrise. The Arikok National Park covers a fifth of the island and with 29 miles of trails winding their way through the rocky desert there's something suitable for all hiking levels. The most challenging hike takes about 5 hours through jagged terrain, home to unique wildlife and the famous cacti that live in the desert. You can also visit an historical Aruban adobe house and explore caves to check out indigenous Indian paintings, as well as indulge in a spot of exotic bird watching.
There is an entrance fee to Arikok National Park and the Visitor Centre in San Fuego can provide trail maps for those who wish to hike alone. Guided tours with park rangers are also available, and free of charge (these do need to be booked in advance). For an evening hike, try the trails along the north coast and the beaches, and you'll be rewarded with a spectacular sunset. Possibly the most exciting tour is the full moon hike with an experienced naturalist, one of the most unique things to do in Aruba.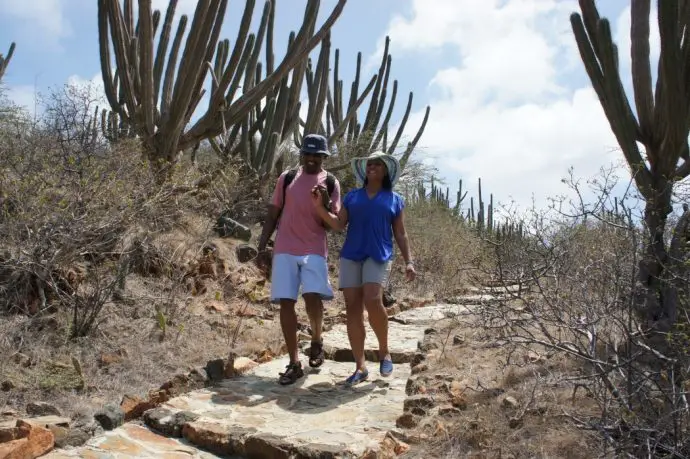 Watersports
Of course you can't visit the island without trying some of the most popular Aruba adventure activities on offer. Those that take place in, and on the water!
The sweeping wide beaches of the west coast are the place to go for watersports, and Aruba is famed for the wide variety available. The marine life here is beautiful and thriving, and whether you fancy a spot of sedate snorkelling in a sheltered bay, or prefer to swim a little deeper with some coral reef or wreck dives, Aruba seems to have it all. Snorkellers aren't usually able to visit wrecks, but here you can visit a famous World War II shipwreck now teeming with colourful fish and corals. Some of the best scuba diving spots in Aruba include shipwrecks and even a plane wreck. Not something you see on most diving trips. If you're wondering what to wear whilst diving, the watersports centres will help you out with wetsuits and gear as required.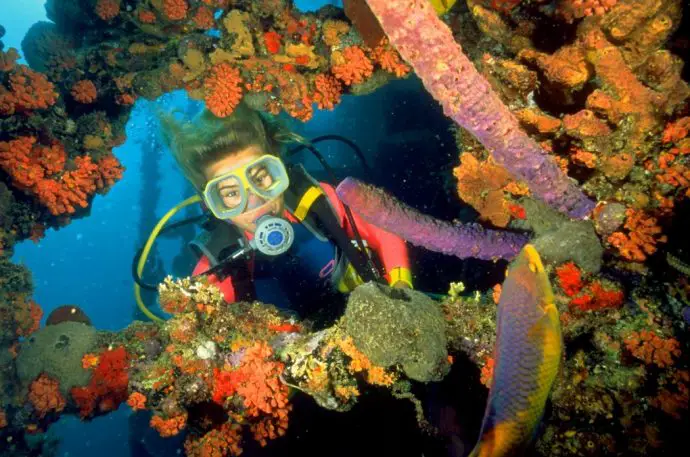 Paddle boarding and canoeing are also popular things to do in Aruba, and there are several tours along the coast to give visitors the chance to experience the island from a different perspective. Adrenaline junkies can have a go at kite surfing, waterskiing and even parasailing, and it doesn't matter if you've never tried it before. Or for something a bit different, there are underwater scooters which act like your personal submarine as you glide over coral reefs alongside the fish. If you've ever wondered what it's like to be James Bond, then here's your chance!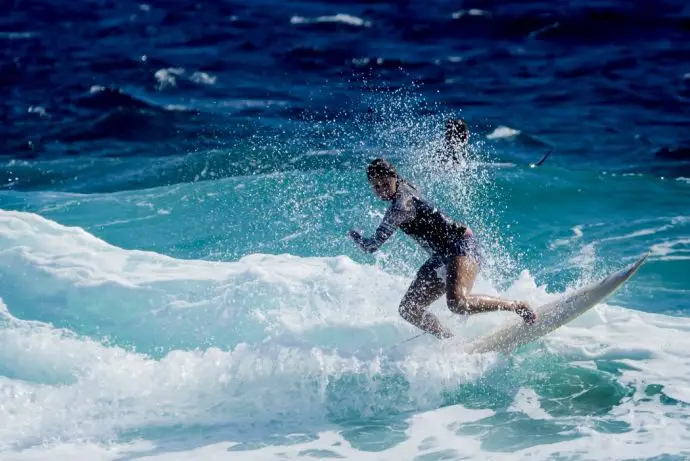 ATV tours
Release your inner big kid with one of the most exciting Aruba adventure activities on the island. ATV (or quad biking) tours are so much fun. The vehicles are really easy to operate, even if it's your first time, and they're a great way to explore the wild side of Aruba. All tours are led by qualified guides, and take you across the rugged interior, through the streets of colourful towns and off road along the stunning Caribbean coastline. Riders can visit natural bridges, chapels and even a gold mine – not your average ATV tour! We love that independent travellers confident using an ATV can hire their own vehicles and go it alone. Definitely top of our list of things to do on Aruba!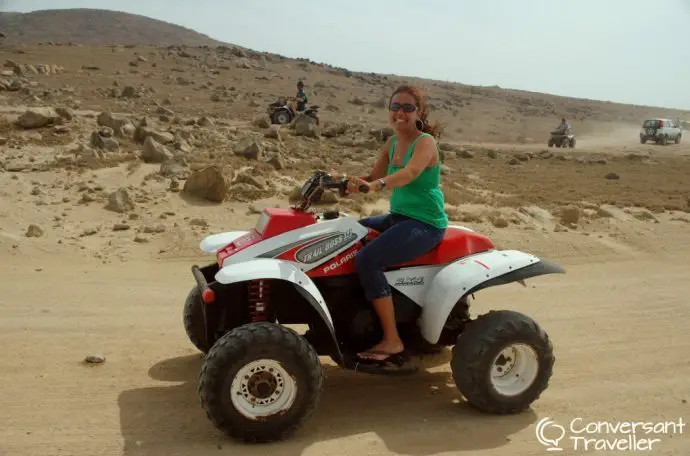 Electric Bike adventures
Aruba isn't very big. Less than 20 miles long, the island is easy to explore by bike, especially if it's an electric bike. The extra power takes the sweat out of pedalling up hills and against the wind, so it's actually quite a relaxing way to spend the day on Aruba. Guided tours take in the California lighthouse, coves and beaches as well as some of the best cultural spots on the island. The tyres are fat which means the ride is smooth even on sandy roads, and you can reach speeds of 20 miles an hour.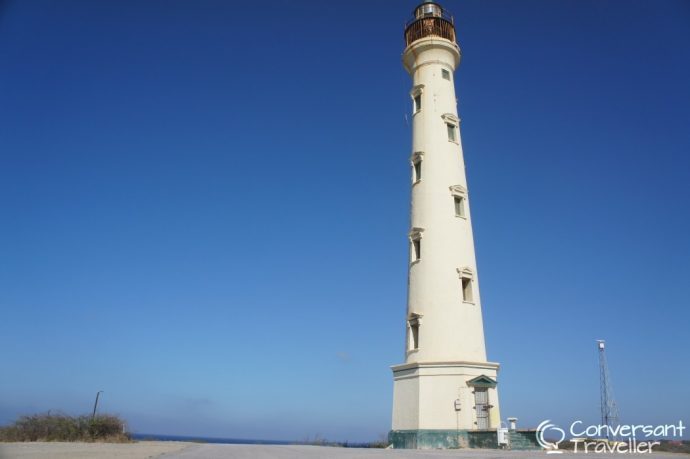 Horse Riding treks
Hubbie doesn't do horses. Something to do with an accidental gallop during our honeymoon in Ecuador (his first time on a horse), and a wooden saddle experience in Guatemala that left him walking like John Wayne for a week. Yet I love horses. I've always been a closet cowboy, and think that nothing beats the feel of wind in my hair whilst cantering through some wild and exotic landscape. So horse riding is another tick on our growing list of Aruba adventure activities. Well mine anyway. Horse riding tours on Aruba take in sand dunes, shores and desert-like plains worthy of any good western movie. Yee-haa!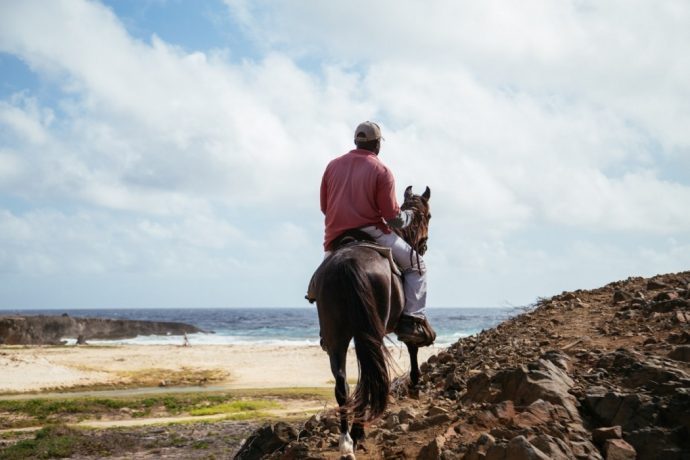 Sailing
I think one of our favourite trips will be a sailing tour. There are all manner of vessels taking visitors for a trip along the shores and out to sea, including pirate ships and banana boats, but we have our eye on a luxury catamaran. As well as snorkelling from the boat, there will also be cocktails and lounging around on the deck netting, all the ingredients for a great day in paradise. In the evening, the most romantic way to experience the sunset is from the deck of a boat, so a sunset dinner cruise should be on the cards of any couple visiting Aruba.
A most perfect end to the day.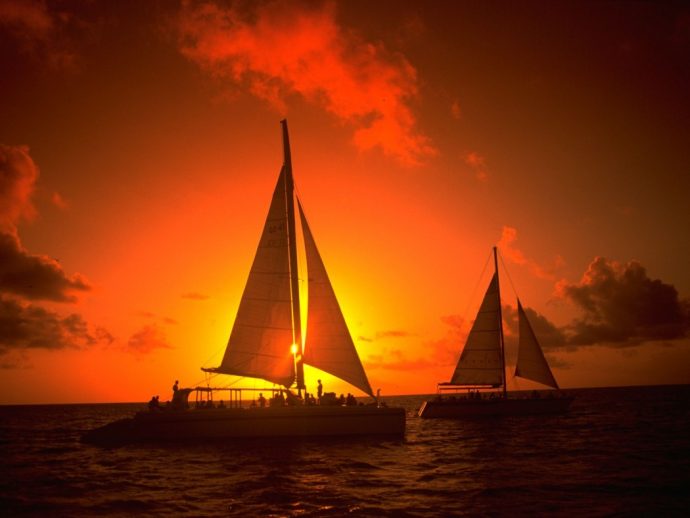 Images licensed by the Aruba Tourism Authority, aruba.com
Found this post useful? Why not pin it for later…