The weary Roman legionaries trudged home to Eboracum one last time, their heads hung low and shoulders slumped. Tired and dishevelled after many miles of fighting and marching they appeared far from resplendent, despite their plumed helmets and matching green tunics. Metal which had once been shiny was now dull, and the daggers at their sides no longer glinted in the sunlight. One soldier glanced enviously at his commander who was sitting regally astride a great cart horse, although admittedly it was difficult to look imperious when your steed was as mud-spattered as you. It was one thing to fight in battle as a Roman soldier, but to then be expected to walk all the way home afterwards just wasn't fair. Those sandals really weren't as comfy as everybody pretended.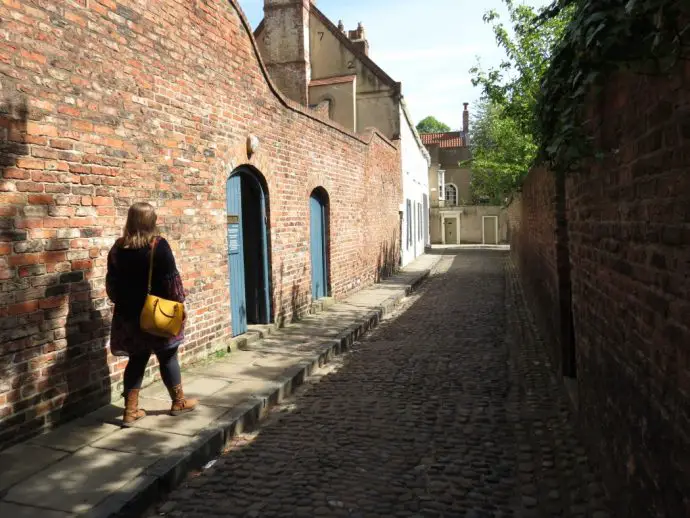 A luxury weekend in York
Eboracum, or York as we call it today, began life as a strategic city in the northern reaches of the great Roman Empire. York is a remarkable legacy to all those who have gone before, including the soldiers who still haunt the cellar in the Treasurers House (see below). Rather impressively the city has managed to preserve its past whilst remaining relevant to a 21st century society, and the blend is enchanting. Where else would you find an historic tower on a bridge that is in fact a gin bar? Only in York! Perhaps if those exhausted soldiers had been able to see into the future, then maybe they would have been able to hold their heads a little higher.
What to see in York
Hubbie and I aren't really city folk. Hailing from the depths of rural Cumbria we sometimes find the bright lights and bustle a little too much, but York is always somewhere that has appealed, thanks to its intriguing history, laid back charm and compact manageability. You see, the beauty of a visit to York is that all the main attractions are within easy walking distance of each other. It's a far cry from London where we always seem to spend the day rushing about on public transport, needing a strict itinerary to make sure we see everything in the right order. Here in York none of that matters. You can simply stroll the pedestrianised streets at your leisure, knowing that you can just 'pop back' if you miss something, or don't fancy doing it at that moment. York is a fantastic city to explore on foot, and hands down the most relaxed city break we've ever had.
After a few days in the city armed with a York Pass (which we discuss below), here is our verdict on the best things to do on a luxury weekend in York:
1. Admire the architecture at York Minster
Standing proudly in the heart of the historical city, York Minster is the largest Gothic cathedral in northern Europe and should be your first port of call. This is why: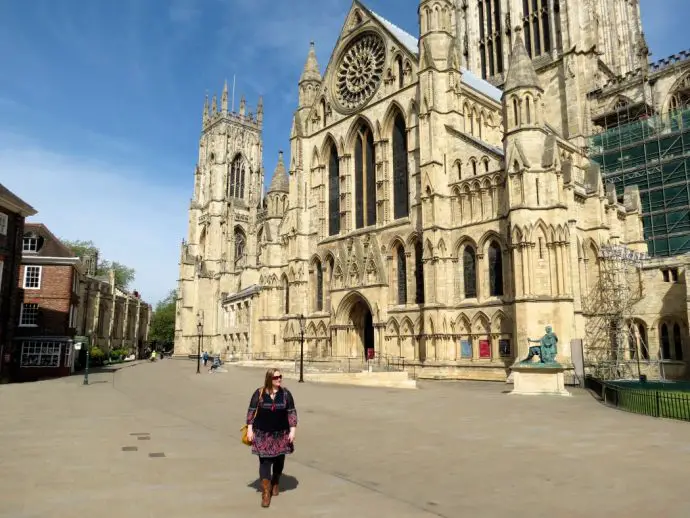 And so is this:
Pretty impressive huh!
We love poking our heads into cathedrals and churches all over the world but always feel that the best ones are right here in the UK. York Minster is our new favourite!  This year is the time to visit the Minster because the famous Great East Window has just been revealed after extensive restoration – it's the largest expanse of stained glass in the country. There's also an undercroft museum with an interactive display spanning 2000 years of history, and the energetic can climb the Central Tower for a birds eye view of the city (although this isn't included in the York Pass or standard entrance ticket).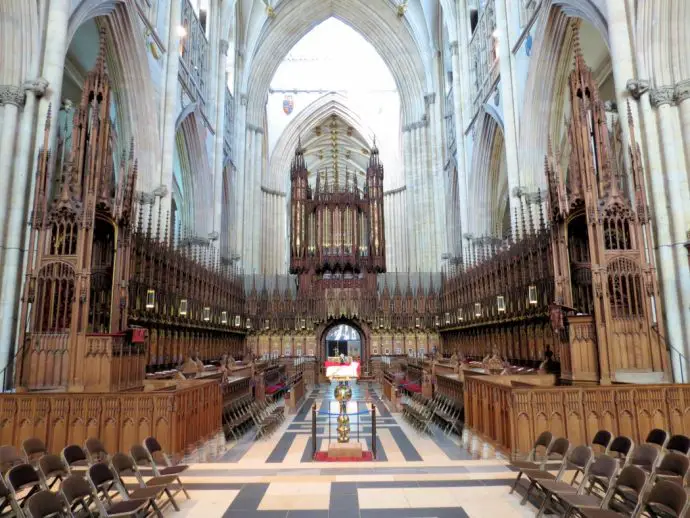 Top Tip: Aim to arrive at York Minster when it opens in the morning to avoid the tour groups (we had it almost to ourselves at 9 am). You might also want to avoid times when services are on as some areas may be restricted. Free tours and audio guides are available.
2. Spot some Roman ghosts at the Treasurers House
The Treasurers House was probably my top sight on our weekend in York, with its award-winning wisteria-filled gardens in the shadow of the Minster, majestic sweeping staircases and haunting tales of Roman soldiers. Wisteria and warriors are two of my favourite things so I was hooked!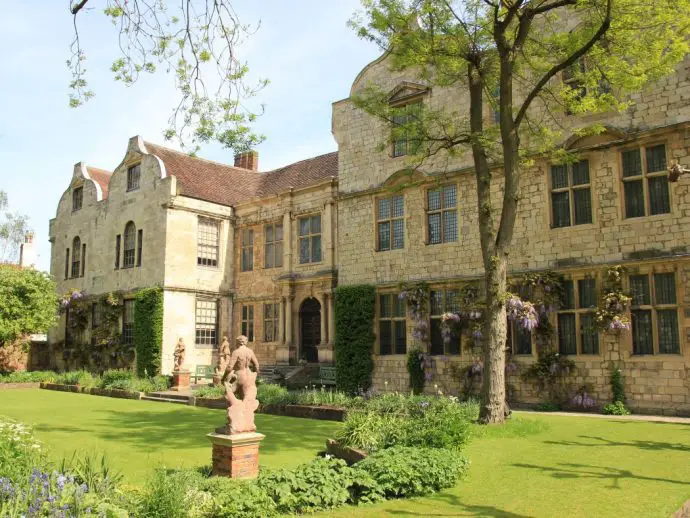 Home to one of York's most famous ghost stories, the Treasurers House offers visitors the chance to go on cellar tours to view for themselves the spot where Roman soldiers have been seen trooping along at knee height. Apparently the house was built over an ancient Roman road which is why the apparitions, who are believed to be soldiers returning to the city, only appear from the knee upwards. I vividly remember hearing this tale when I visited York on a school trip almost 25 years ago, and although I personally don't believe in ghosts, it's places like the Treasurers House that make me begin to at least consider the possibility.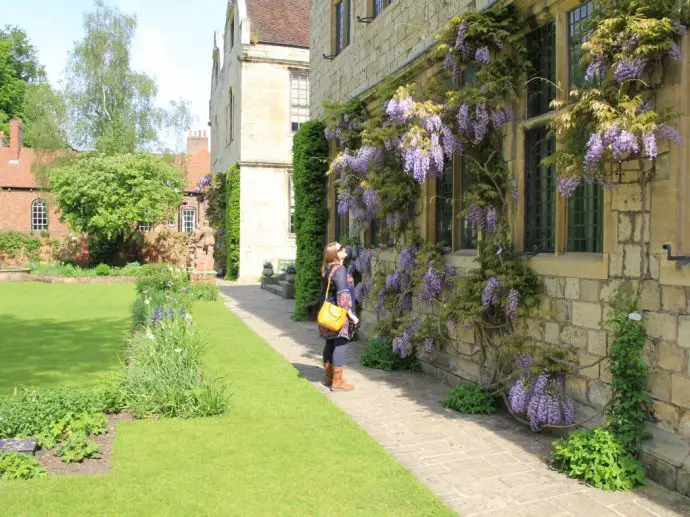 This lavishly decorated home was designed to impress Edward VII and was purchased in 1897 by Industrialist Frank Green, before eventually becoming the first ever house to be given to the National Trust. As with most National Trust properties there are volunteers in each room who can tell you tales about the house and its inhabitants. This can be either a little irritating if you just want to look around by yourselves, or super fascinating as they can reveal all sorts of secrets about what you're seeing.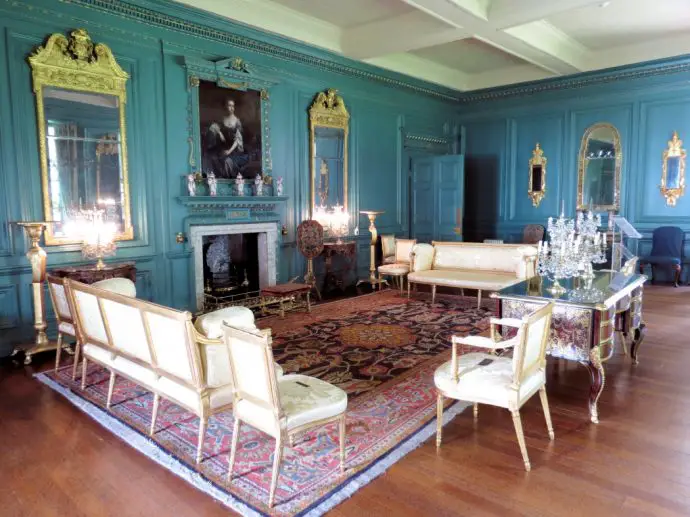 The 13 period rooms give an insight into 300 years of heritage as well as lots of home interior design inspiration – we particularly loved the staircase and chandelier, although aren't sure we could really pull off that look back at our place!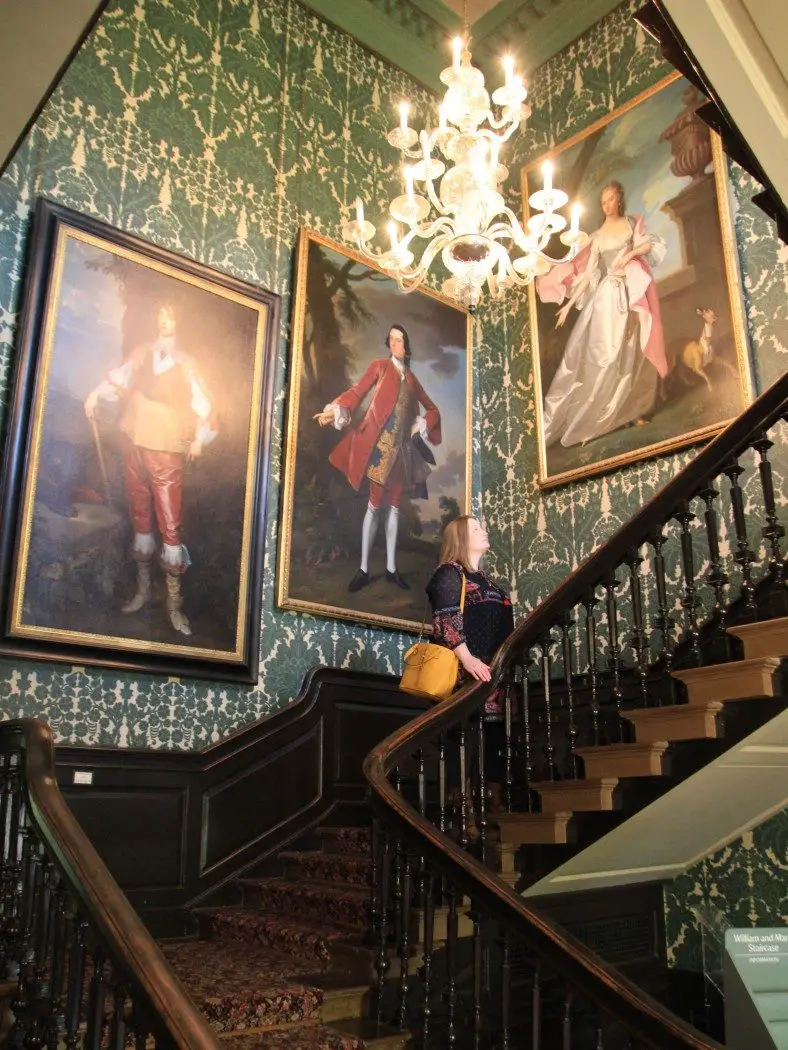 Top Tip: the Treasurers House doesn't open until 11 am so don't turn up too early like we did (although there are worse places to hang around waiting for half an hour!). It makes sense to combine this with a visit to York Minster.
3. Walk around York on the City Walls
Walking along York's medieval City Walls (or 'Bar Walls') is a great way to get your bearings and enjoy a different view of this gorgeous city.  The walls are a scheduled ancient monument running for about 2 miles around the centre, and are the longest city walls in England.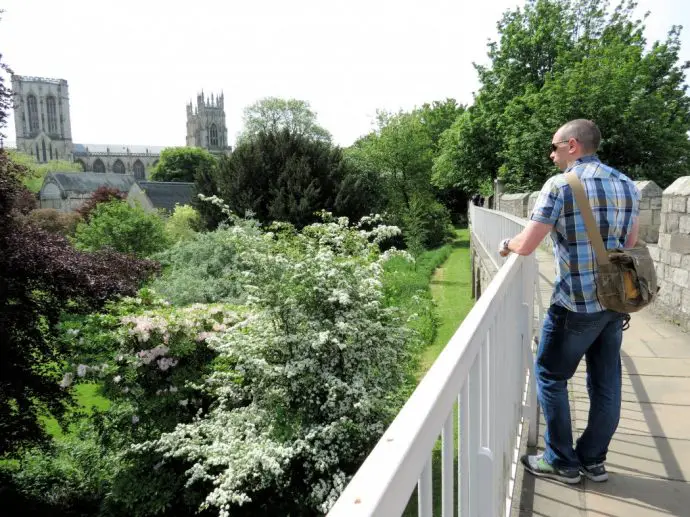 Although broken in places it is possible to complete the circular walk, although this will take a few hours so if you only have a weekend in York we suggest just doing one section – the stretch between Monk Bar and Bootham Bar behind the Minster, which looks down on the cathedral and the peaceful gardens of the surrounding properties.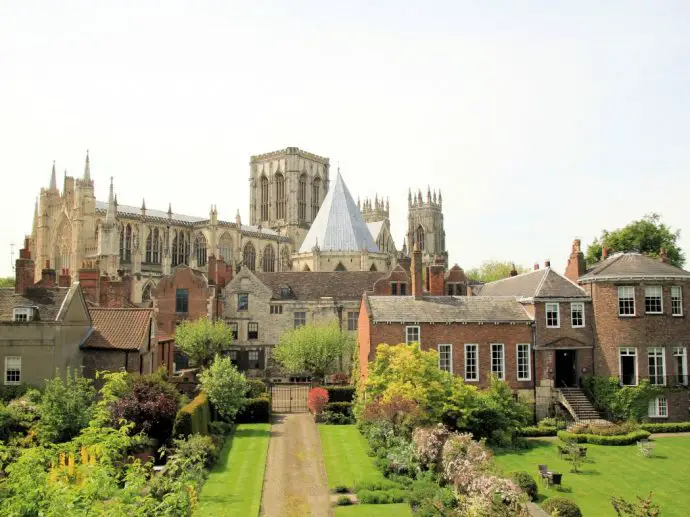 Doing the York City Walls walk is rather romantic at sunset, and it's fun climbing up and down the gatehouses (or 'bars') to access the different sections.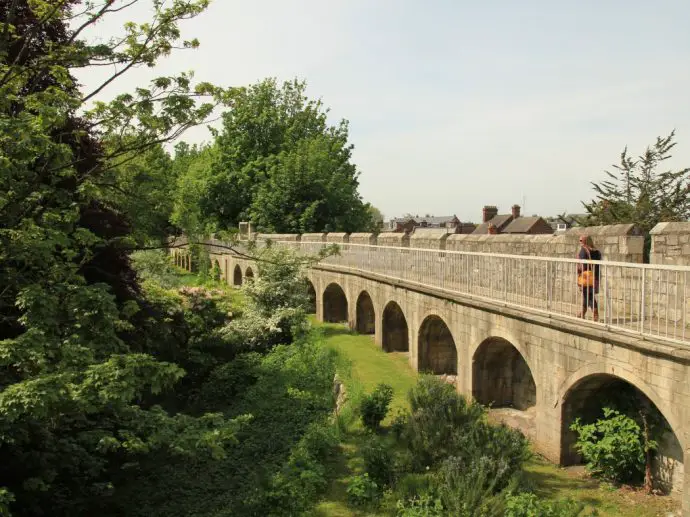 Top Tip: The walls are open from 8 am – dusk, so make sure you're down before the gates are locked!
4. Travel back in time at the Merchant Adventurers Hall
This place is amazing. And it's still in use today! Built between 1357 and 1361 the timber-framed Merchant Adventurers Hall is a Grade I listed building and has been home to the entrepreneurs (or 'Adventurers') for over 660 years. A 'Merchant Adventurer' was someone who risked or 'adventured' their own money by trading overseas, and the hall remains home to 160 members of the Company of Merchant Adventurers in the city.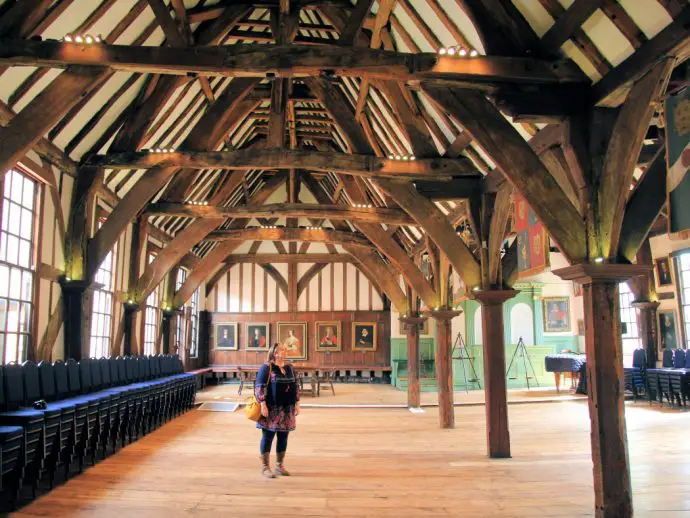 Top Tip: yes, the hall is mighty impressive, but so are the cakes in the cafe! This is a fab place for a spot of lunch, and if it's sunny you can sit out in the gardens admiring the medieval hall from the outside.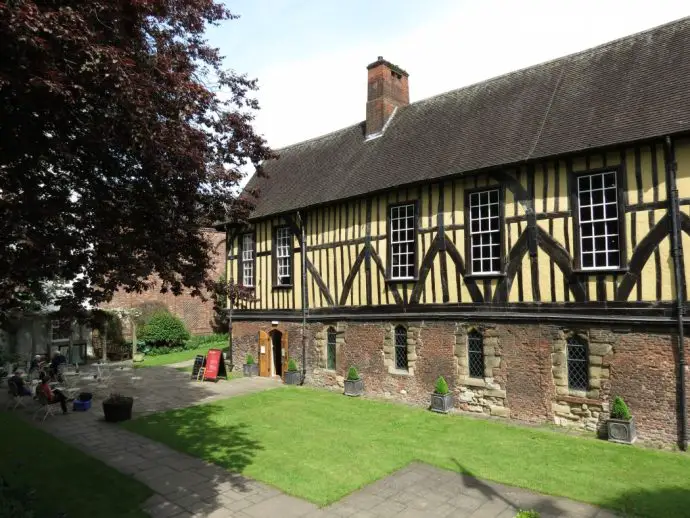 5. Get a bird's eye view from Clifford's Tower
This English Heritage Property is the largest part of the remains of York Castle and has superb views over the city. The keep of Clifford's Tower was originally built by William The Conqueror himself and sits on top of a large mound with 55 steps to the top. The name is believed to have come from Roger de Clifford, a Baron who was hanged at the tower in 1322 for his part in a rebellion against Edward II. Nice.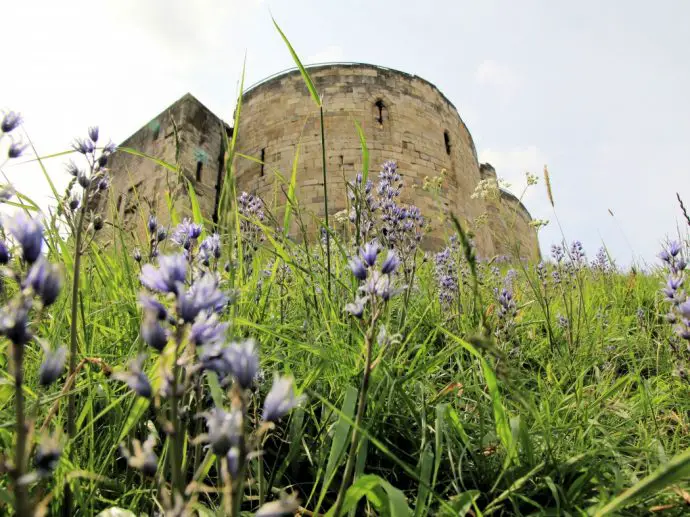 Top Tip: the tower is really just a shell so don't go expecting a full on castle experience. It's definitely something you shouldn't miss (mainly because of the view), but you don't need longer than 20 minutes. It's next door to York Castle Museum so it makes sense to do the two together.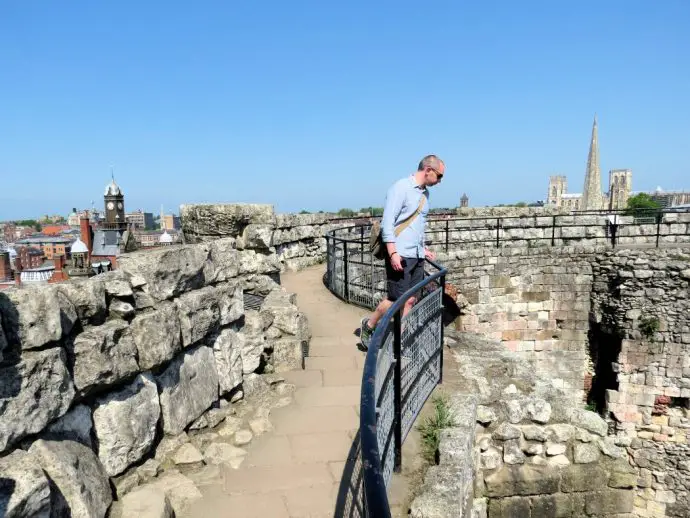 6. Meet the Victorians at York Castle Museum
This award-wining museum delivers 400 years of York's history with brilliantly recreated cobbled Victorian streets and costumed guides, authentic shops and school rooms, and even a police cell that once held notorious highwayman Dick Turpin. All the recreated businesses were operational in real life between 1870 and 1901!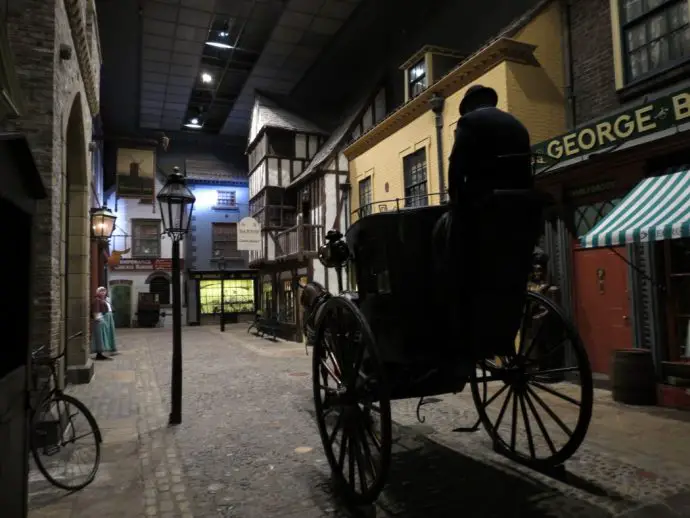 Although the museum is located in the old castle prisons many of the exhibitions are, a little bizarrely, on random themes such as fashion and children's toys. Hubbie and I spotted several museum exhibit toys that were identical to ones we'd played with as children which was rather disturbing as we're still the right side of 40!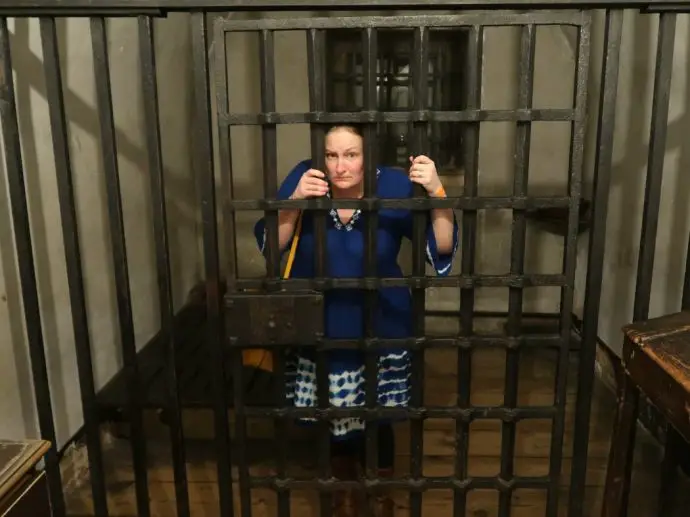 Top tip: the museum is advertised as fun for all ages, but we felt that this one was really for the children.
7. Take a stroll down The Shambles
Harry Potter didn't exist when I last visited York, but even back then without its magic shops and references to Diagon Alley, this famous street was a real charmer. Packed with quaint little tea shops, hidden snickleways (tiny alleys) and the sort of boutique shops you could spend a fortune in, this is the place to come for a browse, and a hearty Yorkshire lunch. The Shambles is extremely popular so if you want photos it's best to come early in the morning.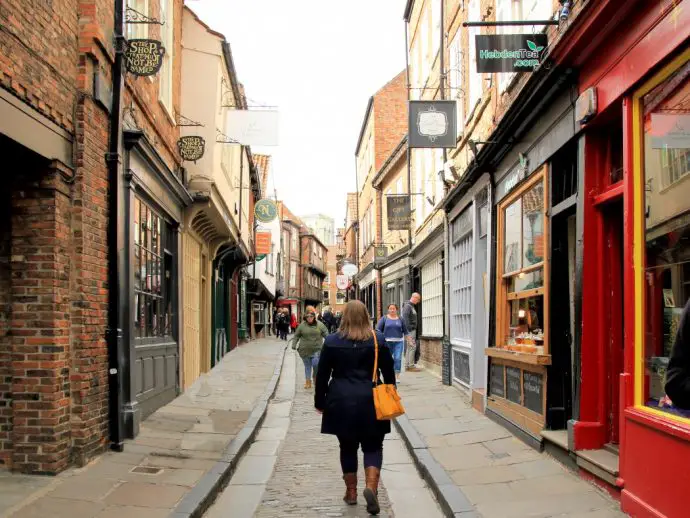 Not far from The Shambles is the famous Betty's Tea Room, which has been offering visitors the chance to nibble on delicacies since opening in 1936. I had afternoon tea at Betty's in Harrogate a couple of years ago and can definitely recommend visiting the one here in York.
Top tip: keep an eye out for the unimposing shrine to St Margaret Clitherow, a Catholic who was crushed to death for refusing to denounce her faith in 1586.
8. Have afternoon tea at the National Railway Museum
You don't have to be a train spotter to appreciate the National Railway Museum at York. Even the most clueless of us have heard of greats like the Mallard (pictured below) and Stephenson's Rocket (there is a replica here at the museum). If trains are your thing however, you could easily spend a day here, exploring the carriages, peeking at the engines and wondering at the heaps of train memorabilia that is piled up in the warehouse. On arrival you'll be given a timetable of the days events which include things like being able to get on board some of the trains and see others in action. The museum is free too, which is a bonus!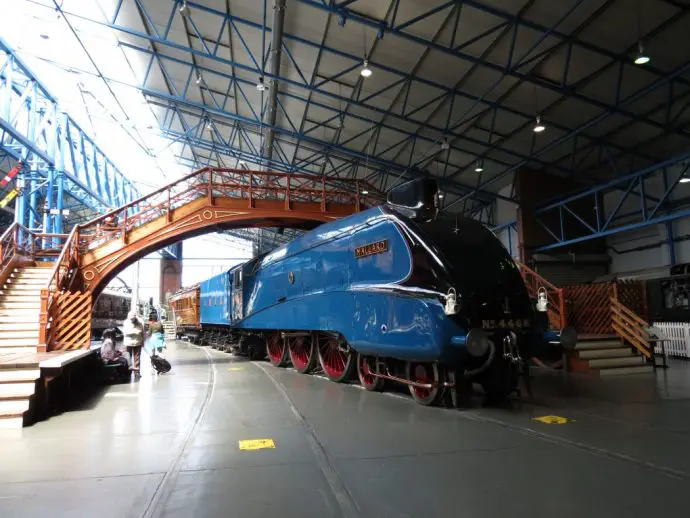 As impressive as all this was, I was personally there for one thing. Cake.
We often indulge in a spot of afternoon tea but have never had it in a railway carriage before! Here at the National Railway Museum in York there's a restored dining car called 'Countess of York' where you can enjoy a sophisticated and delicious afternoon tea in the comfort of a little history.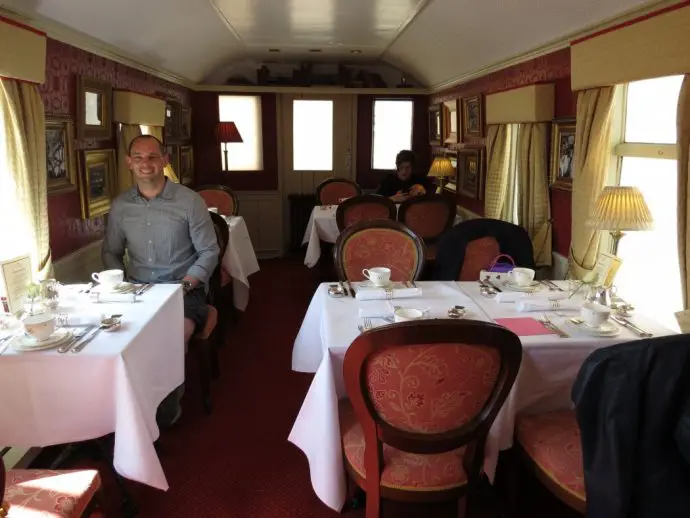 We've already treated ourselves to about 5 afternoon teas so far this season in the UK (yeah, I know, we have a problem!), and think this was surprisingly actually the tastiest! Definitely one of the best things we did on our luxury weekend in York.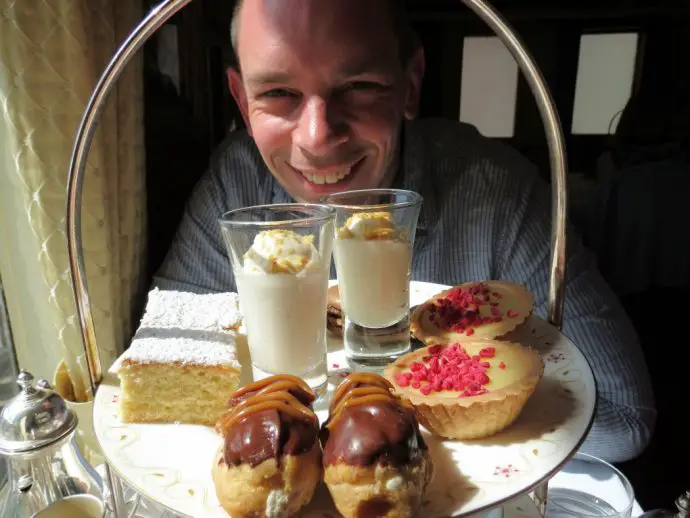 Top Tip: you will need to pre-book your afternoon tea, they do sittings at 12 noon, 2pm and 4pm. It isn't far to walk to the National Railway Museum but if you want to save your legs (or have eaten too many pastries), the York Pass (which we'll discuss below) allows free travel on the road train between the museum and York Minster. It runs every 30 minutes during the day.
9. See how the other half lived at the Mansion House
Home to the Lord Mayor of York, the Mansion House was built as a place for entertaining guests, including some very prominent individuals such as members of the Royal family. Every mayor since 1732 has danced, dined and played host here, sometimes rather extravagantly like in 1869 when a 53-dish meal was served. The gold and silver collections here are pretty impressive, and we loved the grand hall and restored Georgian kitchen.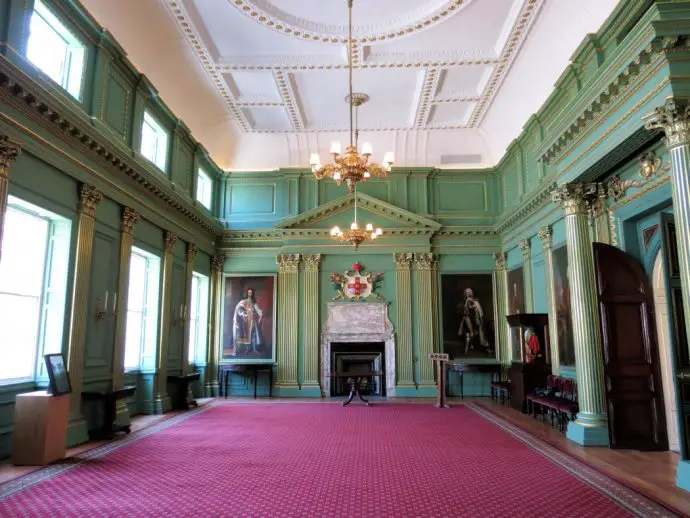 Top tip: there's a great view of St Helen's Square from the upper floors of the house.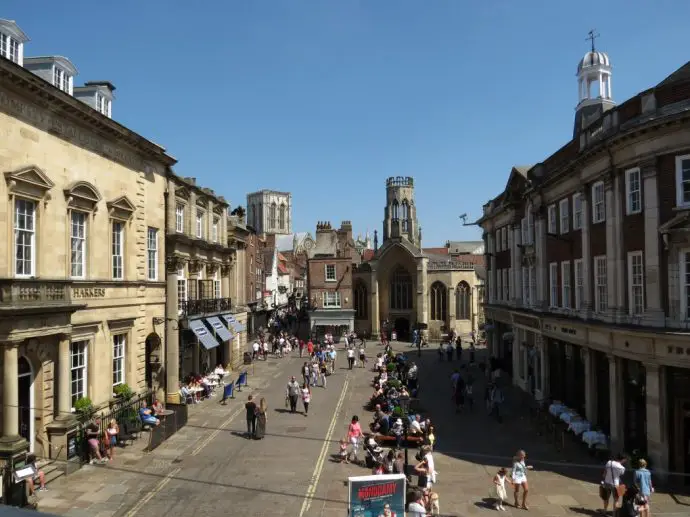 10. Discover a world of secrets at the Bar Convent
This is one of the more hidden and unusual things to do in York, but if you're into history, intrigue and tales of courage then we do recommend popping in here for an hour. A grade 1 listed building, the Bar Convent is the oldest living convent and is still home to about 9 members of the Congregation of Jesus. It was founded as a school for girls in 1686, but during this time of religious turbulence, the Bar Convent was actually home to a community of sisters whose identity was carefully concealed. In the 18th Century they even built a secret chapel in the centre of the building which had 8 exits as well as priest holes to be used in the event of a raid. Today there's an interesting interactive display charting 300 years of danger and bravery, as well as a lot of information about the history of this era.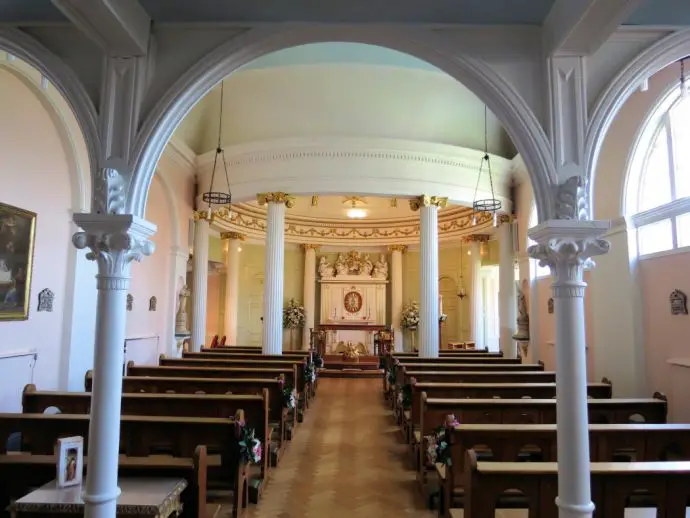 Top tip: there's a cute little cafe and gardens if you're looking for somewhere quiet and peaceful for a spot of lunch or cup of tea.
11. Get into character at Barley Hall
Tucked down a hidden snickleway, this fascinating medieval house has been reconstructed to look just as it would have done in the late 15th Century. Once home to the Priors of Nostell and the Lord Mayor of York, today it's a great playground for children to get 'hands on' with the exhibits, sit at tables, play games and even try a bit of dressing up.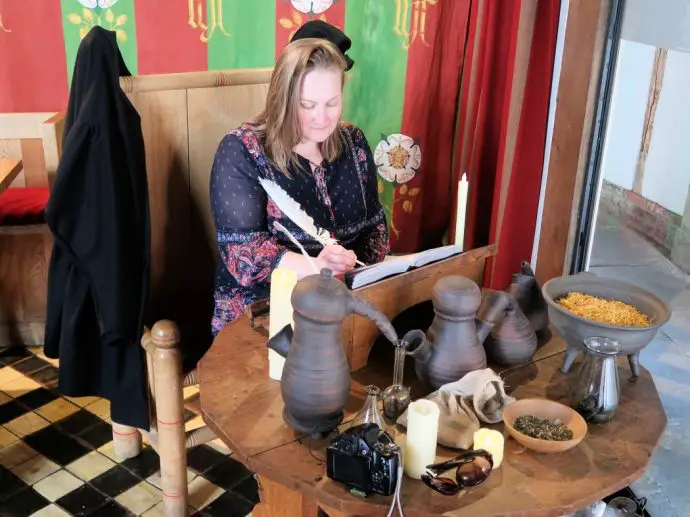 Top tip: this is another one that's really aimed at children, but if you're passing and have half an hour to spare then it's certainly worth a look.
12. Admire ceilings and staircases at Fairfax House
Although perhaps not top of the list of things to do on a weekend in York, Fairfax House is well worth a visit if you're passing. Described as one of England's finest Georgian townhouses, Fairfax House was the winter home of Viscount Fairfax and shows just what it was like living in 18th Century York. The interiors are stunning, with stucco ceilings (each telling their own story) and exquisite furniture, and hosts are scattered throughout the building to tell you about each of the rooms.
Top tip: for some reason this was the only place in York that didn't allow photography inside, which is a shame because it was beautiful.
13. Get cultured at the Grand Opera House
We love a bit of theatre, especially when it's as quaint as the Grand Opera House York! We'd seen 'Comedy about a Bank Robbery' in London the previous month (it's hilarious!), and when we realised that the same company were performing the famous 'Play that Goes Wrong' in York during our stay we couldn't resist. It was the best night we'd had out in ages, and one of our favourite things to do in York, surrounded by the traditional trappings of the theatre, watching a very amusing show, and treating ourselves to Eton Mess ice-cream during the interval (they had a much better ice-cream selection here than we've often found in London!).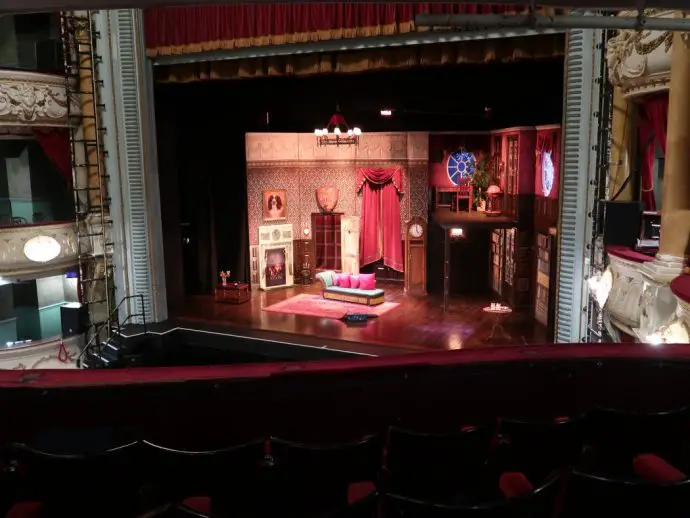 Top tip: For the best view of the stage, try and get seats in row C on the Dress circle.
14. Take a moment to reflect in the Church of All Saints Pavement
When we're strolling around cities and come across a church, we'll often poke our heads around the door and spend a few moments enjoying the tranquil and cool interiors. The Church of All Saints Pavement particularly stood out with it's beautiful and unusual blue ceiling, and if you're passing, do take a few moments to have a look for yourself!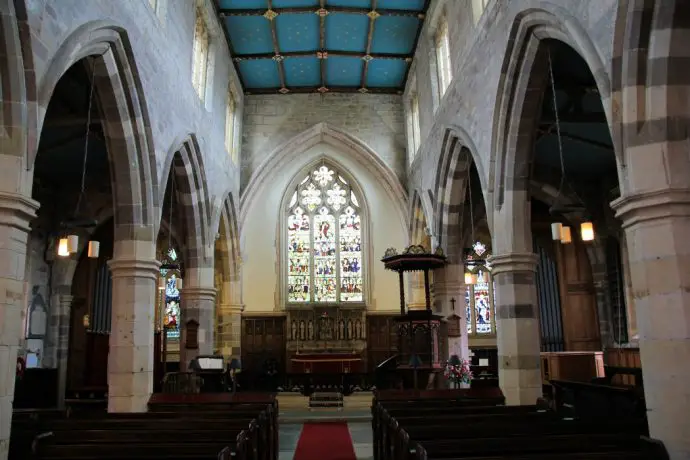 15. Have a break from the sights with a trip to York Designer Outlet
We went to York for a few days of history and culture and came home with a new set of knives, some gym gear and a suitcase. Why? Because we went on a little jaunt to York Designer Outlet just outside the city centre. Living in the Lake District we tend to do most of our shopping online, so it's a real treat to shop in person especially when the 120 stores in question are full of designer goods with discounts of up to 60% off! The outlet was sleek and calm (we visited mid-week when it was quiet), and we loved the sofas and potted plants dotted all around for when we needed a rest.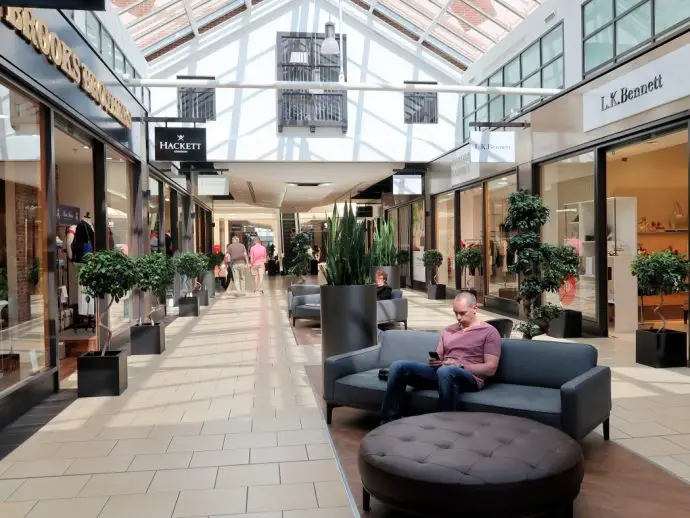 Top Tip: if you don't have a car you can reach the outlet by bus from the city centre. If you do have a car, it's easy to tag this onto the beginning or end of your weekend in York.
There are of course lots more fun things to do in York. Next time we'll be hiring little red boats to cruise up and down the River Ouse; braving a night-time ghost tour through the city streets; making chocolate at York's Chocolate Story; and perhaps going for a ride around the Jorvik Viking Centre which we both loved as kids.
The York Pass – is it worth it?
The York Pass is the city's official sightseeing card which allows free entry to over 30 York attractions and tours in York and beyond. It includes free guidebooks and a 24 hour sightseeing bus ticket as well as discounts at some restaurants and shops. There are 3 passes available, for 1, 2 or 3 days. They are valid for consecutive calendar days, except the 3 day pass which is valid for 3 days out of 6. It's worth noting that the pass isn't a fast track to jump the queues.
So is a York Pass worth it? We visited several York Pass attractions over the course of 3 days (including a few abbeys and castles beyond York which I'll write about soon). Since all the city centre attractions were within easy walking distance of each other, it wasn't difficult to tick all these sights off our list and we worked out that the York Pass would have saved us several pounds overall. If you're an avid sightseer and aim to visit 5 or 6 sights each day then the pass will definitely be worthwhile, but if you only plan on visiting 3 or 4 places then do the maths first. The York Pass might not work out cheaper.
Top Tip: To make the most of your York Pass, do some research before you go and have a bit of a plan. Check opening times as some places don't open until 11 am (like the Treasurers House).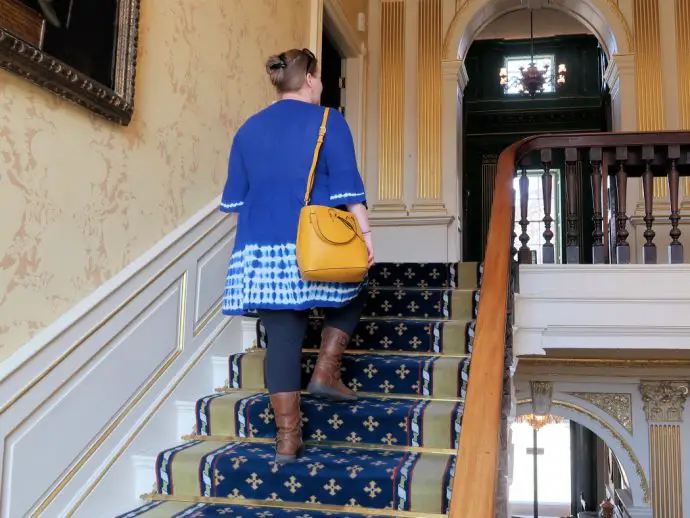 How to Purchase a York Pass:  to save time we recommend purchasing the York Pass online ahead of your trip – you can collect it from the Visitor Information Centre or have it posted out. Alternatively you can buy the York Pass on the same day you wish to use it, but do get there first thing in the morning because the passes are valid for calendar days. For more information on the York Pass contact the Visitor Information Centre:
Email: [email protected]
Telephone: 01904 550099
Where to stay – luxury hotel in York
The Principal York hotel was an easy choice for us. The city centre location is great (and really handy for the train station if you're travelling by rail!); there is parking available on site (almost the cheapest in town); and of course most importantly it's one of the top luxury hotels in York.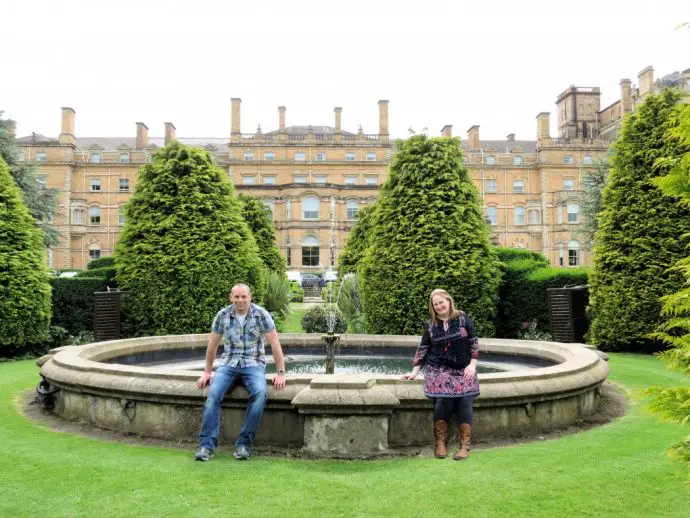 When we're on a city break we like to avoid the big bland chain hotels and instead prefer our accommodation to come with bucket loads of charm, elegance and individuality, without any pretension (we'll always be country folk at heart). The Principal York had this balance spot on and we can honestly say it has been one of our favourite city stays in the UK ever!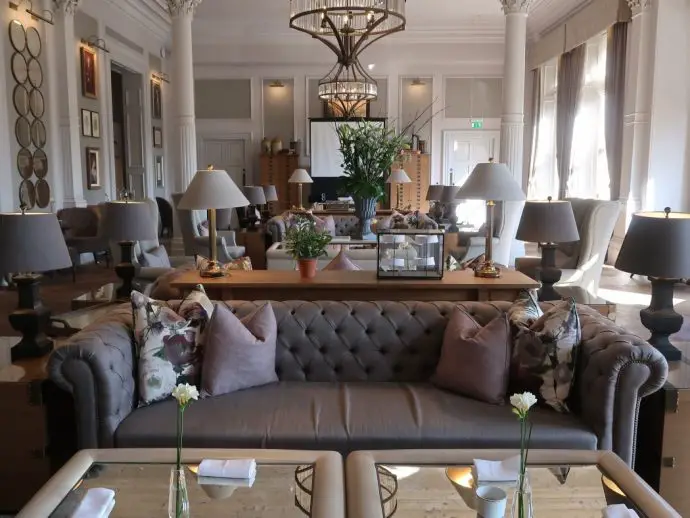 We loved the muted modern tones that ran throughout the hotel making it a very calming environment which is just the thing after a busy day sightseeing. It's the sort of place that has you running around excitedly, notifying the Hubbie that you'll be redecorating your own home just like this! Or is it just me who does that?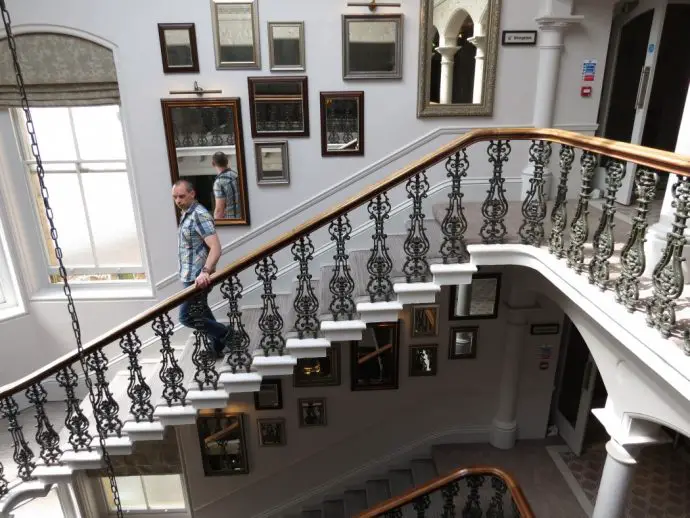 We had a Deluxe Room during our stay which overlooked the gardens and the city beyond. It came with all the expected trimmings, had heaps of space and was super comfortable. Whilst it was a little noisy at night out on the street with people walking up to the train station (we were there the same weekend as York Races and the Royal Wedding so I can imagine it's usually a lot quieter!), it was incredibly peaceful inside the hotel and we slept pretty well.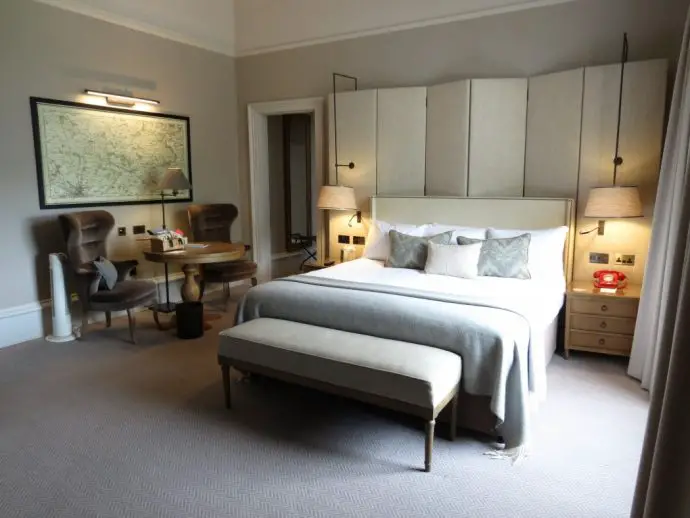 We don't often dine at hotels but loved our breakfasts in the uniquely designed Refectory Restaurant so decided to give it a go for dinner one evening. Here it's all about British classics and local produce so they clearly have their finger on the culinary pulse. We're not foodies by any means but were really impressed by our black pudding bon bons and fish and chips. Usually I feel pretty grim after eating fish and chips, but the batter was so light that it was a real pleasure to scoff. We even had room for some Yorkshire parkin and chocolate popcorn brownies afterwards! If York didn't have so many amazing restaurants to try then we'd have happily eaten there again.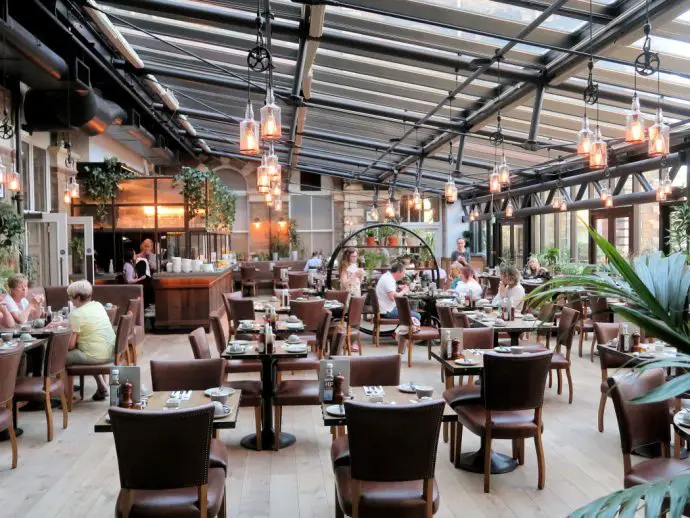 Where to eat and drink in York
York is one of the UK's top culinary centres outside London, with every imaginable cuisine available for those who know where to look. If it's your first time in the city, start your restaurant search with Square Meal UK and discover a world of celebrated chefs known for giving local flavours inventive twists. There's everything from Thai and Italian to Caribbean and of course traditional pub grub on offer. Here are a few of our favourite spots to get you started:
Star Inn the City – we ate here on our first night and came away buzzing (and not just because of all the rhubarb gin I had consumed). The restaurant has a superb location right on the river beside Lendal Bridge, and the food was quite exceptional. We loved the decor too as well as the quirky and colourful menus.
Cafe No 8 – there are a range of these cafes throughout the city, offering hearty breakfasts homemade cakes and light lunches to hungry visitors. We tucked into carrot cake and meringues at their spot at Merchant Adventurers Hall and know we'll be back for more on our next visit.
The Guy Fawkes Inn – the birthplace of infamous plotter Guy Fawkes (you'll probably know he was the chap behind the Gunpowder Plot and the reason we celebrate bonfire night here in England), this traditional medieval pub near the Minster is now a super cosy spot for evening drinks or a scrummy steak pie.
Rustique – there are two branches offering a unique blend of rustic French dining in an upbeat and vibrant bistro environment.
Ambiente – this unusual period house serves up authentic Spanish tapas with a stylish and buzzing atmosphere.
Pig and Pastry – a local favourite for brunch, and definitely worth waiting in line for!
Circles Gin Bar and Cafe – in a cute little tower on Lendal Bridge overlooking the river, complete with garden seating and and homemade goodies.
House of the Trembling Madness – with a name like that, you just have to go in don't you! This tiny medieval hall on Stonegate dates back to the 11th Century and is filled with benches and taxidermy, a rather quirky spot to go and enjoy some local brew.
Stone Roses Bar – if you're into rock music and beer then this fun-loving pub with lots of band memorabilia on the walls is a great night out. They have regular live music nights too so check ahead to see what's on.
How to travel to York
York is blessed with excellent transport links, and is very accessible by pretty much any mode of transport that the UK offers. If you're arriving from abroad, the nearest international airports are Leeds Bradford, Manchester or Doncaster. As there is a direct rail service from Manchester Airport to York we suggest this might make the most sense. Alternatively the nearest ferry port is Hull, which offers daily overnight crossings from Rotterdam and Zeebrugge with P&O Ferries.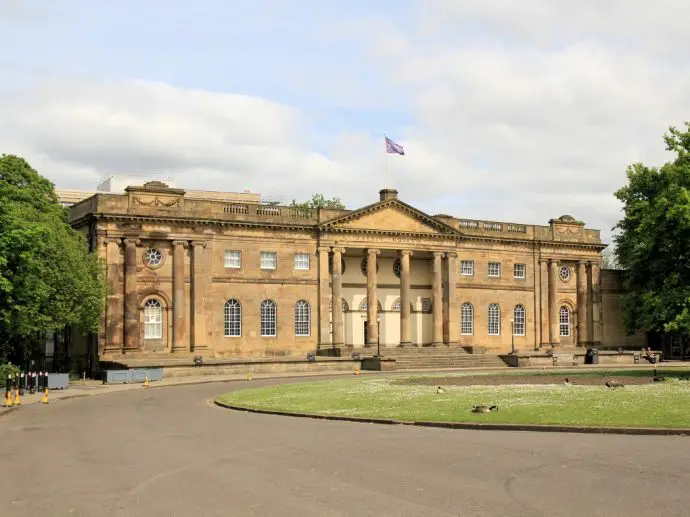 Travelling to York by train
York is really easy to reach by train as it's located on the East Coast Mainline and is served by East Coast, Grand Central Trains and Virgin Trains East Coast. Journeys from London take less than 2 hours making York an ideal weekend break destination, or even a day trip (although we recommend you stay longer!). The station is practically in the city centre so walking or taking a short taxi ride isn't a problem.
You can check train times and prices for York at National Rail and Virgin Trains.
Travelling to York by coach
There is a direct National Express coach service from many UK cities, so this can be a great alternative to the train.
Travelling to York by car
We always travel around the UK by car when we can, because it gives us more independence and is often cheaper than public transport. Plus with York being only 20 minutes from the M1 and M62 motorways it was an easy choice for us. Yet parking in cities is always a bit of a problem all over the UK. If you're travelling to York by car you have two options. Use the frequent park and ride bus service which allows you to park easily outside the city, or find accommodation that offers parking. Yes, there are several car parks dotted around the centre, but they're expensive especially if you're staying for a few days. Most hotel parking in York is cheaper than standard car parks, and some that don't have parking offer discounted rates at nearby car parks. So it's worth doing your homework. Or just stay at The Principal hotel like we did! It's worth mentioning that most hotel parking is available on a first come first served basis so plan on arriving as early as you can and have a back up plan just in case they're full.
York's Events and Festivals
We've written about some of the best York events in our previous post, but to help you decide when you visit the city here is run down of what's on in York each month:
FEBRUARY – JORVIK Viking Festival
MARCH – York Literature Festival
APRIL – Fashion City York
MAY – OCTOBER – York Races
JUNE – York Festival of Ideas
JULY – York Early Music Festival; Great Yorkshire Fringe
AUGUST – The JORVIK Group's Medieval Summer
SEPTEMBER – York National Book Fair; York Food and Drink Festival
OCTOBER – York Food and Drink Festival; York Mediale (biennial)
NOVEMBER – Aesthetica Short Film Festival; York Christmas Festival
DECEMBER – York Christmas Festival; York Early Music Christmas Festival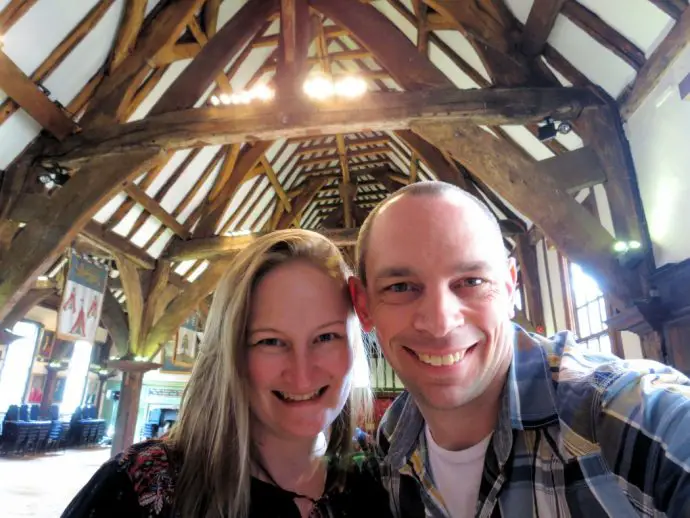 Further Information on Visiting York
If you've made it this far down the page then well done, what a trooper! Hopefully this post has been useful in helping you plan your own visit to York. If you're looking for even more information, then do contact the lovely folks at York Visitor Information Centre – they're really friendly and know everything there is to know about the city:
Tel: 01904 550099 Email: [email protected] Website:  Visit York.
And for inspiration and up to date information on what's going on in York, check out the following social media profiles:
Facebook: facebook.com/visityork
Twitter: @visityork
Instagram: @visityork
Hashtags: #onlyinyork #Yorkadventure
---
Thanks to the wonderful folks at Visit York for hosting us during our stay. We received York Passes, VIP Passes and 2 nights B&B accommodation at The Principal York as part of this collaboration. We also received complimentary theatre tickets from the Grand Opera House. As always, words and opinions remain our own, and we never accept media stays unless we'd have been happy to pay for them ourselves. 
Found this post useful? Why not pin it for later…