Paris is one of those cities that's on just about everyone's bucket list. Every year millions of tourists flock from all over the world to see what Paris has to offer. The city has plenty for everyone, from ample sightseeing opportunities to delicious cuisines and some great weather (depending on the time of year). If you're thinking of making a trip to Paris, you'll be keen to make the most of your time there. To help you out, we've put together some info on the top things you must -do in the city of love! 
The Eiffel Tower 
The Eiffel Tower has long been one of the most famous sights in Paris. The tower was once the tallest man-made structure in the entire world until the Chrysler building knocked it off the top spot in 1930. Those bold enough to climb to the top will ascend a huge 1,665 steps. (If you don't fancy that, there's also a lift!) Gustave Eiffel's construction was achieved in 1889; originally, the tower was supposed to be temporary. To celebrate 100 years since the French Revolution a competition was held to build an iron tower on the Champ-de-Mars. Gustave Eiffel's proposal was chosen out of over one hundred others. From the top of the Eiffel Tower, you'll find some truly stunning views over the whole of Paris. For this one, you definitely don't want to forget your cameras!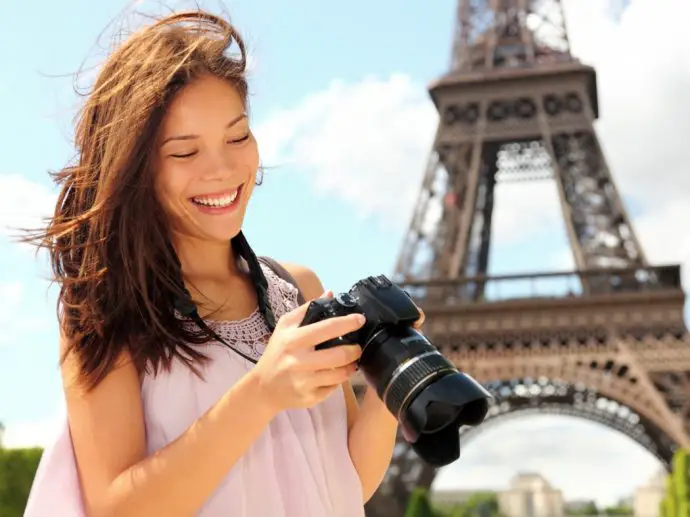 The Louvre
The Louvre is the largest museum in the world and home to a truly wonderful collection of artwork. You'll find this spectacular palace and museum upon the banks of the Seine River. Originally the Louvre was constructed as a fortress, then redesigned later in the 16th century as a palace. At the Louvre, you'll discover Roman and Greek sculptures, Egyptian antiques, and crown jewels once belonging to French royalty. The painting that everyone really wants to see is the 'Mona Lisa' by Leonardo da Vinci. For all the art-lovers out there, The Louvre is not to be missed! Paris is a real haven for art enthusiasts, and there are plenty of smaller museums that crop up as you explore the city. 
Pont Neuf Bridge 
Visitors come from all over to see the oldest bridge in Paris. King Henri III decided that a bridge should be constructed in 1577. It was proposed that this new bridge would be built over the Seine. The project was eventually completed in 1607 thirty years later. The process was halted at some points due to political tension in France. The surrounding areas are delightful for a stroll to take in the atmosphere of Paris. If you are looking to see the most beautiful bridges of Paris, the Pont Neuf is certainly one of them. 
Stroll the Champs-Élysées
Champs-Élysées is a street that's famous both in Paris and across the rest of the world. It's full of gorgeous cafes, charming shops, and quaint theatres. You'll likely find the area pretty touristy, but a wander here is nonetheless a must-do experience in Paris! To get in the real spirit of Paris, you'll want to brave the crowds, snap a few photos and take in all in. (Just try not to blow all your cash in those tempting luxury stores)! 
The Moulin Rouge 
If you're in Paris, you won't want to pass up on the chance of attending a fantastic cabaret show. The Moulin Rouge is one of the top choices for tourists and locals alike. Joseph Oller and Charles Zidler founded the Moulin Rouge in 1889. The idea was to offer top-class entertainment for a diverse audience. The cabaret soon inspired a generation of artists and put the neighborhood on the map as a real trendy spot. The theatre was rebuilt in 1921, six years after a devastating fire that destroyed it. If you're looking for a night of fun and amazement with a true Parisian theme, look no further than the delights of the Moulin Rouge.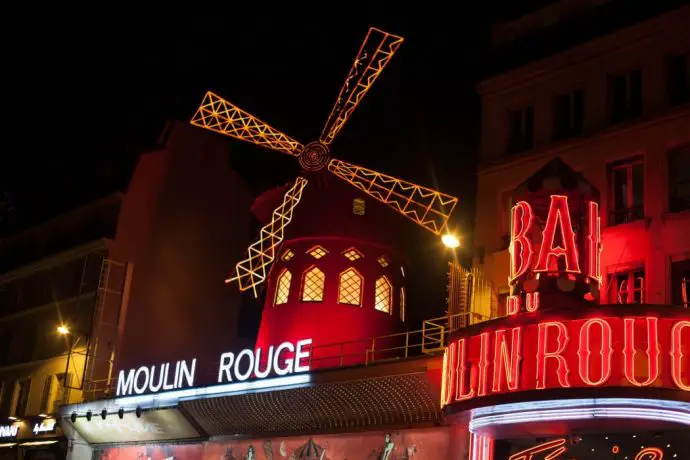 The Parc des Buttes-Chaumont caves
The Parc des Buttes Chaumont is a beautiful park that's perfect for strolls and picnics. There are around 25 acres of gorgeous green landscapes to wander to your heart's content. Get lost amongst the waterways, cliffs, and rocks. There are caves to explore and a beautiful waterfall to admire. If you'd like an alternative day away from the hustle and bustle of the city, this is certainly one for you. When the weather is nice, especially, this is a truly great spot to unwind. Why not stock up on some delicious baguettes or croissants and get yourself down to Parc des Buttes to bask in the sunshine. 
Disneyland Paris
For kids and adults alike, Disneyland Paris is a fun-filled day out! Meet your favourite characters and test your fears on some of those crazy rollercoasters! You'll have a great time wandering in Alice's Curious Labyrinth or scaring yourself silly at Phantom Manor. For a playful break from all that sightseeing, a bit of Disney might be just what you need. Disneyland can get pretty busy, so if you're going to visit, it's best to get up bright and early to beat the crowds. 
The Pantheon
The dome is perched on top of the Sainte-Geneviève, you'll find some truly amazing views from the top. The Pantheon infuses both Gothic and Greek-style architecture and is a magnificent sight to see both inside and out. For history buffs, there's plenty to learn here. You'll find a calm and pleasant atmosphere inside the walls of this beautiful ancient building. 
Seeing everything that Paris has to offer is difficult to fit in over just a few days. Rest assured, this charming city will keep you busy and give you lots of exercise too! Don't forget to try Ladurée on the Champs-Élysées for some of the best macarons you'll ever taste! It's best to try and roughly plan an itinerary before you go. Getting a little organised before you arrive definitely pays off! Once you visit Paris you'll know why it's a top bucket list destination!