This post is sponsored by CheapOair.
---
Have you ever been frustrated at the lack of reliable location information available when you're planning a trip somewhere new? Making sure you've got the right experiences lined up on your holiday really is the key to having an incredible time, so you need to know you've planned it right! It's especially difficult to find up to date information for dynamic cities like Los Angeles, where there's always something new going on. Which is why online travel agency CheapOair has created their 'Things to Do' video series, a city destination guide full of fun and interesting activities in the chosen city. Their aim is to help travellers make the most of their stays in unfamiliar places, and to ensure they don't miss out on any of the important things to see and do.
The Travel Guy in Los Angeles
The video series is hosted by 'The Travel Guy' Beau Rials, an actor, radio disk jockey and infomercial host who has travelled extensively to many destinations all over the world. He's the ideal person to show you around Los Angeles, letting you into insider secrets and dishing out little-known facts so you can arrive well and truly ready for adventure.
CheapOair will be uploading a brand new, up to date video each month covering exciting destinations in the US and around the world, so keep an eye out to see what's coming up next. They're kicking off with one of the most famous cities in the world – Los Angeles, somewhere we'd all love to know more about. You can catch the show on the CheapOair Miles-Away blog as well as the CheapOair You Tube channel – why not follow their page so you don't miss an episode!
Did you enjoy watching Beau spilling the beans on Los Angeles?
If so, you'll be excited to hear that CheapOair will be reaching out to followers in the coming months, offering an incredibly fun opportunity that you won't want to miss out on! How can you be one of the first to find out? Simply follow CheapOair on You Tube, Instagram, Facebook and Twitter and all will be revealed soon!
So, let's talk about Los Angeles, and the best things to do in the sparkling city of angels. It's one of the most glamorous and sought-after holiday destinations in the whole country, and for good reason. There's so much to see and do, from being dazzled by the bright movie lights and rubbing shoulders with celebrities, to strolling along golden beaches and hiking in the Hollywood hills. Whatever floats your boat, there's something here for you, and with mild-year round weather it really it the ultimate place to be. The accommodation here is to die for too, with everything from penthouse suites and beach villas to hotels with rooftop pools and homely guest houses. However high your budget reaches, there's a pad with your name on it somewhere in the cit. 
Best things to do in Los Angeles
As Beau says, it would take weeks (or even months!) to see everything in Los Angeles, but since you probably won't have that long, here are some of our favourites that we think you shouldn't miss if it's your first visit to the city:
Hollywood Walk of Fame and Grauman's Chinese Theatre
No visit to Hollywood is complete without taking in the Hollywood Walk of Fame. See if you can find your favourite movie star for the obligatory sidewalk selfie! As you're strolling along the famous Hollywood Boulevard you'll come across the magnificent movie palace that is Grauman's Chinese Theatre. Originally built in 1927, the theatre architecture is exotic and striking, and there have been several film premieres held here over the years. The concrete forecourt boasts the signatures and hand prints of many Hollywood icons too. A short distance further down the street will bring you to the Hollywood Museum which is home to an impressive collection of classic cinema exhibits. Well worth a look if you're passing by! 
Universal Studios Hollywood
If you want to find out just how TV shows and films are made, then head over to Universal Studios Hollywood for a peek behind the scenes of this famous industry. You'll enjoy a guided studio tour where you can see real scenes in production, and there's one of the best amusement parks in the world here, with movie-themed rides ranging from Jurassic Park to King Kong. Aspiring wizards and witches will love the Wizarding World of Harry Potter too! If you're still craving more, you should visit the Warner Bros. Studios to learn more about the film industry, or Disneyland Resort's two theme parks for dawn to dusk thrills.
Hike in Runyon Canyon Park
Some of the best views of Los Angeles are from the surrounding hills, so why not lace up your shoes and go for a hike or even a run in the spectacular Runyon Canyon Park. You'll probably recognise the scenery here from TV and social media, especially seeing as it's the place where local celebrities like to go for a bit of fresh countryside air. There are several trails to choose from depending on how energetic you're feeling. Just don't forget your sun cream, there's not much shade up here!
Enjoy the views from Griffith Park (and Griffith Observatory)
Griffith Park is one of the largest urban parks in the US, with extensive wilderness trails, horse riding, the Los Angeles Zoo and a couple of golf courses. These mountainsides are also home to the iconic Griffith Observatory, perched dramatically on the southern side of Mount Hollywood and featuring original Art-Deco architecture from 1935. Inside you'll find the planetarium and some well-presented exhibits, and film-buffs will recognise the building from many famous movies. If you want to hike to the famous Hollywood sign, this is the place to come too!
Santa Monica Beach & Pier
After all this excitement you're going to want to find somewhere to chill, and one of the best places for that is the stunning Santa Monica beach, made famous in many a movie and song over the years. The beach spreads over 3.5 miles so is the perfect place to stretch those legs and catch a few rays. If you're feeling active why not try surfing or paddle boarding, then hire a lounge chair and settle in for the afternoon with a picnic. In the evening take a walk along the pier and watch the sun set over the Pacific Ocean, does it get any more romantic than that? There's an amusement park here too which is free to enter, you just have to pay for the individual rides you fancy having a go on. A great way to spend a day without having to part with too many dollars!
Like the sound of all that? Then it's time to get booking those tickets, and CheapOair is the place to go. As they say, there's no shame in 'being cheap'!
So who are CheapOair?
CheapOair is a flight-focused online travel agency listed on the Travel Weekly Power List. They scout out the very best airfare deals for their customers rather than just concentrating on high margin hotel sales like most of their competitors. Did you know they're the second largest seller of airline tickets in the US!
Their Fusion Fares technology enables a search to be answered with itineraries that feature multiple airlines, rather than just one, which can often save you a lot of money in ticket fees. There's a pretty cool Fare Predictor too. It allows you to sign up for notifications regarding price fluctuations on your chosen journey for specific dates, so you can keep an eye on things and strike whilst the prices are at their lowest. Want to save even more money? Then you'll love the alternative travel date suggestions which show just how much you could save by adjusting your itinerary a little. What's not to love!
Unlike other online travel agencies, CheapOair actively encourages you to get on the phone and talk to a real person who will help with your search for the perfect holiday. It's a much more personal experience, and the outcome is more accurate as a result. You can chat to your travel specialist about exactly what you want to get out of your holiday, what's important to you, and things you'd prefer to avoid. You can't tell that to an online bot! Even better, there are 'phone only' special offers, with deals so cheap that the airlines won't let them advertise online!
So if you'd like a cheap holiday to Los Angeles, get in touch with CheapOair today!
Book Your Los Angeles Holiday Here
Have you been to Los Angeles? Is there anything you think we should add to the list?
Found this post useful? Why not pin it for later…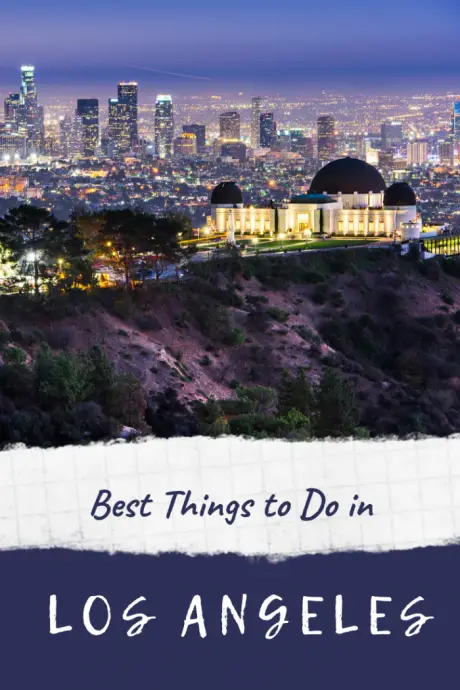 " src="data:image/gif;base64,R0lGODlhAQABAIAAAAAAAP///yH5BAEAAAAALAAAAAABAAEAAAIBRAA7″ alt="