This post is sponsored by SafetyWing and contains affiliate links which means I may make a small commission at absolutely no extra cost to you. Thanks for reading. You can read our full disclosure policy here.
---
You never think it's going to happen to you – needing emergency assistance whilst you're abroad. Sure, you hear the horror stories, but let's be honest, how many of us actually think that one day we'll have our own tale of woe to tell. It's the sort of misadventure that happens to other people, right?
It turns out that's not true, as I discovered whilst I was in Tenerife last year.
Why you should have travel insurance
It was my first day on the island, and I was looking forward to spending a few days exploring, as well as a bit of time working remotely from a sun lounger, living the dream. Yet less than a couple of hours into the stay, my hire car was broken into and all my important possessions stolen, including passport, money and cameras. It presented a huge headache and the rest of the trip was spent trying to arrange emergency travel documents, so I could fly home in time for my next assignment in Kenya the following week. If I hadn't have been insured, the whole escapade would have cost me over £2,000. So if you're wondering if travel insurance is worth it, it's a resounding yes from me.
On top of all this I had severe food poisoning. It's one thing to lose your possessions, but having health issues when you're abroad really is the worst. Which is why it's super important to have insurance, even if you think you'll never need it. Whether you have an accident, get caught up in natural disasters like earthquakes, or have to cancel your trip at the last minute, trust me, you'll be glad of insurance when your turn comes.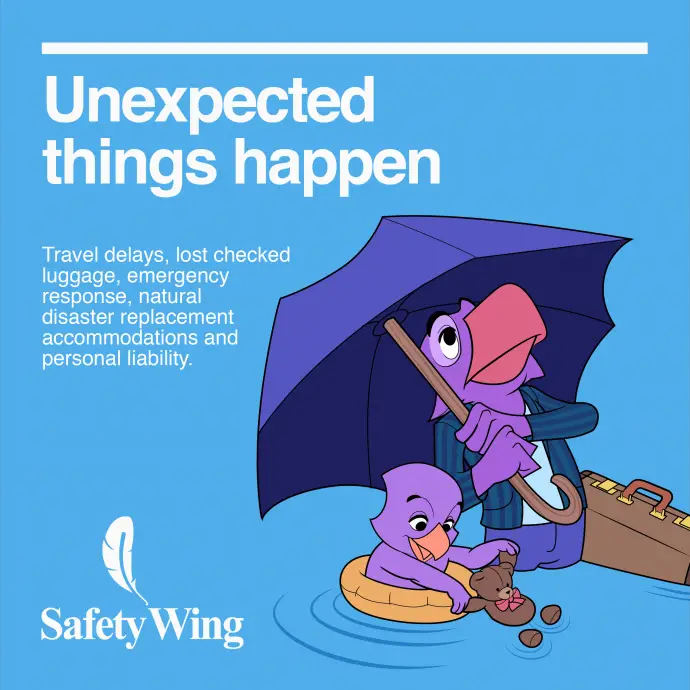 Insurance for Nomads, by Nomads
Digital nomads are location independent people who can work anywhere in the world, and as a result don't need to limit their travel to annual holidays or short trips. Many spend extended periods of time in multiple countries each year, which means that standard travel insurance just doesn't do the job.
Since giving up my day job and delving into the world of remote working last year, travel insurance has been a big question on my mind. I want to feel safe when I'm away, knowing that help is on hand should I need it, but few of the traditional providers can deliver what I need. The concept of digital nomads is still relatively new and many businesses and providers have yet to respond to the needs of this growing community.
Thankfully SafetyWing have stepped up to the mark. At present they are the only insurance provider aimed specifically at digital nomads who are travelling, living and working abroad for long periods of time. The team at SafetyWing are digital nomads themselves so know a thing or two when it comes to providing relevant comprehensive insurance for those of us who aren't tied to one place for most of the year.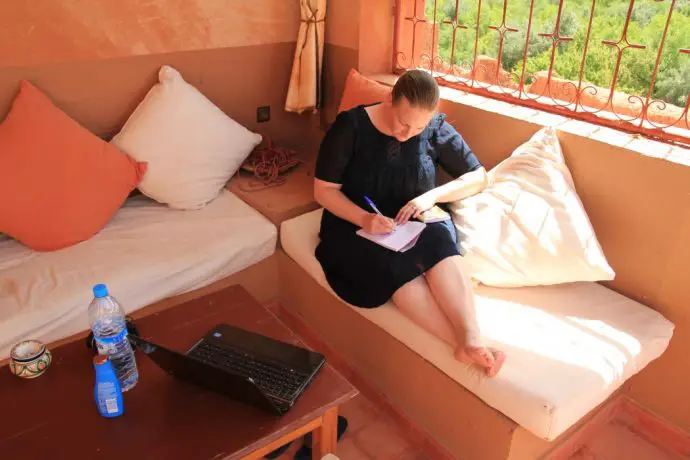 Insurance to fit around your travel plans
SafetyWing travel medical insurance is really flexible and designed to fit around your travel plans rather than having rigid time frames. You choose a start-date and the cover will automatically renew each month until you cancel it (unless you choose an end-date if you know when you'll be back home). If you've already left home don't worry, you can purchase it when you're on the road too in up to 180 countries. There's no limit to the length of travel time so you can keep it running for years if you wish. It's just like a subscription.
Are you planning on visiting home and want to make sure you're covered whilst you're there too? That's no problem either since for every 90 days your policy will also insure you for 30 days in your home country (15 if that's the US). SafetyWing policies are great value too, starting at just $37 for 4 weeks (slightly higher if travelling in the US), which works out cheaper than similar coverage from many competitors.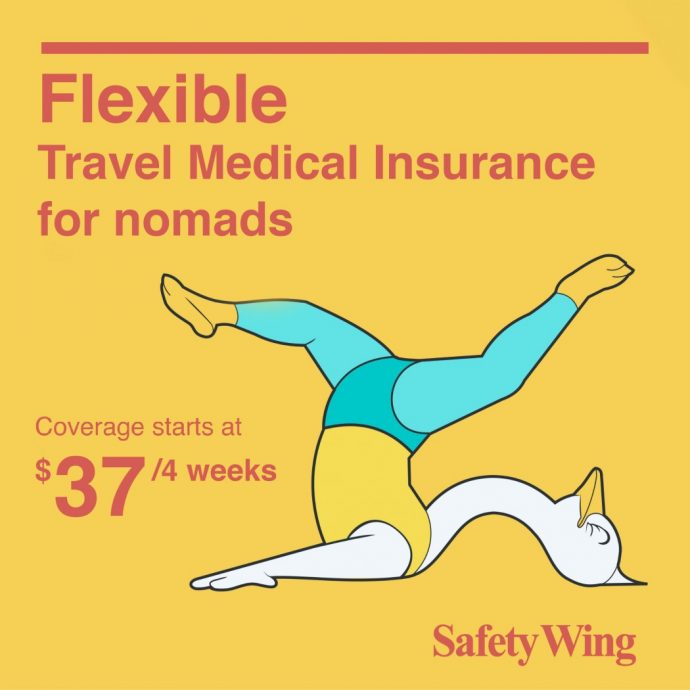 What's included in SafetyWing travel medical insurance?
SafetyWing travel medical insurance policies include access to a qualified global network of hospitals and doctors for emergency health issues and accidents. You'll have access to intensive care, ambulance services, physical therapy, chiropractic care, and even emergency dental treatment should you need it. Emergency medical evacuation is included too. You've all heard the stories in the media about travellers having accidents abroad and their families needing to crowdfund or remortgage their house to pay to get them home. A nightmare that can easily be avoided by having reputable insurance.
Also covered by SafetyWing travel medical insurance is personal liability, trip interruption, lost checked luggage, political evacuation and travel delay, which is great if you're forced to have an overnight stay. You'll also be entitled to emergency accommodation in the event of natural disasters, something that is becoming increasingly relevant with each passing year.
Perhaps the best thing is that claimants receive 24/7 support when it's most needed, so you know you're not alone. One of the worst aspects about my situation in Tenerife was feeling isolated on an island a long way from home, with only a limited grasp of the local language. Having someone on the end of the phone when I needed advice would have made such a difference.
Purchase SafetyWing Travel Medical Insurance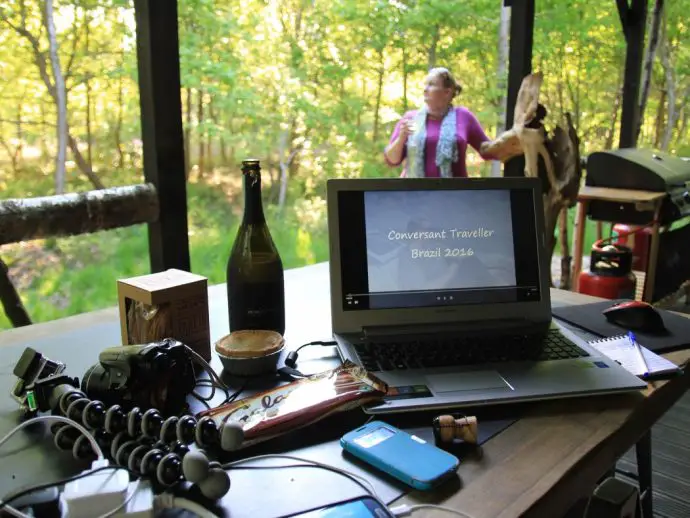 How to make a claim
When I made my insurance claim (with a different provider) after my Tenerife fiasco it was a long and drawn out process with minimal assistance from the company. Honestly they made it so difficult that I almost wished I hadn't bothered. With SafetyWing it's different. All you need to do is sign on to their online portal and download a claim form, fill it out, and email to the provider along with copies of your receipts where relevant. It really is that simple. You'll receive a confirmation email as well as information about just how they're going to assess your claim. You can keep track of the whole process on their online portal too, which is something I really wish had been available when I made my Tenerife claim, since I was kept in the dark the whole time, not having a clue about the process or when to expect a response.
It's so tempting not to bother with travel insurance, especially if you've been travelling for years and never had anything go wrong. Yet the chances are that one day it will happen to you, and when it does, you'll be glad you have insurance.
" src="data:image/gif;base64,R0lGODlhAQABAIAAAAAAAP///yH5BAEAAAAALAAAAAABAAEAAAIBRAA7″ alt="