Whale watching in Sri Lanka is something you shouldn't miss on your trip to the 'Teardrop Island'. Most visitors opt for one of the crowded early morning tourist boats chugging out of Mirissa, and if you're on a tight schedule or budget then this is certainly a worthwhile option. It won't be particularly comfy, and there will be elbow wars as you battle with fellow passengers to secure the perfect vantage spot for photographs. But the chances are you will see your whale.
After all, that's what you're there for.
Yet there is a better way…whale watching in Sri Lanka by luxury overnight catamaran!
Luxury whale watching in Sri Lanka by catamaran
Preferring exclusivity and luxury to crowds and plastic seats, we opted for an overnight catamaran cruise with Sail Lanka, a socially responsible and well established yacht charter company that runs sailing cruises and day trips all around the coast of Sri Lanka. Taking an overnight tour would also give us a head start on the whales in the morning. We'd already be out at sea, so there would be no need for ridiculously early starts from a shore based hotel.
I like my sleep!
The overnight whale watching cruise
We were in Sri Lanka in March, so went whale watching from Mirissa on the south coast as blue whale sightings are common here between November and April. The tour began at 3.30 p.m. with a short briefing and introduction to the crew of 3 – the captain, chef and deck hand. Although the catamaran can accommodate 8 guests, there was only 1 other couple on board, so it was almost our own private catamaran!
I'm always a little wary of spending time with strangers in such confined quarters, but the crew were all so friendly and professional, and the other couple were on the same wavelength as us, so it wasn't a problem at all. The catamaran was big enough to be able to find our own private spaces, and to be honest, most of the time it felt like we were the only ones there!
Clutching our cool welcome drinks and trying to find our sea legs, we set sail from Mirissa at 4 p.m. and cruised along the coast towards Weligama Bay. Hubbie and I found the perfect sun lounger spot up on the bow deck to languidly watch the palm trees and fishing boats fly past.
Finally we felt like we were on holiday!
As we began motoring out to sea, Hubbie and I slipped off our shoes and went to check out our home for the night. The first thing I noticed was that it was pristine! I'm not sure if it was a fairly new boat, but it was like we were the first ones to use it. There was a communal covered dining area at the stern, and a large cargo net hammock at the bow for lounging on in the sun. Two places where we spent most of our time whilst whale watching in Sri Lanka!
The 4 ensuite guest cabins were down inside the twin hulls, one at each end. We arrived a bit early so had first choice which was great because they are not all the same size. We opted for a cabin at the stern as it was slightly larger than the one at the bow.
The cabins are tiny, but what luxury to have our own private bedroom and bathroom on a boat!
There's understandably very limited room inside the cabins, and only space for one person to stand up or get changed in at a time. We wished we didn't have our massive kit bags with us as it was a bit of a chore trying to find stuff in the confined space. If you can, just take a small overnight bag with on on board. The attached wet room had a toilet, sink and shower, and a porthole so you could watch the catamaran's progress whilst washing. Compact but functional.
Thankfully we didn't plan on spending much time in the cabin, and quickly scampered back up on deck to admire the view. A short while later the catamaran stopped in Weligama Bay and whilst the crew cooked supper we jumped off the swimming platform at the back into the deliciously warm water for a spot of swimming.
The Evening in Weligama Bay
The catamaran was anchored just off 'Snake Island', which provided shelter from any waves that came rolling in. The island is so-called because Buddhist monks used to release venomous snakes there years ago (rather than killing them) to stop them biting people. No-one really knows if there are still snakes there today, but we weren't about to find out.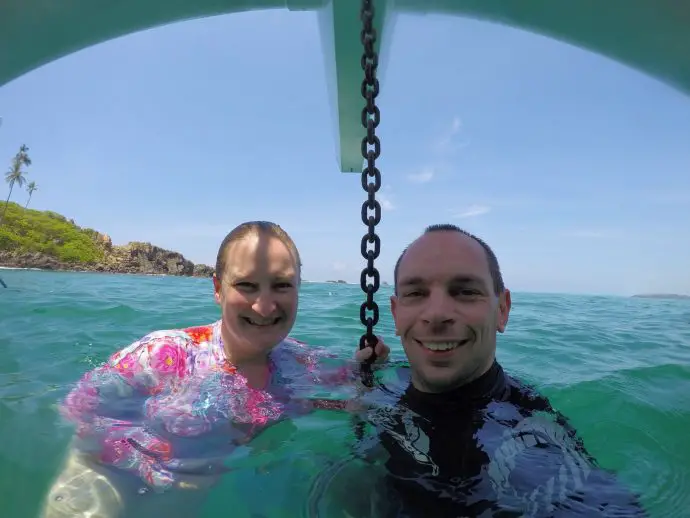 The water was quite choppy but very warm with a much higher salt content than we're used to. We all larked about and discovered yet another advantage of a catamaran. You can swim beneath the boat in between the two hulls, not something you can do with a normal yacht!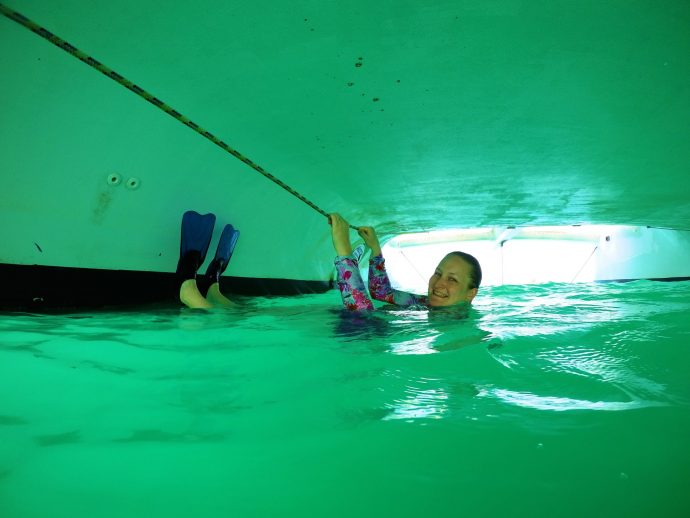 As the light faded and the friendly twinkling lights of Weligama danced along the water, we clambered back up the ladder for quick showers before dinner. Now that was an interesting experience, the shower. I washed really fast, worried that someone would peer in through the skylight which was directly on deck where people walked. As a result it didn't feel that private, but of course I was worrying about nothing. When you're up on deck you really don't even notice the skylights, and it's so bright outside that you can't see through the reflective windows anyway.
I did however forget to move the toilet paper out of the way of the shower. BIG mistake.
Emerging from the cabin we found a delicious seafood dinner of fried fish and fresh vegetables waiting for us. Tropical tunes were playing from one of the beach bars, adding to the warm evening vibe.
The food was simple but tasty, followed by fruit cocktail and beers to while away the evening. The communal dining wasn't so bad, as we chatted to our fellow passengers and were pleased to discover they were even more obsessed with instagram than us!
When darkness had well and truly descended, Hubbie and I slipped away to lay on the cargo net hammocks for a spot of star gazing. It was still warm even at 11 p.m. so we put off climbing down to our hot cabin for as long as possible. We were rewarded with 2 shooting stars! Result.
The Overnight
Okay so it was never going to be the best night's sleep. Inside our little cabin it was incredibly stuffy despite a small fan and all our portholes being open. The catamaran rocked quite a bit during the night, so we didn't get much sleep. Hubbie was also a little tall for the bed, something to bear in mind if you're over 6 foot. Still, sleeping is for wimps. So when the engines started early next morning indicating we were heading out to sea, it wasn't difficult to rise early and escape the sweat box, and start what we were all there for. Whale watching.
The Whale Watching
Breakfast was served up on deck, and we sat smugly tucking into our bacon,  eggs, and Ceylon tea as several standard whale watching boats headed out of the bay to join our search. The occupants will have been up at the crack of dawn to catch the boats whilst we were still slumbering peacefully. Or at least trying to. We definitely felt we'd made the right choice of vessel!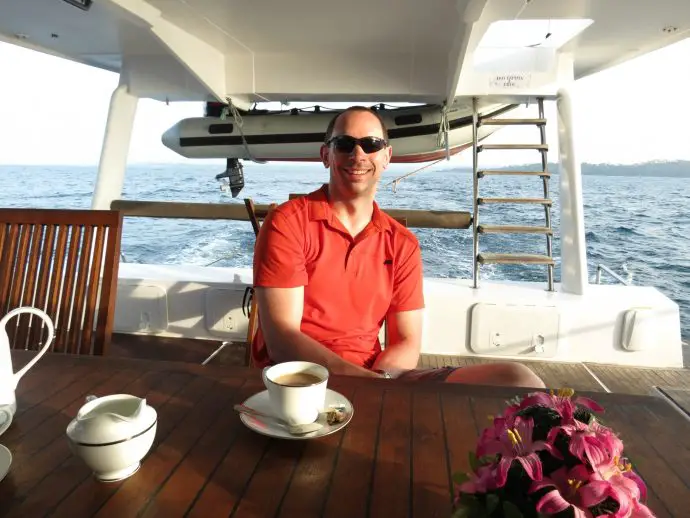 Our little fleet made a bee-line for a calm area where whales are often spotted, and sure enough, there they were!
We all scampered to the bow and tried to be the first ones to spot the water spout from the blow holes. As soon as one was sighted, all the boats manoeuvred in unison and headed to the site. Some of the other boats did seem to venture a little too close to the whales, often listing slightly as all the passengers rushed to one side for photos. I was glad we weren't on one of those.
A semi private luxury catamaran charter is the way to go!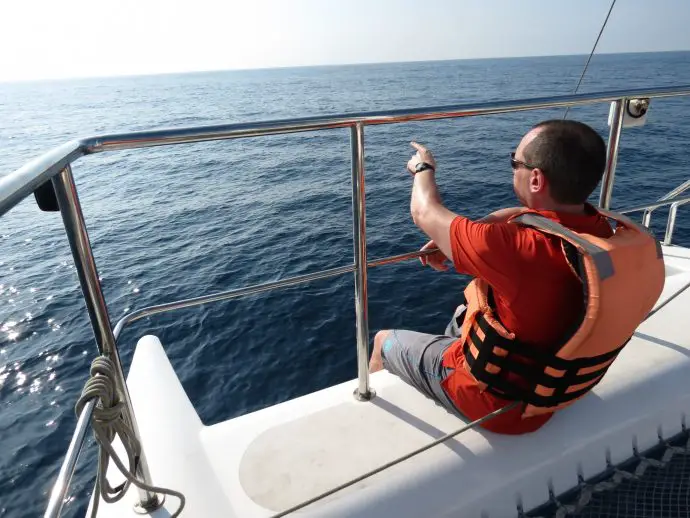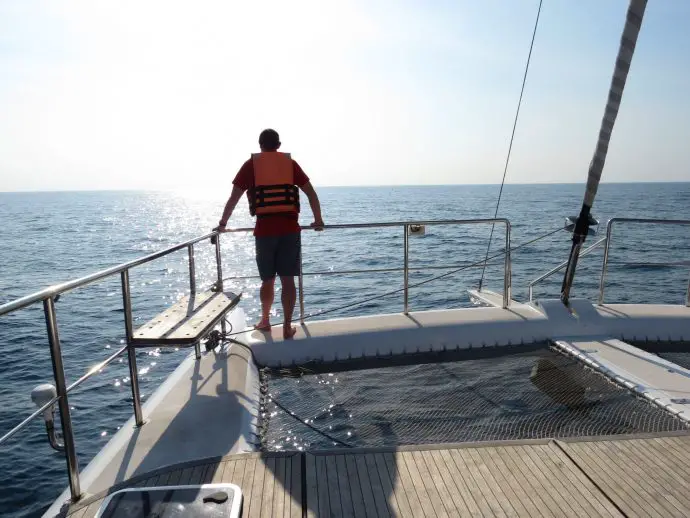 In all, we saw 4 blue whales. It may have been the same whale on 4 separate occasions but it still counts as 4, right? So pleased! We've seen whales in the Galapagos, but not as close and as predictable as this. Our whale watching in Sri Lanka was just perfect.
After the excitement of the whales we returned to our breakfast as the catamaran headed back to anchor in a sheltered spot in Mirissa Bay beneath a lighthouse. It was already hot so we went for a swim, taking snorkels with us, but the visibility was pretty poor so we only saw a couple of fish. Giving up on that, Hubbie had his first attempt at stand up paddle boarding. I would have been up for a go too, until I gave up counting the number of times he fell off. It's a lot harder than it looks, although to be fair the sea wasn't exactly a millpond that morning!
Lunch was served as we dried off in the sun, a veritable feast of Sri Lankan favourites and some of the best food we had during our trip!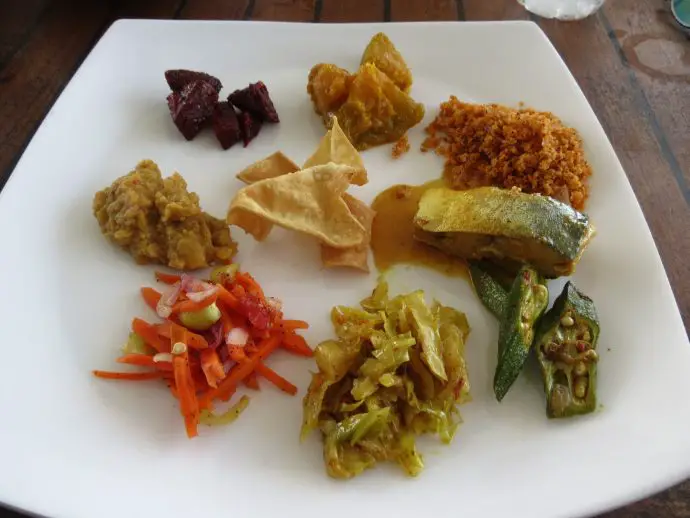 Appetites appeased, we arrived back at Mirissa harbour at 1.30 p.m. and there the tour ended. Just a little under 24 hours but we'd had such an fun experience that it felt much longer. Probably our favourite experience in Sri Lanka!
Top Tips for whale watching in Sri Lanka by luxury catamaran:
Cost: $350 per couple/cabin (excludes soft drinks and alcohol) – price correct at March 2017.
Best time to go: on the south coast (i.e. Mirissa where we were), November – April is best. On the east coast, April – October is best.
What to take: pack light and just take an overnight bag if you can. You won't need much more than swim/beach wear and sun cream. Don't forget a beach towel as these are not provided (you do get 1 shower towel each). Bring flip flops as the deck does get too hot to walk on at times. There is soap in the cabin bathrooms but no other toiletries.
Life jackets: these are available for all guests, but only mandatory to wear whilst up close to the whales.
Tipping: there is a tip box which is handed around at the end of the tour, so don't forget some cash.
Found this post useful? Why not pin it for later…