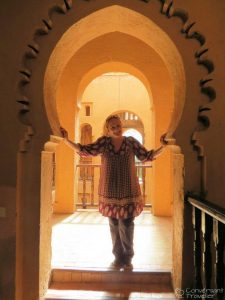 Hey, I'm Heather, so glad you've stopped by my travel blog! Often found wandering purposefully around the world, camera in one hand, hubbie on the other, I haven't quit my job, or sold all my possessions and gone to discover myself! I have a day job, (and a mortgage), but I also love to travel. It turns out you can do both…more
LAST SEEN:
Ballooning, haggling and gaining a grudging respect for Turkish delight in Istanbul and Cappadocia
NEXT UP:
A road trip around Scotland; gorgeous gorges in Mauritius; micro-lighting in South Africa; and black rhino tracking in Swaziland
LATEST from Heather's travel blog
Searching for my inner concubine in Istanbul - by heather on 11th April 2014
Maybe it was because it was gray and raining. Maybe it was because I couldn't help but compare it to my beloved cities in Morroco. Or maybe it was because nothing could possibly top our recent adventures in Cappadocia. Whatever it was, one thing is for certain. I didn't loose my heart in Istanbul.
Discovering Undiscovered Cappadocia – by heather on 7th April 2014
For some reason hubbie and I have an aversion to organised tours. Despite the potential benefits of local knowledge, the thought of spending the day being herded around like cattle brings us out in a cold sweat every time. Which means that the 'Cappadocia Undiscovered' day tour we did with Turkish Heritage Travel had to be bloody brilliant for us to even contemplate tagging along.
Getting high on mushrooms in Cappadocia – by heather on 13th March 2014
"Don't you DARE go and balance on the mushrooms! It's dangerous and fool-hardy, not to mention incredibly stupid. Did you leave your brain-cells in the cave this morning? What if you were to fall, we've not seen another soul all morning. There's no way I'm running up that steep hill to get help. I promise I'll divorce you if you do it. AND I'll tell your mother!"
Hot tubs and volcanoes at Taşkonaklar boutique hotel – by heather on 7th March 2014
We slouched luxuriating in bubbles, glasses of (rather dubious) wine in one hand and chunks of (rather delicious) chocolate in the other. Our toes poked daringly out of the hot tub, framing the distant volcano that was basking in the evening sun. If, in it's solitary existence it looked suspiciously like Tolkien's 'Lonely Mountain' in the Hobbit, perhaps that was no surprise after a few days of tramping around what can only be described as 'Middle Earth'.
Troglodyte charm at Kelebek: cave sleeping Turkish style - by heather on 3rd March 2014
Hubbie raised his eyes skeptically as I told him we were going to be staying in a cave. Two in fact. He was less than impressed – apparently we have perfectly good caves here in the Lake District, and why on earth would we want to pay money to sleep in one? I explained the concept of Cappadocian cave hotels and he still wasn't convinced, but the lure of the buffet breakfasts convinced him to give it a go. 
Rising with the sun: ballooning over Cappadocia - by heather on 2nd March 2014
Why is it the best things in life often come hand in hand with sleep deprivation? I really don't do mornings, yet when travelling I'm usually up before the local assortment of roosters to watch sunrises, admire geographical phenomena, explore during the coolest part of the day and receive marriage proposals! So it's no surprise that within mere hours of landing in Turkey we were getting wrapped up warm for our first Turkish delight – hot air ballooning.
Marrakech Top 10: Sights, sounds and smells – by heather on 31st January 2014
Love it or hate it (and we're firmly in the first camp!), Marrakech is one of those places that never fails to evoke a reaction in everyone who visits. Personally it's my favourite city in the world, and we've now been back 5 times in the last few years…just can't get enough of it.
 FAVOURITES from the blog
Fes – the real Morocco – by heather on 5th January 2014
There can only be one place in the world where, in a tiny 20 metre stretch of alleyway, a shopper can tick the following off his/her list: nougat gift wrapped in ribbons; babouches of all colours under the rainbow; a tailor-made shiny tuxedo; bras with Mickey Mouse on; garish white and silver sedan chairs for all your wedding needs; bed headboards; chillies as big as your forearm; and a camel head.
Chebbi v Chigaga: the battle of the Moroccan Ergs – by heather on November 3rd 2013
So you're going to Morocco (great choice by the way), and fancy yourself a wannabe Lawrence of Arabia whilst riding a camel into the desert sunset…but just how do you decide between going to the more popular and well known Erg Chebbi, and it's less visited but equally photogenic sister Erg Chigaga? I figure sand dunes are female since they're undulating and stunningly beautiful even in the mornings.
Kif in the Rif – tales from the 'Blue City' - by heather on October 28th 2013
The slightly dishevelled figure lurched at us out of the darkness, his unkempt hair flying out at all angles, and his clothes smelling sweetly suspicious. We jumped aside, pressing ourselves up against the still warm blue wall, hoping to blend in with the shadows. We weren't looking for a late night confrontation in this unknown Moroccan alleyway. Not tonight anyway.
.
Chameux 2531 – by heather on October 17th 2013
Chameux 2531 stared unblinking, curling his bottom lip in distain as I gracelessly manoeuvred myself onto his back, clutching the inadequate handlebar and trying desperately  to remember whether the standing up process involved the front or back end first.