Twilight is when the magic happens. It's a time when imagination merges with reality and impossibilities suddenly become distinct probabilities. You don't have to believe in magic for it to exist. It's all around us, you just have to look a little deeper to find it. During our recent stay at Aikwood Tower, a 15th Century medieval peel tower in the Scottish Borders, it wasn't difficult to discover such enchantment.
After all, it was once the domain of a great wizard.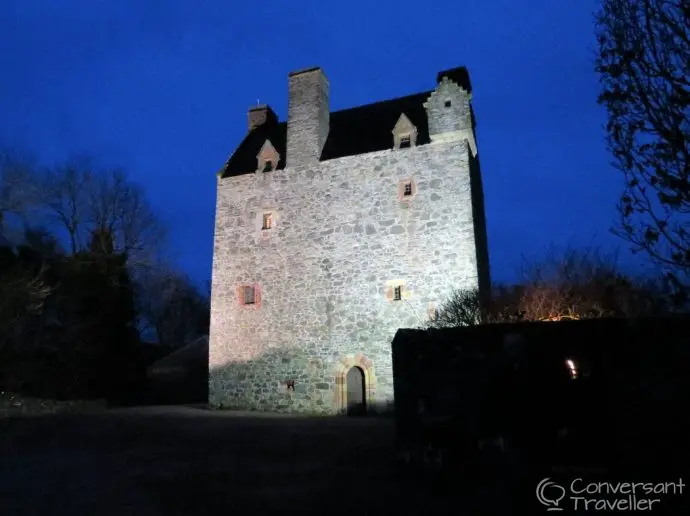 The History Bit
Once upon a time there was a wizard. He lived on a steading in the Royal Forest of Ettrick at the site of what would later become Aikwood Tower. Known by everyone as the Border Wizard, Michael Scott was seen as a man of great power, responsible for a multitude of magical feats during the 13th Century including splitting the original Eildon Hill into three, turning witches into stone, and weaving ropes out of sand at Berwick. In reality he was a scholar, and after studying mathematics and theology in Europe he served as a tutor, doctor and astrologer to Holy Roman Emperor Frederick II. It was his unique blend of faith and science that labelled Scott a sorcerer and alchemist, and after his death in 1291 he was buried in Melrose Abbey, along with his books of magic.
Aikwood Tower itself was a fortified tower house built by Scott's descendants in 1535, to defend the family and their livestock against the notorious Border Reivers (a necessary pursuit in which they themselves also took part!). The Scottish Borders was a lawless no-man's land between England and Scotland, and the livelihood of it's inhabitants (mainly livestock since the land wasn't suitable for arable farming) was constantly devastated by the armies of both countries. Perhaps understandably many of the clans and families here turned to cattle rustling and raiding in order to survive.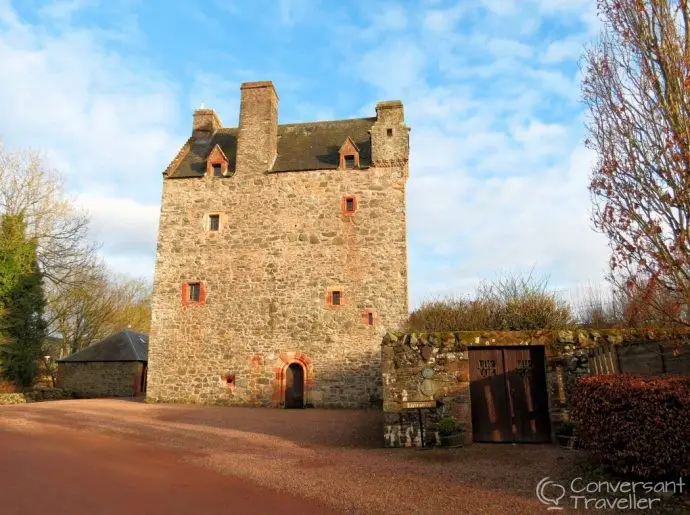 Some of the signature defensive design at Aikwood Tower remains today, including arrow holes in the walls and the counter-clockwise spiral stairs which gave the left-handed defenders an advantage over attackers coming from below. You might notice that some of these steps are uneven. They were built this way on purpose to try and trip any night-time raiders who were running up the stairs. Luckily we didn't encounter any intruders during our stay, but I'd be lying if I said we didn't fall prey to those steps! I blame the fluffy slippers.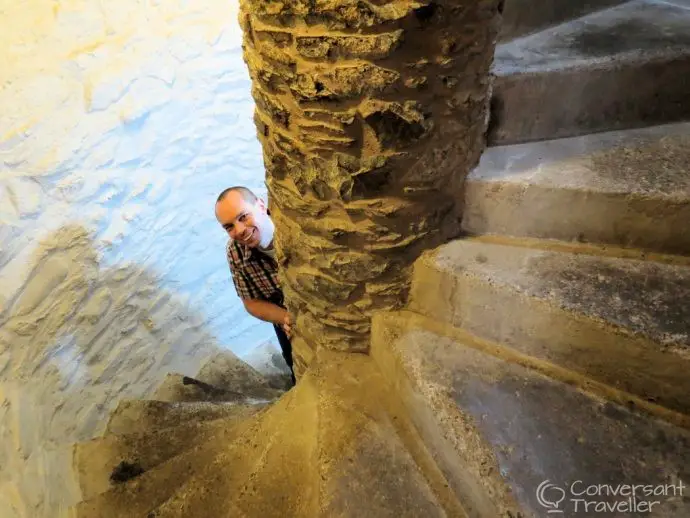 Aikwood Tower Today
Aikwood Tower has remained more or less in the Scott family (of which writer Sir Walter Scott was a member!) throughout 5 centuries, and was purchased and restored in 1992 by Sir David Steel, Lord Steel of Aikwood and former Presiding Officer of the Scottish Parliament. Local craftsmen were used to ensure sensitive restoration, and staying there today feels like stepping back in time, albeit with the comfort of a few rather glorious 21st Century luxuries. Aikwood Tower is now owned by Lord Steel's son, The Honorable Rory David Scott Steel and his wife Vicki, who have come up with the wizardry behind the tower's current reincarnation.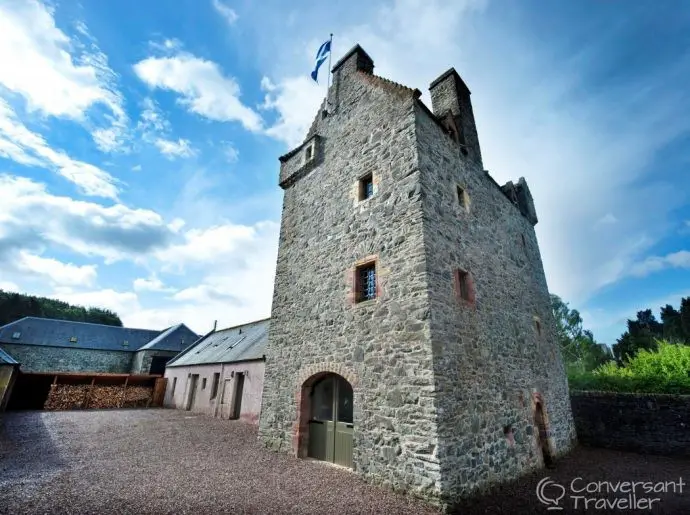 The peel tower is a stunning property in the heart of the Scottish Borders near Selkirk, perfect for a spot of indulgent luxury self-catering in Scotland, and ideal for family get-togethers, special occasions, and even weddings. Many people choose to have their stag or hen parties here, combined with some traditional Scottish country sports such as falconry or archery, which can be held here in the grounds. I've never regretted not having a hen party (we wanted to put all our money towards the honeymoon!) but had I known about Aikwood Tower, I might have been persuaded otherwise!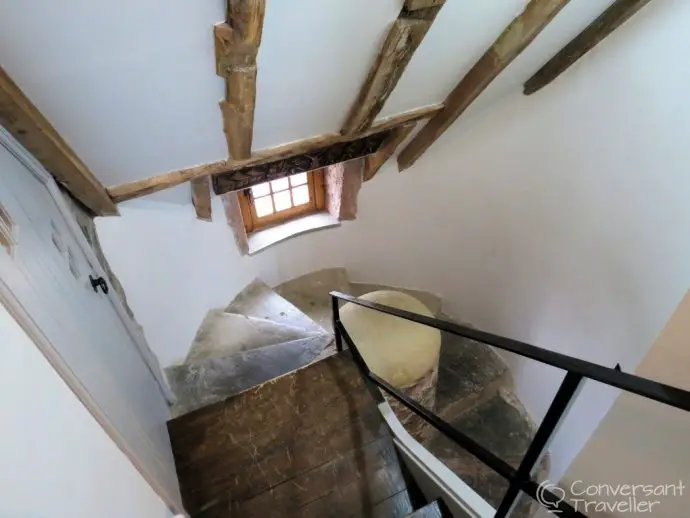 The Living Quarters
Any property that takes over half an hour to explore and has us frequently getting lost means we're definitely on to a good thing. We'd actually taken walkie-talkies with us (a tip learned from previous castle experiences) so we could keep in contact when we were in different parts of the tower. Aikwood Tower is a total big kid experience!
Let's start with the kitchen. A vaulted undercroft previously inhabited by the most valuable kye (cattle), it's now a toasty kitchen diner complete with Aga, pantry and a gorgeous long wooden table fit for banquets. The heat from the Aga kept the room lovely and warm, and even though we were visiting in winter the kitchen remained cosy when we padded down in the mornings for breakfast.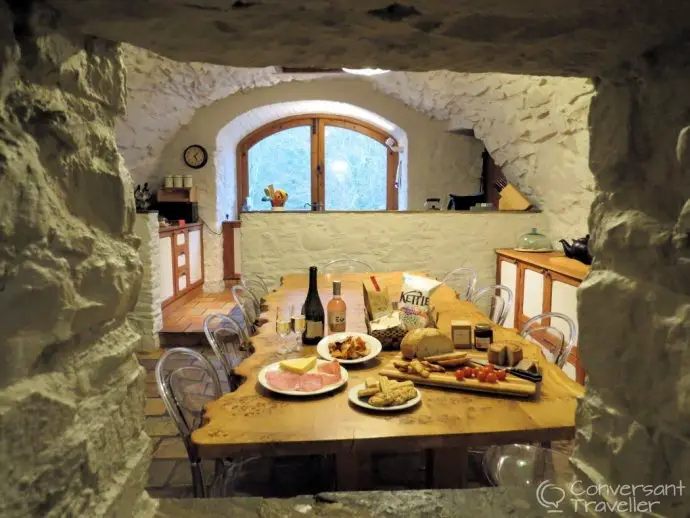 There might have just been the two of us, but we sure did feast. In such a setting it would have been rude not to!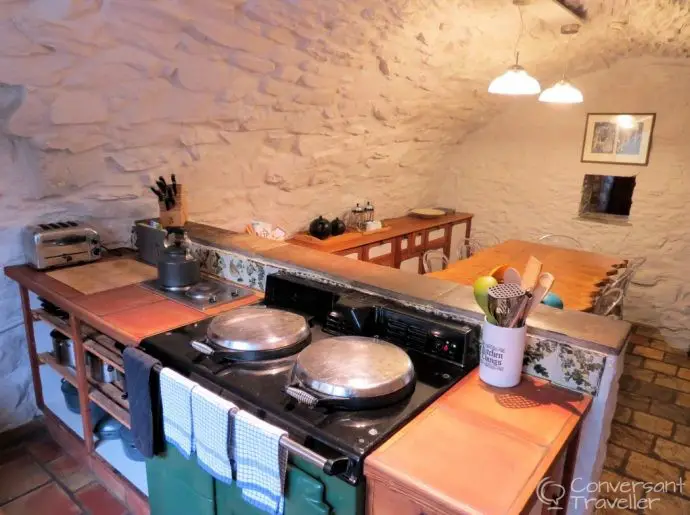 After dinner we'd retire to the great hall for dram of whisky, or for me some rhubarb and ginger Edinburgh gin, my latest obsession. Despite the sexy modern furnishings and unique local art, the great hall still felt ancient and in keeping with the heritage of the peel tower. Which made it easier for us to pretend we were lairds and ladies of Aikwood, if only for a few nights.
We loved hunkering down together by the roaring log fire in the evenings with a good book or a game of chess. So romantic and worthy of any fairytale.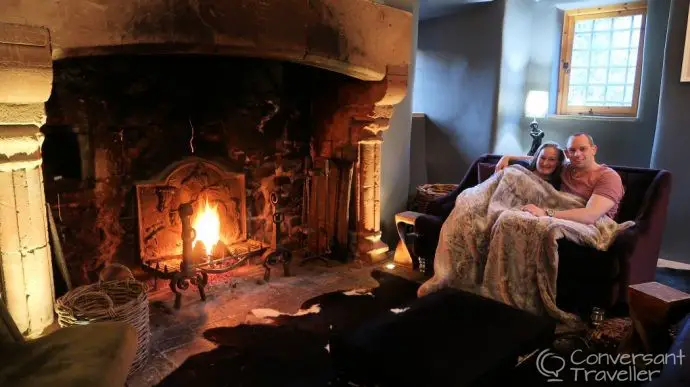 Who am I kidding. Hubbie only hunkers under pressure so actually we each had our own sofa and spent some quality time with our laptops and camera gear. We couldn't quite shake off those 21st Century shackles.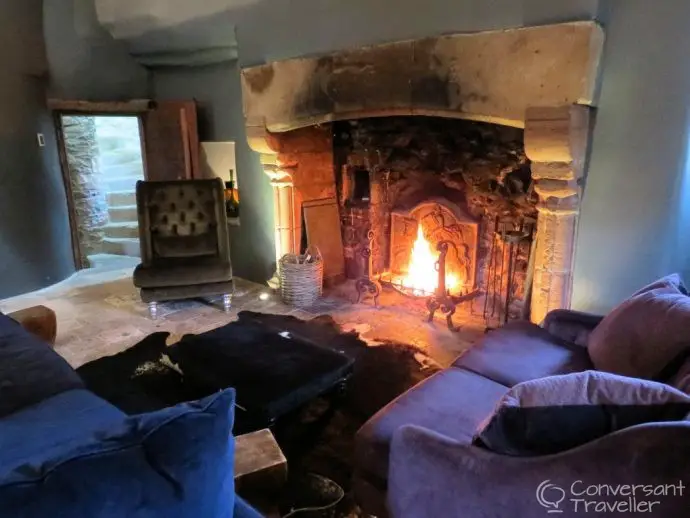 For a change of scenery there's another more contemporary lounge across the mezzanine in the adjoining byre, with it's own bar, library, office and TV. One of the bedrooms is also across this landing, which is perfect for anyone who doesn't fancy negotiating a zillion stone steps every time they want to go to bed.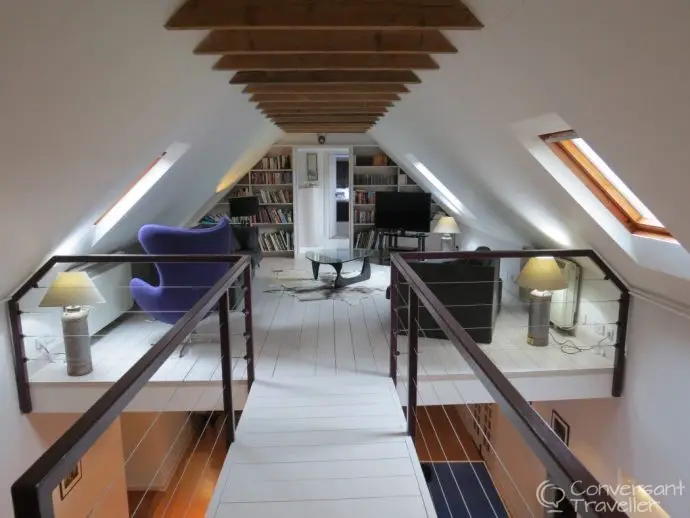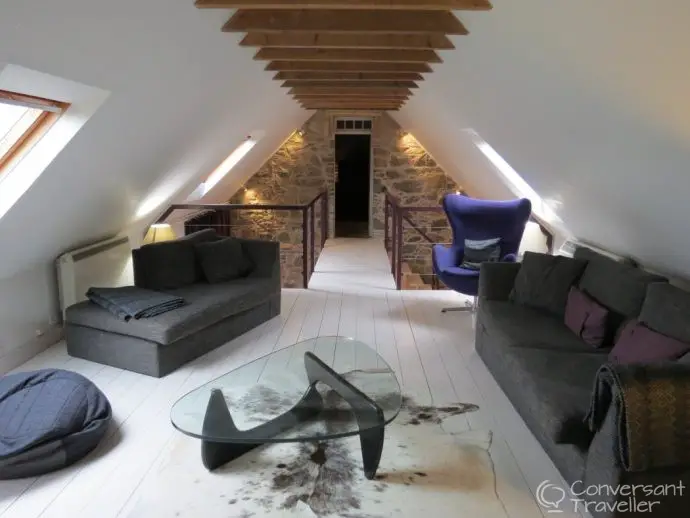 On the ground floor of the byre is the games room, which is also used for events, exhibitions and entertaining. As we were doing none of these things we pranced about playing games we'd long forgotten about in our quest for adulthood, and had more fun than we'd enjoyed in ages!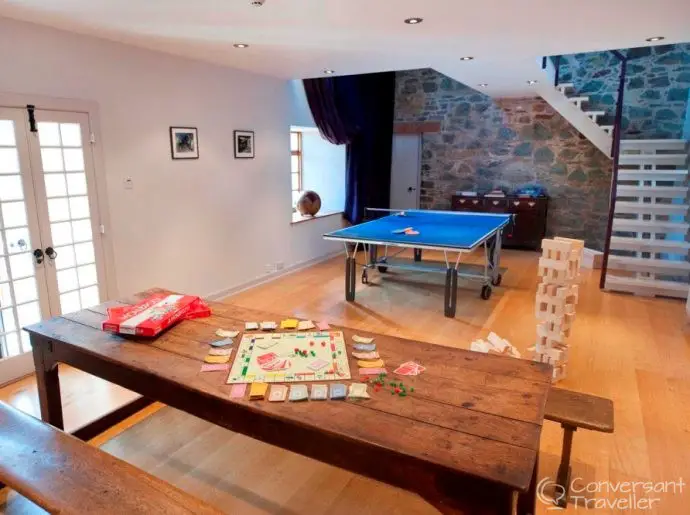 We spent a lot of time perfecting our table tennis skills but don't think we'll be joining the national squad any time soon.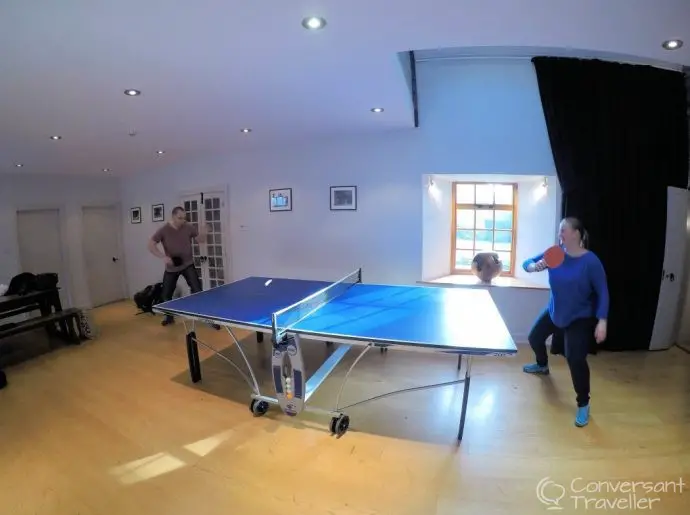 Before I take you up the tower I must just mention my favourite space. The Lairds Study. A place for quiet contemplation surrounded by inspirational history and gorgeous antique furniture. Also a great place for posing with faux fur throws and pretending to be engrossed in a worthy-looking tome.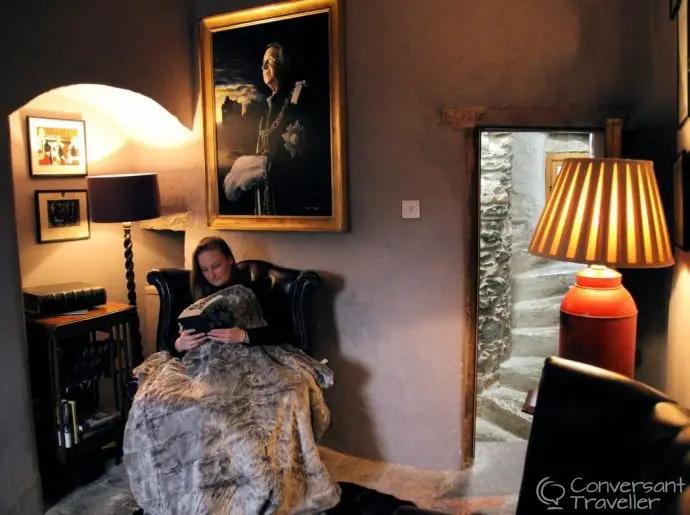 The Bedrooms
At night as I climbed the spiral stairs to bed my mind was on overdrive with visions of warriors crawling stealthily through the heather, uttering war cries in the darkness to reveal their presence when the moment was right. Steel blades clashed in the firelight of torches as the defenders came flying from their beds to protect what was theirs. But it was too late. The kye had already begun to bellow, and were soon galloping off into the fray.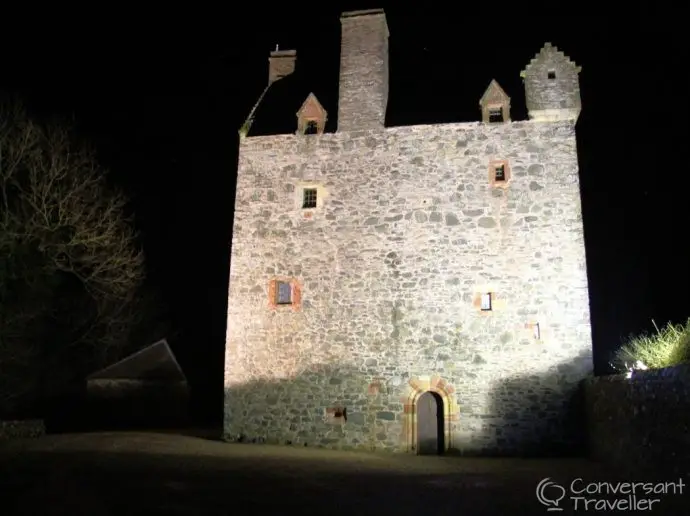 Disappointingly I didn't dream of daring raids, heroic defenders or heather-clad hills. Instead my nights were filled with the unlikely scenarios of kite surfing, a girl from primary school who I hadn't thought about for 27 years, and bobsleighing down a Swiss mountainside. With the Pope. My dreams have always been vivid and ridiculous, but being at Aikwood Tower seemed to take them to another level. Maybe there were other forces at work here. One night Hubbie woke up with the most incredible shivers, the sort you get when someone walks over your grave, despite the room being toasty and him being super cynical when it comes to the existence of ghosts. Yet the peel tower didn't feel even slightly haunted. It may be over 500 years old but inside it was most definitely 2018.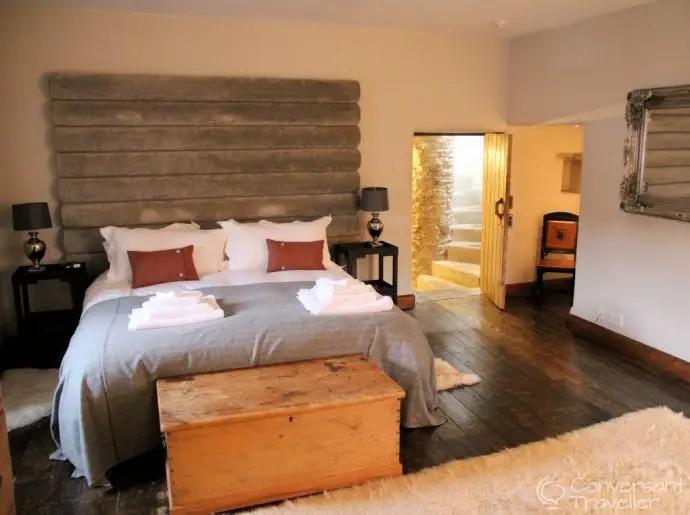 Luckily our bed was incredibly comfortable (maybe it's Swedish or something) and for the most part we slumbered like babies. There's nothing quite so cosy as being snuggled up in a sumptuous bed high up inside the thick walls of an ancient peel tower, whilst the wind whistles outside and the rain patters on the windowpane.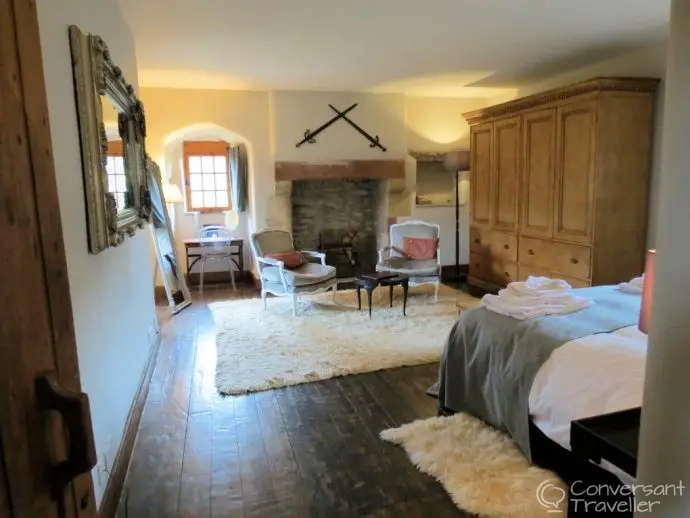 There are 5 stunning en-suite bedrooms at Aikwood Tower, most of which can be made up as doubles or twins, so it's a great place to come with your friends and families. Plus every single suite has been styled and furnished to the same high standard, so there won't be any of the usual arguing about who gets which room.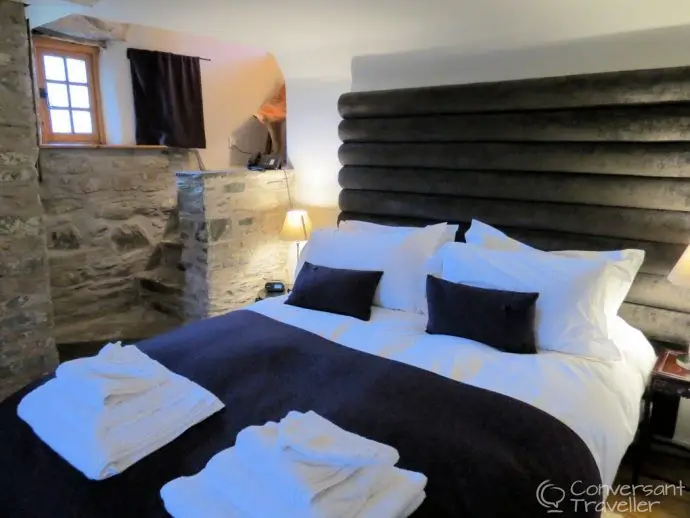 One of the most delightfully quirky rooms was the Wizard Room, named after the famous family sorcerer who helped put the area on the map. It's right up in the top of the peel tower, and has stunning views out across the hills and forests.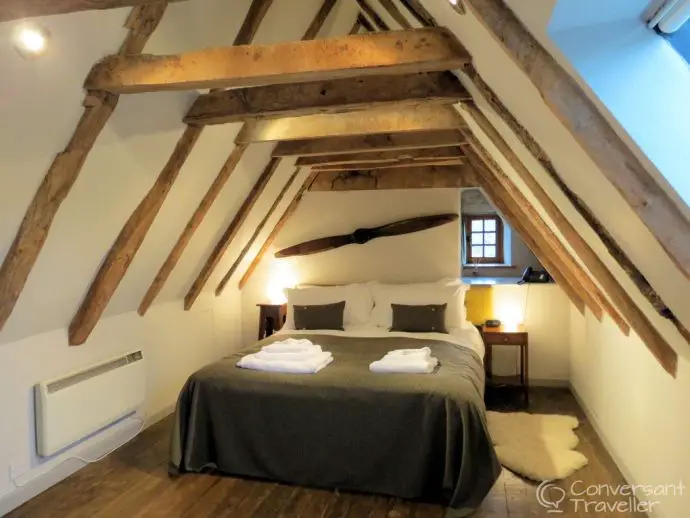 You'll know by now that I have an unhealthy fixation with bathrooms. Whilst for once this trip wasn't based entirely upon baths and bidets, it certainly wasn't let down by the bathroom offerings at Aikwood Tower, which were havens of original fireplaces, roll-top baths and locally produced lotions and potions.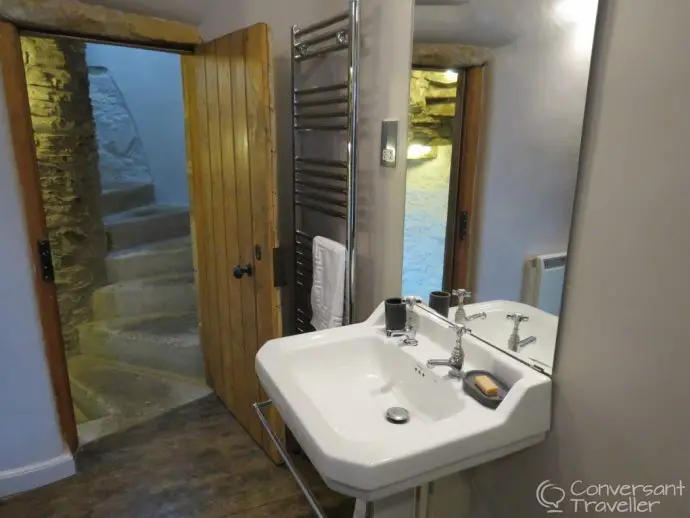 Take a Tour around the Tower
Have a look at our walk through of Aikwood Tower, can you imagine yourselves staying here?
The Grounds
Outside there's a walled garden with lawns, an orchard and a trellis tunnel that in summer comes alive with yellow blooms. Perfect for picnics, perambulations or even a spot of croquet, it's a private space for fresh air and family fun.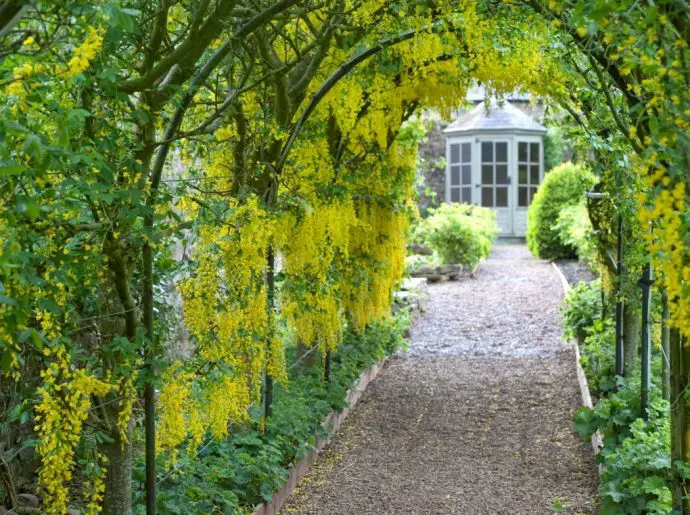 During our visit Spring was merely a promise. The snowdrops had just begun to show their heads but the daffodils were still refusing to emerge from their slumber. We couldn't really blame them. The 'Beast from the East' (which a ridiculous name!) had been here the week before and left great drifts of snow in its wake. There were even 2 foot icicles hanging from the tower roof just a day ago.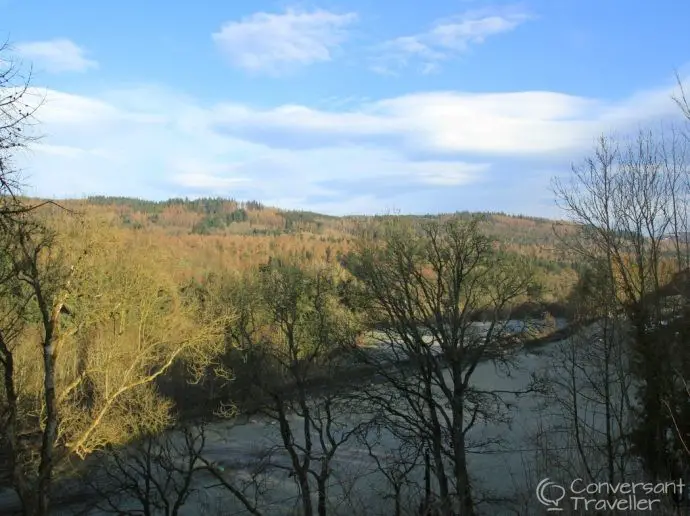 Out and About
One of the joys of staying at Aikwood Tower is that you don't have to jump in the car to explore the local area. The tower is surrounded by the gently rolling hills and forests of the Ettrick and Yarrow Valleys, and there are several walks right from the doorstep. Of course you may be too busy playing table tennis or pretending to be Rapunzel to actually go anywhere.
We do however highly recommend driving out to see some of the fabulously preserved heritage sites that the Scottish Borders is famous for. Everything is pretty close together so it's easy to plan a bit of a round-trip day of sightseeing. We've written a mammoth post on the best things to do in the Scottish Borders, so check that out if you'd like to know what to see in the area. For now I'll just leave you with this picture. It's Jedburgh Abbey. And we had it all to ourselves because everyone else was either in Edinburgh listening to bagpipes or up in the Highlands taking cow selfies. The Borders is still a bit of an insider secret. And you're welcome to join the club, but just keep it to yourselves!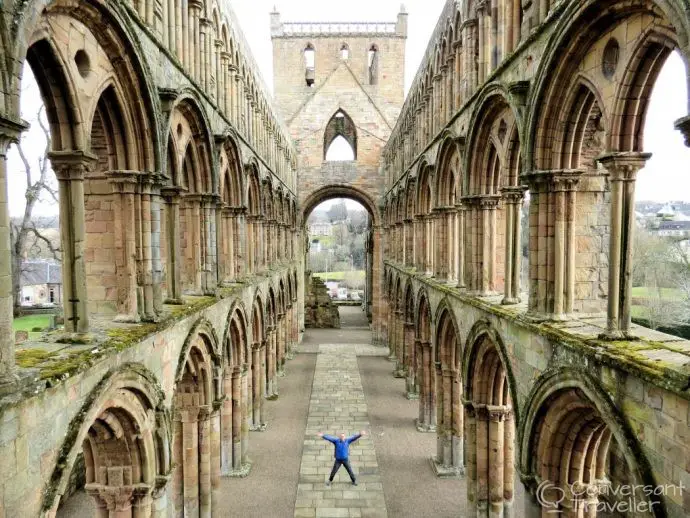 READ THIS: Things to do in the Scottish Borders
The Verdict
Whether there was sorcery involved or not, we were entirely bewitched by Aikwood Tower. Whilst we revelled in the utmost of contemporary comforts, it wasn't difficult to conjure up images of what medieval life must have been like here back in the day. We could almost smell the meat roasting over the fire in the great hall, hear the cattle calling to each other as the evening light faded across the hills, and imagine the peel tower inhabitants climbing those stairs beside us, ready for bed after a hard days work out on the moors. We've only been home a few days and are already planning our return, with others in tow, maybe for our 40th birthdays which are looming, yikes! Meanwhile Hubbie has been scouring the internet for peel towers to renovate, and so long as there's scope for en-suites in every room, I'm up for the challenge.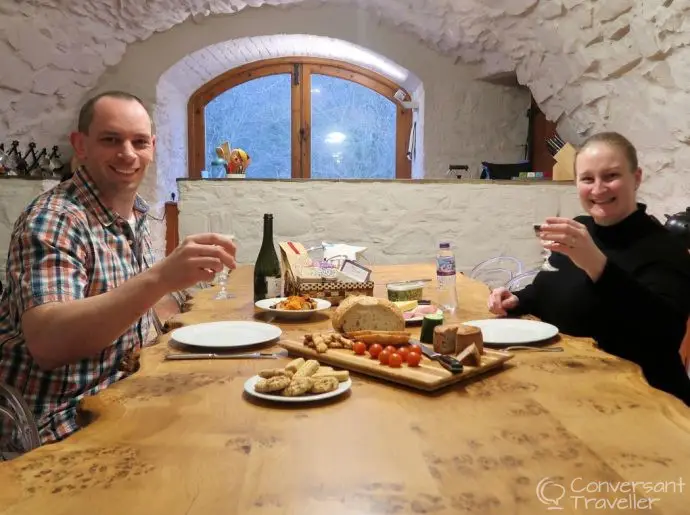 UPDATE 2020 – We Just Spent Christmas at Aikwood!
So guess what…we've just returned from our second visit to Aikwood Tower, and this time we took the family for Christmas! We couldn't stop thinking about what an amazing group venue the tower is, and that to have it full of Christmas trees, twinkling lights and the smell of roast turkey wafting through the halls would be an incredible experience to share with the troops. We kept the venue a secret until the very last minute, which was either suspenseful or irritating, depending on your outlook on life. But once they pulled up the drive on that wintery December afternoon, all was forgiven as multiple jaws dropped to the ground in unison.
Yes, Hubbie was wearing a waistcoat!!
Oh, and there was a pretty impressive peel tower which would be their home for the next few nights. Think we scored a big hit! Aikwood really is a magical place at Christmas, and we arrived to find it adorned with festive decorations, and not just one, but two Christmas trees!
There was greenery tastefully draped everywhere, and it wasn't over the top, but just right!
Everyone loved their turn at keeping the log fire in the great hall going, although some were much better at it than others! It was so cosy to gather there in the evenings with glasses of wine and board games, and congratulate ourselves on managing to cook a feast for 10 without too much carnage.
Hubbie jumped straight into his role as laird of the manor and uncle extraordinaire, and put on an incredible treasure hunt that had everyone scampering up and down those spiral stairs searching for clues. Apparently a previous laird had hidden his treasure somewhere in the tower and it was our mission to find it. The kids absolutely loved it, and the adults didn't grumble too much about wobbly knees.
As usual we brought too much food, enough for a siege in fact, including an enormous ham leg that no-one really knew how to carve. In the end my dad stepped up to the mark (after Hubbie had posed convincingly) and had a good work out tackling the beast. It really is quite a skill!
We had flaming brandy on the Christmas pudding, long country walks for those who wanted to burn off those extra roast potatoes, and even Santa paid a visit. We take our hats off to anyone who can squeeze a Hornby train set down the chimney – he deserved his whisky and mince pie! Rudolf enjoyed his thank you carrot too. Medieval Celtic Christmas tunes played as a constant background soundtrack, and Hubbie thought all his Christmases had come at once when his mother-in-law presented him with a dish heaped high with his favourite profiteroles.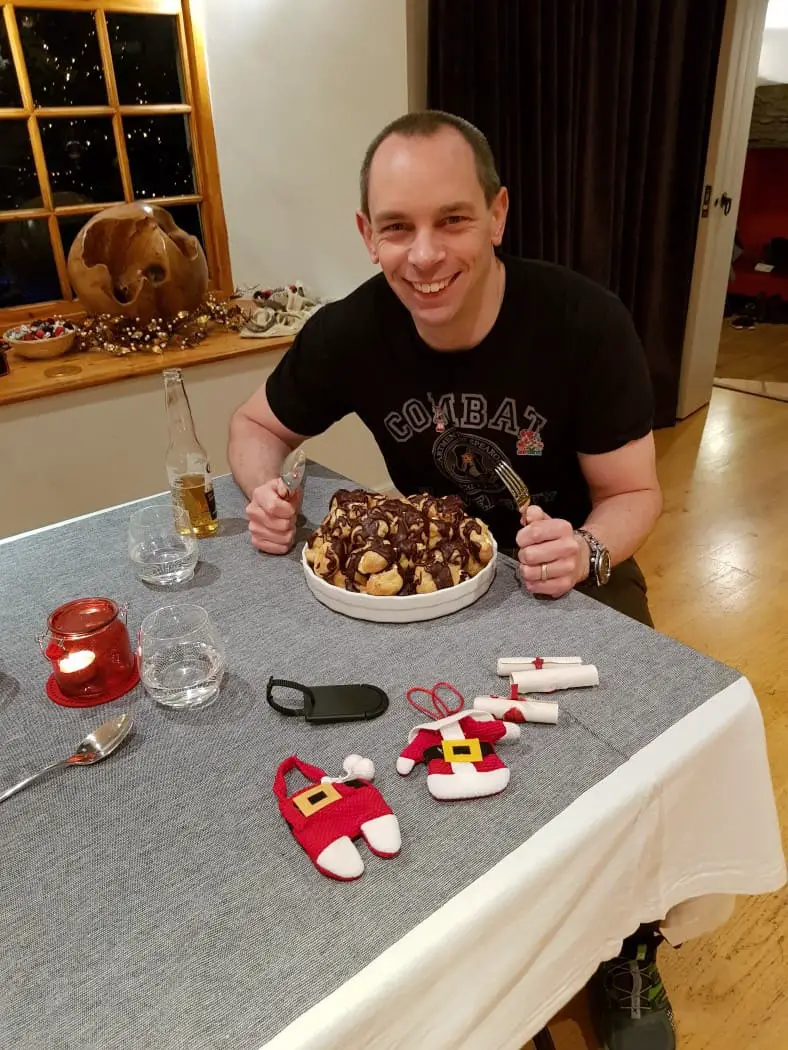 It really was the most incredible Christmas, and thanks so much to Vicki and the Aikwood Tower team for making it all so warm, welcoming and festive. If you're contemplating a Christmas celebration, a wedding, or just a fun family holiday, then honestly you won't find anywhere better. We might even make it an annual tradition!
Tips for staying at Aikwood Tower
Slippers: bring sturdy slippers or house shoes to wear inside – running up the spiral stairs in fluffy mule slip-ons isn't the best idea.
Wellies: it's welly country here, and several pairs are thoughtfully provided in the hallway, but you might want to bring your own to ensure you have some that fit.
Phones: there's very little mobile phone signal here, but there are landline phones throughout the tower which you can use for re-directions or outgoing calls.
Internet: there is wifi but understandably in such a building it's not great, especially up in the bedrooms. We found it worked best in the lounge and great hall. But you're here to get away from all that anyway, aren't you?
Shopping: Selkirk isn't far away for grocery shopping, or if you don't feel like cooking you can hire a chef for the day.
Cooking: is by Aga, so if you're not used to that then maybe don't plan a really complicated menu. It's not that difficult to master though. There is a microwave and a couple of extra electric hob rings if you get desperate.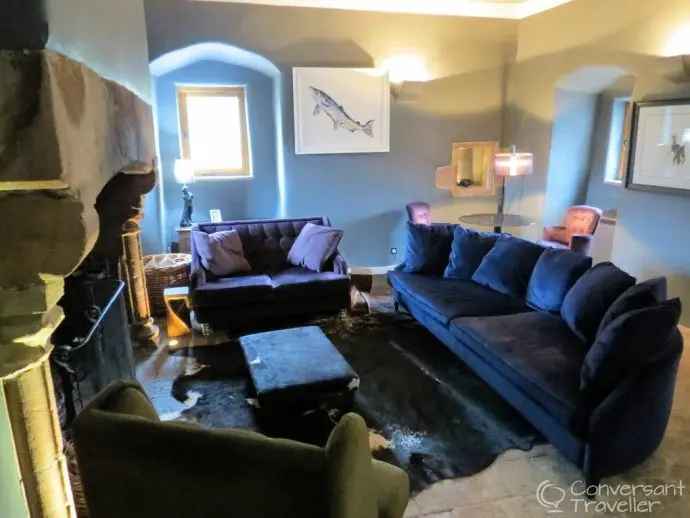 ---
Thanks to the wonderful folks at Host Unusual and Aikwood Tower for hosting us during our first stay. As always, words and opinions remain our own, and we never accept complimentary stays unless we'd have been happy to pay for them ourselves. Which is precisely what we did at Christmas! 
Enjoyed this post? Why not pin it for later…