The sky burned molten red as the last remnants of day finally gave way to night above the White Tower of Taymouth Castle in Scotland. Almost reluctantly the sun disappeared behind the dark peaks, leaving a perfect trail of fire in it's wake. I half expected a dragon to come winging its way across the loch, leaving his mountain lair to go hunting for a spot of supper. Instead the nimble flap of much smaller wings heralded the arrival of something rather less fantastical.
Bats. Dozens of them.
A lone snowflake fluttered across my cheek, reminding me that it was in fact the dead of winter, and I was standing on a castle rooftop in nothing more than my bikini. As you do. Yet to truly appreciate the steaming hot tub, glass of Malbec and roaring log fire that were waiting for me, I wanted to first feel the icy grip of the Scottish Highlands on my skin.
I wanted to feel alive.
That desire turned out to be fleeting. My toes were already numb, and I realised that Hubbie would devour the last of our Scottish shortbread along with the bottle of red if I didn't get a move on. Jumping into the bubbles not quite as elegantly as I would have liked, I hoped Hubbie hadn't noticed the ensuing cascade of water that drenched his nearby slippers. Luckily he was too absorbed in the enchantment that was going on up above.
Stars. Millions of them. And they were all ours.
The White Tower of Taymouth Castle
We were hibernating for a few days in a remote Scottish castle with our partner Host Unusual, a wonderfully imaginative new company specialising in quirky luxury retreats around the UK. Although their properties include lighthouses, churches, and even private islands, it was a castle that I had my eye on.
One that came with a flagpole, a hot tub and a view.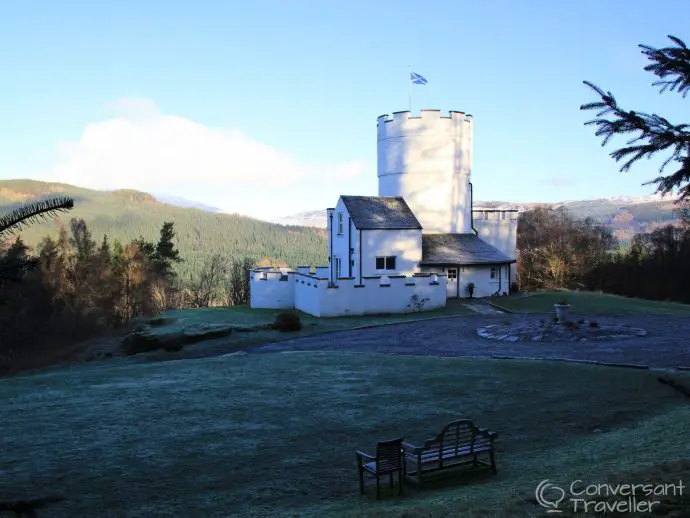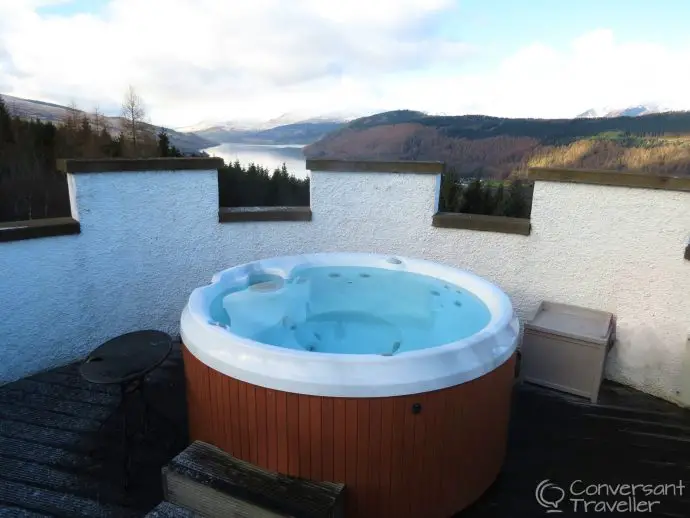 The White Tower of Taymouth Castle perches loftily on a sunny knoll overlooking the Tay Valley, with Loch Tay shimmering innocently far below. Built in the 16th Century, it was originally the lookout tower for Taymouth Castle, having a perfect location for spotting potential marauders from miles away.
Royal seal of approval
Fair maidens may not have actually graced these parapets, but Queen Victoria has! And if it's good enough for her…
In 1842 she stayed at Taymouth Castle with Prince Albert during their honeymoon, and it is believed they retreated to the White Tower for a bit of privacy. I can't say I blame them, it's so gloriously romantic up here. In fact a nosy through the visitors book revealed that 3 out of the previous 5 guests actually got engaged here on the rooftop of the White Tower. I reassured Hubbie that his Mayan temple proposal in Guatemala 10 years ago still hit the spot, but it's easy to see why this place is the beginning of so many happily-ever-afters.
A luxury Scottish wilderness retreat
Taymouth castle was home to the Dukes of Breadalbane until 1922 when the 450,000 acre estate was split up into smaller holdings. The White Tower was subsequently used by local ghillies as a hunting lodge, before local architect Eric McKenzie Strickland and his wife Naomi breathed a new lease of life into the dilapidated building.
Today, the White Tower is dripping with luxury drapes, Gothic opulence, and unbridled romanticism. It's the sort of place Rapunzel would have enjoyed. Only my recent hair cut and lack of knight on a white charger could persuade me that I hadn't stepped into my very own fairytale.
Location of the White Tower
Despite being tucked away high up in a Scottish glen, the White Tower is remarkably easy to reach. Only a couple of hours north of Edinburgh, and a few miles from the conservation village of Kenmore on the shores of Loch Tay, it lies at the end of an enchanting forest track. One that is accessible by car. Hubbie's trusty silver steed managed without any trouble, although during heavy snow a 4×4 would be advisable.
Inside the White Tower
We knew this stay was going to be superb, but we didn't realise quite how superb until we arrived. Let's just say the first half hour was spent running up and down the tower in giddy excitement, and it was as much as we could do to stop ourselves from jumping on the beds. This place was spectacular in every way.
Folks, if you ever fancy a stay in a fairytale castle, then this is it!
I hadn't planned on spending much time in the kitchen. For us, self catering holidays usually mean quick and easy meals, and lots of eating out. Yet the gleaming marble worktops, comfy tweed chairs and views out across the valley had us dining in every night!
There was even a bottle of the famous local Dewar's whisky, thoughtfully left for our pleasure. We first discovered an amateur appreciation for whisky on a stay over at Loch Awe a couple of years ago, and eagerly polished off a hearty dram or two each evening, all in the name of research.
When in Scotland and all that!
We visited the White Tower in January, so it was bitter outside, even in the sun. But that's okay. I always say that Scotland is the perfect winter destination, full of cosy luxury boltholes to snuggle up in. In fact we nearly always come to Scotland in the dark months, she's just so beautiful with her snow capped peaks and glowing sunsets. The light is always better at this time of year for photography too.
What's not to love!?
Besides, who cares if it's chilly when you have a hot tub AND a sauna?
I loved the little note suggesting we pick fresh lavender from the gardens to place in the sauna for a bit of aromatherapy. These experiences are so much better when all the senses are involved, and lavender makes a lovely change to the standard eucalyptus and pine.
Of course the rooftop hot tub is the jewel in the crown, and I'd be lying if I said we didn't come away from our stay at the White Tower looking like prunes!
This really is the life!
In the evenings, with our necks aching from trying to spot shooting stars from our hot tub perch (we did spy several satellites, do they count?), it was time to head down the wonderfully quirky spiral stairs and get cosy in the lounge.
Fun fact. Did you know that spiral staircases in British castle towers were nearly always built ascending clockwise to favour a right-armed defender? It meant he could easily swing a sword against an enemy below, whilst the attacker would be at a disadvantage (unless he was left handed!).
Luckily there were no sieges or invasions during our stay.
There is a huge TV for those who can't quite let go of the outside world, but in the evenings we opted for games and conversation (and a bit more of that whisky) by the fire. It's been a long time since we've enjoyed a few days without the distractions of screens in various forms, so it was rather rejuvenating to simply lounge around playing a few rounds of cards.
Even if rummy is the only game we actually know!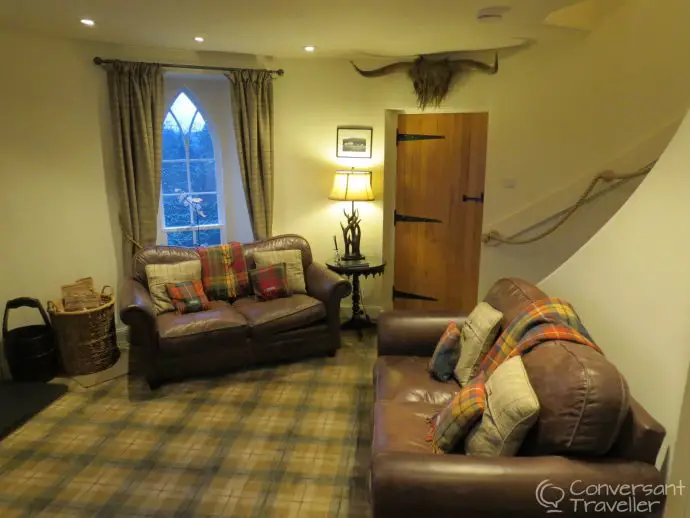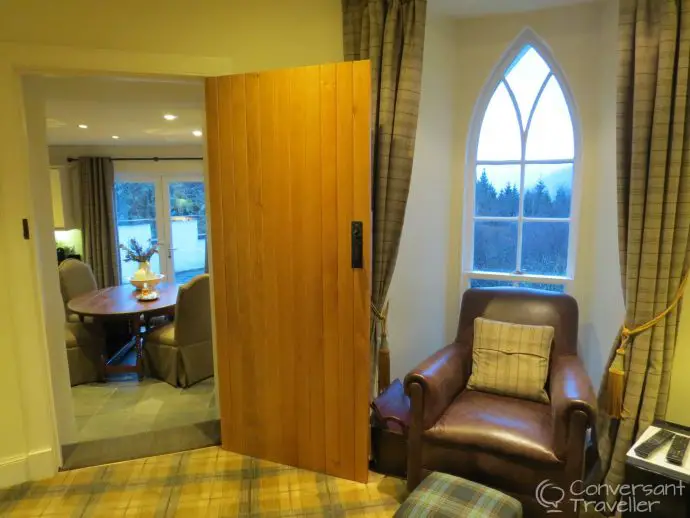 I loved the cushions, throws and cute little foot stools that brought a splash of colour to the room. A bold yet tasteful nod to the traditional Scottish tartan.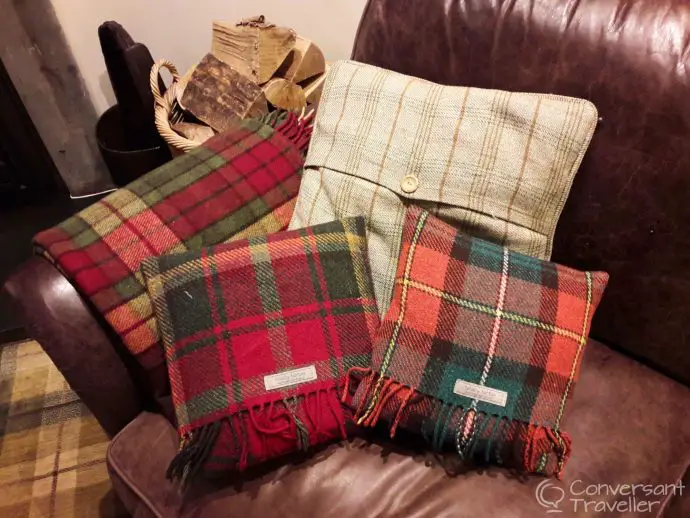 I had unashamedly brought along my own tartan slippers for the occasion (it was either those, or ones sporting fluffy pompoms which Hubbie refused to let me take). What do you think, too much tartan?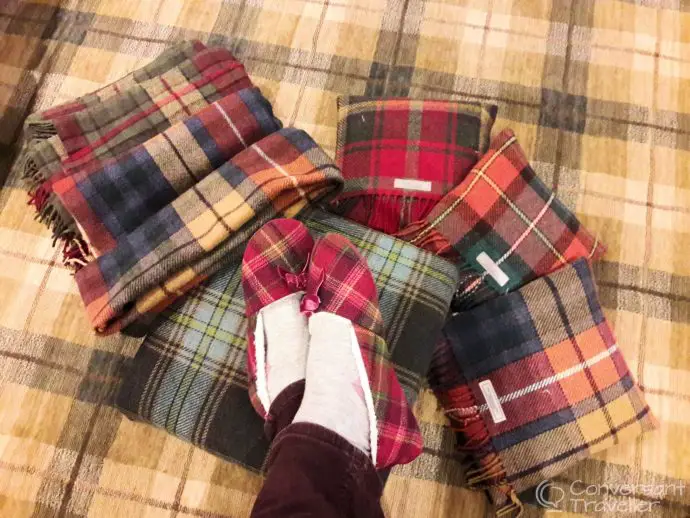 We didn't actually need slippers. The carpets here are so thick and soft that you sink into them up to your ankles. Well, almost. It's the quality as well as the design that really stands out here.
There's no internet at the White Tower. And that's a good thing. I guess a stay here in the Scottish wilderness is what people these days would call a 'digital detox', but such newfangled labels aren't necessary. It's simply a luxurious bolthole in which to unwind, relax, and refresh.
Which is why I found myself on the first floor landing in the quirky little library reading Jane Eyre. Or was it The Beginners Guide to Lawn Propagation. I can't quite remember, there was a rather eclectic mix of books to choose from. Typically the one volume Hubbie picked up happened to be the most risqué of the lot. Or at least it would have been in the 19th Century. Lots of overly elaborate descriptions about voluptuous mounds and gleaming valleys.
Hmmm. Think I'll stick to learning about the various characteristics of turf grass.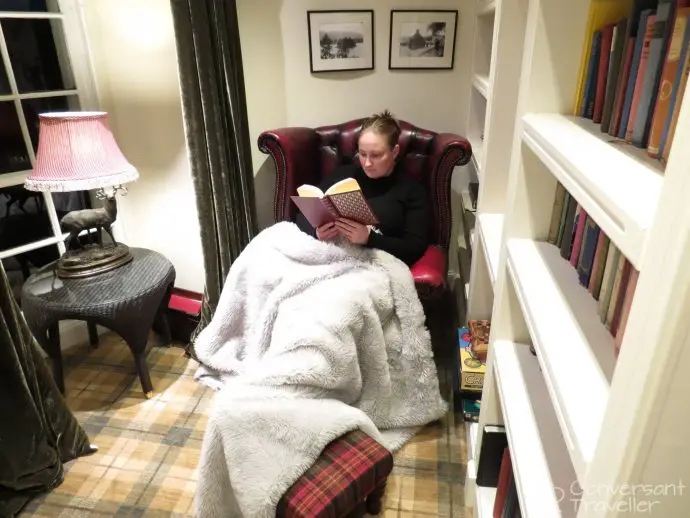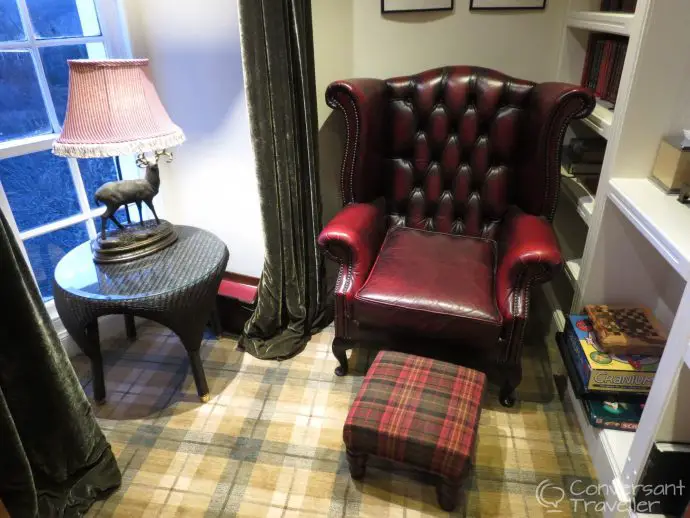 And so to the bit you've all been waiting for. The bed chambers (or 'bedrooms' to those not versed in luxury castle lingo). Perhaps as expected, given the tastefully elegant interiors of the rest of the White Tower, these spaces are just as lavish.
Even the second guest bedroom, which is on the first floor landing and smaller than the master suite, is nothing short of sexy.
Yet it's the room at the very top that really sets those hearts a flutter.
The main suite is every little girls dream, and the fully grown man in his mid 30's was pretty impressed too! Full of gold trimmings, antique furniture and bed throw fluffiness, it's the perfect crash pad after a hard day exploring. It is quite a hike up from the kitchen, so don't forget to take up anything you need overnight.
Alternatively, just get your prince to 'pop' back down for it if necessary!
Luckily there is a tea tray (and biscuits!) up there, so you don't have to scamper all the way down to the kitchen for that night time cup of cocoa, or morning coffee.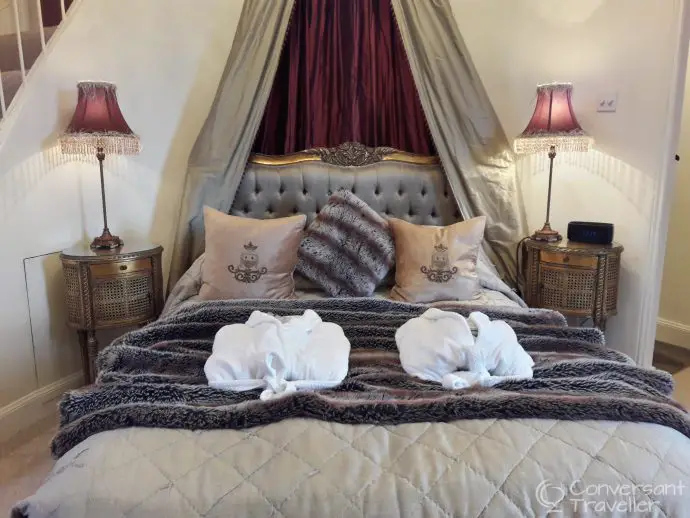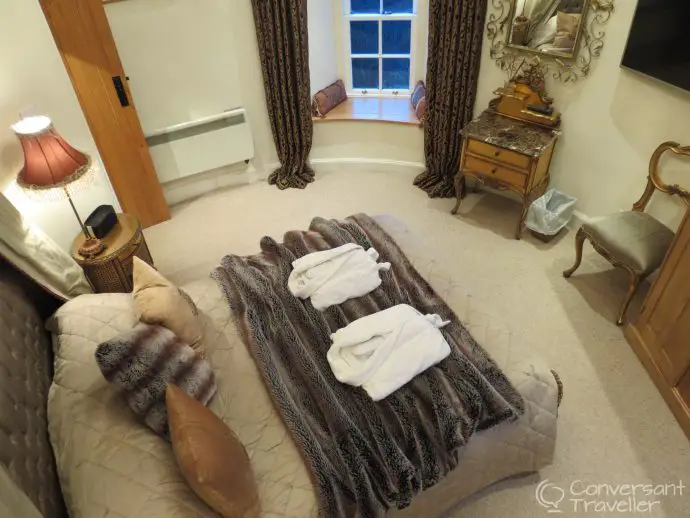 The roof terrace is accessed by spiral stairs winding up from the master bedroom. Perfect for an early morning dip in the hot tub for those who can bring themselves to crawl out of the silky pile of cosiness down below. Hubbie said the sunrise was spectacular.
I told him so was my sleep!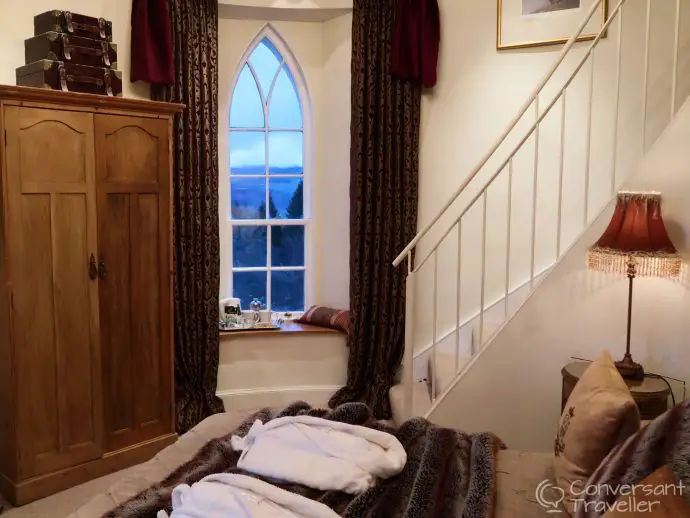 Both bedrooms have ensuite bathrooms, although the one for the master bedroom is tucked away down a short flight of stairs. Which isn't a problem. Especially since it has a Victorian roll top bath and one of the best views from a loo we've ever enjoyed.
Take a closer look…
Out and About – Things to do around Loch Tay
We had big plans for exploring the local area. A bit of hiking in the hills, kayaking on Loch Tay, and sampling some of the local eateries. Yet we just couldn't bring ourselves to to leave our private castle heaven, and ended up spending most of our days roaming the hills and woods belonging to the White Tower, luxuriating in the hot tub and snuggling up next to the fire.
For those inclined to venture out the area around Loch Tay is beautiful, and you could easily spend a week exploring here in the Highlands: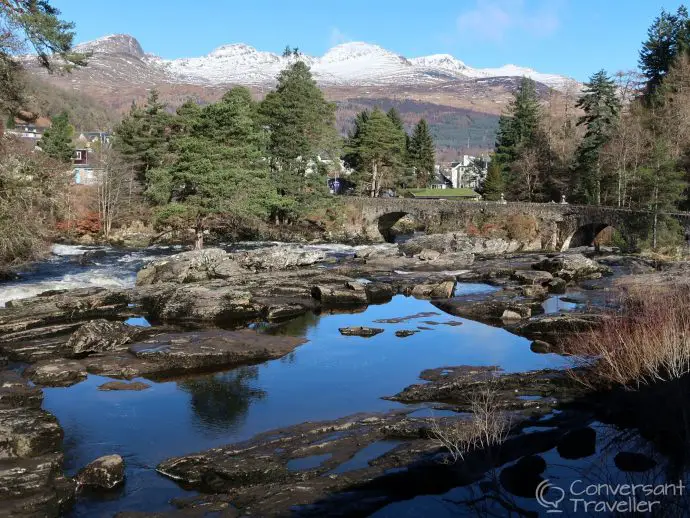 What we loved
A private castle, in a beautiful valley, with a roof top hot tub…what's not to love? Staying in castles is one of our favourite pastimes. I used to live in one, Hubbie and I were married in one, and we never pass up the opportunity to holiday in one. Yet usually these castles come with a full compliment of staff, and of course other guests. Castle hotels provide some of the best accommodation around, but they do lack exclusivity.
This however wasn't a problem at the White Tower. The only visitors we had during our stay were a few inquisitive deer and the odd pheasant, and it was all the more relaxing for having the place to ourselves.
What wasn't so great
We were a little bemused at the absence of kindling or paper to get the log fire started in the lounge. Instead, there were just huge chunks of wood and a heap of firelighters. A search of the woodshed yielded very little in the way of small dry twigs, and we weren't sure if it was an oversight or simply the way things are done up here. Maybe the hardy Scots are able to start a fire using nothing but thick logs and their bare hands, but us 'southerners' struggled somewhat. Luckily the heating in the White Tower works a treat, so it was cosy even without the comforting roar of the flames.
The Verdict
We truly loved staying at the White Tower.
It's the sort of place where couples and lovers can hide away together in sumptuous comfort, and remind themselves why they fell in love in the first place. Yes, it's a great spot for romantic proposals, but it's so much more than that. It's about sharing solace, seclusion and secrets, and forgetting about the outside world if only for a few days. Something we all need to do now and then. The White Tower is a haven that rejuvenates old relationships and kindles new ones, and proves to guests that magic does exist, you just have to let it in!
Tips for staying at the White Tower
Leave a pair of outdoor shoes up in the master suite so you can walk outside on the roof terrace – it's a bit cold in winter for slippers up there, and a long way down to the ground floor if you've forgotten them.
The White Tower is self catering so do your grocery shopping before you arrive.
Supplies are available in nearby Kenmore, and there are a selection of restaurants and cafes nearby for when you don't want to cook.
Take wellies or hiking boots to explore the grounds, it can be a bit boggy after a lot of rain.
Check if kindling is available, and take your own if not.
Bathrobes and hotel slippers are supplied.
They have L'Occitane en Provence toiletries, including hair conditioner!
---
Thanks to the wonderful folks at Host Unusual and The White Tower for hosting us during our stay. As always, opinions are our own, and we only accept complimentary stays at places we'd have been happy to pay for ourselves.
Image of Hot Box lochside sauna – source: Taymouth Marina
Enjoyed this post? Why not pin it for later…