Australia is home to some of the best beaches, most diverse wildlife and buzzing cities in the world, so it's no wonder this vast country is top of many traveller's 'must-visit' lists. With so much to do and see spread out over a whopping 4,000km east to west, it can be tricky to figure out how to pack all the incredible experiences into one trip.
If you're planning an Australian vacation, here are the 10 must-see spots that have got to make it onto your itinerary.
Stop 1: Cairns
Fly into Cairns and have a few days exploring this beautiful city. It's one of the warmer spots on the East Coast due to its northern location, so make sure you pack plenty of sun block and summer clothes! From here, make your way from Cairns up to Cape Tribulation, found within the Daintree National Park. This magical place is where the rainforest meets the sea, so you can step out from the dense canopy onto super soft white sands.
Stop 2: The Great Barrier Reef
Next, take a day trip out on a boat to explore the stunningly beautiful Great Barrier Reef. According to Lonely Planet, "each year, more than 1.5 million visitors come to experience this World Heritage–listed area that stretches across 2000km of coastline." There are lots of ways to take in the scenery here, hop on a boat, or zip up a wetsuit and snorkel through the brightly coloured reef. You may be lucky enough to spot a turtle or a clown fish! Or, if your budget allows you can take a helicopter ride over the bright blue expanse!
Stop 3: The Whitsundays
Head to Airlie Beach where you can jump on a tour of the Whitsundays. There are a few different options depending on how much time you have – you can do a quick day tour of the must-see spots or spend several days island hopping. Whichever you decide, make sure you visit the famous Whitehaven beach – one of the most unspoilt beaches in the world. Sink your toes into the unbelievably soft sand before taking a dip in the turquoise ocean.
Stop 4: Fraser Island
An absolute must-visit during any trip to Australia, Fraser Island is truly one of a kind. Sitting just off the east coast just north of Brisbane, it is easy to reach on a short ferry ride from Hervey Bay. Drive a 4×4 along the beach, camp among sand dunes and visit the SS Maheno – a shipwreck dating back to 1935.
Stop 5: Brisbane
Brisbane is a big city with a small-town atmosphere. As the most populated city in Queensland, you'll find plenty to do here. Take a stroll along the pretty riverside before having a bite to eat in a local restaurant. Visit some of the fantastic local museums by day and experience the buzzing nightlife once the sun goes down.
Stop 6: Blue Mountains
This rugged region just outside Sydney is a big hit amongst nature lovers. It has some of the most dramatic natural beauty in Australia, with big waterfalls, eucalyptus forests and rocky cliffs all waiting to be discovered. There are plenty of bush-walking trails that will take you to some of the most famous spots, such as Echo Point.
Stop 7: Sydney
Perhaps the most famous city in Australia, Sydney truly has it all. Vibrant nightlife, beautiful beaches, great shopping and tonnes of arts and culture to enjoy. Make sure you visit the iconic Sydney opera house, harbour bridge and Bondi beach during your stay. It's also worth hopping on a ferry over to Manly for fish and chips on the beach!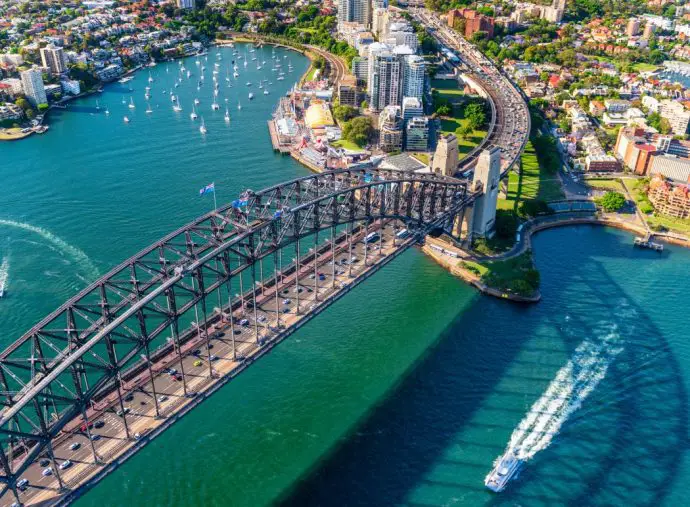 Stop 8: Melbourne
Melbourne is hugely diverse so there really is something for everyone here. Those who like to get out in nature will enjoy a whale watching tour or heading to a local koala sanctuary. Night owls can take advantage of the many eateries and clubs on offer, while culture seekers can head to one of many art museums.
Stop 9: Ayers Rock
Another Australian icon, Ayers Rock sits in the Uluru-Kata Tjuta National Park within the Northern Territory. This huge sandstone formation is thought to date back more than 550 million years and is truly a wonderful sight to behold. If you're seeking a truly special experience here, get up early to watch the sun rise over it, flooding the rock in rich red and amber tones.
Stop 10: Perth
Finally, head west to the capital of Western Australia: Perth. There is lots to get stuck into here, from the city's soft sandy beaches to the busy urban city centre. You will enjoy a really laid-back atmosphere here as you explore. An absolute must-see is Kings Park and Botanical Garden, where you can walk across a 222m glass bridge high up among the eucalyptus trees.
Australia truly has it all – and you can experience the highlights of this amazing destination by following this ultimate 10-stop itinerary. Have you been to Australia? Do you have any top sights to add?