We've teamed up with Bob Books to offer one lucky reader a £50 voucher towards their own travel photo book. Read on to find out how to win.
Photographs. Tens of thousands of them. A number that will only increase as Hubbie insists on expanding his already rather substantial camera collection (one that always travels with us in its entirety). He never leaves any of his cameras at home…'just in case'. I realised this was becoming a bit of a problem when I had to cut down on the amount of clean underwear I took on our recent trip to Kenya, to allow for the extra weight of all those cameras.
Spare pants or photos. One of the few things we disagree about!
On our recent trip to Sri Lanka we took over 4800 photographs in just 6 days, whilst in Kenya last month we came home with over 3100. I'm not even going to start counting all the gigabytes of film that Hubbie took. When we first started travelling, back in the day when we thought living in flip flops and washing every other day was perfectly acceptable, we carried around our 35mm film cameras. Our bags would be bulging with precious bundles of spare films, and we would try to make every photograph count, knowing once we'd used up our stock, that would be that. There weren't many places to buy new film rolls in the depths of the Guatemalan jungle or the remote valleys of Peru.
Today is a different story. Digital cameras have solved this problem, and with hundreds of gigabytes of memory at our disposal we can snap away quite happily for hours. Yet this enthusiastic photography comes with it's own problems. Namely the vast quantity of images that end up sitting forgotten on hard drives and cloud storage. That never happened with film.
One of exciting (and sometimes disappointing) aspects of 35mm film photography was getting the images developed, and finally seeing your travel snaps for the first time several weeks after returning home. It sort of prolonged that holiday feeling. Something to look forward to after you'd said goodbye to the sun and the sangria for another year.
I've always enjoyed surrounding myself with travel memories, and was never one to sling photographs into a desk drawer, to gather dust alongside that ancient pot of Tippex and a few perished elastic bands. I loved the ritual of selecting and arranging the pictures in an album, to be proudly displayed on our travel bookcase and promptly pulled out whenever an unsuspecting relative foolishly enquired about our holidays.
However this became completely impractical when we made the move to digital cameras. We took too many photos to have them all printed, and it was impossible to select just a few for a photo album. Plus by this time the albums were taking over our living room. And our loft. They were too big and bulky, and had started to look a little outdated. Yet I still wanted to display our images, and enjoy diving into an album now and then to remember the adventures we've had.
So I was thrilled when I discovered Bob Books several years ago.
About Bob Books
Bob Books is a unique online photo book design service that allows the user to create personally customised photo books and printed products. It's really easy to use, and you don't require any design skills to be able to come up with something that looks sleek and professional. Phew! All you need is a computer, the Bob Books Designer software (which can be downloaded from their website), and a pinch of creativity. Actually, you don't even need the latter, as they also have a design service if you want someone else to do the hard work.
Bob Books photo books
The photo books come in several different formats, so if you're creating a travel collection it's a good idea to pick one style and stick to it. We always opt for the Portrait 21 x 28 cm because it fits nicely on our bookshelf and is easy to hold, but the books also come in larger sizes as well as landscape and even square.
Once you've chosen your style you need to decide what paper you prefer. We find the 'classic' is perfectly good for showing off photographs, although there are gloss and photographic paper options too if you want something extra special. Then it's on to the cover. For us, a hard cover is a no-brainer for a photo book, but if you need something a little more pliable, then paperback is available too.
To give you an idea of price, our portrait hardcover photo book starts at £29.99 for 26 pages. Extra pages can be added as required, at £3 for each additional 8 pages.
How to design your photo book with Bob Books
Once you've chosen your format, it's time to get down to the fun part. The design. To start, you'll need to download the Bob Designer Software, and then you're good to go. The first thing to do is upload your chosen images under the Photos and Videos tab on the left. Personally I prefer to cheat and tend to just cut and paste the images from my desktop file onto the desired page. It's much quicker and doesn't affect the printed quality (I've tried both methods).
There are templates for arranging the images on each page under the Page Layouts tab, with options for different numbers of photos, high or low coverage, and jaunty angles. You can also add text if you wish. If you have an eye for design, the image boxes can be edited and dragged to create your own layout.
Don't forget to choose a background (it can be different for each page if you like) if you haven't opted for full page photo coverage. I tend to go for black, because it looks slick and professional, but if you like a bit of fun, there are themed backgrounds such as 'nature', 'holidays' and 'flowers'. There is clipart available too if you want to add something extra to your design.
Finally there are masks and frames to choose from if you want a particular image to stand out. I love the 'countries' mask, for obvious reasons.
Don't forget to put a title on the spine, and be aware that if you want the spine to be a particular colour, you need to add a background first (as a double page spread behind any images you might use). After you have done that you can add the text.
Once you are happy with your design, simply save it, add it to the basket, upload your creation and wait for it to arrive in the post. It's as easy as that!
Our design suggestions
Try and keep your double pages symmetrical in layout, or have several images on one side with a single large one on the other. Like this…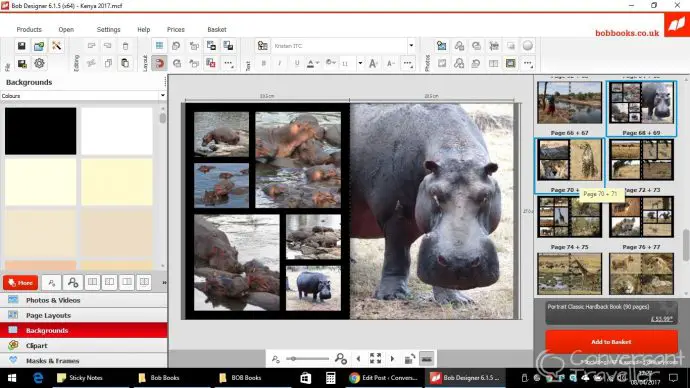 Throw in a few images that take up the entire double page spread to break up the pages crammed with lots of photos.
Mix things up a bit, and don't have every page looking the same.
Clip art and funky frames are fun, but if you want a slick look, leave the frames alone and stick to a single colour background throughout.
If you can't decide which layouts you prefer, or don't want to spend time doing it yourself, let Bob Books do the hard work for you. The Book Design Service provides you with a professional designer to create your photo book, with prices starting at just £36.48. Personally I like to have complete control over my designs, which is why I do it myself, but it's good to have other options.
Quality and Service
We've always been very happy with the service, and all our queries and problems have been responded to very quickly. We once received a book with a scratch on the front cover (that was South Africa 2009!), and when we contacted Bob Books they resolved the issue by sending us not one, but several copies to replace the damaged book. Delivery usually takes 1 -2 weeks in my experience, which isn't bad considering each item is individually printed. The books come well packaged in thick cardboard with polystyrene corner protectors.
Tips
If you haven't done this sort of thing before, take a look at the 'How to' video guides in the Help section for assistance and ideas.
If you want to save a bit of money, sign up to the Bob Books newsletter and wait for their discount codes to arrive in your inbox, often offering 20% off!
If you can't wait for a newsletter discount, Wanderlust Magazine often feature a Bob Books discount code for their readers.
Bob Books have a Bookshop where you can share your creations with your friends and family, and even publish your books for others to purchase with a small mark up fee if you wish.
There are also calendars, photocards and wall art available. We designed our first calendar this year, and love how we're reminded each month of a particular place we've visited. This month it's snorkelling in Brazil.
The Giveaway
We've partnered with Bob books to offer our readers the chance to win a £50 voucher to put towards a photo book, wall art or calendar.
Please note that by entering you are opting in to my monthly newsletter, Conversant Chronicle. I promise not to bombard you with messages, just one newsletter a month where you can keep up to date with our adventures, travel tips, and giveaways. You can unsubscribe at any time.
This Bob Books photo book giveaway is open to UK residents only.
The giveaway ends at midnight on Monday 24th April 2017.
How to enter
It couldn't be simpler. Just use the Rafflecopter widget below to enter, completing as many of the options as you like. If you have previously completed any of the actions (for example if you already follow us on Facebook, Twitter etc) then feel free to have an entry for them!
Make sure you select your entries on the Rafflecopter widget to validate your entry!
Terms and Conditions
No purchase is necessary to enter or win. A purchase will not increase your chances of winning. The prize is provided by Bob Books, and is a £50 voucher valid for 1 year. The voucher includes postage and packaging and will be valid for 1 year. The voucher is not redeemable against items in the Bob Books Bookshop. No change will be given. Not valid in conjunction with any other offer.
The prize is not refundable or exchangeable for cash, and no change will be given. This giveaway is open to a UK audience. The giveaway will run for 2 weeks and end at midnight on Monday 24th April 2017. The winner will be determined on or around the 25th April 2017 by a random drawing of eligible entries received. Your chances of winning are determined by the number of eligible entries. Winners must respond within a week of receiving the notification email, otherwise another winner will be chosen.
---
Bob Books kindly provided us with £50 towards our latest photo book for the purposes of this review, as well as a £50 voucher for the lucky winner of this giveaway. All opinions remain our own, and we only agree to review products that we'd be happy to pay for ourselves. We've been using Bob Books for a long time so our recommendation comes from years of personal experience. 
Enjoyed this post? Why not pin it for later…