Gloucestershire glamping in a restored Warwick Knight caravan
Chickens are truly terrifying creatures. Their sharp beaks, beady eyes and dinosaur-esque talons all seem to be designed for one purpose. Guarding their eggs. I guess I don't blame them, after all I'm sure I'd do the same in their position. The trouble was I fancied eggs for breakfast, and the only thing standing between me and a full English fry up was Henrietta. Or was it Eglantine?
My track record of taking on chickens isn't impressive. I once spent over an hour cowering in a car because there was a cockerel scratching around outside, which is rather strange considering I love the countryside, staying on farms and generally living a life where it's considered acceptable to wear wellies and raincoats on a daily basis. On this particular morning my hunger for a freshly laid egg marginally outweighed my fear, so I marched confidently through the dew cloaked fields to the chicken coop to extract my prize, right under the nose of one very indignant mama. My own mother would have been so proud.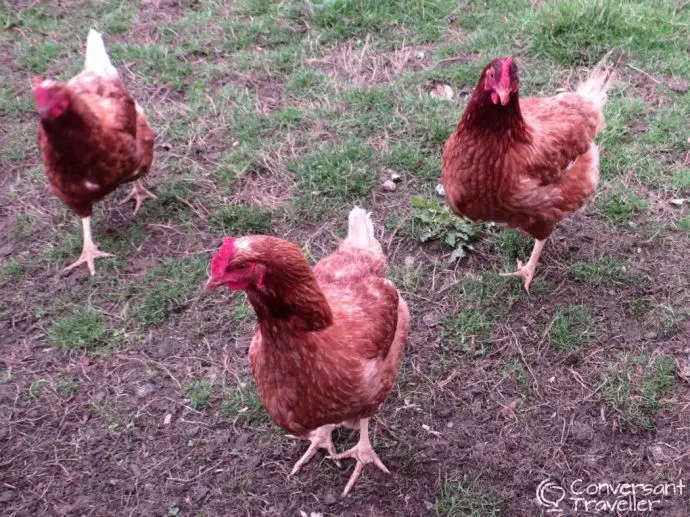 Hubbie and I were indulging in a spot of quirky Gloucestershire glamping down near the village of Longney in the Severn Vale. It's a beautiful part of the country, and the sort of rural English idyll that inspires poets and writers to go into adjective overload. Let's just say it was pretty. Green, tranquil and buzzing sleepily with the sounds of nature rather than people. I'll take that any day, even with the chickens!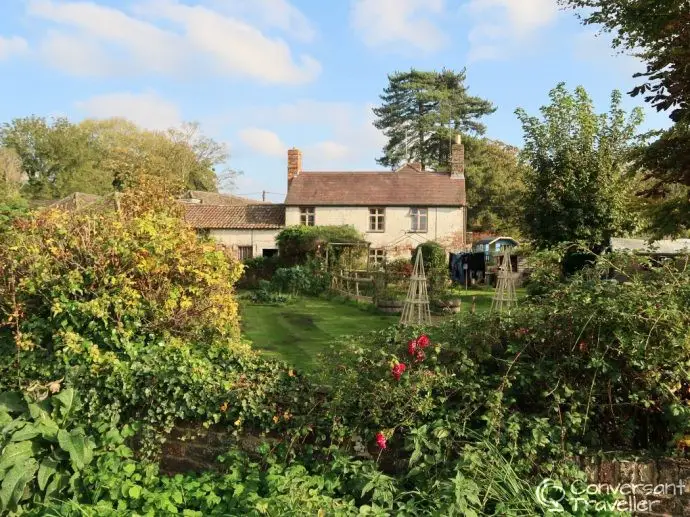 The Warwick Knight Caravan – quirky accommodation at its finest
Our home for the next few days was a superbly renovated 1950's Warwick Knight caravan, set in an orchard on a remote small holding, magnificently lording it over the surrounding fields and meadows. The Glamping Orchard is the brainchild of Ali and Rich, who wanted to create a unique place to stay where guests could enjoy some intimate relaxation surrounded by nature, and just kick back and switch off from everyday life. They have lovingly and painstakingly restored their vintage Warwick Knight caravan, and together with a gorgeous glamping tent, aptly named 'Belle', they have come up with something rather special. These two quirky accommodation options are separate from one another, but they can be booked together for larger groups or a couple of families.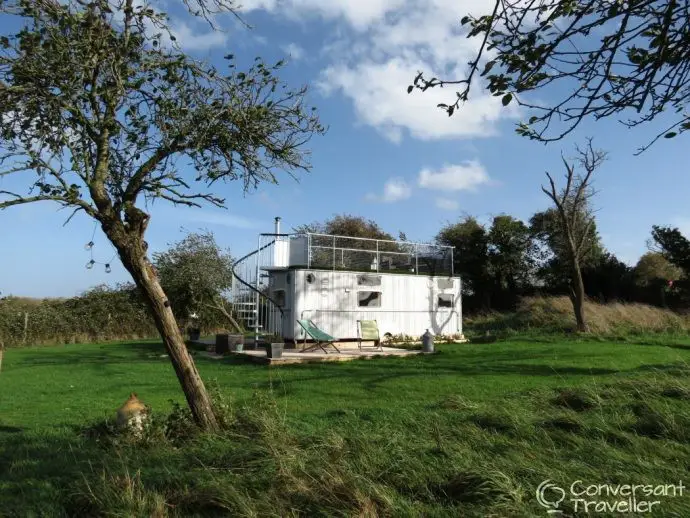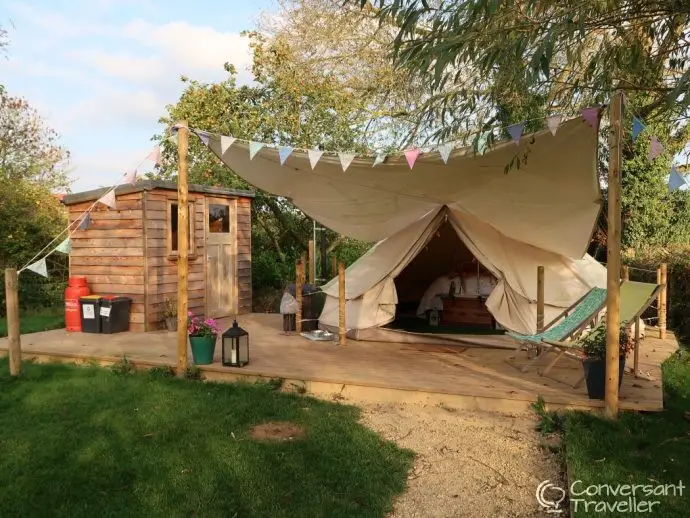 The Glamping Orchard's Warwick Knight caravan first appeared in 2016 on George Clarke's 'Amazing Spaces', a fun and inspirational programme about turning unusual buildings (and sometimes vehicles!) into wonderfully inventive places to stay. Yet the queen (or should I say knight?!) of Gloucestershire glamping speaks for itself, and doesn't need to rely on the fame of TV shows to convince visitors of its appeal.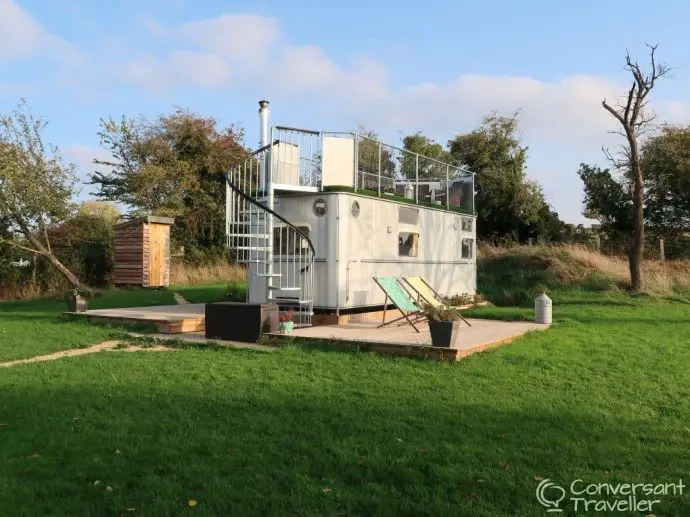 Caravans haven't been part of our vocabulary until now. Sure, we love a bit of wild camping up in the fells when we truly want to get away from everything, but usually our choice of quirky accommodation comes with more finesse, comfort and bling than you'd expect from a mere caravan. Always happy to be proved wrong, we headed off for this Gloucestershire glamping experience with open minds. And our wellies.
We love that far from roughing it in the sticks, a stay at the Warwick Knight is all about getting…
…back to nature, but not back to basics
Now that's the sort of caravan we can cope with. The sort that comes with it's own terrace decking, private bathroom facilities, and even a roof garden from which you can see for miles.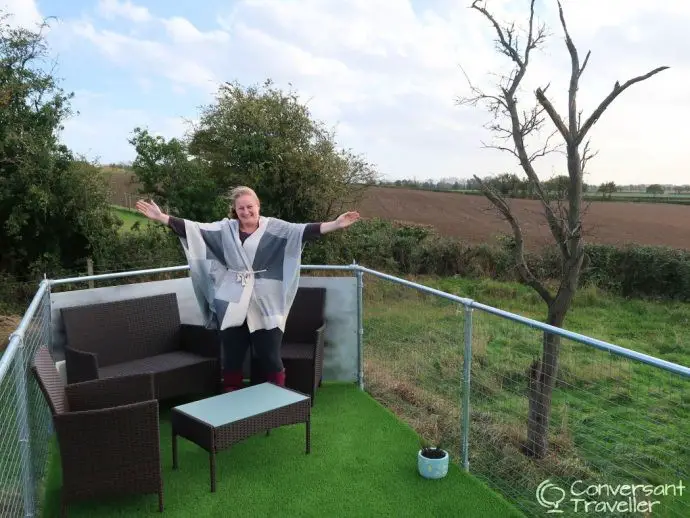 Unusually for such a new business, Ali and Rich seem to have already thought of everything. From the little carts that visitors can use to transport their luggage from the car to the Warwick Knight (it's a short walk through the fields), to the daily replenished box of firewood to keep you cosy in the chilly evenings. It all went like clockwork, which is just how we like it!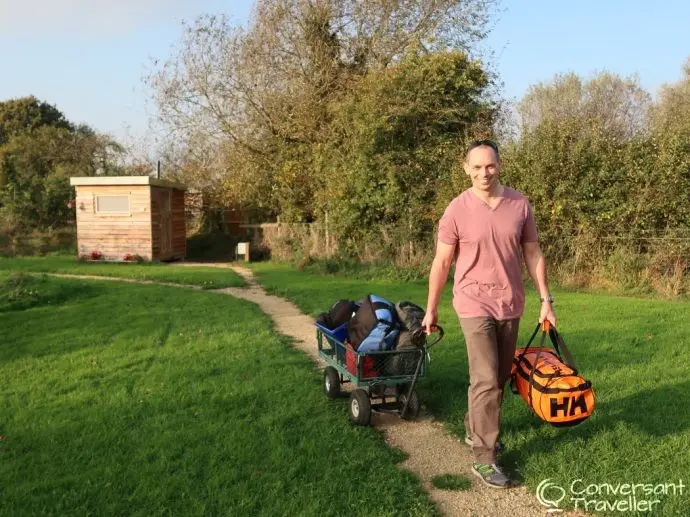 Inside the Warwick Knight
At the risk of sounding like an unimaginative estate agent, it was deceptively spacious inside the Warwick Knight. Sure, there were just the two of us, but it was still plenty big enough for a family of 4 for a few days. The main space has been beautifully converted into a kitchen, dining and living area, with a cleverly designed table that packs away during the day to make the most of the room.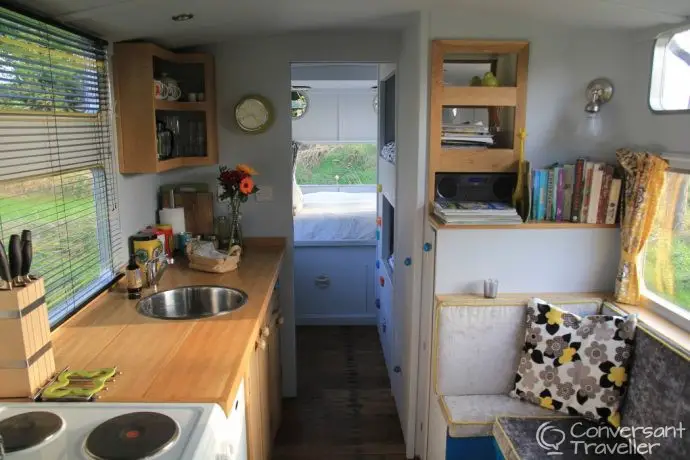 If you're into cooking then the small but perfectly formed kitchen has everything you'll need, including a bottle of milk in the fridge, and perhaps more importantly, Prosecco. Thanks guys!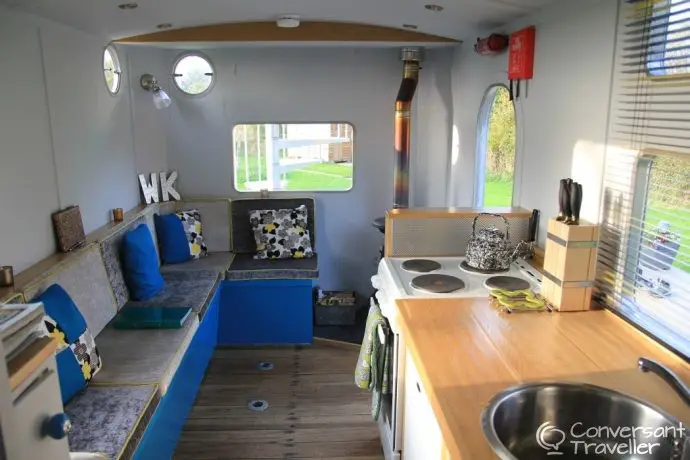 The bedroom area is the most ingenious space, with a comfortable double bed boasting dreamy views on all sides, and bunkbeds for the children complete with welcoming teddy bears and even a little climbing wall to clamber up to the top. How cool is that!
Each morning as the mist slowly rose from the fields, Hubbie would creep out of our warm cosy bed and get the wood burners going in both the Warwick Knight and our private shower cabin. He knows how to keep his princess happy! It only took 20 minutes for the shower cabin to become really toasty, and in fact was so warm inside it felt more like a sauna. Which is always welcome on a frosty Autumn morning. Surprisingly, the wood fired shower was easy to work, and I loved the thoughtfully provided organic toiletries. They even passed the conditioner test, which I was not expecting to find in a field in the middle of Gloucestershire! There were towels and fluffy robes, and if we wore our wellies to complete our bathroom outfits, they didn't really look out of place.
Now whilst we're discussing ablutions, let's talk toilets.
It was the first thing I wanted to know about when we decided to come glamping in Gloucestershire. The toilet at Warwick Knight is another 'loo with a view' for our ever growing list. It's a composting toilet inside a little wooden cabin not far from the caravan. Now the last time we used a composting toilet was when we were staying in a church in Northamptonshire, doing what has affectionately become known as 'champing'. We were impressed at the time, and this one at the Glamping Orchard was no different. Incredibly there was no smell at all. You just have to make sure number ones and number twos go into separate parts of the toilet, which is easier than it sounds. A handful of sawdust finishes the job and you're good to go.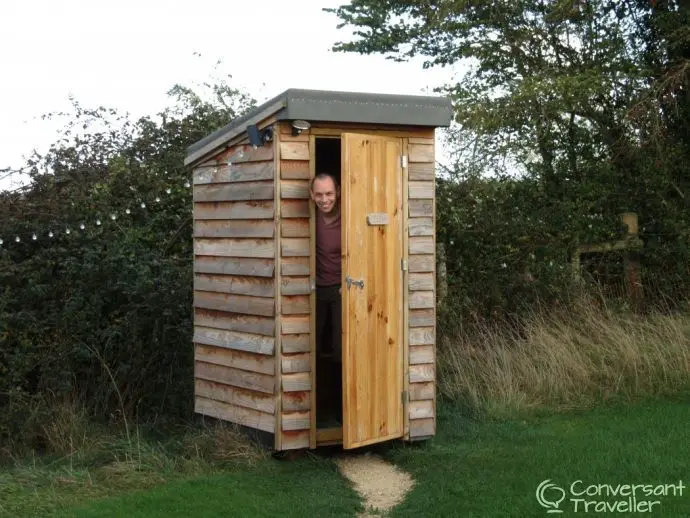 After showers it was time for breakfast, which is always Hubbie's department (generally because he's up first whilst her ladyship luxuriates in bed). He rustled up a full English, complete with eggs that we'd collected earlier and some fresh local produce from the Orchard Deli down the road in Quedgeley.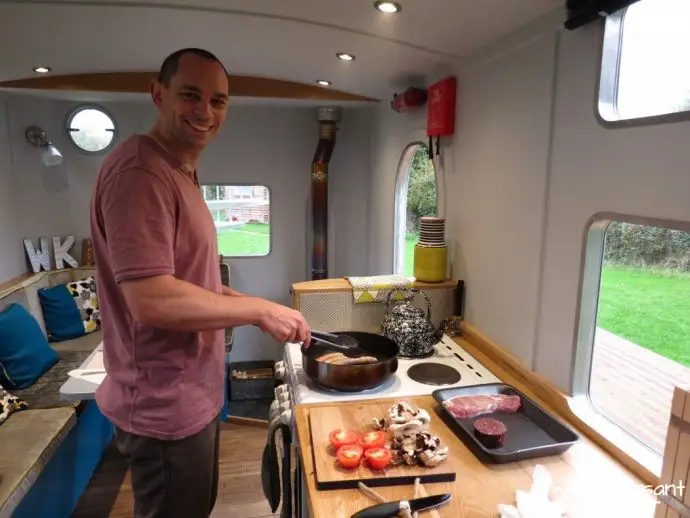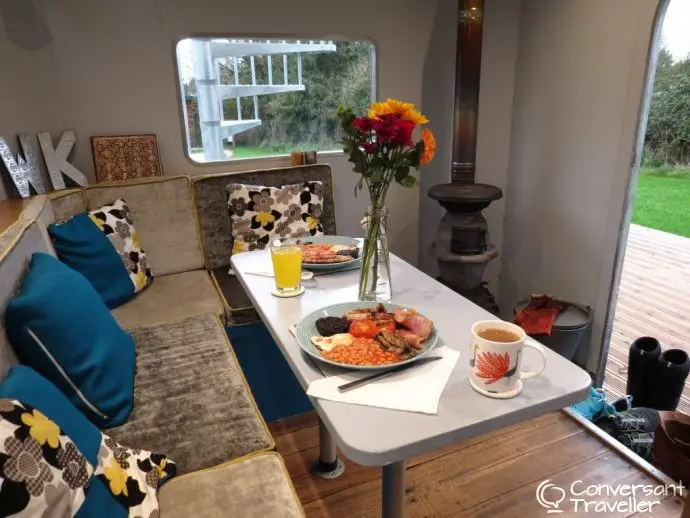 Fortified for the day ahead, we pulled on our hiking boots and headed out to explore the local area.
Things to do whilst glamping in Gloucestershire at Warwick Knight
There are lots of things to do in the area, from local walks and carriage riding to hot air ballooning and exploring the Cotswolds which are just a short drive away. We opted to stay in the Severn Vale area since we'd never been before, and were here to relax after all.
Yet after our indulgent breakfasts we decided it would be good to stretch the legs a little. Fortunately the Glamping Orchard is just a short walk from the River Severn, and the famous hiking route, the Severn Way. So we tramped through fields and along leafy lanes to reach the river bank, passing through apple orchards which we couldn't resist playing in like big kids. It was great fun and we didn't meet another soul.
You can walk as far as you like since there are lots of fields to cut through on your way back to Longney, a beautiful little village and the home of the Glamping Orchard. There is a cute little quintessential English church, and traditional houses with gardens full of apple trees (there are apples everywhere here!) sitting along lanes lined with blackberry bushes and the biggest ditches we've ever seen.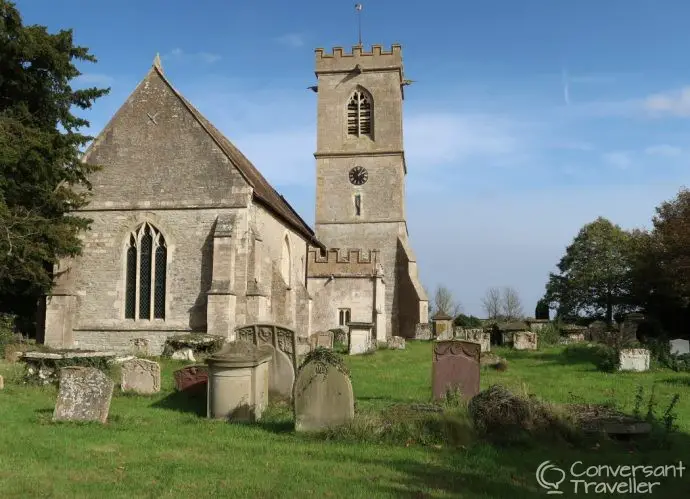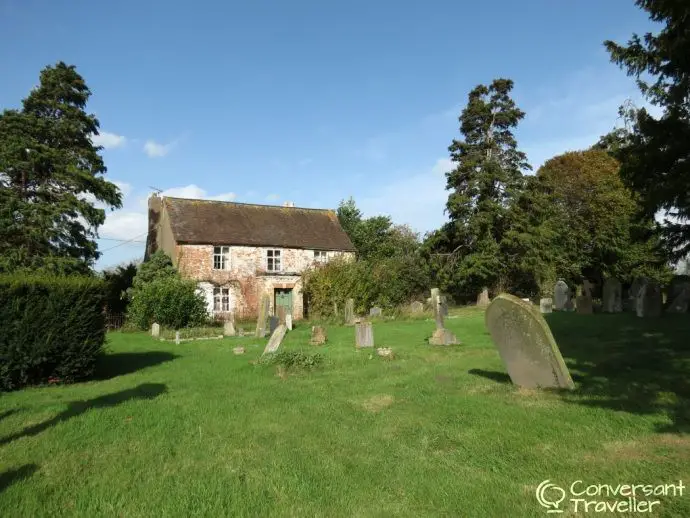 There are lots of other delightful little villages in the area, including Frampton upon Severn, which you mustn't miss as it has the longest village green in England! As well as a lot of thatched cottages, lily ponds and pubs.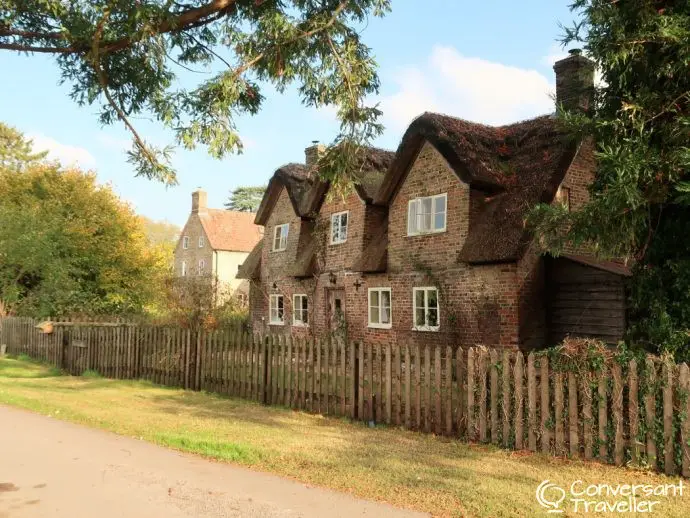 For a look around Warwick Knight and the Glamping Orchard, and to see me bravely collecting my eggs, check out Hubbie's video:
What we loved
It may have been our first stay in a caravan, but it won't be our last. As long as the caravan is warm and luxurious like the Warwick Knight, then we'll be happy, although I think it would be difficult for anyone to recreate such an innovative and beautiful pad as this! Ali was so welcoming and friendly, and nothing was too much trouble. She tactfully left us to enjoy our peace in privacy, yet was always on hand if we needed anything, which is quite a technique to master! We loved the location too. Although the Glamping Orchard was rural and felt quite remote, it was actually really easy to get to, and not very far from the M5. The best of both worlds.
What wasn't so great
I'm really struggling to come up with anything here, Ali and Rich really have got it all covered. Perhaps one suggestion would be to have a smaller scale OS map that showed footpaths and hiking routes in the local area. There was a map, but it was just a general touring map and not suitable for hiking navigation.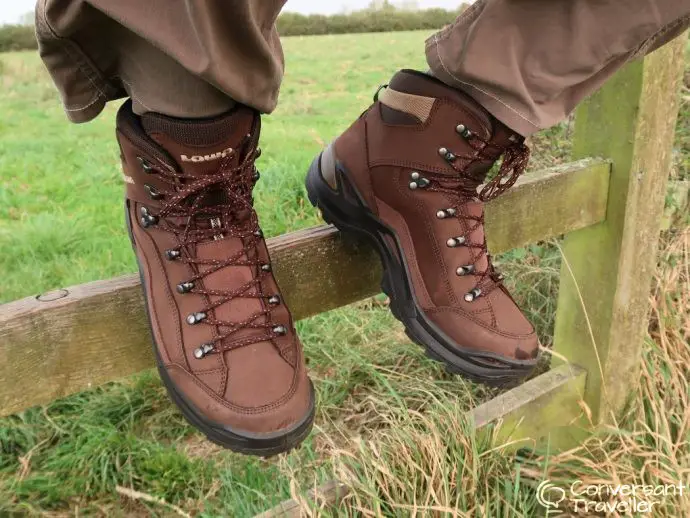 The Verdict
The Glamping Orchard is all about rediscovering the countryside, and not having to worry about the busy world back home. Staying at the Warwick Knight forced us to slow down our pace of life, and take enjoyment from the small accomplishments that we take for granted in the outside world. Such as burning wood to fuel our showers, collecting our own eggs for breakfast, and having conversations instead of being glued to the computer. It's about indulgence too, which isn't something to feel guilty about on holiday. From toasting marshmallows over an open fire even though you're in your 30's, to glasses of wine on the roof garden whilst watching the sun go down beyond the rolling hills of the Forest of Dean. It's all part of the adventure at the Warwick Knight.
Will we be back? You bet. Only next time we'll bring our nieces and nephew as I know they'd love it. Plus I'm sure they'd enjoy doing the morning egg collecting for me!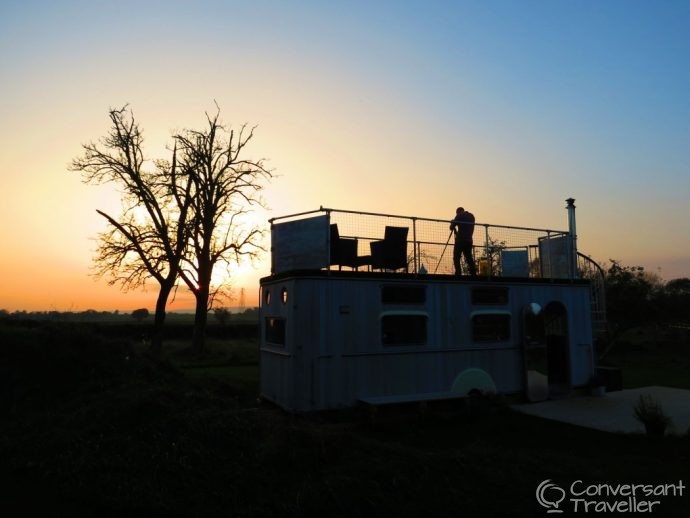 ---
Thanks to the wonderful folks at Host Unusual and The Glamping Orchard for hosting us during our stay at Warwick Knight. As always, words and opinions remain our own, and we never accept complimentary stays unless we'd have been happy to pay for them ourselves. 
Enjoyed this post? Why not pin it for later…