This post contains affiliate links which means I may make a small commission at absolutely no extra cost to you. Thanks for reading. You can read our full disclosure policy here.
---
Updated Spring 2021
In England wild camping it is illegal. But also lots of fun! There's nothing quite like a spot of wild camping in the Lake District for a real and rewarding landscape experience. Whether you've hiked hard all day to find that perfect spot, or just nipped up 20 minutes from the road, all wild camping sites in the Lake District will have something unique to offer. There's nowhere better to go wild camping in England than here in the stunning Lake District, and we're going to help you discover how you too can give it a go.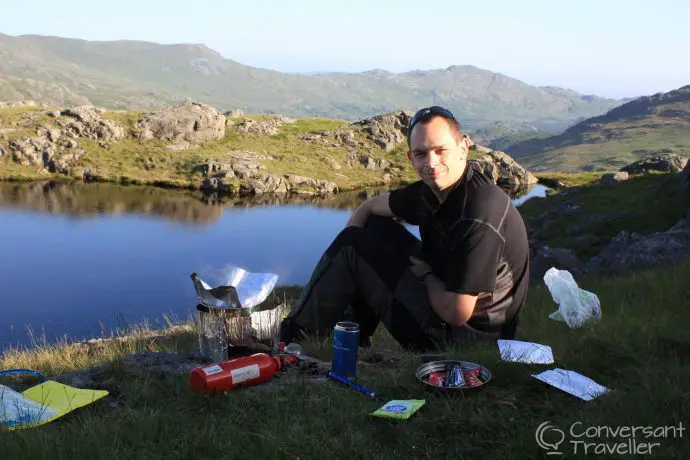 The days of camping on organised sites will be over as soon as you discover the joys of Lake District wild camping. Forget about using official sites and have a go at wild camping. Sure, you probably won't have the best nights' sleep ever, but life's too short to waste snoring every night!
If you're wondering where to go wild camping in the Lake District, then we're to help. Although we can't reveal the exact locations where we've camped (as per the 'code' amongst wild campers to ensure their favourite places don't become a circus) we can tell you how to go about it yourself, and find your very own secret pitches. 
How to go Wild Camping in the Lake District
The best place to go wild camping in the UK has to be the Lake District, in the North West of England, since it has plenty of high, remote places with countless secluded and hidden spots to enjoy. There are also fewer midges here than up in Scotland!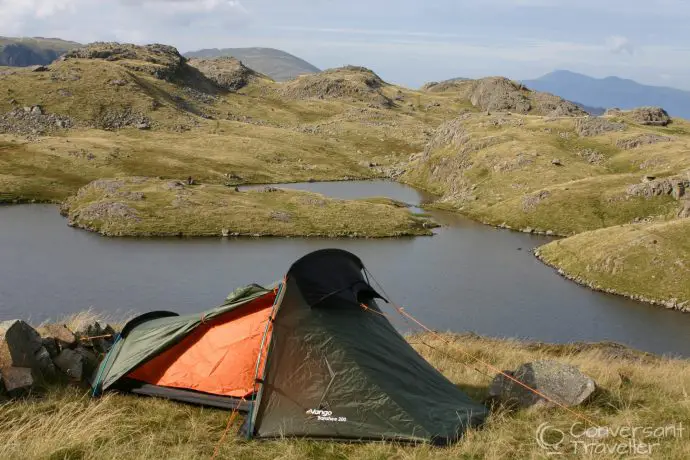 Top Wild Camping Rules
Seeing as wild camping in England and Wales isn't strictly a legal past-time (except on parts of Dartmoor), it's best practise to adhere to a few sensible (and courteous) guidelines:
1) Seek permission from the landowner. In reality this isn't always practical or really necessary if high up in the Lakeland fells. In which case:
2) Pitch away from roads, and well into the mountains – you should be above the highest fence or dry stone wall
3) Keep groups small, never more than 2 small tents.
4) Camp unobtrusively out of sight of footpaths, and try to blend in with your surroundings – a green tent is much better than an orange one!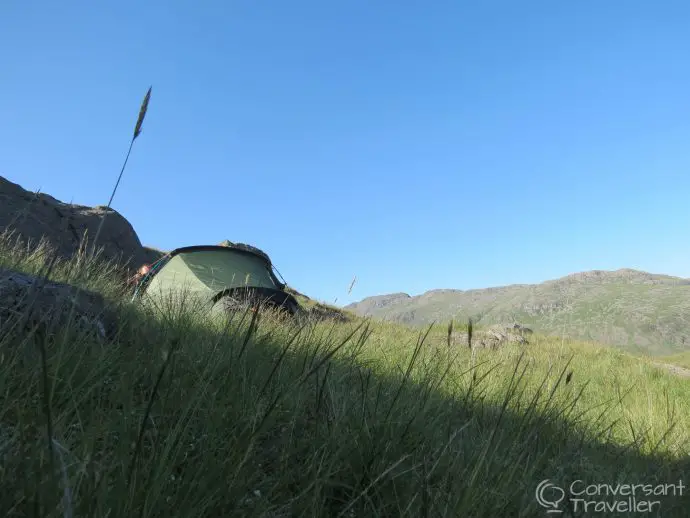 5) Always find a spot at least 30 metres from running/fresh water when going to the toilet. Dig a small hole to bury excrement.
6) Avoid fires as these can damage the ground and vegetation – use a stove instead.
7) Move on and don't stay in the same place more than one night – this allows the ground to recover and keeps wildlife disturbance to a minimum.
8) Leave nothing behind, and do not bury litter.
9) And above all, have fun!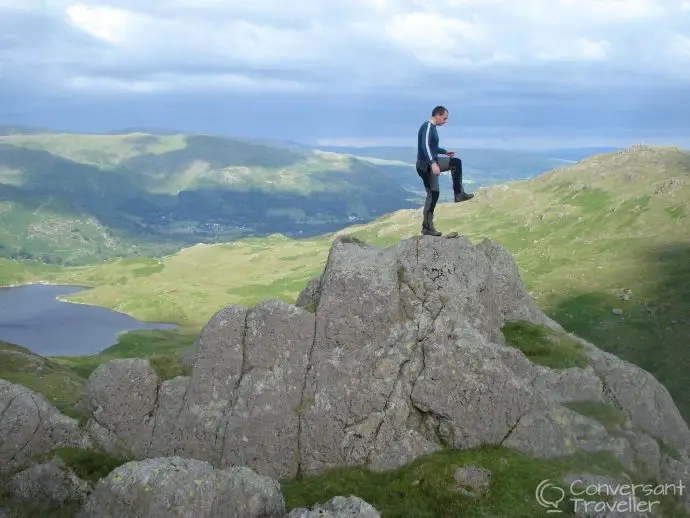 Top Tips for Wild Camping in the Lake District
Location
You don't need to walk for miles to find a suitable spot for wild camping in the Lake District, often there are gems just hidden a mere 20 minutes from the higher roads, if you know where to look.
To make it easier, get an OS map for the Lake District and pick a spot with a tarn – make sure its a small one (almost a speck on the map) otherwise you may have company, especially during the summer. It may be boggy directly by the tarn, but you should be able to find a spot not too far away with great views, as well as a source of running water (don't drink from the tarn itself, use a stream, and boil all water before consuming). Other great spots are near plunge pools – look for waterfalls on the OS map, and also check out the satellite images on Google maps – this is how we find a lot of our spots!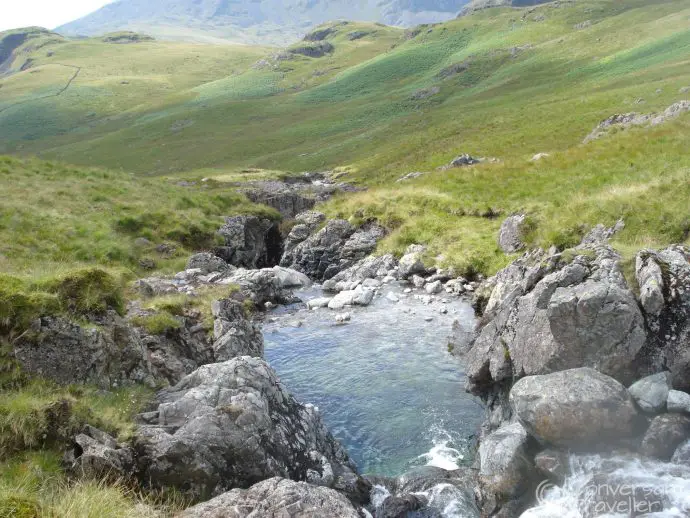 Read More: Glamping in the Severn Vale – as seen on George Clarke's Amazing Spaces
Arrival and Departure Time
Set off in the early evening…soon enough to be able to enjoy the site when you get there, but late enough not to attract attention during the day. You should leave early the next morning (you'll be awake anyway!)…we're often back home before breakfast time ready for a full English to top off the experience.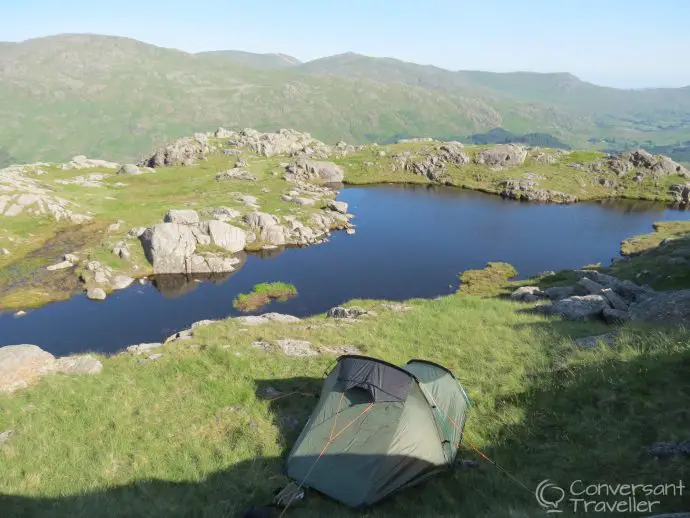 The Wild Camping Shop – What Gear to Take
Wild camping in the Lake District isn't about hardship or survival. It's about having fun too. So it's worth investing in the following to make your life a little easier (and more comfortable!):
Wild Guide Lake District and Yorkshire Dales – we love these books, packed with insider tips of secret places to discover, and lots of inspiration for camping and wild swimming.
Essential Wild Camping Gear – the Basics
Rucksack – between 35 and 60 litres, depending on how much kit you want to lug up the mountain, and how many nights you intend to camp out. We use 35 litre sacks for one night trips with lightweight kit. Make sure you purchase a decent quality rucksack that can withstand a bit of weather and rough handling. You don't want your kit getting wet!
Rucksack liner – these weigh very little but are worth every extra gram, as there's nothing worse than pitching your tent after a long hike in the rain to discover all your kit, including clothes and sleeping bag, is wet. We suggest buying a liner slightly larger than your rucksack capacity to allow enough extra at the top to roll over properly to ensure a good seal.
Bivi tent –  we love Vango and Wild Country tents, and at the moment have a Vango Banshee 200 which is literally worth its weight in gold as it's very small and light to pack. Forget about lugging your standard campsite tent up into the fells, you will regret the extra weight with every step you take. Bivi tents don't take up much room, but still do a good job of keeping out the weather! The Vango Banshee even has a small porch area for your boots and bags.
Thermarest – much more comfortable than foam mats, and they fit inside your rucksack thus avoiding the risk of being mistaken for Duke of Edinburgh Award initiates). We love our Thermarest Prolite Mattresses. They're really comfy, and have a textured surface which stops them slipping all over the tent when you're camping on a slight slope (the ground is never 100% flat!).
Lightweight Sleeping Bag– don't leave home without one! It does get very cold up in the fells at night, even in the summer! If you plan on doing a lot of wild camping, it's worth investing in a lightweight sleeping bag rather than hauling up the big fluffy cocoon that you'd normally use whilst camping on sites, near the car!
Shop Lightweight Sleeping Bags
Sleeping Bag Liner – having one of these makes the world of difference during those cold mountain nights, giving you another insulating layer of protection. Silk is the best material, and although a little more expensive than cotton liners, is worth every penny. We like the mummy style liners, as they fit better and more snugly inside your sleeping bag.
Hiking Boots – you'll need a decent pair of proper walking boots for hiking up in the mountains. Trainers are not advised unless you want to twist your ankle and end up with soggy socks! We're tried and tested fans of Merrell, Lowa and Salomon, but the important thing is to buy a pair that fits well, is waterproof and breathable (Gortex is best), and make sure you wear them in a bit before heading to the hills.
Read More: Tried and Tested – our Review of the Lowa Renegade GTX Boot
Hiking Socks – It's so important to get these right, so you don't end up with unnecessary blisters (they can make or break a wild camping trip!). We like the merino wool socks, as they're great at moisture wicking, and keep your feet toasty in the winter, and cool in the summer. They're also good act cushioning your feet in all the right places.
Compede – even the most hardy hikers sometimes get blisters, and we always carry a small pouch of compede, which acts as a second skin for pressure points on your foot. The trick is to catch them early, before the blister actually forms.
Travel First Aid Kit – just in case! It's always a good idea to have a few emergency items at hand, after all, help may be a long way away depending on how far you've walked.
Head Torch
 – you can't go wild camping without one of these. They're lightweight, hands free and important for those middle of the night wees or pitching the tent if you arrive a bit later than expected!
Stove – you should always use a stove rather than lighting a fire when wild camping in the Lake District. It's more reliable anyway, as you don't need to battle with wet wood! We have an MSR WhisperLite International, and it's been all over the world with us! It's very efficient and quick to boil, and you just can't beat the satisfying sound of the flames roaring whilst waiting for dinner.

Another good option is the Jetboil Stove, which is really lightweight, and easy to use for first time campers.
Shop Lightweight Camping Stoves
Thermal Mug – perfect for keeping your hot drinks warm, thawing out cold hands, or even soup!
LifeStraw personal water filter – these are perfect for travelling as well as wild camping as they remove 99% of bacteria, including e-coli, salmonella, and waterborne protozoa including Giardia.
Pocket Knife – always handy, whether you're half way up a mountain or in your own back yard. 
Plastic plates – if you're not keen on eating straight out of the pan (or packet!) then invest in some lightweight, packable plastic crockery, like this neat little kit from Light My Fire.
Food – When I first started wild camping in the Lake District with my Dad when I was a nipper, we'd take up tins of chunky chicken and meatballs for dinner. To be fair, he carried most of it! Today, hubbie and I go for the more lightweight option. If you have a stove (like the MSR whisperlite) that can boil a pot of water, we recommend Wayfayrers boil in the bag meals – their roots can be traced back to ration packs given to British military troops for sustenance during manoeuvres in harsh environments. The terrain in which we find ourselves is perhaps less of a challenge, but they're still really tasty and not freeze-dried, with lots of flavours to choose from and no washing up afterwards! Personal favourites are Thai Green Curry, Lancashire Hot Pot and Beef Stew and Dumplings. The puddings aren't quite so good (tend to be a bit on the solid, heavy-in-your stomach side) but the best of them is the sticky toffee pudding.
If you have a Jetboil stove which just boils a mug of water you'll need freeze-dried food that can be rehydrated. Check out the Expedition Foods pouches, lots of tasty flavours to choose from!
Add in some flapjack for breakfast, and a few coffee sachets (for the next morning after very little sleep) and you're sorted.
Coffee – take several of the 2 in 1 coffee sachets for your morning cuppa. They take up hardly any space, and already come with milk!
Cameras – perhaps not essential to survival, but necessary nonetheless! As we don't suggest lugging up your SLR (although Hubbie has been known to on occasion), we love taking our Canon GX7 as it's small and light, as well as producing a good quality image, and can easily be shoved in a pocket.
Bug Spray – because sometimes the mozzies like your camping spot too. It's best to take natural insect spray so you don't harm the environment.
Essential Wild Camping Kit – Clothing
Waterproof Jacket – no Cumbrian ever leaves home without a waterproof jacket, and it's the first thing you should pack if you're going wild camping (just make sure it's near the top of your rucksack so it's handy in case the heavens open at short notice!). The most important thing is to make sure your jacket is breathable, again Gortex is great. Without a breathable jacket you'll end up sweating and be just as wet as if you'd gone without a jacket in the first place.
Waterproof Trousers– just as important as a waterproof jacket, and gain, breathable is a must!
Thermal underwear – always take warm gear (e.g. thermals) even if its boiling hot in the middle of summer. It get's pretty chilly at night and it's good to have something different to sleep in. We're fans of Helly Hansen thermals, and not just because they come in hot pink for the girls!
Little Luxuries (if you have room!)
Spork – this is a brilliant lightweight invention, and we have them in abundance at home…in our cars, in our camping box, at work…we never leave home without one, you just never know when it might come in useful! They're perfect for eating camping food too!
Pooper-scooper – (more commonly known as a garden trowel) for digging those all important holes. Plenty of lightweight ones around. Also handy as a defence weapon against night-time intruders.
Sit mats – a godsend for your bum as a foam insulation against cold and damp ground, as well as extra insulation under your pillow at night. Good for picnics too!
Mosquito coils – because the little blighters are good at choosing great wild camping spots near tarns too! These coils are great because you just set them off burning outside your tent and the smoke keeps them away whilst you're cooking dinner. You could take some mosquito repellent too, for still nights in the summer.
Portable LED lights – okay, this one is a LOT of a luxury, but they don't really weigh anything and make the tent homely and great for reading by (if you've lugged a book up that is!). Great idea that Hubbie introduced last year to stop me moaning about always having to wear a head torch.
Paracord Safety Bracelet – a nifty little bracelet with built in paracord (handy for handing stuff out to dry!), compass, fire starter, emergency knife and whistle. Even if you never have to use any of these, it still looks cool!
Flip-flops – ok so not strictly necessary, but if you can fit these in the rucksack, your feet will thank you when they have an alternative to sweaty boots around camp after a hard day's hike.
Pillowcase – again, a total luxury, but hardly weighs anything (particularly when Hubbie carries them) and is a godsend at night, stuffed with your clothes to make a decent head rest. You can even use it as a laundry bag the next morning.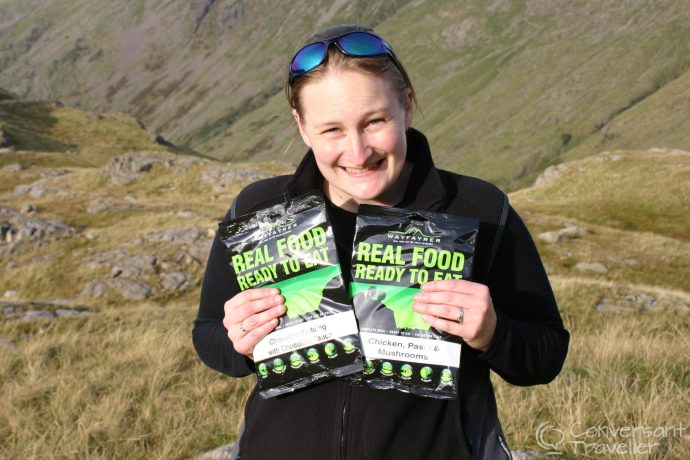 It really is a pity that wild camping hasn't been legalised in England, but on a recent night spent up in the fells, we had a taste of what the future could hold should this change. Way down in the valley below, not more than a few metres from the road, a large group had set up camp on farmland. The tents were large, numerous and red.
Observing the activity for a few minutes we realised they'd visited the plantation across the field and helped themselves to a large pile of firewood to feed their bonfire which was becoming increasingly surrounded by empty beer cans and other litter. Muttering oaths about irresponsible louts under our breaths (not that anyone could hear us up there) we stomped back to our little green bivy tent, tucked away out of sight on our moral high ground, and consoled ourselves with getting dinner ready.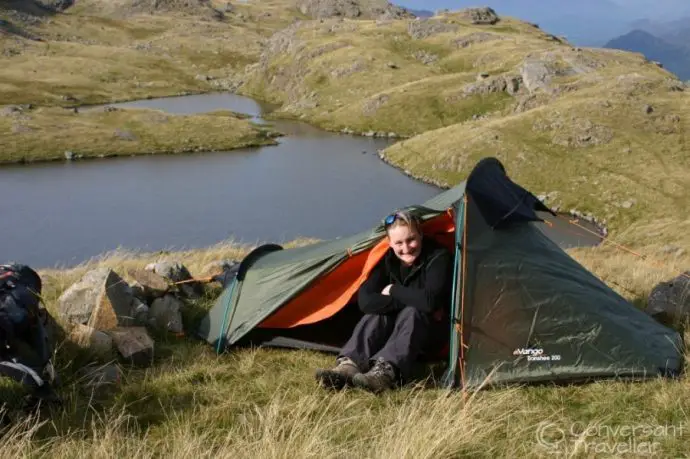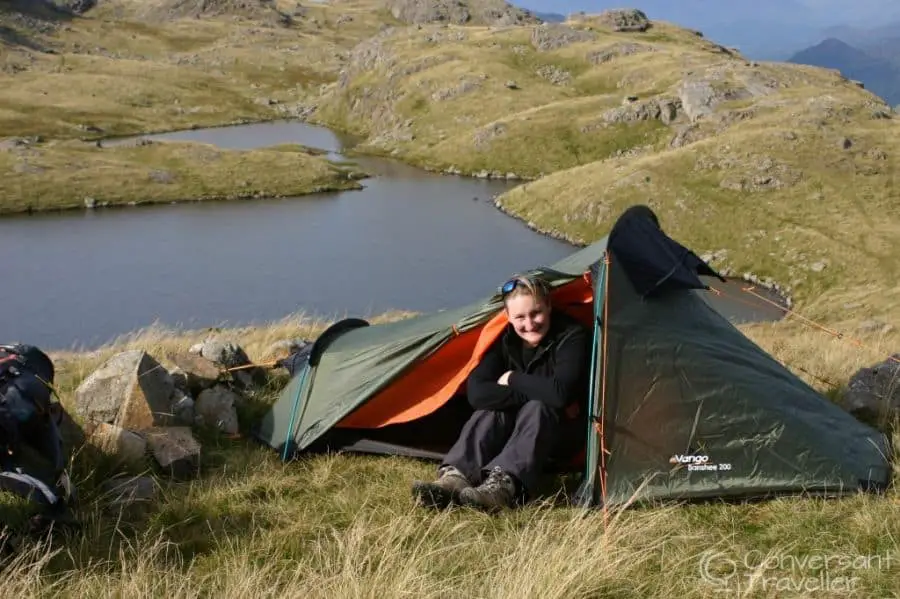 Later that evening, we were tucked up in our sleeping bags and about to drift off to a peaceful sleep (who am I kidding? We never get much sleep wild camping, something to do with there only being enough space for 1 and a half people, and the fact we always manage to pitch on a slope) when the resonating beat of a bass line came thumbing up the valley. We were so cross we were ready to march right down there and give them a few choice words, but the sticky toffee pudding from dinner (yeah we like our luxuries, even when camping!) was still sitting lodged in our bellies and the thought of having to then climb all the way back up again made us reassess.
So, perhaps it is a good thing that wild camping in the Lake District is illegal, or the hills would be alive with the sound of, erm….'music'??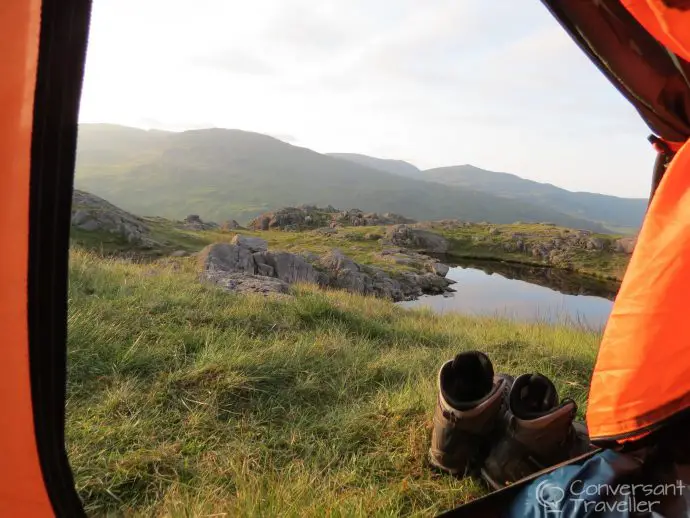 Finally, one last tip would be to book yourself into a nice warm, comfy Lake District hotel for after your wild camping adventure. It sure is fun out there in the hills, but you won't have the best night's sleep, so why not reward yourself for all your efforts!
Please don't ask me for advice on WHERE to camp.
I won't tell you. It's nothing personal, just all part of the wild camping code. I don't want to find dozens of other campers at my favourite spots next time I'm up there, and I 'm sure you wouldn't appreciate the company either. Besides, it's half the fun choosing your own special place to pitch.
I receive dozens of emails each week asking me to spill the beans. Whilst I'm happy to give general advice I won't be revealing locations. Sorry.
Go out and explore, abide by the rules, and above all…HAVE FUN!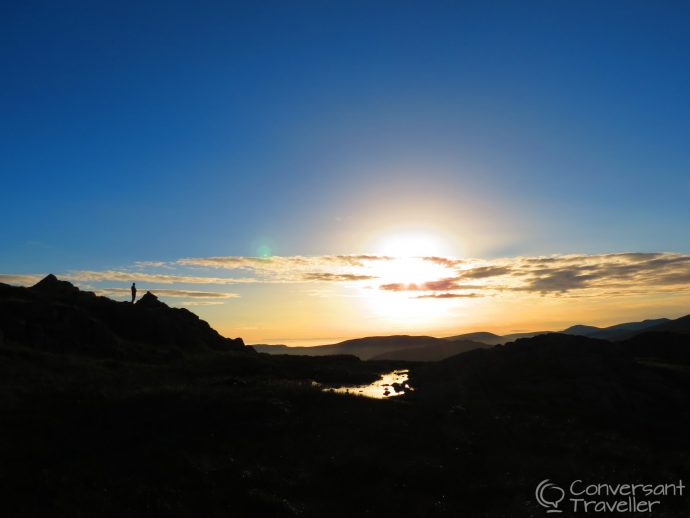 Have you been wild camping before? I'd love to hear about your experience!
Read More: camping out in a disused church – and how you can too!
---
Found this post useful? Why not pin it for later…