Once upon a time, in a land that seemed far far away but was actually only 45 minutes from Marrakech, there was a kasbah. Perched on a hilltop overlooking a green and fertile valley, the Kasbah Bab Ourika commanded spectacular 360 degree views, and truly lived up to it's name.
Gateway to the Ourika Valley and the lofty Atlas Mountains.
Down below, the shimmering river snaked its way through orange and lemon groves, winding past swathes of olive trees under the watchful eye of lofty mountain peaks high above. It was a place of peace, seclusion and tranquillity. A place where man and nature resided side by side, both relishing the sunrises, and savouring the sunsets.
Then one day, along came a couple of travellers. They'd been to Morocco many times before and were in love with the beauty of the landscape, and the people. Although they'd found many special places on their travels, it was their mission to discover even more, and it was this quest that eventually led them through the imposing doors of Kasbah Bab Ourika…
Kasbah Bab Ourika
Like many other buildings in Morocco, the kasbah is constructed from pise (rammed earth) using traditional Berber building techniques, and as a result resides harmoniously with the surrounding landscape. The original construction was reliant upon Berber transport (donkeys!) for all supplies and water, and the precipitous entrance road was dug by hand!
The thick walls regulate the temperature, creating cool spaces in summer, and cosy havens during the colder months. We were here in September, and the weather was just like a decent summer day back in the UK. Warm and sunny but with a cool breeze coming in from the mountains. Perfect!
The kasbah is really eco-friendly too.
It uses solar power for heating and water, and there are plans to install panels for electricity generation to make the property fully sustainable. Grey water (relatively clean waste water) is recycled and used in the gardens, an essential practise in such an arid country. They obviously do a good job with the irrigation, as the grounds are glorious!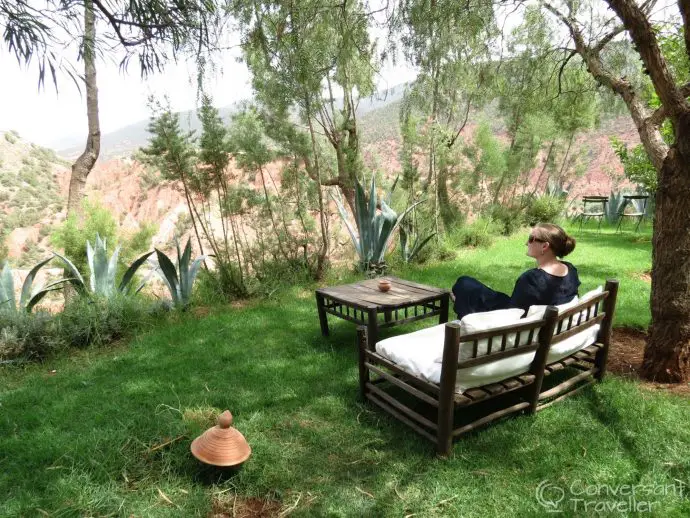 The main kasbah building is home to several guest rooms as well as the colonnaded restaurant, some cosy salons and most importantly, the bar. As it was still very warm whilst we were there, most guests preferred spending time outside on the numerous terraces and down in the gardens, rather than inside, but it would be lovely to come back in winter and feel cosy inside the earthy kasbah walls.
I loved the odd assortment of locally sourced artefacts placed intriguingly around the kasbah. Ancient pots once used to transport water are now lamp bases, and an old dowry chest belonging to a young bride is today decorating a courtyard passageway. An enchanting and unobtrusive insight into local Berber life.
The check in
Being rather excited at the prospect of staying in a hill top fort with our very own infinity pool suite, Hubbie and I were a bit keen and arrived at Kasbah Bab Ourika a couple of hours before check in. We were told our suite would be ready in just 25 minutes (whoop), and so opted to relax on the sunny terrace whilst we waited with some welcome drinks. Home made lemonade!
This was the life!
Some while later it transpired our suite in fact wouldn't be ready for some time. Not a problem, we were still early. There had been a wedding at the property the day before, and we suspected perhaps the room required a bit more attention than usual. Faint alarm bells began to ring. We'd stayed at another luxury property in Morocco the previous year, the day after a wedding, and that had not been a good experience. Fingers crossed our time here would be nothing like that! Thankfully, we were offered the use of a superior room in the main kasbah whilst we waited, which was much appreciated.
I have to admit we were quite relieved we'd booked a suite, as the room was quite dark and the bathroom window overlooked a footpath so the occupants would have to draw the curtains every time they wanted to use it. The private terrace was pleasant though, with a traditional comfy seating area overlooking the canyon.
In the event, it wasn't until 40 minutes after the official check time in that we were eventually taken down to our suite. A bit cross that we'd lost out on precious infinity pool time, we were nonetheless excited to finally see where we'd be staying.
The Grounds
Following the staff down the winding footpaths through the gently sloping organic gardens, we entered a different world. A secret garden world. One full of hidden follies, inviting little nooks and crannies for quiet contemplation, and delightful seating areas to suit the changing moods of the day. Some came with views, others overlooked the pond, and my personal favourite was a regal day bed beneath a leafy arbor.
Of course madam had to try it!
Surrounded by the smell of fresh herbs on the breeze, and stunning Atlas Mountain vistas on all sides, we could have spent hours exploring the orchards, kitchen gardens and waterfalls. There were lawns, shaded seating alcoves and a decent sized communal pool for guests with rooms in the kasbah.
The Rooms and Suites
Kasbah Bab Ourika has 21 bedrooms. 15 of them are in the main building, whilst the top suites and villa are hidden away at the far end of the grounds, overlooking the Ourika Valley and the foothills of the Atlas Mountains. I'd seen the pictures and had spent hours drooling over the website, so I knew the views from our suite were going to be good.
But I didn't realise they'd be quite this good!
Our suite was actually part of the villa, which can be divided in two for use by separate groups. We had the half with what can only be described as the most stunning terrace and infinity pool in Morocco.
This is what we'd come for!
And it was all ours!
The pool wasn't heated, so there was a lot of squealing and trying to slowly acclimatise before we finally took the plunge and went for it! It would definitely only be for the tough nuts during the colder months! Unusually it was long enough to actually swim a few lengths, but after a half-hearted attempt at a bit of fitness we both gave up in favour of gazing at the view.
We were on holiday after all.
After cooling off, we began to look more closely at the villa interior. To say it was eclectic would be an understatement. As with all the spaces in the kasbah, the design, for the most part, remained true to the local style, using Berber textiles, artefacts and natural earthy colours. The bedrooms and lounge area were pleasant in creams and browns, with traditional furnishings that had a contemporary feel.
Yet the main living area was like a museum of oddities that just felt so out of place. Hubbie and I stood there for several minutes with open mouths when we first arrived. An intimidating looking chair that once belonged to a barber (or dentist?). A collection of old cameras and a model aeroplane. A rather real looking stuffed crocodile. And an old bar sign and associated diner-style stools. How did they fit into the 'Moroccan mountain hideaway' remit? Whilst it's true our appreciation of modern 'art' is sorely lacking, I think most people would have found this all a little bewildering. It was all a bit too 'industrial' and would have been so much better without.
There was also a small kitchen area, which seemed to be equipped with nothing (not even the wine the manager had offered to put down there for us)…except spoons.
Ironically the one implement we would come to rely on!
It was at this point we noticed the villa wasn't as clean as it should have been. There were bits of greenery from wedding flower displays on the floor, hairs all over the sofa, toiletries on the floor from the previous guests, and even a balloon in the living room. How do you miss a balloon? All rather disappointing, yet nothing that couldn't be dealt with.
But then we saw the door.
A huge and beautiful internal wooden door, which separated the two halves of the villa. Yet there was no lock on our side. What was to prevent the other occupants from just walking into our private space? Absolutely nothing! We walked all the way back up to reception to voice our concerns. The staff told us not to worry, it locked from the other side. Back at the villa we remained unconvinced. Peeking through the gap we saw it was a simple bolt that could easily be drawn back by anyone staying next door. How did the staff think this was adequate? 
Then I remembered the spoons.
By threading one through the empty bolt rings on our side of the door, unannounced entries would henceforth be prevented. Indeed, later that same afternoon we heard giggling coming from the other suite, the sound of a bolt being drawn back, and then the door began to slowly open. We held our breath, but the trusty spoon did its job. And we never met our curious neighbours. It wasn't their fault of course. We would have done the same faced with the unknown possibilities of a closed door!
The lack of privacy
There were several little things that weren't quite right during our stay at Kasbah Bab Ourika. But this complete disregard for the importance of privacy just astonishes me. And it didn't end there. Several times during our stay, gardeners would suddenly appear on our private patio to do a spot of weeding or watering, or to clean the pool. All important aspects of keeping the place looking gorgeous, but a simple knock on the door to enquire if this was a good time would have been appreciated. When you're standing naked in the bathroom after a shower, gazing out of the panoramic window at the view whilst brushing your teeth, you don't expect a stranger to suddenly pop up outside, sending you diving for your towel.
After that we felt we had to shower with the curtains drawn and miss out on the views!
When the cleaners tried to barge in (through the internal spoon-secured door!) without knocking, that was the last straw. We had paid a lot of money, and were staying in the top suite, yet felt we had to barricade doors, close curtains and walk about fully clothed just to retain some sense of privacy.
Not impressed.
The Food
Breakfast was a standard Moroccan affair, with juice, yogurt, pancakes, bread and fresh fruit. I always say food tastes better eaten out of doors, and with a view like this of a deep red canyon you can't go far wrong! We didn't bother with lunch because we were out during the day, but they do offer a buffet or à la carte options if you're dining in.
Dinners were taken on the swoon-worthy candle lit terrace in front of the kasbah, with rows of little lanterns dangling from the trees. Nothing much happens until 8pm, but I'd suggest arriving a little earlier to grab your favourite table!
Considering there really is nowhere else to eat, the food in the evening was disappointing.
Hubbie was dismayed when his soup arrived cold. It was supposed to be cold, but perhaps mentioning this on the menu would ensure people didn't assume otherwise. It wasn't even gazpacho. My starter of aubergine with parmesan had flavour, yet was rather uninspired and only luke warm. Like it had been sitting on the side for some time before being brought out to us. For our mains, we opted for variations of chicken on both evenings, and the flavours were good, but the ingredients unimaginative. Again, none of the dishes were particularly hot. Hubbie tried a meringue for dessert on the first night, which was nothing special, so he didn't bother ordering anything the next day. Hubbie never misses out on dessert!
So whilst the setting was superb, the cuisine was far below the standard we'd expected, and exceedingly disappointing. With no other dining options nearby, we felt trapped at Kasbah Bab Ourika, and sadly were glad we only stayed 2 nights.
Still, a few glasses of wine and the distant symphony of croaking frogs made the evenings enjoyable.
The Service
Kasbah Bab Ourika is all about luxury of experience, rather than the bling that you might expect given the cost of a stay here. And that's fine. For us, service and scenery matter far more than the material side of things. Yet during our visit we found the standard of service a bit hit and miss, perhaps due to a lack of training?
We loved that the staff were nearly all from local villages and that the Kasbah is one of the main employers in the Ourika Valley. Unsurprisingly the kasbah staff were far more reserved than their counterparts in Marrakech and other more popular areas of Morocco. Whilst some were friendly and polite, others were a little reticent and avoided eye contact with the guests. I absolutely get that maybe they were just a bit shy, I probably would be myself. But a smile and a hello really do go a long way! There were a few who were almost surly, dumping dishes down on our table in a manner suggesting they clearly didn't want to be there.
And that made us feel uncomfortable. 
Meal time service was often painfully slow and inconsistent. Sometimes diners who had sat down after us were eating their mains before we'd even received our starters, which perhaps highlights the absence of a robust service system.
We also felt they didn't really care if their guests were happy. Only once during our entire stay were we asked if our food was okay, and upon check out no-one enquired if we had enjoyed our stay. There had been several issues I wanted to raise, not to necessarily complain, but to help them improve for future guests, because it really could be a fantastic place. But they clearly weren't interested, so I didn't bother.
The higher ranking staff also seemed indifferent to us as guests. Sure, they probably aren't that bothered about where we've been, where we're going and where we're from, but they could have at least pretended. Just like hotel staff do all over the world with their customers. We certainly felt like a booking number rather than an individual, and it wasn't the personal experience we'd been anticipating.
It was the small things like this that annoyed us. Things that should come as standard in the hospitality industry, whether you run a hostel, a restaurant or a palace. Individually, these issues are all minor, but collectively, they felt quite considerable, and for a respected (and expensive) establishment such as this, I personally found it very disappointing.
The activities
When we'd eventually had enough of the infinity pool, we ventured out to explore the Ourika Valley. Somewhere we've driven through on countless occasions, but never actually stopped to look at. For such a beautifully peaceful valley, there is a surprising number of activities should you be so inclined.
Several treks take in local Berber villages, waterfalls and the national park, or guests can go camel trekking, horse riding or even hot air ballooning. It's also possible to do a day trip to Marrakech, although I'd recommend instead staying in the medina for a few days to really experience the city properly. For those looking to just relax, there is of course a hammam.
We opted for a half day private tour to a local Berber market, some botanical gardens, a saffron farm and a Berber museum.
Berber Market at Oftnine
First up was the market. Held weekly on Mondays, this is when Berbers come down from their mountain villages to sell their wares. There was everything from fruit and vegetables to hay and babouches. It isn't a tourist market at all, and we received many curious glances being the only visitors. Yet we experienced very little hassle, and no-one seemed to mind us wandering around with our cameras. Very different from the souks in Marrakech.
Nectarome Botanical Gardens
Next up was a visit to Nectarome botanical gardens, the place that produces most of the shampoo and soap you'll find in riad and hotel rooms all over Morocco. In fact nearly everywhere we stayed this trip had Nectarome toiletries in their bathrooms.
After walking around the organic aromatic herb gardens we were treated to mint tea with a twist in the pavillion. As well as fresh mint, the tea was infused with several other herbs found in the garden, a rather unique flavour and a welcome change from the dozens of cups we'd already had during the trip.
Entrance cost: 20 dirhams per person (includes mint tea and cookies)
Paradis du Safran
Our favourite part of the day was visiting a saffron farm on the Route d'Ourika. Owned by Christine Ferrari, an energetic Swiss lady who ditched a high flying corporate life for dust, donkeys and dreams, the Paradis du Safran is an ecological saffron farm with an aromatic and medicinal plant garden, tropical fruit orchards and a therapeutic barefoot trail for the body and the soul. The saffron is harvested in November (so we were too early to see it), but even out of season it's a beautiful and tranquil place to wander around. And if you're feeling brave, try the barefoot walk, and reward your feet afterwards with the ingenious DIY foot spa, made with herbs and flowers from the organic gardens. After our walk we were treated to saffron infused tea (really delicious!) and tried other saffron products such as saffron cream, which is great dipped in bread!
Definitely recommend it for something a little 'different' to do!
Entrance cost: 50 dirhams per person (includes the barefoot trail, and saffron tea)
Berber Eco Museum
I'm not a fan of museums. I'm too impatient to spend time looking at glass display cases and sterile information boards. Yet when the museum comes in a restored village kasbah (the home of the local chief) and the history inside is in the tangible form of instruments and rugs, then I'm first in the queue! Just a 10 minutes drive from Kasbah Bab Ourika, in the pottery village of Tafza, this is the oldest Berber Museum in Morocco.
Our 19 year old guide Salah was very enthusiastic and expertly engaged us with the tales he was recounting. We learnt all about the stories woven into Berber rugs, and that whilst traditionally Berber men are allowed several wives, there are only two families in the village today with more than one. He spoke excellent English, which he has taught himself by watching movies. He learns one new word a day and really astounded us with his vocabulary. He even knew that for women's hair, a plait was English, and a braid was American!
We taught him his new word for the day. Hoodie. Useful for describing djellabas. Possibly.
Entrance cost: 20 dirhams per person
The Verdict
I expected to come away from our stay at Kasbah Bab Ourika absolutely buzzing. I thought it might become one of our regular haunts in Morocco, and somewhere we'd take our friends and family on the rare occasions we allow them to join us on our travels. Yet we both couldn't quite shake the feeling of disappointment at our overall experience. The frustrating thing is that this place could be simply phenomenal if it tried!
So do we recommend a stay at Kasbah Bab Ourika?
Hubbie and I discussed this at length on the flight home and I think it boils down to this. If we had known the service and food were below par would we still have come? The answer is probably yes. Kasbah Bab Ourika is all about the stunning setting and the fabulous views.
However the privacy issue really is a deal breaker and entirely unacceptable in our book.
All the negatives I've mentioned are issues which can easily be rectified, but only if management are that way inclined. Given that no-one bothered to even ask how our stay had been I'm not confident that changes will be made.
Despite all this, our abiding memories will be of swimming in our infinity pool against an Atlas Mountain backdrop, with the call to prayer echoing hauntingly around the valley and the sun setting over the Berber villages down below.
Morocco is a beautiful country. And the views don't come more glorious than this!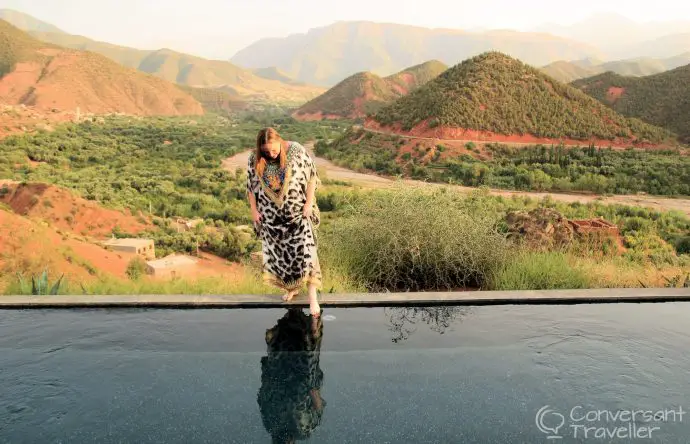 Tips for staying Kasbah Bab Ourika
The pools aren't heated, so you won't want to be swimming in the colder months. In fact we were there in September and the water was pretty cold. We couldn't stay in longer than 20 minutes!
Rooms range from €150 to €400 (low season). The pool suites are definitely worth the extra splurge. The bedrooms in the kasbah are less private,  and you'll hear the noise from the bar and restaurant (and the birds settling in the trees in the evening).
There really is nowhere else to eat so you'll have to take your meals at the kasbah.
There are several tour options, including hiking, available at Kasbah Bab Ourika. Just book when you're there. The half day tour that we did cost 400 dirhams per person (excluding entrance fees).
The Berber market at Oftnine is only held on Mondays.
A private transfer from Marrakech costs €70.
---
Enjoyed this post? Why not save it for later…