Every little girl wants to be a princess when she grows up.
Apart from me. I wanted to be a cowboy. Yet a few too many falls from horses and an acute fear of anything with more than 2 legs suggested that a princess was a more realistic career option.
Hubbie thinks I'm a natural. Something to do with being demanding apparently. Yet regal opportunities are few and far between at home, which means I like to use travelling as an excuse to reside in comfortable opulence whenever I can. Thus we found ourselves spending a few days at La Maison Arabe, one of the most luxurious residences here in the heart of Marrakech.
The legend of La Maison Arabe
Once upon a time there were two French ladies, a Pasha, and his chef. Together, they made La Maison Arabe possible! It was 1946, and Hélène Sébillon-Larochette and her daughter Suzy found themselves stranded in Morocco by the Second World War. Personally I can think of far worse places to be stuck, especially when you have the Pasha of Marrakech up your sleeve.
This particular Pasha was Thami El Glaoui, (my favourite Pasha – history nerd alert!) the chief of the Glaoua tribe based at the stunning Kasbah of Telouet over the High Atlas Mountains. He granted the ladies permission to establish the first restaurant catering to foreigners in the medina of Marrakech, and even sent one of his best dadas (a traditional Moroccan chef) to teach them the authentic local language of cuisine.
The restaurant soon became the place to be, and attracted famous faces including politicians, queens and even the Aga Khan. Fascinating fact: Sir Winston Churchill was a regular diner at La Maison Arabe, and invited the Pasha of Marrakech to the coronation of Queen Elizabeth II! Thami El Glaoui offered Her Majesty gifts of ornate jewellery, but she couldn't accept them because he wasn't an official representative of the Moroccan Government.
As a princess in training I would have had no such qualms.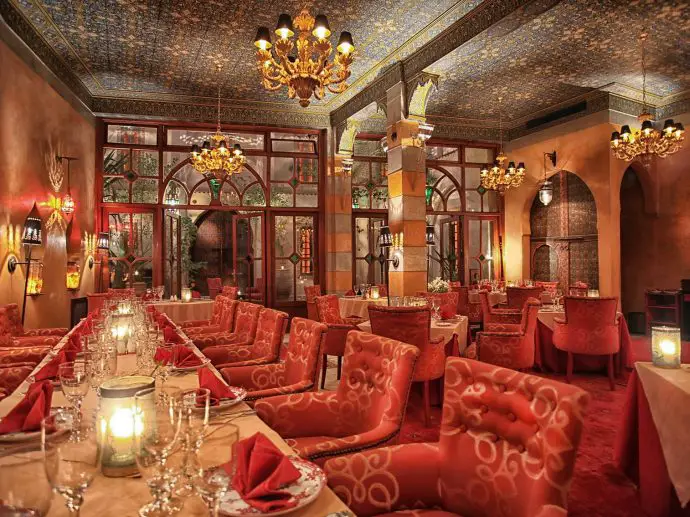 Some years later, after the death of Hélène, the restaurant closed and Suzy remained alone with her maison and her memories, until one fine day, along came a prince. His name was Fabrizio Ruspoli, a descendant of a noble Roman family. He acquired the property in 1994 and 3 years later La Maison Arabe re-opened as the first riad hotel in Marrakech. Today there are estimated to be over 800 riads, so he was clearly onto a good thing! La Maison remains true to it's roots however, and still boasts one of the finest restaurants in town, along with a world renowned cooking school to dish the secrets behind Moroccan cuisine.
La Maison Arabe is a place of secrets.
Secret histories, secret rendezvous and secret recipes. I'm partial to a secret myself. So I'm going to share a few with you. As for the rest? You'll just have to come and discover them for yourself!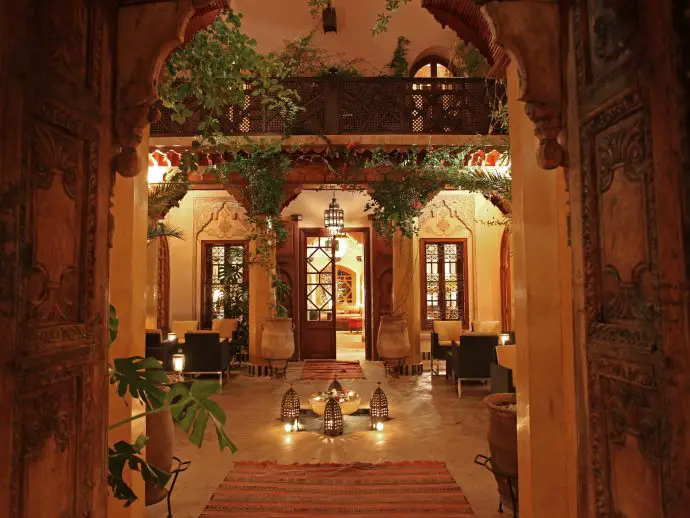 The Welcome
La Maison Arabe is one of the finest examples of luxury without pretension that we've ever had the pleasure of experiencing. And I wish we'd realised that sooner. I'd been covertly eyeing up the place for years, yet I had always assumed an establishment boasting a guest list that included Jackie Kennedy and Queen Ingrid of Denmark wouldn't quite be the place for the Coles of Cumbria.
It doesn't happen often. But I was wrong!
We were in fact welcomed with open arms from the moment we stepped through the arched doorway into the calmly decadent reception area. It didn't matter that we were covered in a slight dusting from walking through the unassuming medina alleyways, or that I was trying to subtly mop my glistening brow, already wilting in the heat of the day. We received the same level of courtesy as the couple dripping with Dolce and Gabbana to our right, and the group of aspiring real housewives in front of us.
The genius of La Maison Arabe is that no-one feels out of place, no matter who they are.
I always harp on about Moroccan hospitality being second to none, so whenever we stay somewhere new in Marrakech the bar is already set very high. Even so, the folks at La Maison Arabe really impressed us. Each and every staff member has perfected the almost impossible art of making guests feel like royalty AND long lost family both at the same time. Being a guest here was a truly magical experience.
So what is it like to stay at La Maison Arabe?
The bedchambers
Most travellers visiting Marrakech for the first time will be on the 1001 nights trail.
They'll be wanting the complete Scheherazade experience, with tadelakt bathrooms, garish mosaics and sexy lanterns crammed into every corner of the property. And there's absolutely nothing wrong with that. Yet whilst this is the closest you'll ever get to living in a real life fairy tale, many riads are far too liberal with the ornaments and the incense, leaving guests with a bit of a headache and a respiratory system full of musk and amber.
There is no such problem at La Maison Arabe. Whilst the public areas are all tastefully elegant with just the right amount of Moroccan bling, the 26 bedrooms and suites exude the kind of calming ambience crucial to recovering from an afternoon haggling in the souks and dodging snake charmers in the square. The rooms wouldn't be out of place in one of the big brand luxury 5* hotel chains, with comfort, privacy and quality all the order of the day.
Sure, there's still a nod to the Moroccan style, but it's delightfully subtle. Sometimes less is more.
Each bedroom is unique in shape and design. The hotel is divided between the patio-side (the original building) and the garden/pool-side (the newer part), resulting in lots of choice when it comes to deciding where to sleep. Whilst those overlooking the pool had a lovely view, we were glad our bedroom (Nassim, below) was in the older internal part of the hotel, where it was oh so quiet. It's quite unusual to sleep undisturbed in Marrakech (normally you'll hear noise from inside the riad and out in the alleyways), and together with the silky snuggly bed sheets, Hubbie and I declared we had slept better here than anywhere else in Morocco, and possibly the world!
Trust me, coming from a dedicated insomniac, that's quite an accolade!
The Salons
Whilst La Maison Arabe only has 26 bedrooms, it is still considerably larger than the cosy little riads we usually find so charming. I had been concerned that as a result, our experience would be less intimate, and worried that the lounges and corridors would be full of tour groups.
Wrong again.
Apparently 85% of guests are independent travellers like us, and with all the secret nooks, crannies and passages to hide away in, it was easy to feel like we were the only occupants. In fact except for meal times, we rarely saw the other guests.
The layout of La Maison Arabe is quite unusual. It is actually several riads joined together and the resulting space has a refreshing nonconformity that other Marrakech residences often lack.  The quirky spaces have been transformed into salons and courtyards, and there's also an elegant jazz bar for guests to enjoy an apéritif before dinner. It's a most pleasing way to begin an evening. Sipping a cocktail concocted by charismatic barman Rachid, listening to the resident pianist tinkling away on the ivories, and wishing you'd paid more attention to your piano teacher when you were younger.
The banquets
Food is where it all began for La Maison Arabe, and even if you're not staying here, you should at least come for dinner at their famous restaurant, Les Trois Saveurs. Despite its rather humble beginnings as a stable (albeit belonging to the Pasha) the restaurant today is the perfect setting for a romantic meal, complete with candlelit pool and live Arab-Andalusian music on guitar and lute. Affectionately knows as "The Two Khalids", the musicians have been delighting diners at the hotel since 2000, and studied under Saïd Charibi, one of North Africa's foremost sting instrument masters.
Clearly nothing but the best for La Maison Arabe!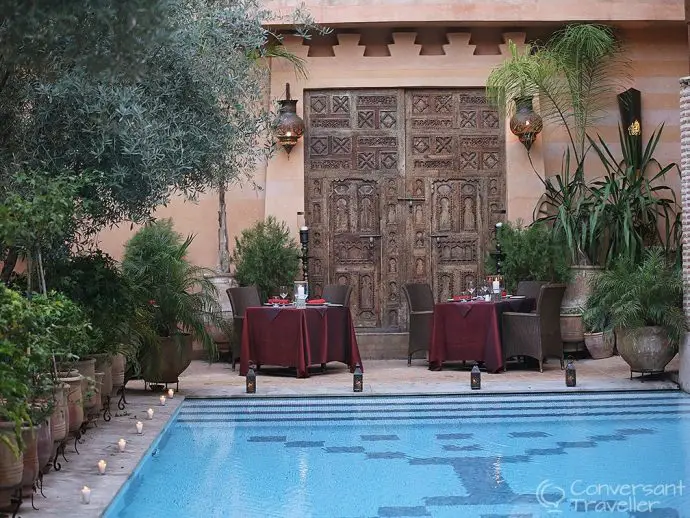 Dinner at La Maison Arabe is quite the culinary adventure.
We adore Moroccan food, but being presented with tagine after tagine by hosts who assume we've never had one before does get rather tiresome. There is a gorgeous Moroccan restaurant at La Maison Arabe, but we love dining at Les Trois Saveurs, as it offers both Moroccan and Mediterranean menus. Last year we tried their inventive duck in chocolate sauce. A dish that sounds so wrong yet tastes so right. This time I found myself companionably munching on, wait for it…flowers! I know, I'm probably a bit behind the times, but seriously, have you ever eaten a salad of poppies, pansies and primroses? All drizzled with fresh kafir lime straight from their kitchen garden. Bonkers. But oh so good.
If that sounds a little too adventurous, don't worry, there are plenty of other choices. Hubbie loved his manly roast rack of lamb, and the cheesecake was pretty yummy too.
Moroccan wine is a bit hit and miss, and usually tastes better after a cheeky pint or two at the bar before dinner, but the wine list at La Maison Arabe is extensive and well put together. Just listen to me pretending I know a thing or two about wine! The proof is in the pudding however, and the fact that this was the first bottle of Moroccan wine we've ever managed to finish speaks volumes!
Again, it's the quality that talks.
Breakfast wasn't bad either. 
Whilst Hubbie was plucking up the courage to ask for his third chocolate crepe, I was doing the queenly thing and nibbling on some expensive smelling cheese. The buffet spread at La Maison Arabe was fit for royalty, alas I've never been much into breakfast, and usually find it a bit of a chore. However, hearing that the yogurt was homemade I decided to give it a try, and see if it met with madam's exacting standards.
It was at this point that my collection of spoons began to augment rather alarmingly. 
Before I'd even sat down with the aforementioned yogurt, our attentive waiter appeared at my elbow and produced a couple of spoons, laying them precisely in line with the one I already had. Then he was back with a fourth, just in case three weren't sufficient for one small pot of yogurt. To be fair, the spoons were all differing sizes, so I'm sure he just wanted me to have a choice. Slightly bewildered and regally nodding my thanks (isn't that what posh people do?) I quietly continued using the teaspoon from my coffee. Why dirty another one after all.
You can take the girl out of the province but you can't take the province out of the girl! But you know what? That really doesn't matter at La Maison Arabe.