This post contains affiliate links which means we may make a small commission at absolutely no extra cost to you. Thanks for reading. You can read our full disclosure policy here.
---
I know some of you have been waiting for our Butterfly Twists foldable ballet flats review and giveaway for a while, but good things come to those who wait, right? So, here it is…
Life before discovering Butterfly Twists foldable ballet flats
I've never been a slave to fashion. I only discovered knee high boots a couple of years ago, and my pyjamas have penguins on them. Hubbie is nodding resignedly. You're more likely to find photos of wellies and waterproofs on our Instagram than heels and lippy. It isn't because I have an aversion to looking good. I just value comfort over style when I'm travelling, and frankly lugging around multiple pairs of shoes and bags of make up just doesn't seem worth the effort.
Yet there comes a point in a travelling girl's life when she enjoys dining in posh restaurants just as much as she likes scratting around in jungles.
Since our travelling lives have become increasingly focused on luxury adventures, this year I decided it was time to crawl out of my cave and try a little style. Yet I was determined not to compromise on packing space. No matter how much I love afternoon tea, I refuse to pack a pair of heels just for a couple of hours.
So what's the solution?
It's pretty simple really, they're called foldable ballet flats! These amazing pumps bend neatly in half so they can be carried around in your handbag, or even your pocket! Perfect for travelling, as well as tired dancing feet at weddings and parties. Most foldable ballet flats come with a small bag for your heels, which is kinda handy. When you're wearing the shoes, they don't feel any different to a normal ballet flat, and there are several companies out there with a range of prices and styles to choose from.
Which foldable ballet flats to choose?
The first foldable ballet flats I came across were Tieks by Gavrieli. The shoes come in all sorts of sexy shades and have an unusually decent sole for a pump. Some travel bloggers swear by them yet the hefty price tag put me off. You know, the sort of money that could easily buy you a flight (or three). Tieks start at around $195 (ouch!), and as they ship from the US I couldn't bring myself to part with so much money for something I couldn't even try on first.
Source: Tieks by Gavrieli
Next I discovered Tipsy Feet, a British company with considerably lower prices. Starting at £25 these foldable ballet flats were rather more appealing, so I gave them a test run touring around Mauritius, walking the pavements of London and at a few summer weddings.
Of course, you do get what you pay for. Although they were fine for slipping on after a party in the evenings, the soles were too thin to comfortably walk any distance in them. Or to walk on hard surfaces like pavements. The elasticated material also dug into my ankle and left very deep pressure dents. Not the look I was going for and a bit painful.
So the search continued, and just as I was convincing myself that a life in trainers really wasn't the end of the world, I discovered Butterfly Twists foldable ballet flats.
Butterfly Twists foldable ballet flats.
Hands down the best accessory I've purchased this year. Butterfly Twists are comfortable, classy and starting at £30 they're not expensive. What more could a girl wish for?
I love the unlikely story behind Butterfly Twists.
It began with a bunch of blokes and a bet. The looser had to wear a pair of 6 inch stilettos to a party, and as a result came to realise just how painful an evening tottering around in heels really is. The group decided there was a gap in the market for shoes that were both glamorous and comfortable, and launched a new brand of foldable ballet flats that…
…combined a little fabulousness with a freedom of movement and consideration for comfort.
The first indication of this fabulousness is the cute little box they arrive in. But the question is, do the goods live up to the packaging?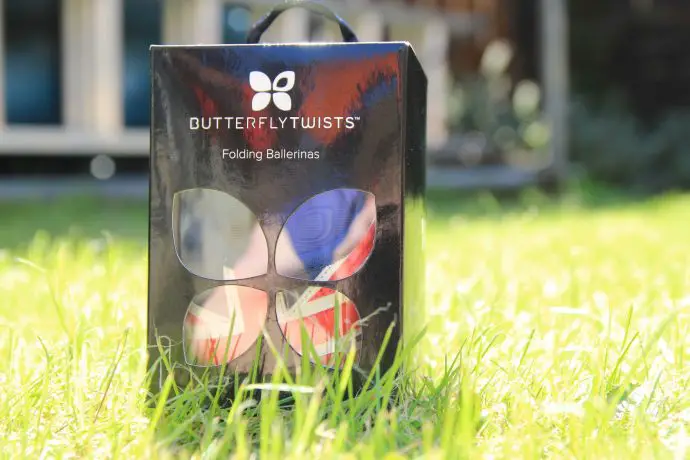 Putting Butterfly Twists to the test
I tried out my first pair at Royal Ascot races earlier this year, knowing that I wouldn't be able to last 8 hours in heels. In the event I only lasted 2 (heels and grass lawns don't really mix!) and was so thankful I had my pair of Butterfly Twists foldable ballet flats in my handbag.
These are the Olivia pumps, perfect for a stylish occasion, and hanging out with the big wigs! They were comfy too, which meant I could get down to the business of gambling and drinking without worrying about blisters or twisted ankles. Result!
I love how neatly the shoes fold up. They take up very little room and so are great for taking on your travels.
I also took some to Morocco last month and tried them out in the palaces, the restaurants and the luxury hotels. They took me around the streets of Casablanca and were perfect to slip on whilst spending evenings in our riads.
Butterfly Twists invisible socks
Butterfly Twists also sell 'invisible' socks to wear inside the pumps. They come in beige or black. I've tried a pair and to be honest haven't quite made up my mind whether they're a good idea or not. The lining does come up a bit further than the rim of the shoe, so they're only 'invisible' at a distance. They also have extra padding sewed in to cushion your toes, but as this falls between the ball of your foot and your toes it doesn't feel like it's quite in the right place. Or that it's doing much cushioning. Having said that, the socks aren't uncomfortable, and do help stop your ballet flats getting all sweaty.
I tend to wear them only if I have my flats on all day. They're not expensive so are worth trying if you want to make up your own mind.
What I loved
The comfort
I'll admit to being surprised at just how comfy the Butterfly Twists ballet flats are. I expected them to be okay for short periods of time, but actually the soles are thick enough to be comfortable for longer periods. I sometimes wear them all day like a standard shoe! At Royal Ascot they were fine both on the grass enclosures and on the harder surfaces of the grandstand, and I didn't feel unfashionable, even in the presence of Royalty. Well I am a princess after all.
The style
As well as being comfy, there are dozens of different styles of Butterfly Twists to choose from. There are options for every day use, as well as special occasions, and enough colours to find something to match most outfits.
If you're feeling daring, they even have ballet flats that will make you stand out from the crowd. I couldn't resist getting a pair of these Union Jack Jacqui pumps, which I love wearing with jeans for a casual day look. I even wear them to work in my more flamboyant moments!
What wasn't so great
The Sizing
I found the sizing to be a bit off. I'm a regular UK size 5, yet found that the UK size 6 fit much better (although even in those there was very little wiggle room). I even have one pair that is a size 7. Bonkers!
I'd definitely suggest opting for a size up from what you usually wear. Maybe even two if you're a half size.
The tightness
I did find the Butterfly Twists foldable ballet flats were a little tight on the back of the ankle. After a couple of hours I'd end up with small indentations which were a bit uncomfortable. I think it's the same with most shoes like this, which need to have a certain elasticity to prevent them slipping off your heel. I solved that problem by using Compeed, which is skin colour and makes all the difference. You can buy Compeed here.
The carry bag
Butterfly Twists foldable ballet flats come with a cute little black pouch to keep them clean in your handbag, but not a bag big enough to hold your discarded heels. Several other foldable shoe brands do provide such a bag, so I think this is something Butterfly Twists could look at in the future. Having said that, it would need to be carried so perhaps it's better to take your own packable bag to make sure it matches your outfit!
The Verdict
I'm not a fashion blogger (Hubbie is sniggering at the thought). Comfort is generally more important to me than design, especially when I'm travelling a lot. So when I find something that combines both, I'm like a kid in a sweet shop. I love my Butterfly Twists ballet flats so much that I now have 4 pairs, including the plain black Sophia pump which goes with pretty much anything I'm wearing. I think the price is spot on too, and definitely recommend them to all travelling princesses.
Tips
Get a size up from your normal shoe size. The fit is on the snug side.
Buy some compeed to protect your ankles.
Found this post useful? Why not pin it for later…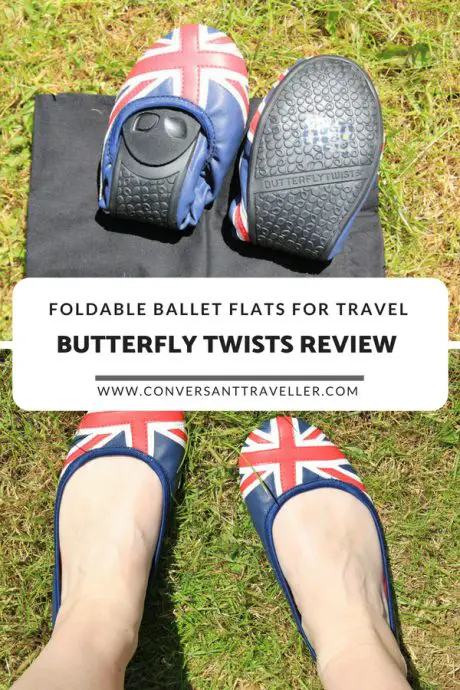 ---
The Giveaway
Now it's your chance to try out some Butterfly Twists foldable ballet flats. We're giving away one pair of either Olivia or Sophia pumps (value £30) to one lucky entrant.
This giveaway is open to entrants worldwide.
The giveaway closes at midnight on Monday 9th January 2017. 
To Enter
It couldn't be simpler. Just use the Rafflecopter widget below to enter, doing as many of the options as you like. If you have previously completed any of the actions (for example if you already follow us on Facebook, Twitter etc) then feel free to have an entry for them!
Make sure you select your entries on the Rafflecopter widget to validate your entry!
Terms and conditions
No purchase is necessary to enter or win. A purchase will not increase your chances of winning. The prize is a pair of either Olivia or Sophia ballet pumps from Butterfly Twists up to the value of £30, subject to availability. Postage is included. No returns. The prize is not refundable or exchangeable for cash. This competition is open to a worldwide audience. The giveaway will run for 4 weeks and end at midnight on Monday 9th January 2017. The winner will be determined on or around the 10th January 2017 by a random drawing of eligible entries received. Your chances of winning are determined by the number of eligible entries. Winners must respond within a week of receiving the notification email, otherwise another winner will be chosen.