If you're looking for a road trip with incredible scenery, ancient heritage and stress-free driving, then there's really nowhere better than Scotland or Ireland. The roads are excellent quality, navigation is easy and the variety of sights and accommodation along the way means there's something for everyone, from couples and groups of friends, to families and even solo travellers.
Road Trip Tips
Plan Ahead
If it's your first road trip, there are a few things to bear in mind before you set off. The success of a road trip lies in the planning, and although you can be spontaneous along the way, having an idea of what's ahead will mean you're always ready for any eventuality. Map out a bit of a route, marking the key sights you'd like to visit, as well as potential places to stay if you've not yet booked accommodation. This will save you heaps of time if you need to change plans at the last minute as you'll already have some options lined up.
It's also a good idea to make a note of fuel stations and supermarkets (if you're self catering) so you don't end up spending precious time searching for them when you could instead be enjoying your holiday. And even though most of your navigation will probably be done on a sat nav or smart phone, consider taking a good old road map, just in case your batteries run out!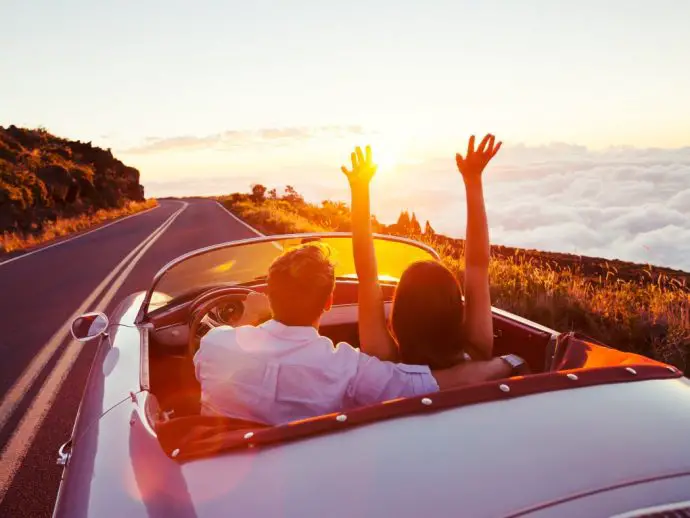 Get Insured
Make sure you have adequate car insurance to cover your journey, and be aware that you may have to pay an additional premium if you're driving away from your home country. If you're hiring a car, think about the time you'll be spending sitting in the vehicle, and remember that you'll want something comfortable and classy, you are on holiday after all.
For longer trips you won't want to be behind the wheel the whole time, so you might want to consider taking out some cheap one month car insurance for an additional driver to share the load. This means you get to enjoy looking at the scenery out of the window too! It can be quite stressful driving long distances in unfamiliar places so splitting the driving really is a no-brainer if you have a willing passenger to do their share of the graft.
Traffic Rules
Whenever you go on a road trip, you should always refamiliarize yourself with the rules of the road. Luckily the laws in Ireland aren't so different from those in the UK, including the fact that everyone drives on the left. One major difference between Ireland and Scotland is that the speed limits in Ireland are in kilometres rather than miles.
Top Scotland Road Trip Destinations
If you have the time and budget, you could easily spend three weeks enjoying a circular route around some of the best parts that Scotland has to offer. We suggest you start in Edinburgh before heading north to St Andrews. Then it's time to continue west to the Hebrides for some windswept island adventures, and then make your way back south via Fort William and Glencoe. After which you can finish up in Edinburgh again, or if you prefer, Glasgow.
However, each of these places is a fantastic road trip destination in its own right, and those with less time can simply combine a couple of stops and still get a good flavour of what Scotland is all about.
Here's where we recommend you include on your Scotland road trip:
Edinburgh
Edinburgh is the highlight of many Scotland holidays, and is a great jumping off point for the rest of the country with excellent rail access if you're hiring a car on arrival.
Spend a couple of days in this welcoming city to visit Edinburgh Castle high up on the hill, stroll along the cobbled streets of the historic old town and poke your head into the numerous souvenir shops along the famous Royal Mile. You can also visit the Palace of Holyrood, which is the official residence of the Queen when she's in Scotland, and there are plenty of galleries and museums which give an insight into the heritage of this popular city.
If you're feeling energetic a hike up to Arthur's Seat is one of the best places for sweeping views over the city and surrounding area. This hill is part of an extinct volcano, and walking up to the top takes around half an hour. If that all sounds a bit too much effort, the views from Calton Hill near Balmoral Hotel are pretty good too!
St Andrews
The next stop on your route is the seaside town of St Andrews, famous for its world-class golf courses and golf museum that explains the history of UK golf. Even if you're not a fan of the sport it's an interesting place to visit. Don't miss the ruins of St Andrews Castle out on the headland, as well as the 12th century cathedral, once the largest in Scotland, which although also in a ruinous state is very photogenic and a must-see when in town. Climb up St Rule's Tower for incredible views out over the town.
The choice of accommodation and restaurants in St Andrews is excellent, and for families there's also an aquarium with everything from sharks to meerkats, which is great on a rainy day. Another wet weather idea is the St Andrews Museum which explains the heritage of the area, dating back to medieval times and housed in a magnificent Victorian manor house.
The Hebrides
Continuing across the country, the Hebrides is an archipelago of hundreds of islands sitting off the west coast of Scotland. Divided into the 'Inner' and 'Outer' Hebrides, these islands are famed for their unique habitats, stunning sandy beaches and scenic roads. Many can only be reached by ferry, which adds an extra bit of adventure to your road trip, whilst others, like the isle of Skye can be reached by bridge from the mainland.
There are so many islands to choose from that it's a good idea to pick just one (or two if you have the time) to explore. Skye is one of the larger islands and has a lot to offer, from castles and whisky distilleries to seal-watching boat trips in hidden lochs and waterfalls to swim in. Portree is a great place to stay as it's not too far from the mainland bridge, and gives easy access to anywhere on the island.
In the Outer Hebrides, popular island choices include Harris and Lewis up in the far north, where you can stay in traditional black house dwellings, walk on beaches that look like they belong in the Caribbean (but perhaps a bit colder!) and visit ancient monuments left here by the people who inhabited these islands thousands of years ago.
Glencoe
Situated on the banks of Loch Levan in the Lochaber Geopark, Glencoe is a place for hikers and adventurers, as well as historians. Known as the outdoor capital of the UK, this small village in the western Highlands is noted for its atmospheric mountains and hidden valleys which are often shrouded in mist. You might recognise the scenery and stunning stretches of road from films like Skyfall and Harry Potter. This part of your road trip will undoubtedly be the most spectacular drive.
To understand the dark history of the area, head over to Glencoe Visitor Centre before going for a walk up in the glen. In the aftermath of the Jacobite Rising, it was here in 1692 that many of the MacDonald clan were massacred by government soldiers led by the Campbells, for not swearing an oath of allegiance to the king. Some of the MacDonalds escaped and took refuge in a secret glen up in the mountains, which is a popular walking spot today and known as the 'Lost Valley'.
There's also sea kayaking on the loch and several mountain trails to be explored by foot or bike, and in winter the Glencoe Mountain Resort is popular with skiers.
Fort William
Further south Fort William is a popular hub for visiting the western Highlands of Scotland, and there's a train station here too should you want to start your road trip up here with a hire car. The town sits on the picturesque Loch Eil and is known as the gateway to Ben Nevis (the UK's highest peak) for hiking enthusiasts.
There are ski resorts and forest trails to explore, and in the centre of town you'll find the West Highland Museum which gives a great insight into local life and culture. For whisky-lovers it's an idea to visit the Ben Nevis Distillery, and even if you're not an avid train-spotter, the Jacobite Steam Train is well worth half a day of your time. It passes through some of Scotland's loveliest countryside, and trundles over the famous Glenfinnan Viaduct, which is famous for appearing in the Harry Potter movies too.
Top Ireland Road Trip Destinations
This circular road trip itinerary starting in Dublin and taking in Cork, Killarney, the Cliffs of Moher and finally Donegal gives a great introduction to Ireland, with a great diversity of landscapes and towns to explore. Two weeks would be the perfect amount of time to spend on this holiday, but if you don't have that long, miss out Donegal and just head back to Dublin after visiting the cliffs. Remember that when planning a trip to Ireland you should take into account the time of year, as it's a very popular place and the top spots often get crowded in the height of summer.
Here's what you can expect to see on this ultimate Irish road trip:
Dublin
Dublin is the capital of Ireland, and a popular choice to start or end your road trip around the emerald isle. There's plenty to do in this buzzing city, from simply wandering the streets and taking in the atmosphere to going on a tour of the Guinness Storehouse Factory to sample the famous amber nectar and learn about Ireland's brewing history.
History buffs should check out St. Patrick's Cathedral and admire the architecture of Trinity College (especially the library!) whilst learning more about its fascinating medieval history, as well as visiting Dublin Castle with its museums, state rooms and Gothic chapel.
In the evening, head to the famous Temple Bar, one of the most iconic Irish bars in the country with a history dating back to the 14th century. Although popular with tourists, it's also a great place to meet the locals.
Cork & West Cork Islands
Next up is Cork. The second largest city in Ireland isn't as full of tourists as Dublin, which makes it a pleasant place to immerse yourself in true local culture without the crowds. Located in a picturesque position on the River Lee, Cork has plenty to do over a couple of days, including visiting Camden Fort Meagher for some historical insight into the region, checking out the treasure troves at the famous flea market and Old English Market, and admiring the impressive University College.
Don't miss a visit to the island of Cobh in Cork city harbour, famous as being the last port of call for the Titanic before she set sail in 1912. Check out the Titanic Experience Cobh to learn more about the fated ship, as well as the mass emigrations that took place in Ireland during the 19th century.
For some fresh air and spectacular views try the Ballycotton Cliff walk, or a little further afield there are the West Cork Islands, seven inhabited islands along one of the most beautiful stretches of the Wild Atlantic Way, each with their own fascinating histories and outdoor activities to try.
Killarney
You really could spend a couple of weeks in Killarney, but a few days will do to give you a taste of this beautiful part of the world. Killarney is a land of tranquil lakes, looming mountains and hidden forest trails and is a great spot for outdoor enthusiasts to stretch their legs by walking, cycling or taking boat trips.
It's worth checking out the 19th century Muckross House and Gardens for something a little more sedate, and history buffs will enjoy exploring the 15th century tower house that is Ross Castle just outside the town, overlooking Loch Leane. There are several boat trips on offer here, including one that takes visitors to Innisfallen Island. A forest trail to some of the oldest copper mines on earth can be found here too, which is a popular walk with locals and visitors alike.
There's a lively local music scene here too, so make sure you spend your evenings in the traditional pubs beside a roaring fire, listening to haunting tunes whilst tucking into some delicious regional fayre.
Cliffs of Moher
Further north, one of the most dramatic views you'll see on this road trip is the spectacular Cliffs of Moher, over on the western coast in County Clare. Stretching for around 14 km in the heart of the Wild Atlantic Way, the cliffs are one of the most popular sights to visit in Ireland, and date back over 350 million years. Looming above the sea at 700 ft they really are a spectacle to behold, as well as being a protected area for seabird nesting where you can see everything from guillemots to puffins.
There's accommodation in the nearby towns and villages, so it's worth spending the night here to make the most of visiting the area. If you're into hiking, there's a trail along this whole stretch of coastline, starting at Doolin and finishing at Hags Head. There's a visitor centre too about half way along the trail and at the steepest part of the cliffs.
Donegal
Donegal makes the perfect final stop on your Ireland road trip, with plenty to see and do both in town and in the county itself. Spend a few days here exploring the heritage and landscape of the area before returning to Dublin to finish your epic adventure. The 15th century Donegal Castle is worth a visit, and keep an eye out for the Four Masters Memorial which was erected in memory of scribes from the nearby Franciscan friary. There's also a Railway Heritage Centre and plenty of accommodation and restaurant options suitable for most budgets.
Day trips into County Donegal will have you exploring breathtaking scenery, rugged coastlines and untouched beaches, as well as archaeological sites and traditional craft shops for those all-important souvenirs to take home. Take a boat tour to see if you can spot seals and dolphins, and get a few lung-fulls of fresh air up at the dramatically located Fanad Lighthouse.
And that wraps up our Celtic road trip highlights. Have you been on a road trip to either Scotland or Ireland? Share your favourite sights and destinations with us in the comments below.