Several of you have been asking what 2017 has in store for us, so I guess it's time to spill the beans. Every year is special when it comes to our travels, but 2017 is going to be even more so, because we're celebrating our 10th wedding anniversary! The actual date isn't until September, but we figure that's purely maths, so are going to treat the ENTIRE YEAR as an opportunity to travel.
Not that we need an excuse.
We normally like to have our travels mapped out months (if not years!) in advance. After all, the planning is one of the most exciting parts of the whole adventure (in my opinion anyway). Yet the last few years have been rather spontaneous, like the trip to Brazil that was booked, planned and executed all within just a couple of weeks. As enjoyable as these trips have been, for people who eat, sleep and breathe travel, doing things so last minute has been quite a stressful experience.
And by not having concrete plans we've felt cheated of having something to look forward to.
So this year we've decided to revert back to what we enjoy, and that's having several trips already on the cards.
January/February – Kenya
We're kicking things off with somewhere quite spectacular. As you read this, we'll be on safari in Kenya, checking out the Masai Mara and Samburu National Reserves. There wasn't much research involved in organising this trip. A year ago I saw an enchanting photo of a lodge bedroom overlooking the African plains in Conde Nast Traveller, and decided there and then that we were going to stay!
And that was it! 12 months later and we're here. I mean, can you blame me…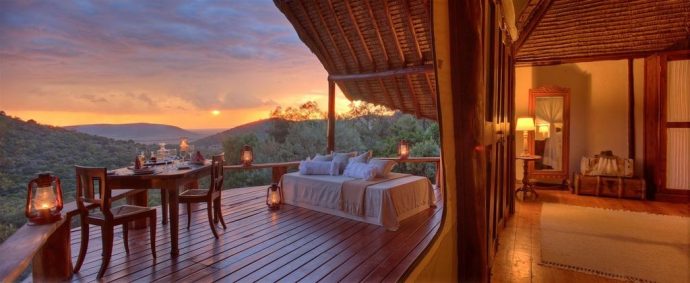 I've always been a sucker for a room with a view.
March – Sri Lanka
For years we've wanted to visit Sri Lanka, but somehow it's flown a little under the radar and we've not really seriously considered it, until now. My grandparents met there when they were stationed on the island, then called Ceylon, during the Second World War. I never knew my granddad as he died before I was born, so it will be special to see where they were all those years ago. Without Ceylon, and without the war, I wouldn't be here!
We're still finalising plans for exploring the island, but are definitely going to include Kandy and the central plateau which is surrounded by tea plantations, rainforests and mountains. If you've been to Sri Lanka and have any tips, then do let us know!
May – Devon, UK
We always like to spend some time each year checking out new places in the UK. Over the last couple of years we've been up and down to Scotland quite a bit, as well as over to the Yorkshire Wolds and east coast. This year we're heading south to Devon, to stay in the most adorable thatched cottage you'll ever hope to see! It's on the edge of Dartmoor so the location will be perfect for exploring both Devon and Cornwall. Expect moors, beaches and lots of cream teas!
June – York, UK
Hubbie and I both visited York back when we were nippers on primary school trips, and are slightly embarrassed to admit we haven't been back since. So we're putting that right and heading over to one of England's most beautifully historic cities this month where we'll be finding out what there is to do, and of course checking out some unusual but luxurious places to stay. We adore Yorkshire, so hopefully the city will live up to expectations.
August/September – Peru (and maybe Chile?)
10 years ago we spent our honeymoon in Peru and Ecuador. We explored Machu Picchu and climbed the foreboding Huayna Picchu with it's death defying drops either side. We snorkelled with sea lions in the Galapagos. And we rode horses over the slopes of Cotopaxi volcano.
It was the first time we had a taste of luxury travel, and the experience really set the stage for our future adventures. We didn't have good cameras back then, and were still using 35mm film. Because of this, we've been debating whether to revisit some of the places we went to on our honeymoon, so we can take better photos. Yet we've decided that we probably shouldn't risk spoiling the memories (places are always different the second time around aren't they!) and won't be returning to anywhere we've been before. Except Cusco. We loved Cusco, and it's the jumping off point for both the Amazon rainforest and Urubamba Valley, both which will feature heavily on this trip.
We have a month in South America, so will be travelling around Peru, and maybe Chile or Bolivia. The jury is still out on that one so watch this space.
Other plans
As well as our travels, this year we're also moving house! We've lived in the South Lakes for 13 years now, and have been thinking it's time for a change for some while. It's an exciting (and slightly stressful) time for us, as we have no idea where we'll actually end up, although we will be staying in the North West. Who knows, we might even be living in a tent if we sell before we buy.
Some people will do anything to fund their expensive travel tastes (only joking…maybe!!!!!).
Whilst all of that is going on, we'll be taking smaller trips around the UK as and when we can fit them in, and certainly plan on exploring more of Northern England. As well as the Lake District of course, although I never really write about the beautiful area where we live. To me it's just home, although to others it's one of the prime tourist destinations in the UK. I don't know…do you guys want to hear more about our National Park???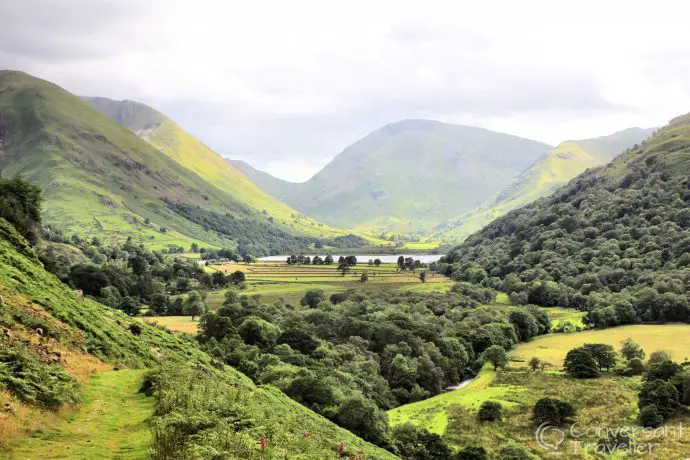 So now it's time for you to tell us about your plans…what have you got in store this year?
Giveaway – with Trespass
Finally, to start 2017 with a bang, we've teamed up with the lovely folks at Trespass to offer our readers the chance to win a rucksack to take on your travels!
All the adventures we have planned for this year are going to involve soft baggage rather than suitcases (for Kenya we are only allowed 15kg each due to internal flight restrictions), as they're much easier to carry around, fit in planes/boats/trains, and are far more versatile. I love my suitcase, but it's going to be fun becoming a backpacker again. After all these years I've finally realised having a rucksack or a holdall doesn't mean you have to stay in hostels! Phew.
The prize – Iggy 45 litre rucksack
This waterproof Iggy 45 litre rucksack is just the right size for taking on your travels, as well for festivals and hiking or camping around the UK.
We love that the main compartment can be accessed from both the top or the bottom, which is great when you don't want to unpack everything each time you stay somewhere new (which as you know for us is pretty much every other night – we'd spend half our time packing and unpacking!).
There's also a spacious external pocket which comes in handy, and the back is padded so carrying it around won't be uncomfortable.  It has a retail value of £139.99.
This giveaway is only open to UK residents. I'll be doing more giveaways throughout the year open to worldwide entrants, promise!
The giveaway closes at midnight on Monday 20th February 2017. 
How to Enter
It couldn't be simpler. Just use the Rafflecopter widget below to enter, completing as many of the options as you like. If you have previously completed any of the actions (for example if you already follow us on Facebook, Twitter etc) then feel free to have an entry for them!
Make sure you select your entries on the Rafflecopter widget to validate your entry!
Terms and conditions
No purchase is necessary to enter or win. A purchase will not increase your chances of winning. The prize is provided by Trespass, and is an Iggy 45 litre rucksack worth £139.99, subject to availability. Postage within the UK is included. No returns. The prize is not refundable or exchangeable for cash. This competition is open to a UK audience. The giveaway will run for 2 weeks and end at midnight on Monday 20th February 2017. The winner will be determined on or around the 21st February 2017 by a random drawing of eligible entries received. Your chances of winning are determined by the number of eligible entries. Winners must respond within a week of receiving the notification email, otherwise another winner will be chosen.
---
Thanks to Trespass for providing the giveaway prize.
Enjoyed this post? Why not pin it for later…