This post contains affiliate links which means we may make a small commission at absolutely no extra cost to you. Thanks for reading. You can read our full disclosure policy here.
---
The boy runs along the street, his oversized rubber sandals clacking rhythmically on the cobbles, leaving small clouds of dust in his wake. Behind him a rainbow coloured kite jerks along at the end of a short string, the iconic colours of Cusco bringing life to the sleepy town of Tipon. Tripping on a stone he bounces up again, glancing furtively along the street to make sure his carelessness hasn't been witnessed, but he needn't worry. There's no-one about, except a few women wearing tall white hats, who can barely be seen beneath the enormous bundles of leafy branches that they're carrying home to feed their guinea pigs. Grinning to himself the boy continues on his merry way, his belly rumbling in anticipation of food. A sudden cool breeze causes his kite string to tangle and as he unravels the mess he turns to face the mountain that looms over the settlement of Tipon, and the archaeological terraces far above. He often wonders whether his ancestors ever flew kites, or ate guinea pig, and whether they also got told off by their mothers if they were late home for lunch.
We were nearing the end of our week in Cusco. It was our second visit to the city and we'd already seen all the main sights, strolled along most of the steep cobbled streets and sampled enough pisco sours to keep us going for some while. We'd also done lots of day trips from Cusco, as well as several Sacred Valley tours and were now looking for something different. Something off the beaten tourist trail and unusual.
The answer was a day trip to Tipon and Pikillacta, with visits to Andahuaylillas and Huaro along the way. The tour would take us through little visited villages and ruins that few tourists ever get to see, and there was even a promise of dinosaurs!
Here's our route…
How to visit Tipon and Pikillacta from Cusco
It is possible to use public transport to visit Tipon, but it's much easier to hire a car and driver as this will give you more flexibility and you'll then be able to continue on to visit Pikillacta. If you want to get the most out of a visit to Tipon and Pikillacta we do recommend hiring a guide (from Cusco, you won't find any at the sites themselves), as you'll actually be able to understand what you're seeing. We rarely hire guides but were so glad we did for this visit, it was a brilliant day out and we learned so much. We were staying at the divine Inkaterra La Casona, who kindly organised the day for us. Most Cusco hotels will be able to arrange this but do give them a little notice as this is quite an unusual day trip from Cusco.
Entrance fees for Tipon and Pikillacta
Entrance to both Tipon and Pikillacta is included on the Full Cusco Tourist Ticket ('Boleto Turistica del Cusco'), which is valid for 10 days and costs S/130, and the Partial Cusco Tourist Ticket Circuit II (City and South Sacred Valley), which is valid for 2 days and costs S/70 (2018). The former definitely makes more sense if you're in the Cusco area for several days and seeing lots of sights. You can purchase the tickets at the attraction sites, as well as the Tourism Offices in Cusco, on Avenida El Sol and Calle Mantas. You may need to produce a passport to purchase your ticket, and show it along with your ticket at some of the attractions. You can't purchase the Cusco Tourist Ticket in advance before you arrive in the area.
Tipon
Hidden high in the hills 26 km south east of Cusco there's a place where water flows strongly, just like it has done for centuries. The sprawling 15th century archaeological site of Tipon is a well preserved Inca water irrigation system and terraced hillside site overlooking the town of the same name. It's a tranquil place with wide flat terraces and water channels for agriculture. Despite being on the route to Puno, Tipon is rarely visited by tourists, and isn't as well known as other Inca sites in the Cusco region – it doesn't even appear on some maps! Which frankly, is its charm. When we visited it was almost deserted, with just a couple of locals wandering around.
At 3500 metres above sea level, Tipon is all about water, and ironically the only place during our trip to Peru that it rained. Okay, so it was more like mizzle (drizzle and mist) but that still counts, right? The Incas used the water here for ceremonial worship as well as to irrigate their crops, and the terraces are full of stone water features and intricate channels. Taking advantage of a natural spring, the main fountain is at the top of the 12 terraces, with two water channels representing the sun and moon transporting the water slowly downhill. These channels eventually become 4 (representing the regions of the Inca empire). Keep an eye out for the fish that live in these channels!
You can really feel the temperature difference walking up the terraces of Tipon, which is why the Incas were so successful at agriculture and were able to grow a variety of crops. The ruins at the top of Tipon was once a Royal residence, with VIP rooms, store buildings and gardens. If you have time there are several walking trails, including one of the original Inca trails where you will come across more ruins, aqueducts and temples.
Back down in the valley, the town of Tipon is also famous for its crispy fried guinea pig (cuy al horno). Tipon is known as the cuy capital of the Andes, and you'll be able to see roasting guinea pigs on display at cuyerias along the roadsides. They smell really good, and cuy is actually pretty tasty, so do try some whilst you're there. Dishes cost about S/15 each. Keep an eye out for the traditionally dressed women in tall white hats – this head-wear is a symbol of their mixed race heritage, something they're proud of and they see themselves as better than the indigenous people.
Top tips for visiting Tipon
Try and avoid visiting Tipon at the weekends – these are family days for locals and the site can get busy (Sunday tends to be busiest).
There are toilets at the entrance to Tipon, just bring your own paper and antibacterial hand gel.
There is a small parking area at the bottom of the complex and some steep steps to climb to the top, but the views out across the southern valley are worth it.
It gets pretty cool at the top (and windy), we wished we'd taken jumpers.
Tipon is about a 30 minute drive from Cusco.
Pikillacta
Next up on our Cusco day trip was a visit to Pikillacta, just 6 km further on from Tipon. Another site that is seldom visited, Pikillacta was built by the Wari people around 800 AD and used for approximately 2000 years before it was taken over by the Incas who modified it to suit their needs.
Pikillacta is considered to be one of the main cities of ancient Peru with over 700 buildings, yet very little is known about the Wari culture. It's a great example of early engineering knowledge as the site is geometrical in design, divided into blocks and arrow straight streets. Most buildings were two or three storeys high, and unusual in that access to them appears to have been by ladders to the upper floors rather than having a ground floor entrance.
The complex is spread over at least 50 hectares, with tens of hectares more still to be unearthed. Pikillacta is still being excavated, and it was exciting to see a new and unfamiliar part of history being discovered with archaeologists working on site right in front of us. The original name of the city is sadly unknown, and the current label of 'Pikillacta' actually comes from two Quechua words. "Piki" which means "flea", and "llacta" which means "city". Thus, it's called "Flea City". The origins of this bizarre name are not known for sure, but some scholars think that the Incas used this term as a derogatory reference to what they saw as an inferior culture. However we much prefer the local legend recounted by our tour guide 'Luce'.
It goes something like this:
There was once a Wari Queen who lived in the city, and desperately wanted a permanent water supply. She had a couple of suitors, so promised that the first one to build her an aqueduct would have her hand in marriage. However, the winner was unfortunately the suitor that the queen didn't like, so she locked him in a room full of fleas and left him there to die. Charming woman.
The entrance building houses a small museum of artefacts found at the site, including two dinosaur skeletons that were discovered in the area, one being a Glyptodon, best described as a giant armadillo. Pretty cool!
Tips for visiting Pikillacta
There are toilets at the entrance. Once again you'll need your own paper and hand gel.
There's no shade on site so take your sun hat, sun screen and plenty of water – you could easily be spending a couple of hours exploring.
Andahuaylillas
This pretty little Andean village is well worth a stop if you're out visiting Tipon and Pikillacta. It's 45 km from Cusco and has a lovely central square surrounded by colourful Pisonay trees. It's here that the Iglesia de San Pedro (Church of San Pedro) sits keeping a watchful eye over the community.
Built by Jesuits in the late 16th – early 17th Century, the church is known as the 'Sistine Chapel of the Andes'. It's not difficult to see why, because behind the unassuming whitewashed exterior lies a magnificent kaleidoscope of gold leaf alters, hand painted ceiling art and Baroque wall murals.
A canvas of the Immaculate Conception attributed to Esteban Murillo (the most popular religious painter of 17th Century Spain) can be seen here, and there are even more gold and silver artefacts rumoured to be locked away inside the church. It's quite simply stunning. And unlike our visit to the Sistine Chapel, we had San Pedro all to ourselves.
Tourism is one of the main economies of Peru, so the government understandably puts a lot of money into preserving the country's culture. Twenty years ago the Iglesia de San Pedro was in a fairly poor state of repair, with water damage to the roof threatening its artwork and infrastructure, but there was no money for restoration. One day would-be-robbers broke into the home of the church guardian, demanding the key so they could go and steal the valuables inside. He refused to hand it over, and was beaten up as a result, but the key remained hidden, and the church was unscathed. The guardian then began to charge visitors small amounts to visit the church, and gradually was able to begin restoring parts of the building. Eventually the government decided to pitch in with funding and the result is the splendid sight we see here today, as well as a UNESCO World Heritage Site status.
Tips for visiting Andahuaylillas
There are toilets here, but guess what…you'll need to take paper and hand gel!
There's not much else to see in the village apart from the square, so half an hour will be plenty of time.
Huaro
Huaro is 4 km further south of Andahuaylillas, and quite similar in appearance. Despite only being a short distance from Andahuaylillas, Huaro is less visited and even more peaceful. The village is home to a small 16th century white church that is often deserted outside holiday season. Once again we were the only visitors.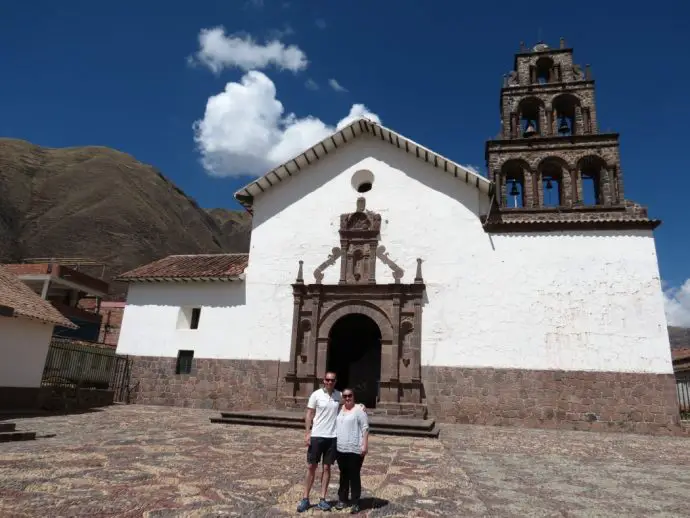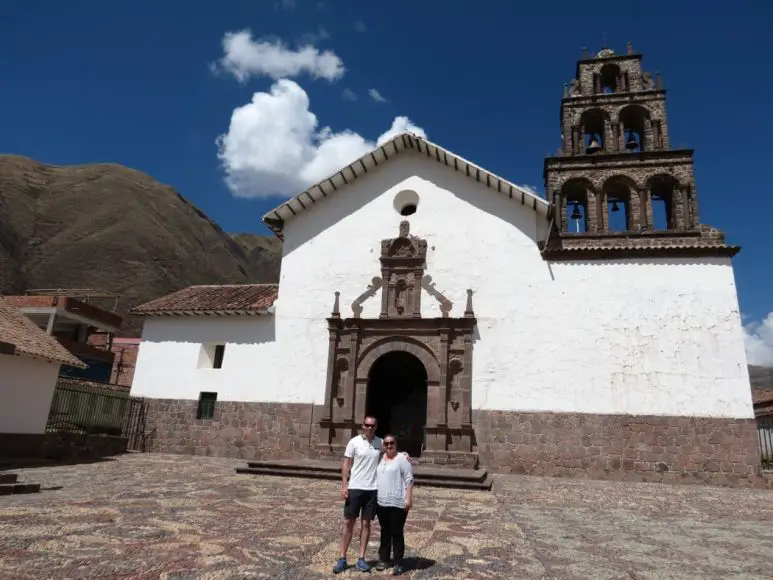 Just like San Pedro in Andahuaylillas, the Church of Saint John the Baptist (San Juan Bautista) was also built by Jesuits, and is covered from floor to ceiling with stunning murals, including several by Tadeo Escalante depicting the aftermath of human life. To be honest these murals are rather disturbing with their visions of death, final judgement, glory and hell, but you can't argue that they certainly makes a statement. The Renaissance alter is one of the oldest in Peru and the church is also home to more than 60 sculptures and 50 paintings of the Cusqueña School of Art. There's lots of gold and silver here, the former representing the Inca sun, and the latter the Inca moon.
Tips for visiting Huaro
As with Andahuaylillas, there's not much to see aside from the church.
The Verdict on our day trip to Tipon, Pikillacta, Andahuaylillas and Huaro
This was definitely one of our favourite days out from Cusco. There are lots of Inca ruins in the region, and to be honest they all start to look the same after a while. But Tipon and Pikillacta were different (and the latter isn't even an Inca site). We also had each of the sites pretty much to ourselves, and didn't see another foreign tourist all day. Having a guide made such a difference to our understanding and enjoyment of the visits, and we'd highly recommend it to anyone who has already spent a few days around Cusco and wants to see something a little more unusual.
Found this post useful? Why not pin it for later…