I hate flying.
Which is vaguely ridiculous considering I'm a travel blogger and spend much of my year hopping on and off planes. Hubbie and I aren't full time travellers, so flying has always been the necessary evil that helps us make the most of our time away.
Yet there have been 2 flying experiences where I haven't had to speak sternly to myself, or battle hard to maintain an outward air of calm whilst my insides are doing involuntary somersaults. One was our first taste of Business Class with KLM on the way to Brazil. Now that's the way to travel folks! The second was our collection of domestic flights with Air Kenya last month as we travelled between Nairobi and the Samburu and Masai Mara National Reserves.
Travelling in Kenya
Unless you have buckets of time and balls of steel, you won't want to be self driving between game parks.
It's a long way overland, the roads aren't great, and breaking down isn't really an option. After watching a few too many You Tube videos of the nightmare traffic in Nairobi even Hubbie was adamant that flying was our only choice.
Whilst part of me wasn't looking forward to 3 extra flights, I'd be lying if I said the prospect of small bush planes didn't excite me. Maybe we'd see elephants strolling across the plains, and would there be a zebra on the runway when we landed?
As I always do before a flight, I did an online search to see what the planes were like inside, how the seats were configured, and just how comfy it might be. All part of the reassurance process. Yet I couldn't find what I was looking for, so decided I'd have to be the one to put together an Air Kenya review.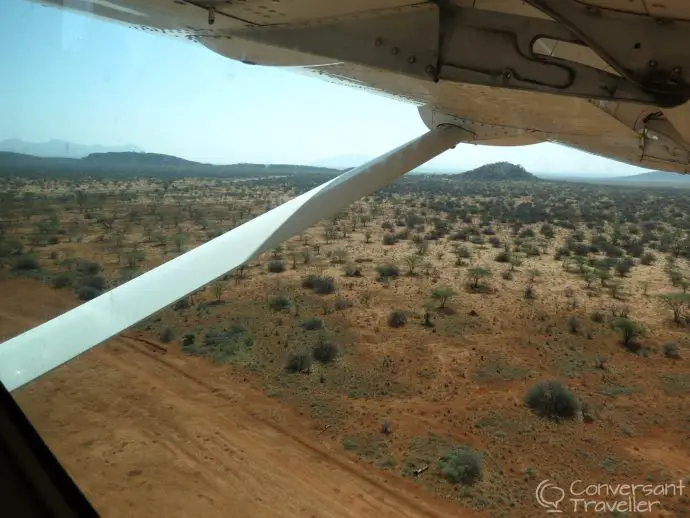 Air Kenya Review – what to expect
Nairobi Wilson Airport
This place is just the cutest. The 'terminal' consisted of a couple of hangers (one containing the most impressive flying police arsenal we've ever seen), and a separate hall for the Air Kenya check in desk, departure lounge and gate. After putting our bags through the single security scanner we gave our names to the desk lady who ticked them off her list and glanced at our passports. We were then handed a coloured ticket each.
Were we entering a raffle?
Nope, these were our boarding passes. All we had to do was make sure we got on the right plane when our colour was called out. Simple.
It was a wonderfully casual affair, and felt more like waiting at a bus stop than an airport!
A motley collection of Air Kenya aircraft was lined up on the tarmac outside, and we were left to wonder which one was our ride north to the Samburu National Reserve. Secretly I was hoping it would be the robust looking DeHavilland Dash. The largest plane in the fleet, it seats up to 50 passengers and even has a flight attendant. Hubbie was eyeing up the Flying Doctor helicopters. We'd signed up as temporary Flying Doctor members through our safari agents, something everyone spending time out in the bush should consider. It's an awful long way to the hospital without it!
Okay, now for the planes…
AIRCRAFT: Air Kenya DeHavilland Twin Otter
ROUTE: Nairobi Wilson – Kalama (Samburu) and also Mara North – Nairobi Wilson
Of course we weren't on the big plane.
Our ride turned out to be the DeHavilland Twin Otter – the second smallest in the fleet! Gulp. It was actually a pretty nifty little number, with 18 seats and 2 pilots.
Inside it was cosy yet comfortable. The seat configuration is 1-2, and you can sit wherever you like as there are no allocations prior to boarding. Pick a pew that lines up with a window (preferably one that isn't too dirty), and for the best views, choose one near the front or back of the cabin so you aren't admiring the propellers instead of the plains.
Or if you're lucky like us on some occasions, you might have the entire cabin to yourselves! We travelled outside of peak season (it's not all about the Wildebeest migration after all), and on several legs of our journeys with Air Kenya we found ourselves to be the only passengers. Our own private flights for the price of just 2 tickets.
Now that's what we call travelling in style!
We loved that the briefing involved the captain simply looking over his shoulder to say hi, ask us to fasten our seat belts, and hand out a plastic tupperware box of mints. The in-flight drinks service involved Hubbie scampering around handing out bottles of water from the stash at the back of the cabin.
It was fun sitting at the front and being able to watch progress through the windscreen, as well as admiring all the dashboard instruments and seeing what the pilots did with them all!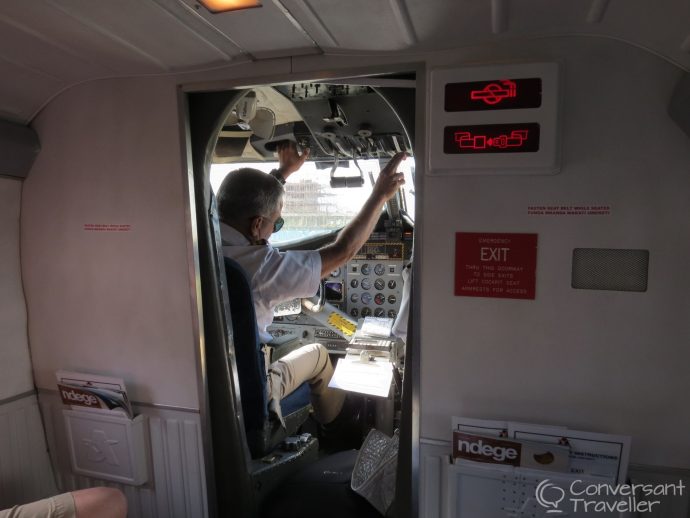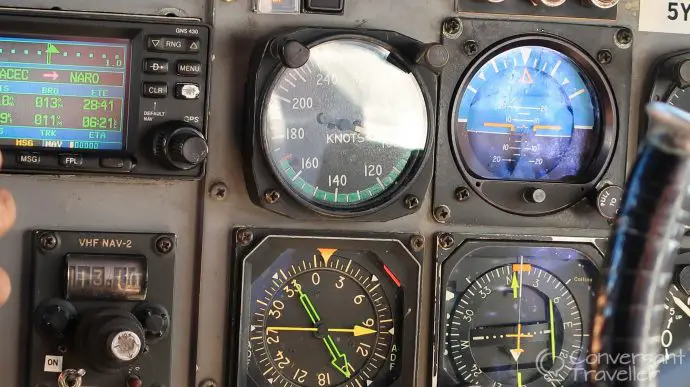 When you book a flight with Air Kenya you probably won't realise that the aircraft will likely be making several stops at other remote landing strips enroute to your destination. So don't be overly keen and disembark too early! Don't worry, the pilots call out the guest names at each stop so you won't be stranded in the middle of the African plains. This means passengers (on the occasions we did have company) were constantly changing, as some were dropped off and others picked up.
There was a sense of camaraderie and excitement amongst fellow passengers on the flight from Nairobi Wilson. Some had clearly raided the safari shop and proudly sported khaki gilets with a pocket for every day of the week. Others wore sparkly Converse trainers and thought shell suits were coming back into fashion. Maybe they are. Yet despite the differences in wardrobe, everyone's mission was the same.
We were all heading off on an African bush adventure.
AIRCRAFT: Air Kenya Cessna Caravan
ROUTE: Kalama (Samburu) – Mara North Conservancy
This was definitely my favourite plane. Something to do with the luxurious seats and the feeling of exclusivity whilst we were on board (once again, on some of the legs it was just us and the pilots!).
Again, the seats are configured 1-2, and with no prior seat allocations you can choose where to sit. They were very soft and comfortable, and the seat belts were more like something you'd find in a car, with a shoulder strap as well as a lap strap.
Possibly an indication that the ride wouldn't be as smooth due to the size of the aircraft!
The Air Kenya flights are like buses. The only difference being that they fly, and are way cooler!
I thought that landing on dirt airstips would be a bit of a hair raising experience, but after a few, I realised there was nothing to worry about. These guys and gals do this multiple times every day. Sure, it's a little bumpier than what we're used to, but you know what? It was fun! And we never felt unsafe.
At some airstrips the plane would be refuelled. This involved a fuel truck, some long hoses, and about half an hour of down time. On these occasions we'd get off the plane to sit in the shade and chat with the armed guards whose job it was to keep animals off the dirt runway.
There were baboons, wildebeest and zebra around whilst we were there, the safari had already begun.
The smaller the plane, the more bumpy the ride, and in the Air Kenya Cessna Caravan even light zephyrs sometimes felt like hurricanes, but it didn't matter. For some reason it felt far safer than flying on the big international jets, maybe because the ground was a lot closer and I was distracted by the wildlife.
With views like this we couldn't complain.
The Airstrips
We landed at lots of airstrips on our circular route from Nairobi – Samburu – Masai Mara – Nairobi, including Lewa and Meru. Many were simple strips of red earth, whilst others had rudimentary toilets and even 'gift shops'.
Our favourite was definitely Kalama, where we alighted for our adventures with Saruni Samburu. The community has built a shaded waiting room (the only one we saw during the entire trip), as well as a toilet block consisting of 2 long drops, one for men and one for women.
Tips for travelling with Air Kenya
Passengers should arrive an hour before domestic flights from Nairobi Wilson Airport. Timings are more casual in the bush, but we tended to arrive about 40 minutes before, because the flight schedule is more like guidelines than a hard and fast timetable!
Baggage allowance is strictly 15 kg per person, including hand luggage, and must be a 'squashable' holdall style rather than a suitcase.
You can take your small hand luggage items into the cabin.
Flight times do change, depending on passenger numbers and destinations. So be a little flexible in your onward plans.
Seats are a lot narrower than on standard international flights, so generously proportioned passengers might want to consider purchasing 2 seats during peak season when the cabins might be full. Although there are single seats down one side of the cabin so if you board first so you can bag one of these.
Seatbelts are really long compared to those on standard international flights, on both the Twin Otter and the Cessna Caravan.
The best seats for taking photos are right at the front or right at the back, where the propellers and wings don't obscure your view.
Legroom was often better at the back beside the door.
Keep a sunhat handy in case you have to disembark on the airstrip to refuel. Not all of them have shade.
Some of the airstrips have rudimentary toilets. You'll need your own paper, and a bit of anti-bacterial hand gel won't go amiss.
Many safari operators will sign you up for Flying Doctor membership as part of your package, but do check this with them.
Found this post useful? Why not pin it for later…