This post was originally written in 2018 and updated in 2021.
Kenya is one of our favourite African holiday destinations, with world-class safaris, friendly welcomes wherever you go, and enough sun to keep even us Brits happy. If you're thinking of heading there yourself, there are few things to need to know before you go…
E-Visas
UK nationals (and many others) are required to have a visa in order to be able to enter Kenya. Whilst it is possible to get a visa on arrival in Kenya, it really doesn't make sense to leave it until then, unless you like spending the first part of your holiday standing in a queue. It's a much better idea to get your Kenya visa online before you travel, which is what we've done for our trips. So much more convenient, and there's nothing quite like that smug feeling when you breeze through the checks at the airport. They usually only take a day or two to arrive, and there's no paperwork to fill in as it's all done online. Definitely the best way to start your holiday off on the right foot.
Packing limit on bush planes
You've just been rewarded with an upgrade to business class on your international flight, but when you've finished celebrating about all the extra baggage you can now bring, just remember that if you're flying between bush camps, those planes are tiny. With luggage weight restrictions to match! Generally it's a mere 15 kg per person, which if you're anything like us with considerable amounts of camera gear, will only leave you enough room for a couple of pairs of clean pants, and little else. You have been warned. Before you fly, get to grips with some savvy packing tricks to make the most of your luggage space.
READ MORE: What it's really like flying on Kenya bush planes
Malaria
Malaria is something you don't mess around with, so make sure you seek professional medical advice about the current risk of malaria in the areas you will be visiting, to determine whether or not you need to take anti-malarial tablets. But don't panic. Malaria is far less prevalent than it once was, and as each year goes by the big scary red patches on the map shrink even more. Whether or not you decide you need anti-malarials, it's always a good idea to keep covered up at dawn and dusk, and take some anti-mozzie spray if you wish. Citronella-based sprays are far more friendly to the environment so perhaps consider those rather than the good old deet products.
It's not always hot
In fact sometimes it's flipping freezing. If you're on safari the first game drive of the day will begin very early (so early in fact that the stars will still be twinkling and you'll seriously be considering staying in bed rather than having the experience of a lifetime), whilst the final game drive will often trundle home in the dark. Hopefully to a roaring campfire and steaming mugs of something strong enough to get you warmed up. Sure, during the day it's definitely shorts, t-shirts and sun cream kinda weather, but for these colder parts of the day, you'll be wrapped up in fleeces, blankets, and maybe even cuddling a hot water bottle out in the jeeps, whilst wishing you'd brought hat and gloves.
A few words of the local lingo go a long way
The official languages of Kenya are English and Swahili, and since it's always a good idea to have a few local words or phrases up your sleeve, here are a few common ones to get you started:
Jambo – Hello/How are you (you'll hear this a lot).
Asante Sana – Thank you very much
Tafadhali – Please
Pole Pole – Slowly, slowly. (This is Africa after all)
Karibu – Welcome
Choosing the right safari for you
You might think that a safari holiday to Kenya is expensive, but actually, it's more affordable than you may realise. Don't forget that the cost generally includes everything from your accommodation and food to game drives and other bush activities, and sometimes internal flights too. So you rarely have to spend a penny whilst you're actually out there, and if you're wondering how much does it cost to go on safari remember that there's no single answer. There are accommodation options available to suit pretty much all budgets, from group trips in tented camps to private safaris at high end lodges.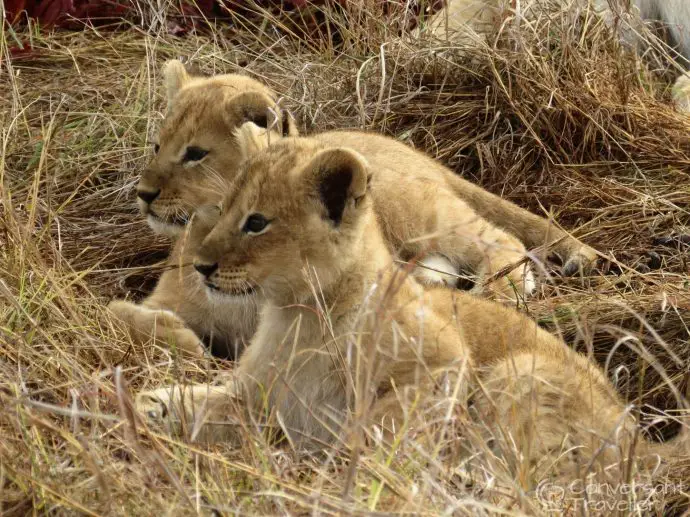 Tipping in Kenya
Ah, the dreaded tipping dilemma. We all face it when we travel abroad, and usually come away not really knowing if we've been stingy, or sent the recipient laughing all the way to the bank. And it really annoys me when people just tell you to 'give what you think it was worth to you'. Not helpful. So here are some of the 'tips' we've picked up during our travels around Kenya:
Taxi drivers – no need to tip (unless they've done something exceptional)
Restaurants – 10% service charge is usually added automatically to the bill
Safari guides/drivers – a tip is expected at the end of your visit, we suggest KSH 3500 ($35) per vehicle per day
Safari camp staff – tip KSH 200 ($2) per person per day
Hotel porters – tip KSH 100 ($1) in higher class hotels
Carry some ID at all times
Visitors are required to carry some form of ID with them at all times. According to the Foreign Office at time of writing, a photocopy of your passport is usually sufficient, but recently some officers have been reported to ask to see the original document.
Do you have any more top tips for travelling to Kenya that we've missed off our list? Let us know in the comments…