This post contains affiliate links which means I may make a small commission at absolutely no extra cost to you. Thanks for reading. You can read our full disclosure policy here.
---
Art has never been my strong point. I was once thrown out of a GCSE class for sketching Donald Duck in a sailor outfit. We were supposed to be drawing fruit! Yawn. I've also failed on the home front when it comes to painting. Being an impatient type I didn't wait long enough for the emulsion to dry before liberally applying a second coat to our bedroom wall. An unamused hubbie had to sand down the entire room and start again, and banned me from all further decorating.
Which suited me fine.
I've always preferred being artistic with words rather than images, yet last week I found myself picking up the paintbrush again. This time however I was huddled over a newspaper strewn bench in an intimate workshop to try my hand at mask painting in Venice.
I was going to be painting some traditional Venetian masquerade masks. And no-one was going to stop me.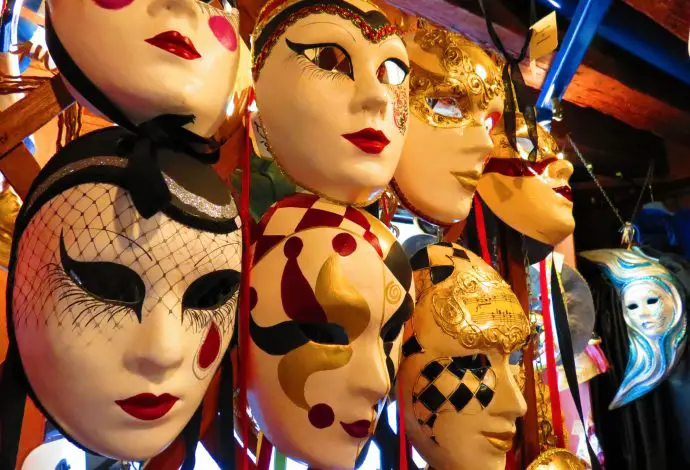 Venetian masquerade masks – the pride of Venice
Historically used to conceal identities and therefore social status, Venetian masquerade masks were traditionally a symbol of freedom and culture, used in everyday life as well as during Carnival. Today you'll only see them being worn during celebrations and festivals, but the streets of Venice remain lined with flamboyant, shiny, and sometimes garish creations for the tourists.
One of our top tips for visiting Venice is to remember that all that glitters is not necessarily gold. Whilst they might look the part, many of the Venetian masquerade masks cluttering the alleys of San Marco are cheap imitations of the real deal. Most are mass produced and some not even made in Italy. The cheek.
Explore a little deeper however and you'll soon stumble upon something rather more authentic. Peter Pan Masks is one such place.
Peter Pan Masks
Tucked away in the heart of the Santa Croce district, Peter Pan Masks is the place to go for traditional paper-mache Venetian masquerade masks. Once part of the covered walkway belonging to the church Santa Maria Mater Domini, the 17th Century workshop is humble yet dazzling.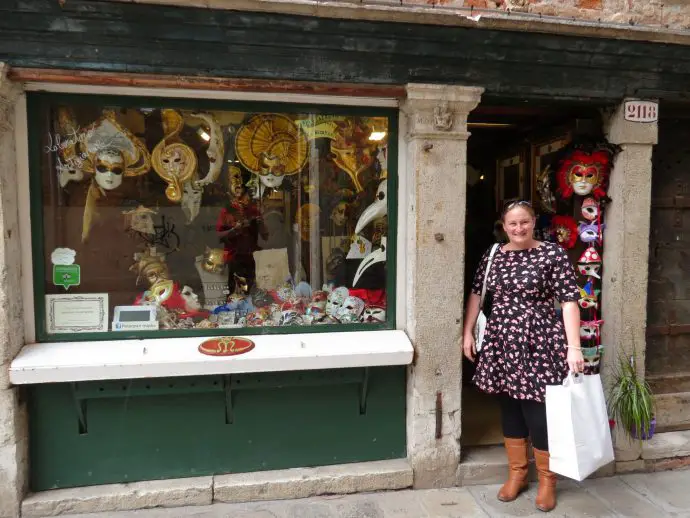 Every inch of the tiny interior is covered with the cheerfully unique creations of the Franceschini sisters, who in 1996 made it their mission to keep alive the ancient tradition of the Venetian mascherieri (mask-makers). They make excellent souvenirs from Italy, and even better, you can have a go at making one yourself.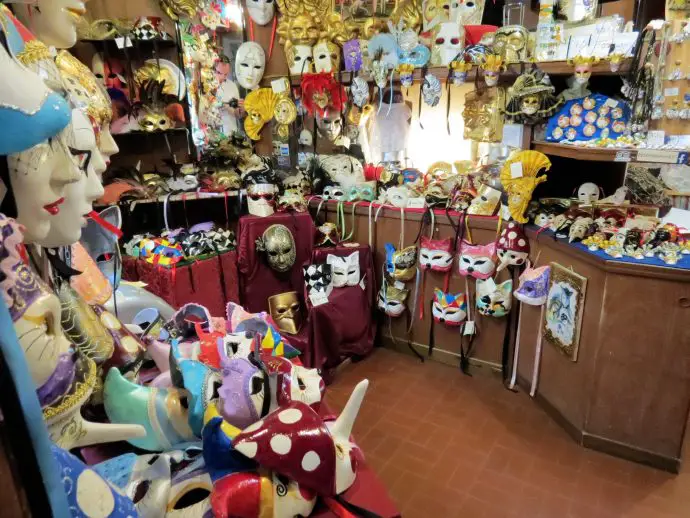 I first read about Venetian masquerade mask painting over on Dream Discover Italia and was immediately intrigued. Not being a fan of sparkles, Hubbie opted out, but we were travelling with mum so I decided a girls afternoon was just the ticket.
The lovely Valentina made us feel right at home the moment we stepped through the door, and with such infectious enthusiasm and laughter we all spent a happy afternoon grinning like Cheshire cats.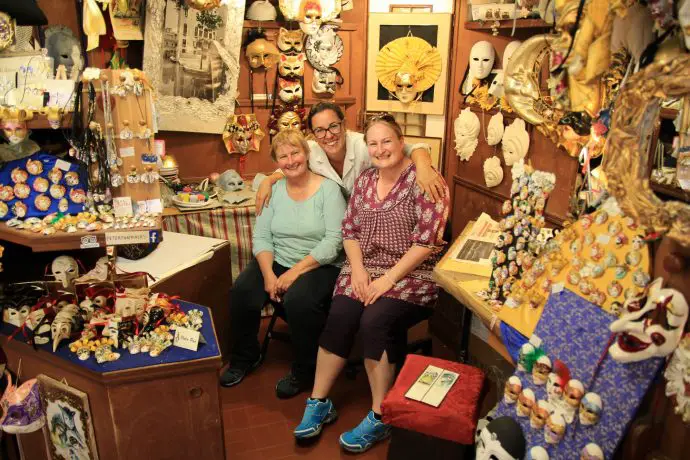 Valentina showed us how she and her sisters make the traditional Venetian masquerade masks, using the centuries old method of paper-mache. First the face model is shaped in clay, before being used to make a negative mould in plaster. This is then painstakingly filled with several thin layers of absorbent paper and glue to form the mask itself. It is then painted white and ready to transform from a caterpillar to a butterfly. Or a columbine. Or a cat. Or whatever floats your boat.
This all takes a rather long time. Luckily there were several ready-to-paint masks for us to choose from so that we could get down to the business of colour and glitter straight away.
Unless like me, you suddenly feel like a rabbit in headlights, staring at a blank canvas and thinking you should really have come prepared with some design ideas already in your head. Italians are renowned for their passion, and that certainly shone through in all the creations at Peter Pan Masks. I'm British however, and passion isn't high on our list of top traits. We're good at things like queueing, being polite and maintaining a stiff upper lip. Nowhere in our genetic make-up does 'designer' make an appearance.
Sigh.
Whilst mum quickly found a pretty turquoise full face mask she wanted to emulate (damn, wish I'd seen that first!), I eventually chose a Casanova, or Bauta mask, typically used to express comedy. Which was surely appropriate for my attempts!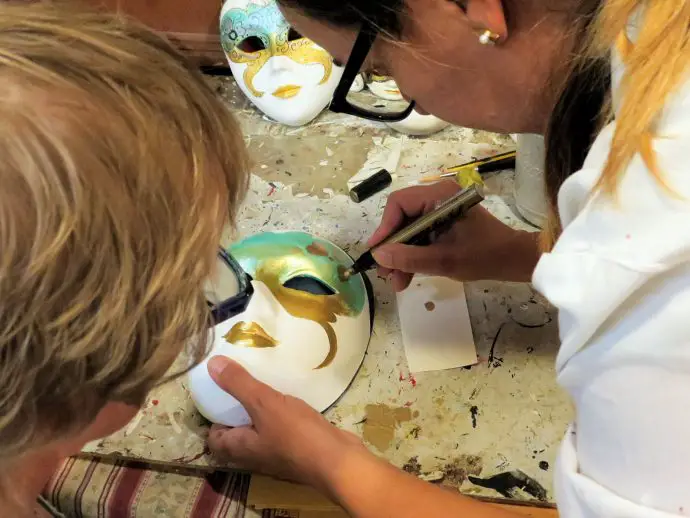 The first decision made, I sat at my workstation and gazed around desperately for creative inspiration. Fortunately Valentina came to my rescue and made some suggestions in pencil. She's clearly done it before. Apparently asymmetry works well with the Casanova Venetian masquerade masks, and I soon had my design sketched out.
Then it was a question of colour. Being practical rather than artistic, I chose red and gold to match our studio room at home. Affectionately known as the 'armoury music room' due to it's motley collection of classical instruments and tribal weapons from around the world.
Seemed as good a reason as any.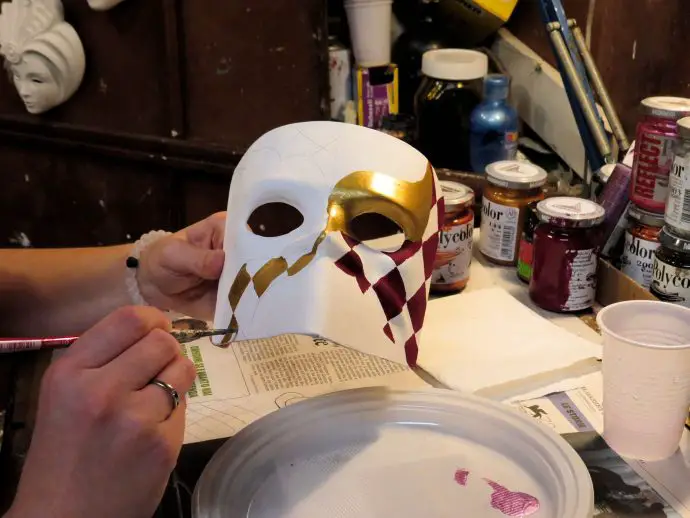 Despite my artistic failings, I loved the fact that every true Venetian masquerade mask is different. Unique art doesn't have to cost a fortune or be found only in an art gallery! I'm a fan of anonymity too (the irony of being a blogger is not lost on me!) and being able to express myself through art on something designed to hide the face was right up my street.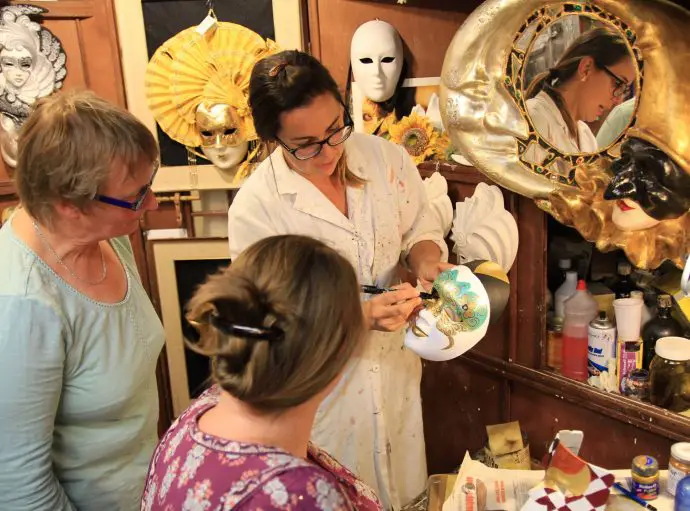 I felt honoured that Valentina allowed me to use gold leaf on my Casanova, and was thankful we didn't have more time otherwise I'd have become carried away and plastered it with feathers, jewels and all sorts of over the top embellishments.
Less is nearly always more.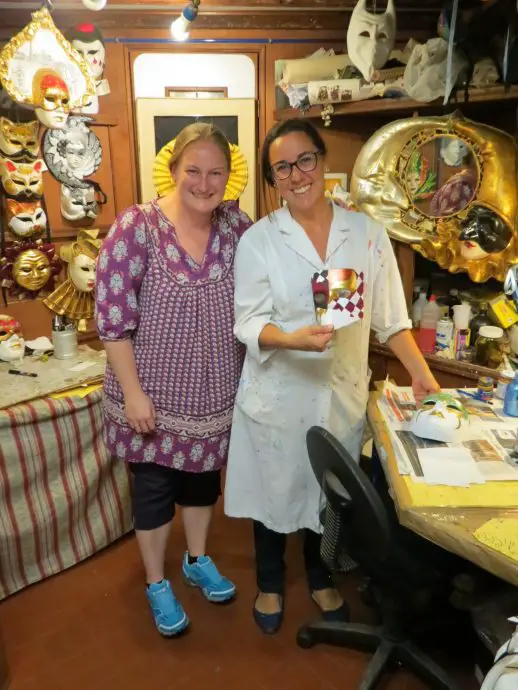 By the end of the workshop I was really rather pleased with my efforts, and couldn't possibly admit to still being slightly jealous of mum's Venetian masquerade mask design. Now that would look good in our sea-themed spare room!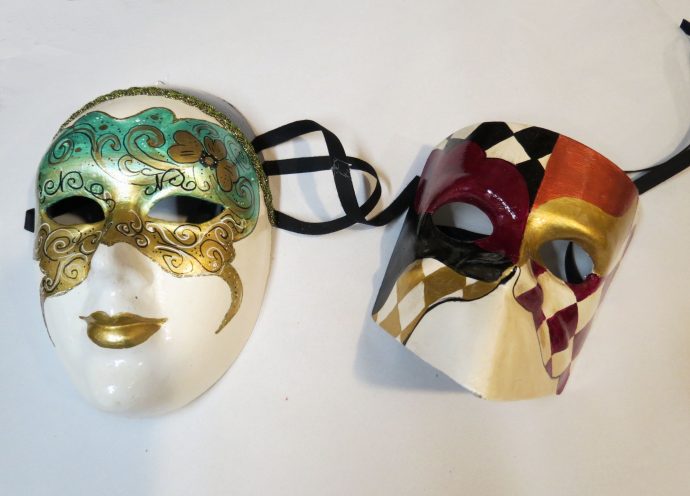 We left the masks with Valentina overnight for waxing and polishing, and when we returned the next day they truly looked fabulous! Mainly because we had such a good (and patient) teacher.
At my last masked ball (yeah, I know how to live!) I wore a cheap and tacky black feathery thing that covered my eyes and tickled my ear. Next time I shall be sporting my Casanova (it's not just a mask for men!) and will most definitely be the belle of the ball.
Just have to persuade Hubbie I need a dress to match…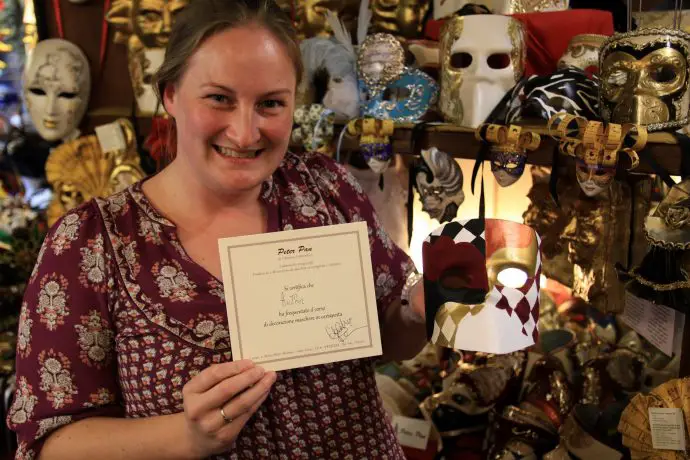 Tips
Courses cost €35 per person and are for adults as well as children.
There's only room for a maximum of 2 people per course.
All Venetian masquerade masks workshops are private and last about an hour, although we were there about an hour and a half and could have easily spent all afternoon there!
To book, email the sisters at [email protected] or call (+39) 041 716420
Where to stay in Venice
There are so many options for accommodation in Venice, from opulent palaces with private jetties, to cosy and traditional guesthouses tucked away in romantic little squares. There's something to suit every budget, although we do recommend trying to get a room with a view of the water! Nothing quite beats the romance of a room with a Venice canal view!
Found this post useful? Why not pin it for later…