We think it's safe to say that the typically short British summer has finally arrived. For a change the Lake District (have we mentioned we live in one the most beautiful parts of England?) is bathed in this strange thing called "sunlight" that brings warmth, blue skies and an invitation to get out adventuring, whether that be into the hills, onto the water or exploring the extensive and colourful history of the area.
This time of year also brings about new season clothing, and we're happy to once again be working with the fantastic folks at Columbia Sportswear as they release their spring/summer range of clothing. Following on from their winter range which we reviewed last year, we have chosen items that we think are ideal not only for the English spring/summer/autumn periods, but also would not be out of place on our travels.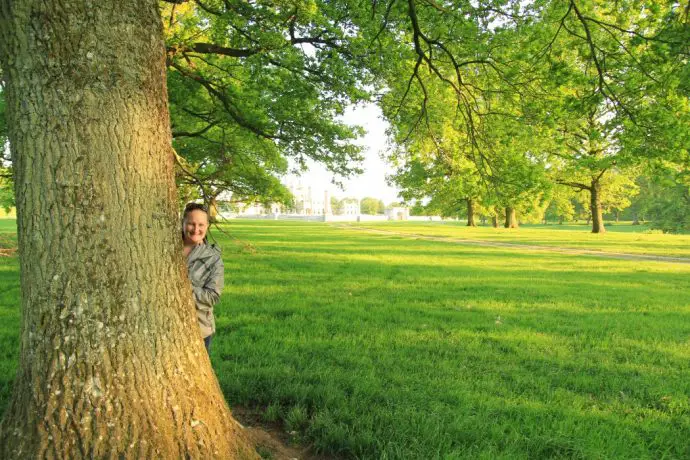 Here are some of our favourites:
MY (PETE'S) CLOTHING VERDICT:
Men's Alpine Traverse™ Jacket
Whilst the days can be sweltering hot (it does happen here occasionally), the mornings and evenings can still be fresh. The recent bank holiday weather was glorious, but the grass and car still had dew on them first thing in the morning (indicating a cool clear night!). So, whilst it may only be a short time until the temperatures soar, the mornings can still have a chill in the air. You certainly don't want to be layering up with thermal base, mid and outer layers, you just want a jacket you can sling on over the t-shirt until the sun hits you.
Part of the award-winning Titanium ultimate performance range and new for this season, the Alpine Traverse ™ Jacket is ideal for those chilly starts and mid-season hikes.
Features:
Comfort Stretch
Water resistant fabric
Polartec® Alpha® Active Insulation
Two zipped hand pockets
Drop Tail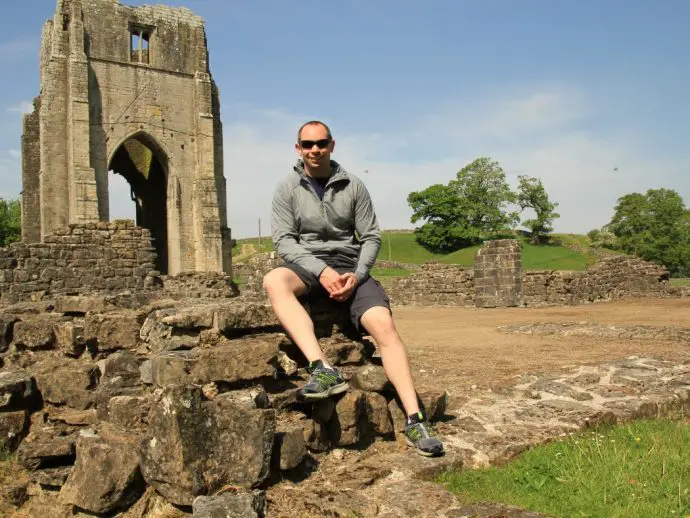 Out and About:
Pulling the jacket on I noticed two things almost immediately. It's lightweight (approximately 360 g according to our kitchen scales for a size large) and very warm. The Polartec® Alpha® with its active insulation is using new technology to regulate the body temperature, originally designed to meet the demands of the U.S. Special Forces! What this means is that you end up with a garment that has great breathability, is lightweight, warm, and packable, which is so important for our travels.
Heading out early on a late spring morning I felt the benefits of the insulation against the chill in the air. Unlike some jackets that rely on body movement to get that initial heat trapped, the technology used in this jacket will keep body temperature regulated with minimum effort.
A light-to-mid weight insulated jacket needs to be a good fit, and I can't fault the active fit of the Alpine Traverse™ Jacket. A close enough fit to help protect and regulate temperature, yet not movement restrictive in the slightest.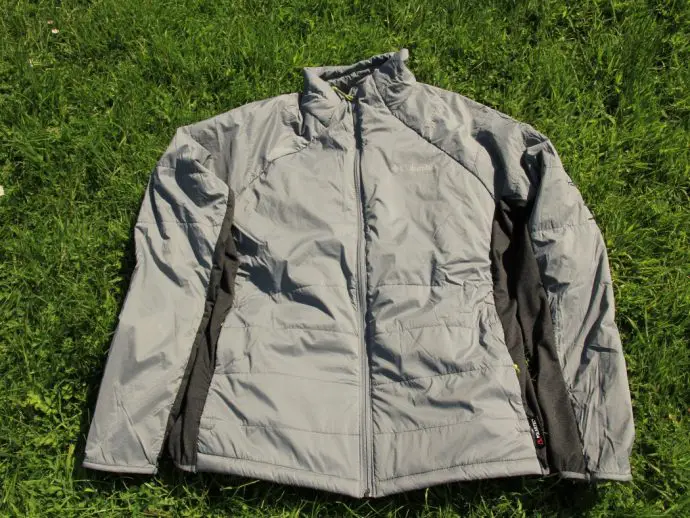 Verdict
I like this jacket a lot and I can see this becoming my "go to jacket" for numerous occasions, whether that be nipping to the shops, going out on safari (it really is cold on those early morning game drives) or slipping it on as soon as I crawl out of the sleeping bag on one of our numerous wild camps. The joy of the jacket is that it can be scrunched up and shoved down into a rucksack without really feeling the weight.
Whilst the technology behind the jacket is far from simple, I like the fact that the actual design has been kept, well, simple! The two zipped pockets are all you need really on a jacket like this, any more and it's just providing more opportunity for the wind and chill to creep their way in.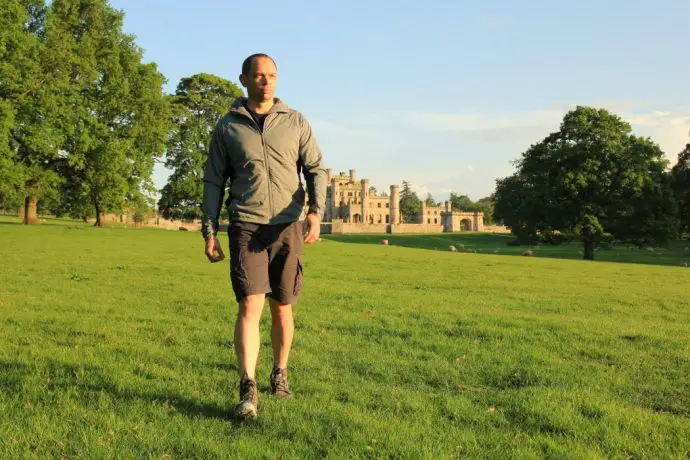 Men's Camden Chukka Boot
I struggle with shoes. Not with regards to wearing them (I've just about mastered that) but trying to work out which shoes to take on our travels. I usually take shoes that are great for walking through jungles, exploring a Moroccan oasis on quad bike or breakfasting on an African savannah. Which is great until I get told we are heading out for an evening meal and to get dressed up "nice". Or that we're having a cultural day visiting ancient ruins, and the shoes I have don't really cut it. But I think I've now found the answer to my problem thanks to the Columbia Camden Chukka Boots which are described as a "versatile Travel boot for those urban and outdoor adventures".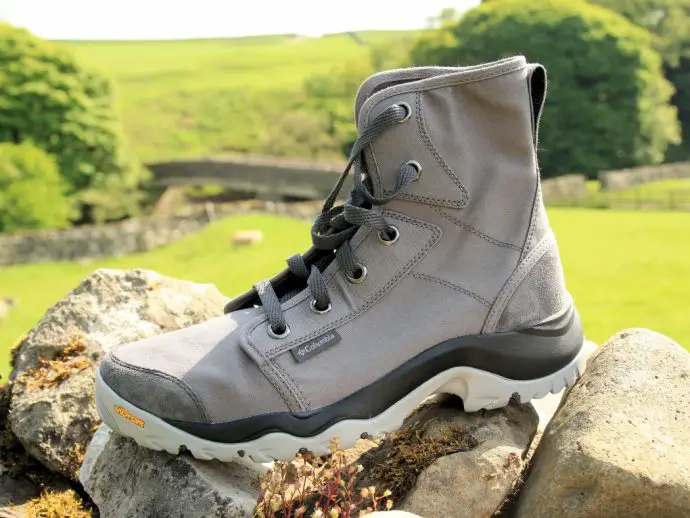 Features:
Soft canvas upper
Metal eyelets
Suede toe cup and heel counter
Vibram™ XS TREK outsole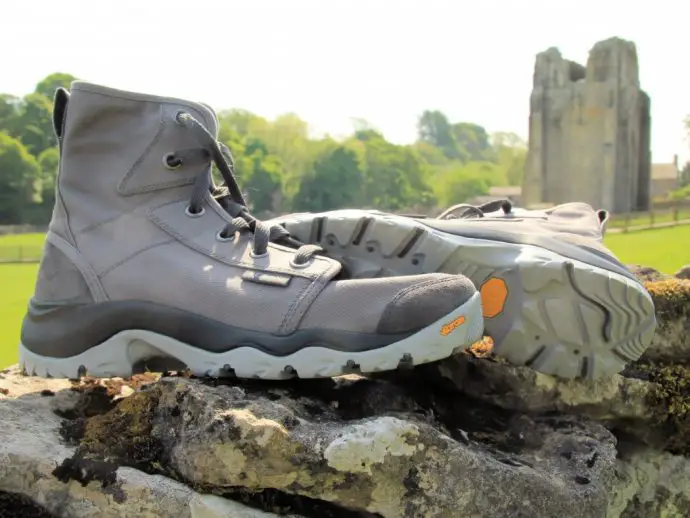 Out and About
I've never really considered a boot like this, it's usually been hiking boots or active/adventure style shoes for me. So it was with some hesitancy that I opted to try out these boots. On seeing them online I did instantly think about city adventures and climbing in and out of safari trucks as well as that they'd be suitable for those meals out (when her Ladyship gets her way!), so it seemed foolish not give them a go. I'm glad that I did.
The boot sizing was spot on for me, with a nice comfortable fit that kept the boot snug on my foot without any pinching but still had room for the foot to expand as the day wore on.
The Vibram™ XS TREK outsole provides the optimal balance of traction and durability which gives the wearer confidence when moving over unpredictable and changing terrain. Oh, and they were really comfy to wear!  At times I had completely forgotten that I was wearing a boot, due to what I was wearing being more akin to a multi-activity shoe. And only weighing 100 grams more (per boot) than my usual shoes, it did not feel that I was clumping around in boots.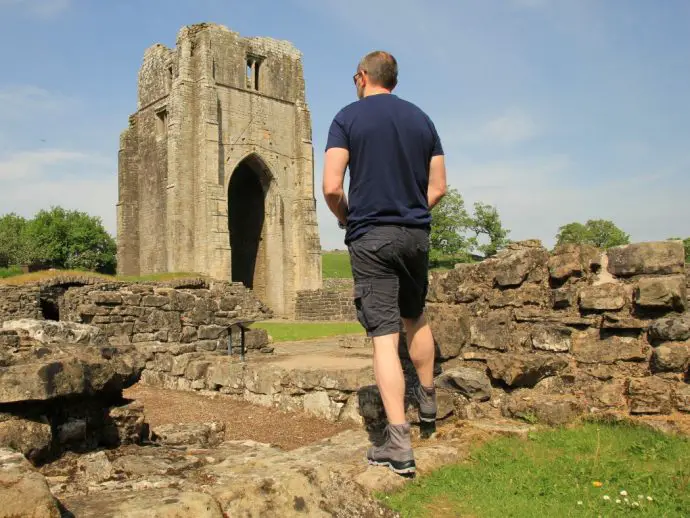 Verdict
Without doubt this boot is coming with me on our next trip away. Would I wear it on tough walking treks? Certainly not, but then the boot has not been designed for that. Yet it would not have been out of place when we walked through the foothills of the Sacred Valley mountains in Peru and would have provided my foot with all the support that it needed. It would have been equally at home (or on foot) when we went walking through the rugged semi-desert terrain of the Samburu National Reserve in Kenya's Rift Valley. And after both of those, the boots would have been equally suitable to wear at dinner! To be honest, I'm gutted I had not found the boot in time for those trips.
HEATHER'S CLOTHING VERDICT:
Outdry EX™ Caldorado Shell
Have you ever been in that situation where you need a lightweight waterproof that takes up very little room in the kit bag but still provides the features you want in terms of breathability, windproof-ness and of course being waterproof, rather than just 'shower' proof? Well, part of the Columbia Montrail range, the Outdry EX™ Caldorado Shell might just be the answer for you!
Ok, so it is described more as a top for "running local trails", but we can think of many an occasion when we have needed or would have appreciated a tough yet lightweight waterproof top, whether that be here in the UK, or travelling away from home.
Outdry™ Extreme is a first in the industry to have a tough waterproof membrane on the outside, with a soft wicking internal fabric. We've written about this technology on our previous Columbia review post if you're interested.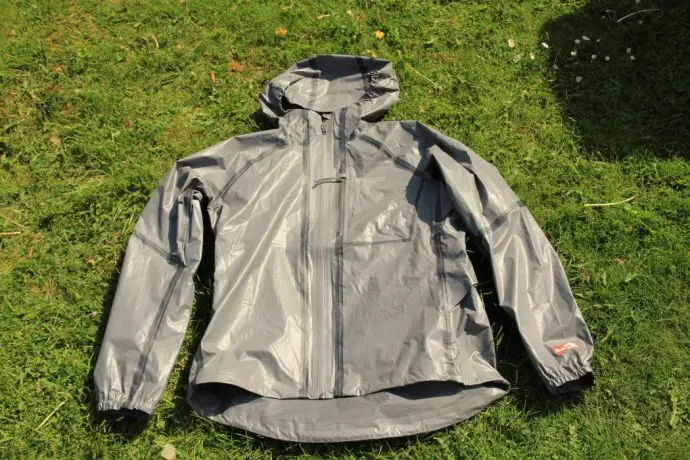 Features:
Outdry™ Extreme Membrane
Adjustable hood
Elastic cuffs and adjustable waist
Under arm side vents
Packs away into its own chest pocket
Out and About
Despite the unusual look and feel of the material (on first glance I thought 'bin bag'!), the style of this jacket is actually growing on me. It's been out with us on numerous excursions into the Lakes, and has proved a perfect companion to throw on when it gets cold in the mornings and evenings. Compared to other Columbia jackets I did find the sizing a little on the small size (although the sleeves were very long so you might not want to order a size up), but you get that sort of sizing anomaly with all clothing companies. I did love the side vents which worked well to allow fresh air movement and helped to regulate my body temperature whilst walking.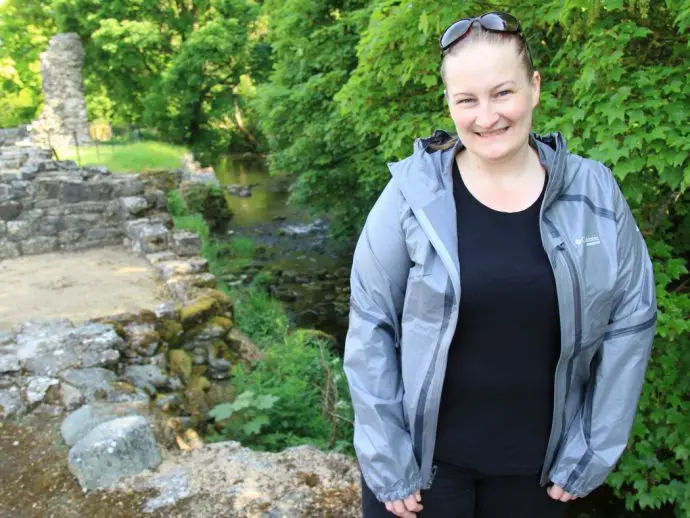 Verdict
The best thing about this jacket is that it's just so lightweight whilst being waterproof and breathable at the same time (there really isn't any point getting a jacket that isn't breathable!). It packs away really easily and will definitely be coming with me on our travels as something I can stuff into a bag and carry around without feeling like I'm lugging a coat along with me.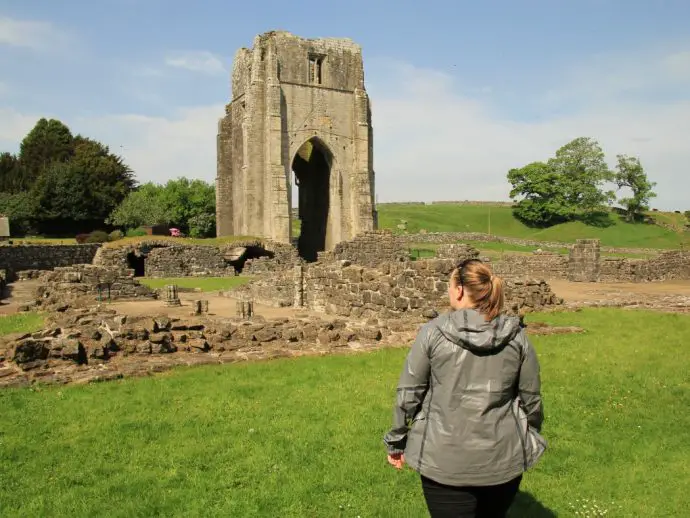 Woman's Mountain Masochist™ IV Shoe
Part of Columbia Sportwear's Montrail range, this "iconic mountain shoe is back with new state-of-the-art features". The upper now comes with abrasion-resistant mesh and 3D overlays for enhanced fit and support. A FluidFoam™ midsole provides enhanced impact absorption, flexibility whilst out on the trails whilst the FluidGuide™ technology provides the mid-foot area the natural support and stability it requires. Underfoot the combination of full length Gryponite™ and TrailShield™ gives the wearer "aggressive traction" and protection on a variety of surfaces including those that are wet.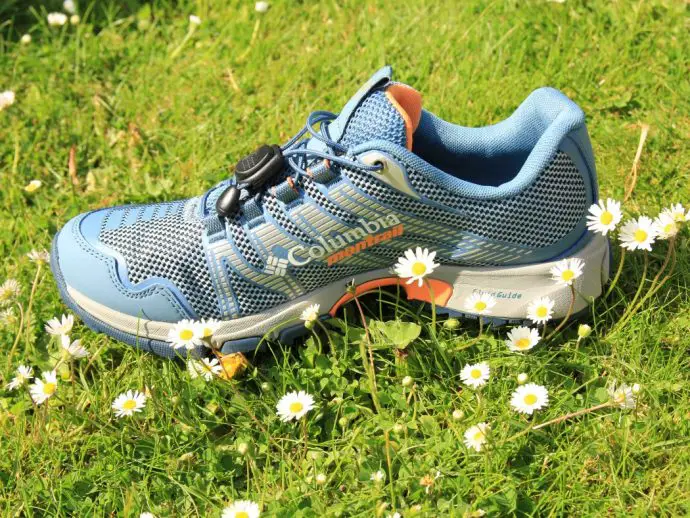 Features:
Abrasion resistant mesh
Increased fit and support
High-tech foam midsoles
Patented FluidGuide™ and FluidFoam technology
Speed lacing system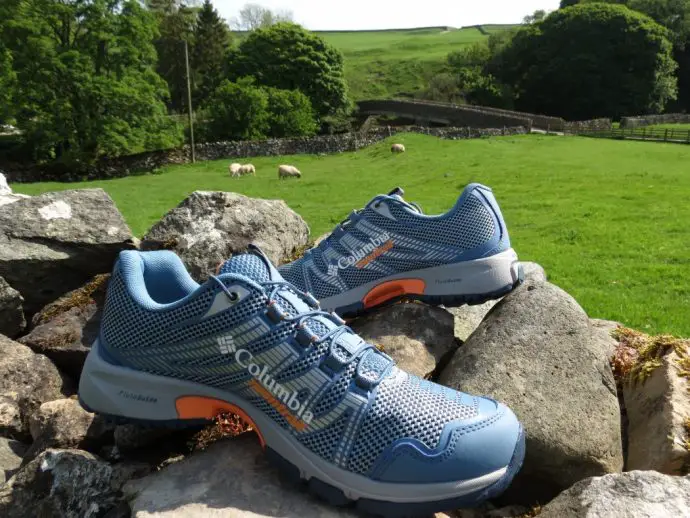 Out and About
Whilst the shoes are designed for mountain running, they do feel a bit too clumpy for this (not that I'd know what it's like to be a fell runner!), and far more suited to low level countryside hiking and urban exploring. Which is perfect for me. My feet didn't get sweaty even though I've been wearing them for hours at a time, and the grip was secure whilst I was scrambling over rocks so I was well protected.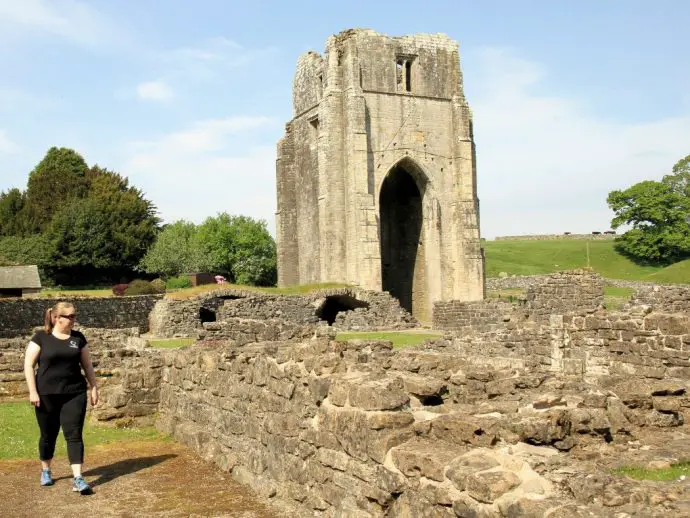 Verdict
I absolutely love these shoes, they're probably my favourite bit of Columbia gear to date! They're really comfy for walking and there's a lot of grip and cushioning which makes them great to wear all day long. I've been using them on our strolls around the Lakes, as well as around town, and they look equally great with a pair of jeans or walking trousers. The colour is good too – so many trainers these days seem to be bright multiple colours that look fun but don't actually go with anything you're wearing. These are shades of blue and grey so go with pretty much anything!
The Giveaway
We've partnered with Columbia Sportswear to offer our readers the chance to win a Men's Alpine Traverse™ Jacket for themselves.
The giveaway is open to entrants worldwide.
How to enter
It couldn't be simpler. Just use the Gleam widget below to enter, completing as many of the options as you like. If you have previously completed any of the actions (for example if you already follow us on Facebook, Twitter etc) then feel free to have an entry for them!
IMPORTANT: Make sure you use the Gleam widget below to validate your entries.
NEWSLETTER SUBSCRIBERS: Please note that if you have previously subscribed to our newsletter you may now have been removed from the list in line with GDPR (if you didn't respond to our email), so you may need to resubscribe if you wish to use this as one of your entries (or indeed hear about future giveaways!).
Columbia Sportswear Men's Jacket Giveaway

Terms and conditions
No purchase is necessary to enter or win. A purchase will not increase your chances of winning. The prize is provided by Columbia Sportswear, and is a Men's Alpine Traverse™ Jacket.
This giveaway is open to a worldwide audience. Postage is included. No returns. The prize is not refundable or exchangeable for cash. The giveaway will run for 2 weeks starting on Monday 11th June 2018 and end at midnight on Monday 25th June 2018. The winner will be determined on or around the 26th June 2018 by a random drawing of eligible entries received. Your chances of winning are determined by the number of eligible entries. Winners must respond within a week of receiving the notification email, otherwise another winner will be chosen.
---
Columbia Sportswear have kindly provided the gear for this review, as well as the giveaway prize. All opinions remain our own, and we only feature products that we are happy to use ourselves.
Found this post useful? Why not pin it for later…