It isn't really our 4-year blogging anniversary, but for a few moments, let's just pretend. The event itself came and went last October without so much as a whiff of celebration, or even acknowledgement. Something to do with the fact we were enjoying ourselves in South America and had more important things to think about. Like drinking pisco sour, eyeing up sloths and trying to avoid the Pope. Plus we'd just moved house days before we went away (great timing as always) and have been super busy these past few months, nesting up here in the North Lakes. And arguing about colour schemes, wondering why two people have so much stuff, and warily contemplating the garden that is crying out for attention but isn't likely to receive it any time soon.
Changes behind the scenes
So we've been at this blogging thing for 4 (and, ahem, a big bit) years, and it's been quite a journey. Most notably this year has seen Hubbie take a more active role behind the scenes, something that has both relieved and terrified me at the same time. It's a difficult thing, relinquishing control of your baby – because that's what the blog is – and I wasn't sure that working so closely with each other would be good for either of us. I have my ways, and he has his ideas, and often the two don't collide. However I think we've found a system that works. He does his thing. I tweak it. Everyone is happy!
So as well as being chief photographer, Hubbie produces all our YouTube videos – if you haven't seen them, check them out – writes gear reviews and giveaways, and is even taking over some of our social media postings. We've got some pinterest training scheduled for this weekend, but seeing as he's managed to get out of it for the past few weeks I feel some bribery may be required.
Chocolate should do it.
My new job
One of the reasons Hubbie has been strong-armed into working more on the blog is because I've landed myself a new job, and need to fully concentrate on that for a while until I find my feet. I rarely talk about my day job as I like to keep my two 'lives' separate, but it's because of the blog that I'm moving on, so it feels appropriate to mention it here!
It was a super tough decision to leave my last job. I'd been there over 11 years, it was a fabulous place to work (a country estate with its own lake in the middle of nowhere and lots of free cake!) and my colleagues were like family. Yet I felt I was stagnating. There was zero opportunity for promotion or personal development, and I was unhappy with the direction in which the business was heading. I liked the easy life, but didn't want to still be there another decade down the road. I've always had ants in my pants, so when this new opportunity popped up it seemed like the stars were aligned. If you believe in that sort of rubbish.
As with my previous role this one is part-time so I can continue to work on CT, but unlike my old job, it's in the travel industry. Focusing on Africa. Whoop! I only started a few weeks ago so it's still new, terrifying and exciting, and I've yet to decide whether it was the right decision or not. I'll keep you posted on how it's going, and if you want a super-duper safari holiday, you know where to come!!
What we've been up to
The last year has been a departure from the norm for us travel-wise. Much as we adore Morocco and South East Asia, we felt it was time to do something a little different. Both in terms of landscape and culture. Which is how we ended up spending time with real-life warriors in Kenya, staying at colonial tea plantations in Sri Lanka, sleeping in a treehouse in the Amazon Rainforest, hiking an unknown part of the Inca Trail, being dazzled by gold in Colombia, and driving vintage cars in the Caribbean. The Amazon was a definite highlight, partly because it's been a dream of mine since I was 13, and even the bugs and the intolerable heat didn't deter us.
We've also been exploring closer to home, because as much as we love advocating travelling to far-flung corners of the world, there's a lot to see right here in the UK and we're often guilty of overlooking the gems right here on our doorstep. Our favourite adventures have been living the rural farm glamping dream down in Gloucestershire, cosying up in a renovated mill in the heart of the Yorkshire Dales, and lording it in our very own 500 year old peel tower up in the beautiful and uncrowded Scottish Borders. Some people never leave these shores, saying they'll do so when they've explored all the UK has to offer.
I'm starting to understand their reasoning.
The year ahead
We're feeling like bad travel bloggers right now, since we're not actually travelling much this summer, aside from a few UK weekend jaunts. Mainly because we have our new house to finish furnishing, and for the first time ever we're not prioritising travel over and above everything else. I guess we had to grow up some time! But don't worry, this is only a temporary hiatus. In October we're heading back to Morocco, to update our Marrakech guides, explore some new areas, and revisit some old haunts.
If there's anything you want to ask about Morocco, or would like us to find out, then just give us a shout.
The most amusing Google searches for Conversant Traveller this year
So now onto what you've all been waiting for (haven't you??). In true CT tradition, here are the top 10 most amusing Google searches that have brought people to the blog over the last year:
1. Banyan Tree turn down service gift turtle – I've been waiting for this search to happen for years! We first stayed in the gorgeous Banyan Tree hotel in Bangkok back in 2009, and the lovely chap who came to do turn down in the evening gave us a cute little turtle for the bathroom. It was filled with charcoal (to eat up any noxious odours apparently!) and we thought it was kinda fun and a bit different. The trouble was, we didn't know whether we were supposed to keep the turtle and bring it home, or leave it at the hotel (we're a bit more worldly wise when it comes to posh hotels these days!). Of course we took it, but it wasn't until we returned a few years later, and received a second turtle, that we finally understood they were ours to keep. So we have a growing collection of toilet turtles here at home. Looking forward to getting our next one!
2. Is the grass greener? – always!
3. Ladies of the night in Marrakech – a bit of a departure from the usual searches for seedy goings on in Tunisia that we seem to get, but still not a topic we've ever researched on our travels! We can however tell you pretty much everything else there is to know about the fabulous red city in northern Africa, including where to find luxury affordable riads and what it's like going camel trekking in the Sahara. Whilst we're on the subject, we also know nothing about "Honeymoon romantic shenanigans" or "Italy night lady forests".
4. Brazil lady in a bus with Kenyans – considering we never take buses and weren't keen on Brazil I've no idea what this is on about!
5. Can I sleep in the car? – sure, you go for it!
6. Insect makes a high pitched noise at night in ubud – now this story still makes me laugh at myself, whilst Hubbie rolls his eyes at my idiotic error. It's not often you mistake a reptile for a young lady in the throes of passion. Read the story here – have you ever had this happen to you? No, thought not.
7. DPRK traffic girls change behaviour – this will have been linking to our post on what it's really like to visit North Korea. Which we've just discovered has also been linked to by the BBC, which is kinda cool.
8. How old do you have to be to wash up at the North Star Cub? – nice try kiddo. But I like your style, so I'd say at least 45 years old! Incidentally, if you have to wash up, there are worse places to do it than the North Star Club, a romantic woodland retreat in the heart of Yorkshire.
9. I can't wait till I get to the wedding chapel to my lover girl at shadow lake camp – great, good for you. Just not sure we need to know about it.
10. Simple solution to stop wearing ballet shoes at school – you're asking the wrong person. I discovered that me and ballet weren't a good match when I was 8. My ballet teacher agreed. I do however know where you can get some great foldable ballet shoes that are perfect for travel, and that's right here.
A Giveaway with Reef
To celebrate our 4 years as travel bloggers, we've teamed up with the lovely folks at Reef to offer you the chance to win a pair of women's Reef Voyage flipflops for your hols.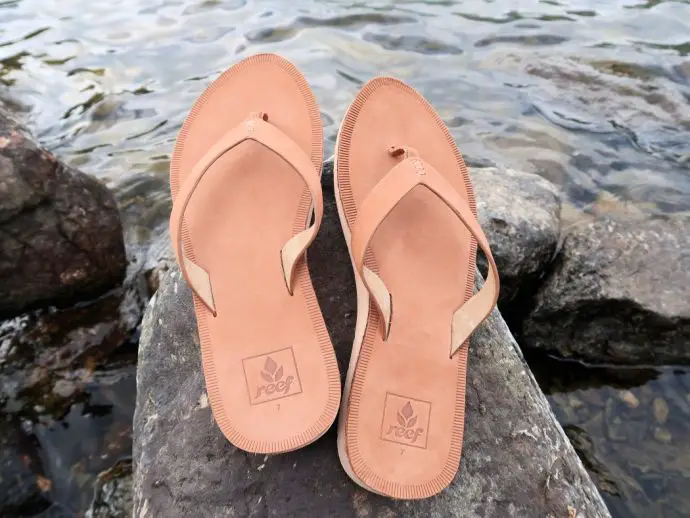 I've been trying out the Reef Voyage flipflops this summer here in the Lakes and they'll definitely be heading out to Morocco when we go in October. Not only are they stylish, but the cushioned soles make them really comfy, and they're waterproof too. Always handy for the beach! The leather is environmentally friendly and durable, as well as being soft enough to break in easily, which is great news and means you can just wear them out straight away. Definitely my new favourite pair of summer footwear!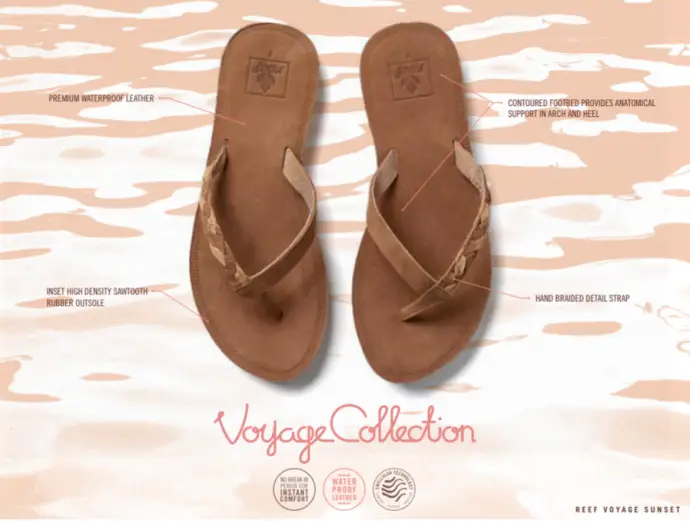 How to enter
It couldn't be simpler. Just use the Gleam widget below to enter, completing as many of the options as you like. If you have previously completed any of the actions (for example if you already follow us on Facebook, Twitter etc) then feel free to have an entry for them!
IMPORTANT: Make sure you use the Gleam widget below to validate your entries.
No purchase is necessary to enter or win. A purchase will not increase your chances of winning. The prize is provided by Reef and is a pair of women's Reef Voyage flip flops.
This giveaway is open to a worldwide audience. Postage is included. No returns. The prize is not refundable or exchangeable for cash. The giveaway will run for 2 weeks starting on Monday 2nd July 2018 and end at midnight on Monday 16th July 2018. The winner will be determined on or around the 17th July 2018 by a random drawing of eligible entries received. Your chances of winning are determined by the number of eligible entries. Winners must respond within a week of receiving the notification email, otherwise another winner will be chosen. The winner's email address will be passed to the giveaway sponsor in order to arrange delivery.
---
Reef have kindly provided us with a pair of Voyage Flip Flops, as well as the giveaway prize. All opinions remain our own, and we only feature products that we are happy to use ourselves.