We're going to let you in on a little secret. We think we've found the best place to stay in Curacao. Read on to see if you agree…
Hubbie and I stood hand in hand at the edge of the world, watching in silence as the sun dipped to kiss the ocean, bathing the darkness in burning orange. Palm trees rustled in the warm onshore breeze and a pelican flapped slowly by, tired after a long day of fishing. It looked like he had been successful. The lingering tropical heat was countered by glasses of iced Prosecco and slabs of juicy watermelon, and as candles flickered gently inside their lanterns we settled down to enjoy the evening.
We'd made it to the Caribbean.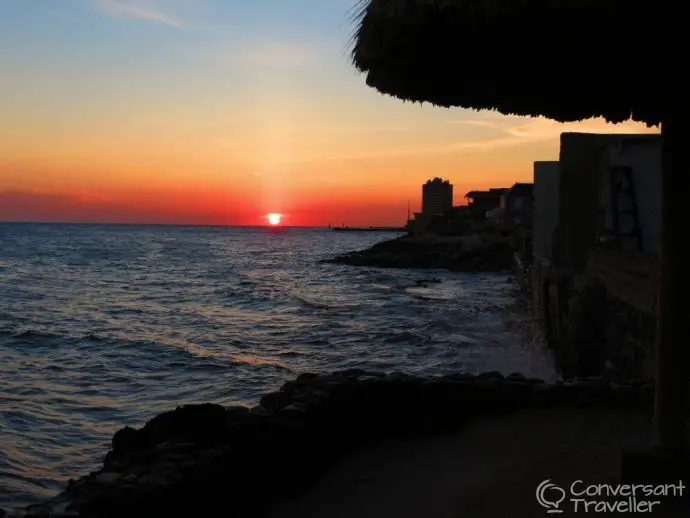 After a month of travelling around Peru and Colombia we felt we needed a holiday! Somewhere to relax, unwind and indulge for a few days before returning home to the chaos of our recent house move, and our day jobs. Logistically the Caribbean was ideal, yet the hurricane season was in full swing (Irma and Maria I'm looking at you) so visiting at this time of year didn't seem entirely sensible.
Then we came across Curacao.
A tiny island in the Lesser Antilles just off the coast of Venezuela, Curacao is famous for its golden beaches, rugged interior and a delicious blue liqueur made from oranges. Perhaps more importantly, Curacao is outside the hurricane belt, and has direct flights with KLM from Amsterdam. We were sold.
Not being fans of big resorts, we'd spent hours researching holiday rentals in Curacao, but none seemed to have the wow factor that we like to look for. Then we came across a photo of an infinity pool by the ocean and the rest, as they say, is history. Thus we found ourselves watching the sun set from PM78 Urban Oasis, our own private luxury apartment in the boutique district of Pietermaai in Willemstad. It didn't take us long to decide we'd found the best place to stay in Curacao.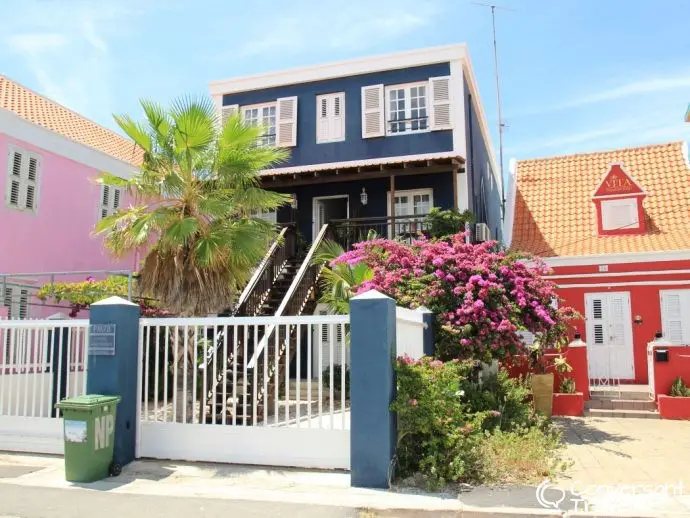 PM78 5* Ocean Front Oasis – the best place to stay in Curacao
If you're looking for holiday rentals in Curacao, then we highly recommend you check out PM78 Urban Oasis. There are 6 private retreats, ranging from stylish loft apartments to a beach house right on the sea. We chose the 5* Ocean Front Oasis, as it was perfect for the 2 of us, and had an exclusive pool overlooking the Caribbean Sea.
This was all ours…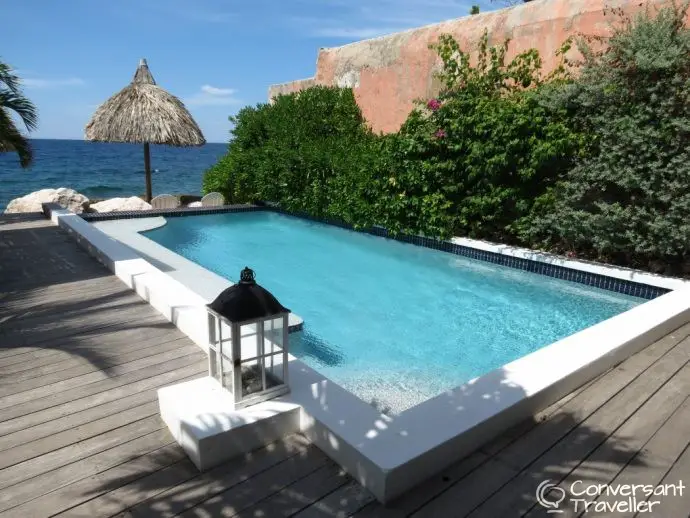 The Apartment
At the PM78 5* Ocean Front Oasis it's all about outdoor living, something made possible by the excellent Curacao weather. It was pretty warm during our stay (September is one of the hottest months), so we spent all of our time out on the BBQ terrace, in the pool, or down by the shore on the sun beds, watching the waves crashing below. Having an outdoor living space like this is a no brainer when you're looking for holiday rentals in Curacao!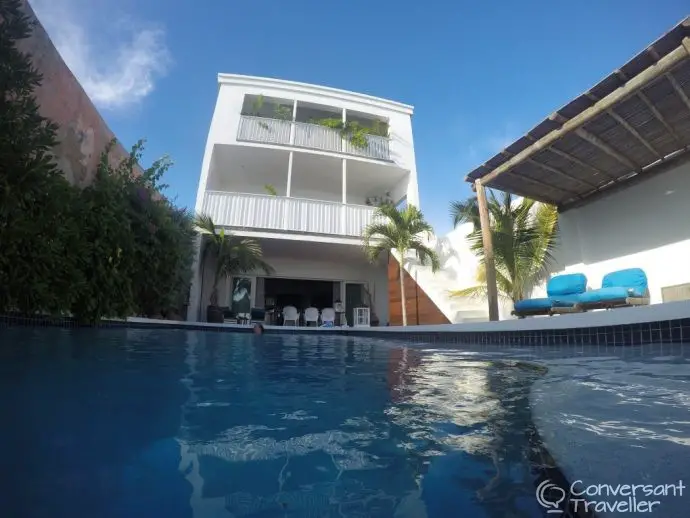 The PM78 apartments feel very secure, with alarm systems and a locked but unobtrusive boundary gate accessed only by guests. There is also a parking space (charged at $5 per day) behind the barrier so if you hire a car like we did, there is somewhere safe to leave it at night. Not that the neighbourhood feels at all dodgy. We felt perfectly safe wandering the streets late into the evening, but of course it never hurts to take precautions.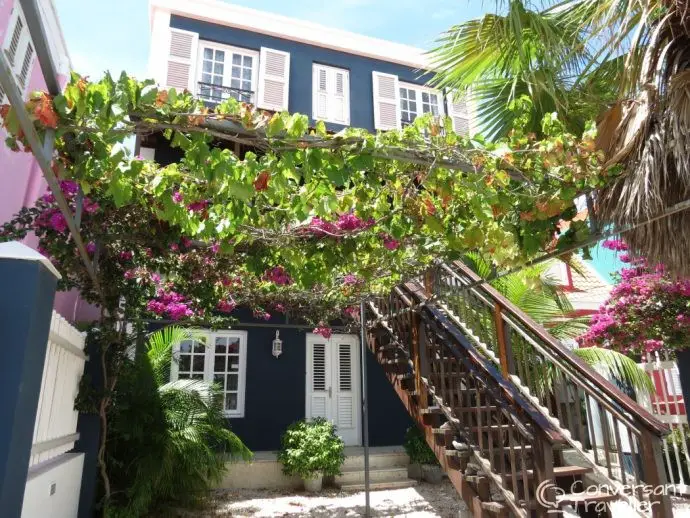 Inside there was heaps of space, with an open plan kitchen and living area, perfect for entertaining or just enjoying social evenings together. The furnishings were stylish yet comfortable, a combination that is often quite tricky to master, but master it they have! If we had spent much time indoors we would have had books, games and a music station to entertain us. It was very homely and somewhere we felt immediately relaxed.
Which of course is what a holiday is all about.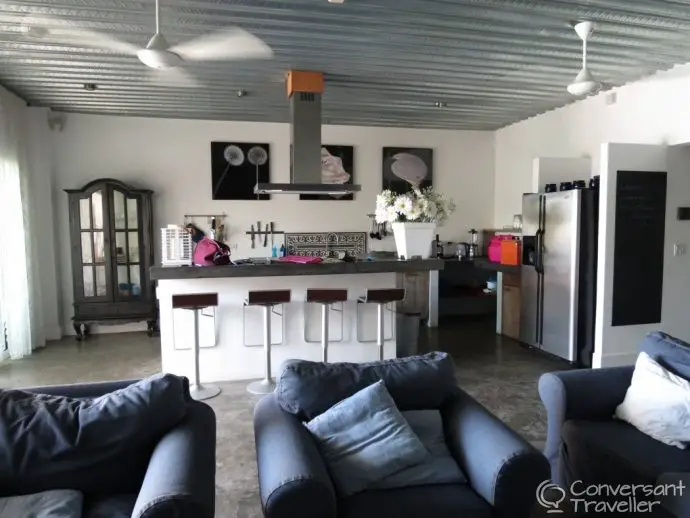 The professional kitchen was even better equipped than our own back home, and wouldn't have been out of place on some fancy cooking show. We tend to eat out when we're on holiday, so using the luxury coffee Nespresso machine and the amazing fridge-freezer which had it's own ice maker was about the extent of our culinary experimentation. However had we wanted smoothies, gourmet candlelit dinners or even just a grilled cheese, then it wouldn't have been a problem.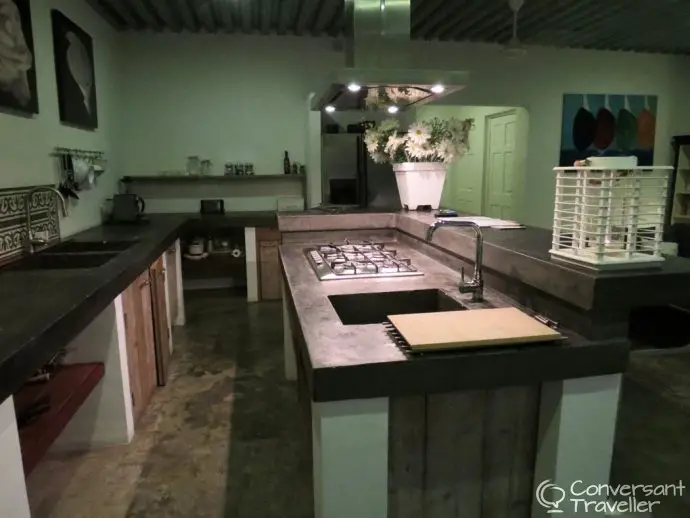 The 2 ensuite bedrooms were smaller and a little sparser, which was just right for hot country living. All we want in such places is a comfy bed, somewhere to hang clothes, and air conditioning, all of which were here at PM78.  A cool haven where we could retreat for a bit of respite from the ravages of the sun. The romantic canopy beds had mosquito nets, but the little blighters weren't particularly prevalent during our stay. A welcome change after our visit to the Amazon Rainforest!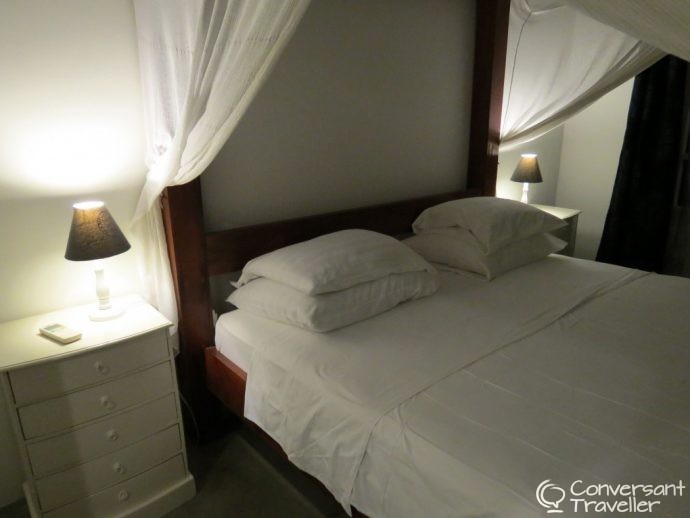 You know by now that I'm a sucker for a decent bathroom, so we were more than happy with our his 'n' hers sinks, large rain shower and mood lighting. The design throughout the apartment is spot on, and I'd be lying if I said we weren't taking home a few ideas for our own pad back home, which at the moment is a blank canvas. A little bit of the Caribbean in Cumbria? Why not!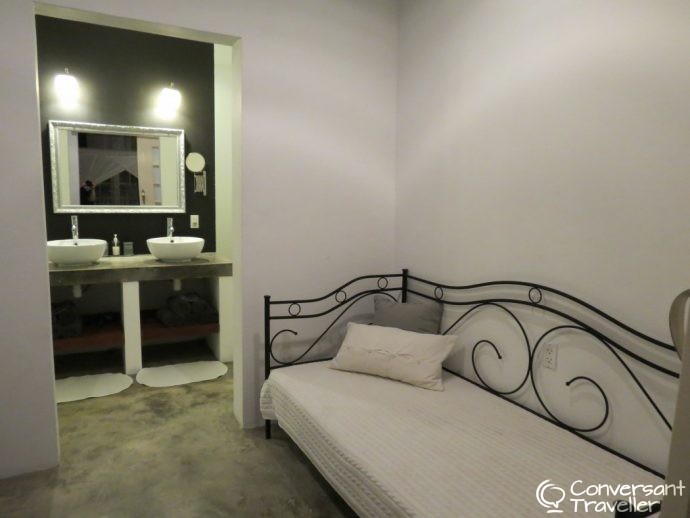 The Location
Before we arrived in Curacao, I was a little dubious about staying in the capital city, Willemstad. For our first Caribbean experience I had of course harboured visions of staying somewhere cute and colourful by a beach fringed with palm trees and an azure ocean. I certainly didn't equate any of this to an urban apartment in Willemstad, so was equally surprised and delighted to discover that the two can indeed go hand in hand.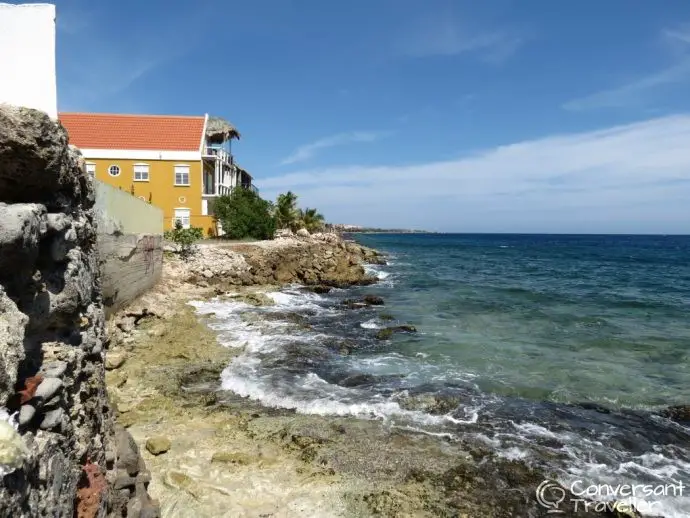 In fact we had palm trees, a pool and the ocean right on our doorstep, and there was even a little private beach area where we could sit and watch the cruise ships and fishing boats sailing by. Apparently guests sometimes see dolphins too, but they declined to make an appearance during our stay.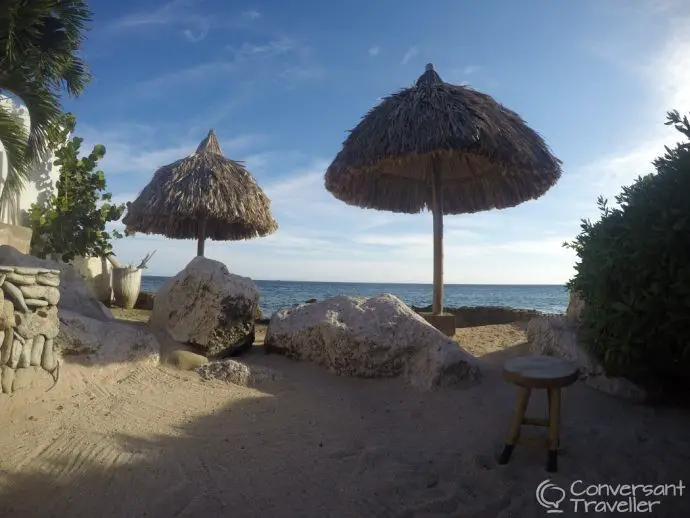 Pietermaai is synonymous with those up and coming trendy districts that are appearing all over the world. Once the haunt of derelict buildings and perhaps a slightly less than savoury reputation, Pietermaai has now been regenerated to become one of the most popular areas to stay in Willemstad. Today it's a colourful, thriving, and safe district, and one of the first places visitors look for holiday rentals in Curacao.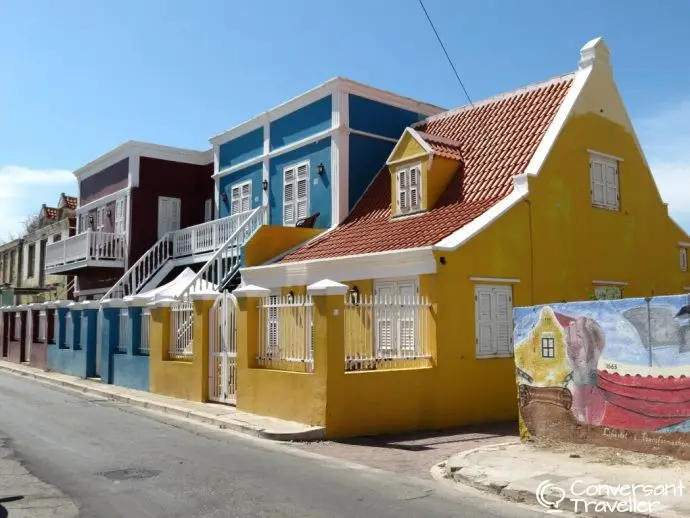 There are still a few neglected monuments to be found, but they just give the area an attractively raw edge, toning down the almost 'too pretty' feel created by the perfectly painted houses found throughout the neighbourhood. Pietermaai is home to boutique shops, world class restaurants and buzzing bars. Sea food is understandably a big thing here, and it's done well, with ocean views an added bonus in many establishments. During the evening, live jazz spills out into the lamp lit streets, the sultry notes beckoning with seductive intent.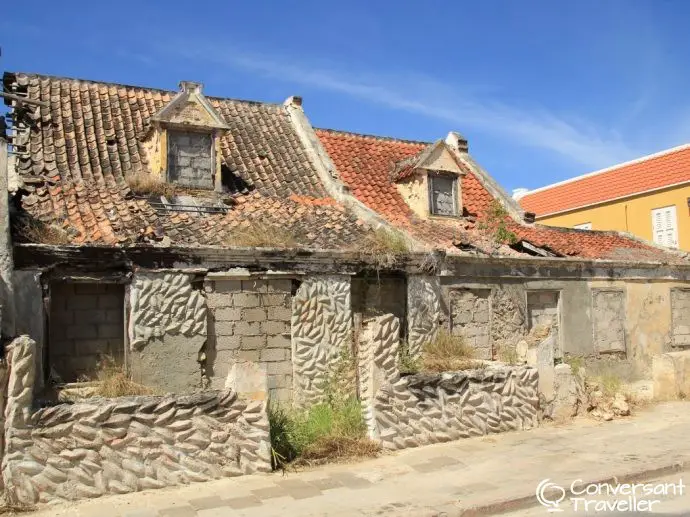 It's safe to say we fell in love with Pietermaai, a place where authenticity and contemporary reside in complete harmony.
The Hosts
Cindy and David made us feel so welcome at PM78, from the moment we slid sweaty and tired out of the airport taxi, to the day we left, wishing we had time for just one more swim. They've made the apartment truly feel like a home from home, and we loved our welcome note on the chalk board, and the chilled Prosecco and fresh fruit waiting for us on arrival. Just what we needed after a long day travelling from Colombia (that packet of Pringles in Bogotá seemed like a lifetime ago!).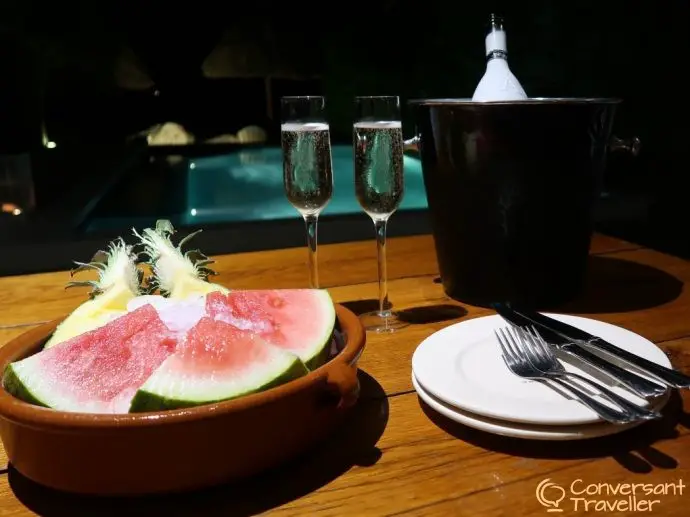 We usually stay in hotels on our travels, but this year have ventured into the world of apartments and self catering after our stunning villa experience in Sri Lanka, and absolutely love the privacy and freedom that they offer. We're now wondering why we didn't start doing this years ago! What we particularly appreciated at PM78 was that Cindy and David have thought of everything, from the readily available ice and chilled water in the fridge, to special hammam towels for taking out to the beach. Truly PM78 has to be the best place to stay in Curacao.
They're really friendly too, and know everything there is to know about Curacao, so can point you in the right direction depending on what you fancy doing during your stay. It was at their suggestion that we rented a vintage car to explore the island. An exhilarating, terrifying, and amazingly fun adventure that I'll be writing about soon!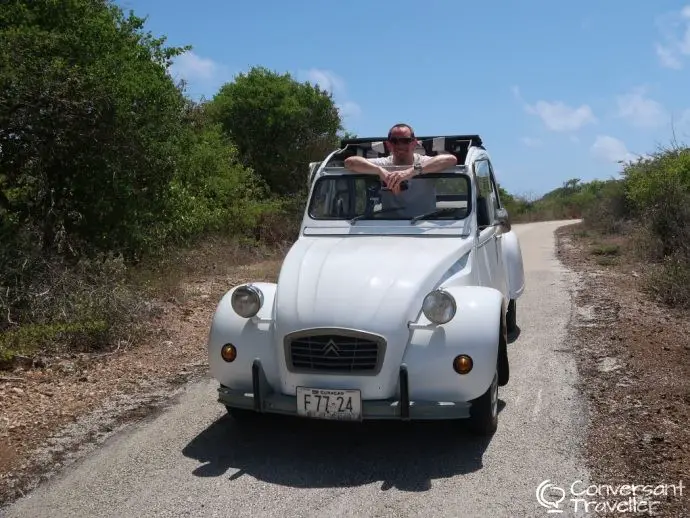 The Food
Now of course as the apartments are self catering, meals aren't included, but Cindy and David do offer a grocery shopping service prior to your arrival, and can hire a private chef for when you really can't be bothered to cook! We had fun shopping in the Willemstad supermarkets as we always enjoy checking out the local stores when we're travelling. It was a little more expensive than in the UK, but Curacao is an island so understandably a lot of produce is imported. We spent some time puzzling over the absence of milk in the fridges, before it occurred to us we hadn't seen any cows on the island! Hubbie made do with the long life stuff, and it certainly made us appreciate how easy we have it back home.
Cindy and David also offer a sumptuous special occasion breakfast, which we just had to try. They delivered it themselves on our first morning, and set it up on the terrace ready for a breakfast with a view. There was everything from bacon and eggs, to smoked salmon and chocolate muffins, a feast fit for kings. We couldn't finish it all so ended up saving some of it for lunch! Yum.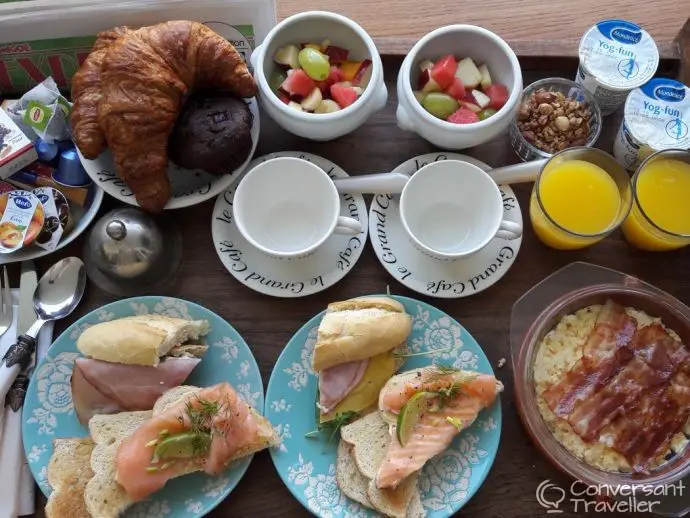 Check out our video walk through of the apartment to really see what it's like inside…
What we loved
Erm hello, did you see the pool…?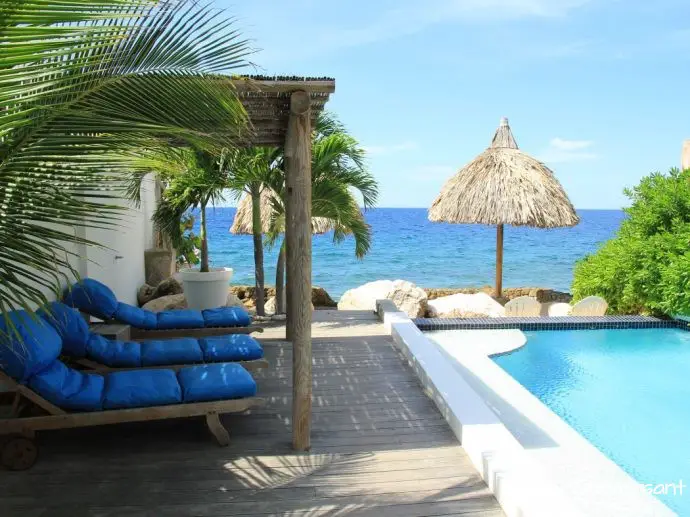 Bells and whistles aside, it's the total privacy that really makes PM78 one of the top luxury holiday rentals in Curacao. There are other apartments in the PM78 building, but none have access to the pool or terrace, and we never saw or even heard the other guests. It was our own little piece of Caribbean paradise. The location is superb too. Restaurants are bars were just a few minutes walk away, and it only took quarter of an hour at a leisurely pace to stroll to the waterfront in Willemstad to see the famous pontoon bridge and colourful colonial buildings.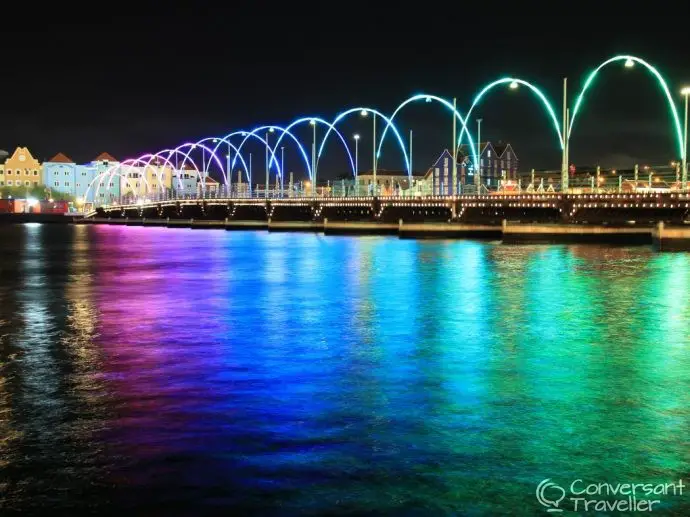 What wasn't so great
We really did struggle with the heat in Curacao (one day the forecast read 'feels like 42 °C' – ouch!), and there were occasions (only a few!) when we wished we were staying in an air conditioned hotel. Thankfully the bedrooms at PM78 all have air conditioning, so sleeping wasn't a problem. However it isn't practical to have air conditioning in the main living space since it opens out to the terrace, so we did find these spaces very warm. There were ceiling fans, and the sea breeze certainly helped, so once we'd acclimatised it was absolutely fine. I guess we're just not used to the sun, coming from the wet and windy wilds of the English Lake District!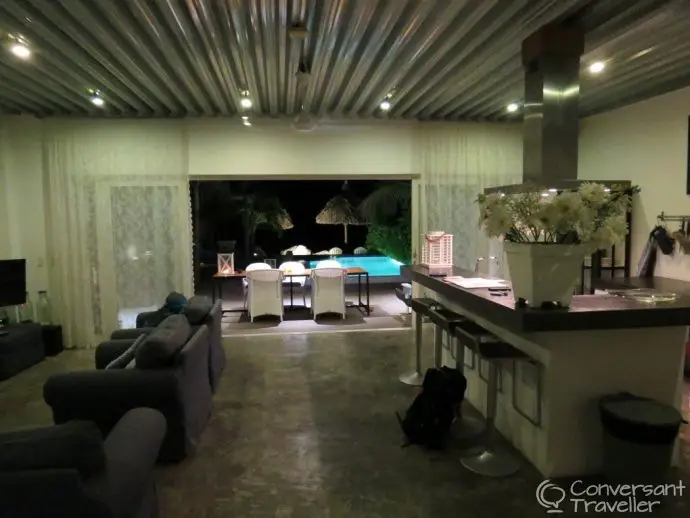 The Verdict – was PM78 really the best place to stay in Curacao?
Of all the holiday rentals in Curacao we looked in to, PM78 was a clear winner with it's perfect blend of luxury and relaxation. The fabulous outdoor living space with one of the most stunning pools we've had the pleasure of swimming in, the cosy boutique touches throughout the apartment, and the genuine warmth of the owners, all came together to make PM78 surely the best place to stay in Curacao.
In our humble opinion anyway!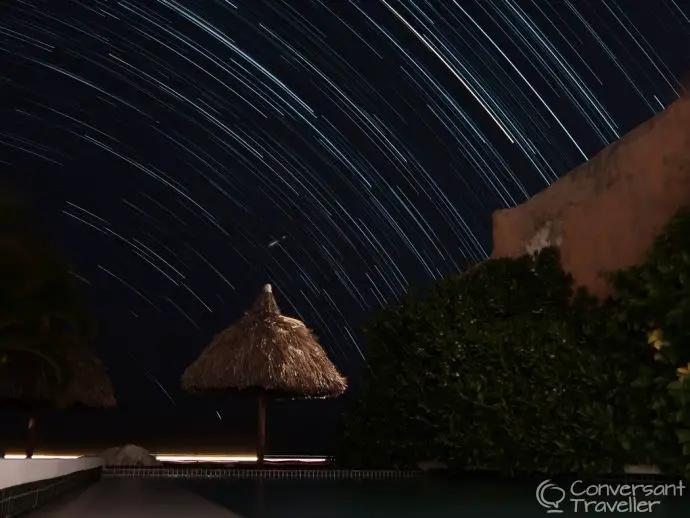 Tips for staying at PM78 Urban Oasis
Pre-order some groceries before arrival to make your life a little easier
Leave wet flannels rolled up in the fridge when you go out, they feel so good after returning from a hot day exploring the island…a little luxury touch that you will really appreciate
Definitely treat yourself to the luxury breakfast on your first morning
If you've hired a car (and we recommend you do), PM78 is really easy to navigate to, and there is parking available both on the street, and inside the apartment compound
Bring flip flops for wearing around the apartment and outside on the terrace
Beach hammam towels are provided so no need to bring your own
---
Huge thanks to Cindy and David for hosting us at PM78. Our stay was complimentary, but opinions remain our own, and we'd never stay somewhere we wouldn't have been happy to pay for ourselves. 
Found this post useful? Why not pin it for later…