There was one experience, above all others, that I was looking forward to the most on our latest South Africa trip. It wasn't the possibility of seeing leopards. It wasn't tracking rhino on foot. And it wasn't going wine tasting by tram. Nope, it was having our first ever microlight flight, and what better place to do it than 3,000 feet above the third largest canyon in the world. The Blyde River Canyon.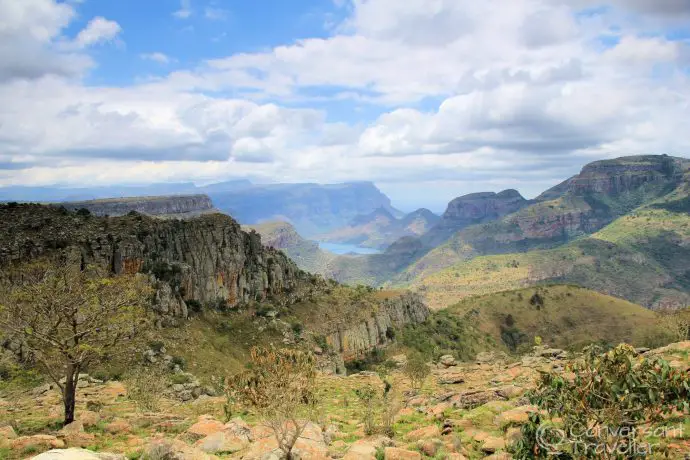 Motlatse Canyon Provincial Nature Reserve, otherwise known as the Blyde River Canyon, is located between the small farming town of Hazyview and the famous Kruger National Park. So it's really easy to fit in a visit if you're in the area. We chose to have our microlighting adventures with Rowena and Deon from Leading Edge Flight School in Hoedspruit, a sleepy town at the foot of the Klein Drakensberg Mountains. They've been operating the flight school for over 20 years, and have 2 bantams (microlights) which meant Hubbie and I could fly at the same time.
I'm sure they thought we were a bit keen arranging our flights more than 8 months before our trip, but it was the one thing I knew I wanted to do. Scenic Blyde River Canyon microlight flights last from 20 minutes to 2 hours, and we decided an hour would be a good amount of time for our first go. Long enough to see some spectacular landscapes, but short enough not to get too scared!
You can choose to fly your microlight over big five game territory around Hoedspruit, including Klaserie Nature Reserve and the Olifants River area, or in the opposite direction, the Blyde River Canyon. Naturally Hubbie and I were in disagreement. He wanted an air safari, whilst I wanted my fix of geology. Luckily, to prevent some serious marital strife, Rowena and Deon were happy to change the route to suit everyone, and we managed to fly over both the game area and part of the Blyde River Canyon. Result.
Microlighting is of course rather dependent on the weather. Being an area known for it's storms, Rowena had wisely advised us to have a back-up time slot just in case rain stopped play on our first attempt.
Lo and behold, on the afternoon we were to microlight over the Blyde River Canyon, the heavens well and truly did their worst, bringing one of the most spectacular 360 degree storms we've ever encountered. The ceiling of the world roared furiously, and with lightning bolts striking all around it wasn't long before the power went off across the entire area. The rain was so intense we couldn't see to drive, and with garden and agricultural furnishings hurtling through the sky with incredible velocity we correctly surmised we wouldn't be flying any time that day.
Thankfully, after dinner by candlelight and a night spent with torches, the morning brought calm blue skies and the adventure was back on. As we arrived at the airfield at 8 a.m. (a delightfully rural dirt runway with a few hangers by the side) the sun was already beating down and Rowena and Deon were wheeling out the aircraft. Slightly daunted that I was about to embark on an aerial mission in something flimsy enough to push along the ground by hand, I shoved Hubbie in front and tried to gauge which of the two bantams looked more sturdy.
Rowena and Deon zipped themselves into their flight suits, leaving us feeling rather under-dressed in our waterproofs (though were glad of them when it got chilly at height!). We were all going up at the same time, one pilot and one passenger in each aircraft, so decided it would be girls v boys. Rowena and I hopped into the black bantam, ready to be first in line for take off.
When I say 'hopped', I actually mean climbed over wing supports, ducked under the canopy, and wiggled into the seats without putting our feet on the floor (it's so thin you might put a foot right through!). Once inside the cockpit there was absolutely no room for manoeuvre, which went some way to making me feel a little more secure given the big gap to my left and the drop of a few thousand vertical feet below!
We got to wear headsets so looked the part, even if it took me a few minutes to realise Rowena couldn't hear me wittering on as I'd forgotten to press the switch. It was fun pretending to be aviators for an hour, and we could hear the radio chatter from other light aircraft using the airfield to co-ordinate arrivals and departures from the airstrip.
Taking off was a bit alarming, bouncing at speed along the less than smooth earth airstrip, but Rowena looked calm and I supposed with many years experience as a flight instructor she probably knew what she was doing. We went first, with Hubbie and Deon not far behind. Moments later we were in the air, soaring above the geometric agricultural landscape around sleepy Hoedspruit.
Besides tourism, agriculture is the main economy of the Hoedspruit area, which is made up primarily of mango and citrus farms. Most of the fruit is packed off for export, and Rowena lamented the fact that although the oranges here are some of the biggest in the world, the locals never get to eat them. Instead they are destined for foreign supermarket shelves. I was impressed with the crop circles, shaped like this as a result of the ingenious sprinkler system designed to water the crops with precision and consistency.
Up in the skies it was initially rather bumpy, with the wings wobbling up and down causing me to surreptitiously grip tightly to the sides, hoping Rowena wouldn't notice her passenger was a clear land-lubber. Casually I enquired about the turbulent weather. I was assured it was nothing but a light zephyr and in fact the day was calm compared to normal. Reassured (but still holding on tight) I relaxed and enjoyed the ride.
After admiring the crops, we flew over to the Drakensberg Mountain Escarpment and there it was. The Blyde Dam and the end of the Blyde River Canyon. We'd seen it from the ground a few days before but it took on a whole different perspective from above.
After circling for a while, and feeling smug looking down at the coach loads of tourists on the Blyde River Canyon rim viewing platforms, we headed off towards the game reserve. The wildlife wasn't just down below. At times we were soaring with the eagles, often above them as they caught the thermals by the canyon walls.
It was remarkable how easy it was to spot wildlife from above, everything looks less dense than when you're on the ground, and within minutes we'd spotted (ok, so keen-eyed Rowena spotted!) several rhino, elephants, giraffe, cape buffalo and hippo. Hubbie was in his element, although cursed himself for leaving the big camera lens behind (there wasn't enough room for multiple lens changes!).
So, here is a picture of some elephants…
All too soon it was over and we headed back to Hoedspruit, with landings so smooth we barely noticed we were back on the ground.
After our flight Deon and Rowena asked us to put a pin in their huge world map on the hanger wall, to show where we'd come from. I was surprised to find that people have visited from all over the world, including some from our home town. Hoedspruit may be a small laid back little place in the middle of nowhere, but it's certainly (and deservedly) on the tourist map!
I couldn't stop grinning for the rest of the day. Microlighting in this spectacular part of South Africa was without doubt the most fun experience of our entire trip. Next time we're going for 2 hours, and will see if we can persuade them to allow us to take the helm!
Tips for microlighting the Blyde River Canyon
Our 1 hour scenic flight cost R1400 each.
Wear a warm and wind-proof top, it does get cold up there.
Also don't forget to swap your sandals for sneakers, I did and my toes got rather chilly!
You can't take bags or bulky equipment up as there's simply no room, so choose your camera wisely.
Give yourself a couple of days in case your flight is postponed due to weather.
Hoedspruit is pronounced "Hood-sprate", just so you know!
Found this post useful? Why not pin it for later…