This post contains affiliate links which means I may make a small commission at absolutely no extra cost to you. Thanks for reading. You can read our full disclosure policy here.
---
Travel is no longer simply about picture postcard sunsets, staying at the most swanky hotel on the block, or seeing how  many flights you can rack up in a short space of time. It's now also about long-term safeguarding of the communities and destinations we visit, and reducing the impact of our holidays on a local, national and ultimately global level.
While it would be next to impossible to completely eradicate the environmental impact of our visits, there are several things we can do as travellers to keep this to a minimum, and ensure that the positive effects of travel outweigh the negatives.
Reduce Your Carbon Footprint
Flying presents a world of opportunities that simply wouldn't be available otherwise, yet as well as being a rather unpleasant experience in itself, it also has a huge negative impact on the environment. However, as someone who travels for a living and is a huge advocate of widening horizons through exploration, I'm not going to suggest cutting out flights – one of the biggest culprits when it comes to carbon emissions – altogether.
Instead, consider the distances you'll be travelling, and the number of fights on your trip. Can you reduce these by taking a different route, or by travelling by land for part of the journey? Think about exploring a single destination in more depth rather than cramming in as many locations as possible with multiple flights in between.
However long your flight is, think about offsetting your carbon emissions. Voluntary schemes enable travellers to reduce the environmental impact of their flight, and are usually in the form of tree planting (because trees remove carbon dioxide, one of the main pollutants, from the atmosphere). There are several online calculators to help you work out the amount of CO2 you have produced on your flight, and they then suggest how much you should spend to offset your emissions.
Generally speaking, the longer the distance and the more layovers you have, the higher the offsetting cost will be. There's also an argument that flying business or first class produces higher emissions as you're taking up more space on the aircraft compared to those in economy class.
Pack Sustainable Travel Toiletries
Hands up if you have a wash bag full of single-use plastic bottles and plastic toothbrushes. Or do you rely on using hotel-provided products, nearly all of which come in small plastic bottles destined for landfill after use?
A small but effective way to easily reduce your impact as a tourist is to use sustainable travel toiletries, swapping your usual supplies for plastic-free alternatives. Think about using a bamboo toothbrush in place of a plastic one, natural deodorant sticks instead of cans, and solid shampoos and conditioners to replace liquid bottles. They'll take up far less room in your luggage too, and are great for those times when you're only travelling with hand luggage! Ladies might like to also consider using menstrual cups rather than tampons, and reusable cleansing pads instead of throwaway ones to reduce waste.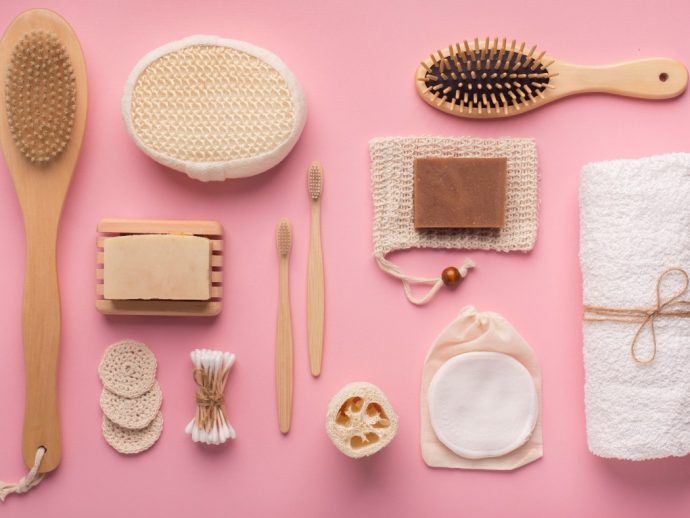 If you're spending time in the ocean during your holiday, whether that's snorkelling, diving or just swimming, think about the effects that sunscreen has on the habitats here. The chemicals wash off your skin causing damage to coral reefs and marine life, which is a particular problem in popular holiday destinations. So search for 'reef safe' lotions when browsing the shelves, and choose one that is water resistant so it is less likely to wash off your body.
Don't Forget Your Water Bottle
There was a time when buying single use plastic water bottles on your travels was a necessity, just to ensure you were drinking clean water to avoid the dreaded traveller trots. Yet times have changed, and many hotels and resorts now provide safe drinking water through their own filtration systems, so you can just fill up your bottle each morning before heading out on excursions. Alternatively, you can take a bottle with its own filter if you're heading somewhere which may not be able to provide safe drinking water.
Taking your own bottle is especially important when visiting island destinations such as the Maldives or Mauritius, where waste disposal is such a difficult process. If each traveller carried their own reusable bottle around on their trips, we'd reduce plastic waste by millions of tons each year, and help preserve ecosystems and marine habitats around the world.
Use Smaller Local Hotels
To make sure the local communities are benefiting from your visit, rather than large multi-national companies that often cause more problems for neighbourhoods that they bring, do choose your accommodation carefully. All-inclusive resorts have a rather negative reputation for being insular, with guests not having to leave the site and thus not spending money locally. Of course not all are like this, so do your homework and understand the brand values before booking.
Instead of patronising the big name chains, search for smaller, locally run hotels and guest houses, where your money will go direct to community residents, and you'll have a more 'authentic' experience. The same goes for eating out – pick locally run restaurants in place of faceless hotel buffets, and spend your pocket money on crafts from the markets or boutiques rather than in the hotel shops.
Don't Contribute to Overtourism
Some destinations in the world have become a victim of their own success, and in recent years many places have gone to extreme measures to stem the flow of visitors who are having a detrimental effect on both the environmental and social landscapes. Maya Bay in Thailand, an Everest Base Camp in Tibet, an Icelandic Canyon, Bloemenmarkt in Amsterdam and Komodo Island in Indonesia have all closed temporarily to recover from overcrowding, and the waste left behind by visitors.
The good news is, the world is a big place so it's really easy to avoid places that are suffering and lessen the pressure on local resources. Think about heading instead to lesser-known destinations that offer similar experiences and be a bit of a trail blazer rather than always following the crowd. We wanted an island holiday last year, with rainforest experiences and beach bungalows, so rather than heading to oversaturated spots in South East Asia, we instead opted for the remote yet accessible islands of Sao Tome and Principe, off the west coast of Africa. We didn't meet a single tourist outside of our hotels and knew that our tourist dollars were going straight into the pockets of locals.
Support Destinations in Need
Destinations across the world are suffering in the wake of disasters like earthquakes, tsunamis and sea level rise, and rather than waiting until they've completely rebuilt, why not consider visiting during the clean up process. You could join a volunteer programme to help devastated communities in the aftermath, since tourism is often one of the quickest paths to recovery. Do make sure you do your research and only take part in verified, trusted volunteer schemes, as there are some dodgy organisations out there who have been known to take advantage of 'disaster tourism'.
What tips do you have for travelling sustainably? Share your thoughts with us below.