This post contains affiliate links which means we may make a small commission at absolutely no extra cost to you. Thanks for reading. You can read our full disclosure policy here.
---
Lush Solid Shampoo Review and Alternatives to Lush
Updated 2022
If you're wondering does Lush solid shampoo work well, and if the Lush solid conditioner is also worth trying, then read on. I've tested several solid shampoo and conditioner bars from their range and here's my verdict, along with suggestions for the best alternatives to Lush bars!
I love my hair. It's long, shiny and would give Rapunzel a good run for her money. Stylists often ask about my hair care regime, but really it's pretty simple – just a quick shampoo and conditioner with quality products every morning. I first discovered the bars when I was searching for solid travel shampoo, and more specifically travel size dry shampoo, which I could take with me on long holidays and even get through security in hand luggage if I needed to. 
So I decided to try a range of natural solid shampoo and solid conditioner bars and share my verdict with you. Want to know are solid shampoos any good? Then read on.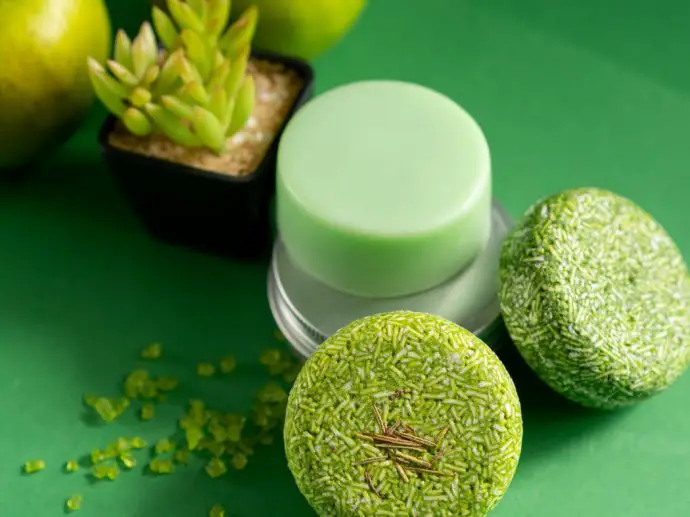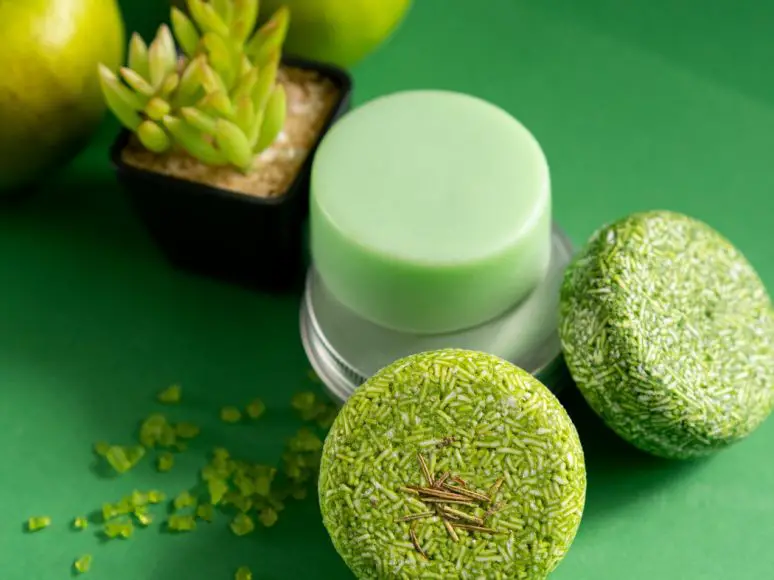 Trying Out Lush Solid Shampoo and Conditioner
I'd heard about Lush solid shampoo bars before, yet had always been dubious about their performance. And as for Lush solid conditioner? It just sounds ridiculous. How could a solid conditioner bar have the same effect as a bottle of milky cream full of moisture and shine.
I decided to be open minded and try some of the Lush solid shampoo and conditioner bars for myself. 
I popped down to my local store, braved the cloying wall of stink and glitter and tried not to be intimidated by the hip young staff with their nose piercings, bright blue hair and skimpy dungarees. I was never that cool. Still, never too late to start, right?
Lush Solid Shampoo Review
First up was the Lush 'Godiva' solid shampoo bar. After one use it went straight in the bin, and a week later I was still trying to get rid of the incredibly strong (and unpleasant) smell which seemed to have permeated the house. Undeterred, I returned to the shop and this time chose on scent rather than listening to the lass with spiky hair and rainbow nails telling me all about the different properties of each Lush solid shampoo bar. 
I have long fine hair which has a tendency to be greasy, so choosing the red 'Jason and the Argan Oil' Lush solid shampoo didn't feel quite right. Yet it smelled inoffensive and I kinda liked the name. Who says you should always be guided by science. I also picked up the 'Montalbano' Lush solid shampoo bar, again because I actually really liked the scent and it had a cool wedge of lemon on top.
So do Lush solid shampoo bars work?
I have to admit being pleasantly surprised with these natural solid shampoo bars.   
The 'Jason and the Argan Oil' solid shampoo reminded me of Morocco, a country famed for both Argan oil and roses. The oil left my hair shiny rather than greasy and the overtones of rose and citronella were subtle instead of overpowering. This solid shampoo is supposed to set fair hair 'ablaze with brightness and strength'. I'm not sure about that, but my hair was left clean and no less silky than usual. This solid shampoo bar lathers up really well too, so you really do only need a couple of strokes on your hair. So far it's lasted me several weeks, which is great news for anyone looking for travel shampoo.
The 'Montalbano' Lush solid shampoo bar works a treat too. It doesn't leave my hair as shiny as Jason and the Argan Oil, but it does make it feel totally refreshed and smells divine! It contains Sicilian lemon oil, fresh lemon peel and organic lemon myrtle oil. And popping candy (not quite sure what that one's about!). Again it lathers well, and you only need a couple of stokes over your hair to have enough product to wash with. They say it lasts up to 80 washes, and I can totally believe it!
Solid Shampoo Bars: Alternatives to Lush
But it's not all about Lush.
There's no doubt that Lush shampoo bars are expensive, and if you don't choose wisely you'll end up stinking like a teenager who's just discovered body spray. Some potential buyers may also be put off by Lush's controversial campaign against the Police during 2018.
But don't worry. There are several other organic solid shampoo bars out there that are great alternatives to Lush. 
I've tried out several other solid shampoo brands and many of them work just as well, if not better, than the solid Lush bars. Here are my tried and tested solid shampoo bar recommendations:
Clovelly Soap Company Solid Shampoo Bars Review
I love the Clovelly Soap Company products, and not just because I'm a huge fan of Devon! They make all sorts of gorgeous natural products from deodorant to handmade soap, but what caught my eye were their solid shampoo bars. The packaging is pretty, the scents are gorgeous, and it's nice to know exactly where the products were made. 
These bars are big and don't fit in the round storage containers (see below) until you've used them for a while, but that doesn't matter if you're just using them at home, like I do. I did find it took a while for my hair to 'get used' to these shampoo bars, and felt I needed to moisturise my hands after using it, but after the first week or so that wasn't a problem. Some people say their hair became a bit waxy after using these bars, but I didn't experience that myself. 
They're a bit cheaper than Lush, and the bigger bars last longer too!
Ethique Solid Shampoo Bars Review
I've only recently tried these Ethique shampoo bars – I'd been putting it off since they cost a little more than I'd usually pay, but they do tick all the boxes when it comes to being vegan, sustainable and even compostable! This natural solid shampoo is soap free and is ethically produced, sources and packaged. They have specialist solid shampoo bars for frizzy hair, dandruff and dry scalps, as well as for normal and oily hair.
I started with some of their super handy trial packs, which helped hone down my choices and see which solid shampoos work best for fine hair before committing to purchase a full-priced bar. The trial packs also include a solid conditioner, solid face scrub and solid face cleanser too. A few weeks later and I'm a total convert. The vanilla Pinkalicious solid shampoo is possibly the best smelling bar ever, and is really creamy when it comes to lathering up. Definitely worth the price tag in my humble opinion! I just wish they were round so they fit in my plastic travel tubs. 
Washla Solid Shampoo Bars Review
One of the things I love about the Washla brand is their commitment to sustainability. All their handmade shampoo and conditioner bars are free of packaging and plastic, and absolutely everything is produced in house. The price is on point and the scents are divine, with a few unusual fragrances like eucalyptus and tea tree to set them apart from the increasingly crowded solid shampoo market.
Another plus is that the shampoo bars are 100% soap free, which we all know makes for a much better hair washing experience. I'm in the process of putting these bars through their paces, so will report back in a couple of weeks. 
I tried the sweet orange everyday shampoo and have to say it's possibly the most delicious-smelling bar I've ever used. It's been great for cutting through grease on my oily hair days, and it didn't take long for my now luscious locks to get used to the new product. I also gave the eucalyptus hydrate bar a whirl, because since getting highlights this summer, I have found my hair in need of a bit of extra moisturising on occasion. Again, the scent is gorgeous, and I've not yet had to use conditioner which is always a bonus. 
Garnier Shampoo Bar Review
This is another recent discovery, and I'll be honest I was attracted mainly by the reasonable price, and the scent options. So far I'm pretty happy with my experience using the coconut one, and haven't needed conditioner as the Garnier shampoo bars leave my hair pretty smooth. The smell is nice and subtle, with the coconut giving a bit of that holiday (it always reminds me of suncream, beaches, and cocktails!). 
These bars are round so fit perfectly in my tubs, and as they're significantly cheaper than several of their counterparts, they make well be featuring more regularly in my wash bag on our travels. 
Alter/Native Solid Shampoo Bar Review
I was really excited to discover this exotic-sounding range of shampoo bars, and with a price tag that was significantly lower than most, I just had to give them a go. Picking the Rose & Geranium and Patchouli & Sandalwood shampoo bars (for the names alone!) I put them to the test. 
Unfortunately they didn't really make the grade. Both bars were more like glycerine soap (although they're not soap!) than a creamy shampoo bar, and left my hands needing lots of moisturiser afterwards. The smell wasn't great either, so I personally won't be buying this range again. 
You may of course have a different experience since all hair is unique, and the price really is attractive when you're first experimenting. 
Buy Alter/Native Solid Shampoo
Solid Shampoo Storage
Metals Tins for Solid Shampoo
You can buy metal tins for the Lush solid shampoos, but they don't make any the right size or shape for the conditioners, which seems to be a bit of an oversight. It's also really difficult to remove the used shampoo out of the tins once it's wet, since the tins are not flexible, and to be honest I found them a bit of a nightmare. The tins are also easily dented, which is the final nail in the coffin for me. 
Round Containers for Solid Shampoo
Instead I use GoTubbs from HumanGear. The medium ones are just the right size for most solid shampoo bars, pop open using one hand, and you can remove the shampoo very easily. I love that the plastic lid is slightly transparent so you can see what's inside without having to open the GoTubb up. They don't rust either!
These solid shampoo containers have seriously changed my life on our travels, definitely the best bit of kit I ever purchased! They're also great for storing dashboard mints, headphones and ipods, and all manner of odds and sods. 
As an aside, I also love their squeezy GoToob bottles for when I do want to travel with liquid shampoo, conditioner and soap. Unlike many plastic travel bottles, these ones are silicone so are robust but pliable, meaning I can squeeze out every last drop. 
Rectangular Boxes for Solid Shampoo
Okay, so this is really just a soap box, but it's great if your solid shampoo isn't round. These shower storage containers come in several cool colours and are made from bamboo and cornstarch, which means they are completely ethical and compostable. The best bit though is that the open slots in the bottom allow your solid shampoo to breathe rather than congealing like normal soaps do if you leave them in water.
Lush Solid Conditioner Bar Review
Lots of people say that they find they don't need conditioner when using the solid shampoo bars, but as a girl with long hair I was rather reluctant to believe this. 
So I decided to try Lush solid conditioner bars to see if they really worked. I opted to try 'Big' and 'The Plumps'. Spiky hair girl assured me that both would give great volume to fine hair like mine. She clearly had volume so for once I took her advice.
Both smelt rather unexcitingly of soap, which was fine because the shampoos had such strong fragrances. I don't like mixing my scents and smelling like a seedy Parisian boudoir. Clean and fresh will work just fine!
At first I found them both really frustrating. It is after all just like rubbing a bar of soap over your hair, and they don't glide smoothly. They also don't lather like the solid shampoo, and actually getting some product onto my hair seemed to take forever. Eventually I realised it was easier to try and lather in my hands, and then apply to my hair. I wasn't particularly convinced by the experience, but after rinsing and drying my hair actually felt pretty good. It was more tangled than normal (isn't that the point of conditioner?), but after some vigorous brushing I could live with the result.
It isn't a product I'd use long term, but for periods of extended travel, I will probably be taking some solid conditioner with me.
The other negative of Lush solid conditioner is that it's more pliant than the solid shampoo, and after a few washes it started to deteriorate around the edges, before finally breaking into several annoying pieces. Just something to consider when packing. Although it does mean it will fit in the brilliant Go Tubbs containers!
READ MORE: Unique and Unusual Travel Gifts
Alternatives to Lush Solid Conditioner Bars
As with the solid shampoo, there are alternatives to Lush solid conditioner bars, and the ones I've tried (like this gorgeous-smelling hand-made lavender and lime solid conditioner) seem to work pretty much the same. None have come close to replicating the results from standard bottled conditioner, which is rather frustrating. 
Over the last few months I've been experimenting without using conditioner at all, and am almost convinced I can do without. Almost. The solid shampoos do leave my hear feeling clean, light, and fresh, and often when I use conditioner how it makes my hair feel heavy. There are definitely more tangles to deal with when not using conditioner, and sometimes brushing my fine hair creates an impressive amount of static…but I'm getting used to it. And no-one else can tell I've not used conditioner, so this may be the future after all. 
So, by all means go ahead and try some solid conditioner. Just don't expect it to work as well as conventional conditioner, and be open-minded when it comes to ditching it all together. 
The Verdict on Solid Shampoo and Conditioner Bars
Lush products are on the pricey side, and there are several cheaper solid shampoo bars and conditioner bars on the market. Do shop around and see what works best for you. I'm pretty much sold on shampoo bars, but am not convinced by the conditioner bars. If you have a different experience, do let me know!
Remember everyone's hair is different, so don't just follow what I say, go try some out for yourself.
Have you tried solid shampoo or conditioner before? What did you think?