This post contains affiliate links which means we may make a small commission at absolutely no extra cost to you. Thanks for reading. You can read our full disclosure policy here.
---
Stuck knowing what to buy for the traveller in your life? Or perhaps you're after some unique travel gifts for yourself, no shame in that. We've got you covered with some great ideas (if I do say so myself) in this post. Many of these items have been tried and tested by us, whilst others we've put on here in the hopes that Father Christmas might be good to us this year!
Unique travel gifts and travel accessories for 2020
The carry cubes are a bit more robust than the standard packing cubes, and we use them for all our camera and phone chargers, cables and electronics.
I can't do without these on my travels, and use them for shampoo and conditioner. They're much better than other travel toiletry bottles because you can squeeze out every last drop rather than having the last bit annoyingly refusing to budge! They come in several sizes, I find I need the large ones for a week's trip.
Solid Conditioning Shampoo Bar – Bergamot & Patchouli
I love solid shampoos for when I'm travelling with only carry-on luggage, and can't lug around my usual product bottles. I'd never last more than a couple of days with a limit of 100ml, especially when we're travelling in hot places where I probably have at least 2 showers a day. And who can resist a bit of exotic patchouli? Ideal travel gifts for the girl globe trotters in your life.
These little tubs are perfect for taking solid shampoo on your travels. The lids pop open easily in the shower, and are just the right size for soaps too. Or earphones, sweets, cables, all sorts…
Like conventional packing cubes but they pack even smaller!
I'm so in love with this travel inspired memo board. We have one in our kitchen, but rather than cover up the world with bits of paper, hubbie and I use the magnetic arrows to point to where we're off to next! The work rotas, hotel reservations and shopping lists are relegated to the outer edges! These make perfect travel gifts.
Some inspiration for couple travellers for around the world adventures.
Lifestraw Personal Water Filter
A great little device for drinking purified water anywhere you travel in the world.
These are my new best friends this year when it comes to packing! The larger bag is perfect for keeping dirty laundry in, and the others are great for footwear, chargers and other travel associated paraphernalia.
Sleek, compact and durable headphones for shutting out the world on long journeys. Comes with remote control to skip and pause tracks.
A great way to keep connected no matter how far apart you might be in the world.
For all those times you just don't have anywhere to put it in the bathroom!
Anti-Theft Travel Laptop Backpack
For when you don't want to lug your laptop around in a separate bag on your travels.
Do away with single-use plastic and take this everywhere on your travels for water on the go.
FlipBelt
Some people keep their money in a sock, some stuff it in their underwear and some carry around fake wallets when they're travelling. But I think this innovative belt is a rather cool alternative to keeping your valuables safe on your travels. You can fit in everything from keys to wallets, and you just turn it inside out to secure everything inside. Also great for people who like to work out and have nowhere to store valuables whilst out running or down at the gym.
Personalised Coordinates Travel Bracelet
Keep that special place you found on your travels with you at all times, whether it was where you got engaged, your favourite beach, or simply where you had the best cocktail of your life.
A neat little ceramic pen pot with a world map for colouring in! Chart where you've been, or where you want to go.
Love how small and colourful these are, perfect for travelling.
I absolutely love this idea! Keeps all your earrings in one place and looks sexy too!
To remind you of your holiday experiences, or just because they're colourful! You can use these at home or whilst you're travelling to add a bit of style to your bath time.
Jewellery travel organiser roll
To stop all your favourite necklaces and earrings getting in a tangle. Because you still want to look glamorous when you're away!
These beauties come in all sorts of tropical travel flavours such as Pomegranate, Coconut and Pear, and Mango. What's not to love?
Eagle Creek Universal Traveller Backpack
Stylish, with a checkpoint friendly laptop compartment, anti theft lockable zips, and a digital safe zone.
Every traveller's home should have one of these…
Made out of organic bamboo and just as soft as silk.
Buying a tablet was one of the best things I've done this year, and has made staying connected whilst travelling so much easier.
For use with your tablet, this is a super bit of lightweight kit, and works using bluetooth.
A girl's best friend.
Garden Pouffe with London Maps
Something a little different for your garden! They also do one with Lake District maps on, definitely on my Christmas list this year!
So you don't have to stop planning your travels, even when you're in the shower!
For those who can't start the day without a cup of proper coffee! These cool mugs have their own plunger so you can enjoy real coffee without any more hassle than it takes to make a cup of instant coffee!
World Map Beanbag Cushion Tray
This was another revelation this year, and perfect for sitting at the sofa with a laptop (or indeed eating dinner in front of the TV). It's just the right size, and stops your knees overheating!
So we can look our best even after a long flight!
World Map Passport Cover
Who doesn't like standing in the airport check in queue and casually showing off their sexy passport cover? I know I'm guilty!
Map of the World Folding Travel Umbrella
We travel a lot in South East Asia and Africa, places that often experience rain but are too hot to wear waterproofs. The answer? An umbrella! Even better if it comes with it's own map! Unique travel gifts if ever there was one.
Mini Refillable Perfume Atomizer
I never go off on my hols without my trusty atomiser. It means I can take along my favourite scents (currently Viktor & Rolf Flowerbomb
) without having to lug around the entire bottle (which also wouldn't be allowed in carry on!).
For carrying around your DLSR, lenses and assorted bits and bobs.
Because who doesn't love stuff with world maps on! This mug is made from eco-friendly bamboo with a silicone lid, perfect for taking to the office to remind you why you're working so hard!
Luxury Memory Foam Neck Pillow
Because you need all the help you can get to sleep on flights, right?

Butterfly Twists foldable ballet flats
These are great for when you need something a little more glam but don't want to be tottering around all day in heels. I usually have a pair in my handbag when I'm visiting cities. During the day I choose comfort over fashion and usually opt for a pair of well-loved trainers, but if I'm popping in somewhere fancy for afternoon tea or going to the theatre I can change into my Butterfly Twists and still look the part.
Digital Portable Travel Luggage Scale
I don't know what we'd do without our portable luggage scales. Probably be a lot poorer from having to pay excess baggage charges thanks to all the souvenirs we always seem to bring home with us.
Handmade Leather Travel Journal
Anyone else keep a journal when they travel? As Oscar Wilde once said: "I never travel without my diary. One should always have something sensational to read in the train". Leather journals always make unique travel gifts!
Canon SX60 HS PowerShot Digital Camera
One of the questions we're asked most is what camera do you use? Well, whilst hubbie is a dab hand with our Canon EOS 550D, I love using the Canon Powershot SX40, and have my eye on the latest model, the SX60! They're so easy to use yet make your photos look like you know exactly what you're doing! Result!
We love our GoPro Hero 4 Silver and wish we'd purchased one years ago. For something so tiny the quality is amazing, and it's great for those times when a larger camera just won't do the job. We've taken our snorkelling, kayaking, on jungle walks and on drives over high mountain passes. It's so versatile and easy to use even I can operate it!
Basically a selfie stick, but we don't like to call them that here!
Single Travel Hammock
One of my missions in life is to sleep in a hammock! I haven't quite made it yet, although I've certainly had numerous afternoon naps in them. These are perfect for rolling up and taking on your travels. All you need is a couple of trees!
Slim Sonic Toothbrush
These are great for keeping in your handbag or when luggage space is at a premium. They're compact and come in lots of fun designs, perfect for travelling!
Hanging multi pocket toiletry bag
I always take far too many lotions and potions (most of which I end up not using) so I love having a wash bag that not only fits everything in but also hangs from a single hook. These come in several cool colours too.
Packing Cubes
I resisted using these for years, thinking they were just for neat freaks and organisational obsessives, yet when I finally relented I was instantly hooked! As well as keeping your clothes tidy and easy to find, they also make packing much quicker, and there's no more searching for that emergency pair of pants you know you've brought but just can't locate in the depths of your suitcase! The cubes come in several sizes, perfect for everything from undies to shirts. We also use them to keep all our electronics together.
World Map Jumbo Storage Bag
Knowing I'm a sucker for anything with maps on, my friend bought me one of these last year and I've now got the whole range (they also do smaller bags and lunch bags!). Every traveller needs one of these unique travel gifts!
Mini portable speakers
Something else I carry around in my handbag are these portable i-pod speakers for when earphone music just doesn't do the job. The speakers are tiny but do an impressive job of sounding like they're a lot bigger.
Sony Noise Cancelling Headphones
These are perfect for travelling, whether it's on planes, trains or in auto-mobiles. Close your eyes and pretend you're not squashed into seat 19E with a big smelly bloke to your left and a screaming kid behind.
World Travel Adapter
Always the first thing to get packed in our house is our travel adapter. Without it we'd have none of the photos you see on the website! It's unbelievable how many chargers we have to cart around, and I'm sure we're not alone. Having an adapter that works worldwide is brilliant as it means we don't need to carry multiple adapters wherever we go.
Kindle Paperwhite
Something else I resisted for years was buying an electronic reader. I love my books and was horrified at what I was as a bit of a sterile new experience taking over the world of reading. Yet on our trip to Borneo a few years ago I ended up lugging around 4 paperbacks (I read them all!) and realised they were indeed taking up valuable storage space in my suitcase that instead could be used for souvenirs. So I relented and haven't looked back! I love having hundreds of books and travel guides at my fingertips, all in something that is smaller than a single paperback.
Sometimes there isn't a handy power socket when you need one, but usually one thing you can count on is the sun! Which can be rather useful when you have a smart phone, laptop, i-pod and camera that needs charging!
Joby GorillaPod Tripod for SLR Cameras
Understandably hubbie doesn't like lugging our big tripod around all the time so we have a couple of the small, flexible yet sturdy GorillaPod tripods as well. They fit easily into our shoulder bags and are great for wrapping around railings to get that perfect shot. We've used ours everywhere, from Tower Bridge in London to the night markets in Marrakech.
Personalised World Scratch Map
I'm not a country counter but there's certain satisfaction at scratching off yet another destination after each trip we've been on. A unique travel gift and a great visual way to keep track of your travels, with an incentive to see more of the world!
Map Luggage Tag
Well, you need something to match that passport cover…
Petzl Tikka Head Lamp
I've had Petzl head torches for as long as I can remember. They've always been reliable and I love that you can angle the beam to suit your purpose. Always useful in places without electricity, or cities which experience frequent power cuts. We never travel anywhere without them. Hubbie uses his for setting up his camera night shots.
Microfibre Travel Towel
A must have for all those trips to swim in lakes, climb waterfalls and snorkel in the sea, when you really don't want to be carrying a big fluffy towel with you.
Waterproof Storage Sacks
Something else we rarely travel without, these are just super for keeping valuables dry on boat trips or at the beach, and can double up as dirty underwear sacks too!
Cabin Max luggage combination TSA padlock
Security when travelling is something we should never take lightly, and even a simple padlock on a suitcase can be enough to deter opportunists. Just don't forget the code!
Sometimes you're not quite certain if the bedsheets are clean, that's if you have bedsheets at all, and having a sleeping bag liner can make all the difference. We've used them for hygiene in a dodgy guest house in Peru, and for warmth (silk ones are so warm) in winter in Lesotho, and they pack up so small you don't even notice you're carrying them.
Tinggly Christmas gift box for travellers
When it comes to finding presents for the travellers in your life, consider giving stories, not stuff, because memories are gifts that will last an entire lifetime. Tinggly is fantastic gift solution perfect for those who love travelling and want to experience something a little different on their adventures, whilst creating everlasting moments they'll cherish forever.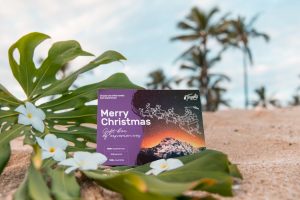 Hard Shell Suitcase
Hard shell cases are the answer to the problem of how to transport all those ridiculously delicate souvenirs how without them being damaged. They also look a lot smarter than soft cases and are definitely the way forward for the luxury traveller.
For those who like a quirky suitcase, try this one with world cities images on the shell. It'll certainly make yours stand out from the crowd on the luggage carousel at the airport!
I love my Merrells, and you'll spot them in all the photos of me in hot places. I'm a bit fussy about footwear, but have always found Merrells so comfy. They're great for walking long distances, whether that be sightseeing around a city or hiking up mountains, and you can remove the back strap if you want a pair of slip-ons.
Hopefully you'll have found some unique travel gifts ideas here, let me know if you have any more I should add.