Renting a car in Curacao is the best way to see the island
Why is it that what goes on inside my head never quite matches reality? Today I thought I'd be Thelma, or maybe Louise. I'd be renting a car in Curacao, leaning out of the open top roof like a princess, with my scarf trailing seductively in the wind, blowing kisses to passers-by who had stopped in their tracks.
Of course it didn't quite happen like that. I was squished up like a sardine inside the tiny Citroen 2CV with sweat dripping down my back and knuckles white from clinging on for dear life. Standing up was not going to be an option. We did have the roof rolled down, but it was so windy that I lost my baseball cap. Twice. Not quite the look I was going for. We did however manage to stop passers-by in their tracks. Whether they were looking at us with pity or envy we'll never know, but the fact that they looked in the first place I'm going to count as a win!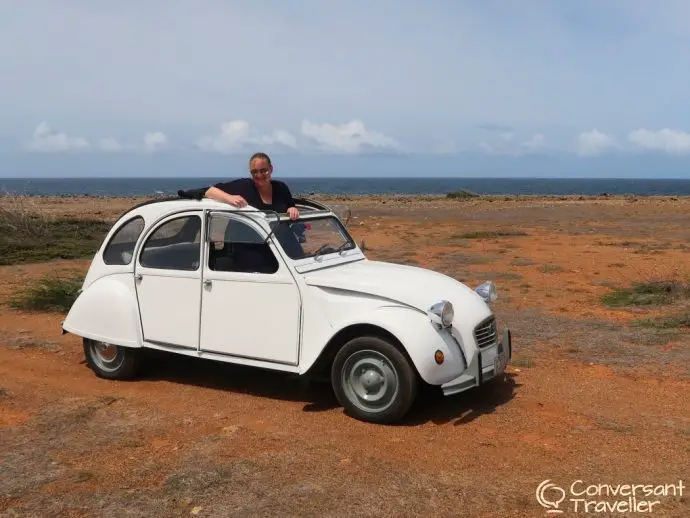 Hubbie and I were spending a few days on the Caribbean island of Curacao, staying at a delightful ocean front apartment in Willemstad with its own private pool. When we finally persuaded ourselves to leave our haven we decided that renting a car in Curacao was the best way to explore the island. There are lots of Curacao tours available, but we fancied remaining independent. Driving in Curacao meant we could go where we wanted, when we wanted, and without spending as much money as we would have on one of the Curacao tours. We could also visit the Christoffel and Shete Boka National Parks in the north of the island, which is much easier to do if you have your own transport.
It really was a no brainer.
Ducks United car rental in Curacao
Of course we couldn't just hire a normal car.
No, we had to do something a little different, something that would be a thrill in itself, which is why we ended up renting a vehicle from Ducks United. Their cars are rather charming old Citroen 2CV convertibles, with manual gears and a roof that can be opened completely. It looked like the perfect way to experience Curacao.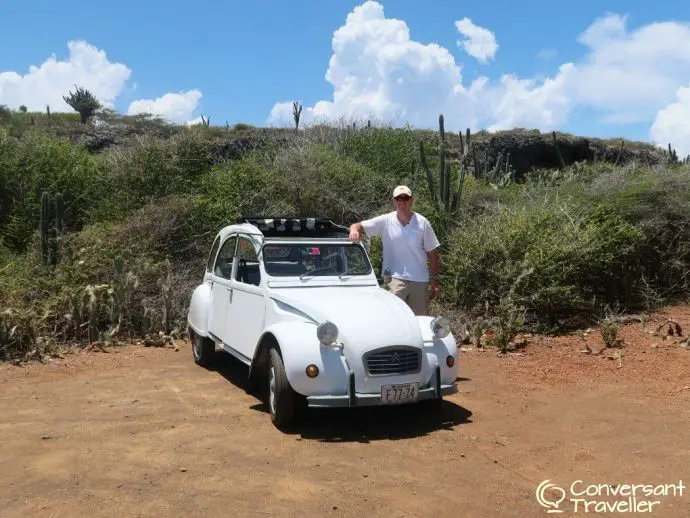 I had visions of us being the cool kids, motoring through the countryside and pretending we were having a 1950's adventure. When I announced my plans to Hubbie he was rather alarmed. He didn't know a thing about driving ancient cars, and knew that it would be him behind the wheel. Still, I managed to convince him it could be fun, and so a couple of weeks later we found ourselves driving in Curacao in a rather unusual vehicle, affectionately called a 'Duck'.
Driving in Curacao
Our first day was a disaster.
Owner Geert delivered the Duck to us after breakfast and proceeded to show us the ropes. It looked pretty complicated to those of us used to a more modern set of wheels. I was privately hoping Hubbie wouldn't ask me to do any driving in Curacao, I don't think we'd have gone very far! Yet he seemed to grasp how to work the gear stick, which was protruding from beneath the dashboard with an unusual rotating and pulling shift style. After putting off our departure for an hour, we finally plucked up the courage to give it a go.
But it wouldn't start!
We did everything that Geert had showed us, but alas nothing happened. Stress levels were already pretty high, and I was beginning to wish we'd booked onto one of the Curacao snorkelling tours with hordes of sun-tanned 20 somethings and free flowing beer. Eventually we managed to phone Geert (after more trauma thanks to our mobile phones not recognising the local networks), and he was back within minutes to investigate. Turns out it was a blown fuse, so he took it back to his garage and fixed the problem within half an hour. We were a little miffed that our day was thus cut slightly short, but relieved it wasn't just us being incapable.
And so to the driving…
It didn't help that we were starting our mission in the centre of the capital, Willemstad (although to be fair it isn't exactly the busiest city we've come across). Within minutes poor Hubbie was doing hill starts, navigating strange road systems and doing battle with a car that came with the springiest suspension ever but lacked power steering. As for the brakes, every time we approached a junction it felt like we were never going to stop in time, if at all.
The next hour was spent getting lost in Willemstad, trying to find the Curacao Liqueur  Distillery at the historic Chobolobo Mansion. Not being used to the Duck we actually felt pretty unsafe to start with, and that, coupled with my inexpert map reading skills, made for a tense morning. Hubbie used up a year's worth of swear words and I sat as quietly as possible, trying to pretend I wasn't there. Not one of our finest hours.
Eventually we made it to the famous distillery, did a quick tour and purchased the obligatory liqueur to take back home and sit on a shelf gathering dust. It's actually a really interesting place. Did you know that Blue Curacao is made from oranges? And it comes in all sorts of different colours, not just blue! They offer tours and tastings, and have a cafe selling cocktails and ice creams, surely the best combination ever. The Distillery is only open on weekdays between 8am and 5pm, so don't turn up on a weekend!
Still feeling cross and grumpy with each other and the car, we decided to retreat back to our safe haven at PM78, and spent a wonderful afternoon relaxing in the pool, and exploring colourful Willemstad.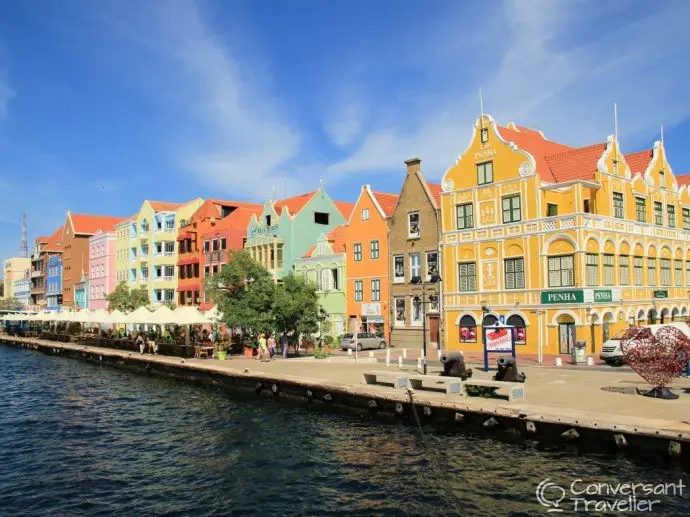 The second day driving in Curacao was a different story.
It was packed full of adrenaline, terror and fun in equal measures. By this time Hubbie had got used to driving in Curacao and was now handling the Citroen 2CV like an expert. Almost. He was now probably a bit over confident, perhaps to mask his fear, and the day was filled with whoops, exited yells and far too many 'yeah babys' as I still clung on for dear life, meekly suggesting he might like to make use of the brakes now and then.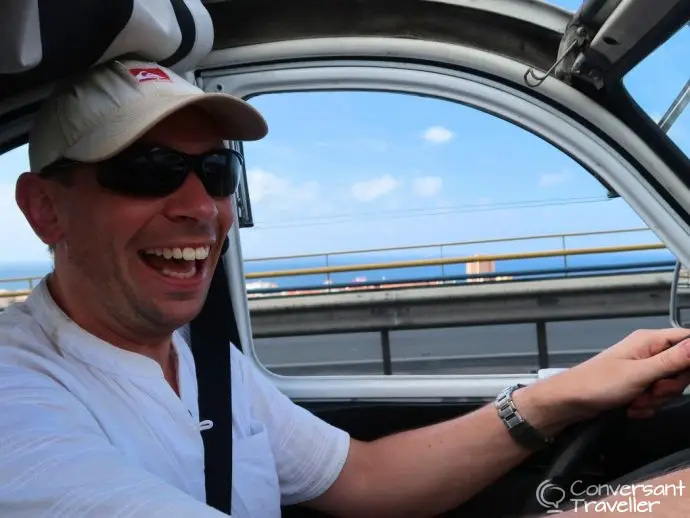 Christoffel National Park
Although Curacao has some gorgeous beaches, we decided instead to head north to explore Curacao's two national parks, Christoffel and Shete Boka. Renting a car in Curacao really is the best way to see this part of the island.
Christoffel National Park is home to a rich variety of flora and fauna and its 2300 hectares stretch from the wild eastern coast inland to the mountains. There are several hiking trails as well as scenic car routes that meander through bush land, along the windswept coast, and over hills. It took about 45 minutes to drive there from Willemstad, and as we'd had a leisurely breakfast at our beach house we didn't arrive early enough for any serious hiking (it isn't allowed after 11am due to the intense heat).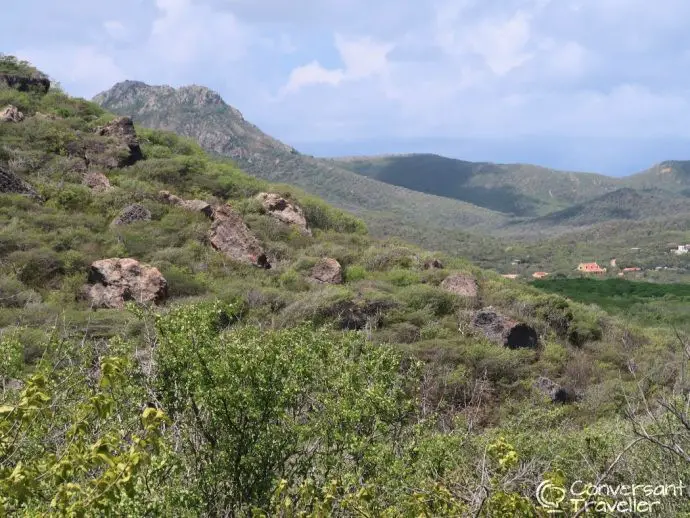 Speaking to the lady at the national park office, we soon realised the mountain roads weren't suitable for our Duck (Geert had also mentioned this, but we decided to check it out anyway!), although they're perfectly fine for 'normal' vehicles that can cope with steep slopes and hill starts! Feeling a bit disappointed, we were happy to discover that the Christoffel National Park is actually split into two sections. The mountain route and the northern route – the latter trundles out towards the coast and was flat enough for our Citroen 2CV. Just!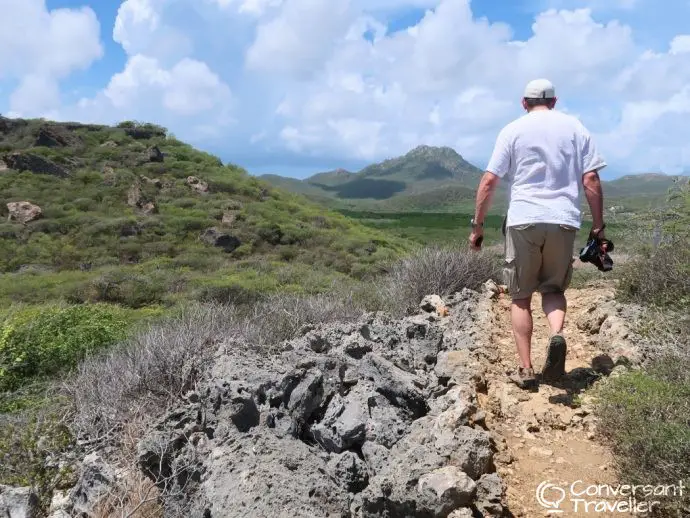 The scenery isn't quite what you'd expect from a tropical Caribbean island. In fact the arid ruggedness reminded us more of South Africa, and walking through the scrub land down towards the coast felt just like being back in the bush. Only without the lions.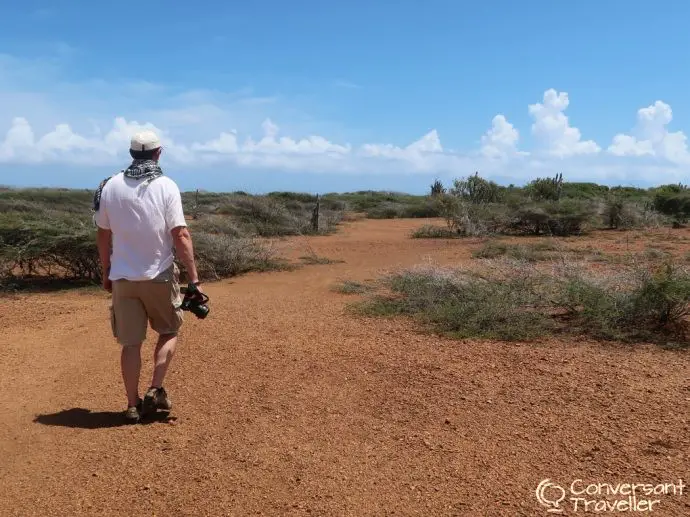 There are some great view points from the northern car route drive, and if you arrive early enough in the day you can hike down to Boka Grande, a charming little beach tucked away at the bottom of a beautiful trail.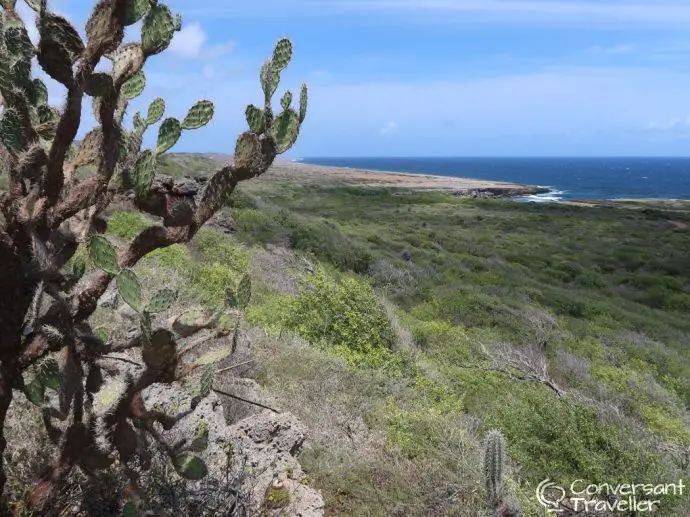 Further along the route we came across some caves hidden away amongst the scrub and cacti, which were a little walk away from a dusty parking area. The caves are home to several different species of bat, all of whom were of course sleeping at midday! If you take this route make sure you pack a torch so you can explore the caves properly. There are also Indian drawings on the rocks up here, but they're well hidden and the presence of quite a few wasps meant we didn't venture any future up into the outcrop. Plus it was absolutely baking in the sun and neither of us could wait to get back to the car for some chilled drink action. We're not cut out for anything above about 20°C, let alone nearly 40!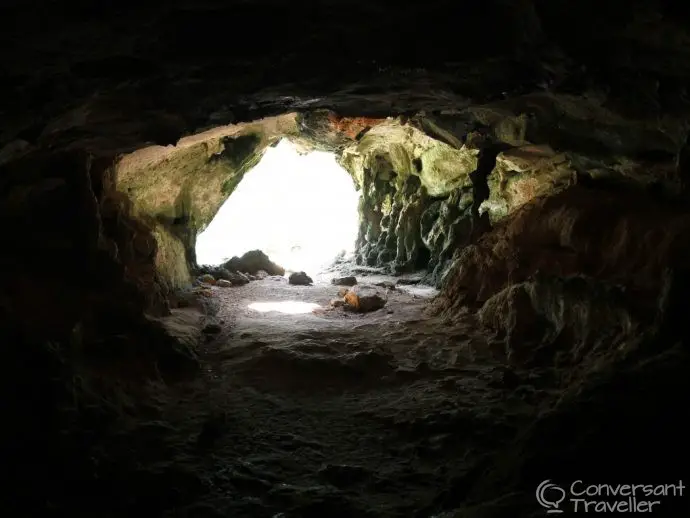 Entrance to Christoffel National Park is Nafl 25 per person, and Nafl 1.75 for a car guide route map. Dollars are accepted. The park is open everyday until 4pm on weekdays and 3pm on Sundays. You can't enter the park after 2.30pm so make sure you arrive in the morning.
Shete Boka National Park
Next we headed further north to visit the Shete Boka National Park, famous for it's coastal landforms and nesting turtles at certain times of year. The park is well thought out, with plenty of different parking areas for all those renting a car in Curacao, and trails radiating out to the different viewpoints. The staff there were very friendly and helpful, and also slightly amused at our choice of vehicle.
Our first stop was Boka Tabla, where the sea thunders into an underground cavern. Steps carved in the rocks lead down to the shore and it's a great place to spend a few moments watching the waves crash around you.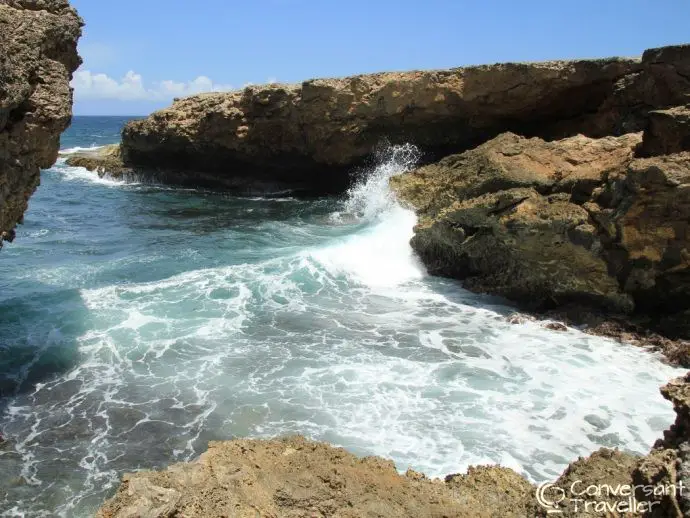 Walking along the top of the limestone cliffs we discovered the natural bridge at Boka Wandomi. To be honest, it didn't really blow us away, no doubt since we've been spoiled with truly spectacular coastal formations elsewhere in the world. However it was worth a visit, and we were there near high tide so no doubt the arch would have been more impressive later on!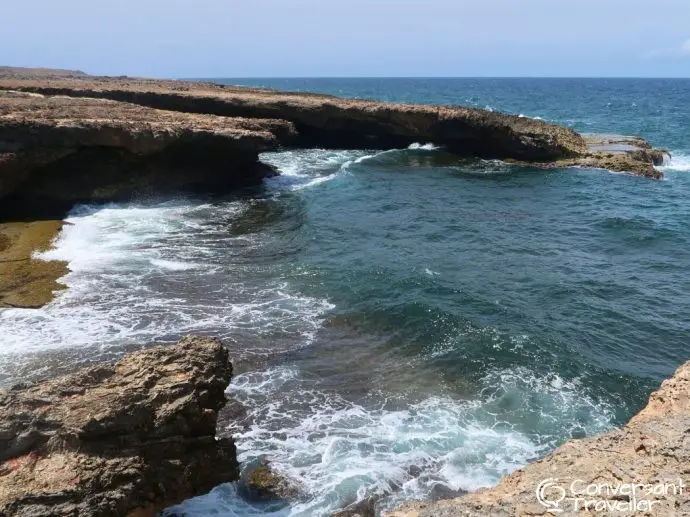 The beach here is pleasant (although you can't swim on this coast as the waves are too dangerous), and a great place for a picnic overlooking the bay.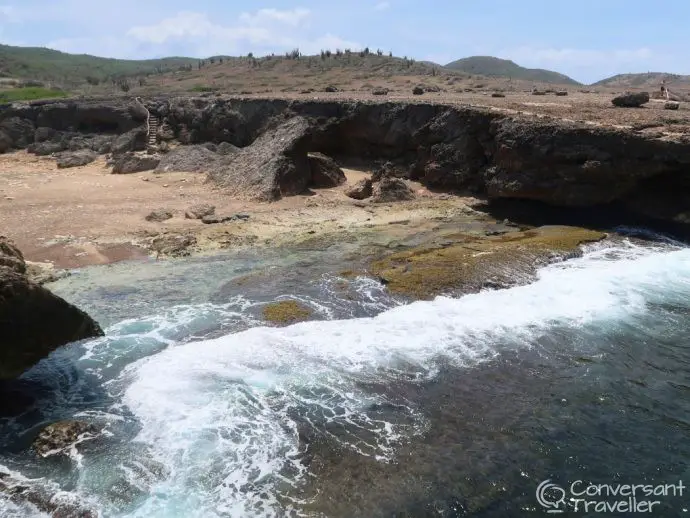 Further along the coast is Boka Pistol, a coastal geysir caused by waves bursting through a hole in the limestone cliffs. You could easily spend half a day hiking these trails, just take plenty of water and sun cream as there isn't any shade!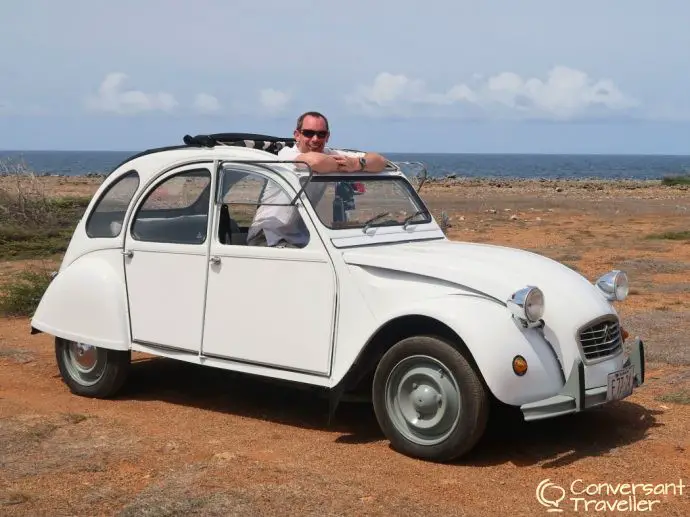 Entrance to Shete Boka is Nafl 10 per person. Dollars are accepted. The park is open every day from 9am – 5pm.
What we loved about renting a car in Curacao with Ducks United
As you know we love a bit of quirkiness, and car rental doesn't get more off the wall than a Duck! We loved this unique way to explore the island, and the fact the car is kinda sexy and photogenic! Once we'd got used to this strange mode of driving in Curacao, and the way the Citroen 2CV manoeuvred, we actually really enjoyed the experience. It was fun, and the thrill that comes from not quite knowing if you're going to make it back in one piece is all part of the adventure.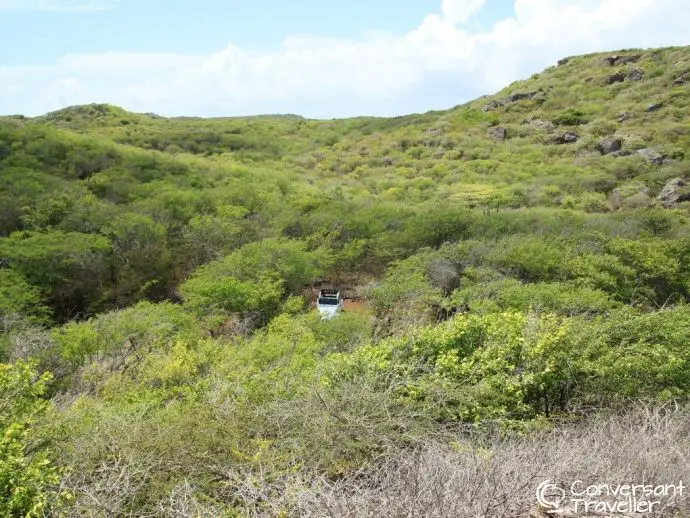 What wasn't so great
Although initially it felt very unsafe driving in Curacao with the Duck, we never had any mishaps, and the brakes did always work even if they felt like they might not. Our misgivings were simply due to unfamiliarity with the vehicle. Besides this, the other major negative was not being able to lock the car! This is how the Citroen 2CV is designed, and perhaps 'back in the day' security wasn't such an issue. Yet we felt we couldn't ever leave the car for long, and each time we got out we had to take all our belongings with us. Tourists are warned specifically not to leave items unattended when renting a car in Curacao, and we certainly weren't going to risk our camera gear getting pinched. This is the reason we didn't visit a single beach on the island. We had wanted to go snorkelling, but without being able to securely leave our equipment, we had no choice but to forgo the watery pleasures of the island. Which is a real shame as there are some great beaches on Curacao!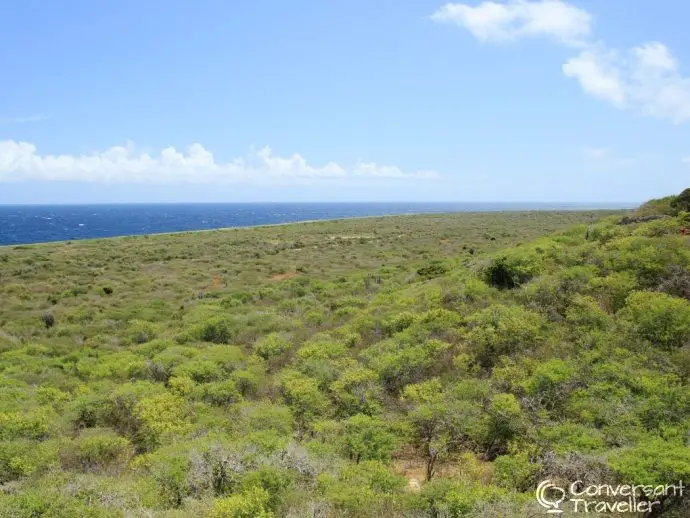 The Verdict
This is definitely aimed at those who like adventures, and are prepared to forgo the comforts of modern vehicles in the pursuit of such dreams. Renting a car in Curacao with Ducks United should be treated as an experience in itself rather than just a means to get from a to b. Hiring it for 2 days was the ideal length of time. One day to get used to driving it, and one day to enjoy it! Had we been staying on the island any longer we would have hired a car with air conditioning and locking doors for the remainder of the trip, because there's only so much sweat one can bear, and not being able to secure the car did mean we felt restricted in where we could go and what we could do.
Would we do it again? Probably, if it wasn't so hot. Ducks United also operates in Ibiza and Mallorca so maybe someday we'll give it a go in more favourable temperatures. Perhaps we like our creature comforts a little too much, but I really could have killed for some air conditioning on this trip.
Definitely more of a sweaty Betty than a Thelma or Louise!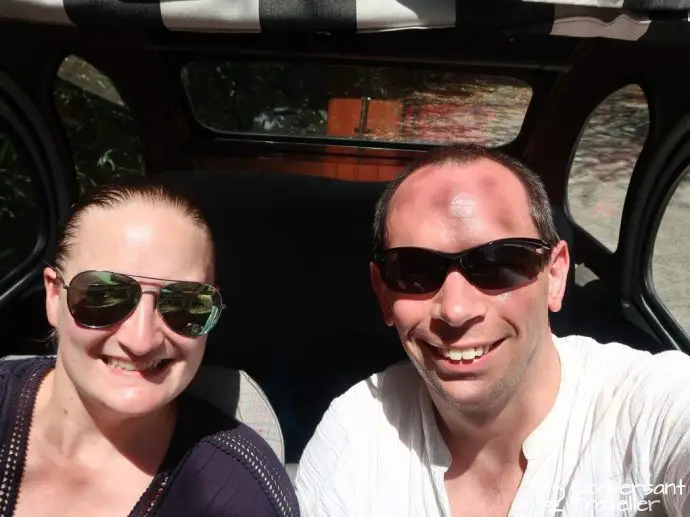 Tips for driving in Curacao
Driving in Curacao is actually pretty easy. The roads are mostly well maintained, although you will find some of those in more rural areas have unexpected potholes and aren't always sealed.
Traffic is fairly light, especially outside Willemstad, and we never felt hassled by other motorists.
Drive on the right!
Road rules are similar to Europe or the US, although on duel carriageways you can overtake on either the left or right, which is confusing.
Turning right at a red traffic light isn't allowed.
The speed limit is 50kph in urban areas, 80kph in rural areas.
You don't need a 4×4 to explore the island, a 'normal' car will do.
October – January is the rainy season, and some roads will be closed.
Overall driving is pretty relaxed on Curacao.
Tips for hiring a car with Ducks United
It costs €50 to hire a Duck for one day. This becomes cheaper for multiple day hire.
The Duck can be delivered to your accommodation for an additional charge (€15 one way), or picked up at the airport on arrival. You won't fit much luggage in so I suggest the former.
The Duck does come with a handy map and card giving you discounts at some of the popular island beaches and experiences.
They do offer a picnic (€15 per person), which we opted for on the first day. It came with sandwiches, savory snacks, fresh fruit and most importantly, a cooler with chilled drinks which were most welcome in the heat.
It is hot on Curacao. Try to go out driving in the mornings and evenings. The afternoons are quite unbearable without air conditioning.
Just a quick note on currency…we used US$ during our time on Curacao, and didn't need to exchange them for the local Netherlands Antillean Guilders. Euros are also accepted, but not as widely as dollars.
Found this post useful? Why not pin it for later…