There's nowhere quite like Basel, where a thriving contemporary arts scene peacefully coexists with one of Europe's great historical hubs. In fact the two compliment each other so well it is difficult to imagine one without the other. The city is a magnet for architecture and design, and effectively Basel is one unique cultural museum. With such a focus on technology and art, and the increase of tourism, it is perhaps unsurprising that new design hotels are frequently appearing on the scene. You won't go far wrong by choosing one of these for your stay to really be able to appreciate what the city is all about. The Passage Hotel Basel is a great place to start.
Opened in 2014, The Passage Hotel Basel is an obvious choice for lovers of modernist style and contemporary luxury, and we couldn't have been more delighted with our weekend stay here. Standing proudly in the heart of the city, this new urban retreat is the latest hotel in the Hotels et Residences Diana chain which stretches from here in Switzerland across the border into the Alsace region of France.
I thought the name was inspired! It comes from the hotel being an actual 'passage' that links the new and the old areas of the city, a sort of bridge between the ages. If you walk out of the front door, you'll find the former, along with a great transport system right outside that will take you to and from the main SBB train station (which is where you'll be coming from if you flew into Basel airport!). By exiting though the rear entrance however you'll shortly be skipping down the steps into the old town which is where all the top sights and restaurants are located.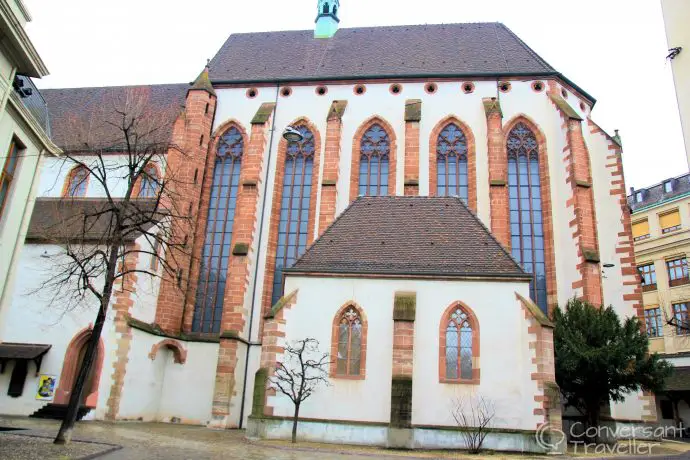 Sleeping at the Passage Hotel Basel
There are 53 rooms sharing this designer environment, ranging from patio rooms to suites. Of course since the Conversant Traveller likes nothing but the best, we stayed in the top Passage Suite high up above the city. I wasn't sure what to expect from a design hotel, and had worried the décor might be very individualist in style, but I was pleasantly surprised by the tasteful furnishings and arty yet seductive lighting. The artistic touches weren't at all over-bearing and in fact the hotel managed to feel homely as well as edgy.
We loved our enormous bed which was as wide as it was long, which was just as well since we consumed a vast amount of the delicious Basler Läckerli (traditional gingerbread slices) whilst we were there. Our waistlines certainly suffered in Switzerland as of course we had to try out the fondue houses and bakeries, it's one delicious country! My favourite aspect definitely had to be the external window shutters ensuring a dark and peaceful night's sleep, no doubt assisted by the angels who were watching over us. Many of the bedrooms had quirky quotes above the headboard, including our favourite "a line is a dot that went for a walk". Anywhere else this might be a little odd, but in Basel it totally fits.
The glass-enclosed bathrooms were sparkling and spotless, with gorgeous smelling local L'Occitaine en Provence goodies, though alas no hair conditioner. Great touch that the toilet was in a separate glass cubicle of it's own!
If you're after a bit more space, or need to work during your stay, the suites at the Passage Hotel Basel are the perfect place, and refreshingly the free wi-fi works a treat. It was great having a separate living area in which to relax after a hard day of sightseeing, and once we'd discovered how to work the espresso machine and raided the minibar we were sorted. Oh, and the champagne that was left for us on arrival went down a treat too, lovely thoughtful touch that is indicative of all the staff here.
Eating at the Passage Hotel Basel
The lobby and lounge area are the epitome of refined living, with lofty ceilings, soft colours and an abundance of natural light. The comfy seating is perfect for breakfast or catching up with the day's complimentary newspapers accompanied by a bottle of beer and bar snacks later in the day.
The self-service continental breakfast buffet was pretty decent, with lots of choice including pastries, fresh fruits, yogurts, cereals and meats. I'm a girl who loves her Emmental cheese (I'm sure I was a Swiss mouse in a previous life!), so was a very happy bunny for half an hour each morning! The only slightly odd aspect was that breakfast wasn't included, something we've not really come across before but is apparently quite normal for hotels in the area. At Euro 22 per person it's quite steep (but remember this is Switzerland!) so make sure you fill up and you'll only need a pastry (or two!) for lunch!
Sweat
The designer environment doesn't stop with the rooms and lobby. A state of the art fitness studio and Finnish sauna offers an almost oriental zen ambience that kind of makes you want to go and work up a sweat for an hour, just so you can use the chilled out relaxation room and sauna afterwards. Don't think we've ever seen such a good gym in a hotel before, it's even better than the one we use back home!
Service
A hotel can be as luxurious and as well designed as it likes but it's the service that makes or breaks the deal for me. The team at The Passage Hotel Basel couldn't have done more for us. Welcoming from the moment we sauntered in the door to the morning we left, they treated us like royalty. Despite the upmarket surroundings, the atmosphere was informal and friendly, and we felt right at home. We always feel inadequate with our poor language skills, but everyone spoke excellent English and didn't make us feel guilty at having to speak in our mother tongue. Bettina was particularly helpful during our stay, and I promise my words have nothing to do with the handfuls of the delicious little Basler Läckerli she pressed upon us on our departure, ostensibly to sustain us for the rest of our trip, although we all knew they wouldn't last the day!
Tips
To reach The Passage Hotel Basel from the airport take bus 50 to the Bahnhoff SBB train station. Then catch bus 30 to Steinengraben, the hotel is 50 metres away from the stop.
Visitors staying in Basel are given complimentary mobility passes for free transportation within the city. You can use this before you even arrive at your hotel, just show your reservation to the ticket inspector. This includes the bus from the airport.
So now you know where to stay for your trip to Basel, but what should you do whilst visiting the city? Check out my article on how we discovered basilisk beer fountains and traditional Rhine ferry boats in this up and coming tourist destination.
Thanks so much to the wonderful folks at The Passage Hotel Basel for our complimentary stay, and the use of some of their photographs. Words and opinions are, as always, my own.