This post contains affiliate links which means we may make a small commission at absolutely no extra cost to you. Thanks for reading. You can read our full disclosure policy here.
---
There were several raised eyebrows when we told people we were going to check out the best things to do in Bogota. Surely the city was still a dangerous hotbed of crime after decades of well-documented troubles in the country? Colombia was in fact our second choice.
We were supposed to be spending a few weeks on an expedition in Venezuela, hiking through national parks, climbing up to Angel Falls and paddling canoes down the Orinoco. Yet Venezuela is not a happy place at the moment. The country is on its knees thanks to an ongoing economic war and increasingly violent anti-government protests. People are starving and trying to flee the country. It isn't a place for tourists, so with a heavy heart we decided to play it safe. By going to Bogota!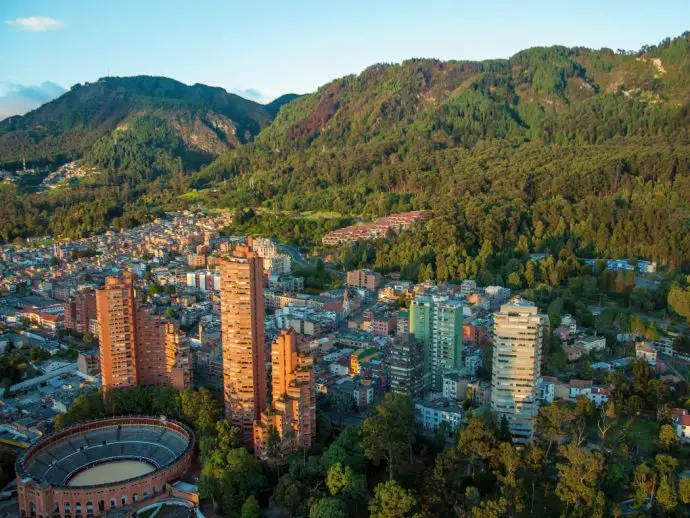 Travel Safety in Bogota
Today Bogota is considered to be one of the safest urban areas in South America. Things have changed dramatically since the days of drug trafficking, kidnapping and murders. In reality, the country is now known as one of the happiest places in the world according to these fun Columbian facts. Sure, Bogota still has its issues, just like any other heavily populated city in the world, but to a tourist sticking to the main sights and not wandering around after dark, risks are minimal.
The police presence is reassuring too. We were surprised to discover a vibrant and attractively developed city buzzing with trendy coffee shops, world-class restaurants and a colourful street art scene. It wouldn't have looked out of place in the US, and we were disappointed we only had a couple of days to explore. If you want to make sure you feel as confident and comfortable as you can while visiting Bogota, and indeed much of South America, you might want to consider learning some Spanish before you leave home, to help with communication on the ground. A few words in the local lingo goes a long way to forging relationships and making you blend in better.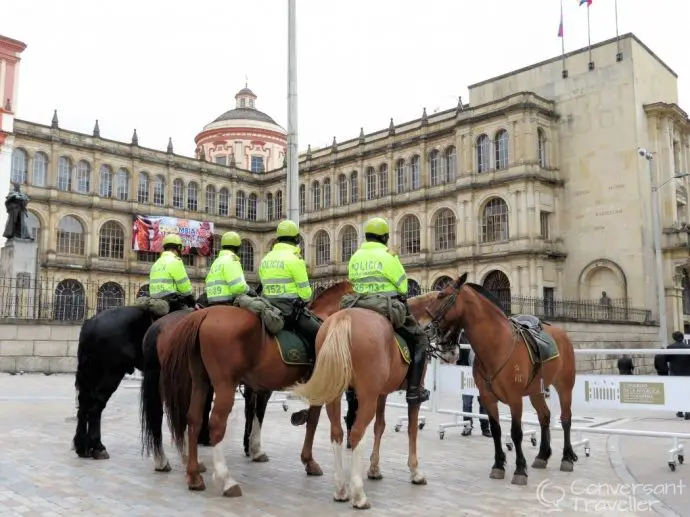 Things to do in Bogota
 1. Monserrate
My very first solo adventure at the tender age of 18 was visiting Montserrat near Barcelona, so I was keen to see how it's sister mountain overlooking Bogota compared. You can see Monserrate from pretty much everywhere in the city. At over 3,000 metres, the mountain is an important religious symbol of Bogota with a 17th Century church and monastery built on top.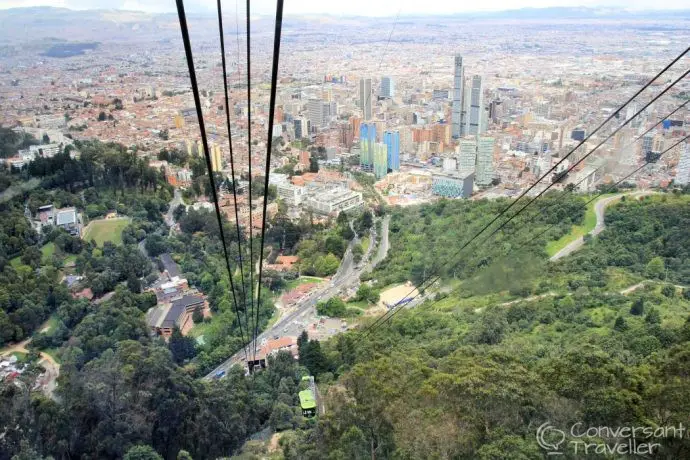 To get to the top of Monserrate there are 3 options. Cable car, funicular railway, or by foot. It's not always safe on the trail so we decided walking wasn't an option and took the cable car up, and the train down. The journey took about 5 minutes each way. We much preferred the cable car as the views were far superior. Inside the train it was a bit squashed and we weren't even near a window so didn't see much on the return journey.
There are pathways along the top of the mountain so you can explore the gardens, church and admire the views of the city far below. There are also a couple of restaurants, toilets and the obligatory tourist market.
Cost: both the cable car and train cost COP 20,000 for a return ticket. It is cheaper on Sundays but also much busier as this is when locals make the pilgrimage up to the church.
2. Museo del Oro – Gold Museum
I'm not a fan of museums, preferring my history more tangible and in situ. Yet for the Museo del Oro, I can make an exception. Definitely one of our favourite things to do in Bogota.
Perfectly situated in the historic district of La Candelaria, the Museuo del Oro is one of the best and rather unusual things to do in Bogota. It boasts over 55,000 gold exhibits from pre-Hispanic cultures and is the largest collection of gold artefacts in the world. We also visited the gold museum in Cartagena, which is quite impressive but not a patch on this one!
There's quite a decent amount of information (in English!) on the display cabinets, and audio guides are also available (and really worthwhile!). We spent a couple of hours in here, but could have easily stayed half a day if we didn't have such a tight schedule.
For some reason Hubbie was more interested in the mummies.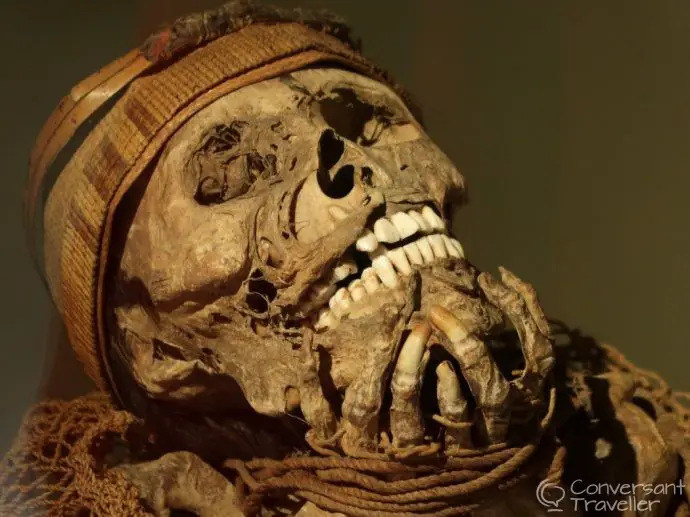 Cost: COP 4,000 per person. Audio guides are extra.
3. La Candelaria – historical district
Strolling around La Candelaria during the day time should be top of everyone's list of things to do in Bogota. The historical district is full of cobbled streets, colourful colonial buildings and lots of street art. It reminded us a little of San Blas in Cusco, although on a much smaller scale.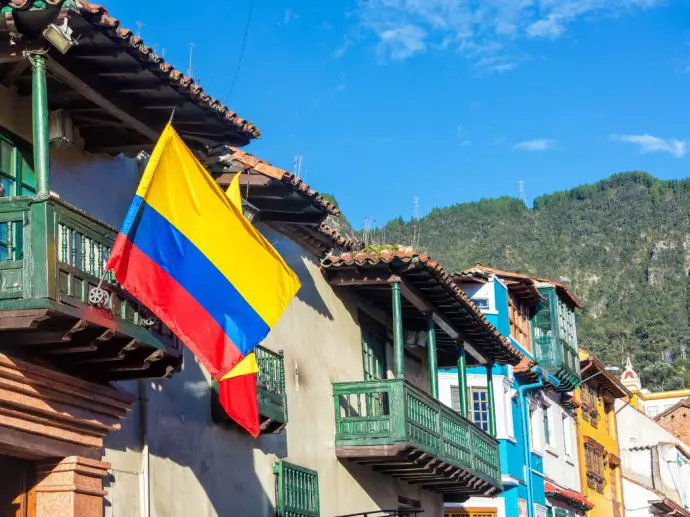 This is also where you'll find museums, the main square, and a lot of quaint cafes and restaurants. You can't leave the country without trying some fresh Colombian coffee, and this is the place to do it in style.
It isn't advisable to walk around after dark in this area, but it is a great place to stay with all the historical sites, bars and eateries right on your doorstep.
4. Plaza Bolivar and Catedral Primada
The main square in La Candelaria is Plaza Bolivar, a large open public space surrounded by colonial buildings such as the city hall, supreme court and the cathedral.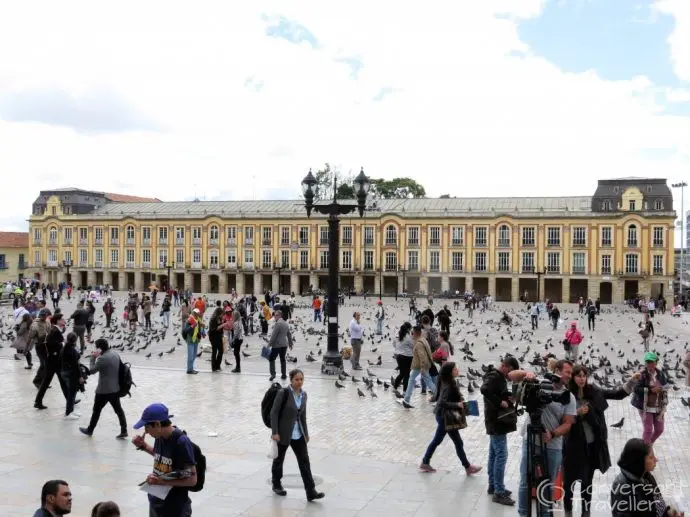 There's also a whole lot of pigeons, which reminded us of the glory days in London's Trafalgar Square. Here in Bogota locals still sell bird feed to children and tourists for the obligatory holiday selfies. We steered clear and managed to avoid getting pooped on.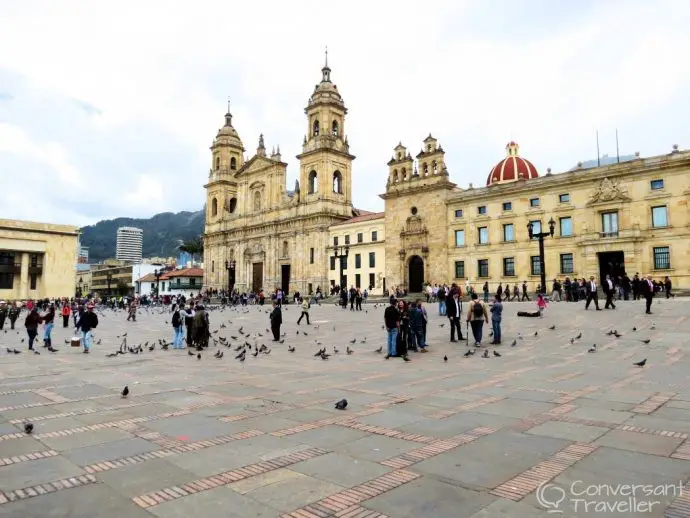 The neoclassical cathedral is pretty spectacular inside, although surprisingly not as lavish as the ones we've seen in Peru. Perhaps because it has been through a lot over the years with foundation collapses, earthquakes, and riots.
5. Museo Botero
I'd never heard of Botero but our taxi driver spoke so passionately about him that we decided we had to check out the museum. It's certainly different!
The Museo Botero is known as one of the most important collections of art in South America, with much of the it being donated to the museum free of charge from the artist himself. Botero was Colombia's most famous artist, renowned for his paintings and sculptures of enormously fat ladies. It isn't everyone's cup of tea, and I have to say we slunk around the rooms and courtyards trying not to giggle rather than actually appreciating the art, but it's all part of Colombia's culture and one of the recommended things to do in Bogota. If nothing else the building is very attractive with open air courtyards, colourful gardens and colonial architecture.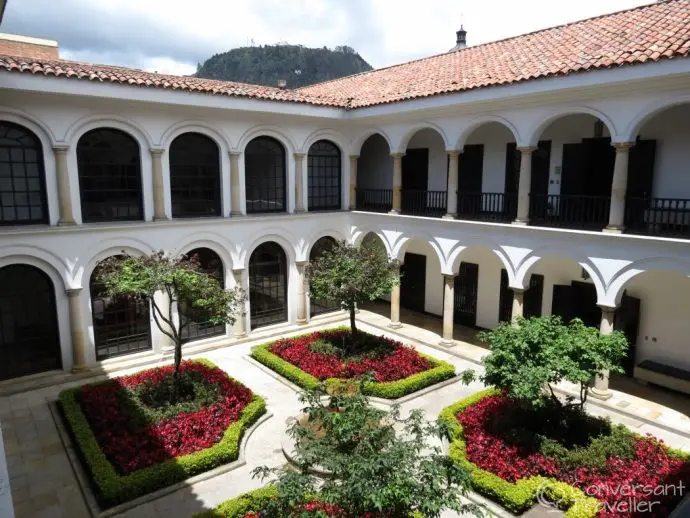 It's also just up the road from Plaza Bolivar so you may as well pop in and have a look.
Cost: free
6. Walking Tours
If you don't fancy walking around by yourself or want a bit more of an insight into what you're seeing, then there are lots of free walking tours on offer, covering many of the best things to do in Bogota. As well as La Candelaria, some tours take in Simon Bolivar Park and the government buildings, and sometimes other squares and places you'd be unlikely to find by yourself.
Cost: free, but donations expected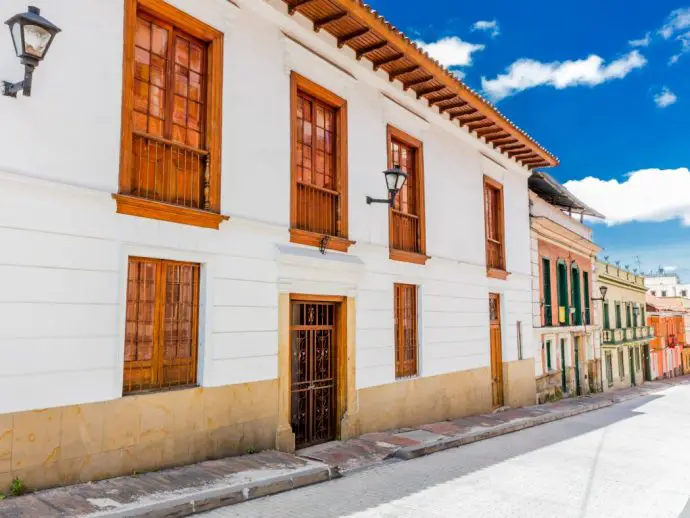 7. Food Tours
In the same vein, food tours are also available, and a great way to explore Bogota a little differently. Plus you get fed, so what's not to love? On the tour you visit different establishments, markets and bakeries, trying out Colombian favourites such as almojabanas (cheese rolls), empanadas, and chocolate santafereño (the famous hot chocolate with cheese) whilst learning about the culture and food history at the same time.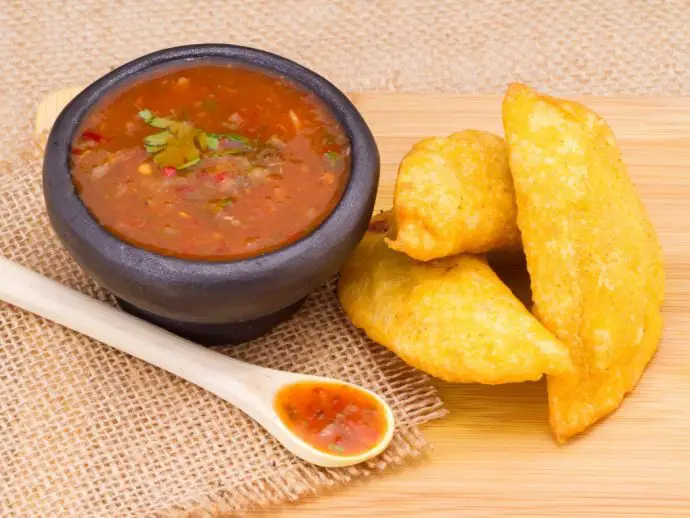 8. Street Art (Graffiti) Tour
Street art really is the 'in' thing at the moment, and one of the most popular things to do in Bogota. It used to be illegal but today it's all over the city, with everything from people and cartoons to writing and animals all bringing a colourful statement to the streets. Rumour has it that pop star Justin Beiber is partly to blame, or credit, for the rise in street art in Bogota, depending on how you look at it. Apparently when he was here in 2013 he painted a Canadian maple leaf (and a cannabis leaf) on an off-limit wall, and got away with it. This opened the doors for local graffiti artists to start their own projects, arguing that if the police turned a blind eye to the singer, then they should jolly well do the same for locals.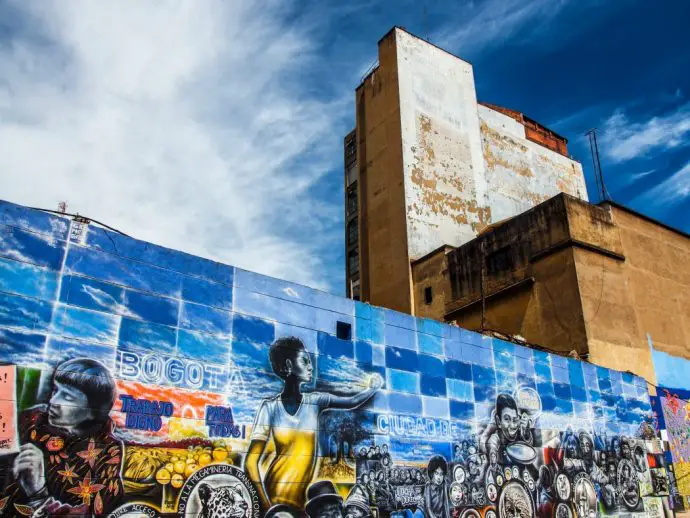 Some of the art is by famous local artists, each with their own tale to tell. Today, far from being an annoyance, street art has well and truly arrived in Bogota and visitors can even join the popular graffiti tours to see what the fuss is all about.
Where to Stay in Bogota
Accommodation in Bogota ranges from traditional guest houses in the historical area of La Candelaria, to international chain hotels in the downtown and outer areas of the city. If you're only here for a couple of days, then we suggest La Candelaria, because this is where you'll be spending most of your time visiting most sights. It's also a great area for restaurants and cafes, so everything really is on on your doorstep. Hotel de la Opera, Casa Candelaria and Hotel Casa de la Vega are all decent options here.
If you're looking for luxury rather than rustic, then look no further than the likes of the Sofitel, Four Seasons or Hilton. We stayed at the Sofitel (the food was divine!) and hired a car and driver to get around during the day, which meant we were totally independent, and felt safe without the need to use public transport. We also only had 2 days so it saved on time too, allowing us to fit more in.
Found this post useful? Why not pin it for later…