This post contains affiliate links which means we may make a small commission at absolutely no extra cost to you. Thanks for reading. You can read our full disclosure policy here.
---
Looking for fun things to do in Cartagena in Colombia? Then read on, we have a treat in store for you!
It isn't every day that the Pope nearly ruins your holiday. I suppose it wasn't his fault really, but we can perhaps be forgiven for not checking the Papal schedule before travelling. Schoolgirl error.
It all began when we ignored the flyer that was shoved in our faces at the airport. Exhausted after travelling all the way from exploring citadels in Cusco, and irritable thanks to the heat that enveloped us in its sticky embrace the moment we stepped off the plane, the last thing we wanted was to contend with tour touts and their wares. Filing it carelessly away in a pocket alongside used tissues and old boarding cards, we crawled thankfully into an air-conditioned taxi and trundled off to our hotel to plan our sightseeing. We had a lot of things to do in Cartagena de Indias and were going to be very busy for the next couple of days.
Or so we thought.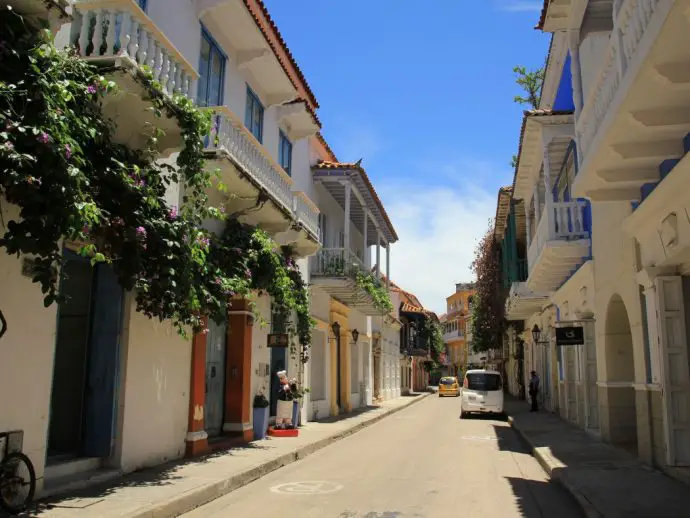 The morning dawned blue and bright, and after a hearty breakfast at the boutique luxury Hotel LM where we were staying, we scurried off, map in hand, to do the tourist thing. I say scurry, but it was actually more of an amble, because even in the early hours it was hot. And I had to stop every few paces to take a photograph of the pretty streets. Hubbie tried not to get irritated by my constant pauses, but even the calmest of people would struggle to stay smiling when sweat is running freely into all bodily crevices and the wife just won't get a move on.
But it was worth it.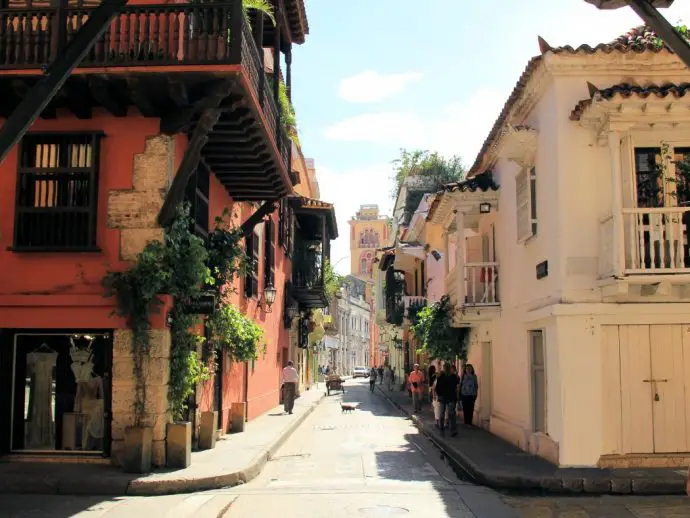 We thought we'd start with the fortress, just a 10 minute walk outside the old walled city, before making our way back via ancient churches, leafy plazas and cute cafes. Yet there was just one problem. The streets of Cartagena were suddenly heaving with people.
We couldn't move.
Some roads were completely shut off and we had to squeeze through the crowds to try and get out of the historic quarter. The people were locals rather than tourists, some carrying plastic chairs and others chattering excitedly as they hurried along as fast as the masses would allow. Some ladies dressed in the traditional clothing of Cartagena were selling fruit and water, so we assumed there was some sort of event on.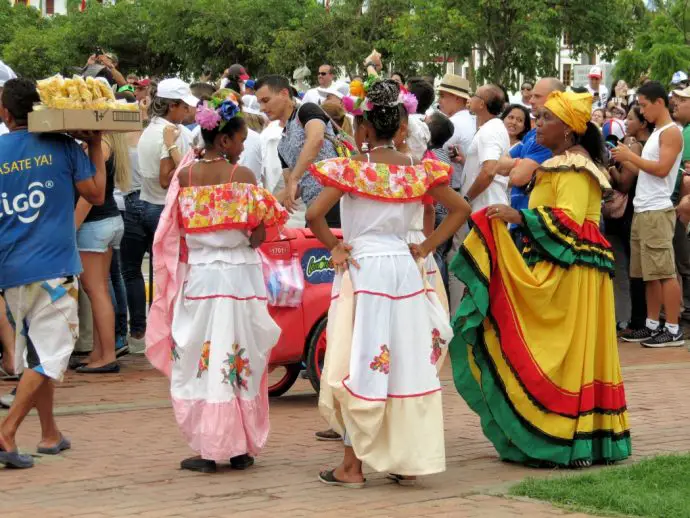 And then we saw the crosses, the flags, and even the t-shirts, all bearing an image of the Pope. This was obviously not just an everyday festival. The man himself was clearly coming to town.
Not being Catholic, and feeling the pressure to start ticking sights off our list, we decided to give the Pope a miss and continue to the fortress, which would surely be free of the crowds.
No such luck.
The main road through Cartagena was completely barricaded on both sides, splitting the city in two, leaving us trapped on the wrong half of town. We walked up and down for a few hours, trying in vain to find somewhere to cross, but the police who were lining the route were having none of it. It was so frustrating. The fortress was just metres away across the road, but we couldn't reach it. Resignedly we trudged all the way back, wondering if we could eventually cross the road on the other side of the city, but before we got there the crowds became excited and the reverent wailing began. Some people stood on chairs for a better view, clutching their cameras and flags.
The Popemobile was coming.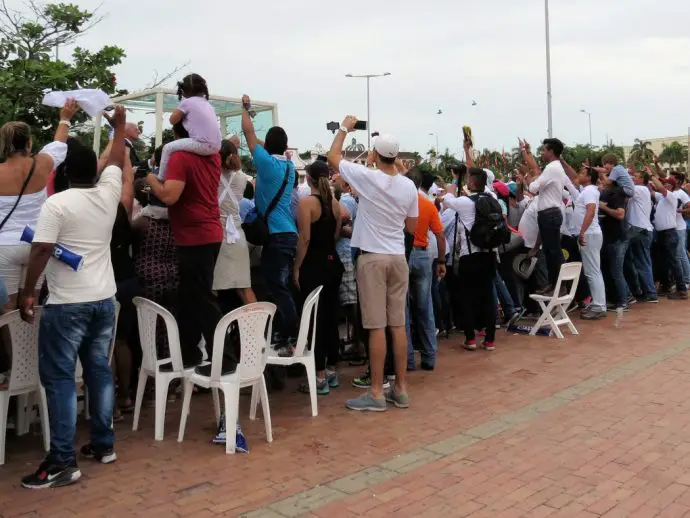 It was all over in a matter of seconds, and alarmingly that wasn't enough for some people. They began running en masse after the Pope, and we had to jump behind a crate of bricks to avoid being swept along in the fervour. It was actually a little scary. As an atheist I find it rather terrifying that people can worship anything or anyone so devoutly. Religion is both wonderful and dangerous, and not something I'm personally comfortable being a part of.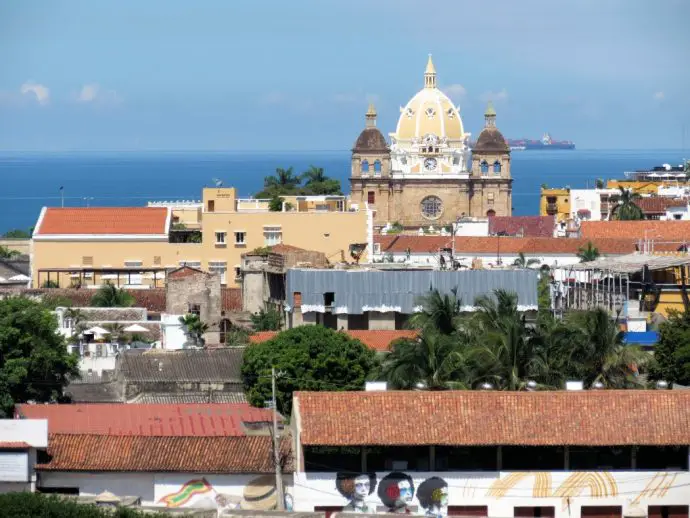 Half a day after we set out to see it, the fortress was finally within reach. The Pope had gone into the city to preach at the church of San Pedro Claver and the police let us through the barriers. We happily headed up again towards the imposing stone walls to complete our mission.
Only to find the fortress was closed for the day. Because of the Pope.
If only we'd taken notice of that leaflet!
Best things to do in Cartagena de Indias
In the event, having the Pope put a spanner in our meticulously planned visit wasn't such a bad thing. It forced us to slow down, which is how Cartagena is meant to be experienced. Besides, it's really too hot to do it any other way. The city definitely has more of Caribbean than South American vibe, and the best way to explore is simply to amble around without an agenda.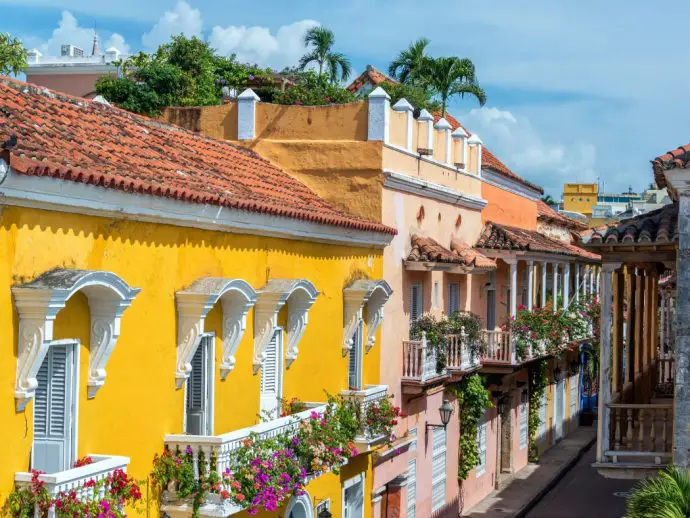 It reminded us of our visit to the the colonial coastal town of Paraty in Brazil, so we knew we were going to love Cartagena before we'd even set out! In fact visiting Colombia was one of the best travel decisions we made this year, and we wish we'd had longer to explore.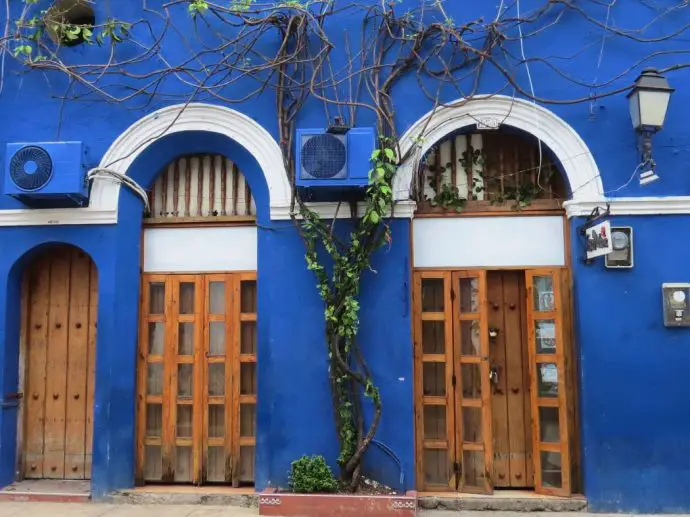 Once you've tired of strolling the ancient cobbled streets, admiring the colourful architecture and sipping cocktails at pavement jazz cafes in the sultry evenings for which the city is famous, then these are a few of our favourite things to do in Cartagena:
1. Take in the views from Castillo de San Felipe de Barajas
I guess I have to start with the fortress, given the effort we put in to finally get there (we eventually made it the day after the Pope's visit!). To be honest, although visiting the Castillo de San Felipe is one of the top things to do in Cartagena, it was the view rather than the structure itself that made this worth seeing. The panorama from the top was superb and overlooked both the new and historic parts of Cartagena (you can just see an old city church dome on the right of the skyline).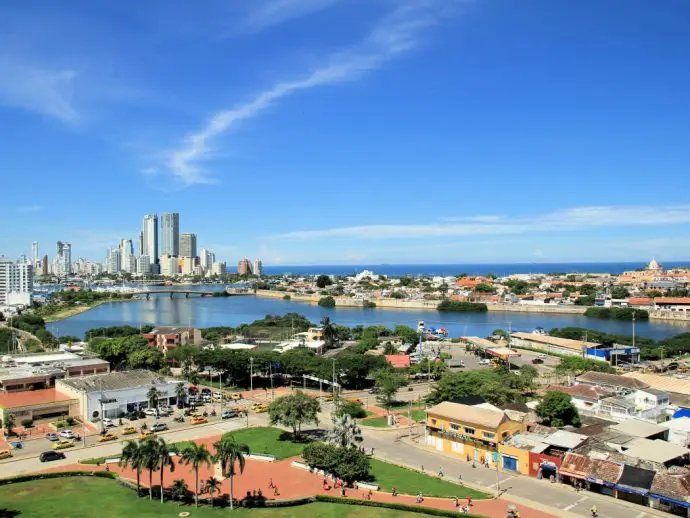 The imposing Castillo San Felipe was very much a fortification and quite unlike the pretty forts and castles we see in Europe. Located on top of a hill, it was built by the Spanish in the 16th Century to protect the city from enemy nations and pirates who were eyeing up the gold, silver and cacao being transported by galleons across the Atlantic to Spain. The fortifications defended the city by encircling it with a 7-mile wall, along which forts and gun turrets were strategically located.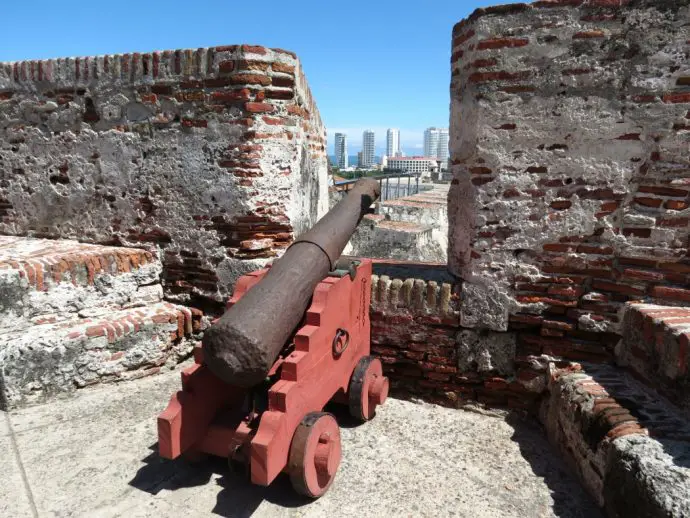 It may look like just a few concrete walls, but Castillo San Felipe was Cartagena's main fortress and named after the King of Spain. It withstood sieges and did a grand job of protecting the city from invaders. Today visitors can walk along the battlements, explore underground tunnels and try to imagine the battles that once took place along this coastline.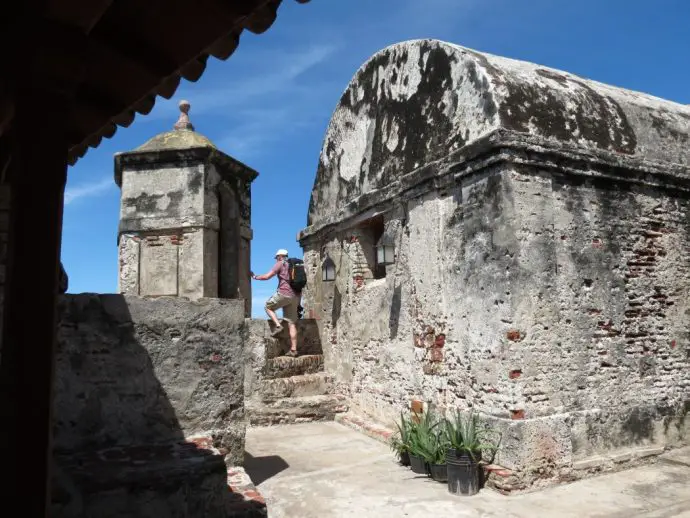 2. Sip iced lemonade frappes in cute cafes
We'd just spent a week sweating in the Amazon Rainforest in Peru (where we stayed in a treehouse as well as a remote jungle villa with our own private chef!) yet still we found Cartagena to be unbearably hot. The coolest day was about 38°C and the promised sea breezes never materialised. So we found little pockets of solace in numerous cafes around the city, where downing ice cold drinks and sitting beneath ceiling fans was the order of the day. Our favourite was Abaco Libros y Cafe, a gorgeous book cafe, which was just few doors down from Hotel LM. They do the best lemonade frappes in town!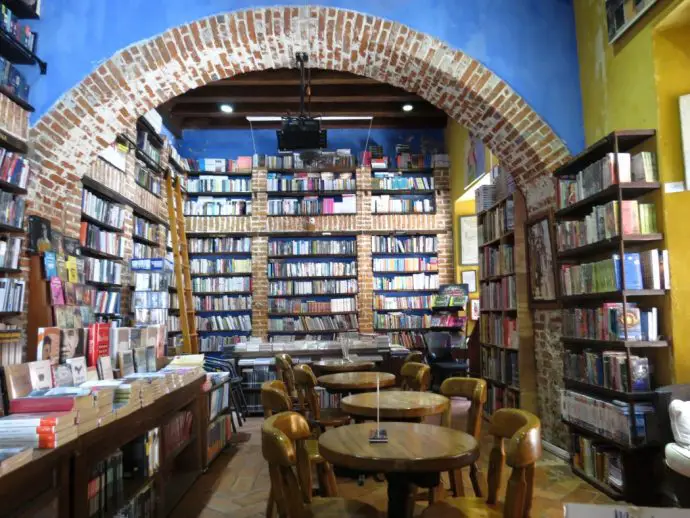 3. Check out the churches for some peace and cool
You don't have to be religious to enjoy visiting churches.
They're often some of the best examples of historic architecture around, and great places to pop into when you need to cool down! The tower of the majestic Cathedral Basilica of Saint Catherine of Alexandria rises high above the old city, and acts as a bit of a homing beacon if you're ever lost out in the streets. Modelled on basilicas in Spain (in particular Andalusia) construction of the cathedral began in 1577 and was only finished in 1612 some years after it was attacked by Francis Drake, who was in fact a pirate and not quite the English hero that we're all taught about in school. Sigh.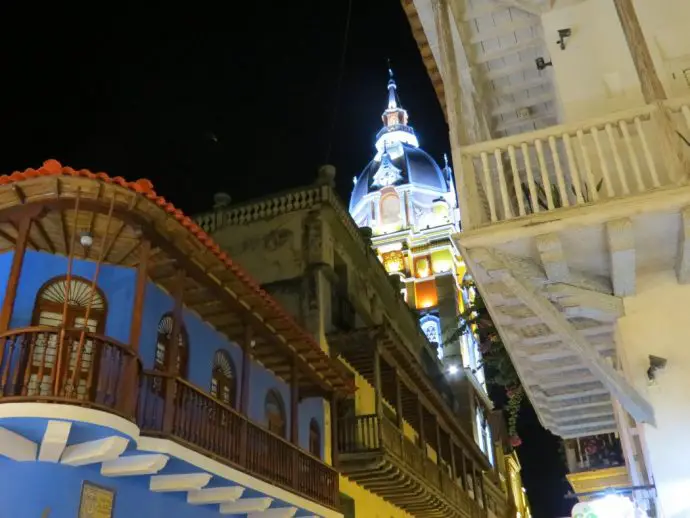 Interestingly, Colombian churches are simply decorated and far more austere inside than their counterparts in Peru, which are quite the opposite with gold and silver alters, magnificent carvings and colourful murals. However externally the churches in Cartagena are stunning.
Our favourite was the church of San Pedro Claver, where the Pope chose to give his address. Definitely one of the best things to see in Cartagena.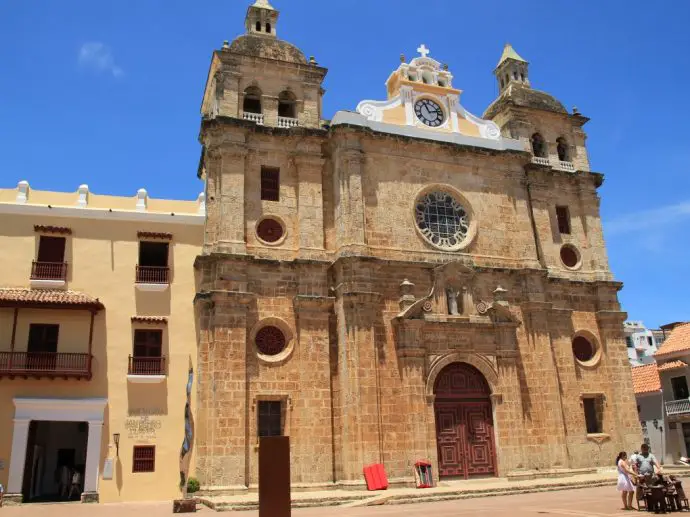 Inside it isn't just a church. There's an archaeological museum, a monastery and a peaceful cloister garden complete with a resident cat. If you only visit one church in Cartagena, make it this one.
4. Get your history fix at the Palace of the Inquisition
This fine 18th Century colonial fortress overlooking a leafy plaza in the centre of the old town was once the headquarters for the notorious Spanish Inquisition, whose task it was to flush out heresy in the city. The window where heretics were denounced for their crimes of witchcraft and blasphemy is still visible on the outside wall of the palace. The 'guilty' were sentenced to death and often burnt at the stake, a fate suffered by around 800 people in Cartagena.
Today the Palace of the Inquisition is a museum, with grisly instruments of torture on display as well as some more benign pre-Colombian pottery and historical artefacts. We loved the Baroque architecture and the fact that the upstairs exhibition halls have the best air-conditioning we've ever come across – a great place to get a bit of relief from the heat!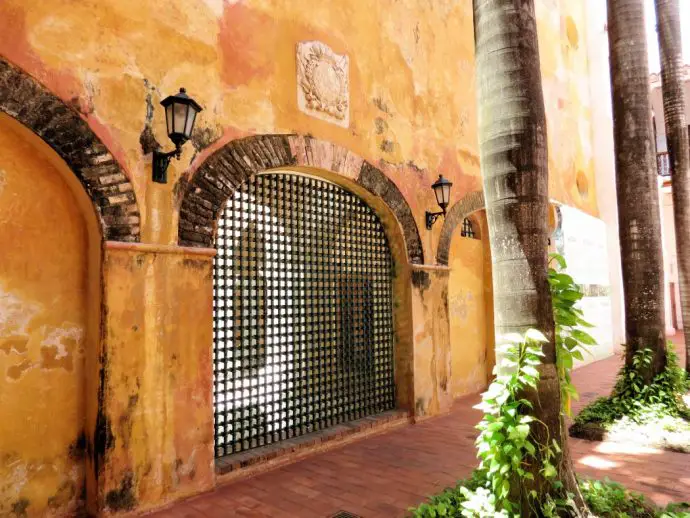 5. Gawp at gold in the Museo del Oro Zenu
Everyone loves a bit of gold, and visiting the free Gold Museum in Cartagena is something a little different (and they have great air-con here too!). It's just across the square from the Palace of the Inquisition, so it makes sense to combine the two. The collection is like a mini version of the incredibly impressive Museo del Oro in Bogota (we definitely recommend seeing that if you're in the capital) and certainly worth 20 minutes of your day.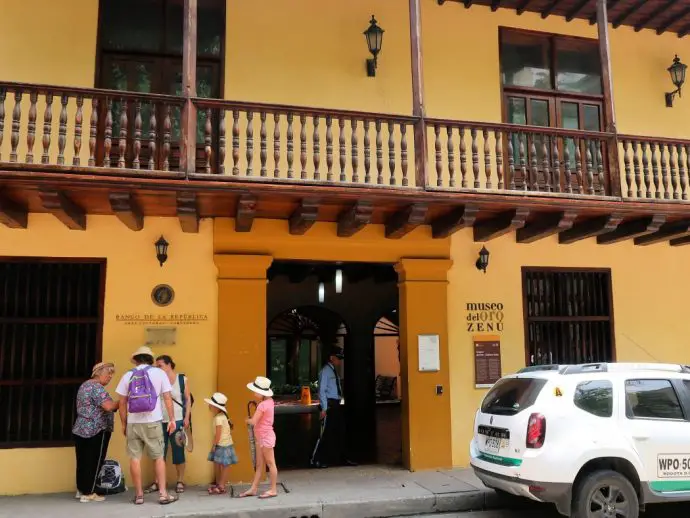 6. Hang out at the Clock Tower
Built in 1601, La Torre de Reloj is one of Cartagena's most famous landmarks. Its purpose was to connect the old walled city of Cartagena with the nearby neighbourhood of Getsemani, with a drawbridge over a moat. It was once the main entrance into the ancient city and once housed a chapel and small armoury for defence against intruders. It's a great meeting point and if you're ever lost, chances are you'll see it and be able to find your way again.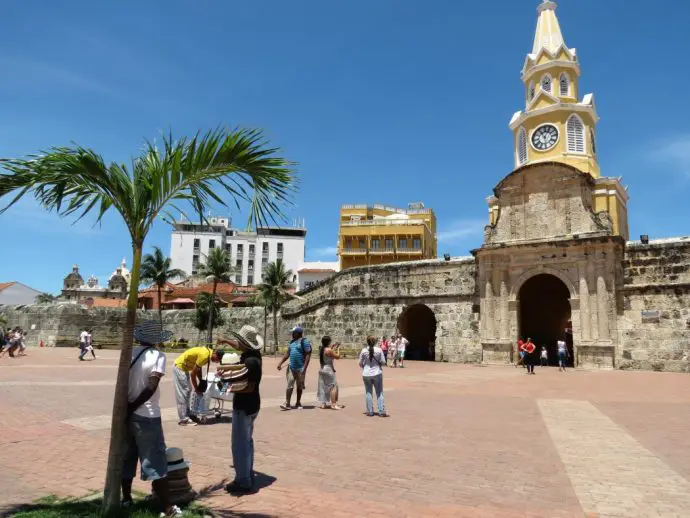 7. Admire street art in Getsemani
The vibrant and hip neighbourhood of Getsemani is the place to go if you're into street art. The graffiti artists here are at the top of their game, and it all works really well on the crumbling old colonial buildings. Getsemani is the sort of place where drinking cold beer in the sunshine in Plaza Trinidad, listening to jazz musicians and watching street performers is the order of the day.
Where to stay in Cartagena
Without a doubt the best place to stay in Cartagena is inside the old walled city itself. It's where you'll be spending most of your time and it's whole lot prettier than the rest of the city! We stayed at luxury boutique Hotel LM right in the heart of Cartagena's old town. It had plunge pools on the roof terrace and the courtyard, as well as large and luxurious suites and really friendly staff. I loved our bathroom which was open-air and came with bamboo ladders, rain shower and it's own little tropical garden.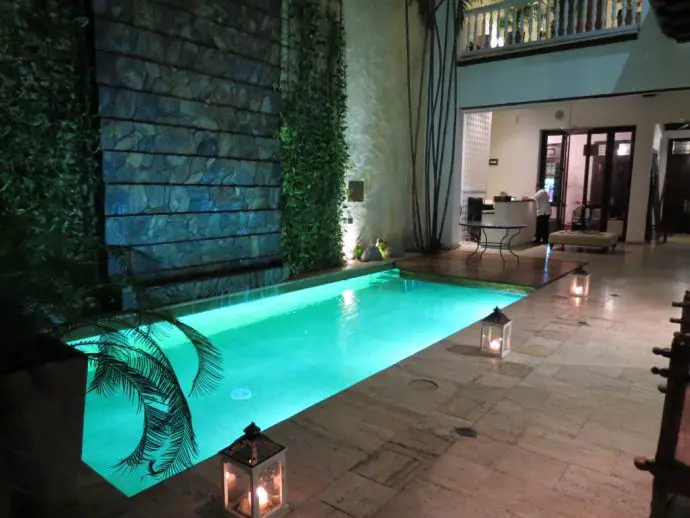 Other unique and upmarket places to stay in Cartagena:
Hotel Casa San Agustin – a gorgeous whitewashed 17th Century boutique hideaway bursting with history, shady patios and a stunning courtyard pool. We'd have stayed here but they were fully booked.
Ananda Boutique Hotel – a beautifully renovated colonial town house surrounded by art galleries, gourmet restaurants and boutique clothing stores. It boasts 3 patios, a pool with jacuzzi and a delicious Caribbean restaurant. Bliss.
Bastion Luxury Hotel – a slightly more modern hotel built on the site of a 16th Century town house in the heart of old Cartagena, the Bastion has an amazing rooftop terrace with a swimming pool and fabulous views.

Where to eat in Cartagena
The seafood we ate in Cartagena was honestly the best we've ever tasted, not only because it was fresh straight out of the sea, but because they know a thing or two about flavour here. Everywhere we ate was superb, but we can particularly recommend:
Cande – we loved the liveliness of Cande, its buzzing atmosphere, scrumptious lobster risottos and folk dancing. Make sure you reserve a table in advance!
Alma – for romantic late-night courtyard dining with sophisticated dishes and sometimes live music. Probably our favourite spot in the city!
Paco's – a bit of a tourist trap but sometimes that's not necessarily a bad thing. We are tourists after all! This place is great for open-air dining in the heart of the old city, and is famous for its paella and refreshing coconut lemonade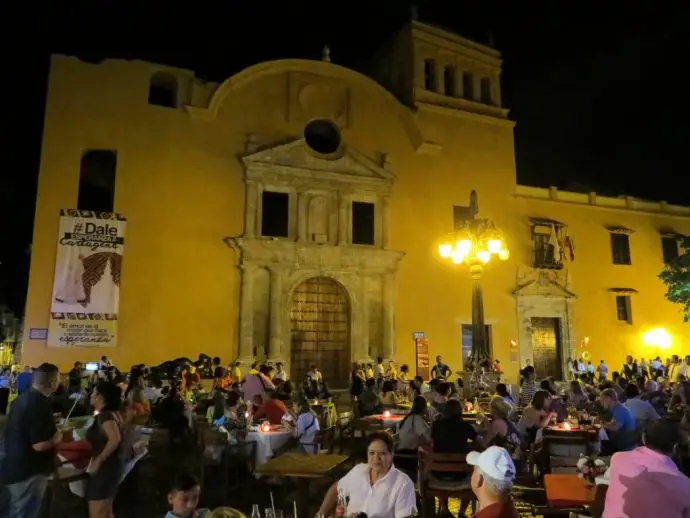 Senor Toro – perfect for when you want a change from traditional local cuisine (they do good steak!) along with a cold beer and some interesting interior decor.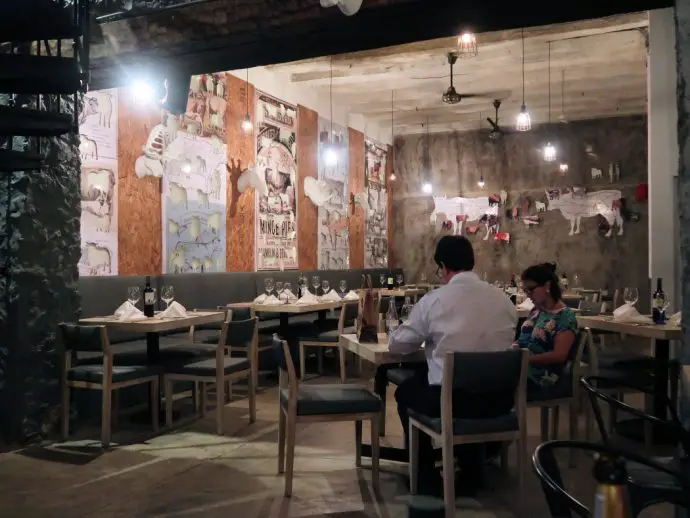 Top tips for visiting Cartagena
Ditch the itinerary – even without the Pope we found just wandering around the streets was the best way to experience Cartagena.
Air Conditioning – an absolute must when choosing a hotel.
Stay in the old city – it's a little more expensive here but it's where you'll want to be spending your time.
Dinner reservations – advised for the more popular restaurants (like Cande and Alma).
It will be busy – Cartagena is one of Colombia's top tourist attractions, so you'll have to share. To avoid the crowds do your sightseeing in the heat of the day (but be warned, you will melt). We visited in September and actually didn't find it too busy.
Take plenty of sun screen – did I mention it's hot?!
Forget the beaches – although Cartagena is on the coast, the beaches themselves are nothing to write home about. If you really must, you could do a day trip to Playa Blanca or La Rosario islands, but if you're doing the beach thing elsewhere on your trip, save the sand and snorkelling for then!
We felt very safe in Cartagena – Colombia isn't the hotbed of danger it once was and the recent explosion of tourism in the country speaks volumes.
Found this post useful? Why not pin it for later…