This post contains affiliate links which means we may make a small commission at absolutely no extra cost to you. Thanks for reading. You can read our full disclosure policy here.
---
Why visit the Vintgar Gorge
Slovenia is all about enjoying the great outdoors, and there's nowhere better to see nature in action than at the Vintgar Gorge. It is one of the main natural attractions in Slovenia, and is easily visited as a half day trip from Bled, either on foot or by car.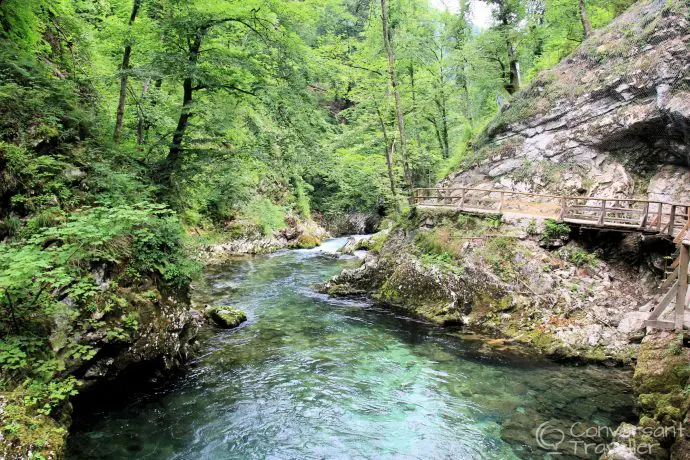 Opening in 1893, two years after it's discovery, the Vintgar gorge is dramatic yet accessible. The spectacular limestone cliffs reach 100 metres in places, looking down on the tempestuous River Radovna as it snakes it's way through the canyon far below.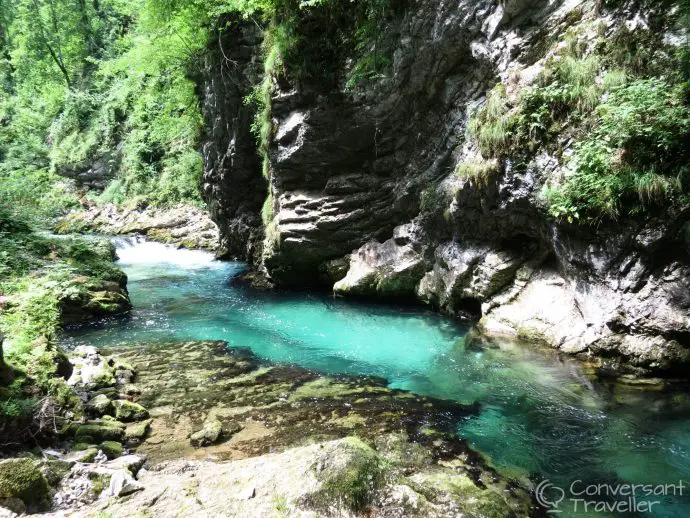 READ MORE: How to Spend 24 hours in Bled
The Vintgar Gorge board walk
The Vintgar Gorge is about a mile long, with paths, wooden walkways and several observation bridges to give you the best views of the river. It is a relatively flat and easy walk, suitable for pretty much everyone. I wouldn't take a buggy or pushchair down there, or wear a large backpack as it does get narrow in places. Make sure you wear sensible shoes as it can become slippery in the rain.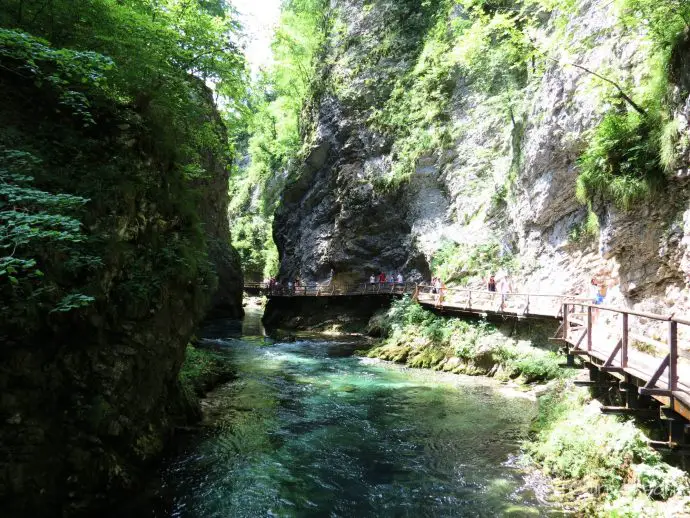 It's unusual to be able to follow the path of a river quite so closely, and we loved not knowing whether a raging rapid or a peaceful pool lay around each corner. There were deep emerald eddies full of fish trying to avoid the waterfalls, and several places where you can actually scramble down to the river bank for photos, or to dip your toes in. The water is freezing cold. You have been warned!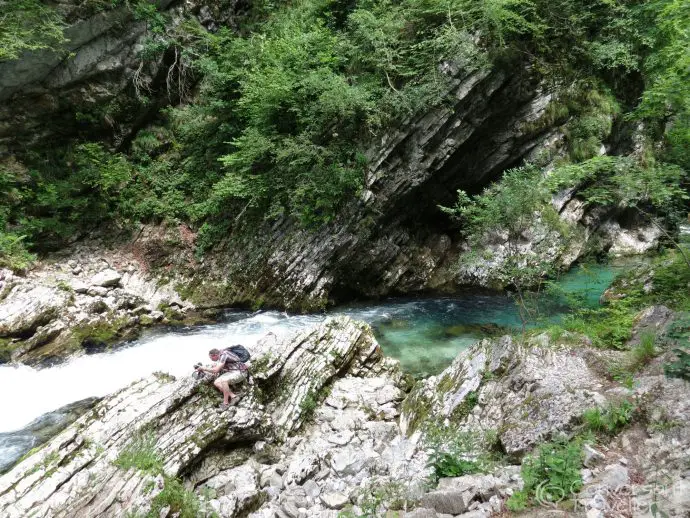 The walkways and bridges so get rather cosy during the middle of the day when it's busy. There is still room to squeeze past people walking in the opposite direction, but sometimes it's impossible to stop as a queue will build up behind you. Not great if you like to be a bit trigger happy with the camera.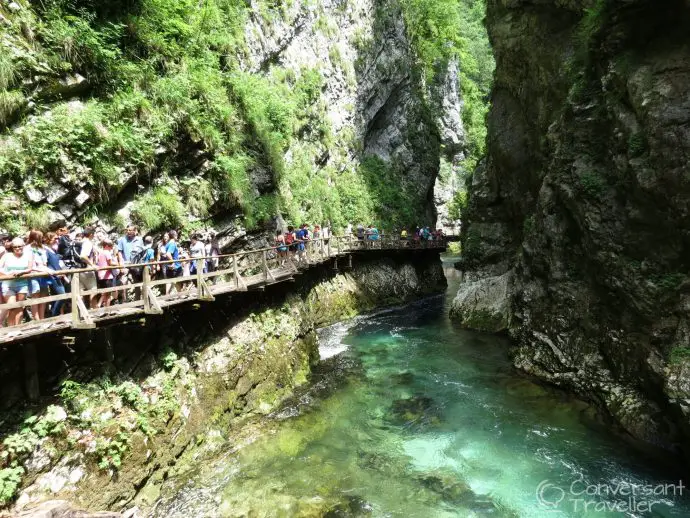 The Vintgar Gorge culminates with the impressive Šum waterfall flowing beneath the Bohinj railway bridge. There's also a little cafe selling souvenirs and ice-creams. You have to exit the barrier to access it, and to scramble down to view the waterfall from below. Don't worry though, just keep your ticket which will give you access back into the gorge for the return walk.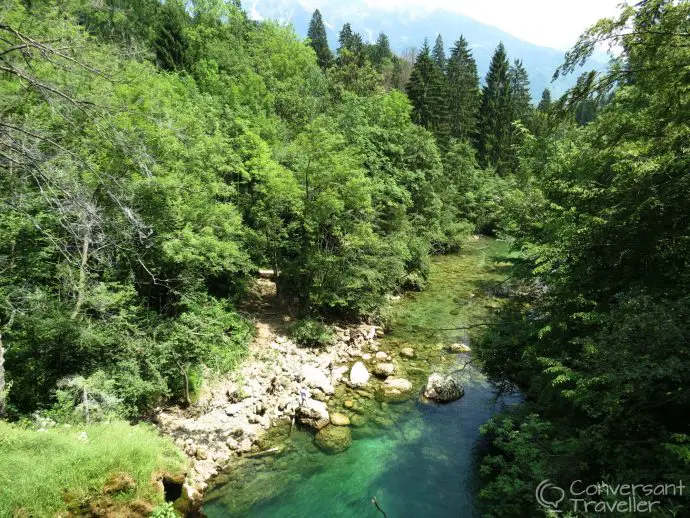 The lower reaches of the Šum waterfall are best viewed by ascending the path to the river below, but as we were pushed for time we skipped this part. Below is the section of the falls which can be viewed without continuing further than the cafe.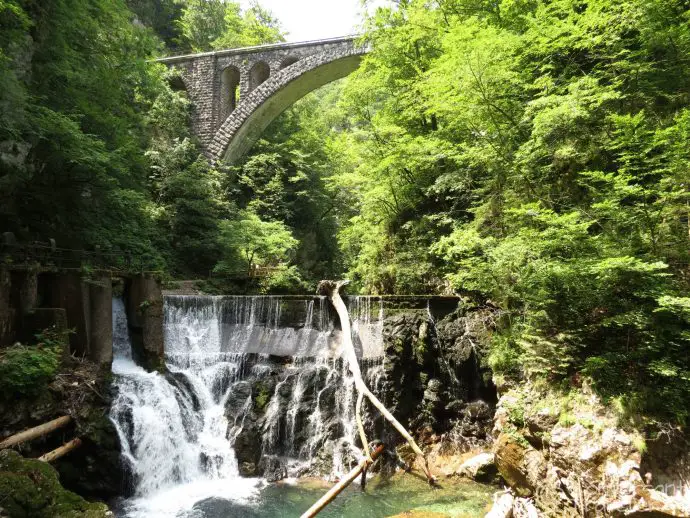 How to get to the Vintgar Gorge
Don't do what we did and rely on a road map. The Vintgar Gorge wasn't marked on ours and we ended up driving pretty much the entire valley looking for it. You can walk from Bled (it's about 4 km), but if like us you have a car, head north east from town towards the village of Podhom. You'll pick up road signs from here (signed Blejski Vintgar or Soteska Vintgar), and it's about a 10 minute drive from Bled.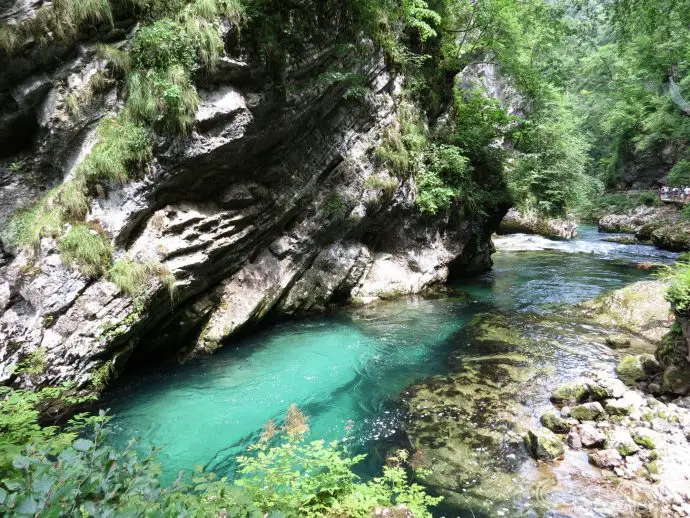 How long does it take?
It took us 1.5 hours to walk down the Vintgar Gorge to the waterfall. We weren't rushing and had lots of photo stops along the way. It only took 35 minutes on the way back, walking at a reasonable pace, even though it was a little more uphill.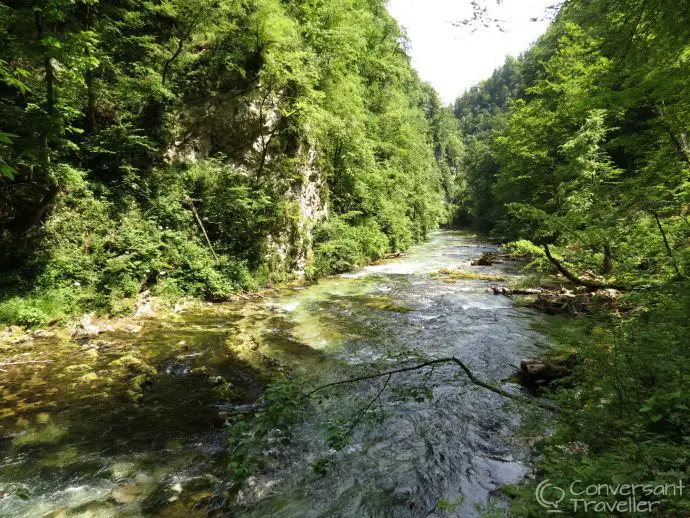 Where to stay for visiting the Vintgar Gorge
The best place to stay is in Bled, since the gorge isn't far away. It's a beautiful town and you can easily spend a few days there exploring the historical sights and surrounding countryside. We spent a fun night in a tree house at Garden Village Bled (complete with an amazing restaurant with grass-topped tables, and an adventure cargo net inside our house!), and also at the quaint and perfectly positioned Old Parish House, overlooking a beautiful old square.
Tips
The Vintgar Gorge is open from 8am – 7pm.
Parking is free, some of it in shady spots under trees.
There are portable toilets in the car parking areas and by the entrance. There are no facilities along the trail until you reach the other end.
Entrance costs €4 per adult.
To avoid the Bled shuttle bus groups, don't visit the Vintgar Gorge between 11am – 1pm.
Wear sensible shoes. The path isn't difficult but can be slippery if it's rained.
Found this article useful? Pin it for later…