This post contains affiliate links which means I may make a small commission at absolutely no extra cost to you. Thanks for reading. You can read our full disclosure policy here.
---
Updated summer 2023. We're just back from our São Tomé and Príncipe holiday, having had one of the most incredible trips ever! We weren't expecting it to shoot to the top of our 'favourite places' list, but it blasted all our expectations out of the water (in a good way!) and gave us experiences we've never had anywhere else in the world. There aren't many destinations where you feel like you've truly gone back in time, to a land of virgin rainforests and picture perfect beaches that have no other footprints on but your own. Most days we never saw another tourist outside the hotels, and it really did feel like we were some of the first explorers to ever set foot on the islands.
So how do you go about planning a holiday to São Tomé and Príncipe? Which are the best places to visit? And how much time should you spend there?
We have the answers for you right here!
How long should you spend on São Tomé and Príncipe?
One of the many joys of visiting São Tomé and Príncipe is that no matter how long you spend on the islands, you'll feel satisfied. In an ideal world it would be incredible to spend a whole month here, and still leave having not explored it all. Yet even if you only have a week on São Tomé and Príncipe, you'll feel you've seen and experienced a lot, after all they are tiny islands so it doesn't take long to get to most sights.
The number of days you spend on the islands very much depends on the flight schedules, both international from Europe and Africa, and the short domestic flight with STP Airways between São Tomé and Príncipe.
Most visitors see the island of São Tomé (where you'll arrive on your international flight) as simply a jumping off point for Príncipe, which is a shame because it's a stunning island with so much to discover. We just had one full day on São Tomé, but I think if we did the trip again (which we'd love to do!) we'd book an extra day so we could do a couple of day tours.
We spent 10 nights in total on our São Tomé and Príncipe holiday:
1 night in Lisbon
2 nights on São Tomé
7 nights on Príncipe
We felt this was the perfect amount of time as we weren't quite ready to go home at the end, which meant we left wanting more, rather than feeling like we'd had enough and had perhaps booked a few too many days.
If you're not a risk-taker I'd also recommend having a night back on São Tomé at the end of your trip, just in case the domestic flight from Príncipe is cancelled (which does happen in bad weather), meaning you'll miss your evening flight back to Europe. There are worse places to be stranded, but it can help to plan ahead. Having said that, we risked flying home on the same day and it all went like clockwork. You just have to make that decision for yourself.
How to get to São Tomé and Príncipe
Flight schedule is current from summer 2023, but please check these times online as things do change.
The easiest, and most popular way to get to São Tomé and Príncipe is to fly with TAP Air Portugal via Lisbon. As the onward flight to São Tomé departs during the morning, you'll have to spend the night in Lisbon. Which is a great little bonus if your inbound flight arrives early enough to give you time to spend an afternoon in the city. You can also fly from Lisbon to São Tomé on a Saturday with STP Airways.
Flight Schedule from Lisbon to Sao Tome with TAP Portugal
| From | To | Flight | Depart | Arrive | Days |
| --- | --- | --- | --- | --- | --- |
| Lisbon | Sao Tome | TP1531 | 11.40 | 17.15 | Mon, Sat |
| Lisbon | Sao Tome | TP1529 | 09.55 | 17.40 | Tues, Wed, Fri |
| Sao Tome | Lisbon | TP1528 | 20.50 | 06.40 | Sun, Wed, Fri |
| Sao Tome | Lisbon | TP1532 | 21.35 | 05.15 | Sat |
| Sao Tome | Lisbon | TP1532 | 23.30 | 06.10 | Mon |
*Note: There will be a short stop in Accra (Ghana) to drop off some passengers and pick up others, but you will stay on the plane during this short landing. 
Flight Schedule from Lisbon to Sao Tome with STP Airways
| From | To | Flight | Depart | Arrive | Days |
| --- | --- | --- | --- | --- | --- |
| Lisbon | Sao Tome | 8F507 | 00.05 | 05.15 | Sat |
| Sao Tome | Lisbon | 8F508 | 07.10 | 14.30 | Sat |
You can also reach São Tomé and Príncipe with TAAG Angola Airlines, but the arrival time in São Tomé is more anti-social at 23.10.
Once you're in São Tomé, you'll need to decide which day to fly up to Principe with STP Airways. Here's their Flight Schedule to help you plan:
Flight Schedule from Sao Tome to Principe with STP Airways
| From | To | Depart | Arrive | Days |
| --- | --- | --- | --- | --- |
| Sao Tome | Principe | 09.00/15.00 | 09.40/15.40 | Mon, Wed, Thurs, Fri, Sun |
| Principe | Sao Tome | 10.20/16.20 | 11.00/17.00 | Mon, Wed, Thurs, Fri, Sun |
| Sao Tome | Principe | 08.00 | 08.40 | Sat |
| Principe | Sao Tome | 09.10 | 09.50 | Sat |
Here's the current STP Airways flight schedule for journeys between Lisbon and Sao Tome, as well as between the two islands.
Read more: A quick overview of São Tomé and Príncipe
The Perfect 10 Day São Tomé and Príncipe Itinerary
So here's our suggestion for the perfect 10 day trip to São Tomé and Príncipe. It covers the major highlights of both islands, including secret beaches, historic plantations and canoe trips in the mangroves, as well as some utterly gorgeous luxury São Tomé and Príncipe hotels and lodges. There aren't many places to stay on the islands, since tourism is still very much in its fledgling stage out here, and our suggestions are not only the hotels we personally experienced, but also the best options by far for luxury travellers looking for authentic luxury in a natural setting, with buckets of character and a relaxed vibe. The four we stayed at are all owned by HBD (Here Be Dragons – such a cool name), an inspirational company owned by Mark Shuttleworth (the first south African space tourist) that has developed its hotels in a sustainable and ethical way.
We've based the flight suggestions on using TAP Air Portugal for international flights.
Day 1 – Stopover in Lisbon
Get your trip off to a good start by treating yourself to Fast Track through security and premium seats in an airport lounge – this is something we always do to make sure we're not rushing, and have time to relax before a long flight without the stress of queuing and hunting for somewhere to sit. As our local airport is Manchester we tend to use the relatively new and very stylish 1903 Lounge, which is adults only and has super comfy seating and a good choice of food throughout the day. We also enjoy using the Escape Lounge, which although often a bit busier, is also cheaper and has a tempting food offering too. There's nothing quite like beginning your trip with a sausage butty and a glass of bubbly! If you really want to treat yourself, and are flying from Manchester, have a look at PremiAir. It's a luxury private terminal that looks after the entire airport process from start to finish, meaning no queues or hanging around in the busy terminal. Plus the food is just incredible, an amazing way to start any holiday!
Read More: The New PremiAir Private Terminal Experience at Manchester Airport
Later today you'll arrive in Lisbon and have the afternoon to explore.
Things to do in Lisbon:
Where to stay in Lisbon:
We stayed in the TRYP Lisboa Aeroporto Hotel because it was so handy for the airport terminal. We've never stayed at a more conveniently located airport hotel (which is super important as the flight to São Tomé tomorrow leaves first thing in the morning). It took just 2 minutes to walk to the terminal across the street, which gave us longer to sleep and we didn't have to faff around with transfers either. Super smooth. Rooms are clean, smart and comfy, and the restaurant and bar are great if you just want a relaxing evening with good food and friendly service.
Check in, drop off your luggage, and head out to explore Lisbon which is just a 20 minute taxi or Uber away, or you can take the airport shuttle. Just make sure you don't tire yourselves out trying to cram in as much as possible. You'll want to save your energy for Sao Tome and Principe!
Note: your checked baggage will continue straight through to São Tomé, unless you specifically request otherwise, so pack whatever you'll need overnight in your hand luggage.
Overnight Lisbon
Day 2 – Off to São Tomé
It's an early start today, with your onward TAP flight departing at 09.35. As with most international flights, it's recommended that you get to the airport 3 hours prior to departure, although we breezed through and reckoned it took us less than 30 minutes from leaving the hotel to sitting in the departure lounge.
The plane stops in Accra, Ghana, en-route to São Tomé and Príncipe, although this is just to pick up and drop off passengers so you'll just stay on the plane. The cabin will be sprayed, and all remaining cabin bags checked by the flight crew to ensure all luggage belongs to people still on board the plane. A bit tedious but it only took around 45 minutes.
You'll finally arrive in São Tomé at 17.35.
Where to Stay in São Tomé:
We loved Omali Lodge, which is just a couple of minutes drive from the airport in the free hotel shuttle (so really handy for the early flight out to Príncipe in a couple of days), and the best accommodation option on São Tomé. It's relatively centrally located so ideal for exploring the island too. There's a glorious pool surrounded by gardens filled with palm trees and swooping bats, and the beach is just across the road if you can't wait to set foot on the sand. Food is really good here too (amazing pizzas!).
Overnight Omali Lodge, São Tomé
Read More: Best Places To Stay In São Tomé and Príncipe
Day 3 – Hidden beaches and crumbling plantations
After a hearty buffet breakfast (that includes banana bread and coconut muffins, yum!), head out on a day tour with a guide from Omali Lodge. We suggest booking day trips through your accommodation before you arrive on the islands, although these can be arranged the day before too.
There are 3 main day tours with a guide and driver that are offered by Omali Lodge:
Coffee Tour (East)
Head into the mountains and enjoy panoramic views of the Capital, São Tomé. Visit Sao Nicolau waterfall, Monte Café Plantation, once the biggest and most prosperous of all São Tomé's coffee plantations.
Cocoa Tour (North)
Discover the story of cocoa at Agostinho Neto plantation, visit the botanical garden and see the cocoa drying process. Check out the colonial architecture at Boa Entrada plantation, and see where the Portuguese first arrived on the island in 1471 at Anambo. Finish the tour at Monte Forte, one of the last working plantations on São Tomé.
Beaches Tour (South)
We only had one full day so chose the southern São Tomé Beaches Tour as this seemed to give the most variety in terms of activities and landscape. The tour took in two of the best beaches on São Tomé – Praia Piscina and Praia Jalé, the beautiful crumbling plantation of Água Izé, a canoe trip through the mangroves, a view of the iconic Pico Cão Grande, and a 7-course tasting lunch at Roça São João dos Angolares, a restored colonial house now owned by a Portuguese TV chef. It was a great introduction to São Tomean cuisine.
There are plenty of other options of course, including hiking, diving, city tours, and traditional medicine workshops.
Read More: What to expect on a day trip around São Tomé
Car rental on São Tomé is possible too, and can be arranged through your hotel, although we wouldn't recommend it unless you've driven abroad in similar environments before and enjoy a bit of adventure. There isn't much traffic, but there are potholes, pigs and fallen trees to contend with, and once you're off the one main sealed road, the plantation tracks get very muddy and only really negotiable in a 4×4.
Overnight Omali Lodge, São Tomé
Day 4 – Off to Príncipe
Today you'll fly to Príncipe, taking the morning flight with STP Airways at 09.00. We recommend getting to the airport a couple of hours prior to departure to allow time to get through check-in (all bags are weight manually on delightfully old-fashioned scales, and no-one is in a particular hurry).
If you're staying at Omali Lodge there will be a sign on Reception letting you know what time the free shuttle will be leaving for the airport. There are plenty of seats in the single departure lounge, but some of them are really comfy so if you get there early you might grab one of those! There are toilets, a small kiosk selling drinks, and a souvenir shop in the lounge.
The flight only takes 35 minutes, and is surprisingly comfortable for an old plane. It's all quite casual but felt perfectly safe.
Top Tip: try and sit on the right hand side of the plane (as you face forwards) right at the front as these seats will have the best view of Principe. Seats aren't allocated so try and be at the front of the queue. Seating is in a 1-2 configuration (with the 2 seats on the best side!).
As you come into land you'll fly right over Bom Bom Resort, where we recommend you stay. It's an incredible first glimpse of the island from the air.
Where to Stay:
For a true castaway beach experience without compromising on comfort, we suggest starting your trip with a 3 night stay at Bom Bom Island Resort. It's perfectly located right on two beaches, with grounds full of palm trees, clear waters to swim in, and a lovely restaurant on a tiny islet accessed by a wooden walkway over the sea. This was our favourite place to stay on Príncipe, because the setting is spectacular, and the vibe is really chilled and laid back.
To coincide with the flight schedules, most check-ins at hotels on Principe are early, so you'll be able to head straight to your room even though it's only about 10.45 am.
Spend the rest of the day relaxing and exploring Bom Bom. There are two beaches to swim and snorkel off, an islet you can walk around, and incredible views from just about everywhere you turn.
Overnight Bom Bom Resort, Príncipe
Read More: What they don't tell you about visiting São Tomé and Príncipe
Day 5 – Beach hopping on Príncipe
This morning it's time to explore Príncipe, so why not take a boat trip along the north east coast and check out some of the most incredible beaches the island has to offer, including Boi beach, Macaco beach, and the star of the show….Banana Beach! Praia Banana is probably the most photographed beach in São Tomé and Príncipe, and once featured in a Bacardi advert back in the 1990s.
Back at Bom Bom Resort in the afternoon enjoy some more beach time, go swimming in the turquoise waters, explore the shoreline or pick a spot in the island bar and watch the sunset with a cocktail in hand (doesn't have to be Bacardi!).
Overnight Bom Bom Resort, Príncipe
Day 6 – Day tour of Príncipe
Enjoy a day trip around some of the best sights of Príncipe with a local English-speaking guide. You can tailor this to your own interests, but we suggest focusing on plantations, viewpoints and settlements to get a really good flavour of what island life is all about. On our day trip we started at Roça Paciência, an old plantation that is being used by HBD to develop organic farming and hand made beauty and food products such as coconut oil and tropical muesli. Then we visited the museum and spectacular viewpoints at Roça Belo Monte, followed by Santo António, the smallest capital city in the world, before heading further south through dramatic forested landscapes towards the traditional fishing village of Praia Abade and the stunning Nova Estrela viewpoint.
Arrive back at Bom Bom in time for a dip in the ocean (or the pool!) before settling down to dinner over in the islet restaurant.
Overnight Bom Bom Resort, Príncipe
Day 7 – Stay on a Plantation
Check out of Bom Bom Resort and use the free hotel shuttle to head west to the vast Sundy plantation.
Explore the plantation, admire the old ruined buildings and chat to the locals who still live here, even though this is no longer a working plantation. Roça Sundy is also famously the site where Einstein's Theory of Relativity was proved 100 years ago in 1919 by British astrophysicist Sir Arthur Eddington during a solar eclipse.
If it's the dry season, today is a good day for a spot of hiking on some of the local biosphere forest trails, and seeing how many local endemic birds you can spot! Hiking isn't really an option in the wet season (Feb – May and Oct- Nov), and even though we were there during the shoulder season (September), the intermittent rain meant we couldn't do the walks we had planned (the paths turn to mud and trees have a tendency to fall!). Although if I'm honest I wasn't that devastated. There was so much else to see and do, and it was so humid that the thought of sweating out on the forest trails wasn't actually that appealing.
Where to Stay
We spent a couple of nights at Roça Sundy, a colonial plantation house that has been restored and is now a boutique hotel. The character and original features of the property have been retained and it's quite a contrast from staying on the beach. If you're into history, and like feeling like you've stepped back in time, then this is for you.
Overnight Roça Sundy, Príncipe
Day 8 – The Chocolate Islands
One of São Tomé and Príncipe's main exports was cacao, and indeed they are affectionately known as the 'Chocolate Islands'. So today it makes sense to learn about the process of transforming the cocoa from tree to table, or as everyone seems to call it these days, from 'bean to bar'. Take a guided tour of a nearby plantation, where you'll learn not only about cacao, but also all the other weird and wonderful plants and produce that come from the forest. You'll see pineapples sprouting from the ground, discover that there are around eight different types of banana grown here, smell aromatic herbs, and see how plants are dried in preparation for being used in local products.
Overnight Roça Sundy, Príncipe
Day 9 – Beach Luxury in Paradise
Say goodbye to Roça Sundy and transfer to Sundy Praia, just a 20 minute free shuttle transfer down through the forested plantation slopes to the coast. It's not actually that far away from Bom Bom Resort in the grand scheme of things, just a little further west. And a lot more upmarket.
Where to Stay
Sundy Praia is without doubt the most luxury hotel on São Tomé and Príncipe. If you're staying here we recommend saving it until the end of your trip as a special treat! The tented suites are quite magnificent, and the interiors wouldn't be out of place in a 5* city hotel. They've thought of everything. There are long expanses of beach to explore here, and once again you'll have them almost to yourself. Go rock-pooling and snorkelling, or swing in wicker chairs suspended from tree branches along the sand for some real rest and relaxation. One of the delights of Sundy Praia is the incredible bamboo restaurant, and the food here is the best we had on the entire trip. We loved the 'Príncipe' evening with a tasting menu and local musician, and on our last night they surprised us with a romantic candlelit dinner by the pool which was a superb way to end our trip.
Check Availability at Sundy Praia
Overnight Sundy Praia, Príncipe
Day 10 – Boat trip to the Bay of Needles
On your last day, take a morning boat trip around the coast to the dramatic Baía das Agulhas (Bay of Needles), and enjoy the almost prehistoric views of the jungle and black volcanic shoreline. You'll feel like you're the only people for miles, and perhaps a bit like the first explorers may have felt when they first arrived in the islands.
Take your swim stuff as there will be opportunities for snorkelling and swimming from the boat around some of the tiny deserted beaches you'll pass on the way.
Overnight Sundy Praia, Príncipe
Day 11 – We will return
It's time to say goodbye, but not forever. We guarantee São Tomé and Príncipe is somewhere you'll want to return!
Take an early transfer to Príncipe Airport, ready for your morning flight back to São Tomé. The airport is even smaller than on São Tomé, so small in fact that you'll be made to queue outside as staff let just a handful of people through to check in at a time. Be aware that they hand search all bags, and will remove things like cables, chargers, and some toiletries (there doesn't seem to be a rule about size here) from hand luggage. This is done in front of other passengers so make sure you don't have all your dirty undies laid out on top! The waiting room (the departure lounge!) is tiny with very few seats. So arrive early enough to get one, or wait until the end so you don't have to stand for ages in the stifling heat.
Once again the flight only takes 35 minutes, with the best views being on the left side of the aircraft.
We recommend getting a day room at Omali Lodge on São Tomé so you can relax, have a last swim in the pool, and freshen up before your flight home in the evening.
Welcome Home!
And there you have it. Our suggestion for the ideal first-time holiday to São Tomé and Príncipe. If you have any questions or suggestions, feel free to leave them in the comments. 
Found this post useful? Why not pin it for later…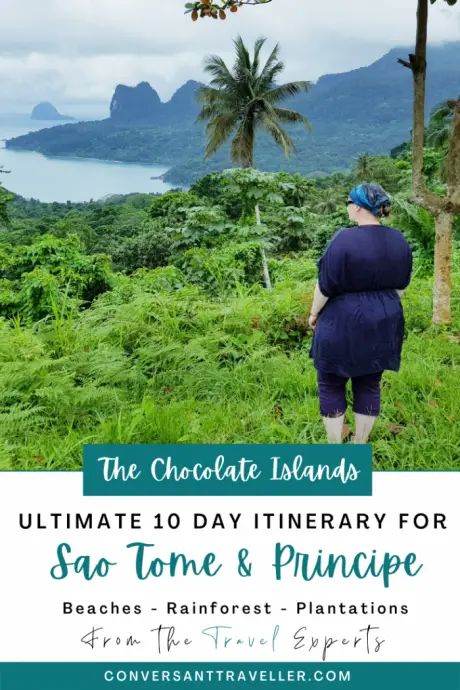 We received generous media rates for our trip to STP. Huge thanks to the lovely folks at HBD for making this happen, and for giving us such a great time! We also received complimentary lounge passes and Fast Track tickets from Manchester Airports Group (MAG).