This post contains affiliate links which means I may make a small commission at absolutely no extra cost to you. Thanks for reading. You can read our full disclosure policy here.
---
The best affordable luxury riads in Marrakech
We love Marrakech. It's a city that entices and enchants all who visit, and we're happy to admit we fell under her spell many years ago. It's the one place we return to again and again, and whilst we do try to stay at different places each visit, there are some that we rate amongst the best luxury riads in Marrakech. Yes you could stay in a hotel in the new town, or a glamorous resort in the Palmeraie area outside the city walls. Yet for a true experience of what Marrakech is really like, you need to stay in a riad in the medina – the old part of the city.
La Maison Arabe is a high end luxury riad in Marrakech with bags of charm and no pretension. It was the first riad hotel and restaurant in the city, and has a history second to none. The service is like you'd find in any 5* hotel around the world yet somehow far more personal. It may be one of the finest hotels in the country, but they haven't let it go to their heads!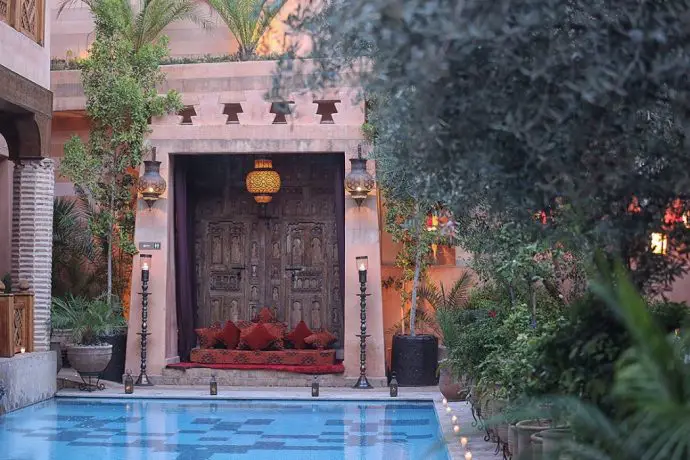 Best for: discerning travellers who want some of the best bragging rights in the city.
Unique feature: La Maison Arabe isn't just a luxury Marrakech riad. It's also one of the finest restaurants in the medina, and also has the oldest and best cooking school in Marrakech.
Riad Assakina is one of the top luxury riads in the Marrakech medina, and perfect for a special occasion or celebration stay. Even the smallest room is utterly gorgeous and everything here is done to a really high standard and not just made to look good with mood lighting. The riad is run by English owners Grant and Michele who are wonderfully friendly hosts for whom nothing is too much trouble. The riad is tucked away down a quiet alley in the Mellah (Jewish Quarter) so it's really peaceful whilst still being close to the Djemaa el Fna and all the main medina sights.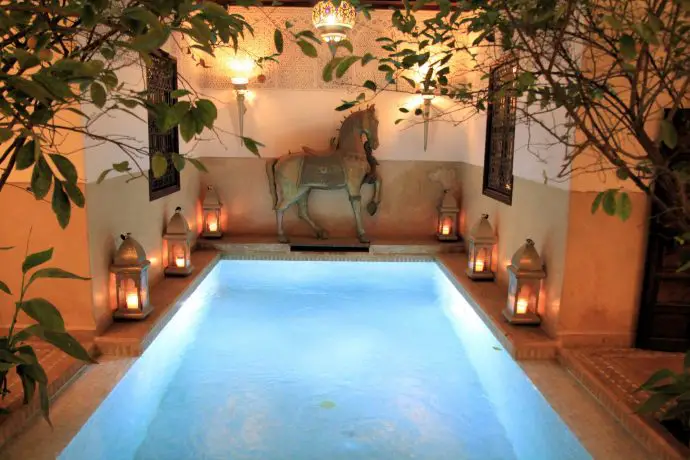 Best for: couples seeking a romantic and lavish hideaway where privacy and calm are the order of the day
Unique feature: sleeping surrounded by Moroccan artefacts in utter luxury
Riad Camillia is a vast luxury riad in Marrakech, with an abundance of space which is really unusual to find in the medina. We absolutely love starting off our Morocco trips with a stay at Riad Camilia. The suites are plush and relaxing, the service is impeccable, and to eat up on the roof terrace under the twinkling stars is one of those experiences that make you feel like you're finally on holiday.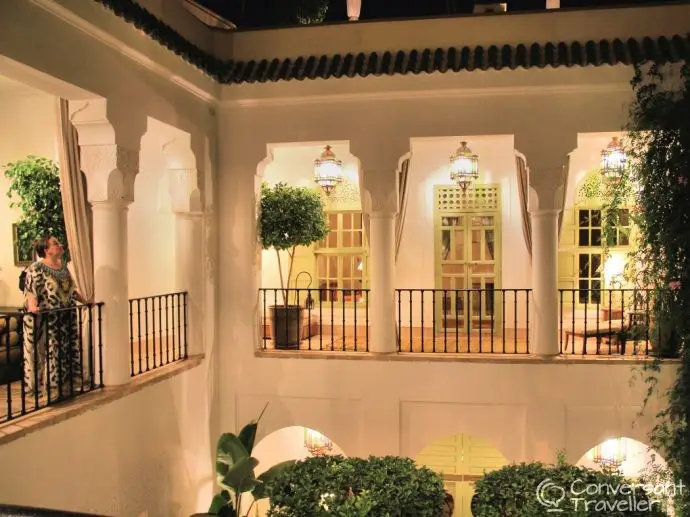 Best for: friendly welcoming staff making you feel like part of the family
Unique feature: decadent but comfortable decor and more space and privacy than in any other luxury riads in Marrakech where we've stayed
It's the beauty of the suites that wins Riad Cinnamon one of the top prizes for luxury riads in Marrakech. The whole riad is lavish yet tasteful, and decor is modern with a touch of zen. Some of the suites have their own mezzanine snug area with TVs and comfy sofas, and the bathrooms are large and gorgeous with their signature traditional design.
Best for: those who want to live out their 1001 nights fantasies.
Unique feature: one thing we love about Riad Cinnamon is that all guests are given a local mobile phone with instructions to call if they get lost in the medina (which still happens to us after years of visiting Marrakech!). They'll either direct you back to the riad, or come and find you! Now that's service.
If you're looking for a touch of romance, it doesn't come any better than this 300 year old palace in the north of the ancient medina. Riad AnaYela manages to retain it's authenticity whilst offering guests a luxurious and comfortable stay in a quiet sanctuary that has been tastefully decorated in a modern Berber style. The most charming detail, aside from the silver lanterns, sweeping rooftop panoramas and courtyard pool, is the love story behind the name. Whilst the riad was being restored, a note from a 16 year old girl called Yela was found, written on the day before her wedding as she prepared to leave the house where she had lived.
Best for: romancing couples looking to write their own fairytales
Unique feature: the 'flying carpet' at the top of the roof terrace tower is a gorgeous and comfy spot to snuggle up with your loved one whilst gazing across the city skyline, dreaming of romantic legends.
Dar Mouassine is a tranquil haven right in the heart of the medina. It's design blends modern and traditional styles and the spaces are calm and relaxing. But it's the suites that really stand out in this luxury riad in Marrakech. They're huge! We love Suite Cardamone which is about 3 times the size of most riad rooms, and had an amazingly quirky bathroom with hidden stairs up to the toilet. If you're still a kid at heart, you'll love it.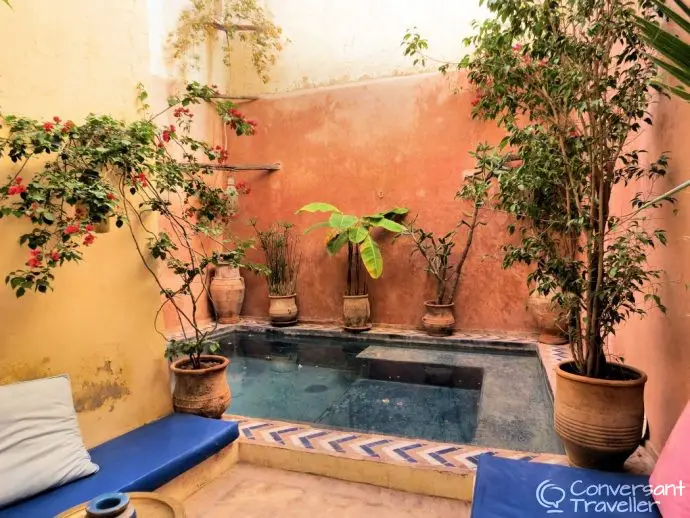 Best for: couples or families seeking peace and quiet who like being left alone
Unique feature: the plunge pool is located in a hidden alcove off the courtyard which means you can take a dip in privacy, rather than in front of everyone like in most other luxury riads in Marrakech.
If on the inevitable quest for that '1001 nights' experience, then Riad Mur Akush ticks all those boxes. We took one look at the Suite d'Olive and booked it there and then, it's everything you could want for a quintessential Marrakech riad stay. The amazing 4 poster bed is actually made from the wood of olive presses discovered in the Atlas Mountains, and the room is filled with the seductive light that you come to expect from the intricately beautiful Moroccan lanterns.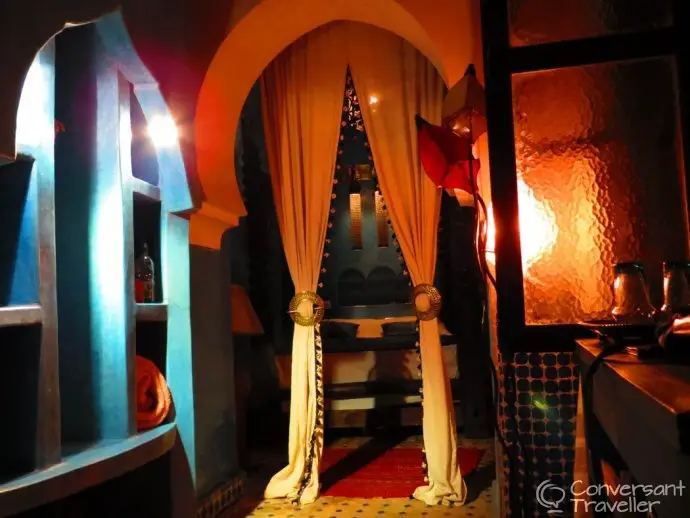 Best for: first time visitors to Marrakech, it's a great and affordable introduction to what a Marrakech riad is all about.
Unique feature: they also offers cooking classes right here in the riad, and you get to eat your creations afterwards!
If you're searching for calm in the craziness that is Marrakech, then check into Riad Vanilla Sma. It's a small and friendly riad hidden down an unassuming medina alleyway, near enough to walk to all the tourist sights, but far from the noise and chaos.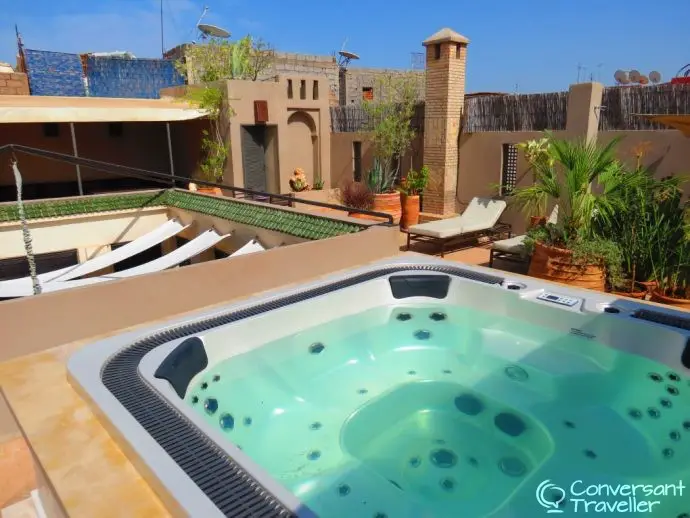 Best for: small groups of friends who fancy sharing a few bottles of wine whilst chatting the night away on the terrace under the stars.
Unique feature: dipping pools are all well and good, but rarely can you actually immerse yourself in them. Which is why the hot tub on the roof terrace here is such a fab idea!
Riad Capaldi is tucked away in a quiet part of the medina, not far from Ben Youssef Madrasa and about 10 minutes walk to the Djemaa el Fna. It's simplicity is its charm, the staff are friendly and welcoming, and it's perfectly located to pop around to the amazing Le Trou Au Mur or Fondouk restaurants for dinner.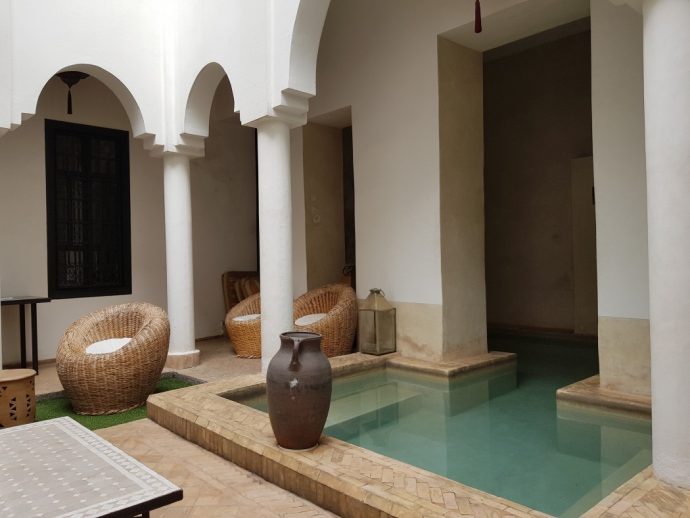 Best for: staying in an authentic part of the medina without breaking the bank.
Unique feature: the plunge pool is both deep, and semi-private, tucked away off the inner courtyard.
Tucked away in a quiet alleyway in the medina, this riad is small and intimate, and the lively owner is often on hand to give you tips about visiting the city. The food is excellent (we always recommend you eat at least once in your riad, it really is the best food in town!) and the vivid style is quite stunning.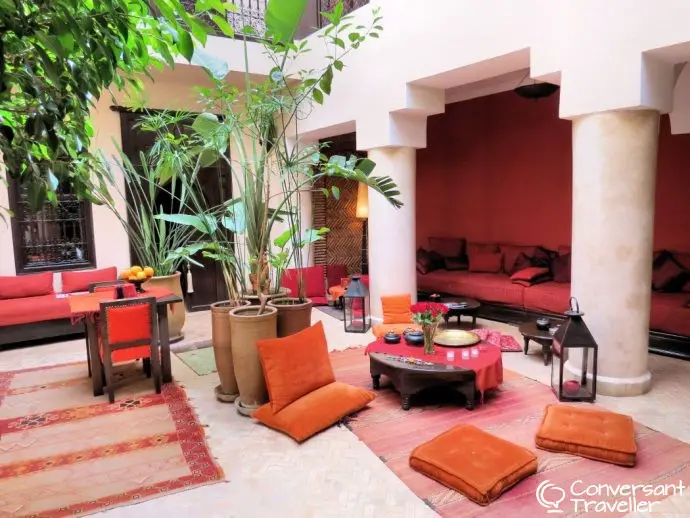 Best for: guests who like a bit of peace and quiet away from the noise of the main square
Unique feature: with an abundance of tea lights, incense and open fires this is great place to cosy up on those chillier winter evenings.
Out of Town
We always like to combine a few nights in the medina with a stay in one of the glorious hotels outside of the city, nestled in the foothills of the High Atlas Mountains. Most of these are less than an hour from Marrakech, so are super easy to get to, with lots to do in the area once you're there. Here are some of our favourites:
This glamorous yet down to earth hotel is one of the few places we've actually felt completely relaxed, not difficult to do when the pool is as spectacular as this, and you can see the snow-capped Atlas Mountains from your bed! The grounds are extensive and lush, the food is top-notch and delightfully inventive (a welcome break from tagine and couscous in the medina!), and there's even a private air-conditioned cinema that guests can hire out for a naughty afternoon watching old movie favourites.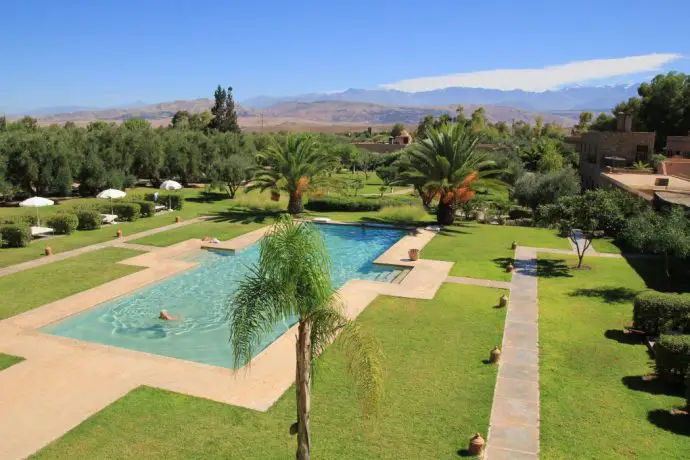 Best for: romance and relaxation
Unique feature: watching Taken 3 (or any movie of your choice) with a glass of rum and coke in your own private cinema!
The Moroccan retreat of Sir Richard Branson, this place effortlessly blends opulence with Berber tradition in a spectacular setting overlooking the valley on the way to Imlil, and the towering peak of Mount Toubkal. The grounds and gardens are the most incredible we've seen in Morocco, and the suites come in all shapes and sizes, with lavish furnishings and amazing views. We loved having lazy lunches up on the terrace, before an afternoon swim in the infinity pool. One of the best day trips is to head up the valley to Imlil for a walk in the hills, and lunch in one of the local Berber villages.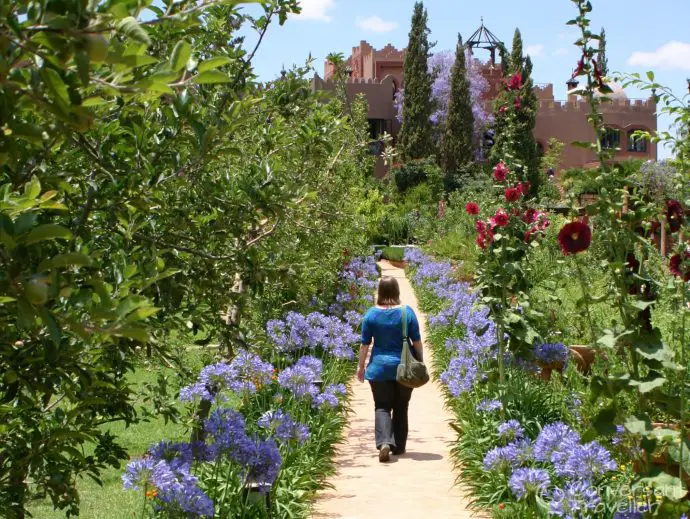 Best for: honeymoons, indulgent celebrations and being looked after like you're an A-Lister
Unique feature: the infinity pool overlooking the valley, and the fact that every suite is different.
This kasbah hotel perches majestically on a ridge overlooking the fertile Ourika Valley, and has accommodation ranging from simple farmhouse rooms to stunning suites with private infinity pools. The grounds here are incredible, you could spend quite some time just wandering around admiring the views. Whilst the food and service perhaps doesn't quite live up to expectations, you really can't beat the location!
Best for: sundowners on your own private terrace with incredible mountain views.
Unique feature: the retro decor in the suites is quite bizarre, but a welcome change from the standard riad furnishings in town.
Found this post useful? Why not pin it for later…