This post contains affiliate links which means I may make a small commission at absolutely no extra cost to you. Thanks for reading. You can read our full disclosure policy here.
---
We're often asked about the best restaurants in Marrakech, and where to eat if you're visiting Morocco's famous Red City for the first time. The country is famous for many things, from deserts and mountains to music and culture, but it's often the promise of exotic spices and new flavour sensations that entices many travellers to the shores of north Africa. Eating out is one of life's greatest pleasures, and there is no better place to indulge your taste buds than in Morocco…the food in Marrakech is amongst the best in the country.
As frequent travellers to Morocco, we've tried and tested dozens of Marrakech restaurants, and discovered that there is so much more to the cuisine than the humble tagine (although they are delicious!). Here are what we personally think are the top restaurants in Marrakech:
Updated December 2018
The best restaurants in Marrakech
Nomad
Where: Off the famed Rahba Lakdima spice square (places des épices) by the souks.
With its candlelit rooftop terrace tables and friendly service, Nomad is one of our favourite Marrakech restaurants. It's a relative new kid on the block, tucked away in the medina overlooking the Rahba Lakdima spice square (Place des Épices). The cuisine is modern Moroccan – simple yet stylish and full of flavour. Traditional dishes are given a refreshing twist, so Nomad Restaurant is a great spot for those who want to try something different from tagine and couscous. Food in Marrakech doesn't get any better than this! There are intimate dining rooms inside for those sheltering from the sun, and the open kitchen gives the place a vibrant and contemporary feel. Definitely one of the current best restaurants in Marrakech.
Perfect for: romantic candlelit evening dinners, expat lunches, the fashionable crowd.
We recommend: courgette and feta fritters; Nomad spiced lamb burger with aubergine; the famous orange cake (it's so good!).
Tip: make a reservation for dinner, it's popular! Ask for a table on the terrace.
La Maison Arabe
Where: near the Bab Doukkala mosque, just a 5 minute walk from Djemaa El Fna.
La Maison Arabe is the best restaurant in Marrakech! At least that's what we think. A bold statement, but one which speaks for itself. Just go and try it, and you'll understand why we love dining here so much. La Maison Arabe is a luxury medina riad-hotel, but is famed for its two restaurants (the first ones in Marrakech!) which are open to non-residents. One serves up exclusively Moroccan cuisine, with traditional dishes and house specialities, but our favourite is the stunning Les Trois Saveurs. Romantics at heart, we love eating on the terrace overlooking the gorgeous pool, surrounded by flickering Moroccan candle lanterns with live traditional music in the background. This is definitely the place to eat in Marrakech, whether you're visiting for the first time, or are a regular.
Read More: Staying at La Maison Arabe – a luxurious and traditional Marrakech hotel
Perfect for: special occasions; impressing your instagram followers; a touch of class
We recommend: the flower salad (yes really, it's quirky and refreshing); any of their lamb dishes (they are all delicious); the wine (the only place we've come across that knows how to pick a decent bottle of red).
Tip: table reservations are a must (ask for a pool table); arrive early to enjoy jazz and cocktails in the bar; dress smartly but comfortably. La Maison Arabe also run renowned cooking classes – one which lasts half a day out in their country casbah gardens, and another 'express' class in the medina for those with less time. We recommend both!
Read More: La Maison Arabe Cooking School and La Maison Arabe Express Cooking Class
La Trattoria
Where: In Gueliz (the New Town).
If you're wondering where to eat in Marrakech and are looking for a change of scene from the medina, then we suggest you head out to La Trattoria Restaurant in Gueliz. Your evening will begin with a surprisingly large choice of cocktails in the garden lounge, which is full of immaculately-draped greenery and seductive lighting. The pianist tinkles away in the background on a piano that could do with tuning, but it's utterly charming and somehow a polished professional wouldn't be quite the same in this atmosphere. Head through to dine beside an enormous pool, glittering with reflections from the overhead Moroccan lamps hanging from the ceiling. Food here is a mixture of Italian and Moroccan, and despite presentation not always being a gourmet feast for the eyes, is really rather tasty. Service is slow but friendly, but you're in no hurry! When the weather is good the roof is rolled back and you can dine under thousands of twinkling stars. After dinner head to the Art Deco Bar for a final drink before asking the doormen to arrange you a taxi back to your accommodation.
Perfect for: an indulgent romantic evening for two.
We recommend: the steaks (oh the steaks!), and the spinach and ricotta ravioli.
Tip: advance booking here is a must. Ask your accommodation to make the reservation and see if they can wangle you a pool table. Oh, and take a taxi…the walk is further than you think!
Le Trou Au Mur
Where: in the north-east of the medina, near the Musee de Marrakech and Maison de Photographie.
The decor here is rather chic, niche, and fun. It's perhaps not to everyone's tastes, but we kinda liked it. Many of the images used on the furnishings are from the collection at the nearby Maison de la Photographie (one of our favourite places to visit in Marrakech). Le Trou Au Mur is fairly new on the Marrakech restaurant scene, and as yet relatively uncrowded, in part thanks to its location away from the main square. This is a decidedly good thing! If you're wondering where to eat in Marrakech and are staying in this part of the medina, then we have no hesitation recommending Le Trou. In fact we liked it better than Foundouk (see below), a Marrakech restaurant institution just around the corner, and declared it the best meal out on our recent trip to the city. Open for lunch and dinner, the menu offers both Moroccan and International choices, with some rather inventive dishes to try.
Perfect For: an intimate dinner in a quieter part of the city without the crowds.
We recommend: tride (a traditional Moroccan dish), tempura vegetables, home-made mini donuts where you can inject your own fillings.
Tip: choose the rooftop during warmer months, and the cosy dining room in the winter.
Kosybar
Where: In the heart of the Jewish quarter, between the Badi and Bahia Palaces.
Kosybar has made it onto our list of best restaurants in Marrakech because there's simply nowhere better to spend a relaxing afternoon after a hot and sweaty morning traipsing around palaces and haggling in the souks. We've been coming to this 19th century house for nearly a decade, and seen the service go from truly terrible (like most restaurants in Marrakech) to quite acceptable, and even friendly. The roof terrace with its comfy sofa style seats and canopy shades is the perfect place to enjoy some cold drinks, a bowl of complimentary olives and perhaps some dipping bread to tide you over until dinner. We love the views overlooking the Place des Ferblantiers and the adjacent crumbling walls of the Baadi Palace (where you'll often see the storks nesting). There is a stylish restaurant and bar downstairs for grooving the evening away, but during the day it will be deserted in favour of the roof. And pizza.
Perfect for: cools drinks in the shade whilst listening to chilled out music, perhaps with some nibbles or a light lunch.
We recommend: sharing a plate of Moroccan salads with a bowl of chips for lunch; their pizza is our guilty pleasure when we've had enough tagine, although they certainly don't skimp on the chilli oil.
Tip: The ice and salads here are safe to consume, we've never been ill after eating here!
Read More: How to haggle in the Marrakech Souks
La Ferme Medina
Where: 236 Riad Laarrouse, near Dar El Bacha.
An unusual and very welcome selection of dishes from around the world, including traditional Moroccan, and Japanese! Don't expect anything gourmet at La Ferme Medina, come instead for simple, fresh meals in an rustic leafy outdoor Marrakech restaurant. The stone-baked pizzas are one of the biggest draws. There are lots of little seating booths tucked away in the gardens, and a water fountain to help make you feel cooler. They also have rooms here, if you've had enough of the 1001 thing going on in most of the riads, but we thought it would be pretty noisy during evenings with the restaurant down below.
Perfect for: escaping the bustle in an unexpected leafy corner of the medina.
We recommend: the pizzas, salads, smoothies and juices, so natural and refreshing in this hot city.
Tip: avoid dining here on a Sunday if you're a meat-eater, they sometimes run out of it after a busy weekend evening service.
Le Jardin
Where: 32 Souk Jeld Sidi Abdelaziz, in the Mouassine area of the medina.
We went with a little reluctance to Le Jardin, thinking that just because somewhere is famous on instagram doesn't mean that it's necessarily a good place to eat. Yet we were pleasantly surprised. This beautiful 16th century building with lush gardens and comfy lounging terraces wasn't crammed with blonde 20-somethings posing for selfies amongst the greenery (in fact I was the only one taking a few discrete photos), and had a comforting buzz that comes from a multitude of diners busy enjoying their lunch. Although we hadn't booked a table we managed to grab a spot in the shade and settled in to decide what to eat. The menu is pretty impressive, with a combination of Moroccan and European dishes, and is ideal for both lunch and dinner. We came here because we felt obliged to, on our mission to find the top restaurants in Marrakech, but left full and happy, with it firmly on our list for returning on our next visit.
Perfect for: instagrammers, shoppers who want to rest their weary feet.
We recommend: the kefta tagine, Berber pastilla and their fresh fruit juices.
Tip: definitely make a reservation if you're a larger group or eating over the main lunch or dinner period.
Cafe des Epices
Where: on the opposite side of the spice square (places des épices) from Nomad Restaurant.
Food at Cafe des Epices is simple yet satisfying, and is served throughout the day, just what you want when you need a break from the souks and the square. With a menu of sandwiches, salads, burgers and tagines, it's a bit of an obligatory stop for any traveller wanting to grab a bit of food in Marrakech without any frills, and has seating at street level as well as on the roof terrace. Personally we love sitting down below and watching tourists doing deals with stall holders for miniature wooden camels, rattan table mats and of course bags of spices that they'll never use back home. Some are better at haggling than others!
Perfect for: people watching in the bustling spice square.
We recommend: swordfish sandwiches, nutella crepes, and working your way through their interesting coffee menu.
Tip: this Marrakech cafe is very popular but hang around a few minutes and a table will soon become free. Ideal for a lunch whilst browsing the souks.
Grand Balcon du Cafe Glacier
Where: Overlooking Djemaa el Fna (the main square).
Restaurants and cafes around Djemaa el Fna don't generally have a great reputation for good food, good value or good hygiene, but you come here for the views, not a gourmet experience. Our favourite is the Grand Balcon du Cafe Glacier, because the roof terrace wraps around the building on two sides, so you can see (and photograph) the entire square rather than just the sliver in front of you. To visit the panoramic terrace a purchase is compulsory (and rightly so). If you just want a drink, help yourself to one from the chiller and pay at the till before you go through the turnstile onto the terrace. If you're eating as well, take your drink but pay at the end after you've eaten. A waiter will (eventually) come and take your food order at the table. There are toilets, and like most in the city there is an attendant who appreciates a couple of dirham for keeping them clean.
Perfect for: watching life go by and taking photos without being hassled by snake charmers.
We Recommend: their pizzas are surprisingly good and not too expensive (around DH45 for a margherita). We often share one for lunch.
Tip: the tables at the edge of the terrace are of course the most popular and likely to be full when you arrive. But don't worry, just pick another spot, and keep a beady eye out…it's commonplace for people to change tables the moment a better view becomes available. You need to come here at least twice, once by day and then again in the evening for front row seats at the best show in town.
Top game: try to count all the satellite dishes on the rooftops across the square. I bet you'll never end up with the same number twice!
Dar Cherifa
Where: Off Rue Mouassine in the heart of the souks.
This place is a serene little gem, hidden deep in the secret alleyways of the medina about ten minutes from the main square. Dar Cherifa is a literary cafe in an ancient riad with little tables on the patio around a cooling rose-petal strewn fountain. It has a terrace too, but you're here to admire the trademark architecture (stucco and carved wood) and get out of the heat rather than to bake on a rooftop. The building is a contemporary of the Ben Youseff Medersa, and the style is very similar. The food is simple but elegant, with choices for brunch, lunch or even an early dinner. They sometimes have art exhibitions, small concerts and events here too, intimate evenings with soft flickering candlelight.
Perfect for: a calm pot of mint tea and pasties to recover from the frenzy of the medina outside.
We recommend: sitting in the shaded courtyard by the fountain rather than in the heat on the roof terrace.
Tip: from the outside it often looks closed, but push open the door (and try not to feel like you're barging into someone's house) and follow the passage along to the patio.
Naranj
Where: Riad Zitoun Jdid (between Djemaa el Fna and Place des Ferblantiers)
Naranj is a new Lebanese restaurant well hidden off Rue Riad Zitoun Kedim, the main route between the main square and Place des Ferblantiers. It was fully booked for dinner during our last trip to Marrakech, so we popped in for virgin mojitos one afternoon to have a nosy around the place. Staff were very welcoming, and we loved the seated areas up on the roof terrace. Several of our riad-owner friends recommended Naranj to us as the latest place to eat out in Marrakech, with a small but well thought out menu offering traditional Lebanese cuisine in a comfortably rustic yet modern setting.
Perfect for: trying something different to the traditional Moroccan and European cuisine on offer elsewhere.
We recommend: we have it on good authority that the mezze platters and hamshouka are very tasty.
Tip: book well ahead (even before you arrive in Marrakech) as this place is impossible to get into on some evenings since it's so popular.
Le Fondouk
Where: On Rue du Souk des Fassi in the north east of the medina, near the Maison de la Photographie.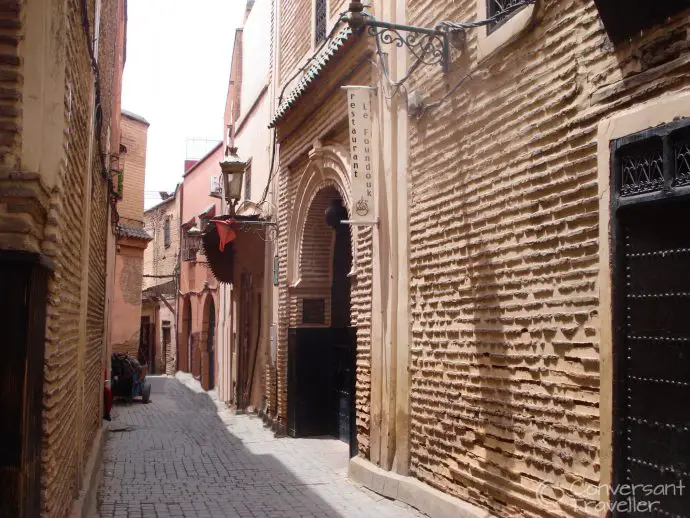 If you've done any research at all on eating places in Marrakech then you'll have heard of the institution that is Le Foundouk. We'd heard mixed reviews of the place, and decided to check it out whilst we were staying nearby. It was mid October and wasn't that busy which meant we got a lovely table on an upper level, overlooking the patio below. One of the waiters brought us orange flower water to cleanse our hands and the menus came rolled up like an old scroll, I can't decide whether this was stylish, or a bit naff. The food was pleasant, the service not the best (but that's the case in all Marrakech restaurants!) and ambience suited to a romantic evening meal.
Perfect for: a romantic meal at the end of a trip. Book later in the evening (after 8pm) for more of a vibe.
We recommend: chicken gyozas; saffron risotto; dessert pastilla with orange blossom milk.
Tip: one of their selling points is that a djellaba clad chap will (if you request) lead you through the streets with a lantern and show you to the door. A nice idea but you really don't need this. The restaurant is easy to find, and this gimmick is aimed more at the tourists who stay in the resorts outside the city and who may find the medina alleys intimidating
Read More: Top 25 Most Instagrammable Places in Morocco
Grand Cafe de la Poste
Where: Gueliz (New Town).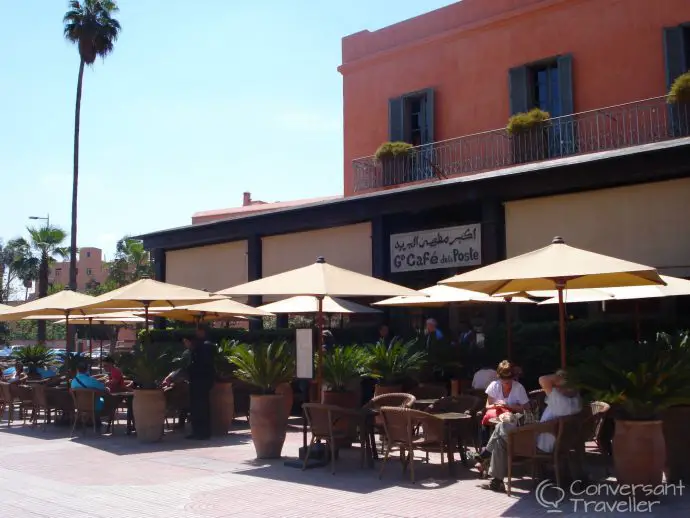 Whilst the New Town really isn't anything special (unless you're craving McDonalds and high street fashion) this well established elegant French cafe is another one of those institutions you should visit if you have time. The Grande Cafe de la Poste used to be…wait for it…a post office, and is like stepping back in time to colonial Morocco as it was in the 1920's. Sometimes you've had enough of tagines and crave a little something more European. In the evening the brasserie turns into an intimate space with mood lighting, linen tablecloths and candelit dinner with a spot of jazz.
Perfect for: stopping off for lunch after a morning visit to Jardin Majorelle and the Yves Saint Laurent Museum.
We Recommend: a croque monsieur (I haven't had a better one outside France!), a beer and a table on the sidewalk
Tip: it's very pleasant sitting outside for lunch, but be mindful people will be smoking.
Read More: Scams in Marrakech and How to Avoid Them
Le Comptoir Darna
Where: Gueliz (New Town).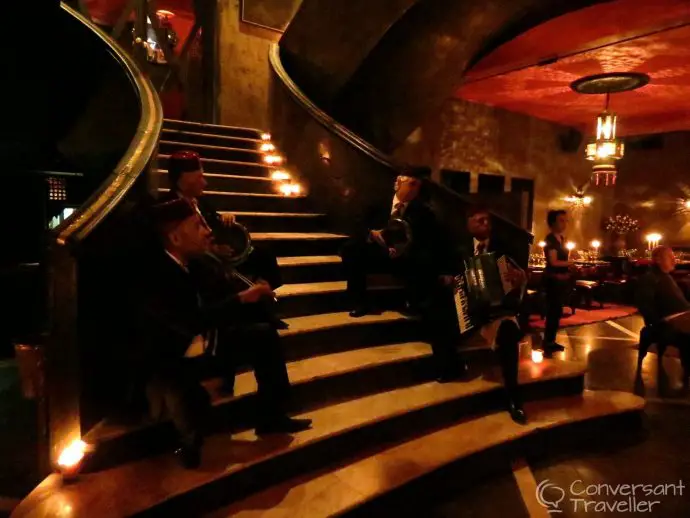 Famously billed as the place that breaks up marriages, Hubbie and I were confident enough to risk a night out at Le Comptoir! This is the establishment to patronise if you're after a sexy late night experience, with sultry red leather and gyrating hips! The tuxedo clad doorman showed us through the billowing curtains that hide the interior from view and we immediately stepped into another dimension – a world away from the dusty alleys and stray cats in the medina. The whole place seemed to have been built for lover's trysts, with cosy corners and candles, gold chandeliers and velvet drapes…Hubbie didn't know what to do with himself! First stop was the bar, where he tried not to choke whilst reading the prices – one drink here was more than an entire meal back in the medina (about £7 for a beer!). I tried not to be embarrassed by his outburst and calmly ordered the most expensive cocktail on the menu. Le Comptior is one of the best restaurants in Marrakech for pre- and after- dinner drinks.
The service was some of the best we'd come across in the city (okay, so we were paying for it) and the food was good, if not earth shattering, with all the Moroccan traditionals as well as a more European menu for those who are sick of the sight of couscous. Hubbie tucked into a whopper of a burger, but I opted for the lamb tagine, despite having had at least four in the last four days. What can I say, I love tagine. Dinner is accompanied by local musicians sitting on the stairway playing ambient tunes, and the scantily clad belly dancers come out after 9pm, strutting their stuff down the steps, sometimes balancing trays of brightly burning candles on their heads and somehow managing not to drop any! Quite a spectacle if that's your thing.
Perfect for: romantic and trendy evening dining with loved ones of a group of friends. Probably not the place to take your mother.
We recommend: the burgers, the famous méchoui (lamb), and molten chocolate cake. But really, you're here for the ambience.
Tip: book around 8.30 – 9pm for an evening meal…any earlier and you'll be missing out on the entertainment.
Read More: Best Affordable Luxury Riads in Marrakech
Cafe Bougainvillea
Where: At the end of Rue Mouassine on the edge of the souks, the cafe has a tiny street entrance so keep an eye out for the sign above the door.
This place has cheap tables and rickety chairs. The waitresses can be a tad moody, diners are sometimes a bit crammed in and you may have to wait for a seat. But despite all that, we love this little spot, away from the bright lights of the square and draped from head to toe in blooming gorgeous…you guessed it…bougainvillea. It's a really handy place to navigate by as it's on the crossroads of several alleys, one of which leads to Djemma el Fna, and the others have all led to riads we've stayed at from time to time in the Mouassine area.
But the best bit is the pizza! Ok so the food itself is nothing much to write home about but it's so nice to be able to just order a slice of one of Italy's finest exports without feeling guilty you're steering away from traditional local cuisine. They do paninis too.
Perfect for: a no-frills lunch in a pretty courtyard.
We recommend: pizza!
Tip: arrive a bit early or a bit late as this place is really popular and you may have to wait for a table at peak times.
Read More: Is it Safe to Travel to Morocco
Le Tanjia
Where: Overlooking Place des Ferblantiers on the edge of the Mellah.
Eating on the elegantly decked out terrace here is a bit of a treat. Located just to the left of the little square (not far from Kosybar) you can watch the street life bustle on by whilst being sprayed by cooling jets of water mist from above. You don't actually end up wet, and the pleasant vaporous mist is very welcome in the heat. It's one of the more expensive spots in town, more on a par with European prices, but the food is good and the service some of the more acceptable we've come across. The belly dancers do their thing around 9pm, again candles are often involved.
Perfect for: relaxing meal with live North Africa and Arabic music.
We recommend: the clue's in the name – Tanjia – a slow-cooked meat dish famous in Marrakech.
Tip: if you want a table at the edge of the roof terrace overlooking the square, you guessed it…book well ahead.
Read More: Marrakech in Winter, 7 Reasons to Visit
In your Riad
Nowhere in the world have we experienced such consistently good food as at our riads in Marrakech. We haven't had one disappointment, and often eat there more than once since it's so tasty. Meals here are proper home cooking and you can taste the pride and effort behind each dish. We always eat in our riad on our first night, which is really great as most UK flights arrive in the evening. It's so pleasant to arrive, dump your luggage and stroll up to the roof terrace to find your own special table strewn with rose petals and gently flickering candles. The meal is relaxed and accompanied by the hauntingly beautiful evening call to prayer, and as you slowly get used to the heat whilst sipping your glass of wine you finally feel like you're on holiday!
Some of our favourite riad meals: Riad Assakina, Riad Camilia, Riad Cinnamon, Riad l'Orangeraie and Riad Mur Akush.
We recommend: eating later than you would at home, when it's a bit cooler up on the roof terrace.
Tip: if you intend to have dinner at your riad you need to order this the night before, or first thing in the morning. This gives the cook time to shop for fresh ingredients at the market (and if you ask nicely most will let you join them for the experience!).
Read More: Best Affordable Luxury Riads in Marrakech
Night Market
Where: Djemaa el Fna.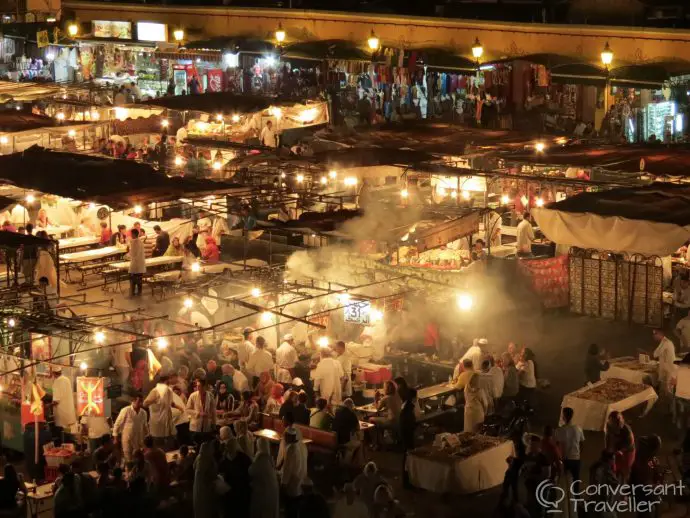 This is a spectacle to see as well as a great place to eat. With its barbeque cuisine (everything from sheep's eyeballs to chicken kebabs) and cheerful touts it's the place to be if you want to share your table with a local and experience a different way to eat dinner. There are dozens of stalls, each with their own allotted space and number. Walking down the avenues between the rows is a test of will power…just how many times can you refuse the delightful sales patter of the lads trying to entice you to the 'best stall' in town. Each has his own jingle, often humorously taking the piss out of supermarket adverts in your home country, and many rhyming…"stall 107 will take you to heaven".
Even if you don't want to eat here, you can wander around savouring the smells and constant babble of voices rising above the smoke which billows across the square, making it's way to the noses of people all over the city, drawing them like moths to a flame-lit feeding frenzy.
Perfect for: dinner and a show – the square is full of street entertainers when the sun goes down.
Tip: the orange juice sellers remain here during the evening, and conjure up great refreshing drinks squeezed freshly before your eyes. They do use a little water, but it's bottled, and we've never had any problems in the gurgling stomach department. Often they will keep refilling your glass until you've truly drunk more than enough…a nice gesture perhaps, but more likely because having a bunch of happy gringos standing by the cart is good for business (there are a lot of them, all identical, and prices are regulated).
Read More: Top Things to do in Marrakech
Good to Know
We've never been ill with the dreaded traveller trots in Morocco (although unfortunately I can't say as much for our other trips outside Europe!). So my advice to those of you prone to this decidedly annoying infliction is to not worry too much, just be sensible and enjoy the experience.
How to be sensible:
Drink bottled water (use this to clean teeth with too) and watch out for those sneaky ice cubes!
Don't use straws (they've probably been used before)
Don't eat anthing likely to have been washed in water (e.g. salads, uncooked vegetables)
Dining at your riad is always safer in terms of hygiene than public cafes and restaurants
Use antibacterial hand gel if you're eating out and have been handling things (like money)
If you do get ill the best thing to do is drink water (the bottled sort mind!) and lots of it. Don't bung yourself up with pills and potions which will just prolong the agony. Spend a couple of days flushing it out so you can enjoy the rest of your trip in comfort.
Service
Whilst riad staff are exemplary in their attention to guests, service is pretty poor in all public restaurants in Marrakech (and almost everywhere we've been in Morocco), and as soon as you come to accept this the quicker you'll learn to enjoy your meal experience.
Meal times
In riads you can eat at whatever time you like, but it's worth knowing that like in Europe, people in Morocco tend to have their evening meal later at around 8 or 9pm. You're probably wondering why I'm bothering to mention this, but in England we would consider this really late for a meal and so every time we go abroad we find it quite difficult to adjust to eating when we'd normally be thinking it was nearly bed time! Especially when we usually get up early ready for the day's excitments and to make the most of the coolest part of the day.
More research
A great website with a whole host of mid – top end restaurants to choose from all over Morocco is Best Restaurants Maroc. It even has the menus and prices as well as lots of photos and directions, and you can search by type of venue e.g. whether it has a garden or patio, or is romantic.
Found this post on best restaurants in Marrakech useful? Why not pin it for later…