This post contains affiliate links which means I may make a small commission at absolutely no extra cost to you. Thanks for reading. You can read our full disclosure policy here.
---
Fancy a secluded holiday in the UK with fabulous countryside to play in, unique historic buildings to stay in, and luxury self-catering cottage facilities for the ultimate independent break? Then read on…
Sometimes we want to get away from it all and treat ourselves to luxury self catering holidays in the UK. It's a chance to unwind, reset and just 'be', away from the stresses of daily life, and without the hassle of having to mastermind complex travel arrangements or constantly moving from one place to another. 
We've stayed at a lot of quirky remote holiday cottages in England, Scotland and Wales, and as we get older we really welcome the comfortable independence that comes with indulging in a luxury self-catering break. Romantic rural retreats in England, Scotland and Wales are what exploring the UK is all about, and that's no bad thing. Our tiny island has a lot to offer the traveller looking for seclusion, isolation and adventure whilst always having somewhere rather splendid to stay each night. 
Here are some of our favourite unusual and remote holiday cottages and retreats in Britain. We've tried and tested them all, some of them more than once! 
UPDATED Spring 2021
This one's for romantics and history buffs who want to sleep in the same room where Prince Rupert of the Rhine (King Charles I's nephew and Royalist Commander) once hid from parliament forces during the English Civil War. The jewel in the crown that is the Upton Cressett estate, the gatehouse is a great place for honeymoons or romantic weekends away. It's accommodated many famous faces over the years, from Baroness Thatcher to Liz Hurley. You will have the entire gatehouse to yourself, and there's a cosy living room and well equipped kitchen for rustling up those banquets and midnight feasts. At the top of the stone stairs is the incredible Prince Rupert Suite, complete with the  most amazing 4-poster bed and all the trappings you'd expect in such an ancient treasure.
You can stroll through the gardens beside the Tudor Upton Cressett Hall, and visit the Grade I listed Norman church of St. Michael's, which has been here since the 11th century. Guided tours of the hall are available on selected days if you want a proper nosy inside, but with all the history, ancient beams, and spiral stairs inside the gatehouse you probably don't need anything else!
Sleeps: 4
Insider tip: Guests are welcome to pick apples from the gatehouse's private medieval orchard – they're delicious.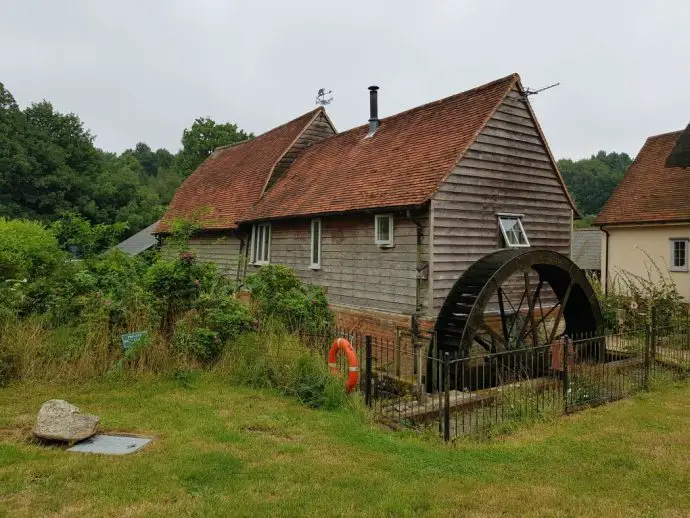 This impossibly quaint water mill has been lovingly restored into a cosy cottage in the tiny rural hamlet of Assington, in the heart of Suffolk. The water wheel is still in operation, and it's lovely falling asleep to the gentle sound of water on a balmy summer evening. The extensive grounds of the private 70 acre nature reserve are fun to explore, with woodland trails, badger hides and barn owl towers to discover. There's a large duck pond beside the cottage with a rowing boat that you're welcome to paddle about in. You can even take a dip if you like, but only when the weed has died down a bit after the summer. Go for evening strolls, tuck into picnics on grassy banks beside the pond, and enjoy the network of walking trails in this tranquil part of Suffolk.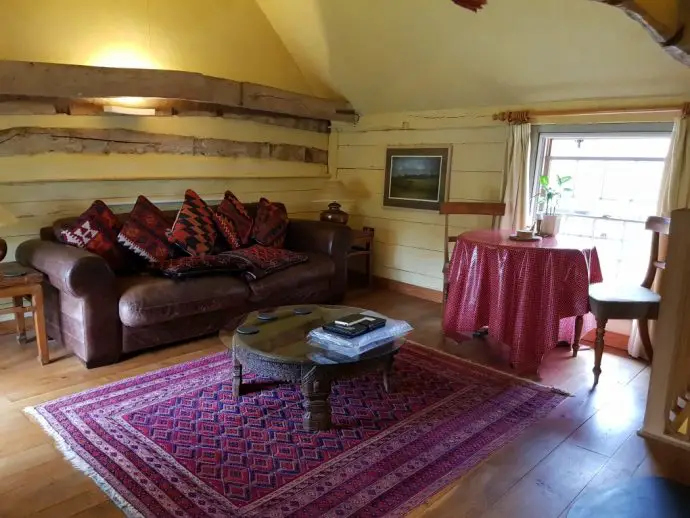 The cottage itself is full of old wooden beams, wonky floors and bags of character, with views out over the pond from the upstairs living room. When it comes to cooking the modern kitchen has everything you need, and there's a lovely welcome basket with some tasty breakfast essentials to get you started. 
Sleeps: 2
Insider Tip: Do your food shopping before you arrive, as it's some distance to the nearest supermarket. 
If you're looking for unique places to stay in Scotland then you can't go wrong with a stay in East Gatehouse Lodge. Tucked away on the extensive and secluded Monzie Estate just a few miles outside the market town of Crieff, the gatehouse is top of the pile when it comes to unusual remote cottages in Scotland. Complete with turreted stairway and octagonal rooms, East Gatehouse Lodge is suitable for couples or a family of four with two luxurious bedrooms, a cosy lounge with log fire, as well as a kitchen and dining room. 
There are miles of isolated countryside to explore, including the estate itself, and day trips to the Cairngorms National Park, Loch Lomond and Perth are well worth it too. At night there's no light pollution so the stars put on a fine display if you have the inclination to look up. There are dozens of rural retreats in Scotland, but we challenge you to find one as romantic and secluded as this!
Sleeps: 4
Insider Tip: Book dinner at G's Bistro in Crieff and order fondue. You can thank us later!
Read More: A cosy Scottish weekend away at East Gatehouse Lodge
This hidden gem ticks all the boxes as being one of the most remote holiday cottages in Scotland. Perched on a ridge line overlooking the magnificent Loch Tay and surrounding forested mountains, this is the ultimate romantic place to stay in Scotland, and the site of many marriage proposals! The tower has been renovated with two lavish bedrooms and cosy living quarters including log fire and a sauna. Set in its own private woodland, the White Tower of Taymouth Castle is perfect for couples looking for a secluded rural holiday in the UK.
The icing on the cake is the rooftop hot tub (heading image above), which is accessed through the master bedroom at the top of the tower. The views from here over Loch Tay are nothing short of incredible, and relaxing in the bubbles with a glass of wine beneath the stars is simply breathtaking. The local area boasts several walks, and there are boat trips and kayaking down on the loch itself. This one is for the outdoor-lovers, but also for anyone just wanting to get away for an isolated self-catering holiday in the UK. 
Sleeps: 4
Insider Tip: Do your grocery shopping enroute to the tower as it's quite a long way from the nearest supermarket. 
Read More: A couples hot tub holiday at the White Tower of Taymouth Castle
This place is incredible, especially in the summer when the gardens are in spectacular bloom. The best thing about staying on a country estate is that after hours, when the day visitors have gone home, you can stroll around the 12 acres of grounds and have it all to yourself! In fact, visitors are only allowed on site on a handful of days during the week, so chances are you won't ever see another soul out in the gardens. There are swathes of sweetpeas, a babbling brook, and vast banks of daffodils to enjoy.
The Gatehouse Lodge is one of a handful of historical properties on site that have been converted into self catering cottages. Inside you'll find stone floors and a cosy living room, plus a comfy bed and surprisingly enormous bathroom. Outside there's a small private terrace for breakfasts in the sun, but really when you have the entire gardens at your disposal this space isn't really needed. The accommodation is compact but has everything you need, and is perfect for a romantic weekend away with plenty to do in the area. 
Sleeps: 2
Insider tip: Day visitors are only allowed in the gardens on Wednesdays, Thursdays, Fridays and Sundays…so if you come for the weekend, you'll have it all to yourself on Saturday!
Another gatehouse (you can see a bit of a theme here!), but this time in the Welsh Borders, and perhaps even more glamorous. This luxury rural retreat in the UK is a cosy couple's escape in Monmouthshire, nestled deep in the Welsh Borderlands. Constructed way back in the 13th century, the gatehouse is a grade II listed building in the grounds of a Medieval manor house. Inside it's open plan, with a gorgeous mezzanine floor for the sleeping quarters, and if you continue all the way up the spiral stairs, you can climb out on top of the turret, a perfect spot for your morning coffee!
Guests are able to use the manicured gardens, and there are walking trails right from the door step. Nearby there's the stunning Wye Valley to explore, and we highly recommend a visit to Tintern Abbey if you like a good dose of majestic crumbling ruins. 
Sleeps: 2
Insider Tip: Those stairs are steep so only really suitable for those feeling a little sprightly. 
Check Prices & Availability Here
Read More: Going back in time with a stay at the Welsh Gatehouse
When it comes to getting away from it all and connecting with nature, staying in a luxurious treehouse with your very own private hot tub in Cornwall is the business! The treehouse overlooks a remote wood-covered valley, which in Spring is carpeted with bluebells. The location of Wrinkers Wood couldn't be better, just a few miles inland from the dramatic coastline around St Agnes in the north of Cornwall. This part of the heritage coast is very photogenic, and Wrinklers Wood is undoubtedly one of the most secluded places to stay in Cornwall. 
There are also two safari glamping tents and one cosy couple's tree cabin at Wrinklers Wood, with plenty of open space and secret woodlands to explore. It's the sort of place you forget about the car and head out on foot each day, with lots of local walks to quaint village pubs to keep you occupied. 
Sleeps: 2
Insider Tip: The wraparound deck is superb for bird watching, so take your binoculars and wildlife guide book. 
Check Prices & Availability Here
Read more: Sleeping in a treehouse at Wrinklers Wood – what it's really like
Dedham Vale is one of the most quintessentially English places you can visit, and to be able to stay on the edge of it, in a converted chapel, is an incredible experience. The pretty little village of Nayland is a delight to stroll around, with chocolate box cottages and historic architecture everywhere you look. By day it's all about walks in Dedham Vale AONB on the Suffolk-Essex border. This area is fondly known as Constable County after the famous painter who produced many of his best-known works around here, in particular at Flatford Mill. 
Inside the Old Chapel Annexe is like nothing you'll have ever stayed in before, it has to be one of the most unusual places to stay in Suffolk ever! There's an open plan living area, and then dual stairways up to the bedroom, which has been built on the old chapel balcony – there's even a bathroom up here in the old pews! The main event is the grant church hall, which can been seen from the bedroom too. The lofty ceilings, original windows and stage area make for great features, and there's even a grand piano if you fancy a tinkle on the ivories. Events and recitals are held here throughout the year, but when you're staying, the whole lot is all yours!
Sleeps: 2
Insider Tip: If you're a budding pianist, bring some music so you can try out the acoustics!
Check Prices & Availability Here
The North Star Club is a magical countryside realm, with secluded cabins in the woods and wildlife all around. It's the sort of place where sun-dappled light flirts with the trees and makes you believe that fairies do exist after all. These delightfully isolated holiday cottages, or cabins, are dotted around the estate, each with their own space and private verandas overlooking the woodlands. Keep an eye out for peacocks and deer!
Some have private saunas, others have four poster beds and roll-top copper baths (and some have all three!). Although these are set up for families (there is a small bunk bed room for children), really it's a space for couples seeking a luxury rural retreat in Yorkshire for a few days of cosy romantic bliss. There's an honesty box in the central Wood Shed cabin, with yummy homemade flapjack and all manner of exotic-sounding teas to try, and when evening comes it's all about toasting marshmallows over the campfire and watching for shooting stars. There's a lot to do in the area, but seriously, you won't want to leave!
Sleeps: 4
Insider Tip: We loved staying in the 'Star Suite' which was the most romantic of the lot!
Check Prices & Availability Here
Read More: First hand account of a luxury weekend stay at the North Star Club
If you want an isolated self-catering holiday in the UK then you should consider the Glamping Orchard, down in Gloucestershire in the Severn Vale. Set on a working family farm, there are two remote places to stay, each with plenty of outside space to run around in. First up is the amazing Warwick Knight, a lovingly-renovated caravan that once featured on George Clarke's 'Amazing Spaces'. It really is a work of art, with room for 2 adults and 2 children  (the latter in bunk beds with a fun little climbing wall to get up!), a cooking and dining area and even a very cool roof garden on top! It's a great place for watching the sun go down over the gently rolling fields. There's also a cute bell tent (called 'Belle') which is surprisingly roomy. Each dwelling has its own compost toilet and rustic shower cabin, complete with hot water and towels!
A stay here is all about the outdoor life, with lots of fresh air, toasting marshmallows over the fire pit and getting back to nature. Children can meet the farm animals and everyone is welcome to go and pick fresh eggs from the hens for breakfast. There are some gorgeous gentle walks right from the farm and along the banks of the River Severn, as well as plenty of pubs nearby as a reward!
Sleeps: 4 (Warwick Knight), 5 (Belle)
Insider Tip: Don't plan to do too much during your stay, as this is somewhere you'll want to just kick back and relax!
Check Prices & Availability Here
Read More: A luxury glamping getaway in the Severn Vale
This authentic replica Iron Age roundhouse is a real gem, perfect for anyone interested in history and unusual places to stay in England. Standing in a meadow clearing on a rural farm in the heart of western Cornwall, the roundhouse is one of the more remote self-catering holidays in the UK that you'll ever come across.
The roundhouse was constructed using traditional materials and methods, and gives a fascinating glimpse into life in the Iron Age. Inside, the dirt floor is covered with rugs, and the incredible four-poster bed is made entirely out of trees from the land around the farm. The fire pit keeps everything cosy, and it's certainly one of the most romantic holidays in the UK that we've ever had!
There's a wooden cabin (called the 'treehouse') just a few feet away from the roundhouse, which has a kitchen and dining area, as well as bathroom with a hot shower. The location is ideal for exploring all of western Cornwall, from St Ives up on the north coast, to the Lizard Peninsula on the south. There are also several ancient settlements to discover in the immediate area (including one on the farm itself), and of course plenty of walks. Remote rural retreats in England don't come better than this!
Sleeps: 2
Insider Tip: Keep a separate bag for using inside the roundhouse, and take a spare plastic bag for your clothes afterwards, they will smell incredibly smokey!
Check Prices & Availability Here
Read More: Spending the night in a Celtic Roundhouse in Cornwall
On the southern edge of Exmoor National Park, this cosy 17th century cottage is perfect for couples wanting to escape to the countryside for a while. There's a great blend of traditional and contemporary furnishings, and the bedroom is on a gallery level, looking down into the living area. There's a stunning garden at the back with views over the surrounding valley, and plenty of walks right from the door in this tiny hidden hamlet. The owner will even lend you one of his gorgeous Labradors if you fancy company on your walk.
There are plenty of things to do in Exmoor, from meeting the famous wild ponies and climbing up to Dunkery Beacon for the views, to scrambling along the Valley of the Rocks up on the north coast and enjoying tea and cake at Watersmeet after a stroll along the river. 
Sleeps: 2
Insider Tip: Head over to Lynmouth for fish and chips on the old harbour wall, yum!
Check Prices & Availability Here
Read More: Getting away from it all in Exmoor, a remote farm cottage holiday
This one is for those of you who want a family get together that will be the envy of all your friends! This luxury remote self-catering holiday cottage in Scotland is in fact a 500 year old peel tower in the Ettrick Valley, not far from Selkirk. The 15th century tower oozes history around every corner, with grand fireplaces, winding spiral stairs, lots of original features and even a kitchen that's in the old cow byre. Built as a fortified tower house to defend against the Border Reivers, Aikwood Tower is a great place to hole up and shut yourselves away from the world in your very own isolated rural retreat in the UK. 
The bedrooms here are truly sumptuous and immaculately designed, with an elegant mix of modern and traditional. There's table tennis down in the hall, and a beautiful walled garden with summer house and a lawn that's perfect for croquet. If you do want to head out there are plenty of places to explore in the Scottish Borders, from castles and abbeys to museums and distilleries. This part of Scotland is little-known and so is ideal for secluded holidays in the Scotland. 
Sleeps: 10
Insider Tip: Aikwood Tower is an incredible venue for a family holiday, special occasion or even a wedding, but it works for couples who like a bit of space too!
Check Prices & Availability Here
Read More: A truly luxurious family stay in your very own Scottish Castle
Mid Wales doesn't get nearly enough attention as it deserves, but that is perhaps a good thing since it means it's never crowded! Felin Geri is an old flour mill in extensive grounds with a handful of glamping safari tents scattered in isolated spots throughout the property. Great for couples and families alike, the tents are expertly equipped with everything you'll want for a remote self-catering holiday in the UK, and there's an onsite restaurant and bar for when you don't want to cook. 
Hot tub glamping is all the rage these days, and with good reason. You get to experience the outdoors in the lap of luxury, and there's nothing quite like soaking in the tub as dusk falls, with the sounds of nature all around. 
The tents at Felin Geri all come with their own hot tubs, which are blissful during the evening when you can sit listening to the babble of the river as bats come out to play up above. Ceredigion is a gorgeous area to explore, with hidden beaches, coastal walks and crumbling castles everywhere you turn. We recommend heading to Mwnt for the most amazing beach we've ever seen in Wales, and the 13th century Cilgerran Castle which is just outside Cardigan. 
Sleeps: 6
Insider Tip: As with most places that offer hot tubs, there is an extra fee for use during your stay, but it's well worth every penny!
Check Prices & Availability Here
For anyone looking for remote dog friendly Devon cottage holidays then Honeyford Cottage is perfect! Hidden in a tranquil valley on the edge of the charming hamlet of Drewsteignton, this Grade II listed thatched cottage has bags of character, with exposed stone walls, old wooden beams, wonky floors and hidden stairways perfect for a game of hide and seek. Outside, the extensive cottage garden makes for relaxing picnics and lots of photo opportunities. Plus there's plenty of space for your pooch to play!
Honeyford cottage is ideally situated on the edge of Dartmoor National Park and is an outdoor-lover's paradise. Here you can explore wild open moorlands, discover ancient history beneath your feet, and go walking or even horse riding. Exeter and Tavistock are nearby too, and the south coast makes a great day trip if you fancy a change of scenery. There are several Dartmoor dog friendly cottages in this area, but none quite as splendid or welcoming as this one!
Sleeps: 6
Insider Tip: The local inquisitive cat lives in the barn next door and will pop in to say hello if you leave the doors open!
Check Prices & Availability Here
Found this post useful? Why not pin it for later…