This post contains affiliate links which means I may make a small commission at absolutely no extra cost to you. Thanks for reading. You can read our full disclosure policy here.
---
I didn't fall in love with Casablanca.
It's industrial. It's dirty. And some might say devoid of charm.
Yet the famous white city is also Morocco's largest metropolis, and indeed one of the most important financial and economical centres in all of Africa. Rabat may be the political Capital, with Marrakech and Fes flying the flag for culture, but Casablanca is the beating business heart of Morocco. Strategically positioned on the coast, Casablanca boasts one of the largest artificial ports in the world, and is home to the Royal Moroccan Navy. I never thought I'd be walking down wide tree-lined boulevards past naval colleges and sailors on a trip to North Africa!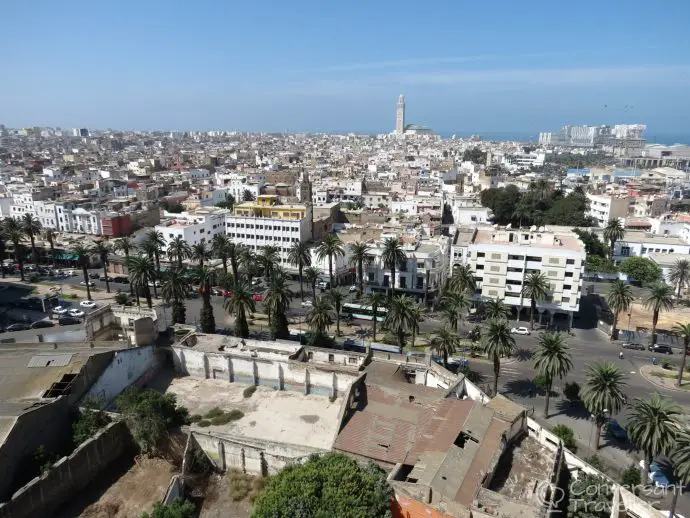 I have to be honest. I didn't particularly want to go to Casablanca.
With Roman, French and Portuguese roots, in it's heyday the city was the place to be. However today, visions of long forgotten grandeur suggested that the Morocco we know and love clearly wasn't going to show her face here. Yet we're often asked by blog readers if Casablanca is worth visiting. So in the interests of broadening our knowledge and experience of Morocco, Hubbie and I decided it was time to see the place for ourselves.
It's the first time we have let the blog dictate our destination, and I worried that we weren't staying true to ourselves, or to the ethos of Conversant Traveller. Still, it would be a new adventure, and since we're becoming known for being a bit of an 'authority' on travel to Morocco, it seemed like something we just had to do.
READ MORE: 25 Top Instagrammable Places in Morocco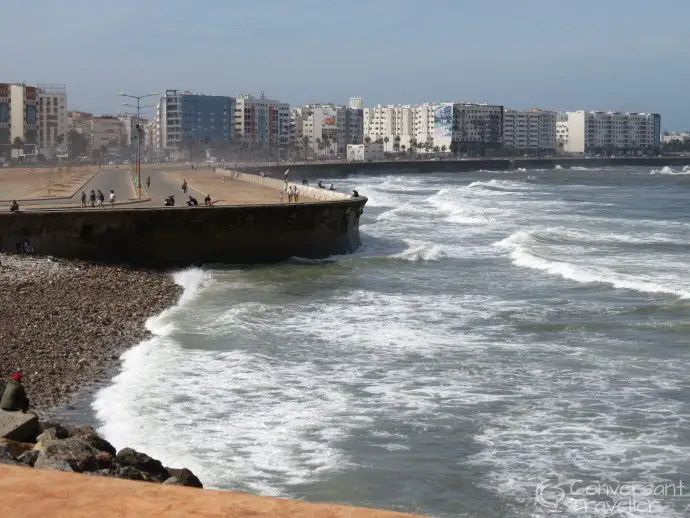 Getting to Casablanca
It's relatively easy to reach Casablanca, with several international flights landing there daily. If you're already in Morocco, the train network is reasonably extensive, surprisingly comfortable, and pretty cheap. For a popular route such as Marrakech to Casablanca it is advisable to arrange tickets in advance to ensure you get a seat! You can check the timetable and fares at oncf but you can't make an online purchase without a Moroccan credit card. Your best bet is to buy them in person at the train station a few days before your journey, or if that isn't practical, ask your hotel to arrange it for you. Alternatively you can use an agency such as Marrakech Tickets who will purchase tickets and send them to you, for a fee.
Travelling to Casablanca was in fact our very first Moroccan train experience, and we were childishly excited! We'd been staying in a converted church in the historic coastal town of El Jadida, and a £4 first class ticket for the 1 hour 20 minute journey to Casablanca was a no brainer.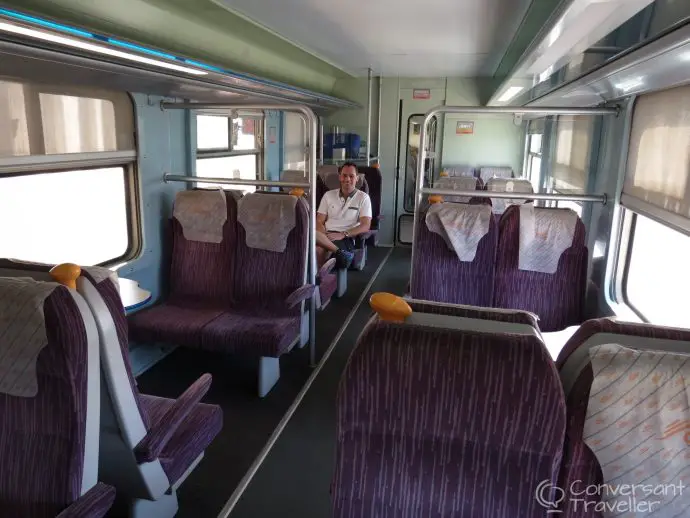 It was an interesting experience, and one that we'd be happy to repeat. We had an entire first class carriage to ourselves and it was actually pretty decent, if a bit squeaky. There was a train attendant whose sole job seemed to be spraying some noxious scent into the air conditioning unit, enveloping the carriage in a haze of chemical apple. No doubt a special perk of the first class service. Or perhaps just to mask any odious smells seeping from the on-board toilets. Which were not especially pleasant but functional.
Things to do in Casablanca
On paper, there are several things to do in Casablanca. Yet we were disappointed by everything we saw. Except for the truly astounding Mosque Hassan II, and the world famous Rick's Cafe.
Mosque Hassan II
If Hubbie and I were impressed with the Blue Mosque in Istanbul, we were totally blown away by Casablanca's Mosque Hassan II.  It's the third largest mosque in the world, and one of the very few you can visit as a non Muslim. If you do nothing else in Casablanca, make sure you don't miss this. You won't regret it!
Designed by French architect Michel Pinseau for King Hassan II's birthday, the mosque is one of the most beautiful buildings you will ever have the pleasure of seeing. The marble walls are all painstakingly hand crafted, the roof is retractable for special occasions, and the floor is so polished it looks like a mirror.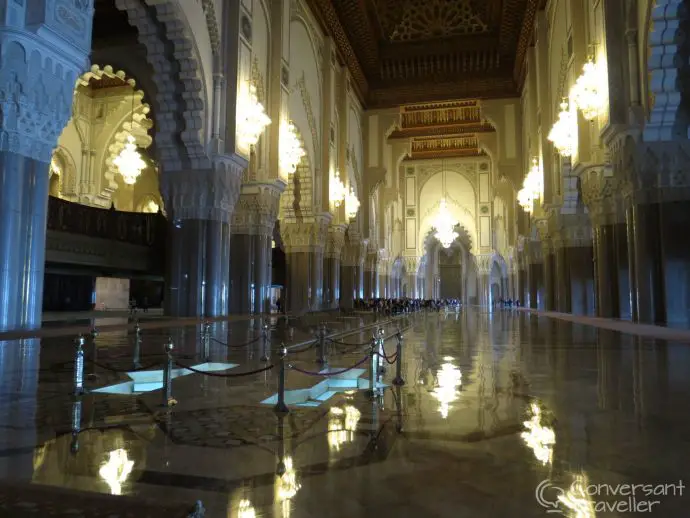 Towering at 210 metres, the minaret is the tallest in the world, and at night, a laser at the top shines towards Mecca.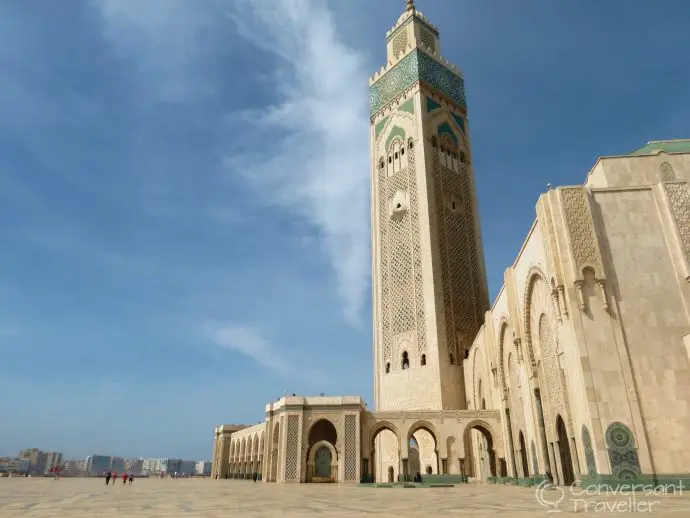 The lavishly constructed mosque Hassan II is perhaps a stark contrast to the rest of Casablanca, and understandably there is still some local resentment towards the construction. No compensation was given to the former residents of the promontory land on which the mosque was built, and funds for the staggering $800 million project were reputedly raised from public subscription, not all of it voluntary.
Yet most Moroccans are proud of their world famous monument, not least because Mosque Hassan II is a building open to all Muslims for worship, rather than just something to be enjoyed by the wealthy. Indeed, the mosque is so vast that it can hold 25,000 worshippers inside, and a further 80,000 in the outside courtyards.
Tips for visiting the mosque
Mosque Hassan II is open to visitors on guided tours Saturday to Thursday, at 9am, 10am, 11am, and 2pm.
Arrive in time to purchase your ticket from the office (down the stairs on the left side of the building) and collect a plastic bag to carry your shoes around in (you cannot wear them inside).
Make sure you bring a pair of socks as those floors are cold!
Women don't need to wear headscarves or long skirts, and photography is allowed in all areas of the tour.
Tours last for one hour and cost DH 120.
Our tour guide spoke excellent English, and although she was clearly on a tight schedule, questions were welcomed and we were given time to take photos. She even tolerated Hubbie sneaking away from the group for some better shots, although he was under her beady eye at all times! As well as the main prayer hall, we were also shown the water fountains and even the lavish hammam beneath the mosque, for washing prior to prayer. The latter is no longer used, which is a shame.
Religion is the cause of many of the world's troubles. It's also the root of much of it's beauty too, none more apparent than the Hassan II Mosque here in Casablanca. I would never suggest that aesthetics are a reason for religious loyalty. Yet maybe if our places of worship back home in the UK were half as impressive as the mosques in Morocco, I might have taken religion more seriously as a child, instead of unceremoniously dropping baby Jesus whilst playing Mary in the school nativity. Or absconding from Sunday School in favour of rope swings and sweet shops.
READ MORE: Best Affordable Luxury Riads in Marrakech
Rick's Café
Rick's Café is a bit of an institution. One born from a famous movie, and a determined American who saw an opportunity and ran with it.
If you've never seen the film Casablanca, you'll almost certainly have heard of it. Some say it's America's all time favourite movie! Humphrey Bogart and Ingrid Bergman put the city of Casablanca firmly on the map with their romantic World War II drama. At the centre of which was Rick's Café, a nightclub owned by Bogart's character, American Rick Blaine.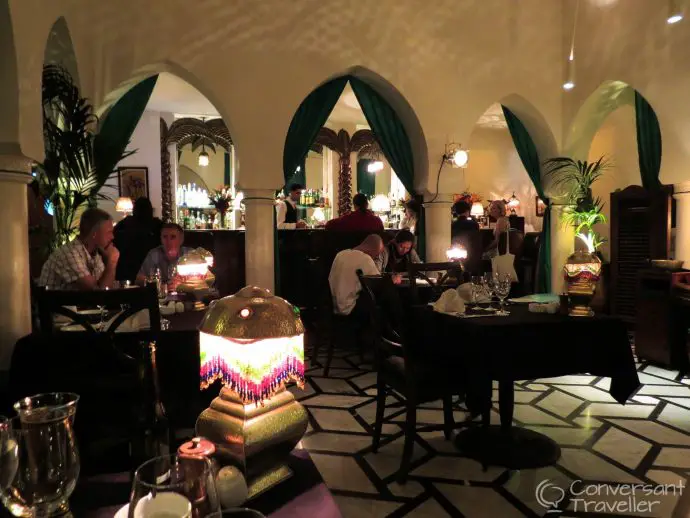 Many fans don't realise that Casablanca was filmed 1000's of miles away in Hollywood, rather than here in Morocco. And that the Rick's Café they flock to see appeared many decades after the movie was released. That the venture has been so successful is testament to the dedication of owner Kathy Kriger, a former American diplomat who has lived in Morocco for nearly 20 years. A passionate and imaginative lady, Kathy enticed investors to Rick's by adapting one of the most famous quotes of the film to use in her pitch…
"Of all the gin joints in all the towns in all the world, I'd like you to buy into mine".
Genius!
So now it's confession time. Neither Hubbie nor I have actually seen the movie Casablanca. Something I felt ashamed of until I discovered none of my peers had either. To be fair, it was a bit before our time, and even our parent's time for that matter! I ordered the DVD before our trip, but in the event decided not to watch it until our return. I wanted to see if the Rick's Café experience was dependent on having seen the movie.
It wasn't. We loved it, and agreed it was one of our most enjoyable evenings out during the trip. We were lucky to have one of the best seats in the house (naturally!), on the ground floor patio across from the jazz trio, and couldn't stop grinning at finally being here.
READ MORE: Is it Safe to Travel to Morocco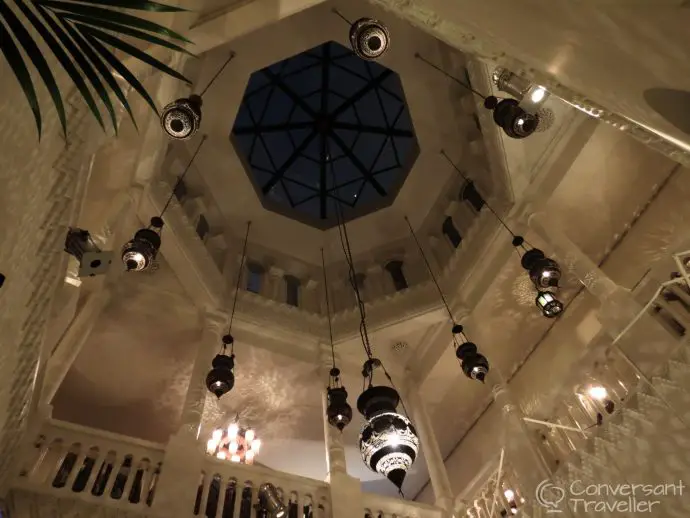 The decor was elegant, the musicians transported diners to a bygone era, and the staff kept the Casablanca magic alive despite having to deal with star struck tourists and the same inane questions day in, day out.
The food was tasty, if a little unexceptional, but what you're here for is the atmosphere. It's the sort of place that could serve up a mediocre burger and chips (which it doesn't) and still have the guests buzzing. The menu was certainly a refreshing change from tagine and couscous. We tried goat's cheese croquettes with honey and lavender, tropical prawn salad and of course the famous Rick's cheesecake.
The fact that we enjoyed ourselves without being able to relate to the film speaks volumes for the establishment.
Having returned home and finally watched Casablanca, I can confirm that Rick's Café has indeed captured the spirit of the film, right down to the last detail. Whether you've seen it or not, an evening at Casablanca's most famous restaurant is a must!
Tips for dining at Rick's Café
Book a table well in advance, especially at the weekend, and aim to arrive after 8 p.m.
The jazz begins at 9 p.m.
There are taxis outside for your journey home.
READ MORE: Best Restaurants in Marrakech
What else is worth visiting in Casablanca?
To be honest, after the mosque and Rick's, our Casablanca experience went a bit down hill. We visited the Old Medina, the Art Deco quarter, as well as some of the markets and were sorely disappointed with them all. It wasn't because they weren't glammed up for the tourists (indeed, we were looking forward to seeing a non touristy side of Morocco), but everywhere just screamed neglect. Which is a shame, since a bit of love and attention could do wonders for this famous historical city.
Art Deco Quarter
The beautiful Art Deco facades along Boulevard Mohammed V are one of Casablanca's most famous sights, and a reminder of the long forgotten glory days. The street was built in 1915 and was once the city's main thoroughfare, lined with restaurants and covered arcades on either side.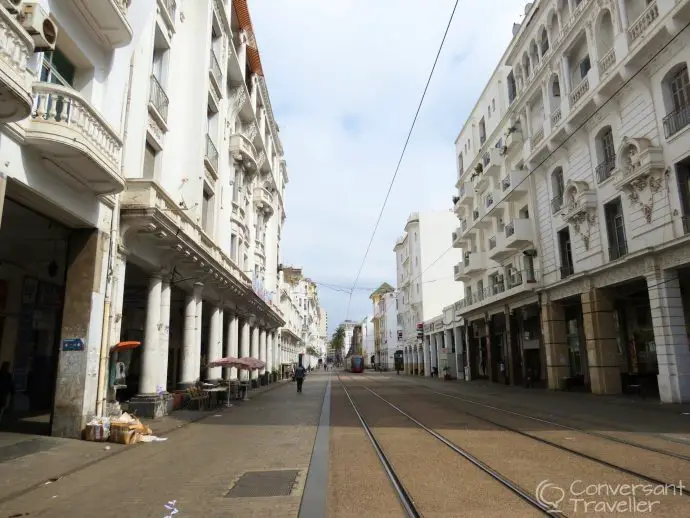 Sure, the buildings were pretty impressive, and wouldn't have looked out of place in continental Europe, but they looked forlorn dilapidated, and the whole street stank of urine and drains. Today the area is pedestrianised with a tramway running through the middle, but the stonework was still filthy from years of traffic fumes, and it seems that no thought has been given to the future upkeep of one of Casablanca's historical gems.
Seriously, I wouldn't bother visiting unless you have a lot of time to kill and are a keen historian or architect.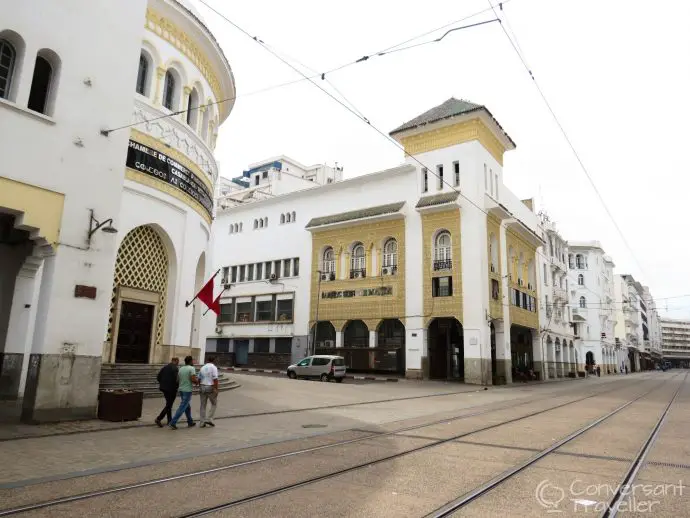 READ MORE: L'Iglesia – Sleeping in a Church in El Jadida near Casablanca
Marché Central
Markets are central to everyday life in Morocco, and it's always fun to wander around the stalls, listening to the banter and bustle. But not here. Located just off Boulevard Mohammed V, Marché Central was once a thriving local market. Yet today it's a sad place with little more than a few snack cafes and some sorry looking fish counters. Pedestrianisation of the street and subsequent poor management by the city left the market with no parking for clients or deliveries. Just another example to add to Casablanca's air of neglect.
There may be a glimmer of hope however, as a tender has been launched for the redevelopment and restoration of Marché Central. Perhaps in a year or two a visit here will be a different experience.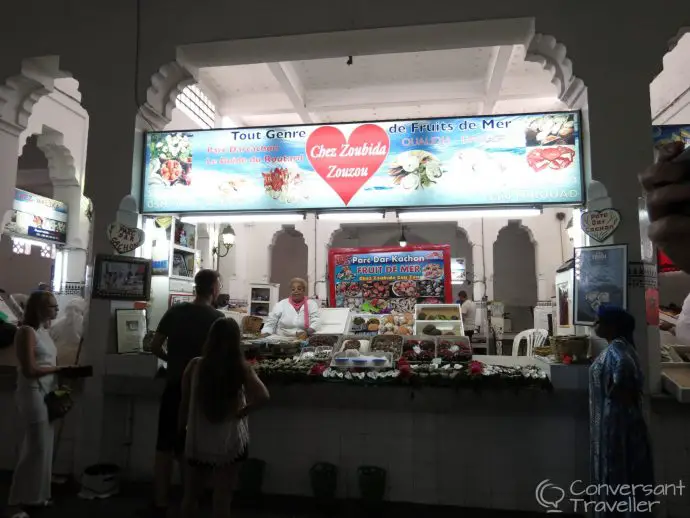 Old Medina
Having explored many an old medina in Morocco, we had high hopes for the one in Casablanca, but it fell far short of expectation. Perhaps that was our problem. Expectation. We shouldn't really be comparing the place to everywhere else we've visited in the country, but I guess it's only natural. Casablanca's ancienne medina, like the rest of the city we'd seen, was crying out for a bit of attention. We're told it's being restored but work hasn't yet been completed, and you have to look really hard to discover any semblance of charm. Hopefully the old medina will be much improved after the restoration, but at the moment, it isn't somewhere we'd particularly recommend.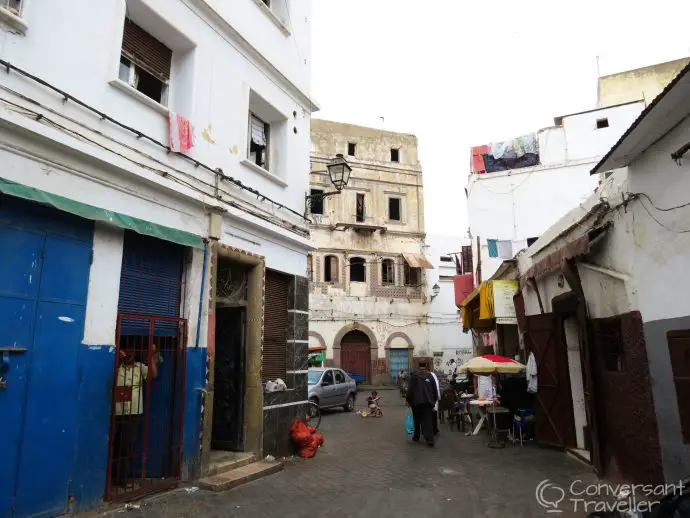 Feeling deflated, we retreated to our hotel and counted down the hours to our flight home.
Yet I couldn't help but feel we must be missing something. Surely Casablanca had something else worth visiting, some hidden gem we'd overlooked. So I asked Kathy Kriger from Rick's Café, someone who knows a thing or two about Casablanca, both from an insider and outsider perspective, for her advice.
She suggests checking out some of the lesser known attractions, and here are some of her favourites.
READ MORE: Erg Chebbi or Erg Chigaga – which Moroccan Desert to Choose
Museums
Musée de la Fondation Abderrahman Slaoui 
This museum, named after a real life treasure hunter from Fes, is housed in a beautifully restored art deco villa not far from the Cathedral Sacré Cœur. There are several artistic and ethnographic exhibitions, but Kathy recommends the beautiful collection of early 20th prints and posters. Something a bit different to the usual stuffy museum displays!
Museum of Moroccan Judaism
The Jewish community has played an integral part in the development of Moroccan culture over the years. You may have noticed many Moroccan cities have a Mellah district. 'Mellah' is the Arabic word for 'salt marsh', and also the name of the very first Jewish settlement in Fes. Initially a place of privilege and protection for the Jews from Arab attack, the Mellah districts were later poor and miserable places, similar to the European Ghetto. European colonisation at the beginning of the 20th Century allowed the Mellah areas to open up and Jews were allowed to prosper, bringing exciting economic opportunities to the country. Moroccan cuisine is also influenced by the Jews, such as the famous salt preserved lemons used in numerous dishes and tagines. The Museum of Moroccan Judaism in Casablanca follows this fascinating history, and has a special exhibition about the Berber Jews of south Morocco, who in fact pre-dated the Arabs!
Parks and Squares
Parc League Arabe
This park in downtown Casablanca is famous for its rows of towering palm trees, but today is poorly maintained and cluttered by ice cream sellers and game rides. Kathy tells me that the park is undergoing redevelopment and when completed in March 2017 the city residents hope it will once again be as stunning as it was before. The palm trees are staying!
Parc ISESCO
Parc ISESCO is a beautifully laid out and well maintained neighbourhood park, unlike many of its counterparts in Casablanca. Known as the 'second lung' of the city, the park is surrounded by Art Deco villas, and is only about 10 minutes walk from the souk of the New Medina (Habous). Parc ISESCO is a great place to chill out for a while after all your sightseeing, and a real haven of peace and tranquillity.
READ MORE: Most Common Scams in Marrakech
Souks and Shopping
Magasins Solidaires et Equitable
This huge government-owned treasure trove is a great place to do your shopping before heading home. Whilst it lacks the charm of the souks, it has a huge range of products from all over Morocco under one roof, from argan oil and honey to couscous and cosmetics. The prices aren't bad either. Kathy says the cumin sold here is the best she's ever tasted!
Souk Jmaa
If you want to give your nose a workout, this spice souk is the place to go. Each stall has its own specialities, and it's a very visual (and olfactory!) experience to wander through the terraces taking it all in. There is a regular market too, as well as the one vendor in Casablanca who sells live snails!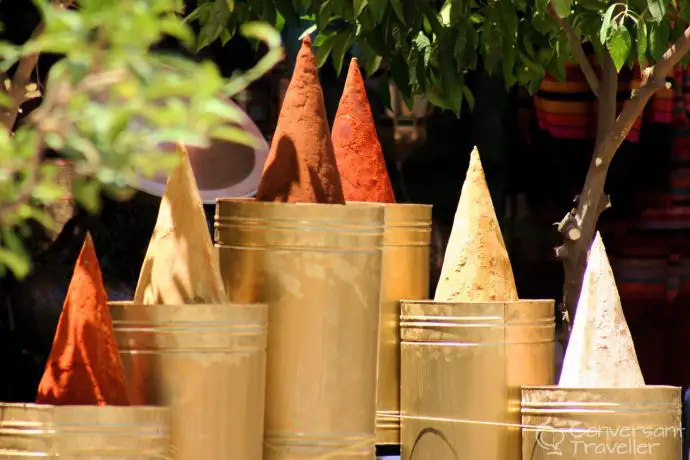 Bennis Patisserie
Located in the Nouvelle Medina (Habous area), this place does the best Moroccan sweets. It's lovingly decorated with intricate tiling, and is always bustling. Four generations of bakers have been satisfying the sweet toothed inhabitants of Casablanca since the 1930s, and it's highly likely that the little treats scented with orange blossom, almonds and cinnamon served with your mint tea have come from here.
We've always found it difficult to buy sweet and pastries in Morocco, as usually the stalls we come across are in the souks and covered with flies! This is definitely somewhere we'll make a bee-line for if we ever return to Casablanca. Moroccan sweets are the best!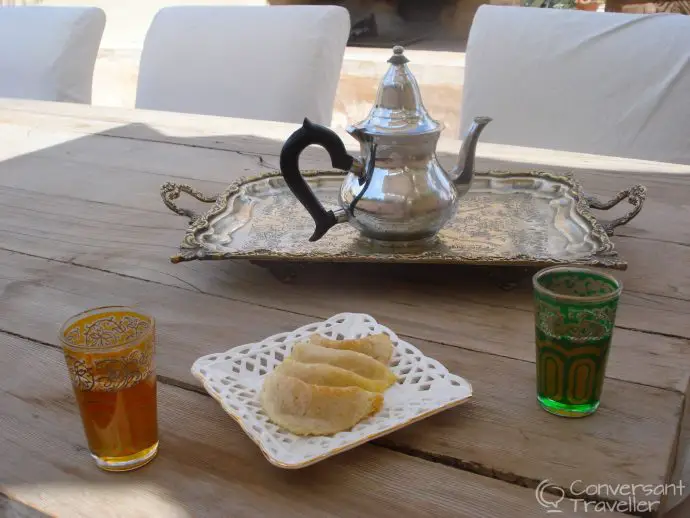 If you still have time to spare after doing all this, you could check out Monika's suggestions for alternative experiences in Casablanca. Another expat living in the white city, she blogs over at Bewildered in Morocco, and is a great insider source for all things Casa.
Where to stay in Casablanca
Normally our travels in Morocco involve quirky hotels, luxury riads and sumptuous retreats. Perhaps rather naively we assumed Casablanca would offer the same. Yet it proved to be a bit of a nightmare trying to find somewhere that matched madam's requirements. Yeah, I know, we're just too picky.
Casablanca has bland business hotels, and a few establishments calling themselves 'boutique' or 'arty', but frankly they looked a little like the insides of seedy Parisian boudoirs that were long since past their prime. In the end we stayed at the Sofitel. It's a brand we know and love and the Sofitel Tour Blanche in Casablanca had amazing city views. In the event, our hotel experience fell far short of expectation (it was their policy to only have one of everything in a double room for two, one pair of slippers, one bath robe, one tea cup etc, and we read in reviews that they charge extra if you ask for more!), but the panorama from our room made up for the negatives.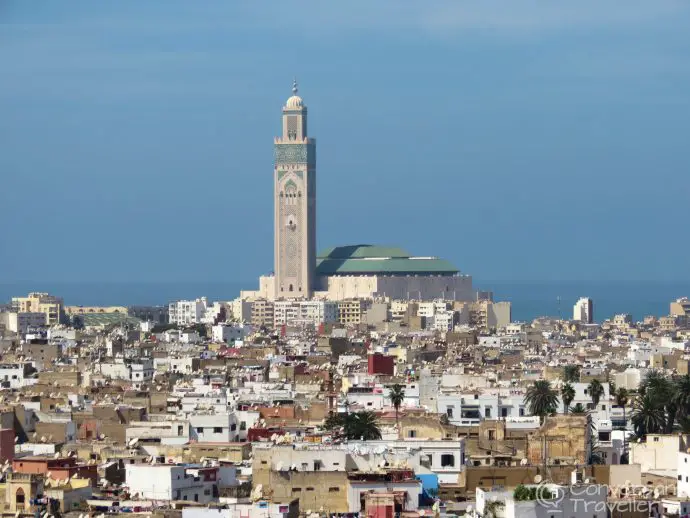 We perhaps should have tried the arty Hôtel & Spa Le Doge, the smart Gauthier Boutique Hotel or even the dazzling but dated Art Palace Suites.
The Verdict
So, is Casablanca worth visiting? If you're a frequent traveller to Morocco and want to experience a different and perhaps more 'gritty' side to the country, then by all means head on over. Casablanca is not at all like Marrakech, Fes or Meknes, and gives you a glimpse into life beyond the souks, riads and palaces of those glitteringly popular Imperial cities. On the other hand, there is no shame in enjoying those tourist hot spots (we do!) and sticking two fingers up at those who persist in telling you to get off the beaten traveller trail, and discover the 'real' side of a destination.
We spent two days in Casablanca, and felt that one would have been sufficient. The city just didn't push our buttons, and the only two places worth visiting can be done in an afternoon and an evening. Having said that, Mosque Hassan II was without doubt one of the most stunning pieces of architecture we've ever seen. I'm tempted to say our trip to Casablanca was worth that alone.
So if you're passing through Casablanca on your travels, by all means spend the night. Just don't expect too much and you'll be ok!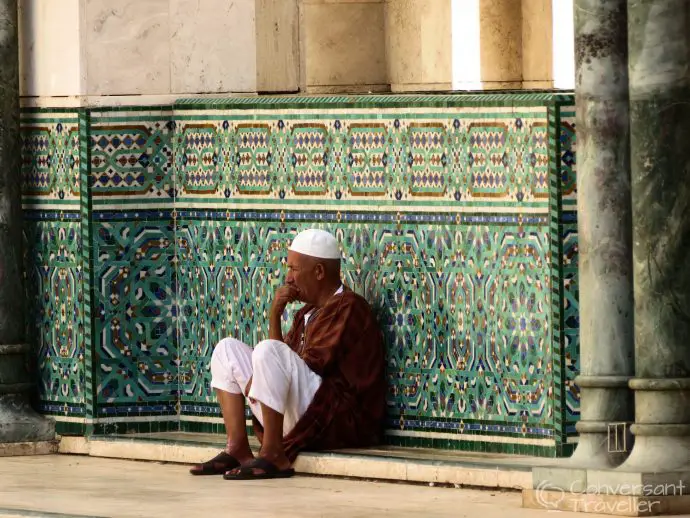 ---
Thanks so much to Kathy Kriger for her insider tips, and for convincing us Casablanca is perhaps worth more than just a glance. 
Found this post useful? Why not pin it for later…