This post contains affiliate links which means I may make a small commission at absolutely no extra cost to you. Thanks for reading. You can read our full disclosure policy here.
---
I didn't fall in love with Casablanca.
It's industrial. It's dirty. And some might say devoid of charm.
Yet the famous white city is also Morocco's largest metropolis, and indeed one of the most important financial and economical centres in all of Africa. Rabat may be the political Capital, with Marrakech and Fes flying the flag for culture, but Casablanca is the beating business heart of Morocco. Strategically positioned on the coast, Casablanca boasts one of the largest artificial ports in the world, and is home to the Royal Moroccan Navy. I never thought I'd be walking down wide tree-lined boulevards past naval colleges and sailors on a trip to North Africa!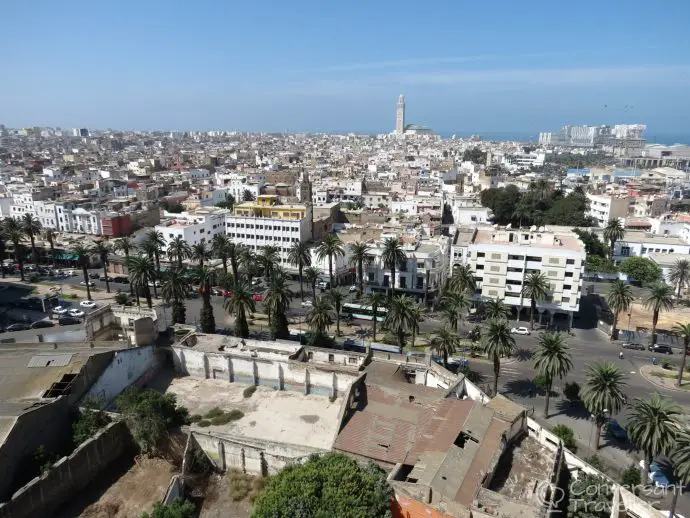 I have to be honest. I didn't particularly want to go to Casablanca.
With Roman, French and Portuguese roots, in it's heyday the city was the place to be. However today, visions of long forgotten grandeur suggested that the Morocco we know and love clearly wasn't going to show her face here. Yet we're often asked by blog readers if Casablanca is worth visiting. So in the interests of broadening our knowledge and experience of Morocco, Hubbie and I decided it was time to see the place for ourselves.
It's the first time we have let the blog dictate our destination, and I worried that we weren't staying true to ourselves, or to the ethos of Conversant Traveller. Still, it would be a new adventure, and since we're becoming known for being a bit of an 'authority' on travel to Morocco, it seemed like something we just had to do.
READ MORE: 25 Top Instagrammable Places in Morocco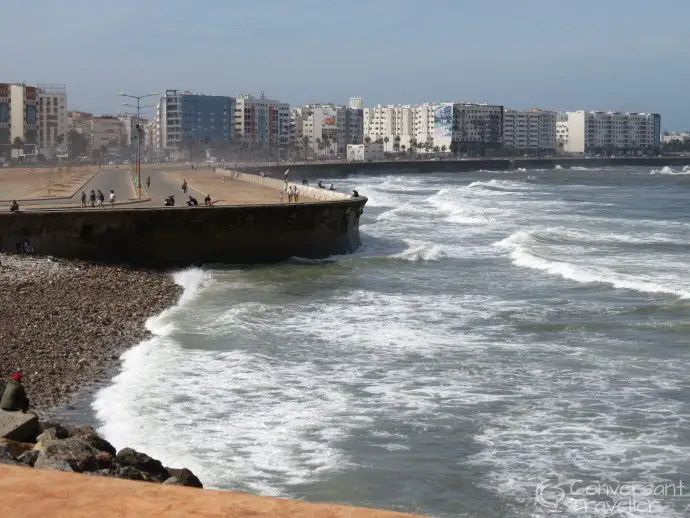 Getting to Casablanca
It's relatively easy to reach Casablanca, with several international flights landing there daily. If you're already in Morocco, the train network is reasonably extensive, surprisingly comfortable, and pretty cheap. For a popular route such as Marrakech to Casablanca it is advisable to arrange tickets in advance to ensure you get a seat! You can check the timetable and fares at oncf but you can't make an online purchase without a Moroccan credit card. Your best bet is to buy them in person at the train station a few days before your journey, or if that isn't practical, ask your hotel to arrange it for you. Alternatively you can use an agency such as Marrakech Tickets who will purchase tickets and send them to you, for a fee.
Travelling to Casablanca was in fact our very first Moroccan train experience, and we were childishly excited! We'd been staying in a converted church in the historic coastal town of El Jadida, and a £4 first class ticket for the 1 hour 20 minute journey to Casablanca was a no brainer.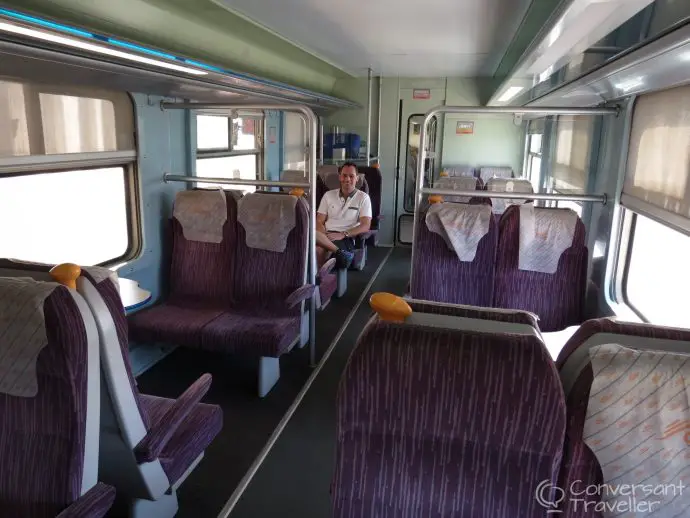 It was an interesting experience, and one that we'd be happy to repeat. We had an entire first class carriage to ourselves and it was actually pretty decent, if a bit squeaky. There was a train attendant whose sole job seemed to be spraying some noxious scent into the air conditioning unit, enveloping the carriage in a haze of chemical apple. No doubt a special perk of the first class service. Or perhaps just to mask any odious smells seeping from the on-board toilets. Which were not especially pleasant but functional.
Things to do in Casablanca
On paper, there are several things to do in Casablanca. Yet we were disappointed by everything we saw. Except for the truly astounding Mosque Hassan II, and the world famous Rick's Cafe.
Mosque Hassan II
If Hubbie and I were impressed with the Blue Mosque in Istanbul, we were totally blown away by Casablanca's Mosque Hassan II.  It's the third largest mosque in the world, and one of the very few you can visit as a non Muslim. If you do nothing else in Casablanca, make sure you don't miss this. You won't regret it!
Designed by French architect Michel Pinseau for King Hassan II's birthday, the mosque is one of the most beautiful buildings you will ever have the pleasure of seeing. The marble walls are all painstakingly hand crafted, the roof is retractable for special occasions, and the floor is so polished it looks like a mirror.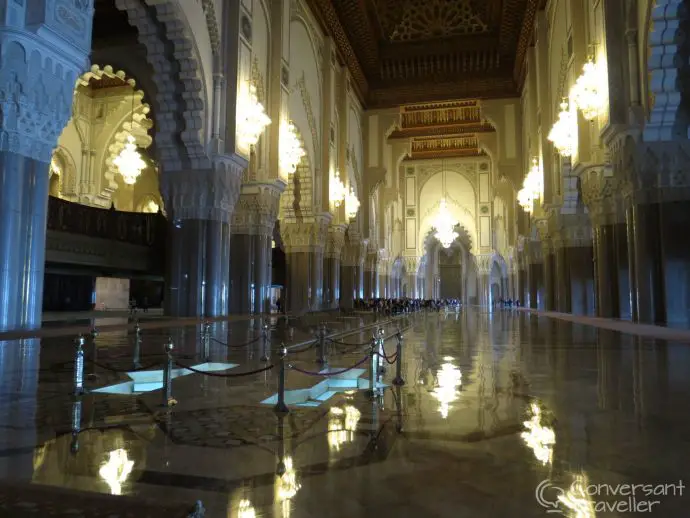 Towering at 210 metres, the minaret is the tallest in the world, and at night, a laser at the top shines towards Mecca.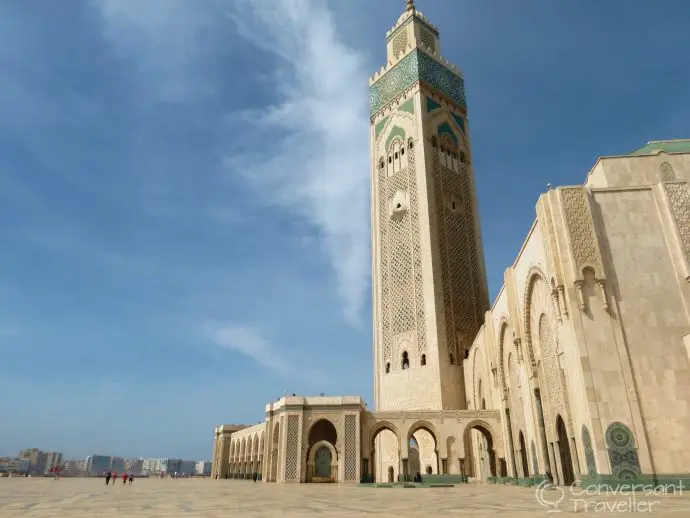 The lavishly constructed mosque Hassan II is perhaps a stark contrast to the rest of Casablanca, and understandably there is still some local resentment towards the construction. No compensation was given to the former residents of the promontory land on which the mosque was built, and funds for the staggering $800 million project were reputedly raised from public subscription, not all of it voluntary.
Yet most Moroccans are proud of their world famous monument, not least because Mosque Hassan II is a building open to all Muslims for worship, rather than just something to be enjoyed by the wealthy. Indeed, the mosque is so vast that it can hold 25,000 worshippers inside, and a further 80,000 in the outside courtyards.
Tips for visiting the mosque
Mosque Hassan II is open to visitors on guided tours Saturday to Thursday, at 9am, 10am, 11am, and 2pm.
Arrive in time to purchase your ticket from the office (down the stairs on the left side of the building) and collect a plastic bag to carry your shoes around in (you cannot wear them inside).
Make sure you bring a pair of socks as those floors are cold!
Women don't need to wear headscarves or long skirts, and photography is allowed in all areas of the tour.
Tours last for one hour and cost DH 120.
Our tour guide spoke excellent English, and although she was clearly on a tight schedule, questions were welcomed and we were given time to take photos. She even tolerated Hubbie sneaking away from the group for some better shots, although he was under her beady eye at all times! As well as the main prayer hall, we were also shown the water fountains and even the lavish hammam beneath the mosque, for washing prior to prayer. The latter is no longer used, which is a shame.
Religion is the cause of many of the world's troubles. It's also the root of much of it's beauty too, none more apparent than the Hassan II Mosque here in Casablanca. I would never suggest that aesthetics are a reason for religious loyalty. Yet maybe if our places of worship back home in the UK were half as impressive as the mosques in Morocco, I might have taken religion more seriously as a child, instead of unceremoniously dropping baby Jesus whilst playing Mary in the school nativity. Or absconding from Sunday School in favour of rope swings and sweet shops.
READ MORE: Best Affordable Luxury Riads in Marrakech
" src="data:image/gif;base64,R0lGODlhAQABAIAAAAAAAP///yH5BAEAAAAALAAAAAABAAEAAAIBRAA7″ alt="