This post contains affiliate links which means we may make a small commission at absolutely no extra cost to you. Thanks for reading. You can read our full disclosure policy here.
---
There are so many things to do in Cusco you could easily spend a couple of weeks here and not get bored. Cusco really is so much more than a stop-off on the way to Machu Picchu, and is the sort of place that manages to wriggle it's way into your soul without you even realising. After Marrakech, it's our favourite city in the world! With its dramatic Andean backdrop, crisp mountain air and steep cobbled streets, Cusco is a UNESCO World Heritage Site, and a great base for hiking, exploring the Sacred Valley, and enjoying adventure activities. Yet there are also many things to do in Cusco itself.
Most people spend a few days in Cusco on the way to Machu Picchu to help with acclimatisation, but if you have more time, we recommend a longer stay. This former capital of the Incan Empire has an intriguing mix of Spanish and Incan architecture, and enough historical sites, quirky eateries and unusual hotels to keep even the most jaded of travellers happy.
We've spent a lot of time in this traditional Andean city, and have come up with a list of what we think are the best things to do in Cusco:
Best things to do in Cusco
1. Soak up the ambience of the Plaza de Armas
The Plaza de Armas has been the beating heart of Cusco for over 500 years. It was built upon Haucaypata (the "Square of Warriors"), which was about twice as large as the current square, and features Spanish colonial buildings, long stone arcades and well-kept gardens which make it a great place to spend some time in, just soaking up the atmosphere. Busy and vibrant, it's here where you'll experience festivals, concerts, religious processions, street vendors and even weddings. Every time we've visited Cusco there's been some sort of celebration going on here. There are lots of cute little cafes and restaurants overlooking the square, where waiters will sit you on the tiny wooden balconies before repositioning your table which he'd removed to help you get comfy. Sure, prices here are steeper than you'd find in the backstreets, but don't forget you're paying for the view too.
Top Tip: Make sure you visit at least twice, once during the day and once in the evening when the buildings are beautifully illuminated.
2. See the 'Last Supper' in Cusco Cathedral
The Cathedral Basilica of the Assumption of the Virgin dominates the northeast side of the Plaza de Armas, and is one of the top things to do in Cusco. This 16th century renaissance-style cathedral built in the shape of a Latin cross houses close to 400 colonial paintings, including the famous 'Last Supper' by Marcos Zapata. Most people wrongly believe that the traditional Easter lamb has been replaced in the painting by a guinea pig, but it is in fact a Visacaha – a wild Andean Chinchilla – which according to Andean mythology is the spiritual guardian of the lakes and mountains. Keep an eye out for this huge painting on the wall between the cathedral and the sacristy.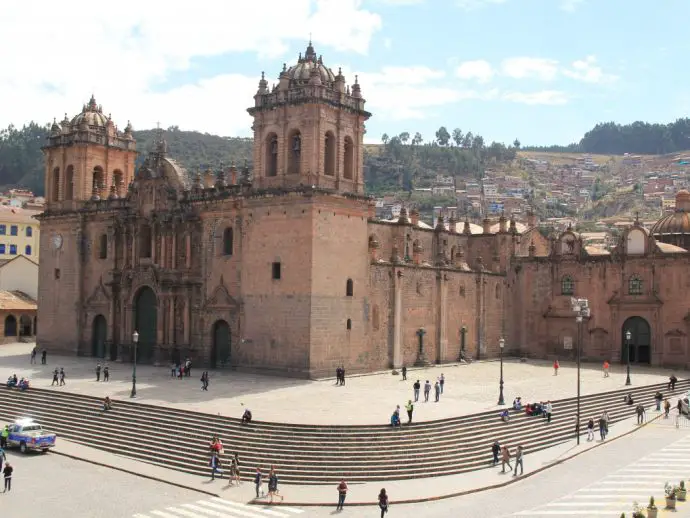 Don't miss the silver embossed alter in the central nave, the 14 side chapels full of paintings, and the 'Silver Room' which is is home to a stunning collection of, you guessed it, silver artefacts. It's quite possibly the most opulent cathedral you'll ever see. You should also pay your respects to Senor de los Temblores, the black statue of Jesus' crucifixion. According to ancient legend, the statue saved the lives of those on board the ship on which it was being transported from Europe to Peru. A ferocious storm hit, and when the crew raised the statue into an upright position, the winds abated. The statue also became a shrine for the Andean people after the Cusco earthquake in 1650, and the smoke from the vigil candles is said to have turned the statue black.
Cost: S/.25 on the door, or entrance with the "Religious Circuit Ticket", which includes the Cathedral, Church of the Company of Jesus, San Blas Church, San Cristobal Church and the Museum of Religious Art and costs S/.30. If you plan on visiting more than one of these sites, it's worth buying the circuit ticket.
Top Tip: visitors are asked to dress respectfully, and photography is not permitted. It does get very busy, so try and come early morning or late afternoon to avoid the worst of the crowds.
3. Gorge yourself at Jack's Cafe
Sometimes when you're travelling you want a break from local cuisine, and there's absolutely no shame in craving comfort foods like pizzas, burgers and pastas. Which is why we always head to Jack's Cafe on Choquechaka as soon as we arrive, to collect our thoughts, get our bearings and fuel up for some serious sightseeing. The portion sizes are really generous, so if you're on a budget this is also a good place to eat in Cusco. We heartily recommend the lasagne, toasties and burgers, all washed down by local Cusquena beer or fruity frappes (which are a meal in themselves!).
Top tip: it's a super popular place, and at peak times you'll see people queuing down the street waiting for a table. It's that good! So we always eat slightly later or earlier, and often don't have to wait long.
Read More: Best day trips from Cusco
4. Take photos from Iglesia de la Compania de Jesus
The Church of the Company of Jesus is located on the southeast side of the Plaza de Armas, and the upper gallery is a great vantage point from which to photograph the square below. Built in the early 1570's on the site of an Inca palace, destroyed by the 1650 earthquake and then rebuilt in 1668, the church is another magnificent example of colonial architecture, with two majestic bell towers and intricate Baroque façades. The altar is carved from cedar and gilded in gold leaves.
Cost: S/.10 or included in the "Religious Circuit Ticket".
Top Tip: Photography isn't allowed inside, but you can take pictures looking out to the square. It's closed over lunch times.
5. Learn about the Incas at Korikancha – Temple of the Sun
Argued to be the most sacred and important building in the Inca Empire, this temple was dedicated to the worship of the Sun God, Inti, and believed to have been built around 1200 AD to house more than 4000 priests. Strategically constructed on a hill, it is closely aligned to the sunrise of the June Solstice when the sun's rays fall directly onto a niche on the southwest side of the temple. Back in the day, the walls were lined with 700 solid gold sheets that reflected the sun, and there were gold and silver life-sized replicas for corn, llamas and herders. All of which were later melted down by the Conquistadors. Today the Korikancha is a mixture of colonial and Inca architecture, and one of the top things to see in Cusco.
Cost: S/.10
Top tip: if you're taking a city tour, often the Korikancha is included on this, so make sure you don't end up having to visit it twice.
6. Go Bohemian in San Blas
We love San Blas. It's the traditional old quarter of Cusco, north-east of the Plaza de Armas, and a great place to base yourselves if you're staying a few days. Famous for being one of the most picturesque neighbourhoods in Cusco, San Blas is known for its steep and narrow streets lined with colonial houses, artisan workshops and some of the best bars and restaurants in town. It's also where you'll find Iglesia San Blas, the oldest parish church in Cusco which is rather romantically dedicated to Illapa, the God of Thunder and Lightning. Keep an eye out for "Hatunrumivo" (Quechua for "great stone street") – it's one of the best preserved Inca walls in Cusco, and hides serpents, llamas and guinea pigs within its design, as well as a famous 12-angled stone about half way along the street (apparently this fits in with other stones without any mortar).
Top Tip: take your time walking up and down those steep streets, it will take several days to properly acclimatise. The views from the balcony at Iglesia San Blas looking out across the city are superb.
7. Practise your haggling skills in San Pedro Market
This extensive open-air market is about 10 minutes walk from the Plaza de Armas, and you'll know when you're getting close thanks to the increase in noise and bustling street vendors. The market is a riot of colours, smells and sounds, where both locals and tourist go to purchase pretty much anything, including clothing, groceries, cooked food, chocolate, handicrafts, textiles, cheese and medicinal herbs.
Top tip: enter into the spirit of the market and put your haggling skills to the test when purchasing souvenirs. Be aware of 'gringo' prices and be prepared to walk away – there will undoubtedly be another stall close by selling the same item, so shop around for a good deal.
Read More: Exploring the ruins of Pisac – as good as Machu Picchu?
8. Climb onto the roof of the Church and Convent of San Francisco
One of the coolest things to do in Cusco is admiring the city from the rooftop of a church, and looking at piles of bones. Isn't it? Dating from the 16th century, this is one of the few churches that didn't require complete reconstruction after the 1650 earthquake. The church is free to enter, and has a large collection of colonial religious paintings as well as beautifully carved cedar choir stalls. To visit the museum there in a small entrance fee, but this includes a tour of the cloisters and high levels of the church. The museum tour isn't in English, but it's still worth doing because you'll see a lot and the views from the bell tower and the church roof are incredible. Back inside there's an enormous painting – supposedly the largest in South America – of St Francis of Assisi's family tree (he was the founder of the order). There are also two crypts housing human bones, if that's your sort of thing.
Top tip: photography is not permitted inside either the church or cloister on the tour. After the cathedral and church on the Plaza de Armas, this was hands down our favourite religious place to visit in Cusco.
9. Have a go at a cookery class
One of the best ways to begin to understand a culture is by learning about its food, which is why so many people enjoy taking a Cusco cooking class when they're in the city. There are several available, ranging from 1.5 hours all the way to full day workshops, some of which include a guided tour around a local market, pisco sour making, and of course getting to eat the fruits of your labour afterwards. On group Cusco cooking workshops everyone prepares the same menu, and with some providers their menu options are online and the first to book for that particular session gets to decide which menu to produce, so book early to be the first!
Top tip: check whether the cooking school offers transport, some do, but many don't. It's also a good idea to make sure your class is in your preferred language – many experiences will be in Spanish or English, not both.
10. Check out the gold in the Inca Museum (Museo Inka)
Known as the best museum in Cusco for those interested in the Inca civilisation, the Museo Inka collection is in a remarkable 17th century colonial house that one belonged to an Admiral. Guided tours are available in English, and there's a huge collection of textiles, weapons, pottery mummies and solid gold idols to admire. Spread over two floors, the exhibitions include artefacts from in and around Cusco as well as further afield. We loved the building itself just as much as the collections, especially the ornate ceilings and large courtyard where highland Andean weavers can be found demonstrating their craft.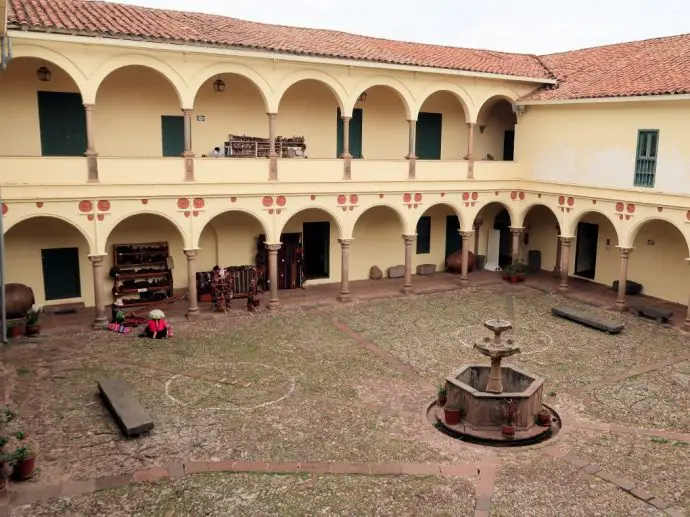 11. Get hands on with cacao in the Chocolate Museum
You've all heard the saying that chocolate comes from cacao which is a plant, and therefore must be one of your five a day. Well, come to the Cusco Choco Museo on the Plaza Regocijo and you'll find out the truth about chocolate, including where it comes from, how it's made and of course what it tastes like! Definitely one of the tastiest things to do in Cusco! The interactive museum is free, there are several little tours in English which you can join, and there's a shop where you can buy all things chocolate, as well as an all-important cafe which does incredible hot chocolate. To really get into the spirit, try one of their workshops which range from 45 minute chocolate making sessions to the more intricate 'bean to bar' class, following the process from cacao bean through to customising your own hand-made chocolates. Sick of chocolate? Then there are also 4 hour cooking workshops available, which include a visit to the local market, preparing your menu, and then getting to eat it!
Top tip: book in advance for the workshops as they're popular. And don't confuse the Choco Museo with the Museo de la Coca, which is a small museum on San Blas Square which traces the use of the coco leaf from sacred ritual through to its more sinister uses.
Read More: Staying in a treehouse in the Amazon Rainforest with Inkaterra
12. Giggle at the exhibit descriptions in Museo de Arte Precolombino
To be honest, we're not really museum people, and this one felt a little pretentious for us. Plus there are only so many earthenware pots we can pretend to be interested in, but since we were staying practically next door at the delightful Inkaterra Casona we popped in for a look. Another museum housed in a stunning Spanish colonial mansion, the Museum of Pre-Colombian Art is the only collection in Peru dedicated to arts of ancient Peruvian cultures. The building was originally an Inca ceremonial court dating back to 1459 AD, and it's located on the pretty little Plaza de las Nazarenas, not far from the Plaza de Armas. It's all very smart inside, with well-displayed exhibits and a restaurant that looked far too posh for a museum (no doubt catering towards the high-end tourists staying at the super-luxurious Belmond Monasterio Hotel across the plaza).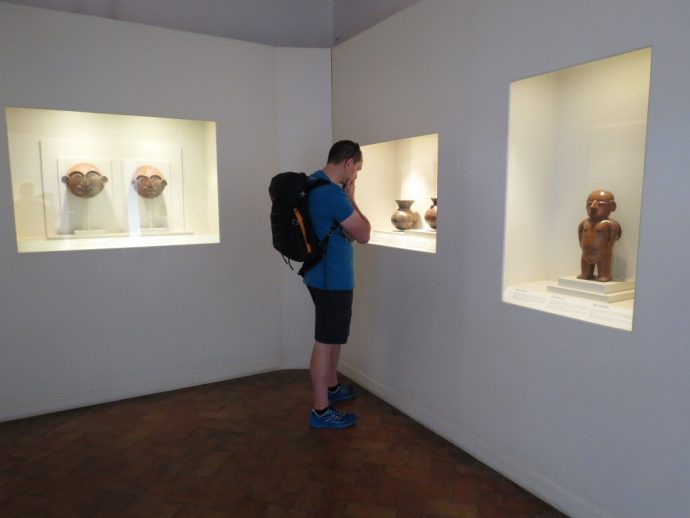 Top tip: fancy a giggle? Take a look at the explanation cards beside some of the exhibits. The translations are hilariously pompous, and often a bit baffling.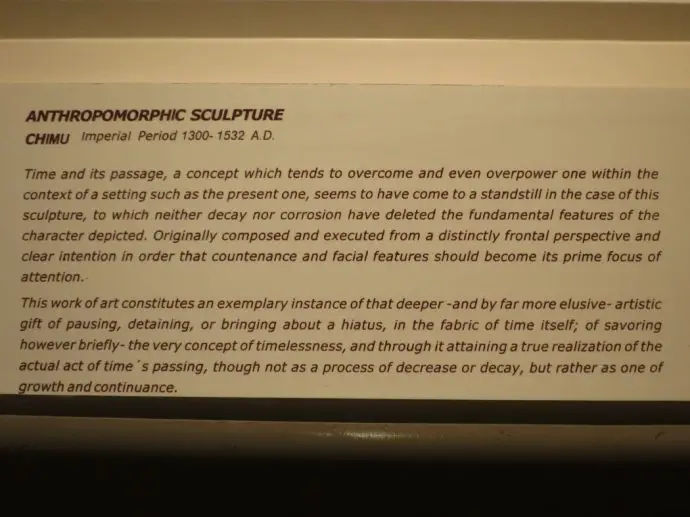 13. Buy marzipan from nuns at the Church and Convent of Santa Catalina
The 16th Century Iglesia y Monasterio de Santa Catalina in Cusco was once home to Incan noblewomen who worshipped the Sun God. Today it's still home to nuns in the northern quarter of town, as well as colonial paintings, clothing and embroidery dating back 400 years. A great example of Spanish Moorish architecture, the church also features a Baroque chapel with dramatic friezes, if that's your sort of thing. Located right in the centre of the old city, it's the sort of place you'll stumble across without realising, and is well worth half an hour of your time.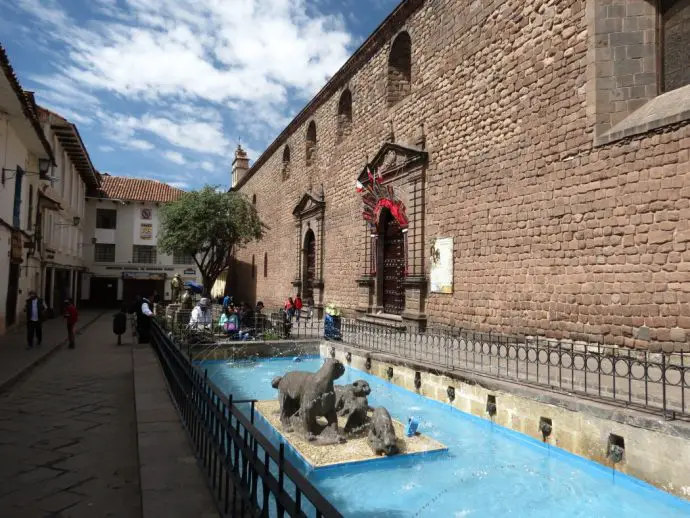 Top Tip: come here to purchase marzipan that has been prepared by the resident nuns.
14. Tuck into some guinea pig (cuy) and llama
Whilst this might not be for everyone, we do recommend anyone without an aversion to eating cute fluffy animals to give this a go. Cuy (guinea pig) is a popular regional dish that is usually oven baked or fried. The centre for roasted cuy over in Tipon in the Sacred Valley, yet it's surprisingly difficult to find in Cusco. We suggest you try Kusikuy, Pachapapa and La Cusquenita. Be prepared for the cuy to be presented to you on a plate in its entirety, ready for those photos, including head, teeth and claws. Some restaurants will then take it away and cut it up for you if you wish. It's actually pretty tasty (think along the lines of pheasant or quail and you're half way there), although as there isn't usually a lot of meat on the carcass it can be a bit of an effort. Llama on the other head is easy to find in Cusco restaurants, often in the form of steaks or kebabs. Again, it's super tasty, and far easier to eat than guinea pig.
15. Gawp at the treasures from Machu Picchu
Built on the site of the Túpac Yupanqui Palace, the Machu Picchu Museum is also known as the 'Museo Casa Concha' (the 'shell house'). This large mansion just off the Plaza de Armas has two floors of themed rooms displaying over 360 artefacts taken from Machu Picchu, the largest such collection in the world. Many of these items were removed following the discovery of Machu Picchu by Hiram Bingham and subsequent excavations, and have now been returned to their rightful place.
Top tip: have a look at this place before heading to Machu Picchu, as it will give you a better appreciation of the site. It's closed on Sundays.
16. Be transported into space at the Cusco Planetarium
Dubbed the most original planetarium in the world, this is the place to be introduced to Inca astronomy, and view the solar system and constellations via virtual projections in the planetarium dome. One of the more unusual things to do in Cusco, the Cusco Planetarium, which is a 15 minute drive outside the city, offers shared and private presentations in Spanish and English, and guests can use professional telescopes to see the stars up close.
Top tip: Shared presentation guests are picked up from Plaza Regocijo at 17.40, whilst private trip participants are collected at 19.15.
Found this post useful? Why not pin it for later…