What are the Samburu Special Five?
The Samburu Special Five are some of the more unusual animals you'll come across on your wildlife holiday in Kenya. Most safaris concentrate on finding the 'Big Five' for their guests. Which is fine if it's your first time in Africa and everything is still new and exciting. However for those who have already ticked off multiple lion, rhino, buffalo, elephant and leopard sightings over the years, then the Samburu National Reserve is the perfect place for something a bit different. The 'Samburu Special Five' is a collection of rare and endemic animals unique to the Samburu area.
Meet the Samburu Special 5
Reticulated Giraffe
Beisa Oryx
Grevy's Zebra
Somali Ostrich
Gerenuk
The latter is perhaps the most fascinating. Gerenuks are unusual antelopes that stand on their hind legs to feed on high foliage in trees!
Searching for the Samburu Special Five
Hubbie and I were in northern Kenya, on a mission to find the famous endemic 'Samburu Special Five' whilst out on safari with Saruni Samburu. Earlier in the evening we were dining by candlelight under a starry African sky, laughing at tales of previous lodge guests who had become hysterical thinking they heard lions right outside their room. The beast in question had in fact been over 7 km away. Yet the terrified guests insisted they had been in true peril, and spent a miserable few days hiding from the wildlife. We were a little baffled as to why they had come on a safari holiday in Kenya. Weren't animal encounters the whole point of such a trip?
We chuckled to ourselves at their naivety.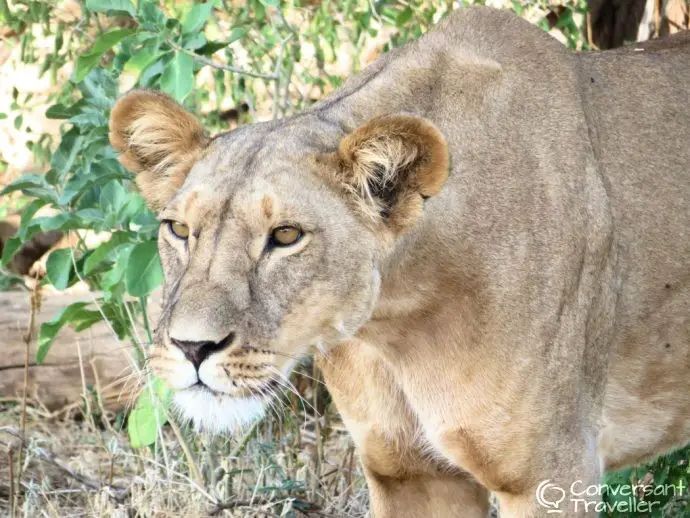 Yet there I was a few hours later, lying wide awake in bed and checking for the 5th time that the emergency air horn was within reach. Just in case one of the Samburu Special Five or other assorted wildlife came to visit.
There was also a can of bug spray on my bedside table. Ostensibly to deter pesky night time insects, but in reality to be used as a weapon should anything bigger come to call. Perhaps I'd been out in the sun too long, but having these things to hand make me feel better. Hubbie rolled his eyes at me in the darkness, telling me to stop worrying and go to sleep. As I finally drifted off , listening to the eerie roars of a lion who was pacing the plains below, I wondered whether the canvas mosquito net 'walls' would really stop an intruder.
In particular the resident leopard who had a penchant for the rocks outside our villa, and earlier today gave Hubbie the fright of his life!
Read More: How Hubbie was charged by a leopard in Kenya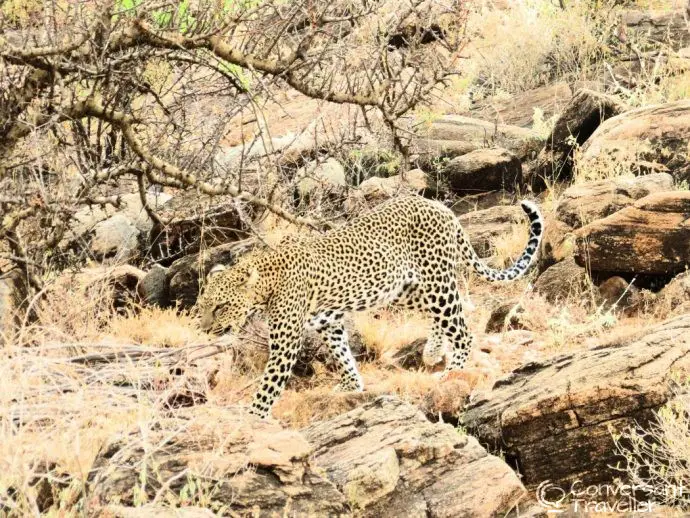 Our first day staying at Saruni searching for the Samburu Special Five had been a little surreal.
The previous 48 hours had been spent in a bleary-eyed travel fog of missed flights, bad weather and no sleep. Realising that we hadn't packed enough spare pants or deodorant in our hand luggage in case of such delays hadn't helped the situation. Not a great start to our luxurious Kenyan adventure. However just a short while later all of that was forgotten as we sat in silence with a Samburu warrior and a British actress (resplendent in camo pants and perfectly coiffed hair at 6 in the morning), watching a pride of lions out stalking their breakfast.
Whilst it certainly wasn't an average day for us, it was business as usual at Saruni Samburu in northern Kenya.
Read More: The most beautiful room in Africa – staying at Saruni Samburu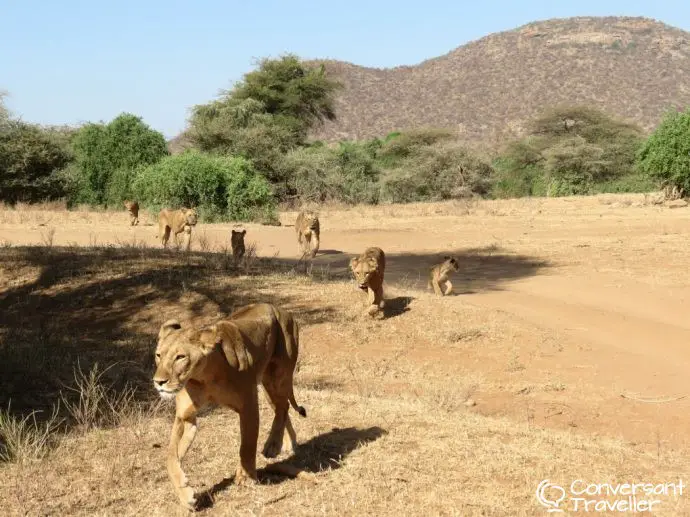 The Samburu Landscape
Saruni Samburu is the only lodge located in the Kalama Conservancy, a rich and diverse wilderness covering over 200,000 acres, to which guests have exclusive access. The Conservancy borders Samburu National Reserve, and both areas are used for safaris from the lodge. Saruni means sanctuary in both the Samburu and Maasai language. A fitting name for this remote part of Kenya, which is home to rare species such as the leopard, striped hyena, civet cat and African wild dog, as well as the Samburu Special Five.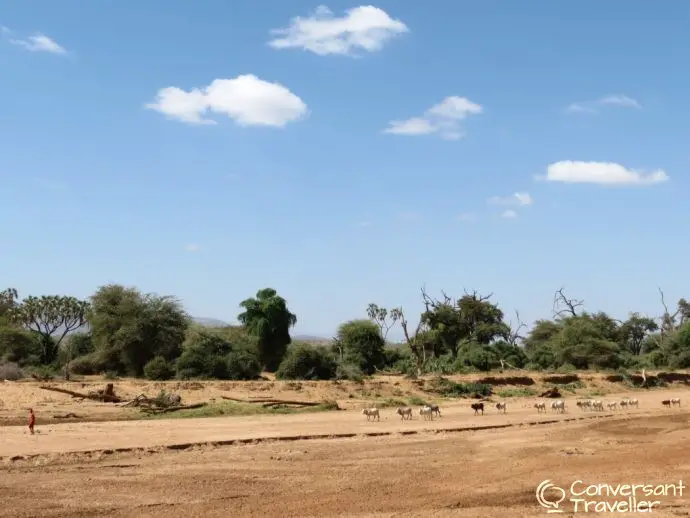 It's the scenery that really sets Samburu aside from other parts of Kenya. The dramatic landscapes here offers some fabulous game viewing, and with fewer tourists than in places such as the Masai Mara, it really does feel like you have the entire reserve to yourself! It's a semi-arid area, and quite different from the southern plains, although just as beautiful. In fact I actually preferred the landscape here, because rather than flat savannah, in Samburu there are rocky mountain peaks breaking up the skyline, as well as grassland dotted with the iconic acacia trees.
Read More: the most moving safari experience ever, in the Masai Mara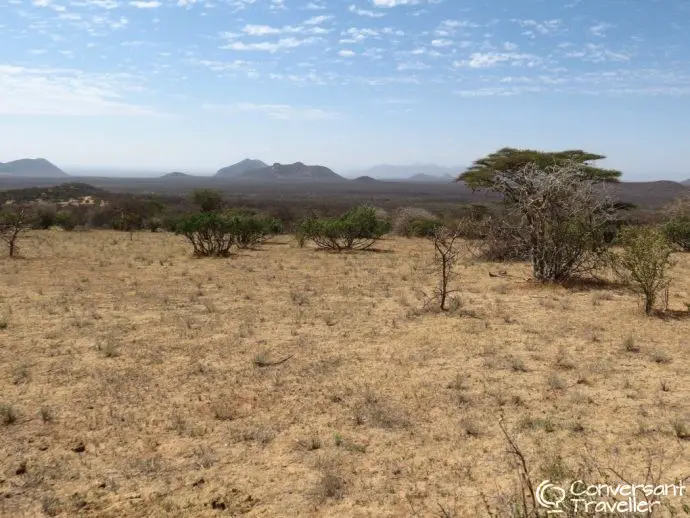 So, what is a typical day like at Saruni Samburu?
Morning Game Drives
Safaris aren't the most relaxing type of holiday!
Each morning at Saruni Samburu luxury safari lodge we were woken at 5.30 a.m. with coffee, juice and cookies, ready for an early game drive at 6 a.m. We could have stayed in bed and enjoyed the luxury of a lie in, but we didn't want to miss a thing, and we were on a mission to find the Samburu Special Five! Still half asleep, we were escorted along the lodge path by the Askari (the watchmen) as it wasn't yet light, and met our Samburu Warrior guide Lepayon and fellow guests by the vehicle. It was reassuring to discover that even famous actresses look no better than we do first thing in the morning!
We only ever had two other guests in our safari vehicle, and sometimes we even had it to ourselves, so there was plenty of space. All the vehicles went off in different directions, so the reserves never felt crowded, and most of the time we never saw anyone else. It was just us and the animals.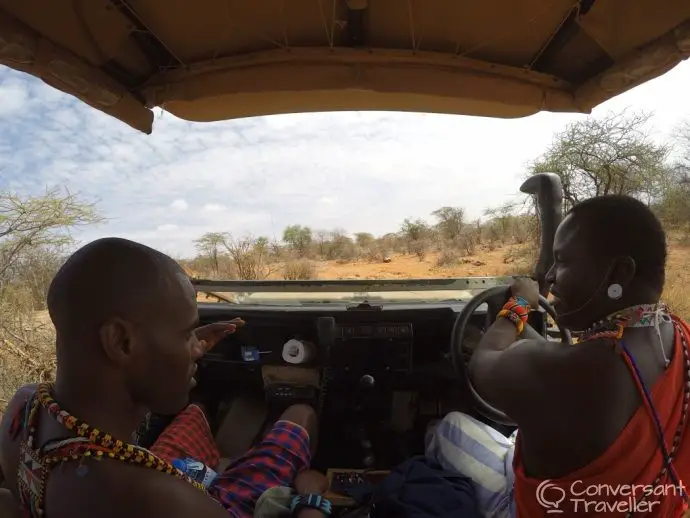 Wildlife is really abundant here, and we saw more than we could ever have imagined.
Whilst the Samburu Special Five were top of our priority list, we were keen to check out the other animals too. One morning we followed a pride of lions as they went hunting. It wasn't easy keeping up with them as they ran determinedly through the bush, but Lepayon did a superb job of anticipating their direction. The banks of the dry river bed was their destination, and whilst the young cubs played, their mothers lay like golden statues in the shade of a tree. Waiting patiently for breakfast to come walking innocently by.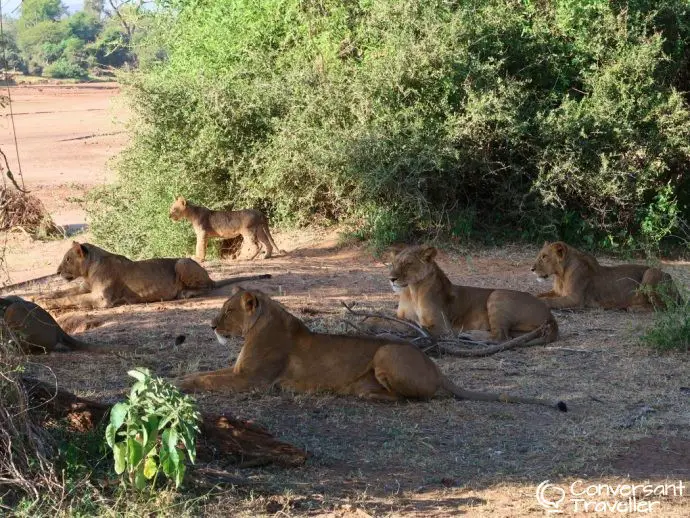 We were soon joined by a couple of other vehicles, including some young Samburu warriors who were training to be guides. They looked stunning in their feathered headdresses and we felt quite sweaty and British in our caps and sunglasses. As usual, Lepayon managed to position our vehicle in the best spot, and we sat smugly in quiet awe, spending a very special half hour with our lions.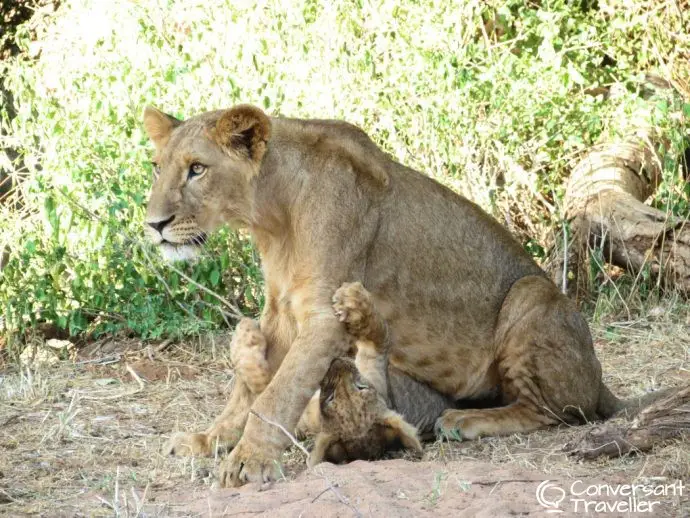 On our last morning Lepayon managed to find us a leopard! We hadn't been expecting to see one, as they're rather elusive creatures, so it was a huge bonus when he pointed to a couple of ears sticking out above a distant rock. Quite how he managed to spot the animal at that distance I'll never know, but sure enough, after a while she came slinking down the escarpment towards us. Giving us a distinctly disdainful look she stalked past the vehicle and into the dense foliage, where she spent the rest of the day away from prying eyes.
Can't say I blame her!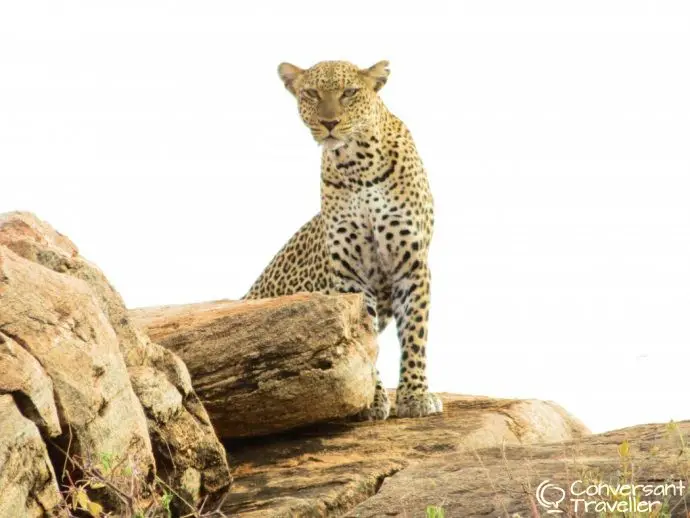 Bush Breakfasts on Safari with Saruni
After all this excitement our bellies were beginning to rumble, so Lepayon drove us back down to the dry river bed (far away from the prowling lions) for a spot of breakfast. He couldn't have chosen a better location, and we all sat contentedly munching whilst watching the animals using the river bed as a thoroughfare.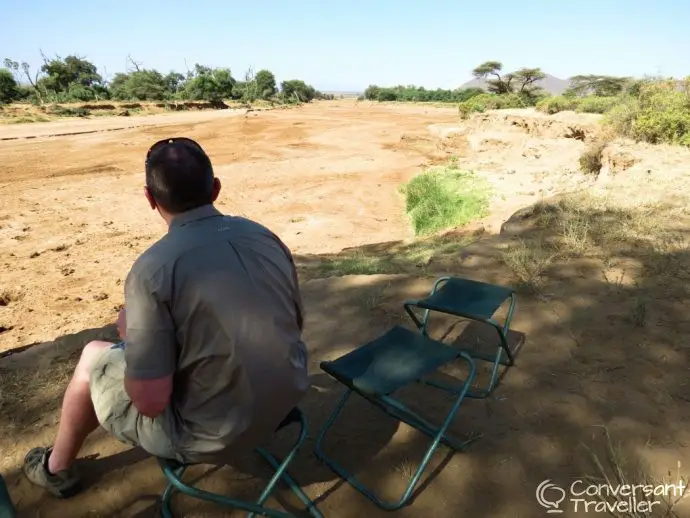 There are 3 main elements to a good safari: game viewing, sundowners, and of course the iconic African bush breakfast. Considering we were out in the bush, miles from anywhere, it was quite a feast, with delicious muesli, yogurt, sausage, fresh fruit, eggs, bread, pancakes, and possibly the scrummiest home-made scotch eggs I've ever tasted. Which I certainly wasn't expecting to find in Kenya!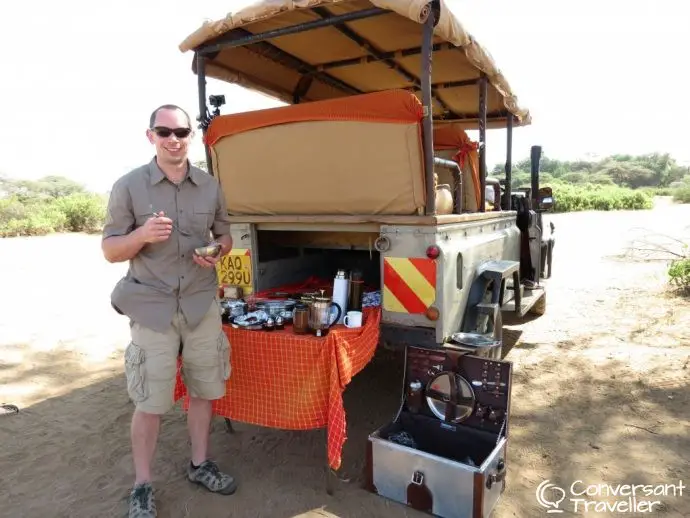 For a quick look at what it's like to go on safari with Saruni Samburu check out Hubbie's video…watch out for the dancing giraffes coming down the river bed (this was our bush breakfast view!), and the night visitors we had in our villa at the end of the clip!!
Life in the Samburu National Reserve
Before returning to the lodge we went in search of elephants. Something that wasn't very difficult because the Samburu is famous for it's elephants. Sure enough, we soon came across a herd taking advantage of some shade near to the riverbed. We remained close for about half an hour, watching, listening and learning, and it was a special Samburu moment when they decided to walk off, right past our vehicle, in search of lunch.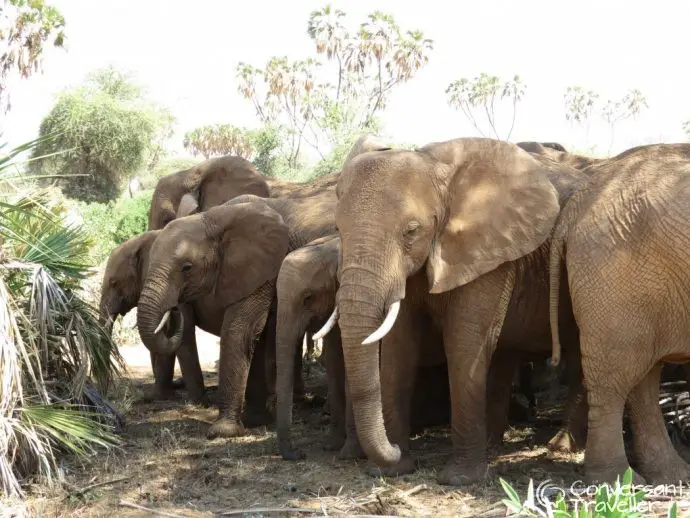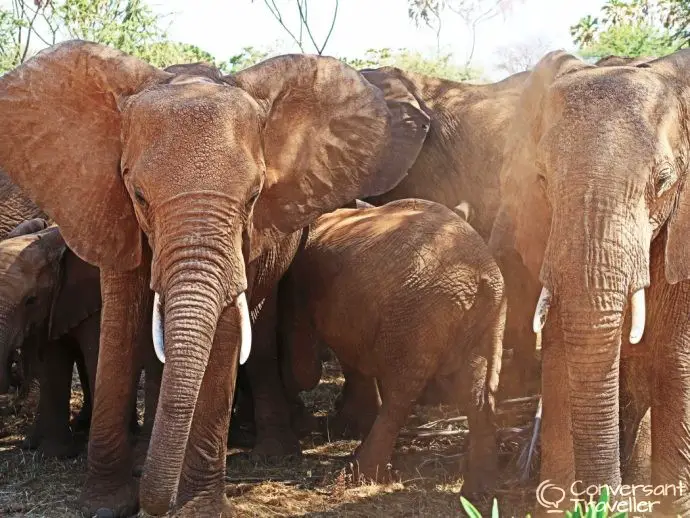 As we went off in search of our own lunch we drove through huge herds of cattle, under the watchful eye of their Samburu owners. It was strange seeing cows whilst out on safari, but having this intimate glimpse into local culture was just as fascinating as seeing the elephants! Things are tough in Kenya right now. The drought is severe thanks to the rains being very late, and the herders have to walk their animals for miles every day in search of water. We felt a little guilty in our comfy vehicle, flashing our expensive cameras and glugging from our water bottles. Yet we reminded ourselves that nearly all Saruni Samburu employees are from the local villages, and that income from tourism must be so important in areas like these where life isn't easy.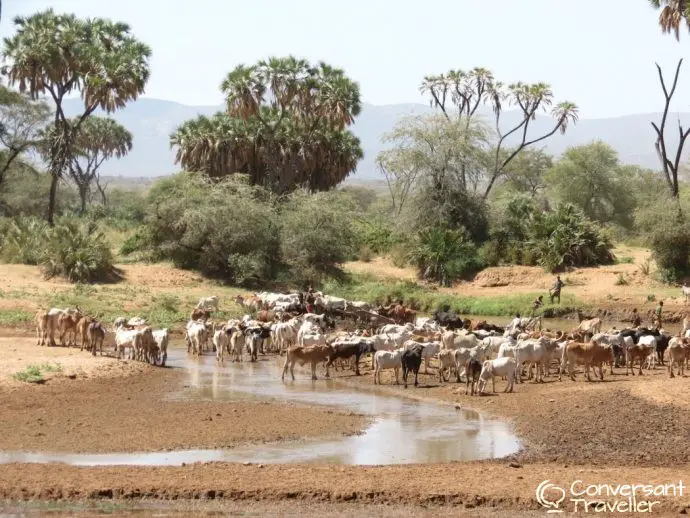 Whilst we were down in the Masai Mara the following week we witnessed the very first drops of rain they'd had for months, and can only hope some of it reaches the Samburu National Reserve before too long.
Read More: staying at a luxury safari lodge in the Masai Mara
Bush Walks and the Hide
After returning to the lodge for lunch and a swim in the pool to ward off the heat of the day, some of us decided to stretch our legs and hike down to the hide beside the water hole in the valley below. Accompanied by an armed ranger, we set off in single file, feeling excited and exposed in equal measures. We didn't expect to see much wildlife at this time of day, but the anticipation was enough, and it was interesting to learn more about the vegetation and local habitats.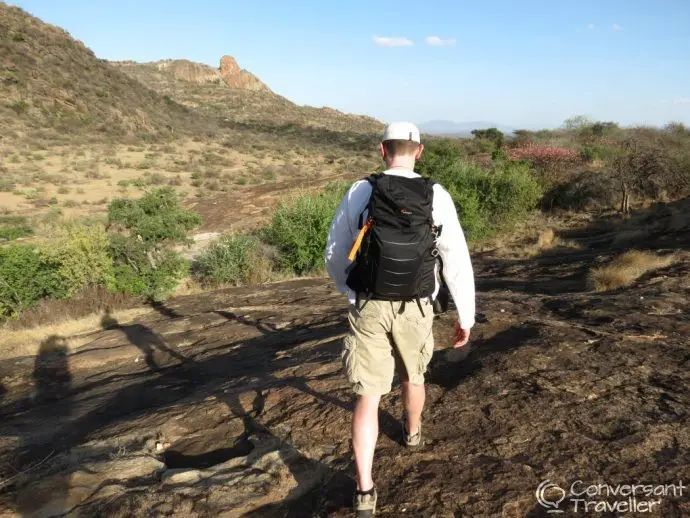 Of course it had to be me that became intimately acquainted with a bush. The thorny tree is known locally as a 'Stay a While' because once you become ensnared on the spikes, there really is no way out. I spent an embarrassing few minutes being untangled by 3 highly amused men, and came away with ripped clothing, looking like I'd been in a fight with a big cat rather than a bit of foliage.
We'd planned to reach the hide before the elephants arrived for their afternoon drink, but as we approached silently on foot, we discovered they'd beaten us to it. It would have been too dangerous to continue whilst they were there, so we jumped onto the vehicles that had magically appeared and waited.
Eventually they trundled off, and we clambered down the ladder into the hide, which was comfortably furnished with cushions and stools for viewing. As the evening sky gradually became emblazoned with oranges and reds, we sipped sundowners and tucked into nibbles. This was the life. It didn't really matter that the wildlife was a bit reluctant to make an appearance. Hubbie was enjoying showing the warriors his GoPro as he filmed the sunset, and I was fine on my perch, cradling a glass of rum and keeping an eye out for animals.
I've certainly had worse evenings!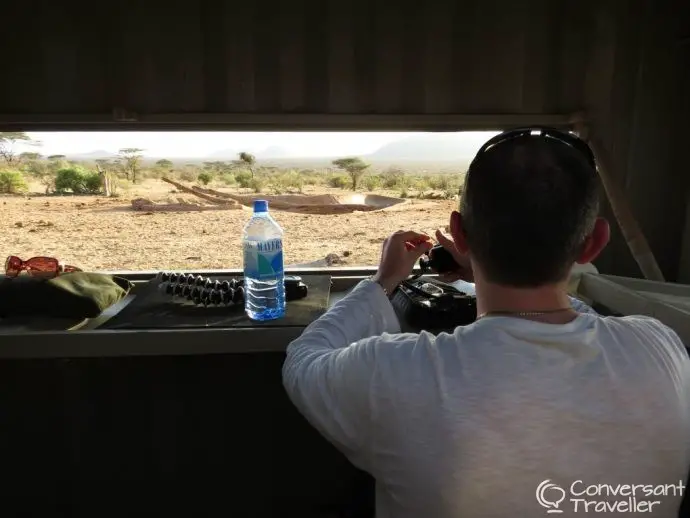 Night Drives
Each evening after dinner back at the lodge, Hubbie and I went out with Lepayon for a night game drive, leaving the others to their socialising and drinking. The first was a little disappointing as we didn't see much, except a pair of playful foxes and the distant gleaming eyes of a bush baby. The second was rather more thrilling.
We'd seen a bull elephant munching quietly in the dark by the waterhole. He seemed to be alone, and after a while we left him to his supper. Then a few minutes later as we were bouncing slowly along the track, Lepayon suddenly stepped on the gas and drove hell for leather as if being pursued by the devil himself. It turned out that the bull elephant had snuck up behind and was charging us. Hubbie and I had been completely oblivious in the pitch black, and initially thought our guide was just playing a joke on us. It was only later when Lepayon described seeing the elephant in his mirror, mere metres away from my side of the vehicle, that we realised he was deadly serious. We were rather thankful for his quick reaction!
The Verdict
There's no doubt about it, safaris are exhausting. Despite the afternoons spent relaxing, swimming and generally admiring the view, the early mornings and late nights do eventually take their toll. We stayed at Saruni Samburu for 3 nights and felt this was exactly the right amount of time. Long enough to experience a lot of what the area has to offer, and to have dozens of world class animal sightings, including the Samburu Special Five, but short enough to end the trip on a high. I think another couple of days would have finished us off, and we'd have been opting out of the morning safari in favour of a bit more kip!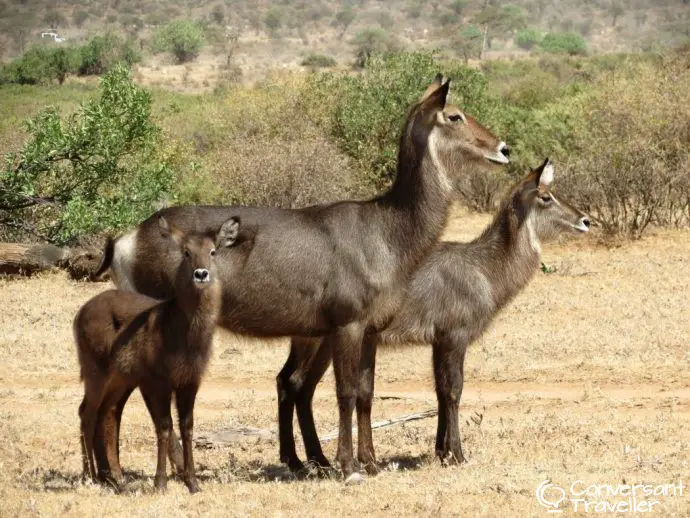 We absolutely loved our time with Saruni Samburu, and it was a real thrill going out with Lepayon each day in search of something new. We were so well looked after, and felt privileged to be guests in such a stunning environment. It was certainly one of those occasions where we realised just how lucky we are to be able to travel, and only hope that by writing about our time here, we encourage others to follow in our footsteps.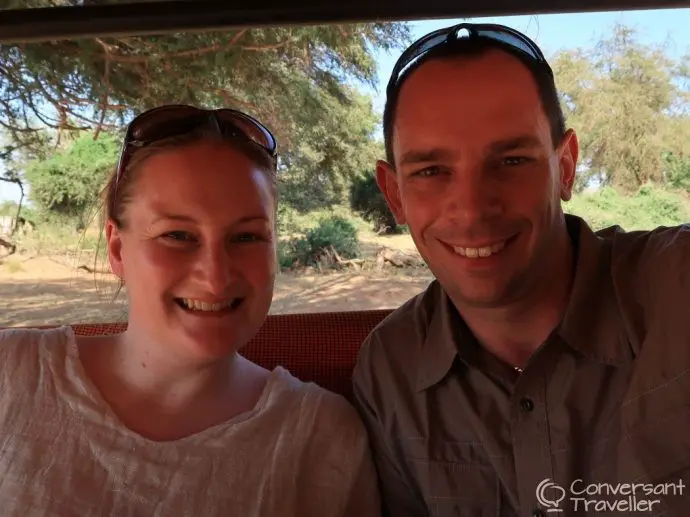 Tips for Visiting the Samburu National Reserve
How to get there: the best way to travel to Saruni Samburu is with Air Kenya – see our post about the flights here.
What to pack: if you're flying in, bear in mind the 10kg weight limit, so pack light, and make cameras a priority. There is shampoo, conditioner and soap at the lodge, so leave these toiletries at home. You'll want lightweight clothes for hot weather, and perhaps a sweater for colder evenings during the rainy season. It is often suggested that natural coloured clothing is best for wildlife spotting, and for keeping away the insects, but since the warriors all wear bright red, and mosquitoes aren't generally a problem here, I wouldn't worry too much! Don't forget the sun cream.
Best time to go: the Samburu Special Five are abundant all year round, as are the elephants. Good months to visit are July – October during the long dry season, when the lack of water means animal sightings are easier. January – March is a good time too, although these are the hottest months in what is already a very arid part of the country (we visited in January – the mornings and evenings were pleasantly hot, but the afternoons were scorching!). The long rains from March – May, and the short rains in November – December can make road conditions more challenging, with new life springing up everywhere and tourist numbers much lower, these are still good times to visit.
Multi centre safaris: If you're combining the Samburu with a trip to the Masai Mara (which we definitely recommend!), I'd suggest visiting the Samburu First. Mainly because the wildlife is far more abundant in the Mara (you'll be practically tripping over lions and hyenas there are so many), and might make the Samburu seem a little more sparse in terms of sightings. It isn't sparse here at all, hardly a moment went by in the Samburu when we weren't seeing something, but if you do it first, you won't risk being disappointed if your expectations are based on your Mara experience.
---
Enjoyed this post? Why not pin it for later…