A couple of years ago I came across a photograph in a glossy travel magazine. It showed a four poster bed with billowing drapes overlooking the African wilderness down below. Sure, there just happened to be an enchanting sunset and a few strategically placed candles for a bit of added seduction, but looking beyond the glamour, it was still one of the most beautiful bedrooms I had ever seen. Turns out it was the honeymoon suite at Saruni Samburu luxury safari lodge in northern Kenya.
I decided there and then that one day the bed would be ours for a few nights.
The dream finally became reality last year when Hubbie and I landed on a remote dirt airstrip in a tiny plane after a journey that had been an adventure in itself. I've written about our internal flights with Air Kenya in a separate post because they were so much fun, definitely the most exciting way to travel between luxury safari lodges in Kenya.
After hopping off the plane, collecting our bags and squinting into the sun at a couple of onlooking wildebeest, we were met by Lepayon, who would be our Samburu Warrior guide for the next few days.
Airstrip pleasantries out of the way, we set off with Lepayon on our first game drive in the Kalama Conservancy as we headed to the Saruni Samburu lodge. I tried to maintain an air of calm sophistication, but that lasted less than a couple of minutes as we began spotting our first wildlife, including several dik diks, one of the world's smallest antelope.
Best airport transfer ever!!
Saruni Samburu luxury lodge
Saruni Samburu is a remote luxury lodge nestled in the heart of the spectacular Kalama Wildlife Conservancy, just a few kilometers from the Samburu National Reserve. Perched on a hillside, Saruni Samburu is the only lodge in 200,000 acres of pristine wilderness, with 6 eco-chic villas overlooking the magnificent African plains. It caters to the rich and famous, but also the not-so-famous, and we liked their ethic of luxury without pretension.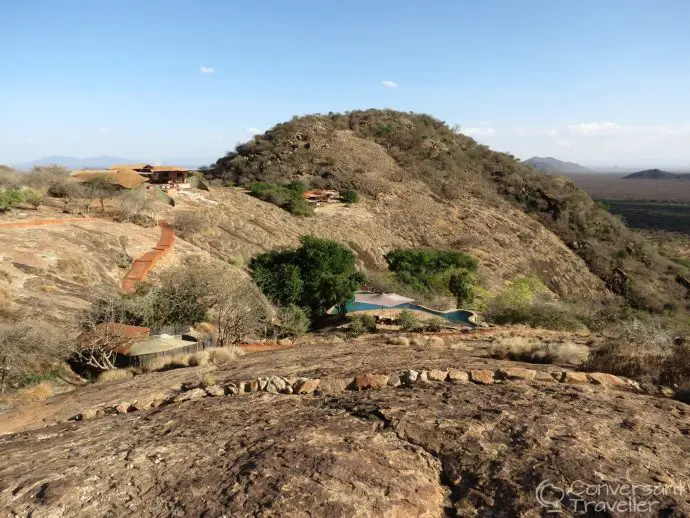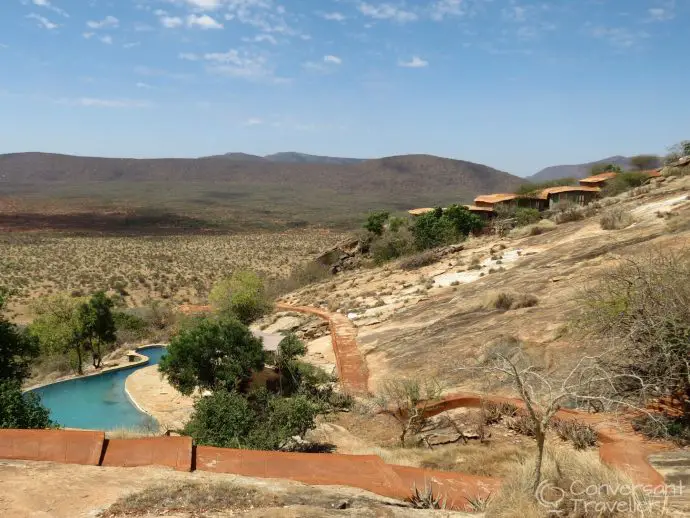 Here's Hubbie's short light-hearted feature on the lodge facilities…
The lodge
Saruni Samburu is all about open air luxury living. Something made possible by the wonderful weather and the relative safety of being high up on a ridge. The lodge design really makes the most of the beautiful panoramas out across the conservancy, and without even leaving the premises we saw elephants, rock dassies, lizards, ostriches, dik diks, and genets. Oh, and a leopard! Hubbie became a little too intimately acquainted with her one afternoon, but more about that later.
The main lodge – Kudu House – is where the action (such as it is) takes place. It's a spectacular setting to join fellow guests for meals, lounge around on the sofas with after dinner drinks, or cosy up by the campfire whilst indulging in a spot of star gazing.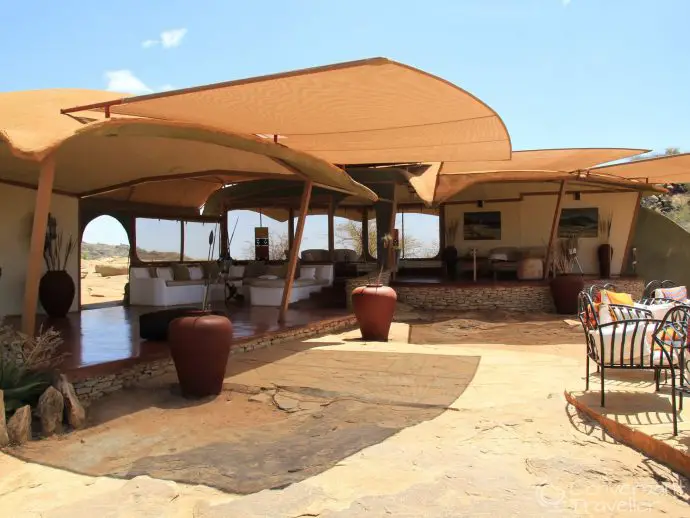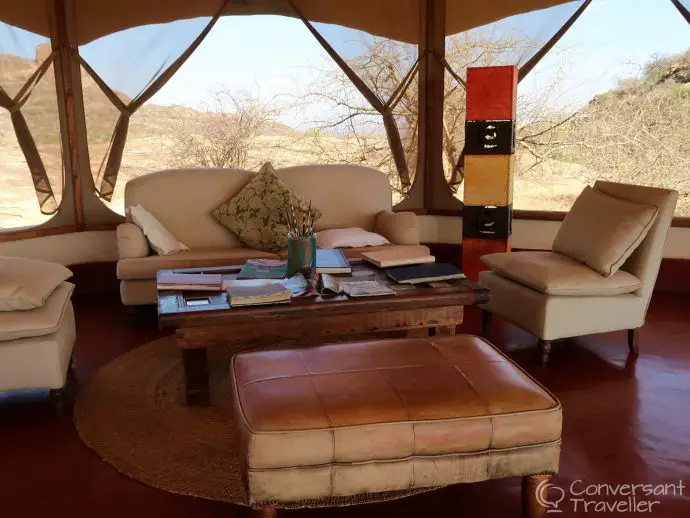 The design is classy yet comfortable, with subtle nods to African decor throughout. They even had some fabulous Moroccan lanterns and windows, so we were happy!
Little pathways wound their way across the ridge, leading to the guest villas, spa, gift shop and swimming pools. There's no shade so it can be hard work walking down to lunch during in the middle of the day, but the out-of-this-world views distract you from the constant sweat trickling down your back.
The lower pool is the most popular as it's located near to the main lodge and most of the villas. It looks down on the watering hole and is a great place to spend a hot afternoon relaxing between game drives. Yet we much preferred the upper infinity pool, despite it having no shade, mainly because we had it to ourselves the entire time. Other guests didn't really use it whilst we were staying at Saruni Samburu, since it was further to walk, and uphill! Luckily for us our villa was also right at the top of the ridge, so it wasn't far to scuttle between bedroom and pool.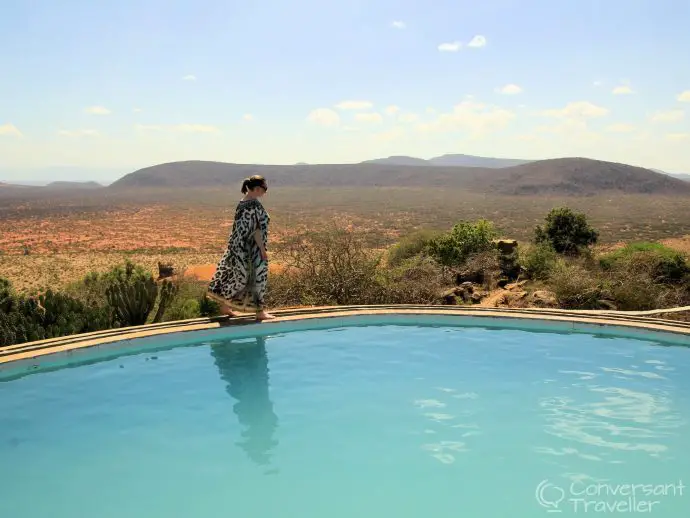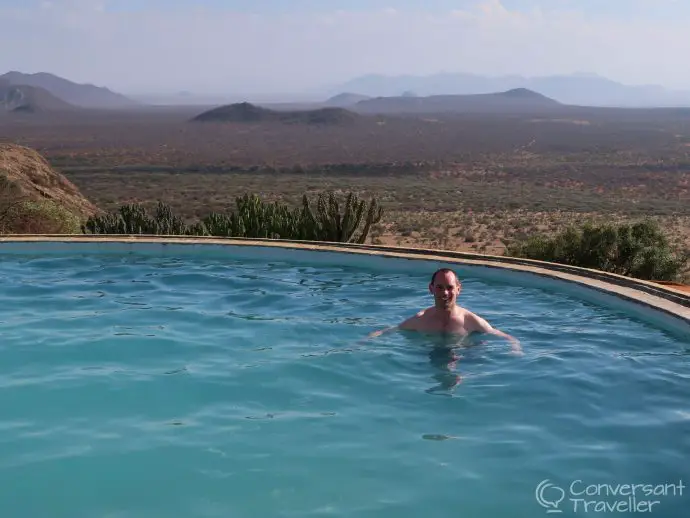 The Villa – Honeymoon Suite
And so to the most beautiful room in Africa. Was it really as good as it looked in that magazine? I'll admit I was prepared for the reality to be lacking in PhotoShop trickery and fancy camera angles, but to my delight we found our suite to be everything that was promised and more.
It was quite a hike to reach villa 5. It's one of the furthest away from Kudu House, along a marked footpath across the rocky outcrop. The walk was only about 7 minutes, but being mostly uphill it was a bit of a work out, especially in the heat. Definitely worth it for the privacy though.
Villa 5 is the only guest suite at Saruni Samburu with a dual aspect and 270 degree views overlooking the Kalama Conservancy and Samburu National Reserve. We could see across to the mountains in all directions, as well as watch the animals far down below. The suite has been constructed around natural rock formations, which meant that whilst most of the other valley-facing lodges baked in the heat of the sun, we enjoyed a shaded terrace beneath a huge boulder. Very welcome when afternoon temperatures reached 36°C on our first day!
Villa 5 really is all about the view.
Nature definitely steals the show here, and to be able to stand on the balcony, lay in the bed, and even sit on the toilet whilst watching elephants striding across the plains is something pretty special.
The bathroom wasn't bad either, certainly a contender for a best 'loo-with-a-view' award. Standing in the shower watching ostriches running between the trees whilst lathering your hair with organic shampoo isn't a bad way to start the day.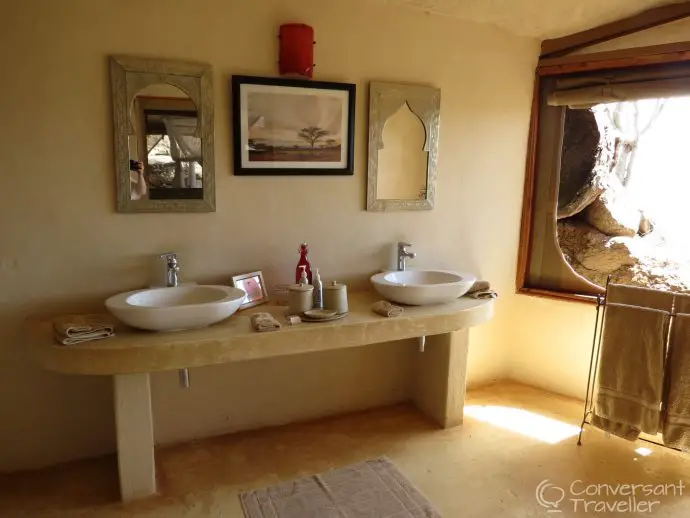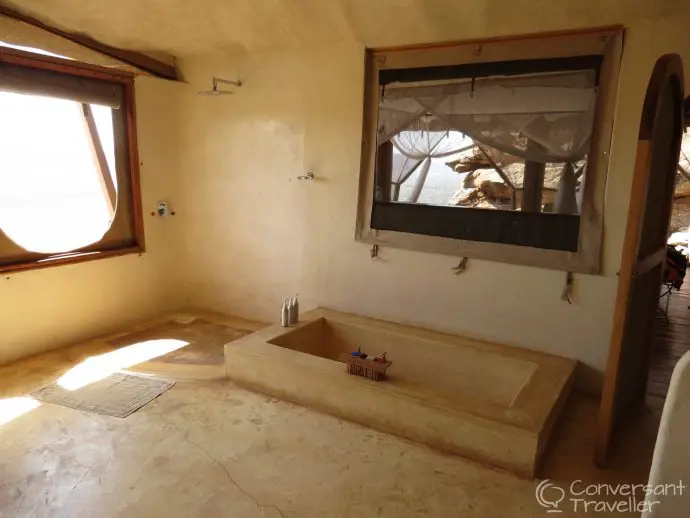 I loved the Moroccan mirrors and sunken bath, and there was a little dressing room off to the side to store our luggage out of the way. Very decadent, and why not.
It's safe to say we liked Villa 5! A lot.
The food
We prefer to eat local dishes when we travel, only indulging in the odd guilty burger or pizza when we need a break from all the curry/noodles/guinea pig. So I have to admit that I wasn't convinced the food was going to be a highlight, as it professed to be Italian inspired (the owner is Italian). I didn't want to go to Africa and eat Spaghetti. Of course I was worrying about nothing. The food was all delicious, and much of it was an African-Italian 'fusion', if you're in to such culinary buzz words.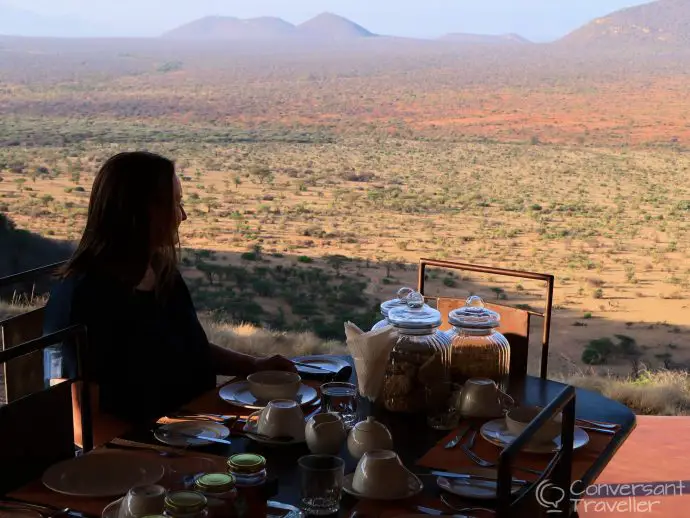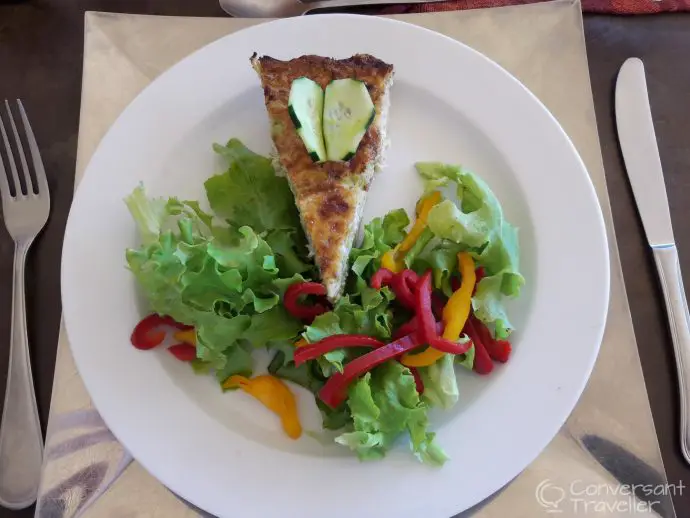 It was a bit of an effort facing 3 course meals at both lunch and dinner (sometimes all you want is a quick sandwich at mid-day!), but the portions weren't overbearing, and it was all beautifully presented.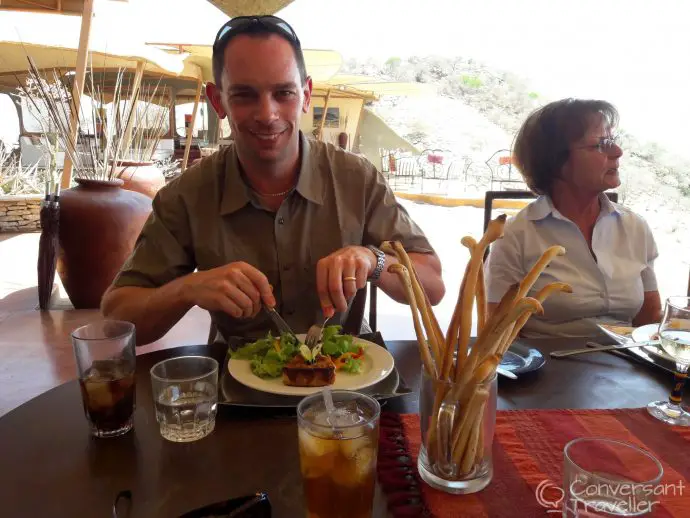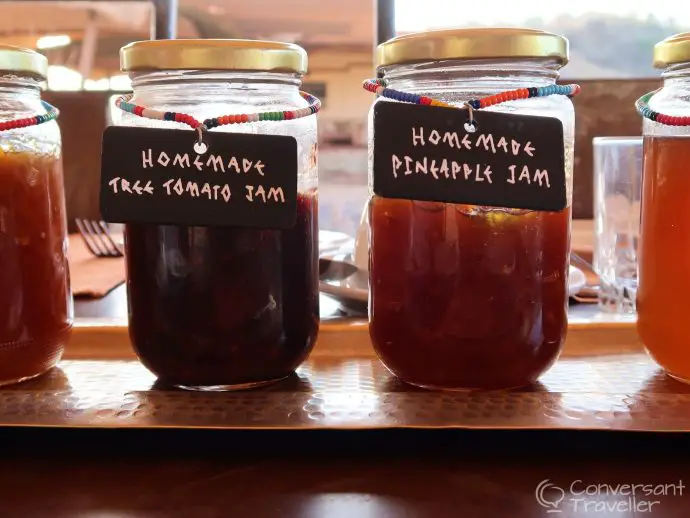 The one aspect we didn't welcome was the communal dining.
Unfortunately there's no escaping it when you're on safari, and we've never appreciated the assumption that everyone enjoys socialising with other guests and sharing meals together. Yet we're not total recluses. Indeed with the right people, we do like a bit of conversation and banter. But when you've spent several days with the same strangers, there's only so much you have left to discuss over bruschetta and wine.
Sometimes socialising with guests can be a pleasure, whilst with others it may be a nightmare. At Saruni Samburu we spent time with a group of retired Americans, an actress and her sister from the UK, and a quiet couple from Germany, all of whom were pleasant and even interesting to chat to. Yet there was also an obnoxious French couple who were perpetually drunk, loud and inconsiderate. Being forced to dine at the same table as them wasn't an experience we enjoyed.
On our last evening the Samburu staff came dancing and chanting around the table, in a colourful and harmonious display of culture. We didn't understand the occasion, and assumed it was just something they did for guests, as we smiled politely and continued to sip our wine. So when at the end of the performance they produced a cake, complete with candles, and set it down between Hubbie and I, we were totally unprepared. The show had been for us, to celebrate our 10th wedding anniversary! I hate being the centre of attention, but this was such a lovely gesture, and we were both really touched. I may or may not have shed a tear. I totally blubbed.
Of course it was the one evening we hadn't taken our cameras to dinner. Typical.
Private Dining
One of the experiences I was most looking forward to at Saruni Samburu was the option of private dining at our villa.  As dusk fell, some of the staff came to set up our table beneath the rock on our terrace, leaving lanterns all around for a romantic glow.
We began the evening with drinks and hors d'oeuvres whilst watching the sunset, and moved down to the table as it grew dark. A wonderful evening beneath the stars in our own private piece of African paradise.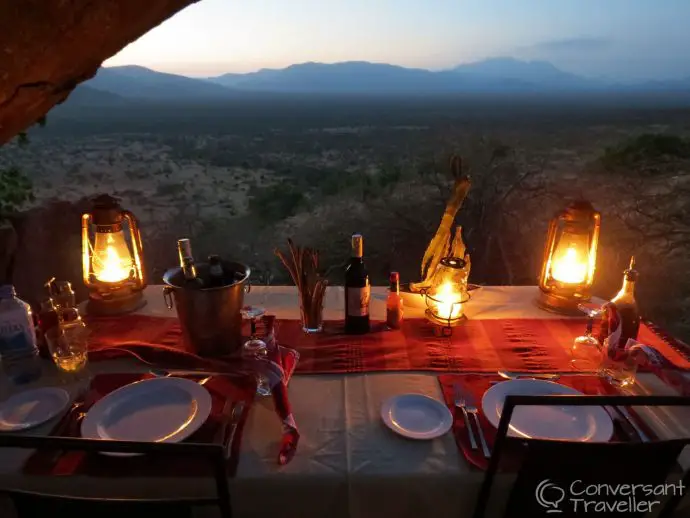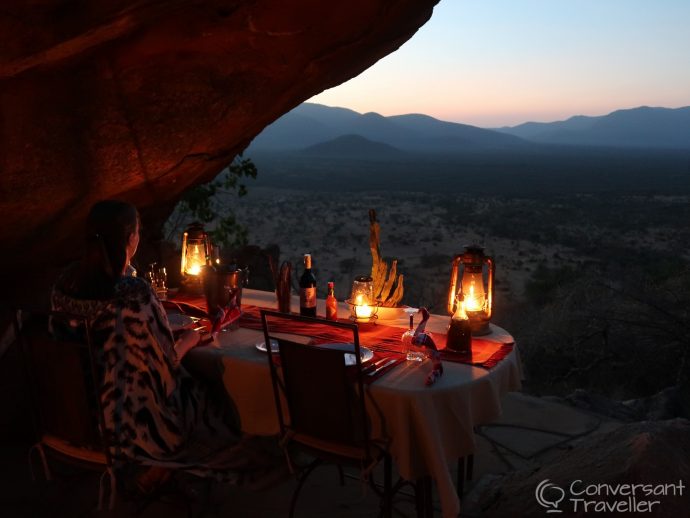 The leopard
I've written about the Saruni Samburu safari experience in another post, but there's one encounter that must be mentioned here. It's never advisable to disturb a leopard when she's eating her dinner. Especially when you're on foot. She'll probably not welcome the interruption and may come exploding out of the bushes at you in a growling bundle of fur, claws and sharp teeth. At least that's what Hubbie discovered one sunny African afternoon.
The leopard's name was Ugali. And she happened to be living a few metres away from our villa.
Everyone visiting Saruni Samburu wants to see Ugali. We were told in our welcome briefing that there was a leopard living in the area, but didn't expect to actually see her. Apparently she made the ridge her home nearly 10 years ago, and although it is very unusual for a leopard to reside so close to humans, her presence hasn't caused any problems.
And then along came Hubbie.
We had been up in the top infinity pool, gazing out across the plains and contemplating the meaning of life, when we heard a sudden commotion in the bushes next to our villa. Guessing it was just a few squabbling birds we thought nothing more of it. But then Hubbie decided to pop back to the villa for a camera, and I watched his progress from the comfort of the cool water. Whilst passing the bushes, he stopped on the path to see if he could spot the birds. Maybe they were exotic and worth a photo.
It all happened in a matter of seconds, but it felt like a lifetime.
A snarling leopard burst out of the bushes straight at Hubbie, who stood rooted to the spot, more from sheer shock and terror than intuition. It turns out that was a good thing, you should never run from a leopard. Right at the last moment, when she was less than a couple of metres from Hubbie, Ugali veered off and ran up into the rocks above. Maybe he didn't smell good enough to eat!
I have never felt so helpless. And Hubbie has never felt more terrified.
We're convinced the leopard was almost as surprised as Hubbie at the encounter, and was probably just protecting her dinner (the aforementioned birds). Yet during those few brief moments, I thought I'd be returning home minus a husband, and Hubbie, practical even in the face of impending doom, congratulated himself for packing a spare pair of pants. He was going to need them.
On encountering warriors
All the guides and most of the staff at Saruni lodges are from local villages. I have to admit I was a little apprehensive about meeting and spending time with the Samburu people, not to mention real life warriors. We're probably a bit guilty of not interacting with local people as much as we should when we travel. Not out of disrespect, but just because we tend to enjoy our own company rather than immersing ourselves socially. So we're a bit out of practise when it comes to small talk, knowing what to say and how to act for long periods of time. I expected to feel a bit intimidated, or worse, like it was all just a contrived tourist 'experience'.
In the event my fears were unfounded.
The Samburu people were super friendly, and we felt at ease in their company almost immediately. Most of them spoke excellent English, and were just as keen to learn about our country as we were to discover theirs. Of course football was mentioned. Alas this is an international language Hubbie and I have no interest in, so that conversation fizzled out rapidly. Much to their surprise, and our relief.
As for the colourful clothing and jewellery, this is simply what these guys wear everyday, there's nothing contrived about it. The Samburu warrior guides are used to posing for photos, and quite happy to indulge even the most persistent of tourists. Yet I didn't pluck up the courage to ask until we were about to board the plane after our visit to head off to the Masai Mara.
Saruni Samburu walk through
For a better look at the lodge, and to see what it's really like to stay there, check out Hubbie's video on Saruni Samburu…
What we loved
The staff are what really make Saruni Samburu such a special place. There's always a certain guilt attached to luxury travel. We're well aware that we're lucky to have been born in the UK, and able to make the most of opportunities available to us purely by merit of our birth location. Yet at Saruni Samburu the staff have the fantastic knack of making guests feel like welcome insiders rather than privileged tourists jetting in for a few days on a jolly.
The luxury lodge is a pretty laid back place, and thoroughly unpretentious in it's outlook. Whilst we spent a couple of days out on safari with an actress, we didn't feel intimidated by our 'mere mortal' status, and all guests were treated the same, whether they were rock stars or paper pushers. We also loved that all the staff addressed us by our first names, even those we hadn't yet been introduced to. I think one of the most uttered phrases of the week was…
How are you today Peter?
To be fair, there were 3 Peters there at the time, so it was a pretty safe bet. By the end of our stay we felt more like friends than guests, which is just how it should be. All the Saruni Samburu staff did a great job of not treating us like a booking number or pay cheque.
What wasn't so great
Sometimes the staff weren't always that good at gauging the balance between being attentive, and giving guests privacy. If we were relaxing in Kudu House, often they would come over for a chat, which was lovely. We talked about their families, the animals we had seen that day, and our weather back home. Yet after the conversation had dried up, they often remained standing nearby. No doubt to be on hand should we need anything, but it felt a little like we were being watched. It was the same at dinner. Rather than retreating to the background after serving, the staff tended to stand behind us, just waiting. It made us feel a bit uncomfortable.
It was a minor irritation, however, and no doubt something that only we noticed, given that we're used to having complete independence rather than being waited on hand and foot. The other guests didn't bat an eyelid. I think we need to learn to just relax and enjoy the attention!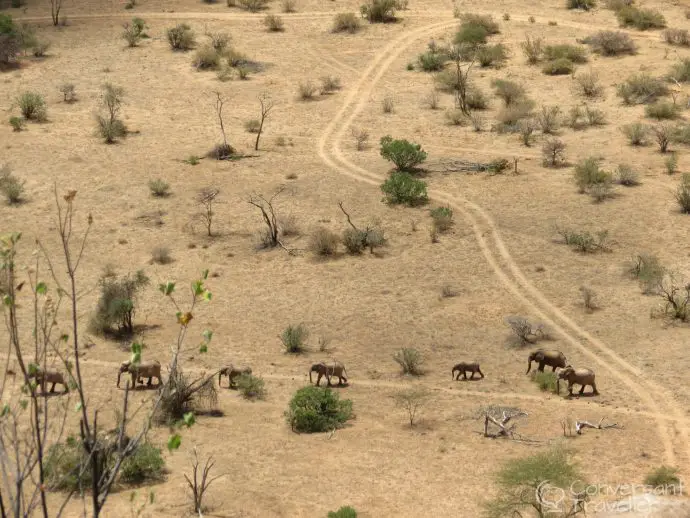 The Verdict
Sometimes hefty holiday price tags and glossy magazine photographs mean travel expectations soar well above reality, resulting in profound disappointment and negative reviews. Thankfully this didn't happen to us at Saruni Samburu luxury lodge. No, it wasn't cheap. In fact it was our most expensive trip to date, yet we don't begrudge a single penny. We're firm believers in you get what you pay for in this life, and don't mind splashing out on a truly world-class experience like we enjoyed on this trip. The lodge was every bit as good as it had appeared in print, and we genuinely enjoyed one of our best holidays ever.
Tips for staying at Saruni Samburu
Leave your fancy clothes at home. This may be a luxury lodge but there's no need to dress for dinner. Which is just as well considering the 15kg baggage allowance on the Air Kenya planes.
Bring flip flops to wear around your villa. Slippers aren't provided and those floors do get hot in the sun.
The toiletry selection was superb, including conditioner. I wish I'd left mine at home and instead had room for more clothes!
Laundry is included, except for ladies underwear (for cultural reasons). There is a jar of washing powder in the bathroom for this purpose (which I didn't realise until after our visit…I thought it was bath salts, duh!).
---
Behind the Scenes
I debated long and hard over whether to write about Hubbies leopard encounter. On the one hand it makes a great story, the sort you'd tell to wide eyed grandchildren around a cosy winter fire. And we were saying only last month that our travels have been a bit lacking in the misadventure department lately. It's a long time since we were caught in a drug smuggling shoot out in Lesotho, or detained by armed guards in the Galapagos. Yet on the other hand, I didn't want Hubbie to appear irresponsible (he wasn't), or the lodge at Saruni Samburu to sound dangerous (it isn't). However honesty is what we're all about, and you guys and gals seem to appreciate that. Otherwise what's the point of this blog, right?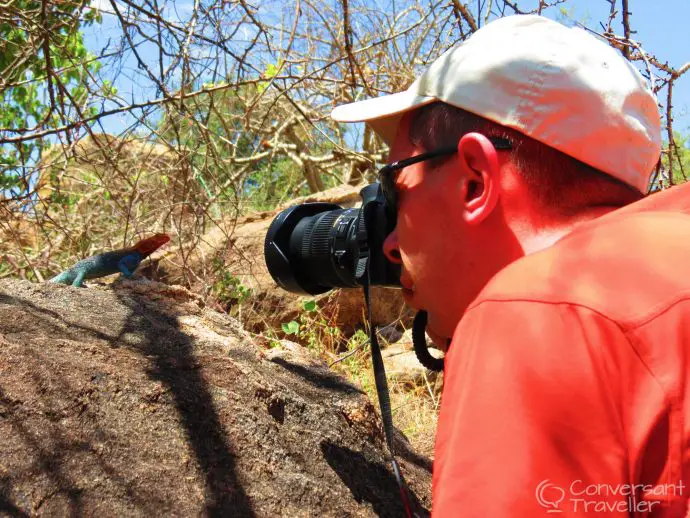 Enjoyed this post? Why not pin it for later…