When it comes to travel luggage we're unashamedly addicted. In fact our wardrobe is full of carry on bags, and under the bed you'll find a graveyard of suitcases that we can't bear to throw out as they've served us faithfully on our travels around the world. Whilst I love a shiny new bit of kit, Hubbie prefers his gear to be a bit weather-beaten, showing off the marks and dents lovingly collected during adventures to tropical rainforests and arid deserts.
We'd love to say that after all these years trotting around the globe, we've got packing down to a fine art and always travel light. Yet in reality, that's just not the case. Unless we're flying by light aircraft on safari in Kenya or to the remote islands of Sao Tome and Principe, we always each have a piece of hold luggage in tow. You know, for all the clothes that we'll probably never wear because it'll be too hot, and all the toiletries we inevitably carry with us, just in case the hotels don't come up trumps in the bathroom department.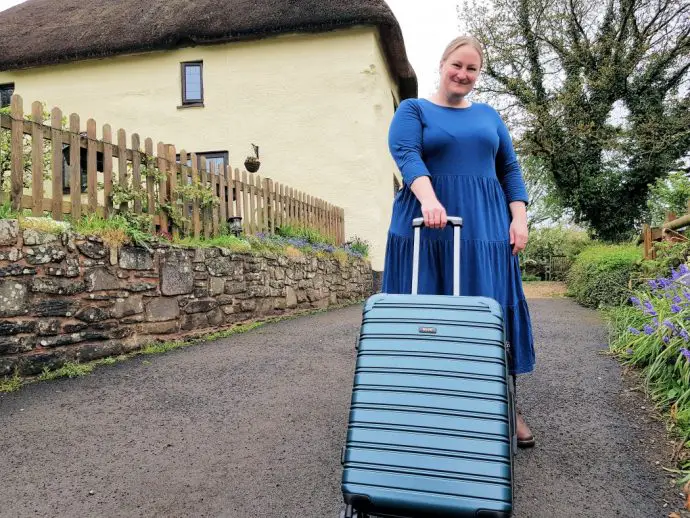 But one thing we never compromise on when it comes to hold luggage is a hard shell suitcase. Having a solid, reliable piece of kit that we know is going to protect our gear when it's undoubtedly thrown around the airport is an absolute must.
We have a penchant for buying awkward and sometimes delicate souvenirs too so it's super important that we know our new-found handicrafts are going to make it back home in one piece. Packing souvenirs is quite an art, and we're proud to say we've successfully transported everything from glass lamps and pottery to paintings and even a massive wooden giraffe (who only lost an ear in the process, which we thought was quite impressive). And it was all thanks to having a hard shell case rather than a soft holdall.
My current suitcase has been begging for retirement for a few years, so when the lovely folks at Rock Luggage asked if I'd like to test out one of their cases I jumped at the chance.
The Chicago Suitcase
I opted for the Chicago suitcase in medium, which of course was hard shell and came in a range of classy colours. It was a bit like Christmas when it arrived, as I knew this particular gift heralded the start of new adventures. Something that is especially poignant now travel is opening up again after being dormant for so long.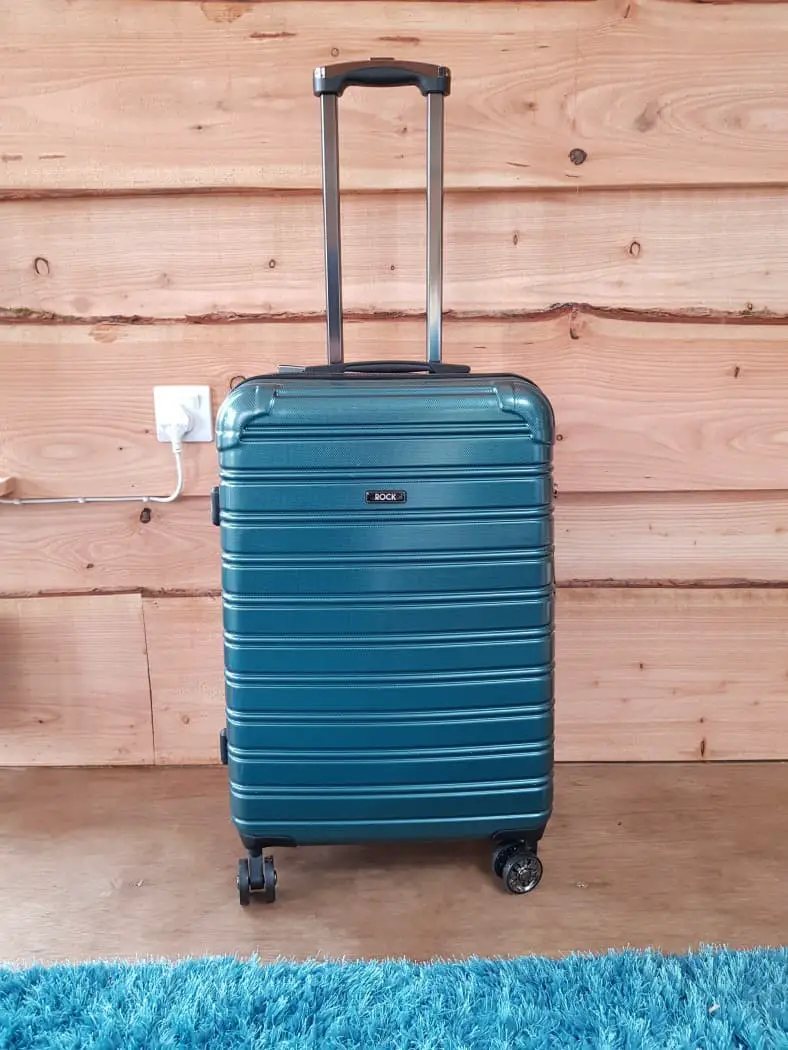 Whilst we weren't quite jetting off to foreign shores just yet, a week's self-catering holiday in Devon and Cornwall was perfect to give the case a trial run. Even if we're just staying in a cottage I like to feel stylish!
The Hard Shell Outer
Made out of ABS/PC material, the outer shell is durable and solid, although there is a bit of flex which is something I'm not used to with my completely rigid existing case. However, this means at 3.7 kg it's a lot lighter which is great news when it comes to luggage weight limits on planes. Being able to pack even more pants and extra souvenirs is always a bonus, even if the 60-litre capacity is actually plenty big enough for all our travelling needs! Which makes this relatively large suitcase the perfect size for long-haul travel. The only downside is that from now on I'll have no excuse to get Hubbie to do all the heavy lifting!
The Best Features
One of the gripes I've always had about many cases is the wheels. So many suitcases seem to have a mind of their own when trundling across the airport floor, and sometimes the wheels don't spin in sync. Which is why I was impressed with the Chicago case – it has a grand total of eight wheels rather than just four, which makes it a lot more stable and easy to pull.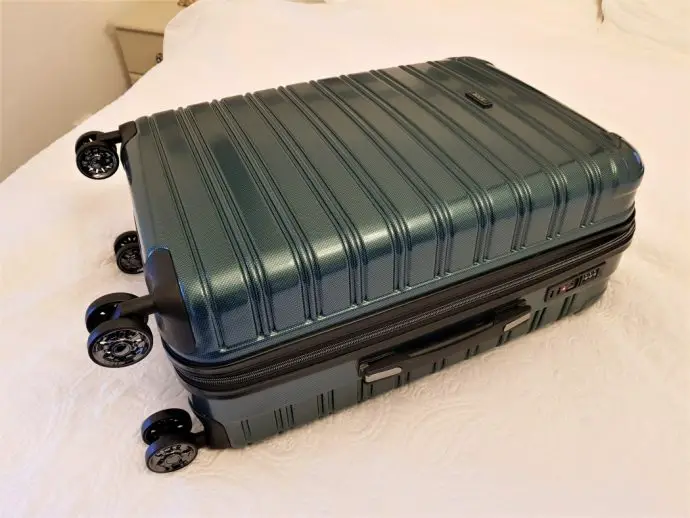 The integrated TSA combination lock is really handy too as it's built into the suitcase, and helps prevent theft at airports and whilst you're on your travels. No more scrabbling around for misplaced padlocks for us! You can just choose your own unique 3-number combo and slot in the zip handles so everything is secure. There's an additional hole on the zips if you want to double up with a padlock too, for extra piece of mind.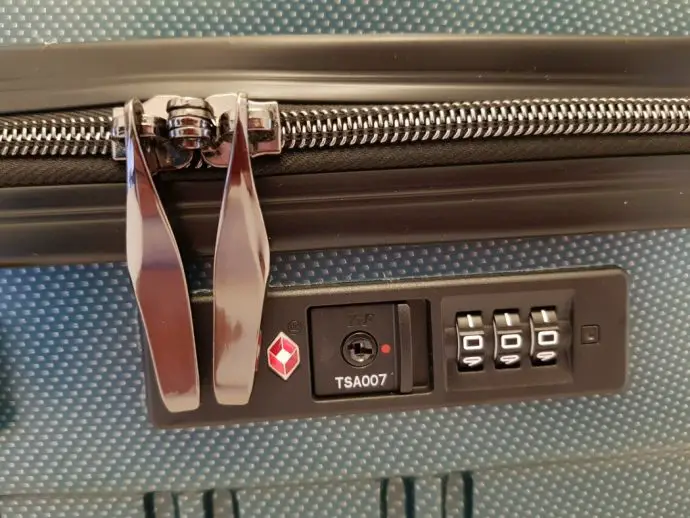 Handles are something else that can be a bit hit and miss, but I was pleasantly surprised to find that this one didn't mess around. It's one of the sturdiest I've come across, and doesn't rattle as you pull the case along.
The rigidity also meant the case didn't have a tendency to flip over when in use, which has happened to us on multiple occasions, especially when rushing to catch a flight. There are carry handles on the top and side too, for those annoying times when you have to negotiate steps.
Inside the Case
Despite all these super bells and whistles, my favourite feature was actually the mesh divider inside the case. Not only does it come with a handy pocket for all your little bits and pieces, it also zips around the entire inside of the suitcase, thereby keeping all your gear secure.
So many times have I opened a case and things immediately fall out because there's just a simple strap to hold it all together. I'm looking forward to having no more embarrassing moments at airport security when dirty clothes try to make a break for it across the floor in front of other passengers.
Yes, that has happened. More than once!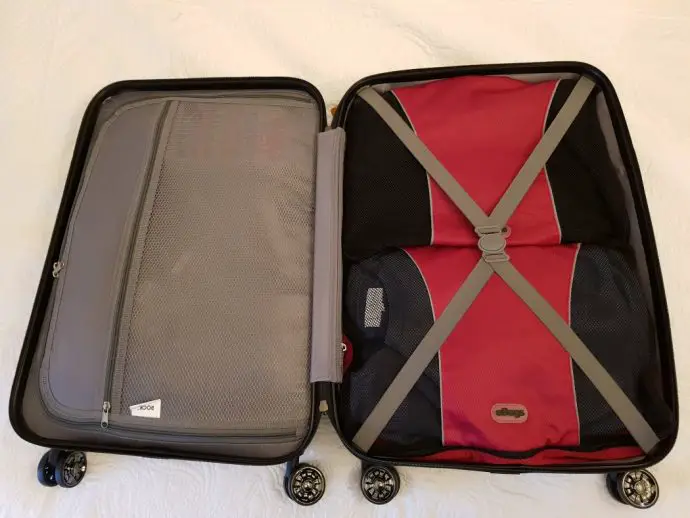 There are elasticated straps in the other side of the case, which are really handy to keep packing cubes and larger items of clothing in place.
In a Nutshell
Hard shell outer that isn't too heavy
Sturdy handle for fast wheeling
Easy-to-use integrated combination lock
Lots of wheels for a smooth ride
Internal pocket to keep your gear in place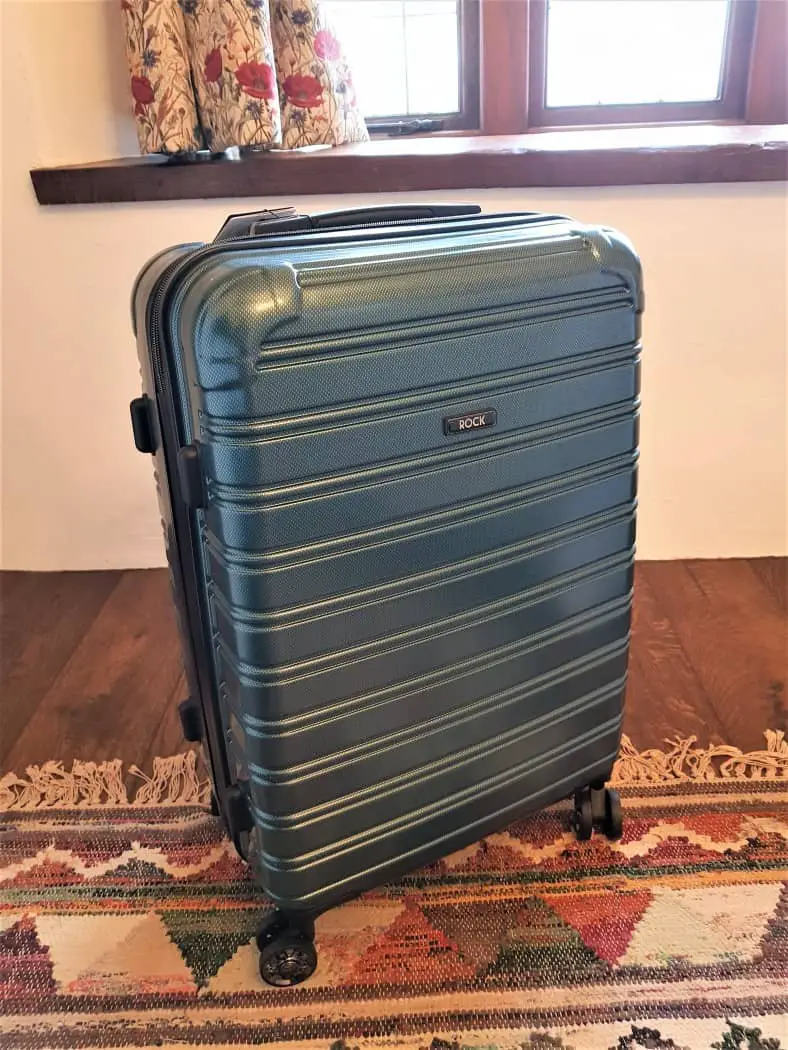 The GIVEAWAY
Okay, you know I'm a fan, so how would you like to get your own hands on one of these cases for your next holiday? You're in luck, because Rock Luggage have kindly provided a medium Chicago suitcase (also in the same green as mine) to give away to one lucky winner.
Prize: One medium Chicago suitcase in green (RRP £159.99)
UK entrants only (due to delivery being UK-only). 
How to Enter
It couldn't be simpler. Just use the Gleam widget below to enter, completing as many of the options as you like. If you have previously completed any of the actions (for example if you already follow us on Facebook, Twitter etc) then feel free to have an entry for them!
IMPORTANT: Make sure you use the Gleam widget below to validate your entries.
The link for the first (non-mandatory) entry option of "Subscribe to our Newsletter" can be found here HERE. Make sure to let us know you've done this in the Gleam Widget below.
Rock Luggage Suitcase Giveaway worth £159.99

Terms and conditions
No purchase is necessary to enter or win. A purchase will not increase your chances of winning. The prize is provided by Rock Luggage and is a Chicago medium suitcase in green.
The giveaway is open to UK residents only. The prize is not refundable or exchangeable for cash. The giveaway will run for 2 weeks starting on Monday 24th May 2021 and end at midnight on Monday 7th June 2021. The winner will be determined on or around the 8th June 2021 by a random drawing of eligible entries received. Your chances of winning are determined by the number of eligible entries. Winners must respond within a week of receiving the notification email, otherwise another winner will be chosen. The winner's name and email address will be passed to the giveaway sponsor in order to arrange delivery.
[separator type="thin"]
Rock Luggage have kindly provided the prize for this giveaway, as well as our suitcase reviewed in this post. We never work with brands we don't know and love, and as always, opinions are entirely our own.