This post contains affiliate links which means we may make a small commission at absolutely no extra cost to you. Thanks for reading. You can read our full disclosure policy here.
---
So you've brought me all this way, to sleep in a church…and we're not even sleeping in a church!?!
Hubbie couldn't work out whether he was bemused, disgruntled or totally unsurprised. I wasn't too sure either.
We'd done our usual. Travelled somewhere simply because her ladyship had seen a really cool and quirky place to stay – in this case the Hotel L'Iglesia – and she wasn't going to shut up about it until it had been ticked off the list. Thus we found ourselves in the old Portuguese city of El Jadida on the northern coast of Morocco. It isn't the sort of place much frequented by foreign tourists, which made it all the more intriguing.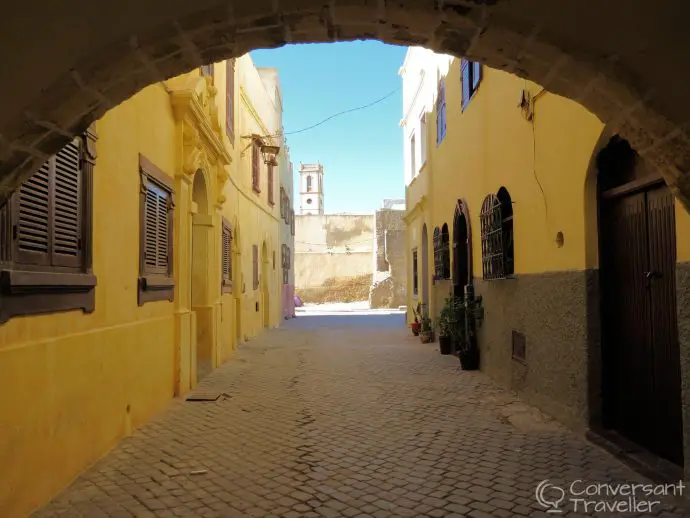 The reason we were there, however, was to sleep in a church!
We had tried it last year here in England, and spent a chilly and slightly disturbing night in an abandoned chapel in the middle of nowhere. It was awesome! This time we were going a little more upmarket, and staying at Hotel L'Iglesia in El Jadida. Owned by the Beldi group, who have a couple of other rather sumptuous piles in the Marrakech area, L'Iglesia is a contemporary design hotel set against the magnificent backdrop of a restored Portuguese church.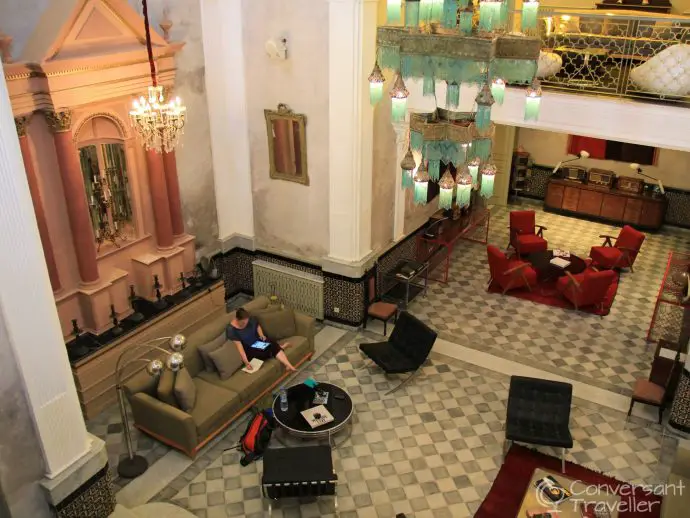 We decided to stay a couple of days to break up our journey between Marrakech and Casablanca, and I'd by lying if I said Hotel L'Iglesia wasn't the main reason I was so keen to return to Morocco just a few months after our previous visit.
I mean, who can blame me…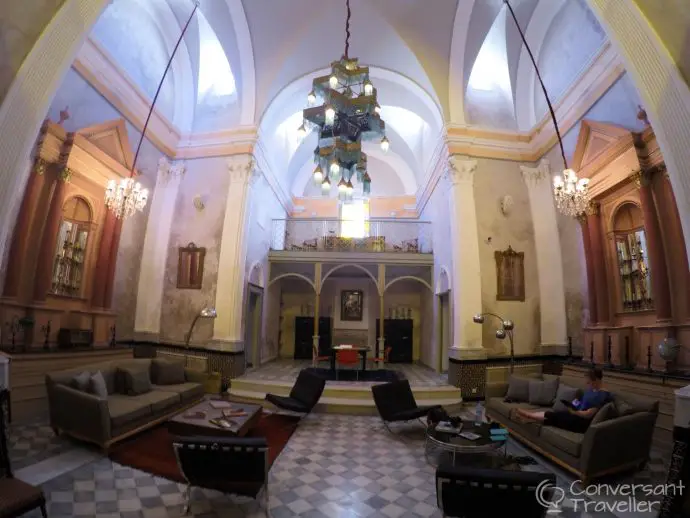 The Portuguese town of El Jadida
I'd only vaguely heard of El Jadida before, and when our friends at Riad Camilia in Marrakech suggested that Hotel L'Iglesia was our kinda place, we just had to investigate further. The city was founded in the early 1500s by Portuguese explorers (they had the best jobs didn't they?!). Known as Mazagan, it was one of the first Moroccan outposts on the Atlantic coast, and a vital point on the trade route to India. The Portuguese were forced to abandon Mazagan in 1769, and the city became El Jadida, meaning 'The New'.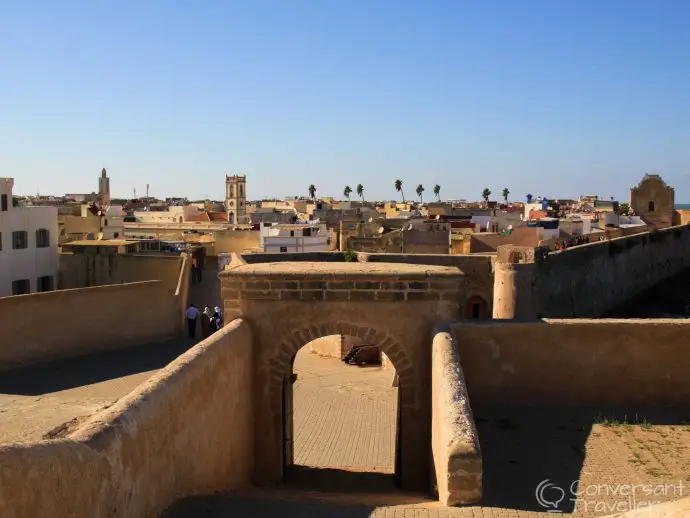 Today El Jadida is a popular holiday destination for domestic tourists, but is still relatively unknown amongst international visitors. I mentioned that we were staying in El Jadida to Annoying Little Brother, hoping to impress him with our intrepid off-the-beaten-track travel plans. He just cocked an eyebrow, and effortlessly put me in my place by saying that he had not only heard of El Jadida, but he's actually done a fair bit of business there in the past. Industrial city that it is. Still, I'm pretty sure at least he's never stayed in a church!
The historical old city is a UNSECO World Heritage Site, with a fortress, ramparts and harbour all to be explored.
How to get to El Jadida
We prefer hiring a car and driver for much of our travel around Morocco. It's far less stressful than driving ourselves, and often public transport isn't convenient for where we want to go. Who am I trying to kid. We just don't do busses or shared taxis!
The easiest way to get to El Jadida from Marrakech, is by private transfer. We paid €90 for the 3 hour journey in an air conditioned vehicle. A much cheaper (and longer) way would be to get the train, changing at Casablanca. This trip takes about 5 hours and costs 201 dirhams for a single ticket in first class. We took the train from El Jadida to Casablanca for our onward journey and have to say we were quite impressed. A first class ticket cost 53 dirhams (about £4) for the 1 hour 20 minute trip. We had an entire carriage to ourselves and it even had air conditioning.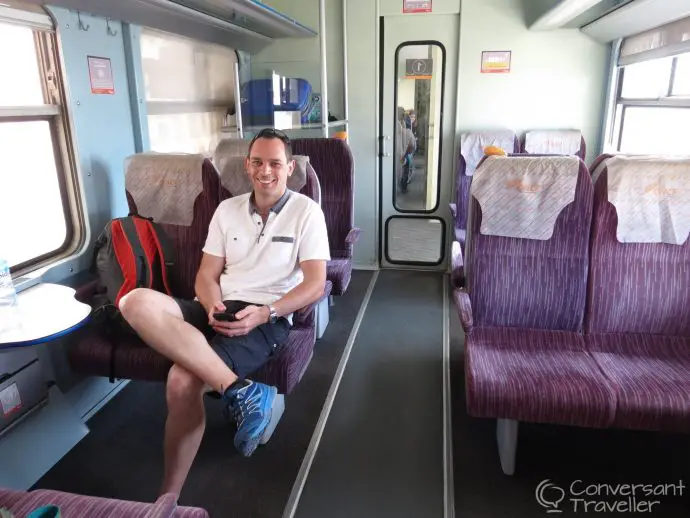 Check the oncf train website for timetables and prices. It's in French but pretty easy to understand. You can't purchase tickets online without a Moroccan credit card, but just ask your hotel and most will be happy to assist you with this. Alternatively there are agencies who can purchase tickets on your behalf, but of course they do charge a fee. One such company is Marrakech Tickets. For a less popular route from El Jadida to Casablanca, you can probably just buy your tickets at the station. But for a heavily used route such as Marrakech to Casablanca it is a good idea to buy them before you travel.
What to see in El Jadida
To be honest, there's not a lot to do in El Jadida. We spent 2 nights at Hotel L'Iglesia, and felt it was too long. The city sights can be done in a single afternoon, so I'd recommend just using it as a stop-over rather than a destination in itself.
Unless like us you're desperate to sleep in a church!
The Portuguese Cistern
I was really excited to explore the underground cistern, having loved visiting the one in Istanbul (and not just because James Bond was 'ere!). Whilst on a much smaller scale, the El Jadida Cistern is definitely worth 20 minutes of your time. It's in the old part of town, just a street away from Hotel L'Iglesia. Everything is really close, which is why it doesn't take long!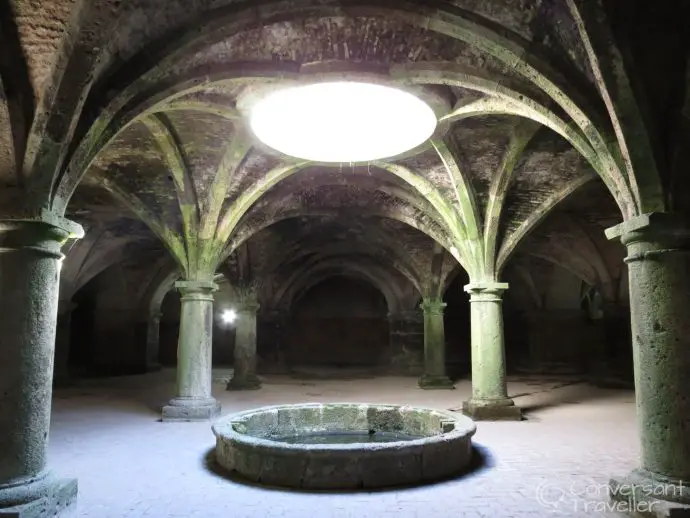 The cavernous space was constructed in 1514 as a warehouse, before being converted to a cistern to store water in the 16th Century. At certain times of year, there is a thin layer of water in the chamber which creates stunning light reflections, especially when the sun is at it's zenith. Alas there was no water during our visit, but it remained impressive nonetheless. Just like in Istanbul, the cistern here in El Jadida has been used as a movie set, most notably for Orson Welles' Othello.
The Fortress of Mazagan
The old town is based inside the fortress, an early example of Renaissance military design with it's 4 bastions and 3 gates. You can walk around the perimeter on the ramparts in less than an hour, and admire the high walls and wide moats that surround the citadel. It's also worth strolling along the harbour wall, where locals fish and swim in the evenings, and there's a great view back towards the city and the port.
The Harbour
Note to self. Wearing sandals to walk around fish markets isn't the best idea I've ever had! I'm still trying to wash out the lingering aroma of mackerel 4 weeks later.
The fishing port is just outside the walls of the old town in El Jadida, and only a 10 minute walk from the citadel. We were the only tourists wandering along the docks, and although we naturally received many a curious glance, we didn't feel uncomfortable. As we were admiring the ENORMOUS fish laid out for sale on the rows of plastic tables, Hubbie was nearly knocked into the harbour by a group of fisherman carrying some bulky gear. They hadn't seen him, and it was almost a slapstick moment worthy of some serious YouTube time. Fortunately, major calamity was averted and they all apologised profusely, even though it probably was us who had got in the way in the first place. After a few jokes and good wishes we continued our stroll, receiving salaams rather than hassle from the guys working in the boats, gutting fish on the sidewalk and grilling sardines along the wall.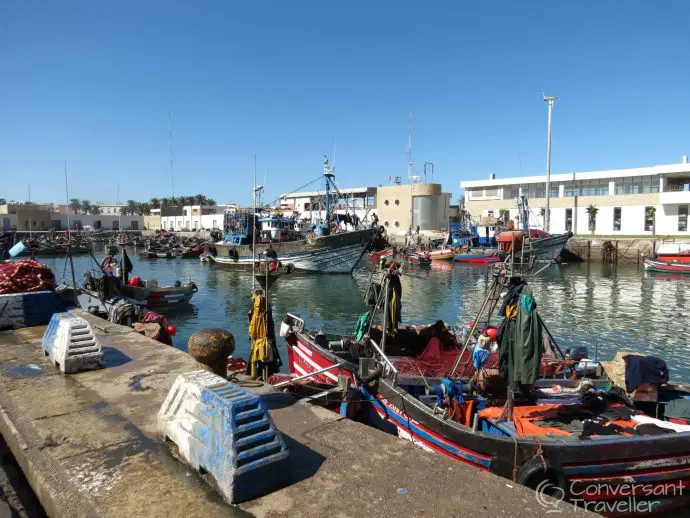 There's also a beach right here in town. It's a nice stretch of sand for a stroll if you don't have a car and can't access the other beaches further out of El Jadida.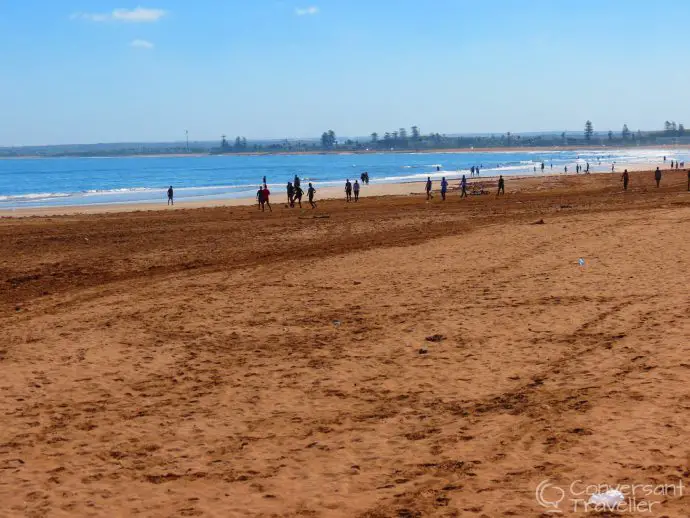 And that's it. El Jadida in an afternoon. You really don't need any longer to see the sights.
Which brings us to the church. The reason we're all here…
Inside the Hotel L'Iglesia in El Jadida
El Jadida's first boutique hotel in the old town opened in 2012. It's the sort of place that features on glossy magazine covers, stars in photo shoots and intrigues anyone who makes the effort to visit. It took the owners 3 years to transform the Hotel L'Iglesia into the contemporary haven it is today, and the church certainly ranks amongst the more unusual establishments we have visited over the years.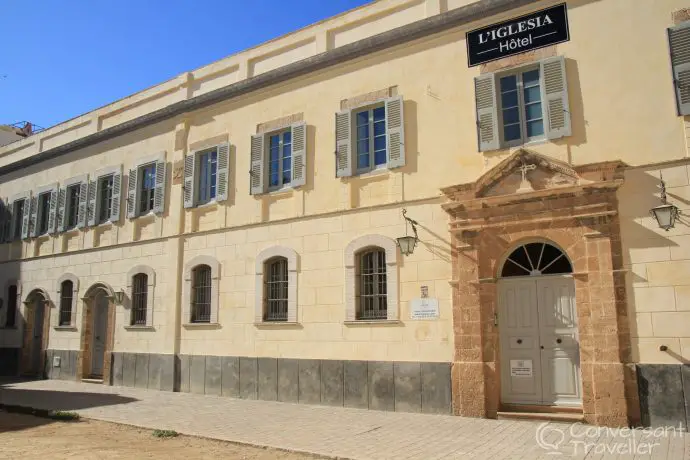 There are two parts to the hotel. The church itself, and the Capitainerie, which was once the harbour master's office, before becoming the American consulate. The 14 rooms and suites are spread between the two buildings, which are only a minute's walk apart, so if you're desperate to sleep in the church itself, make sure you request that when you make your reservation.
The Church
This is what we had come to see, and we certainly weren't disappointed. Unusual yet appealing with it's rough luxe interior finish, the church has been painstakingly restored to great effect. Strangely, the retro rooms and furnishings work really well with the ancient sacred setting. Not something I was expecting as I'm really not a person who appreciates blending designs from different eras. The muted greys and greens of the bedrooms offset the bold statements in the public spaces, which were full of Art Deco pieces, glass chandeliers and Moroccan antiques.
A successful fusion of traditional Arabian and eclectic European styles.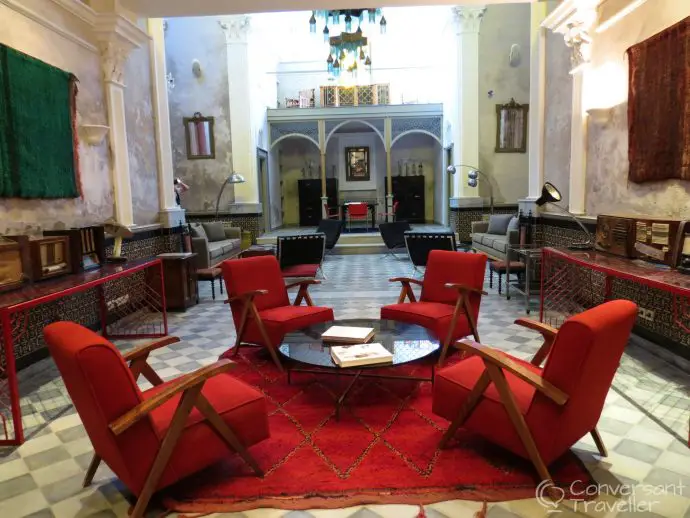 There were only 2 other guests staying at the same time as us, and we only saw them at dinner which meant after exploring old town, we had the entire church all to ourselves for the rest of the day! Pretty cool huh!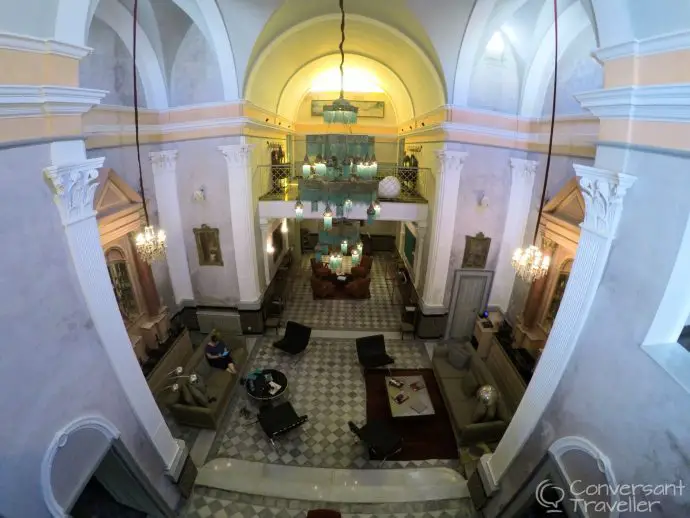 There are lots of seating areas, in the nave, the reception rooms, the transepts, the chancel and even up on the balconies. Seeing we intended to hunker down for the afternoon, one of the staff members came and put on some classical music, which echoed around the high space (wonderful acoustics!) and all added to the slightly otherworldly experience. The only thing missing was an honesty bar.
There aren't any staff based at the church, so for refreshment we had to pop back out across the square to the Capitainerie or the nearby Café do Mar, which is also run by Hotel L'Iglesia. Not exactly onerous, but it would have been nice to have had access to drinks in the church itself. To be honest, I just didn't fancy walking back through the middle of the local football match which was going on in the square.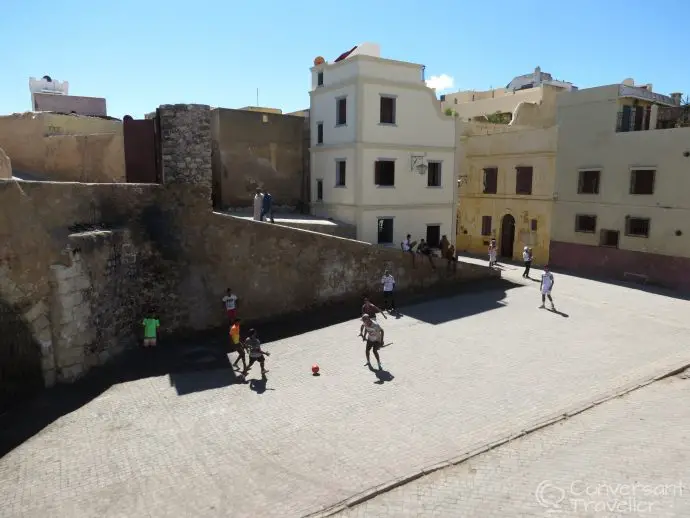 Moments earlier I'd managed to unintentionally save a goal with my backside. I was expecting jeers, you know, the sort you'd get back here in the UK in similar circumstances, but the lads were all genuinely apologetic. Once they realised it was only my pride that had been injured much hilarity ensued, and after a quick bow I scuttled off to find sanctuary at Hotel L'Iglesia.
Why is is always me?
You can climb the tower up to the roof terrace with it's obligatory sun-loungers and views over the old town, but it was far too hot for us delicate English flowers, and we soon scuttled back down to the relative cool of the church. Now if there had been a dipping pool up there, that would have been another story!
Whilst the church was indeed an amazing space, we were glad we weren't sleeping there. The air felt pretty damp (there was even a dehumidifier in one of the bedrooms) and after a couple of hours I was starting to wheeze like a certain Star Wars baddie. I recommend that anyone who suffers respiratory complaints (like asthma or hayfever) would probably be much more comfortable sleeping in the Capitainerie.
This is what the church rooms look like: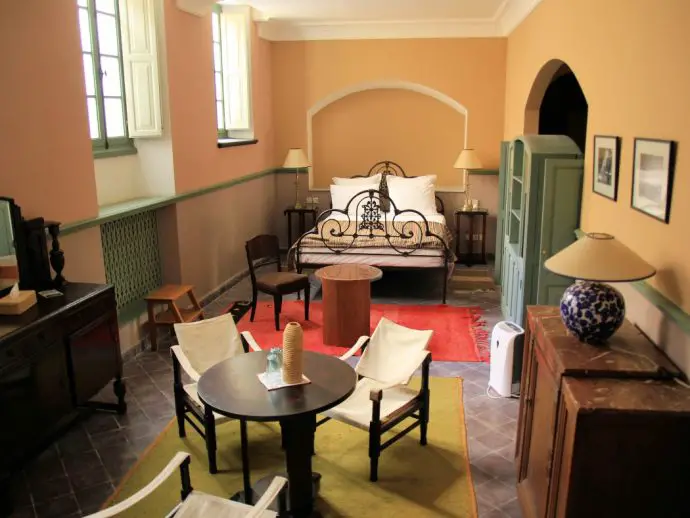 The Capitainerie
Overlooking the ramparts of the city, the Capitainerie is where you'll find the action, such as it is. The reception, restaurant, bar and 5 bedrooms are all found here, including our luxury suite. Guests in the Capitainerie have full access to the church too so by staying here you get the best of both worlds.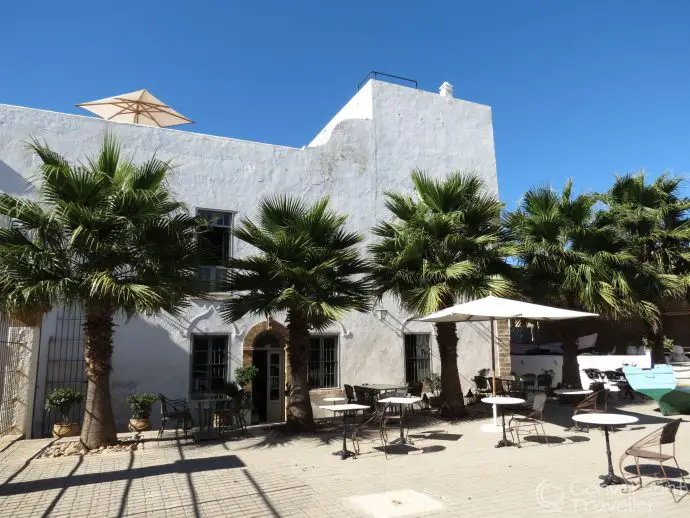 The decor was just as stylish as inside L'Iglesia, and had the church not existed, we'd still have been perfectly happy with just the Capitainerie. The building reminded us a little of the traditional Moroccan riad style, but with heaps more space, and outward looking windows. The courtyard lobby was beautiful with it's comfy chairs and cobbled floor, and the restaurant was a riot of red paint, earthy brickwork and flickering candles. We ate there both evenings of our stay, because there really wasn't anywhere else to go. The food was tasty if a little unspectacular, with fresh seafood being the order of the day. Breakfasts were the standard Moroccan affair of bread, pancakes and fruit, with added cream cheese for those who wanted it.
Our luxury suite was nothing short of gigantic. But it wasn't the 4 poster bed, the numerous windows overlooking the quiet street or the wooden floorboards that did it for me. Nope. It was the swinging saloon style doors leading into our bathroom that I loved.
The inner cowboy in me I guess.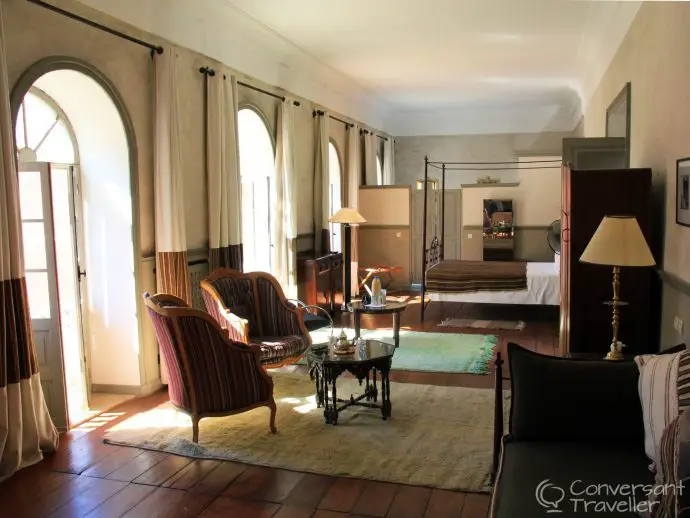 I love a good bathroom, and am going to have to design the one at our next house just like this! The toiletries, as in most Moroccan hotels, come from the botanical gardens at Nectarome, which we visited just a few days earlier.
To book a room at L'Iglesia click here.
What we loved
Come on. It's a hotel in a CHURCH!!!!!!
What wasn't so great
Perhaps rather naively, we assumed that we'd be able to arrange a tour of some sort for our second day in El Jadida. After all, the Hotel L'Iglesia website did mention city tours, horse riding and quad biking. Yet when we enquired on arrival, we were just given a map (which wasn't up to the tourist map standards elsewhere in the country) and told if we had a car we could visit a few places out of town.
The Verdict
Well lets be honest. We were always going to love staying in a church, and recommend a stay at Hotel L'Iglesia to anyone passing this way. It was disappointing to discover the church felt a little too damp for us to want to actually sleep there, but it didn't matter since we got to spend several hours there during the day and could retreat to the Capitainerie at night.
There's very little to do in El Jadida, but this is perhaps it's charm. If you want bustle and madness, stick to Marrakech. Otherwise, if you're heading up to Casablanca or Rabat, then you could do far worse than stop at Hotel L'Iglesia for a night to break up your journey.
Tips
Rooms start at 1500 dirhams and include breakfast.
Rooms are located in both the church and the Capitainerie, so if you want to sleep in the church, despite it being a bit damp, make sure you request this at time of booking.
Staff are polite and most were friendly, but only Bouchra on reception speaks a little English, so you might want to brush up on your French.
The old town of El Jadida is worth a visit, but you only really need 1 night here.
There is little in the way of tours or activities on offer. You either need your own transport to explore further afield, or just stick to the few sights of the old town.
If you can, avoid weekends as El Jadida is a popular spot for domestic tourists and will be much quieter during the week.
Enjoyed this post? Why not save it for later…