We love driving when we're away travelling, as it gives us that extra layer of independence and flexibility when it comes to journeying around a new destination. We've driven everywhere from rural Thai countryside and Alpine passes in Europe, to long-distance routes in Africa and remote islands in the Indian Ocean. It's fun, but it also has its scary moments, especially when we're tackling particularly dangerous roads. We've learnt a few things along the way, so here are our top tips for driving safely on precarious routes.
Top Tips for Being Safe on Dangerous Roads
Wherever in the world you're driving, there are a few simple road safety rules to remember to keep both you and other road users out of harms way. You can also follow the #UKDangerousDrives campaign for more top tips. Here's what you should always be thinking about when behind the wheel:
Learn the Rules of the Road
When you're travelling on home turf you'll be well aware of traffic regulations and road rules, and can drive along quite confidently. Yet if you're abroad, on unfamiliar roads and probably in an unfamiliar rental car, it's imperative that you learn the do's and don'ts before you set off. Consider which side of the road you should be driving on, what the traffic lights mean in different situations, and how roundabouts work (because in some countries you actually have to give way to traffic even when you're driving over a roundabout!).
Make sure you take a few minutes to learn some of the unusual road signs you may encounter, so you can react accordingly when required.
We'd read up on the rules and researched top tips for driving abroad before journeying through southern Africa, and this helped enormously when trying to navigate busy cities with confusing junctions and crazy drivers. It also helped when we were stopped by a corrupt policeman who tried to extract a bribe from us for an offence we hadn't committed. We refused, citing the driving laws, and he had no choice but to back down and let us continue our trip. If we hadn't been clued up, we probably would've ended up paying just to get away.
Always Stick to Speed Limits
Speed limits are in place for a reason. Sometimes you may be tempted to be a little heavier on the gas than you should be, but remember that whilst you may feel safe flying along, there could be unknown obstructions ahead. Or an incident may occur that means you need to slam on the breaks. The faster you're travelling, the more difficult stopping safety will be.
We often initially travel a little slower than the speed limit when we're abroad, as we're unfamiliar with both the territory and the vehicle. As our confidence grows we'll start getting up to speed, but only when we're totally comfortable. If we're having to negotiate hairpins on steep mountain passes, we'll always go super slow, whilst at the same time having enough speed to actually have the momentum to travel upwards. It's a fine balance and one that comes with practice. So if it's your first time, just don't panic and take it one switchback at a time.
Put Your Phone Away
It's so tempting to have a quick peek at your mobile phone whilst you're driving, but to be safe and legal in several countries including the UK, it's best to keep it out of reach. If you do need to take a call, or check some location information, pull over somewhere safe before doing so. You might use your phone as a navigation system, in which case it's a good idea to switch off notifications for things like emails and social media so you're not distracted whilst driving.
If there are two of us in the car when we're overseas, we tend to use old fashioned maps for navigation to avoid extortionate mobile phone fees. This means we put our phones away and concentrate on the job in hand. It also means we feel more connected to the adventure of getting from A to B, and arriving at our destination is infinitely more satisfying as a result.
Give Yourself Time
If you're driving in new and unfamiliar territory, make sure you give yourself plenty of time to reach your destination, so you're not rushing or taking risks on the road if you feel the clock is ticking. If you're taking a long road trip, plan well ahead and work out how much time you'll need each day, and then add a bit to take into consideration things beyond your control. This is particularly important on dangerous routes, which always require more time to navigate them slowly and safely than you might anticipate.
Driving in South Africa is a real adventure, but the roads are long and poorly maintained, and it's quite normal to have a few mishaps along the way. We've driven for days in thick pea-soup fog, nearly been taken out by a careering truck that had struck a pothole, and dealt with numerous punctures in the middle of nowhere. Being prepared for such eventualities lessens the stress of these situations!
Practice Winter Driving
If you're going to be travelling along dangerous roads during the winter, it might be an idea to take a winter driving skills course beforehand, so you know how to react if you slide on black ice, or go into a skid. Driving in wintery conditions is much more treacherous than during the rest of the year, so it shouldn't be treated the same. Make sure you get your car checked over before embarking on your journey, to make sure the tyres are in tip top shape and that you have enough antifreeze to last your trip.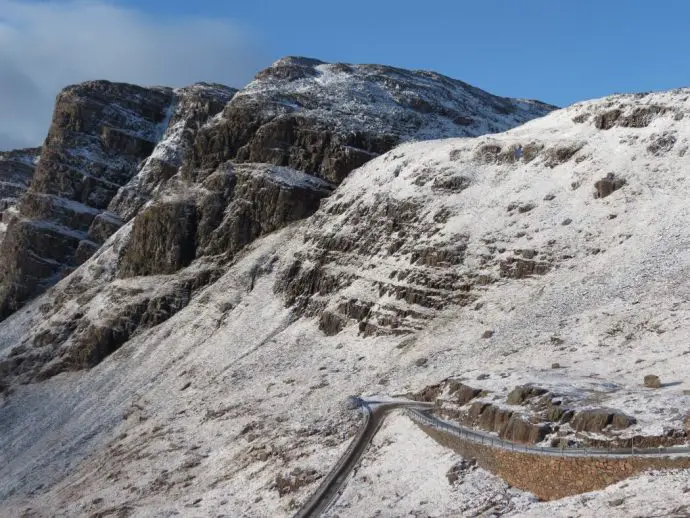 We frequently drive up in Scotland during winter, navigating precipitous passes covered in snow and ice, with added hazards thrown in like sheep or deer on the roads. On these occasions we always make sure we only travel during daylight hours. We try and wait until the afternoons when the sun has melted the snow a bit, and other vehicles will have ploughed tracks that make driving a bit easier. It's a good idea to carry a bag of road salt and a shovel too, so you can dig yourself out if needed. And don't forget to always keep a set of warm clothes in the car in case you get stuck and need to call for help.
Have you experienced driving on a dangerous road in the UK or abroad? Tell us about it in the comments.