I love the wash bag that Heather gave me a few years ago. It's a scaled down model of a leading outdoor brand expedition duffle bag, and just the right size. I can fit in what I need for a month-long trip, but it doesn't take up too much space. It's made from the same material as the expedition duffle so it's tough and hard wearing, which is my sort of thing.
Yet sometimes, it just looks out of place.
Let me explain. When Her Ladyship manages to cajole me into a 'city break' (I don't do cities!), the best leverage she has is the promise of a decadent suite to stay in. You know, the sort that comes with a walk in mini bar and far too many light switches. However this is where my wash bag looks like me – a little lost. Having made the effort and broken out my 'man-about-town' clothes (which I keep for such occasions), it feels a bit odd to have my trusty old wash bag in tow. It isn't in keeping with this style of trip, and several times I've found myself standing in a swanky bathroom thinking my wash bag looks completely out of place. Sometimes I've even gone to the extent of hiding it in my suitcase so housekeeping don't see it!
But no more.
Thanks to the lovely folks at Attavanti I'm now the proud owner of a fantastic Bonfanti Harris Tweed and Italian leather toiletry wash bag. It's the perfect accessory on any luxury holiday, and now the only thing out of place in a posh hotel is me! I took the wash bag on our latest trip up to the Scottish Borders to try it out. We were staying in a historic castle spa hotel and a 5* converted peel tower so it was the ideal opportunity to channel my inner gentleman-on-tour.
READ MORE: Best things to do in the Scottish Borders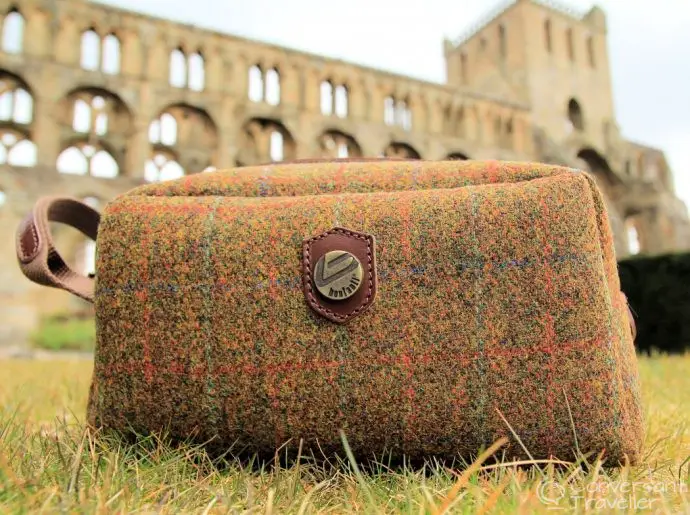 Attavanti – Italian artisan leather travel accessories
We really love the ethos behind Attavanti, a family company and online supplier of affordable upmarket Italian leather accessories and travel goods. Pretty much anything made in Italy is guaranteed to be stylish and expertly made, and Attavanti have chosen a superb range of both classic and contemporary items for their customers. They carefully source all their suppliers for authenticity and craftmanship so you know what you're purchasing is artisan-made using only top quality Italian leather. I know Heather has her eye on one of their gorgeous handbags, and I've been told I need to update my 'man-about-town' messenger bag so watch this space!
Now our wash bag is by Bonfanti, one of the brands stocked by Attavanti. It was created way back in 1945 by husband and wife team Ermogene and Anita Bonfanti. Starting in a small artisan workshop they created handbags and briefcases for local workers, and moved on to focus on light luggage and everyday shopping bags. Later in the 1960's with input from their sons Angelo and Terenzio, there was movement towards developing more stylish collections and today there is an eclectic and contemporary range for both men and women, ranging from printed canvas shoppers and leather briefcases to luxury luggage and Harris Tweed tote bags.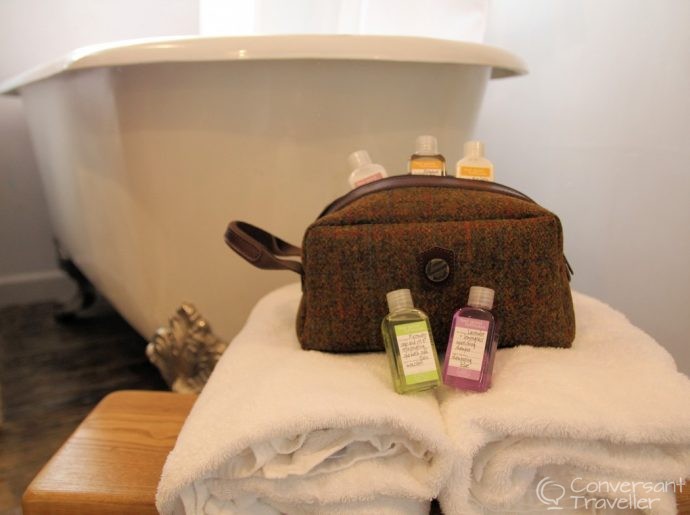 Bonfanti Harris Tweed and Italian Leather Toiletry Wash Bag
Described by Attavanti as "gorgeous" this wash bag is made in 'George' fabric which is a new addition to the well known Scottish Harris Tweed range. The certified handwoven (in the outer Hebrides!) Harris Tweed has been given a protective coating, trimmed with Italian leather and canvas handle, and looks and feels like it will last a lifetime. The single metal top zip gives access to the plain soft fabric lined compartment which is big enough to accommodate a substantial toiletry collection (the wash bag is 27 x 16 x 14cms). For those who prefer a splash of colour, the wash bag also comes in Harris Tweed Tartan, and both colours compliment their respective Bonfanti Leather and Harris Tweed Weekend Cabin Bags.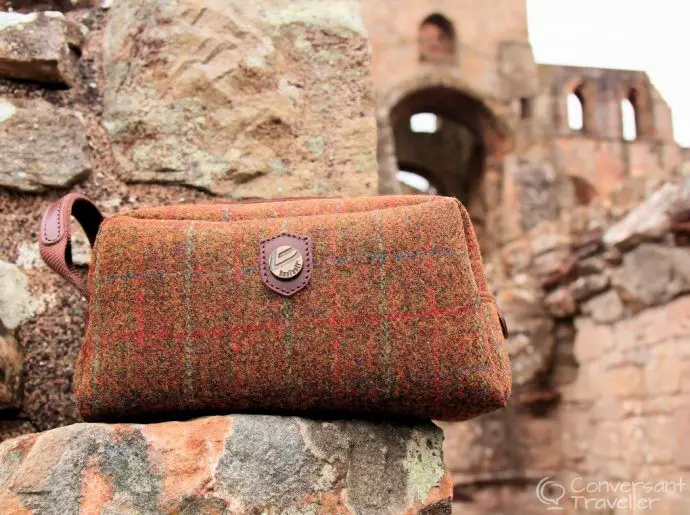 The Verdict
I'm not about to start gushing over a wash bag, but I'll tell you something, I like it. I like it a lot! I love the simplicity of having one decent sized compartment, which means no faffing around trying to remember which ridiculously small inner zipped pocket I may or may not have put something in, and no struggling to concertina overstuffed pouches back into place. I'm a big fan of this wash bag having just one zip fastener – none of this elastic strap, metal popper, or zip combination that I've had in the past. I also like the look of the wash bag, with the fabric giving a gentleman's style that won't be out of place anywhere we stay, whether that be in a Scottish castle, a swanky city hotel or an exclusive safari lodge.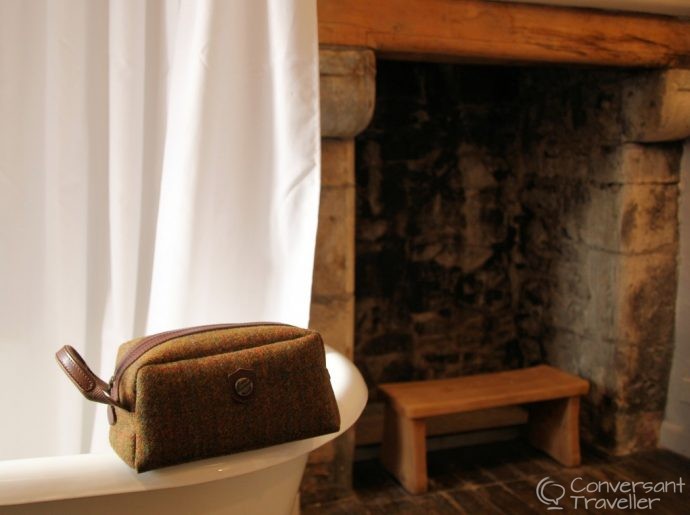 The only aspect of the Bonfanti wash bag that I am a little concerned about is the soft fabric lining. Over the years between Heather and I there have been several wash bag 'incidents' where shower gel, shampoo and the like have leaked out of 'secure' containers – and not always due to being in the hold of a plane. The material of those wash bags was easy to wipe clean and dry, but I don't think this will be the case for the Bonfanti wash bag. I'm not too sure how we would get on trying to clean the fabric lining, but won't let that put me off using this bag for all our various up and coming trips! I'll just have to make sure my bottle lids are on tightly.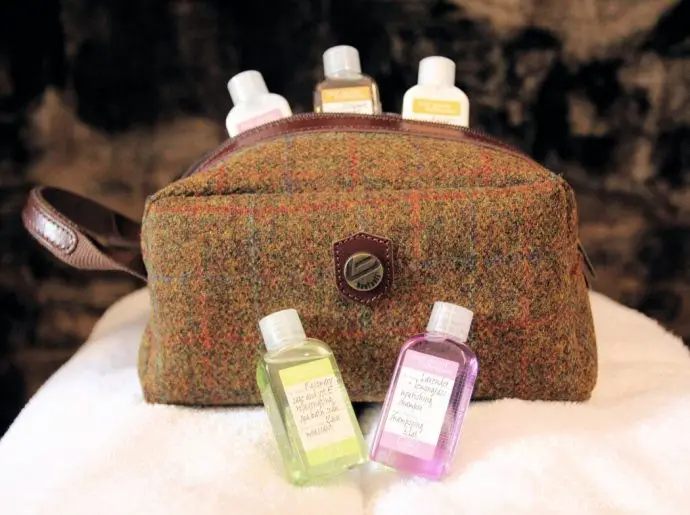 The Giveaway
We've partnered with Attavanti to offer our readers the chance to win their very own Bonfanti Harris Tweed and Italian leather wash bag (in either brown or tartan, subject to availability).
The giveaway opens on Monday 2nd April and ends at midnight on Monday 16th April 2018.
The giveaway is open to entrants worldwide.
Please note that by entering you are opting in to my monthly newsletter, Conversant Chronicle. I promise not to bombard you with messages, just one newsletter a month where you can keep up to date with our adventures, travel tips, and giveaways. Your details will not be shared with any third parties and you can unsubscribe at any time. You can read our Privacy Policy here.
How to enter
It couldn't be simpler. Just use the Rafflecopter widget below to enter, completing as many of the options as you like. If you have previously completed any of the actions (for example if you already follow us on Facebook, Twitter etc) then feel free to have an entry for them!
a Rafflecopter giveaway

IMPORTANT: Make sure you select your entries on the Rafflecopter widget to validate your entry (click on the grey bottom right hand box under each entry option)!
---
Attavanti kindly provided us with a Bonfanti wash bag for this review, as well as the giveaway prize. All opinions remain our own, and we only feature products that we know you'll love. Feature image has been provided by Attavanti.